What could be better than a luxury holiday to one of the best spa hotels in Europe?
Take a journey through our hand-picked selection of hotels and discover a world of Ayurvedic yoga retreats, heavenly hammams, exclusive massage techniques, stunning infinity pools and unique anti-aging treatments. Whatever hotel inspires you, expect world-class facilities and staff, stunning surroundings and health-conscious menus that are busting with flavour.
Plus, you get the added bliss of experiencing all of this without the hassle of a long-haul flight, meaning that you can spend more time doing what is most important – relaxing!
Our list of our most relaxing luxury spas in Europe includes:
Six Senses Kaplankaya, Turkey
La Reserve Ramatuelle, France
Heckfield Place, UK
Borgo Egnazia, Italy
Santa Marina, Greece
Finca Cortesin, Spain
Annabelle, Cyprus
Evian Resort, France
SHA Wellness Clinic, Spain
Six Senses, Ibiza
The Best Spa Hotels in Europe
1. Six Senses Kaplankaya, Turkey
Six Senses Kaplankaya sets out to immerse guests in the tranquillity and beauty of Turkey's stunning landscape, and the perfect complement to the calming embrace of nature is the Six Senses Spa. Six Senses hotels are famous for providing some of the best spa experiences in the world, and Kaplankaya in Turkey is one of the most luxurious in their glittering portfolio.
The spa here is 10,000 square-meters of pure bliss. Within you will find an indoor-heated pool, hydrothermal areas, hammams, state-of-the-art fitness equipment, classes including spinning, yoga and Pilates and the coveted Six Senses staff providing pioneering wellness programmes.
For more incredible spa retreats farther afield, we've got you covered. Here are some ultra-luxury resorts across the globe that will put wellness front and centre in your mind.
2. La Reserve Ramatuelle, France
Just a small jaunt from the glitz, glamour and chic atmosphere of St. Tropez you will find a secluded haven that is home to one of the best spa hotels in Europe. The spa at La Reserve Ramatuelle boasts 11 spacious treatment rooms, indoor and outdoor pools, a steam room and several fitness rooms.
The hotel is as luxurious as its location would suggest and the stunning views of the glittering Mediterranean Sea will start to melt away your stress the moment your eyes meet the horizon. Particularly when enjoying a treatment that incorporates the ocean itself and is administered by a highly trained wellness expert.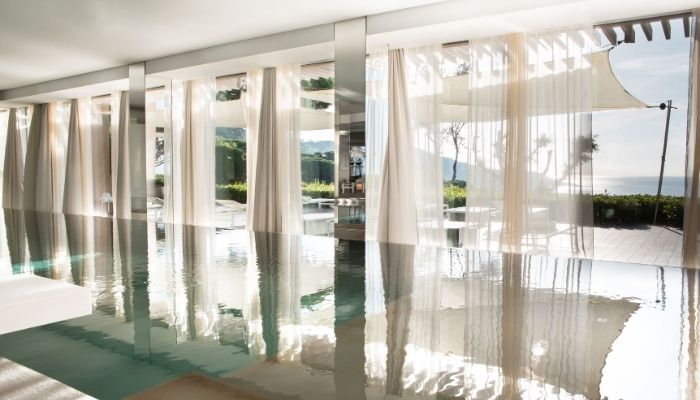 3. Heckfield Place, UK
If you're looking for a spa hotel a little bit closer to home, Heckfield Place could be your dream haven of relaxation. Set in a Georgian manor on a 400-acre estate, this stately hotel is the home to stunning grounds, historic architecture and a spa that will take your breath away.
Bask amongst open fireplaces, chandeliers and butler service, then make your way to the Little Bothy Spa and discover a world of comfort consisting of all-natural treatments and personal training, yoga and pilates classes led by lifestyle specialists. As you hit the height of relaxation, Heckfield Place will feel like your home away from home.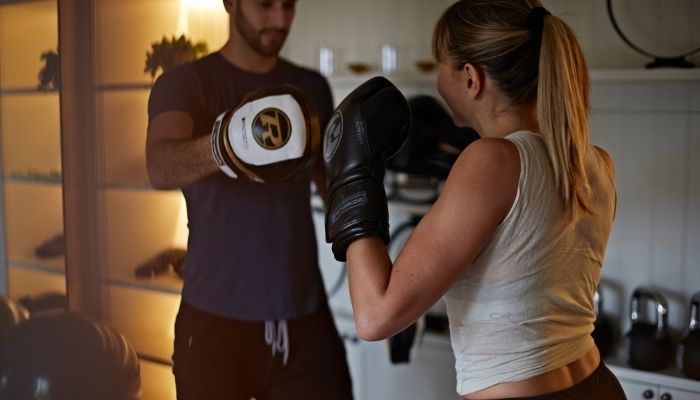 4. Borgo Egnazia, Italy
Set against a tapestry of rolling Italian hills, endless sea views and clear blue skies, Borgo Engazia is spectacular castle-like picture of rustic bliss, with delicate touches of modernity to ensure guests find balance in their mind, body and soul.
Styled after a traditional village the hotel houses a Michelin-starred restaurant, championship golf course, two private beaches – one sandy, one pebble – and an incredible spa. The Vair Spa features techniques that are based on ancient Puglian rituals and aims to help reset your internal compass and send you home feeling entirely refreshed.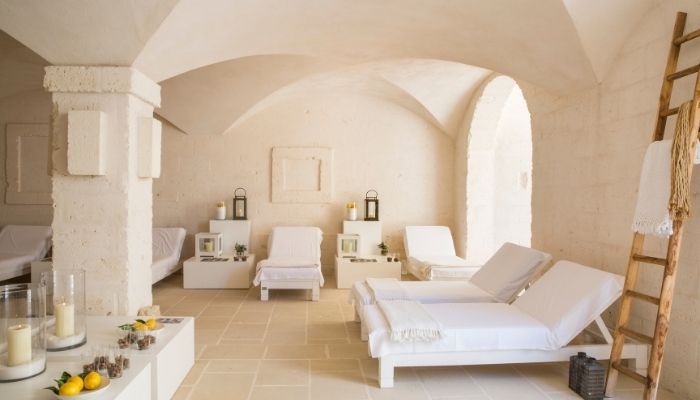 5. Santa Marina, Greece
With authentic Aegean beauty and a flair for relaxation that harnesses the otherworldly beauty of the Greek islands, Santa Marina is inarguably one of the best spa hotels in Europe. Just 10 minutes from Mykanos town, Santa Marina gives you the chance to enjoy some authentic culture and then have your own haven of tranquillity to return to.
The Ginko Spa provides an international-calibre wellness and relaxation experience featuring five treatment rooms, the only traditional Hammam in Greece, a sauna and a relaxation area. Treatments and programmes at the spa aim to help guests achieve 'Harmonia', a state of balance in mind and body.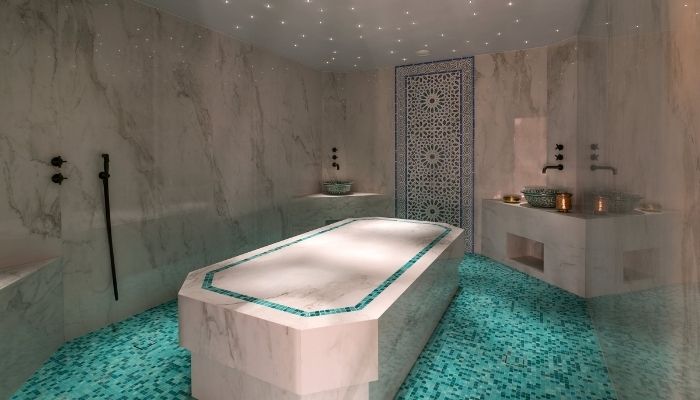 6. Finca Cortesin, Spain
It's no surprise that one of the most exclusive hotels in Spain would also be the home of one of the best spas. Stretching an impressive 2,200 sqm, the spa at Finca Cortesin boasts individual areas for facial and body treatments, massages, thermal baths and a fitness centre. And that's just for starters.
There is also the Thai Spa, a unique and highly authentic area featuring ten individual treatment rooms and one double bed suite, complete with heated floor and à la carte music. If you find your relaxation on your feet then the stunning championship golf course, home to the 2023 Solheim Cup, is ready and waiting for you to tee off.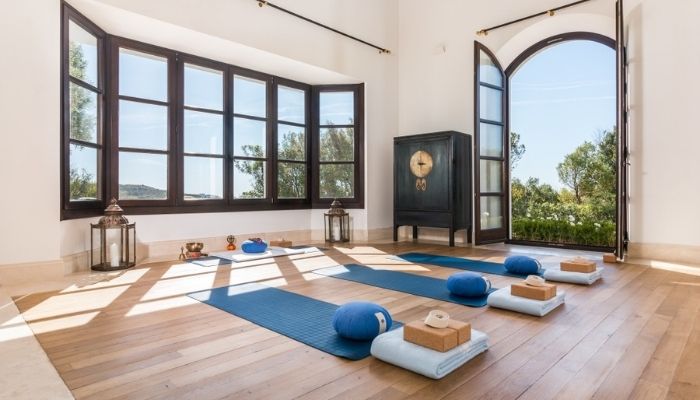 7. Annabelle, Cyprus
Paphos is a destination steeped in history, luxury and relaxation, and Anabelle ties these elements together artfully. Looking out at the point where the clear sky meets the calm sea in a collage of blues will instantly begin to sooth your soul. Then, stepping back into the hotel, the relaxation continues dramatically.
Named after the Greek god of the sky and the heavens, Ouranos Wellbeing Spa is a rooftop retreat of heightened tranquillity. The spa provides rustic luxury rejuvenation with an extensive menu of traditional massages and treatments, as well as bespoke beauty treatments and fitness classes in every sport from yoga to golf.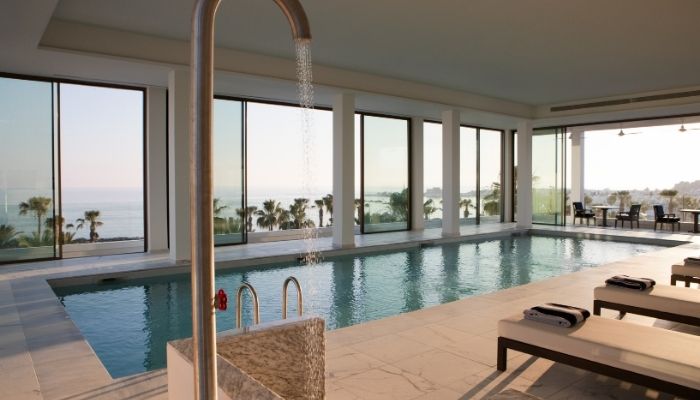 8. Evian Resort, France
Imagine you've been whisked away to the French lakeside with the crisp mountains rising in the background. The idea of that automatically reduces stress levels, just by imagining it.
Evian Resort is the epitome of calm. A perfect spot for total relaxation and rest. It's not just the poolside loungers and the views from the terrace that will leave you feeling refreshed. There are plenty of treatments available at the resort, including massages, facials and manicures and pedicures. If you're looking for something a little different, check out the Evian Thermal Spa which uses local Evian mineral mountain water to refresh, tone and relax you.
There's also a gym for working out, as well as a sauna, steam room, and a luxurious swimming pool. If you want to get outside for a little while and enjoy nature, there are hiking trails, horse riding stables, and golf courses nearby.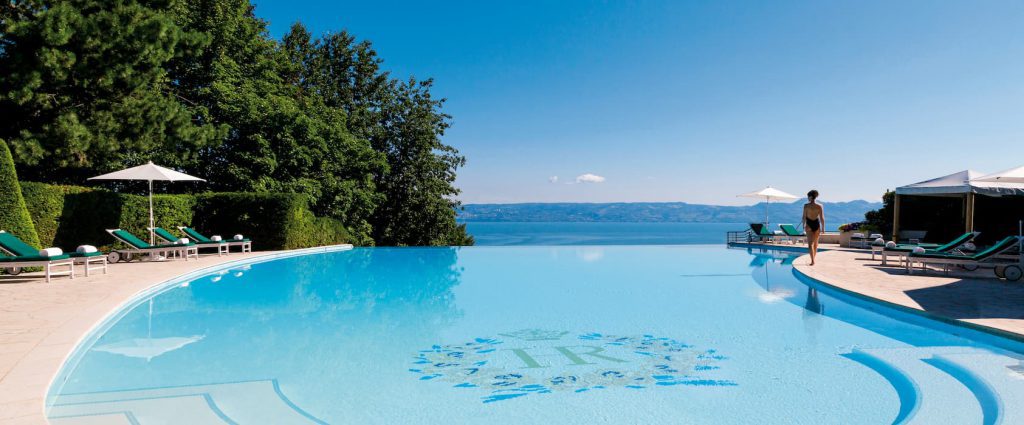 9. SHA Wellness Clinic, Spain
If you want to really get away from everything and focus on yourself, SHA Wellness is a brilliant option. The boutique hotel resides in the foothills of a gorgeous national park on the Costa Blanca coastline. Breathe in the warm, sunny air and get ready to de-stress, detox and change your life.
A stay at SHA is all about reaching your goals. Whether you struggle with nutrition, mental health, ageing or simply just want to reset your habits – you can take part in packages using the SPA method, which you can find out more about here.
Book some time in your diary to head to this gorgeous spa where you'll attend sessions that pertain to your specific needs including consultations with trained professionals, private yoga practices, as well as much needed downtime to relax by the pool or in the gardens.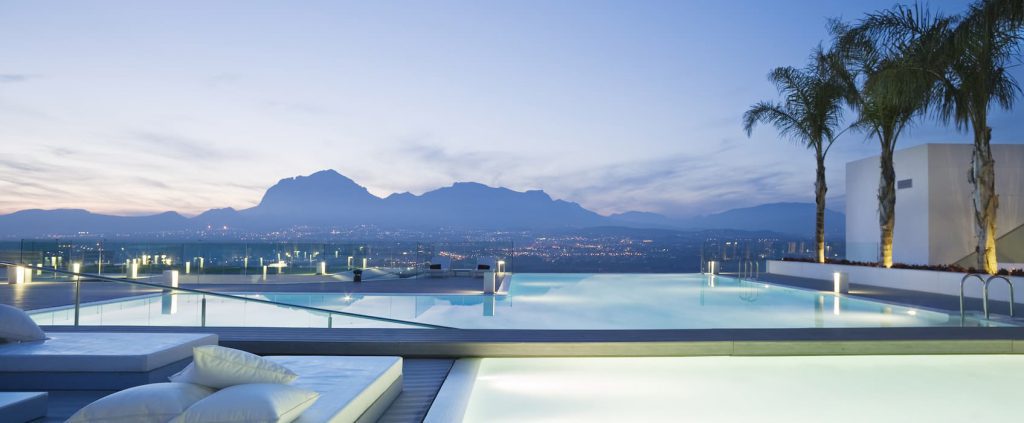 10. Six Senses, Ibiza
Let loose amongst the free spirits of Ibiza. Take in stunning sunsets, bright blue skies and lapping waves on the coast of this beautiful Spanish island. The views from the terrace at Six Senses will make you feel as if you've landed in your own private slice of paradise.
The Six Senses in Ibiza tailors treatments for you. Join the three or seven-night wellness programmes where you can receive diagnostic assessments and take part in numerous wellbeing activities. There are also a number of retreats hosted by the hotel each year, such as the Santhosh Dance Retreat and Spring Detox.
Does a seafront yoga session, a visit to the Caldarium Bath and a dip in the infinity pool sound like a perfect escape for you and your loved one?
Six Senses Ibiza has you covered.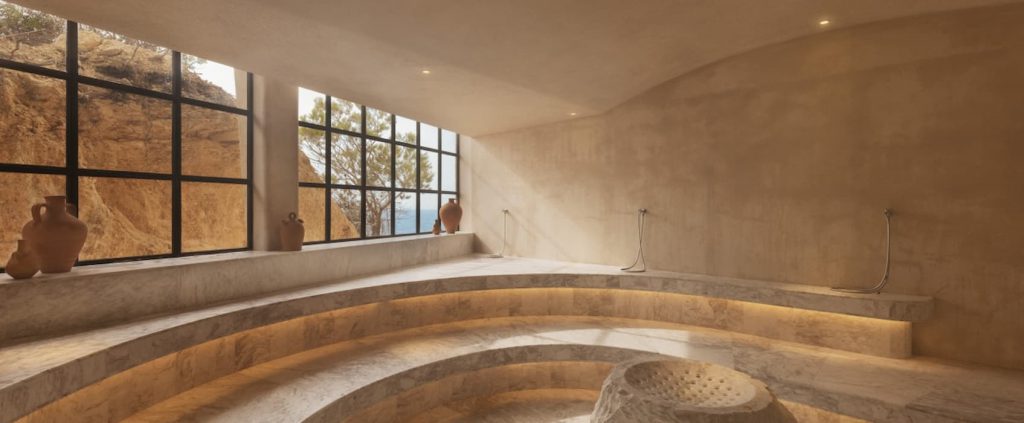 If you are ready to unwind, contact us at Inspiring Travel Company to arrange your luxury spa break in Europe.
Or, for more luxury travel inspiration, tips and our latest offers, subscribe to our newsletter below.