A luxury cruise allows you to relish the high life on the seas, spoiling you with ultra-luxury vessels, detailed itineraries across iconic destinations, unparalleled service and enrichment programmes.
But, with the most luxurious cruise ships continuously upping their game, you might be wondering exactly which one best suits you.
With that in mind, we've compiled eight of the best luxury cruise lines, each offering something unique, so you can find the one that's perfect for you.
Read on to find out everything from the best restaurants onboard to magical movie nights under the stars with Seabourn, Regent Seven Seas Cruises, SeaDream Yacht Club, Oceania Cruises, Silversea, AmaWaterways, Windstar, and Hapag-Lloyd.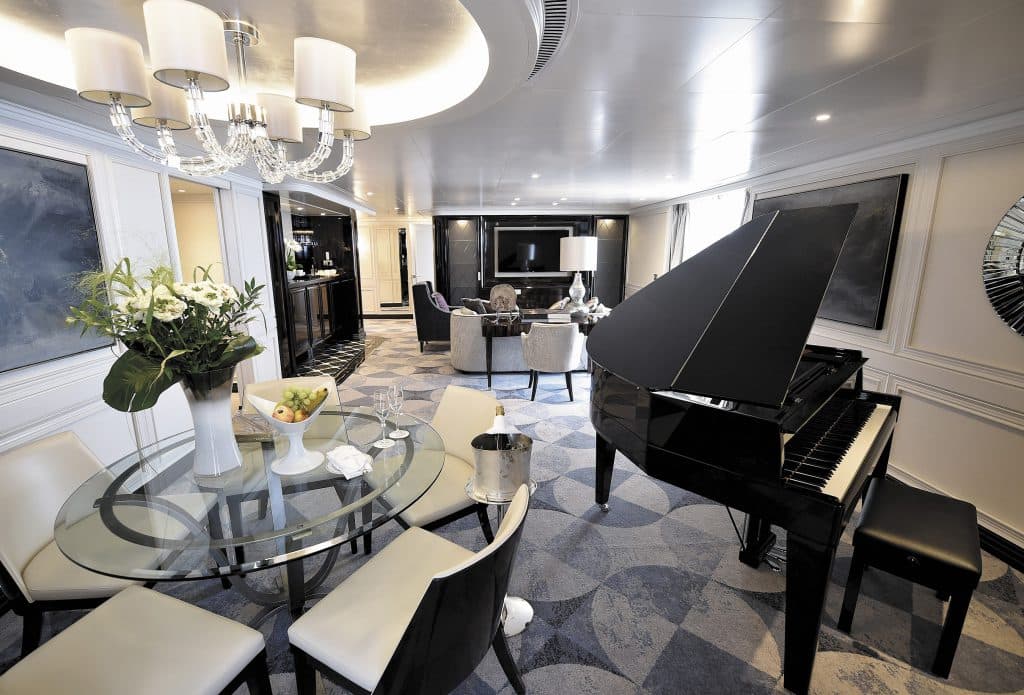 ---
Why choose a luxury cruise?
A luxury cruise holiday is the perfect way to experience multiple enticing destinations across the globe in one seamless itinerary. The best part is, you only need to unpack once. Plus, after a busy day of shore excursions, it's a wonderful feeling to arrive back on board to enjoy remarkable cuisine, stellar service, and unparalleled facilities before retiring to your luxury suite or stateroom.
---
The Most Luxurious Cruise Ships
1. Seabourn
Best luxury cruise line for…
Cultural insights and historic sites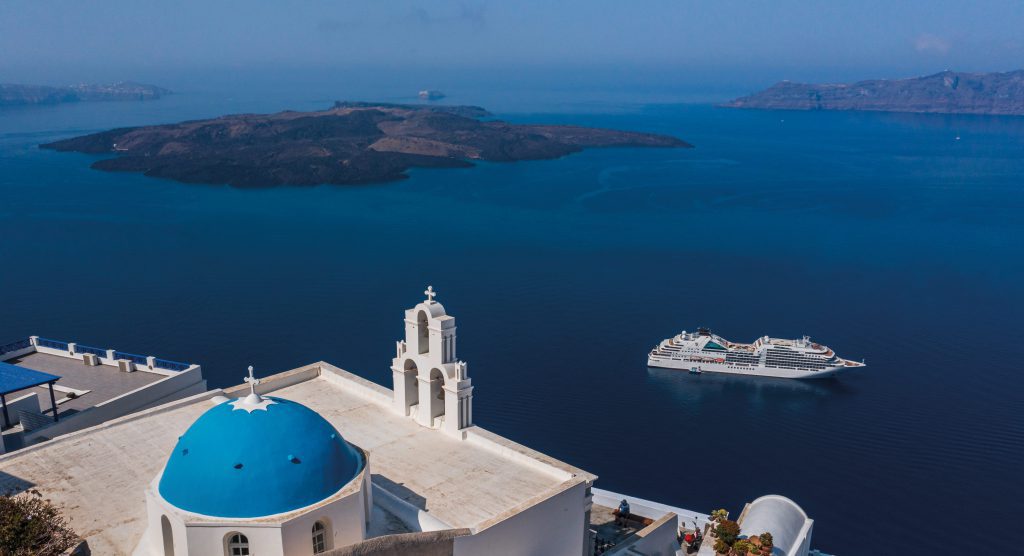 What's a Seabourn cruise like?
Giving guests a real depth of experience both onboard and ashore, one of the most outstanding features of Seabourn cruises is their intellectually stimulating offerings.
The line's ability to call into hidden yacht harbours in destinations such as Corsica, Croatia, tiny Greek islands and Turkey's azure coast means that you can enjoy fascinating World Heritage Sites, plus access these marvels during excursions or complimentary experiences such as Seabourn's unique 'Classical Concert at Ephesus'.
Onboard, the fascinating cultural offerings continue with Seabourn Conversations, which puts you in discussion with interesting people from various arenas, from the arts and sciences to the culinary scene and political world
Set sail on any one of Seabourn's contemporary, ultra-luxury ships and you'll feel you're a member of a very exclusive club. Renowned for offering 'the world's finest small-ship experience', Seabourn highlights include their intuitive service, all-suite accommodation and their relaxed, country club vibe. Choose from Oceanview Suites with spacious verandas or Penthouse Suites boasting floor-to-ceiling glass windows.
With each vessel carrying between 458 and 600 guests, Seabourn's spacious suites come with a personal Suite Assistant who welcomes you on board with Champagne and canapés, personalises your nightly turndown service and assists you with any special requests. This perfectly encapsulates Seabourn's service: unobtrusive and dedicated to ensuring that everything is always exactly as you wish.
What amenities will I find on board?
In addition to their holistic spas, offering an innovative wellness programme designed by Dr. Andrew Weil, these ships also boast well-equipped fitness centres. Other amenities include Seabourn Square (a 'living room-style socialising hub), as well as a collection of little shops, a casino, and performance spaces where you'll enjoy a range of musical productions and cabaret acts.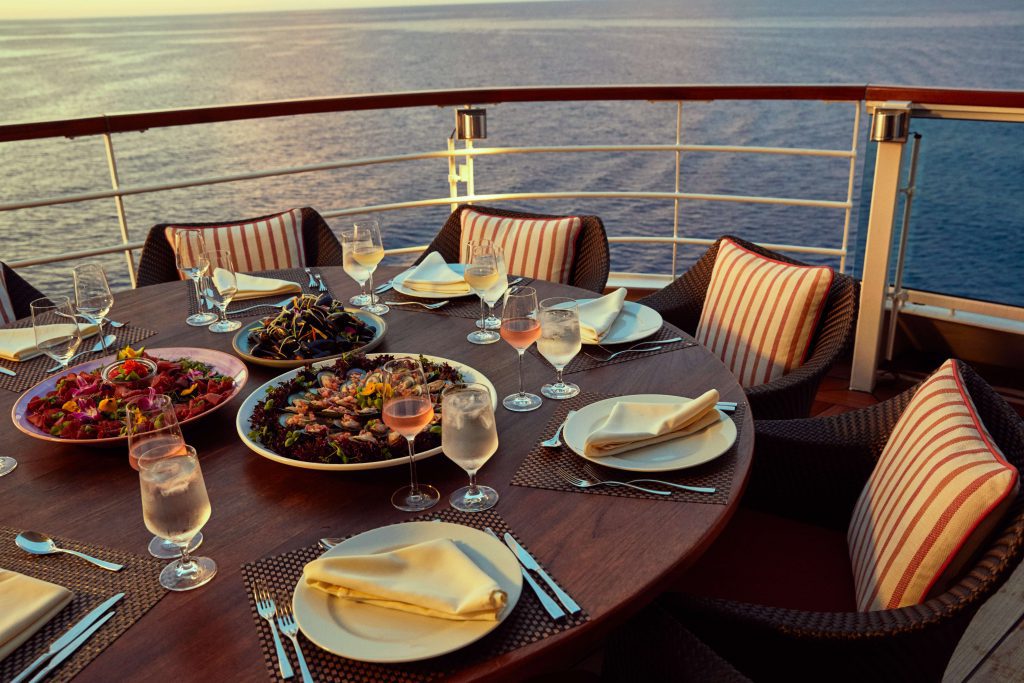 What's the food like?
Seabourn offers world-class dining, further enhanced through a culinary partnership with multi-Michelin starred American Chef Thomas Keller. Indulge in regional flavours prepared with the finest ingredients across a range of dining venues. Plus, every restaurant is complimentary, so you can try somewhere new every evening without having to worry about additional costs.
What can I do during days at sea?
On voyages that attract such "interesting, interested people", it would be remiss of any guest not to attend a Seabourn Conversations presentation, where distinguished guests share their life stories and subject expertise. From explorers to revered chefs, academic scholars to celebrated performers — there's no better way to spend your days at sea than sharing profound discussions with luminary figures.
Our top Seabourn itineraries
Seabourn's luxury cruises span the globe, from the Mediterranean to the Caribbean, and South America all the way to the 'white continent' of Antarctica.
The journey of a lifetime awaits on a Classic Caribbean Yacht Harbours with Barbados cruise-and-stay holiday. Enjoy a week-long pre-cruise stay at 02 Beach Club & Spa Barbados, before setting sail for several sun-soaked Caribbean islands aboard the Seabourn Ovation.
"The sophisticated and ultra-luxurious Seabourn cruises will take you places around the world from the luxury of your own butler-serviced suite. The Seabourn difference means you are truly cared for. And you will come back having created moments that will last a lifetime." – Denise, Cruise Specialist
---
2. Regent Seven Seas Cruises
Best luxury cruise line for…
Extensive range of excursions
What's a Regent Seven Seas Cruise like?
When you set sail on one of the world's most luxurious cruise ships, it's as much about exploring the land as traversing the sea. Regent Seven Seas Cruises have over 2,000 excursions, allowing you to experience everything that the exciting ports of call have to offer. From exclusive behind the scenes tours to authentic cultural outings led by knowledgeable guides — the possibilities are endless!
Through their meticulously crafted itineraries, Regent Seven Seas Cruises offer you the opportunity to visit destinations throughout the Caribbean, Europe, the Americas and Asia, with a focus on providing An Unrivalled Experience® at sea with their ultra-luxury all-inclusive concept.
The vessels — Seven Seas Voyager®, Seven Seas Mariner ®, Seven Seas Navigator®, Seven Seas Splendour®, Seven Seas Explorer®, and Seven Seas Grandeur® — carry no more than 750 guests each, offering an optimal crew-to-guest ratio and ensuring you feel comfortable with plenty of open space to roam.
Inside these ships, you'll find opulent décor, rare artworks from the likes of Picasso and Chagal, and all-suite accommodation with large, private balconies across 98% of suites, rivalling even the finest hotels and resorts from around the globe.
We even featured Regent Seven Seas Cruises in our roundup of the 10 best hotels for art lovers.
What amenities will I find on board?
Beyond private in-suite balconies offering glorious ocean views, these ships are decked out with an extensive library, a dedicated cards room, a state-of-the-art theatre, little boutiques, a purpose-built casino, a fully equipped fitness centre, a tranquil spa and an open-air swimming pool.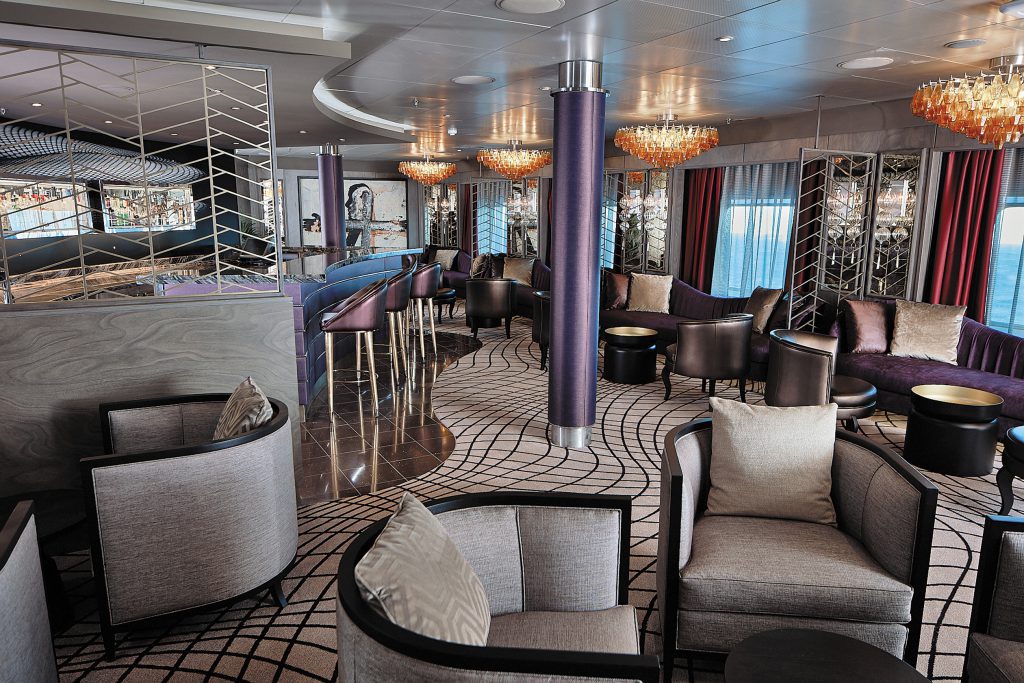 What's the food like?
Dining venues range from low-lit Pan Asian restaurants to elegant buffet venues with ocean views, poolside grills and New York-style steak houses. Plus, join the chefs in the state-of-the-art Culinary Arts Kitchen, where you can follow expert-led cooking classes to prepare regional favourites (available on Seven Seas Splendor and Seven Seas Explorer).
What can I do during days at sea?
Spend days at sea perusing the ship's impressive collection of artworks. Get your body moving with an invigorating aerobic class at the fitness centre or enjoy a relaxing pamper session at the spa. Evenings on board are always entertaining, with high-calibre performances at the Constellation Theatre — a two-deck high show lounge with banquette seating.
Our Top Regent Seven Seas Cruises Itineraries
Regent Seven Seas Cruises has a broad fleet of ships that allow them to travel to a number of exciting destinations worldwide. Always offering extensive shore excursions, steal away on an intrepid Alaska Way of the Tlingit with Rocky Mountain cruise. 
Looking for something a bit closer to home? Marvel at the timeless wonders of ancient Europe on our Savour the Best of Italy itinerary. 
"The world's most luxurious cruise line keeps getting better! Now with the recent additions of Seven Seas Splendor and Seven Seas Grandeur to the fleet, there's even more reason to see the world with this ultra-luxury, all-inclusive cruise line." – Denise, Cruise Specialist
---
3. SeaDream Yacht Club
Best luxury cruise line for…
A yachting experience and visiting small coves
What's a SeaDream cruise like?
SeaDream Yacht Club's mantra — "it's yachting, not cruising" – pretty much sums up the biggest difference between this line and other luxury cruise lines.
An alternative to 'big ship' cruising, SeaDream Yacht Club offers exceptional all-inclusive sailings to the Caribbean and the Mediterranean, aboard two distinctively stylish yachts: SeaDream I and SeaDream II.
As well as feeling like you're on your very own superyacht, these vessels are perfect for getting you into secret coves and smaller ports for a more 'world away' Caribbean experience. In Europe, they can even take you right into the heart of Venice!
With 56 staterooms each and a maximum guest capacity of just 112, you can expect an almost-private yachting experience. Enjoy highly-personalised service on board with nearly one crew member to each SeaDream guest. The Staterooms themselves are realised in luxury nautical décor with touches of blue in their plush furnishings, large ocean view windows and marble-lined bathrooms.
SeaDream are also renowned for their inclusive open bar and gratuities, which they believe are paramount to your yachting experience. Other highlights of these incredible voyages include their weekly beachside Champagne & Caviar Splash Party, as well as movie nights screened under the stars.
What amenities will I find on board?
Whizz down the ship's epic new waterslide or enjoy lounging on the thick-cushioned Balinese Dream Beds dotted around the sundeck — these can even be reserved at night for sleeping under the stars! They also have luxury Thai-certified spas on board to help you melt away stress and truly unwind. Other amenities include a casino, piano bar, library, a golf simulator, fitness centre, a saltwater pool and freshwater jacuzzi.
What's the food like?
Indulge in gourmet delights, freshly prepared and served al fresco at the yacht's Topside Restaurant, or in the sophisticated Dining Salon. Don't depart without ordering the 'guest favourite' dish of L'oeuf Pule Au Caviar 'Surprise'. Beside 'always available' menu classics, such as lobster and filet mignon, there's also the poolside restaurant serving up sandwiches and freshly-baked 'Dream Cookies' for afternoon bites.
What can I do during days at sea?
Typically, there are very few days at sea on these cruises – if any at all! Docking in small ports across the Caribbean, SeaDream Yacht Club offers excellent watersports facilities with a selection of water 'toys' stored in their marina. These include WaveRunners, banana boats, wakeboards, water skis, stand-up paddleboards, jet skis and snorkelling gear.
Our Top SeaDream Itineraries
SeaDream I and II can visit charming little ports, thanks to their smaller size. Sail from Miami to the Bahamas with a Roundtrip Bahamas from Palm Beach with Fort Lauderdale itinerary.
"The tagline, 'it's yachting, not cruising' is the way SeaDream like to play it, and rightly so. Immerse yourself in truly unique experiences that only a 112 guest yacht can offer, such as starlit movies, or sleeping out in a deck cabana under the stars." – Denise, Cruise Specialist
---
4. Oceania Cruises
Best luxury cruise line for…
Fine cuisine and culinary delights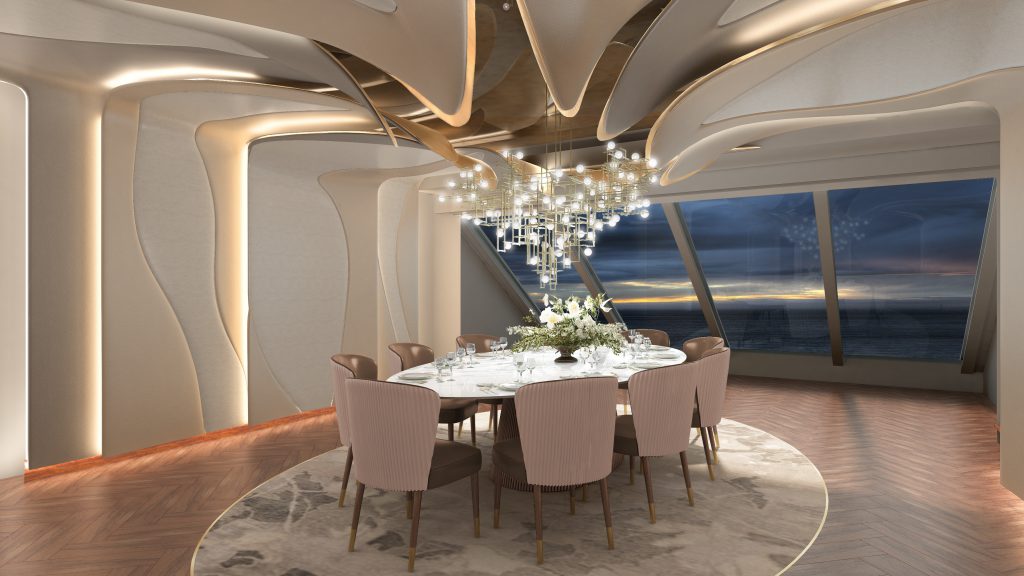 What's an Oceania Cruise like?
Celebrating 20 extraordinary years at sea this year, Oceania Cruises' first-class fleet is made up of eight luxury vessels: Regatta, Insignia, Nautica, Marina, Riviera and Sirena. Vista is set to embark on her maiden voyage this Spring, with Allura scheduled to join the fleet in 2025.
Oceania Cruises have built a solid reputation for serving up The Finest Cuisine at Sea®. Offering up to six speciality eateries and over 200 different menu options, foodies will be pleased to hear that there are no surcharges for these speciality restaurants. Plus, daily afternoon tea held in the beautifully-appointed Horizon Lounge is also complimentary.
With a maximum capacity of 648 guests on their smaller ships (Nautica, Regatta, Sirena and Insignia),1,238 guests on their larger vessels (Marina and Riviera), and 1,200 guests onboard Vista and Allura — travellers are guaranteed an intimate cruising experience. Not only that, but the personal service onboard rivals that of the world's finest hotels and is performed by formally trained butlers.
With refined and stylish interiors throughout, the line's elegant suites are the icing on top of a delicious cake you'd sample in one of their restaurants. Realised in soft sea and earth tones, choose between various levels of accommodation: Luxurious Staterooms, Veranda Staterooms offering mesmerising ocean views, Penthouse Suites and Owner's Suites furnished in Ralph Lauren Home.
What amenities will I find on board?
You'll find many luxurious amenities aboard these upscale cruise ships. Head to the top of the ship to the Sports Deck to enjoy games like shuffleboard and pickleball, as well as a fitness track for running while at sea. Win big in the ship's Monte Carlo-style casino, unwind in the Aquamar Spa + Vitality Center or settle down with a good book in the ship's 2,000-title library.
Plus, there are several fabulous spots onboard to enjoy your favourite tipple. Sip on stylish cocktails at Martinis Piano Bar, head to the sophisticated Grand Bar for an apéritif, or catch a world-class act in the Lounge. For fantastic sunset views, savour a glass of wine at Horizons, playing lively music into the night.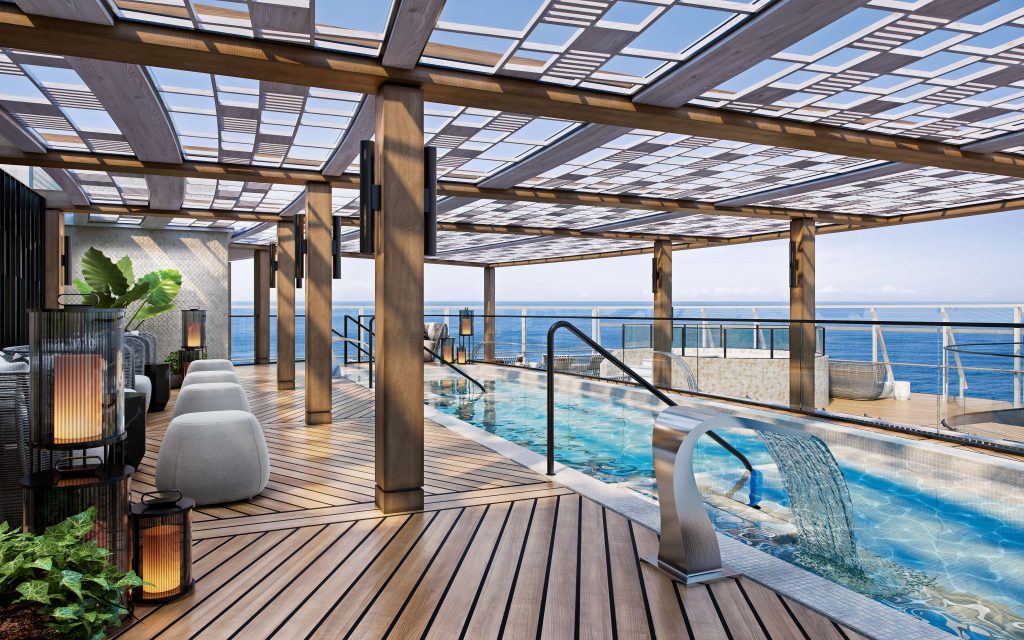 What's the food like?
From fine-dining restaurants to speciality venues, you'll find only the best gourmet cuisine prepared by talented chefs from around the globe on Oceania cruises. For an extra special occasion, Privée private dining room — available on Marina, Riviera and Vista vessels — serves mouth-watering menus to just ten privileged guests at a time. Dine here to experience true culinary magic!
Plus, with the launch of Vista, guests will find an extensive range of new dining options, from casual eateries to refined restaurants. Beyond serving culinary classics, this ship will feature four new impressive venues, as well as an innovative mixology concept, which celebrates the art of the cocktail.
What can I do during days at sea?
Sister ships Marina and Riviera are two of the best luxury cruises for those with a real passion for food. Fine-tune your skills at the Culinary Center: a hands-on cooking school where world-class chefs share their tips, recipes and a genuine love of gastronomy. Beyond food-focused activities, enjoy presentations by esteemed guest lecturers or practice your putting on the purpose-built golf putting green.
Our top Oceania Cruises itineraries
Visiting over 450 destinations worldwide, Oceania Cruises' destination-intensive itineraries are crafted to showcase the most astonishing locations.
If you're looking for an adventurous holiday this year, on board one of the world's most luxurious cruise ships, why not traverse the Atlantic Ocean on a Los Angeles to Tokyo Pacific Passage cruise? Or discover the magic of New Zealand on a Trail of Captain Cook, Sydney to Tahiti voyage.
"The boutique atmosphere of Oceania Cruises offers an incredibly luxurious ambience, and from first-hand experience, the finest cuisine at sea. This is high on my recommendation list!" – Denise, Cruise Specialist
---
5. Silversea
Best luxury cruise line for…
Expedition cruises to unique destinations
What's a Silversea Expedition cruise like?
Renowned for worldwide oceangoing aboard intimate, all-inclusive ships, Silversea are an ultra-luxury cruise line offering unparalleled service and supreme comfort. Sailing to over 900 destinations spanning all seven continents, their fleet takes guests to more places than any other cruise line on the seas today.
With 15-years' experience in luxury expedition cruising, Silversea are celebrated for their innovative itineraries to some of the most unique destinations in the world. From the Arctic and Antarctica to the Galapagos Islands, Silversea's fleet of intimate cruise ships provides the best way to travel to more hard-to-reach places and remote wildlife havens.
There's a decidedly classic aesthetic and indulgent ambience aboard these ships — not least due to the line's all-inclusive concept, which invites guests to enjoy a range of excursions including hiking, zodiac cruising and snorkelling, free-flowing Champagne, 24-hour gourmet dining and complimentary expedition gear (including a parka in polar regions).
From cosy Adventurer Suites right up to the grandest Owner's Suite, all accommodation offers butler service, beautiful ocean views for that all-important dose of natural daylight. As well as having some of the highest space-per-guest ratios of any luxury cruise ship accommodation, you'll also have the option to customise in-suite amenities, from the toiletries in your bathroom to the selection of drinks in your minibar.
With a maximum guest capacity of 200 on the newest expedition vessel, Silver Endeavour –not to mention a guest-to-crew ratio of one-to-one – it's safe to say the service onboard this ship is truly exceptional. Plus, guests can travel to some of the remotest polar regions in the world with full peace of mind thanks to the ship's state-of-the-art equipment and exploration technology.
What amenities will I find on board?
Stay on top of your wellness routine at the well-equipped Fitness Centre, where you'll find a programme of training sessions, as well as cardio machines and weights. Savour spectacular ocean views and enjoy a wide range of beverages in the onboard lounges and bars.
There's also a sleek spa and a beauty salon, with a team of therapists onboard to keep you looking and feeling your best while you're away from home. Some expedition ships feature a pool or whirlpool on the deck, as well as jogging tracks and 'mud rooms' for changing into expedition gear.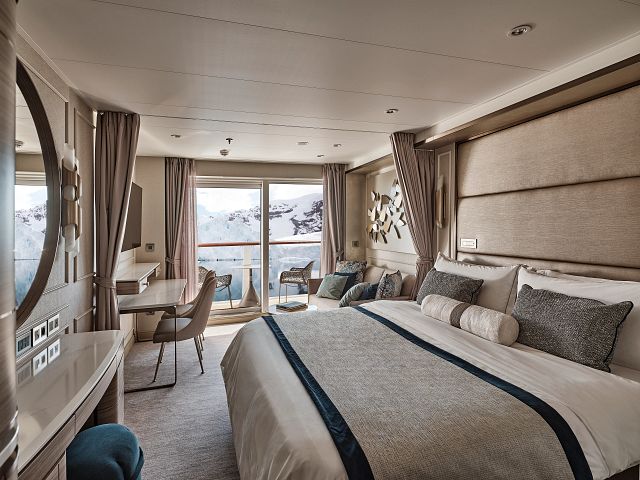 What's the food like?
Dining options range from hearty Italian dinners to fine French fare and Asian fusion. If you're travelling onboard Silver Endeavour, be sure to take a seat at The Grill – an impressive glass-ceiling venue serving international cuisine all day. Breeze past formidable icebergs as you sip on your morning coffee or tuck into an indulgent dessert after dinner while admiring the starry night sky. If you'd prefer a cosy night in your suite, 24-hour in-suite dining is also included.
What can I do during days at sea?
As well as the generous amenities you can enjoy whilst at sea, Silversea host expert-led seminars to complement their expedition cruises. Thanks to the cruise line's exclusive partnership with the Royal Geographical Society, you can learn all about the fascinating natural wonders you'll encounter in the destinations you visit.
Our top Silversea itineraries
Renowned for their extraordinary expedition cruises, Silversea voyages are ideal for nature lovers.
Discover the extraordinary wildlife and pristine wilderness of 'The White Continent' on an Antarctica Expedition Cruise with two options to choose from; sail the iconic Drake Passage from Puerto Williams to Puerto Williams, or fly straight into the heart of Antarctica with 'Antarctica Bridge', skipping the Drake Passage.
Alternatively, wind your way around the lava-forged Galapagos Islands on an intrepid Silver Origin Galapagos with Machu Picchu & The Sacred Valley cruise and spot a host of rare species.
"On my Silversea Expeditions cruise, I was blown away by the depth of knowledge and sheer variety of specialisms of the onboard experts. There were insightful onboard lectures, of course, but the expedition team really came into its own when we were exploring ashore. They really enhanced my Arctic adventure and left me keen to go back for more!" — Helen, Senior Product Manager
---
6. AmaWaterways
Best luxury cruise line for…
Exploring European cities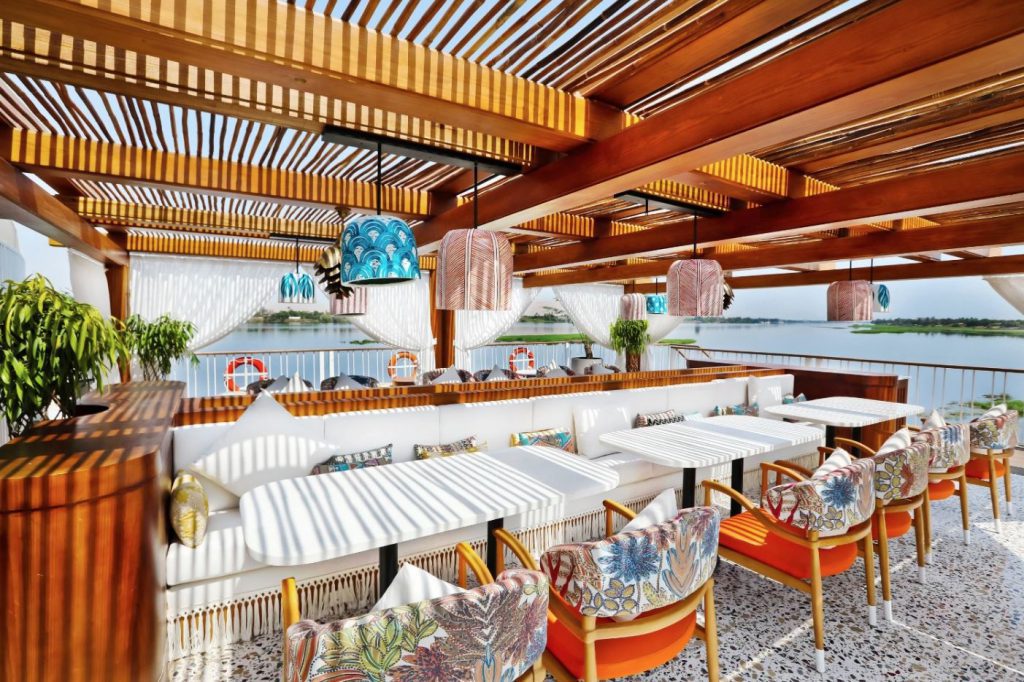 What's an AmaWaterways cruise like?
Perfect for getting to the heart of European cities, AmaWaterways are masters of providing the luxury river cruise experience. With smaller ships designed to pass through narrow waterways and ports, a river cruise is ideal for visiting historical sites and fascinating in-land cities — all against a backdrop of ever-changing scenery.
With guest capacity ranging on these boats, the one thing you can expect is that they are never overcrowded. Whether you're sailing through Provence on AmaKristina with a maximum of 152 guests on board or cruising the River Nile on AmaDahlia, which holds just 72 guests, the impressive crew-to-guest ratio on these boats ensures you'll feel well catered to.
Stay in magnificent suites with AmaWaterways' signature twin-balcony staterooms, which feature both a French balcony and an outside balcony to optimise the panoramic views of whatever landscape you're gliding past. While interiors vary from ship to ship, all suites are stylishly realised — some with marble-lined bathrooms.
From the Captain who warmly greets you as you board your majestic river cruise ship to the waiter who knows your favourite drink and addresses you by name — it's these little touches of hospitality that really make you feel at home while cruising foreign lands.
What amenities will I find on board?
For a fleet of small luxury river cruise ships, AmaWaterways pack in plenty of amenities. On board, you'll find a heated sundeck pool to relax in while drifting past amazing scenery, a compact fitness room complete with elliptical machines and weights, as well as a hair salon to keep you looking your best while travelling the world.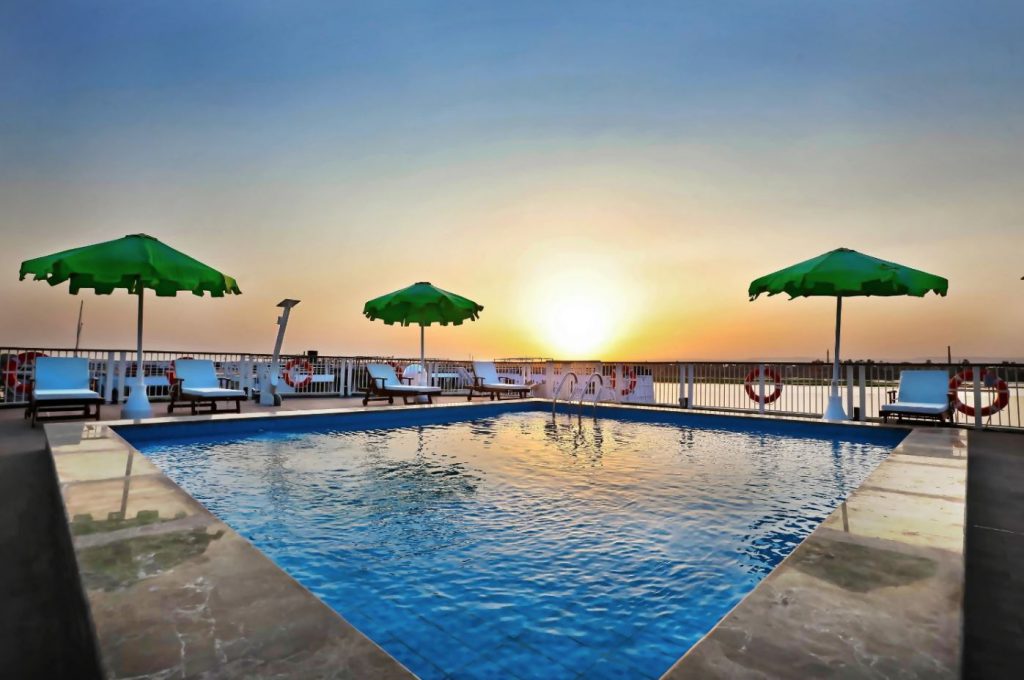 What's the food like?
Members of the esteemed La Chaîne des Rôtisseurs (international gastronomic society), AmaWaterways serve up locally-inspired cuisine prepared by expert chefs. Feast on bratwursts in Munich, sample Camembert cheese while cruising the Seine, or savour the rich flavours of beef goulash while travelling through Hungary. Enjoy multi-course meals at the restaurant, or personalise your dining experience and enjoy it on your own private balcony.
For an added bit of theatre with your meal, guests can also reserve a seat at The Chef's Table — a speciality restaurant, where just a few guests at a time are treated to a unique gastronomic experience. Watch the chef prepare an elegant multi-course meal right before your eyes!
What can I do during days at sea?
When you're not wandering around captivating new destinations, why not take advantage of the ship's extensive wellness programme? Stretch out at an open-air yoga class, calm your mind with a guided meditation session or take part in a traditional tea ceremony and sample a variety of detoxifying teas.
Our top AmaWaterways Itineraries
AmaWaterways river cruises are a spectacular way to take in iconic European cities, rural landscapes and other locations across the world that are unreachable by ocean cruise ships.
Wind through the whimsical waterways of France and sample the country's finest vineyards on a Colours of Provence Wine Cruise with Barcelona & Paris cruise, or discover the wonders of an ancient civilisation on a Secrets of Egypt and the Nile voyage.
"Cruising with AmaWaterways really takes you into the heart of Europe and each city you visit. Immerse yourself in the local culture with fascinating tours and unique experiences, including visits to exclusive palaces and castles. Their ships are also beautifully modern and the dining is superb!" — Denise, Cruise Specialist
---
7. Windstar
Best luxury cruise line for…
An intimate cruise experience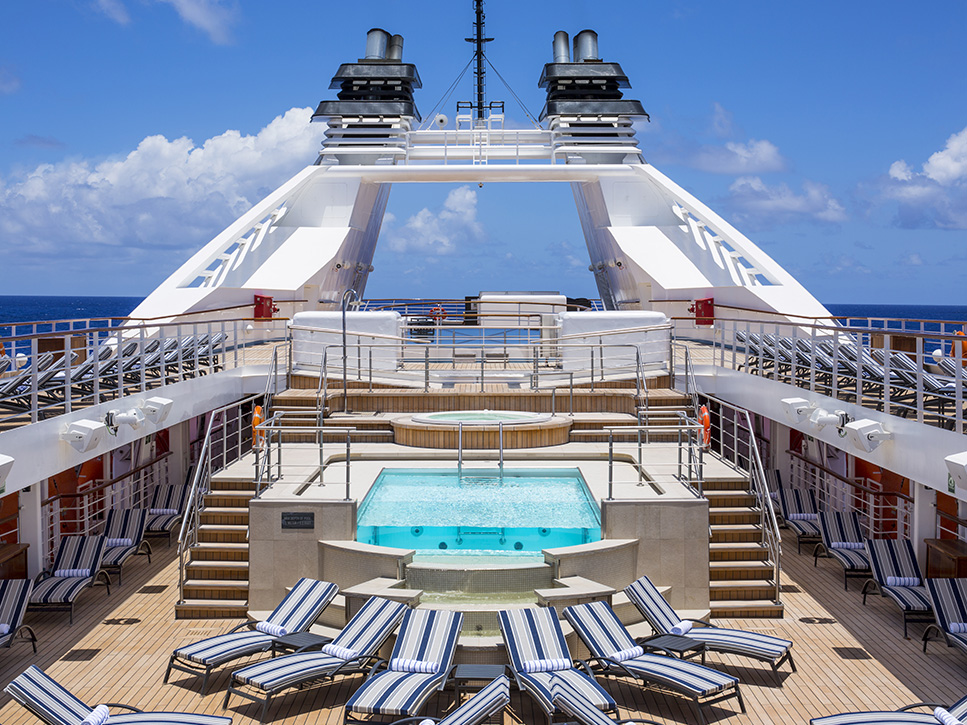 What's a Windstar cruise like?
With between just 148 to 342 pampered guests onboard their ships, Windstar proudly wears its title for being "The Best of Small Ship Cruises".
Significantly smaller than the likes of Oceania, Regent Seven Seas, Silversea and Seabourn, these luxury yachts are able to offer a very intimate cruising experience. Not only that, but they can also reach smaller coves, meaning you can experience the less-frequented areas of the destinations you visit.
Step on board one of their three ultra-exclusive yachts — Star Pride, Star Breeze, or Star Legend — and be transported to faraway shores in the utmost comfort and style. Upholding high standards across the board when it comes to accommodation, all Staterooms feature a Queen Size Bed, L'Occitane bath products and ensuites fit with granite countertops.
Windstar guests are treated to all the comforts of home, all around the world. Beyond their carefully-designed spaces, the crew onboard pride themselves on their intuitive service. Really enjoy those little turn-down chocolates on your pillow? You may find more the next night. Have a favourite aperitif? Say no more…the crew have already memorised it.
What amenities will I find on board?
As for life on board, you'll find all the amenities you'd expect to find in a five-star hotel — plus watersports equipment! Work up a sweat at the fitness centre, enjoy a rejuvenating massage in the spa, get lost in a good book in the library, hang out in the lounge bar or cool off in the pool. There's nothing quite taking a dip on the deck while drifting out to sea.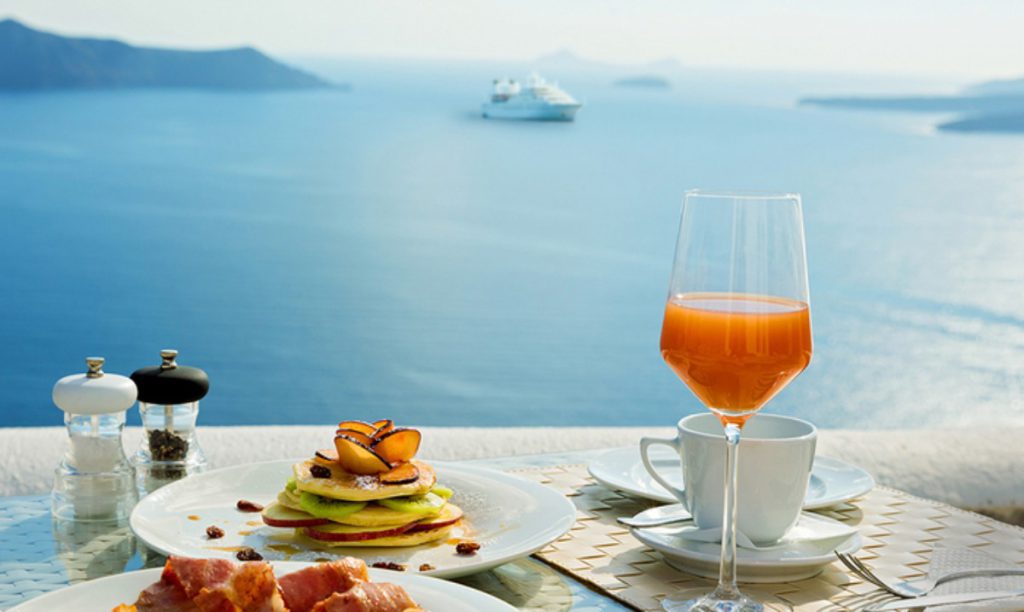 What's the food like?
From signature on board barbecues to romantic candle-lit dinners on the open deck, Windstar are committed to bringing guests regional cuisine prepared with seasonal ingredients, sourced from the ports they visit. Look out for speciality restaurants on board Windstar ships, including Anthony Sasso's Spanish restaurant, Cuadro 44, as well as Steven Raichlen's Star Grill on all three ships.
What can I do during days at sea?
Like making the most of your days on shore? Windstar offer destination briefings so you can learn more about the places you're visiting and plan excursions to suit you. When you're finished studying up for the adventures ahead, get endorphins flowing with a feel-good fitness class, attend lectures led by cultural experts and naturalists, or listen to live music performances.
Our top Windstar itineraries
Sailing all around the world, Windstar will take you to far flung ports and exotic destinations such as Alaska, Asia, Australia and New Zealand, Costa Rica and the Panama Canal, the Caribbean, Europe and the South Pacific. Windstar scour the world for amazing places, just 'this side' of unreachable.
"Having recently cruised with Windstar, I was thoroughly impressed by the crew's unintrusive-yet-highly-attentive service. The yachts are nice and small without compromising on dining, as the selection and quality of food is outstanding. The suites are large and sumptuous, making them the perfect place to relax after an exciting day of sightseeing." — Denise, Cruise Specialist
---
8. Hapag-Lloyd Cruises
Best luxury cruise line for…
A special family cruise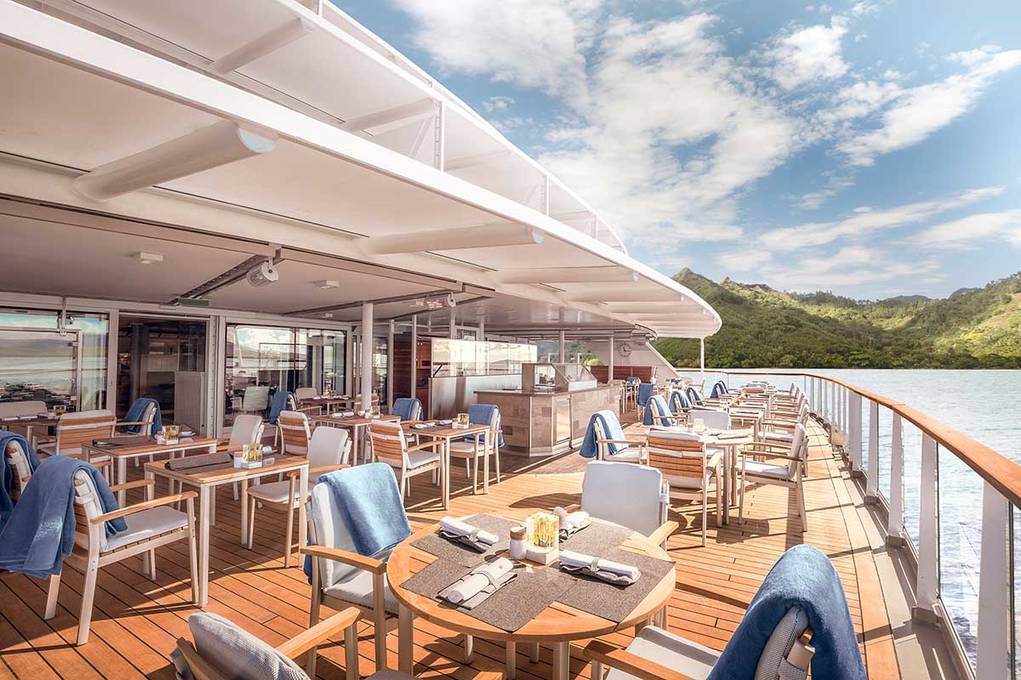 What's a Hapag-Lloyd cruise like?
Looking for a luxury family cruise without the impersonal 'big ship' experience? Set sail on an unforgettable family adventure with Hapag-Lloyd Cruises, travelling worldwide from the New Zealand to the Caribbean and everywhere in between, including many Mediterranean and European itineraries.
While Hapag-Lloyd Cruises offers amazing itineraries on all their ships, including to remote destinations on their expedition ships, it's the MS EUROPA 2 vessel that offers the best family facilities and experience for younger guests.
With a maximum capacity of 500 guests, young travellers have plenty to do during days at sea. The Knopf Club, The Kids' Club, and the Teens' Club (all with dedicated spaces on board), offer a range of fun activities, from pizza making to 3D movies and banana boat rides.
As for comfortably travelling with the whole family, the MS EUROPA 2 boasts Family Living Apartments complete with spacious living areas and inter-connecting bedrooms to give families the perfect balance of space and togetherness. For those looking for even more luxurious suites, lavishness awaits in the Penthouse Suite, Grand Penthouse Suite and Owner Suite.
Enjoy some unforgettable family bonding time while sailing into dazzling sunsets — all with the personalised service and attentive hospitality of an upscale hotel.
What amenities will I find on board?
In addition to kids' club spaces on MS EUROPA 2, you'll also find a fitness centre with state-of-the-art equipment, the spacious OCEAN SPA complete with three saunas and a steam bath, a cabaret-style nightclub venue, a sundeck swimming pool and a dedicated theatre for evening shows.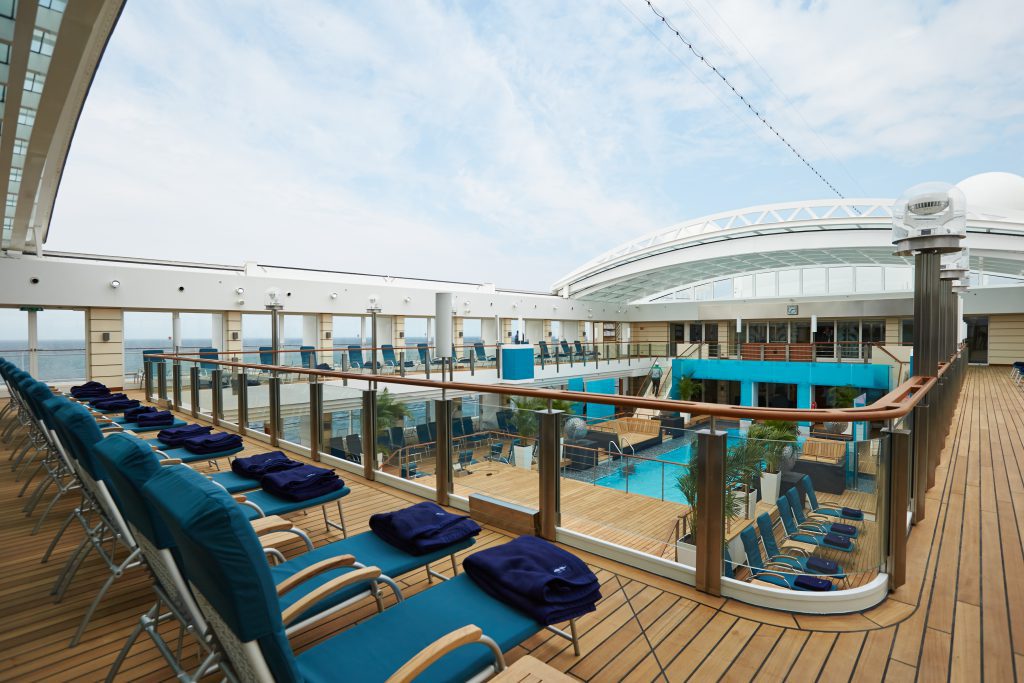 What's the food like?
Embark on a cruise with Hapag-Lloyd Cruises and you'll experience the highest standards of culinary art. Guests can enjoy all seven fine-dining restaurants as part of their cruise package with no extra supplements, including international gourmet, French bistro, Asian à la carte, inspired Italian and exquisite sushi. Plus, at the ship's exclusive Yacht Club restaurant, guests can experience the finest cuisine from breakfast to dinner time with panoramic ocean views.
What can I do during days at sea?
You'll find it difficult to get bored with Hapag-Lloyd Cruises. Days at sea on MS EUROPA 2, for instance, might look like practising your swing on the high-tech golf simulators or enjoying a deep tissue massage at the extensive spa. In the evenings, make your way to the theatre for a gravity-defying acrobatic show and then keep the party going at Sansibar, playing live DJ sets into the early hours of the morning.
Our top Hapag-Lloyd Cruises itineraries
With Hapag-Lloyd Cruises, you will experience the world from new perspectives and look forward to spectacular moments both at sea and ashore. See our latest Hapag-Lloyd Cruises itineraries.
"Hapag-Lloyd Cruises, to me, is a little well-kept secret for the UK market and the perfect choice for luxury cruising. With a great variety of onboard entertainment and a worldwide selection of itineraries, it's no wonder the Berlitz guide of cruising awarded the coveted distinction of 5-stars-plus to MS Europa II." — Denise, Cruise Specialist
---
One of these luxurious cruise ships take your fancy?
Find out more about our luxury cruise holidays, simply get in touch to speak to our experts.
They can tailor-make your holiday exactly how to like it, finding you the perfect itinerary and arranging any pre- or post-cruise stays.
For more holiday ideas and to receive our latest offers, sign up to our newsletter below.