There are many reasons to visit the incredibly diverse country of India, though for many, seeing tigers in the wild is a true highlight.
India is home to a number of outstanding nature reserves that work hard to protect one of Asia's most famous big cats. This offers visitors an exceptional opportunity. So, how do you make the most of a tiger-spotting trip?
Why is India a good place for seeing tigers?
Currently, around three-quarters of the world's wild tiger population resides in India. While you might think this is a lot, it unfortunately still only adds up to around 3,000 tigers.
But, it's not all bad news for these beautiful big cats. Despite being classified as endangered after years of their population dwindling, the number of wild tigers does appear to be rising again.
This is, in part, thanks to the conservation efforts that work hard to protect them – many of which are in India.
So, while visiting India gives you a good chance of spotting a tiger, it also offers you the chance to support the national parks helping to restore their numbers. By learning more about these magnificent creatures when you visit them in India, you can do your bit to support them in return.
How many tiger reserves are there in India?
There are currently 53 tiger reserves across India. The first, Jim Corbett National Park, was established back in 1936 in an attempt to save the endangered Bengal Tiger.
Luckily, many more reserves followed, drawing in wildlife fans and cat lovers from all over the world!
When is the best time to visit India's tigers?
Generally, the best months to see tigers in India are October, November, March, April and May. This is the country's 'dry' season, during which tigers tend to gather around the few remaining waterholes. This makes it easier to predict where they will be. What's more, as the wet season's lush vegetation dries out under the heat of the sun, it's easier to spot them from afar.
You should also note that during monsoon season, many of India's tiger reserves and popular zones are closed to visitors as this is breeding season for many of the wild animals. The heavy rains also make it difficult to navigate the tracks – plus, it would be hard to see the animals in the distance, too!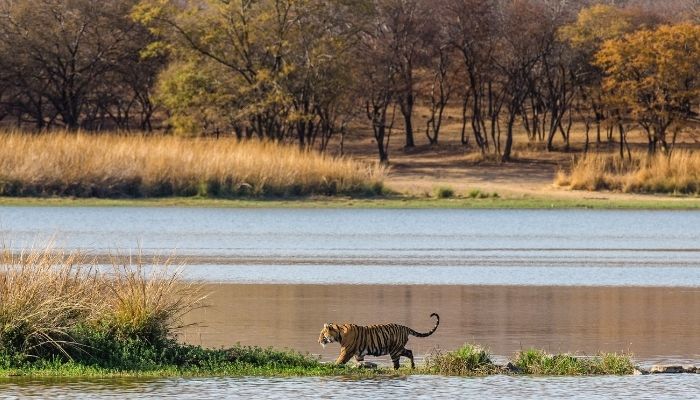 How to book a tiger safari in India
Tigers are highly protected in India, and for good reason. So, visitor numbers are limited at any time of day.
For this reason, it is vital that you book well in advance to ensure you don't miss out on the incredible opportunity to see a tiger in its natural habitat while in India. Some tiger reserves are booked up over six months in advance. Choose which tiger reserve you want to visit and when, then make your booking as soon as possible.
What to expect from a tiger safari
Will you definitely see a tiger?
Nobody can guarantee that you will see a tiger while on a safari. If a tour tells you that you 100% will, they may not be entirely trustworthy.
However, the best parks and reserves have highly experienced guides who will be able to look out for signs of them. You'll be amazed to learn about the sights and sounds that suggest a big cat is nearby!
To maximise your chance of spotting one yourself though, we recommend that you spend quality time (three nights or above) in a national park during your trip – perhaps even in two different parks.
Nevertheless, even if a tiger doesn't show its stripes, there are plenty of other beautiful sights for you to enjoy. Whether it's a herd of elephants, a leopard, hyena, crocodile or stunning birdlife, India's tiger reserves have an array treasures to display.
---
Inspiring Travel difference: We only recommend and use exclusive vehicles for safaris. Plus, we don't do shared game drives in most national parks for a premium viewing experience.
---
How long does a safari last?
When you arrive for your safari, you will board a exclusive jeep or similar vehicle with your naturalist. The animals' welfare is the top priority, so speed limits and pathways are limited – you won't be able to drive yourself or go 'off road'.
Most reserves offer safaris either first thing in the morning or in the afternoon. The reserves have strict closing times, too, so you will need to be out of the gates on time.
Some of the national parks offer the possibility of full day game drives, which are particularly popular with keen wildlife lovers, photographers and filmmakers.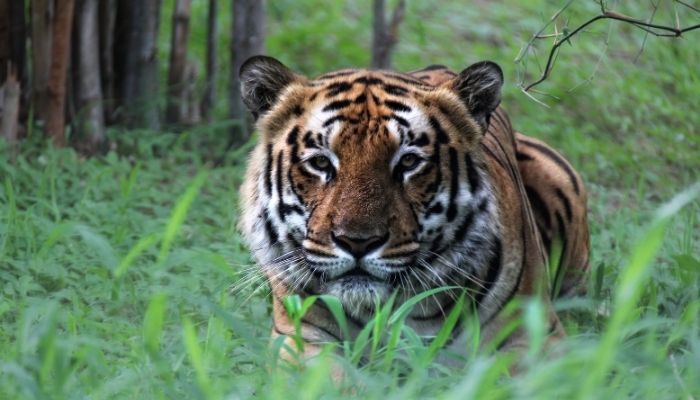 Where are the best places to see tigers in India?
So, exactly where can you find the best tiger reserves and safaris in India? Take a look at our top 10 recommendations below…
---
1. Ranthambore National Park
The wonderful Ranthambore National Park is perhaps one of the most famous places to see tigers in India. While it was officially declared a national park some forty years ago in 1980, it has been established since 1955.
It's also one of the biggest tiger reserves in India, covering over 1,300 square kilometres of a former royal hunting ground used by maharajas from Jaipur and Karauli. Today, around 80 tigers roam the plains and, since they are more active here in the daytime than is usual, it's a great place to see them in action!
Located in Rajasthan, Ranthambore also has a very convenient location for travellers to the famous Golden Triangle.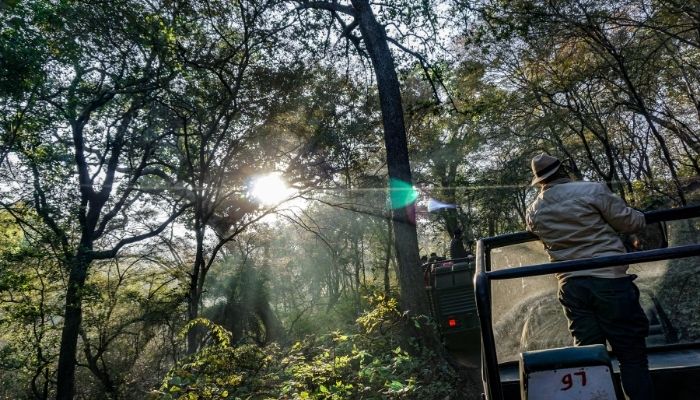 ---
2. Bandhavgarh National Park
One of the highlights of the state of Madhya Pradesh, Bandhavgarh National Park is a little out of the way for many visitors. But for those who do make the journey out there, a fantastic experience awaits. This is a small park with a large number of tigers!
Another former hunting grounded turned into a conservation site, Bandhavgarh is thought to have the highest Bengal tiger population density in India, making your chances of spotting one more likely. It's also famous for being the place where white tigers were first seen, though none have been spotted in the park for some decades now.
As with all of India's best tiger reserves, there is a host of other wildlife to keep an eye out for too, including sloth bears, leopards, wild deer and many, many more.
---
3. Kanha National Park
A few hours south of Bandhavgarh National Park, just outside the city of Mandla, lies another of India's best places to see tigers – Kanha National Park. Having been a dedicated wildlife sanctuary since 1933, and declared a national park in 1955, Kanha is a true paradise for wildlife.
There are more than 150 tigers across the park, which is a healthy density when it comes to your chances of seeing one. Even if you don't though, there are 22 other beautiful species of mammal that are sure to make your day feel special.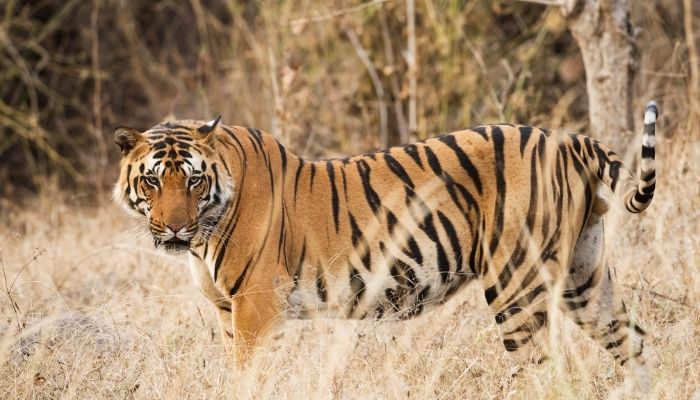 ---
4. Pench National Park
Located in the state of Madya Pradesh, in the very heart of India, Pench National Park is renowned as one of the best tiger reserves and safaris. It also has an extra-added claim to fame, having inspired Rudyard Kipling to bring India's animals to life in his stories from The Jungle Book!
Covering a sprawling 758 square-kilometres, Pench is another of the biggest reserves in India. It's home to some 87 Bengal Tigers, offering visitors a very good chance of spotting a real-life Sher Khan during a safari here.
Along with its tigers, Pench is also admired for the 1,200 beautiful species of plants and flowers that grow here, along with an array of other mammals and birds that have made this park their home.
---
5. Satpura National Park
Named after the rugged mountain range that surrounds it, Satpura National Park is one of the lesser-known tiger reserves in India. However, because if this, it is something of a hidden gem.
The tigers are a little more elusive here than in bigger name parks such as Ranthambore and Pench. But as the park has such fewer visitors, you can enjoy a much more private experience when you do see one. The peace and quiet means you might even hear a bear or tiger roaring in the distance!
Aside from Tigers, Satpura National Park is largely famed for its stunning scenery of rugged sandstone peaks. There is a plethora of other wildlife too, such as leopards, bison and an array of birds.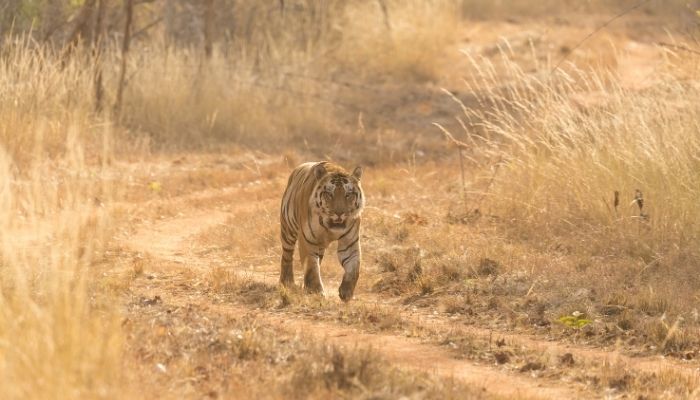 ---
6. Bori Wildlife Sanctuary
Bori Wildlife Sanctuary includes India's oldest forest preserve: Bori Reserve Forest.
One of the most exciting emerging tiger landscapes in Madhya Pradesh, it was established in 1865 along the Tawa River. Like Satpura, it is less explored — far from the usual tourist hotspots — and is a haven for nature lovers!
I had exceptional sightings of Tigers, Leopards, Sloth Bears and giant squirrels around the Churna range.

– Nikhil, India Product Manager
---
7. Tadoba National Park
As the state of Maharashtra's biggest tiger reserve, Tadoba National Park is well worth visiting for those exploring central India.
Divided into three forest ranges, with two lakes and a river flowing through them, this reserve is rich in stunning wildlife. The woodland is particularly beautiful, renowned for its towering teak trees.
There are around 115 tigers residing in the park, though many visitors are almost as excited to also spot the shy leopards and sloth bears in their natural habitat!
---
8. Jim Corbett National Park
Famed as being India's oldest national park, the tiger reserve of Jim Corbett was where Project Tiger was first launched to protect these endangered species.
Located in the north of the country – just over a five-hour drive from New Delhi – it's a popular spot for many visitors. Enveloped by verdant hillsides, Jim Corbett National Park is a hive of life and colour, thriving with trees, plants and flowers, while the Ramgana River provides precious water reserves.
However, it is the sheer number of tigers that reside in Jim Corbett National Park that makes it so renowned. With upwards of 225 of the big cats, it has one of the highest tiger populations of reserves in India.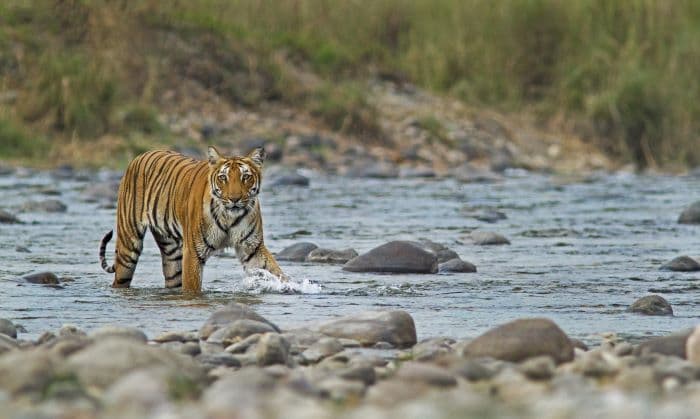 ---
9. Rajiv Gandhi National Park, Nagarhole (Karnataka)
Designated a wildlife sanctuary in 1974, Nagarhole occupies an area of 644 sq km.
Set in the Western Ghats, it's home to an exceptionally large and diverse wildlife population that is part of a complex and delicate ecosystem. It has one of the greatest densities of tigers in India, boasting 15 tigers per 100 sq km.
What's more, it's home to the largest congregation of Asiatic elephants in the world! Visitors here can also expect to find scores of Indian bison (otherwise known as gaur).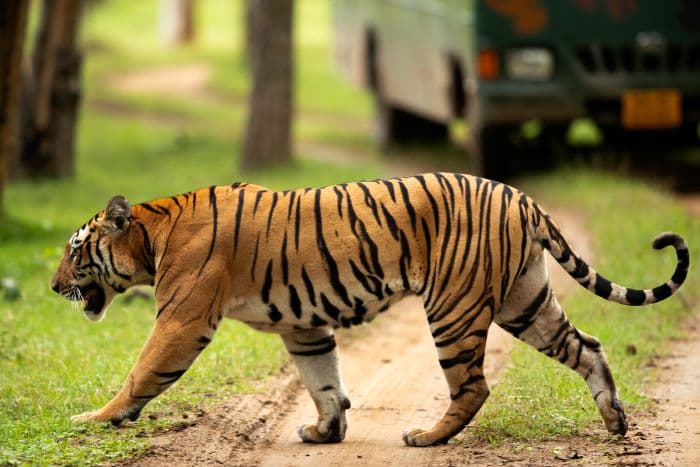 ---
10. Kaziranga National Park
In 1908, Kaziranga was designated a reserve forest with pioneering protection efforts underway, before being given official park status in 1974. It's also one of India's densest tiger habitats with recent estimations of over 135 of the big cats — though you'll be lucky to spot them!
Within these watery borders remain herds of now-endangered wild buffalo, Asian elephant, swamp deer, capped langur and Asia's only ape (the hoolock gibbon), which lives in the canopies of the higher-bordering forests of Karbi Anglong.
A World Heritage Site, the park today hosts two-thirds of the world's greater one-horned rhinoceros. According to the latest census in March 2015, it recorded a total of 2,401 — a remarkable feat considering the species was on the verge of extinction, with only 12 left in 1903.
---
Are you planning a trip to see tigers in India? Contact us at Inspiring Travel to speak to our India Travel Specialist, Nikhil Chhibber, who can help you design your own bespoke itinerary.
Nikhil has been to most national parks in India over the last 30 years and has had the privilege of encountering many amazing Tigers, including cubs.
For more expert travel guides and to be the first to see our latest luxury travel offers, sign up to our newsletter below.