Sshhh…don't tell anyone else about these hidden gems of the Caribbean!
One of the most popular beach destinations in the world, the Caribbean attracts sun worshippers to its famous shores year after year. With its milk-white beaches and celeste blue waters, you can hardly blame us for flocking to the region's exotic islands to bask in their natural abundance.
However, sometimes you need a real escape — a place where you can get away from it all, and that requires finding somewhere less well known; a secret sanctuary, a remote retreat…a hidden gem, if you like.
So, if its more private island paradise than buzzy beach party you seek to satisfy your 'hermit-on-holiday' tendencies, look no further!
Find your peaceful place in the Caribbean from our selection of hideaways…
---
1. Le Toiny – St Barths
Arguably the chicest of the Caribbean islands, St Barths has all the style and appeal of the French Riviera thanks to the influence of French settlers in the mid-17th century. Playground of the rich and famous, it's teeming with designer boutiques, luxury yachts, and excellent restaurants.
Le Toiny is a beautiful hidden gem located on the southeast coast of the island. Comprising just 22 enchanting villas with private infinity pools, Le Toiny's scenic hillside location offers exceptional privacy with residences separated by lush gardens.
Guests can hop in one of the resort's Land Rover Defenders and head down the laidback-yet-exclusive Beach Club. Set on unspoilt sands and lapped by warm Caribbean waters, this secluded Beach Club offers a lively bar, a charming boutique, and a even beachfront swimming pool!
Despite St Barths' reputation as place to be seen, this hidden haven is the perfect spot to retreat to after parading around the affluent town of Gustavia.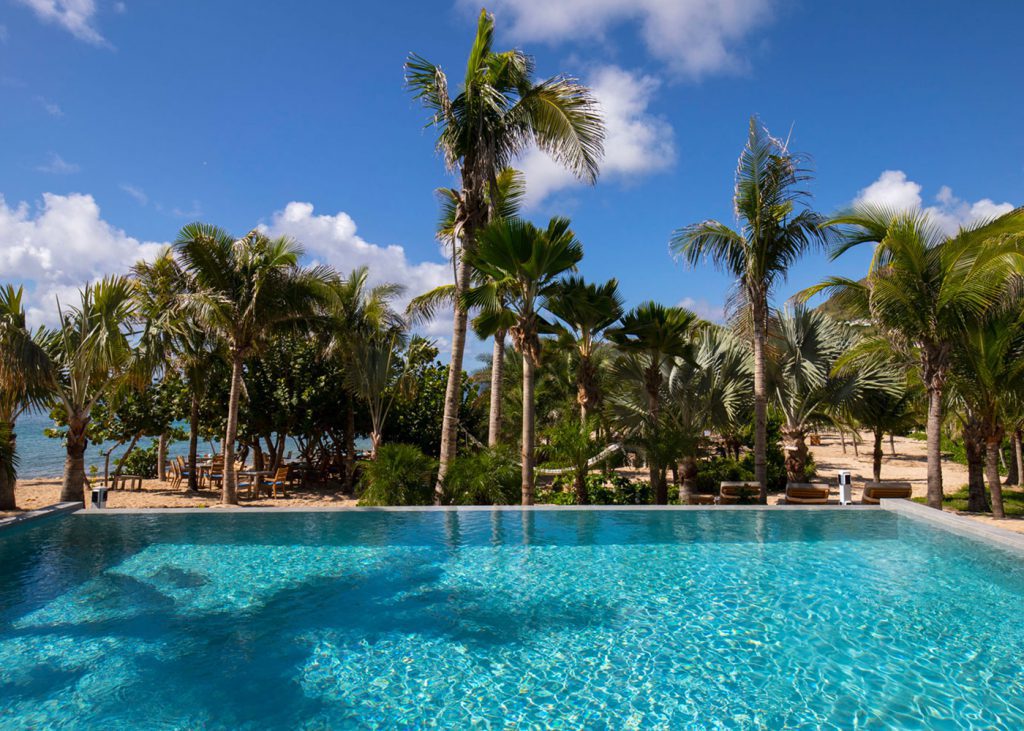 ---
2. Secret Bay – Dominica
Perched atop a cliff on the northwest coast of Dominica, the exclusive treetop bungalows at Secret Bay are the ultimate escapist fantasy. Offering awe-inspiring views over the Caribbean Sea, these unique hideaways each feature an ensuite plunge pool, a private terrace, and even a dedicated villa host.
More secrets are waiting to be discovered at this resort, with opportunities to swim in the sea caves below or kayak through mangroves up the Indian River. Be sure to take advantage of the many meditation points that are dotted around the resort and find your inner peace.
Concealed in the canopy of the rainforest, unwind with a massage at Gommier Spa while listening to the calls of exotic birds that surround you. In the evening, indulge in an intimate dinner at the high-altitude Zing Zing Restaurant and take in stunning views of Tibay Beach.
With just six bungalows to choose from, Secret Bay is a hidden Caribbean gem in every sense of the word.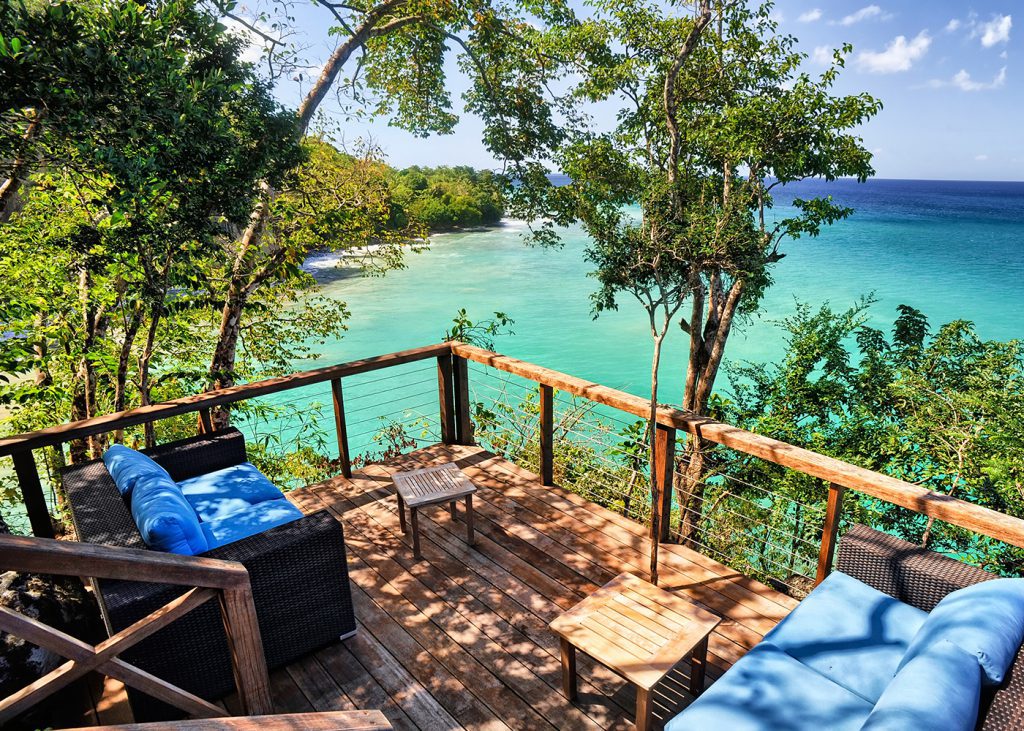 ---
3. Montpelier Plantation & Beach – Nevis
Set on an 18th-century sugar plantation, this historic property is located on the small island of Nevis — one part of the twin-island country, St Kitts and Nevis. Stylishly restored yet still in-keeping with the site's colonial roots, the 19 rooms that comprise Montpelier Plantation & Beach are housed in original plantation cottages.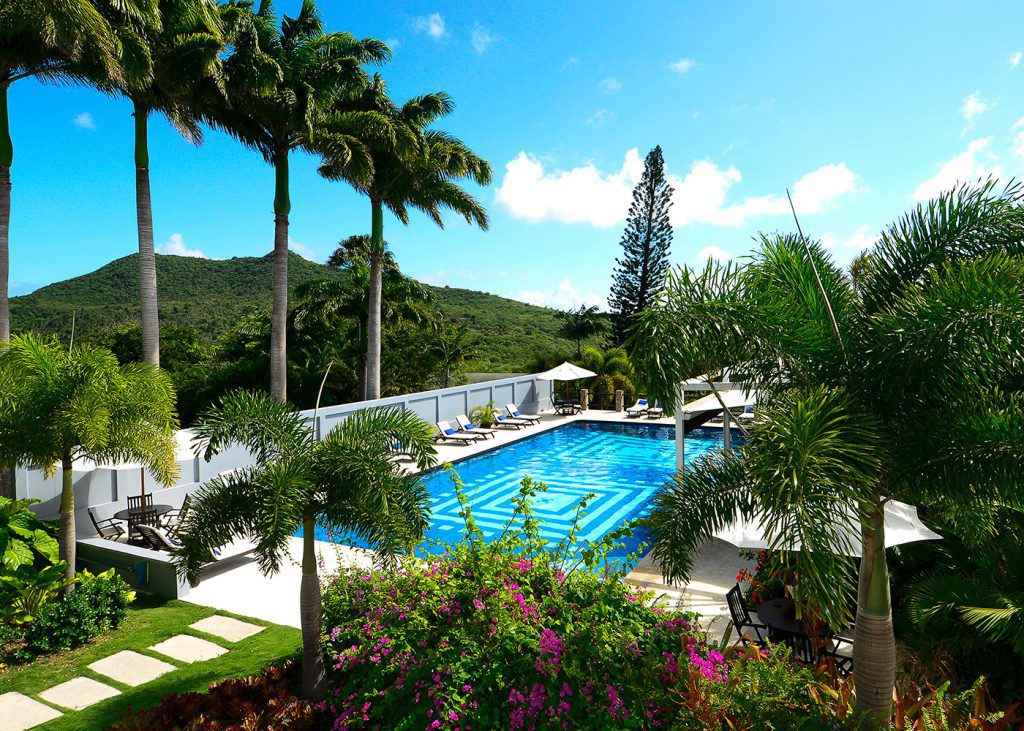 For couples looking to dial up the romance factor, there's the option of intimate candlelit dining at the hotel's 300-year-old restored sugar mill — the only restaurant of its kind in the world! Arrange a table-for-two here and feast on gourmet cuisine, concealed by the round stonewalls of the old mill.
In the daytime, take the complimentary shuttle down to the resort's private beach, which is perfectly situated in a hidden cove just 15-minutes from Montpelier Plantation.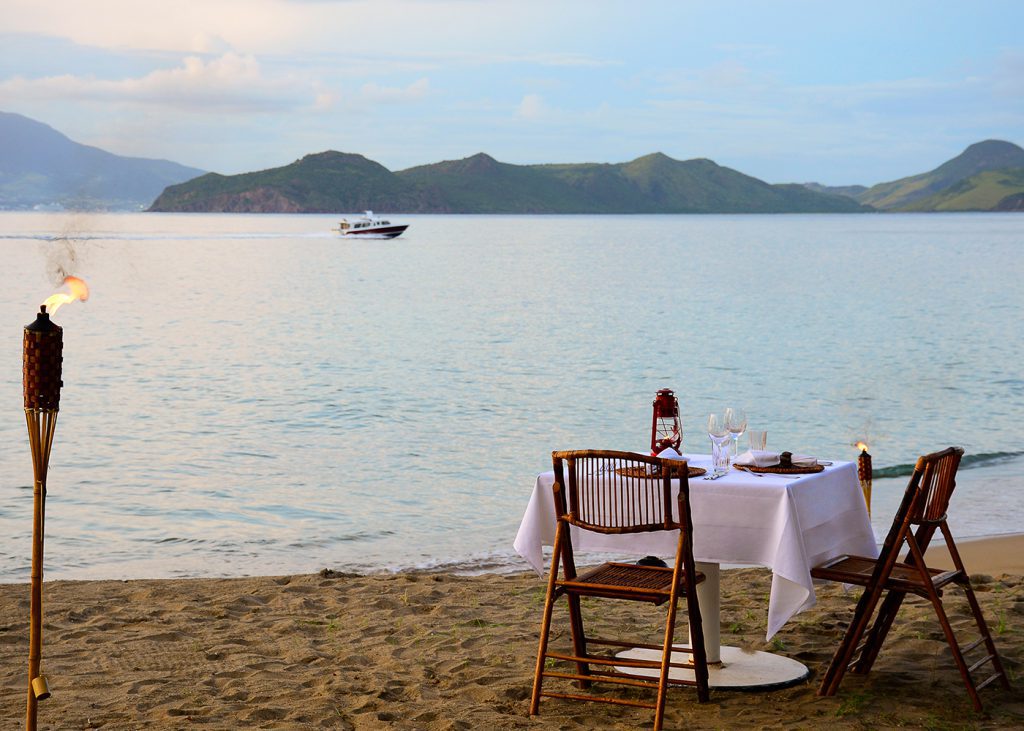 ---
4. Guana Island – British Virgin Islands
"Imagine the Caribbean before it went public."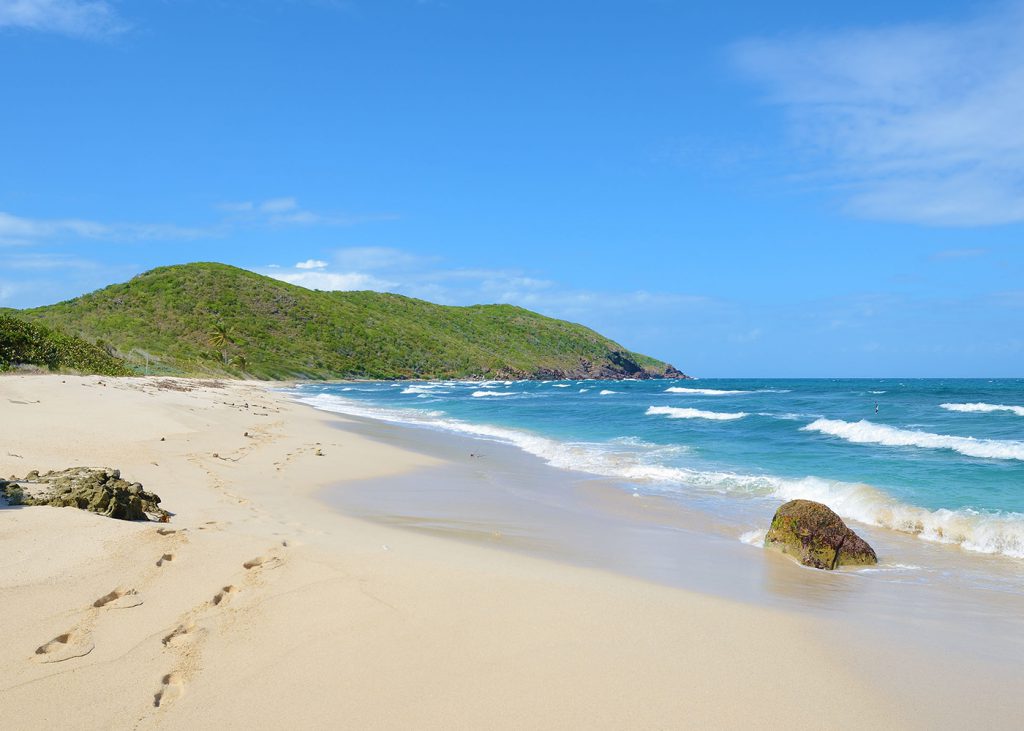 That's what you'll find at Guana Island, according to its family stewardship. This 850-acre private island boasts seven immaculate white-sand beaches, a vast tropical rainforest, as well as formidable mountain peaks, which guests are free to climb.
Comprising 19 villas and cottages, Guana Island offers low-key luxury to just a handful of guests, with an emphasis on privacy, relaxation, and demure-yet-friendly service. Lean into the resort's obscure location with a 'Castaway Picnic' on a remote stretch of sand. Or head out on a hiking expedition around this sprawling ecological reserve to find its resident flock of flamingos, as well as tortoises and rare iguanas.
Oh, and you won't find any phones, televisions, or computers in your room here — this island is all about helping you escape the everyday and immersing yourself in the natural beauty of the Caribbean landscape.
---
5. Viceroy Riviera Maya – Mexico
Extending deep into the primitive Maya Forest, Viceroy Riviera Maya is located on a beautiful white-sand beach on the Caribbean coast of Mexico.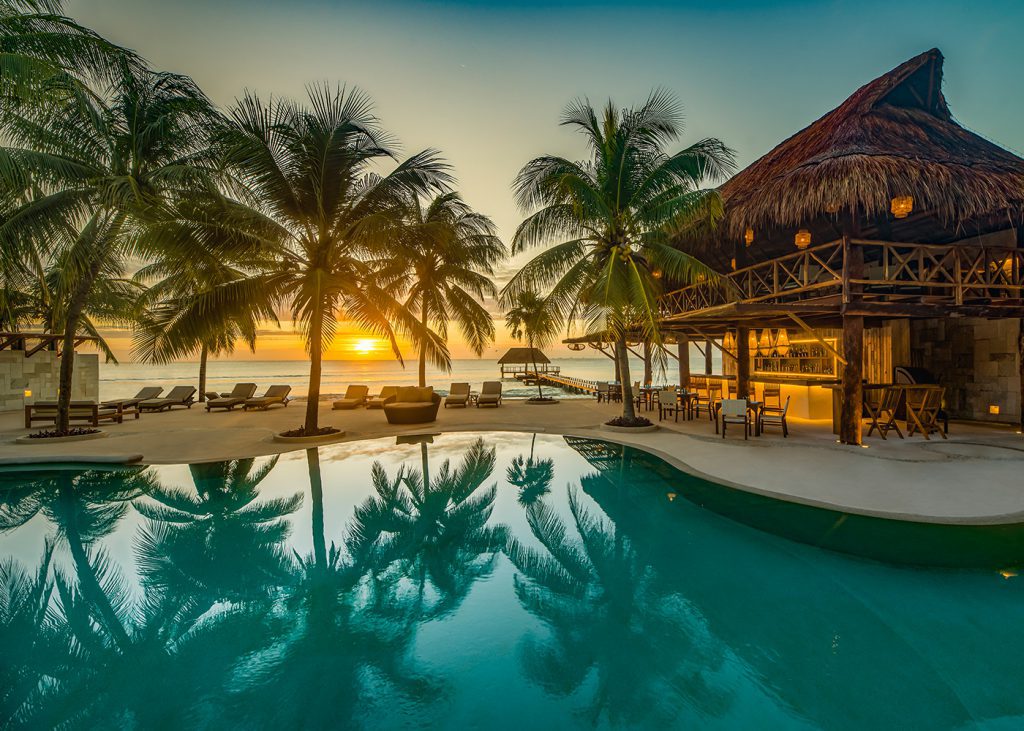 With a perfect combination of sprawling green jungle meeting pristine coastline, you'll feel in a world away in one of its 41 private villas, each complete with private plunge pool. Spend your days here lazing under one of the resort's palapa-roofed cabanas on its platinum sand beach and cool off in crystalline waters.
In a country renowned for its fascinating culture and ancient history, discover Mayan ruins in the nearby town of Tulum or spend an afternoon at one of the resort's tequila and taco-tasting sessions. For those seeking a break from civilisation (ancient or otherwise), head to the Mayan spa for a holistic treatment and feel all cares simply melt away.
And you won't hear the revving of an engine or a throng of a crowd at Viceroy Riviera Maya. It operates a no motorised vehicle or uninvited guests policy to protect your peace and privacy. Phew!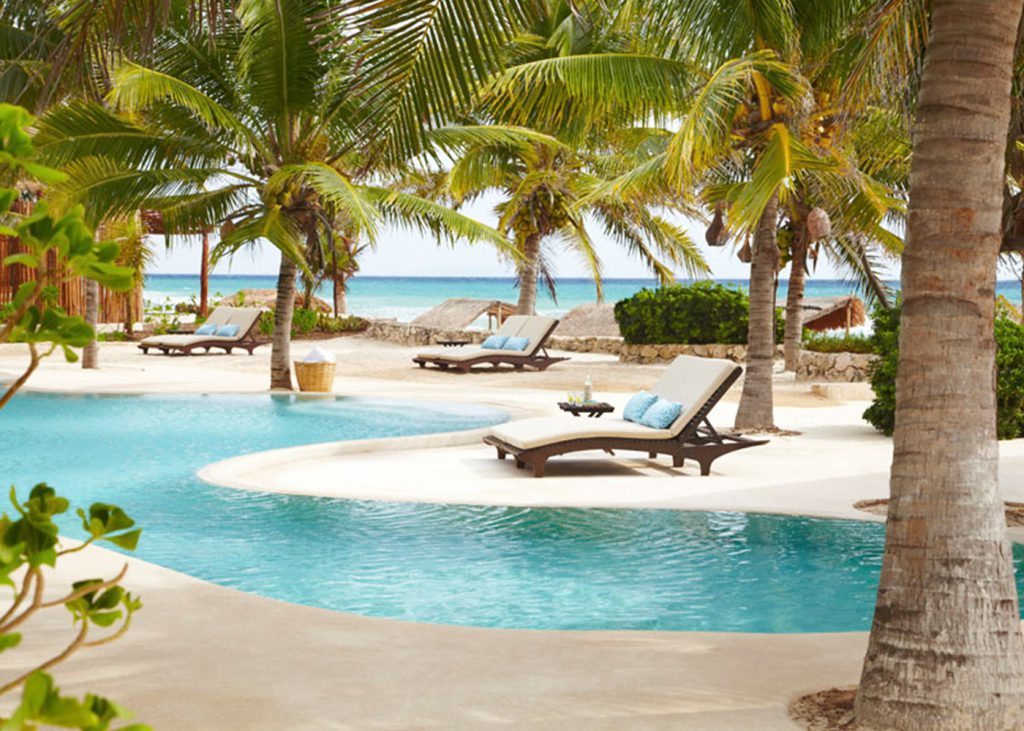 ---
6. Cotton House – Mustique, St Vincent & The Grenadines
Tucked away on the tiny Grenadine island of Mustique, Cotton House is a firm favourite amongst rock stars and royals requiring the utmost privacy. Originally an 18th-century sugar mill, it is the only full-service hotel on this charming island and offers 13 ocean-facing acres from its hillside positioning.
Stay in one of just 17 hideaways — rooms, suites, cottages, and a residence — each boasting its own private patio or veranda. Those wishing to make contact with other guests can head to the Great Room for elegant afternoon teas or hit Basil's Bar in the evenings for sundowner cocktails.
For exclusive dining experiences, Cotton House is hard to beat. Veranda restaurant serves up a menu of West Indies-inspired delights prepared by a Michelin-star chef, and guests can feast on locally-sourced seafood at the laidback Beach Café. Or for something seriously special, opt for a private dining experience and have an entire menu created especially for you.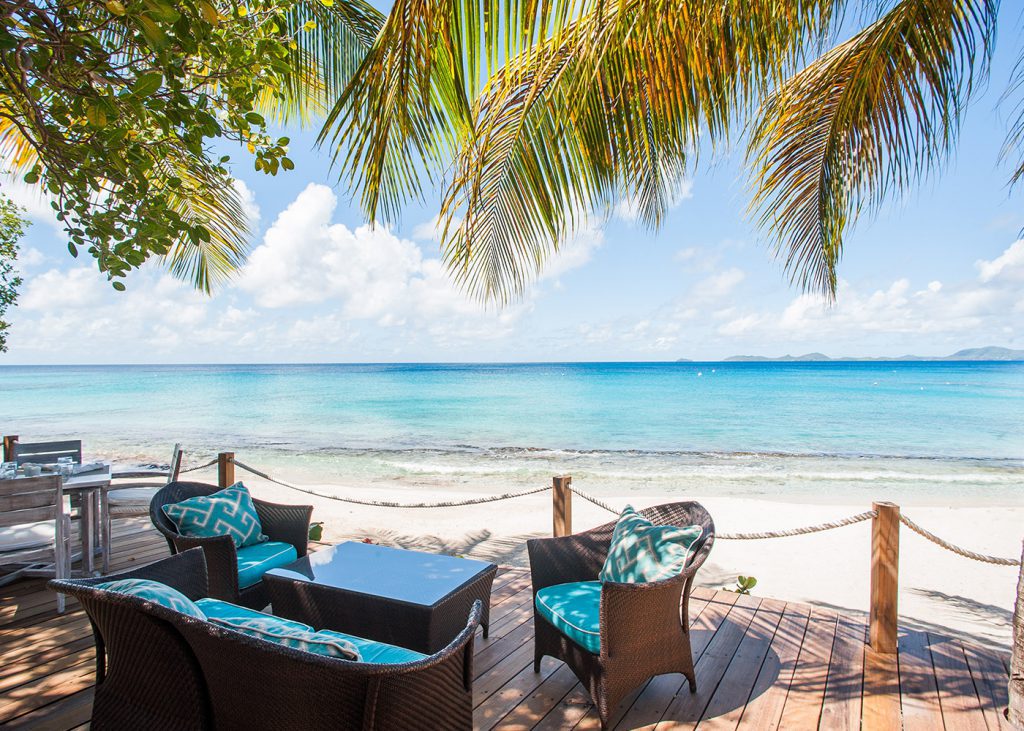 ---
7. Paradise Beach – Nevis
Set between a pristine beach and the island's steep forest-covered mountain peak, Paradise Beach is located on the west coast of the beautiful island of Nevis. Comprising just 14 residential villas, the resort's vision for its guests is to experience ultimate seclusion, but with the world-class service of a luxury hotel.
Chose between a garden villa hidden by the island's lush tropical forest, or opt for a beachfront villa to feel the warm Caribbean breeze rolling off the sea. Spend your days on Nevis paddle boarding, horse riding, mountain biking, or learn about the island's rich heritage at the nearby Nelson Museum. Return in the evening for a beachside bonfire and watch the sun descend into mesmerising turquoise waters.
Round-the-clock butler service, in-villa dining, and private pools in every residence mean you need not leave the boundaries of your own personal haven. And when you've had your fill of alone time, head to the Beach Bar for the freshest seafood imaginable. Delicious!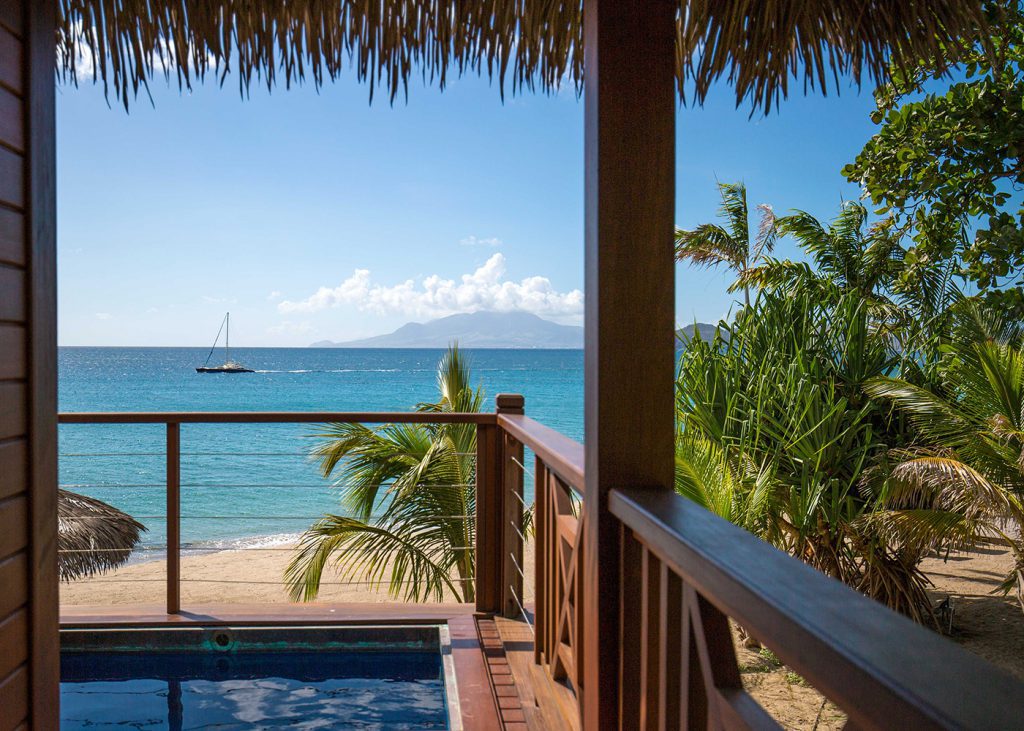 ---
8. Petit St Vincent – St Vincent & The Grenadines
Escape modern life at Petit St Vincent — a selection of 22 quaint stone cottages devoid of telephones, televisions, or even the Internet. Switch off and plug in to the natural tranquillity of this stunning 115-acre island in the southern Grenadines.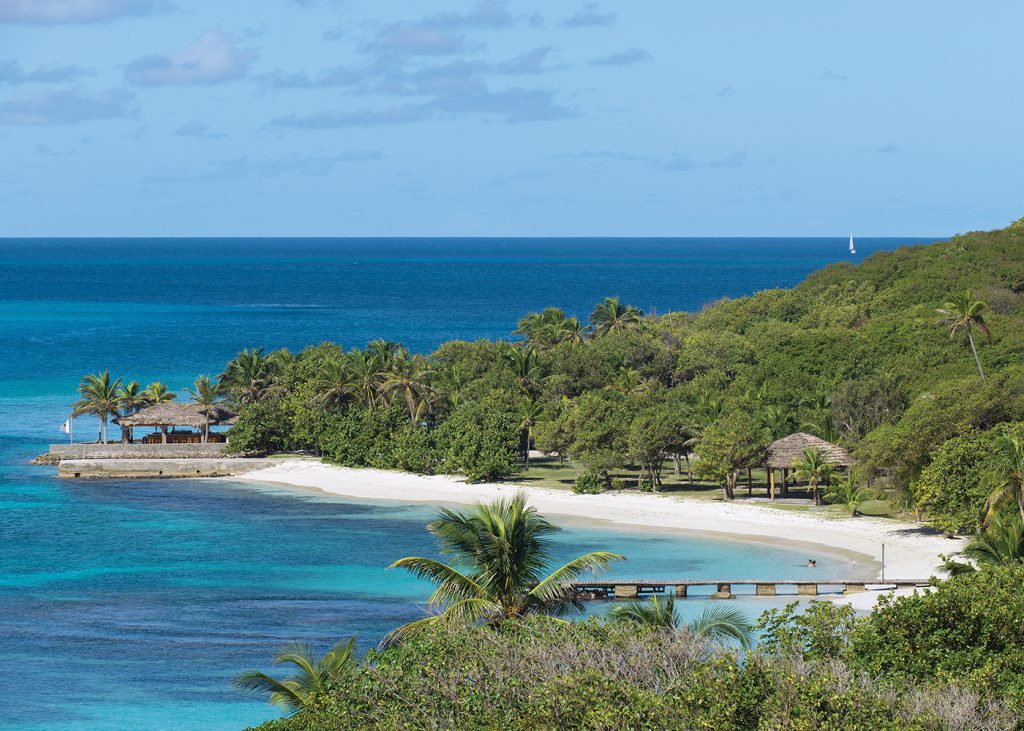 Promising maximum privacy and discreet service, guests of Petit St Vincent use a flag system to make requests; raise the yellow flag for service and the red flag to be left alone. Choose between a hill, bluff, or beach positioning and create your own perfect balance of seclusion and socialising, with the chance to meet other guests at the informal beach bar, which serves signature rum punch cocktails.
Discover the Caribbean's fascinating marine life at the resort's Jean-Michel Cousteau Dive Centre or unwind at Treetop spa, where you can watch hummingbirds dance in the canopy of the forest while you hideaway for a stress-busting massage.
For a true Robinson Crusoe, desert island experience, take the 15-minute powerboat ride to your very own atoll and share a delicious picnic without another soul in sight.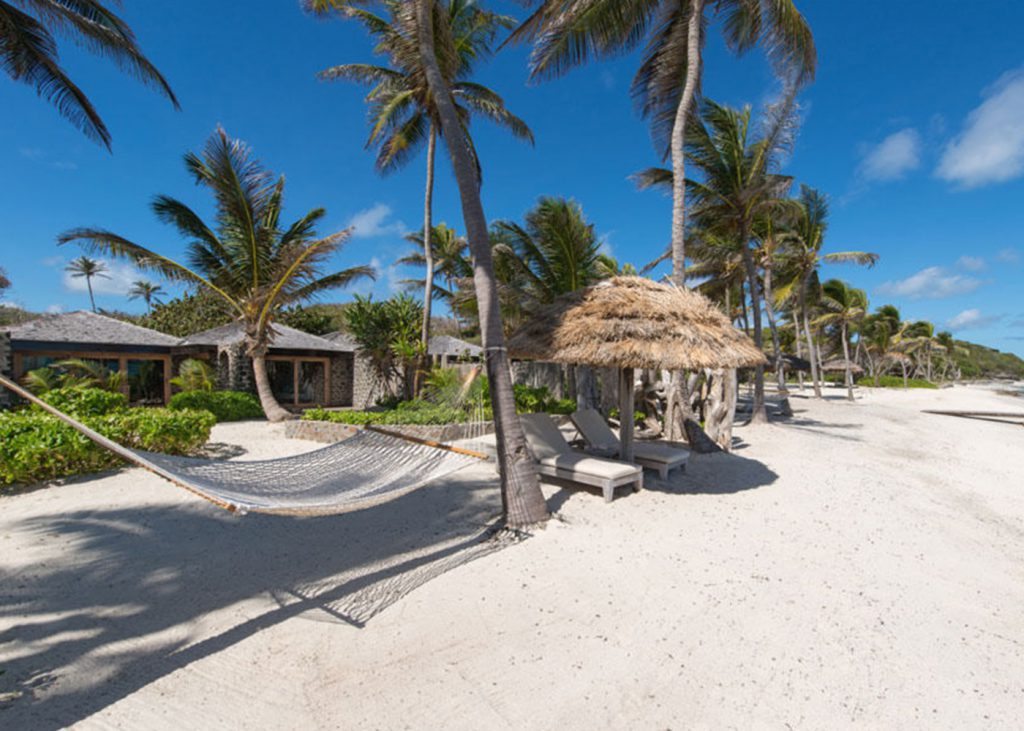 ---
9. Hermitage Bay – Antigua
Steal away from the hustle and bustle of daily life and escape to the soft sand beaches of Antigua. Nestled in a quiet corner on the west coast of the island, Hermitage Bay invites its guests to experience true rejuvenation in one of just 30 luxury suites.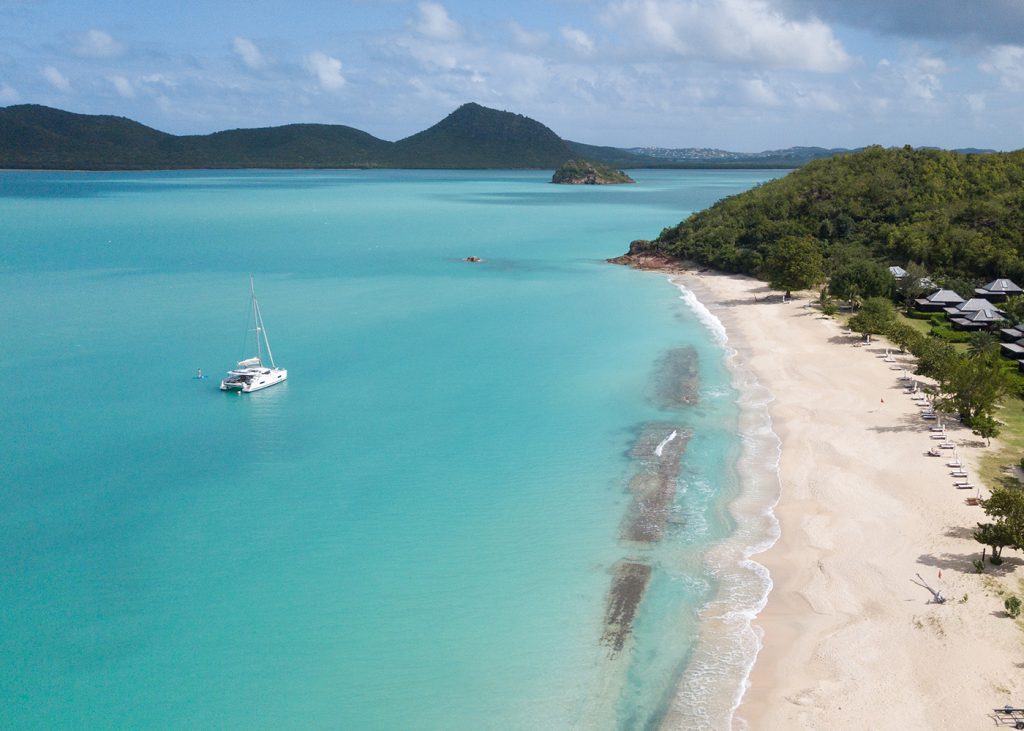 With hillside hideaways featuring private plunge pools, the resort is designed to optimise seclusion and utilises the natural landscape to achieve this. Tropical palm trees and fragrant frangipanis surround the residences at Hermitage Bay, maximising privacy and stimulating a reconnection with nature.
Award-winning yet reliably intimate, this small and personal resort is ideal for honeymooners and couples in pursuit of some undisrupted time together.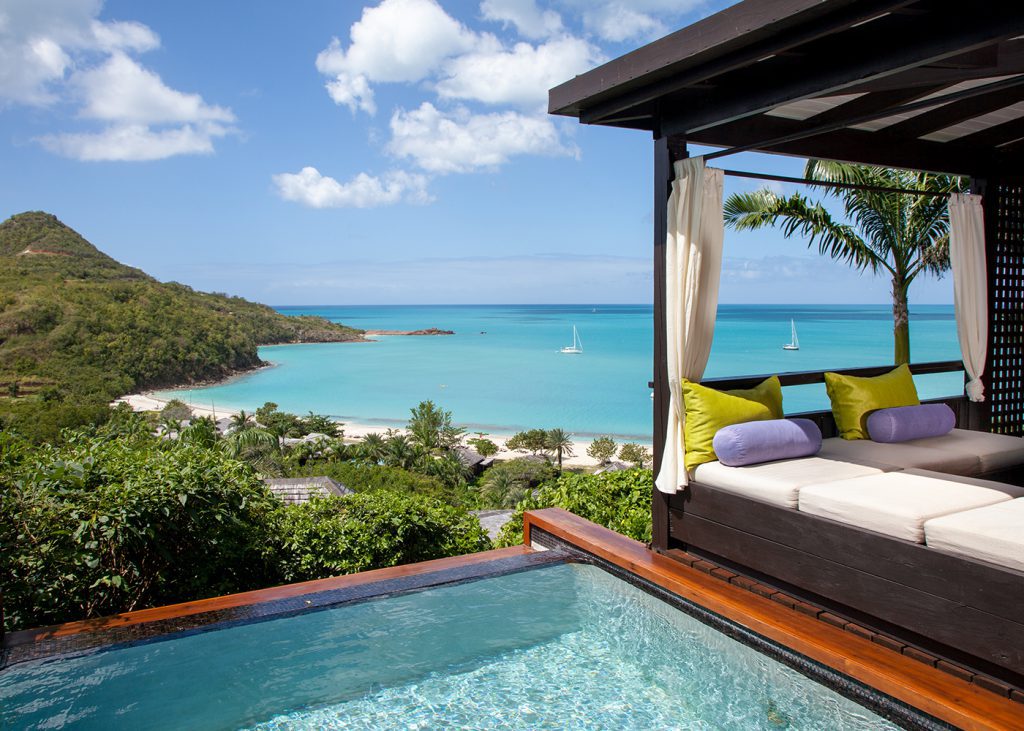 ---
Stay in your secret Caribbean sanctuary
Whether it's a secluded cottage in the southern Grenadines, a treetop bungalow on the cliffs of Dominica, or a hidden villa in the Maya Forest— escape to your favourite Caribbean hideaway from our round-up.
To start planning your luxury Caribbean holiday, speak to one of our Travel Specialists for more information and insider tips.
See our Shoulder Season Secrets: Holidays For Avoiding the Crowds for more guidance on when to go where for a quieter experience of popular spots.