Scottsdale, Arizona is your next essential getaway this summer holiday season. Known for its luxury resorts, spas and golf courses, inspired architecture and sweeping Sonoran Desert, why not discover this sunny south-west state?
While here, you can try a bit of everything, from wandering art galleries and lazing by the pool, to adrenaline-pumping activities such as rock climbing and horse riding. For the night owls, you can round it off with a night in the diverse Entertainment District!
In short, Scottsdale holidays have it all. So, here's our comprehensive guide to highlight the best bits you simply can't miss.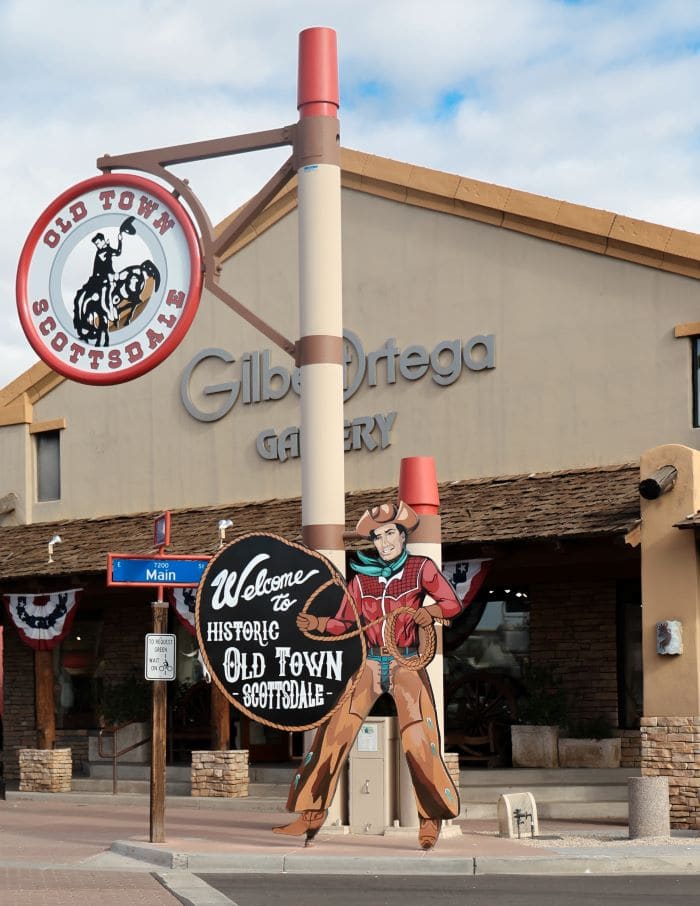 When's the Best Time to Visit Scottsdale?
If you visit Scottsdale in summer, you'll have a few added benefits from other times of year. As it's low season, you'll have fewer crowds to compete with, so you can enjoy it more at your own pace. While it can be hot, it is a dry heat and Arizona is an expert in air-conditioning – so, if you're looking to relax at the array of spas, shops and restaurants, you'll really be able to make the most of your time.
Early spring and late autumn are other best times to visit, from September to October and from March to May. The temperatures are warm but not sizzling at these times of year, offering an easier climate for outdoor activities, whether it's off roading or hiking through the Sonoran Desert.
---
Things to Do in Scottsdale
Hiking Trails & Exploring the Desert Landscape
Scottsdale's Sonoran Desert and mountain ranges provide the perfect footpaths for hiking. Pinnacle Peak Park, Inspiration Point and Kovach Family Nature Trail are some of the most scenic trails to traverse on foot, with chances to sight rattlesnakes, roadrunners and an array of cacti. If you're visiting during the summer months, you can start your day with a morning hike to feel rejuvenated before the afternoon heat.
There are miles of trails fit for bikes and horse hooves across the mighty landscapes, too! Whether you're walking, trotting, or cycling, be sure to visit, hunt for in Tonto National Forest, and discover the history of Lost Dutchman State Park, the famously "lost" gold mine.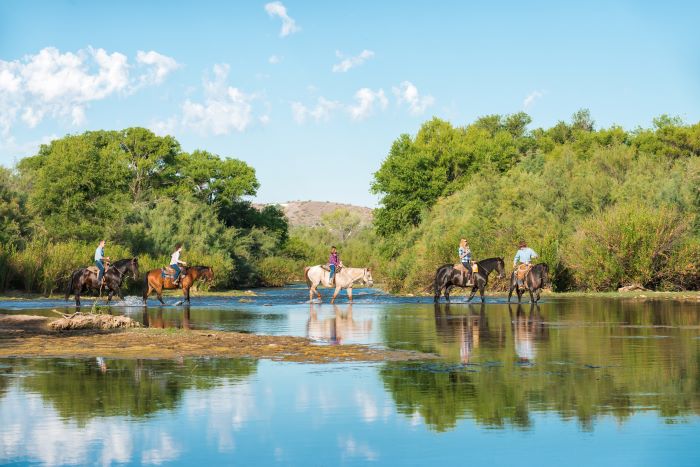 Golf
With endlessly blue skies and a plethora of luxury golf resorts scattered under the sun, it's no surprise that Scottsdale earned the title of 'The World's Finest Golf Destination'. There's a staggering 200 plus golf courses to choose from, fit for both beginners and pros, with incredible desert views.
One of our favourite golf courses is based at luxury resort, The Phoenician. Set with an 18-hole golf course, a Golf Shop with high-end equipment, locker rooms and 19th hole dining venue, there's not much else you need. Meanwhile, Four Seasons Resort Scottsdale at Troon North two incredible 18-hole courses, considered to be the best in Arizona!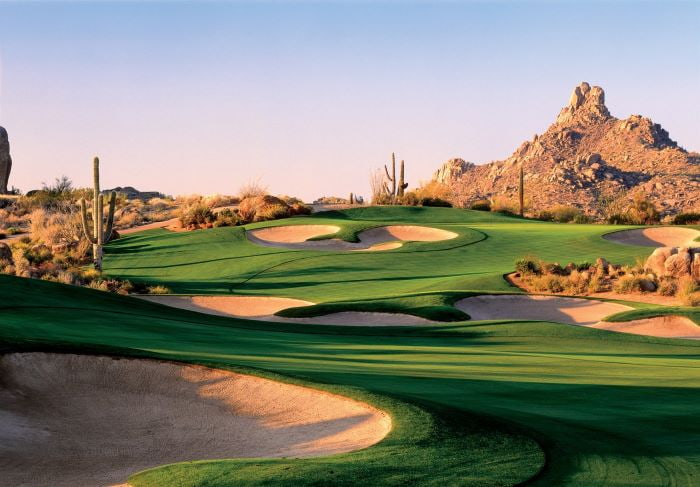 Rock Climbing
The rugged mountains enveloping your stay in Scottsdale aren't only there for admiration. With the correct equipment and guidance, you can have a go at climbing them! The Marcus Landslide Trail and the McDowell Sonoran Preserve Loop are the favoured places for local climbers to test their skills, and they have less daunting surfaces for beginners to learn the ropes on, too.
Hot Air Balloons
Embrace a unique bird's eye view of the desert terrain below on Scottsdale's exclusive hot air expeditions. This is the perfect experience for couples, taking you to the height of romance with stunning views across Arizona.
Exclusive Scottsdale Experiences
Your to-do list in Scottsdale can be as long as you like, whether it's arts and craft workshops, wine tasting or historical tours filling up your day.
Budding creatives can build terrarium cacti with Cactus Flower Creations, join a sunset painting workshop at the Scottsdale Museum of Contemporary Art, or admire Frank Lloyd Wright's architectural talent with a wonder through the esteemed Taliesin West. Meanwhile, historians can travel back in time to the Wild West of the 1800s with tours of , or discover the culture of Arizona's Native Americans through a session of stories, music and dance performances.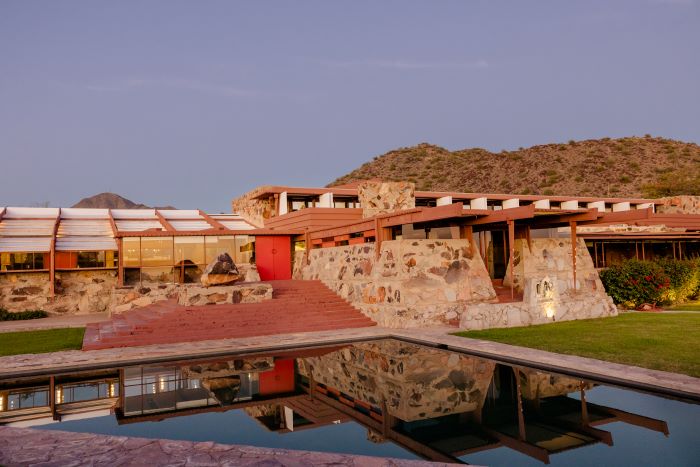 When night falls, make the most of the cooler temperatures and inky desert sky with a stargazing trip. For those seeking some glitz and glamour, a red-carpet welcome awaits you at your very own private shopping experience, complete with talks from fashion experts on all things luxury retail and runway trends.
---
Where to Stay in Scottsdale?
There are plenty of luxury spa hotels and resorts offering a five-star experience in Scottsdale, with expert massages and sublime Sonoran Desert views guaranteed. Here are some of the best, hand-picked by Inspiring Travel experts:
Defined by the soft lines of Spanish colonial architecture and groomed gardens, this retreat's look and feel sets the tone of luxury. Splash in the swimming pool, or kick back with a sunbed, private cabana and spa treatment. The resort is almost equidistant between Downtown Phoenix and Scottsdale, so you can enjoy easy access to the local shopping centres, restaurants and bars.
Casita-style bungalows offer colour and charm for a rural home-from-home ambience at Andaz Scottsdale Resort & Bungalows. You can embrace complimentary opportunities, including yoga, meditation and "bootcamp" exercise classes, admission to the Scottsdale Museum of Contemporary Art and the Create & Cultivate workshops. Scottsdale and the renowned Scottsdale Fashion Square are just two miles away from the resort, and you can find various eateries and bars nearby in Paradise Valley.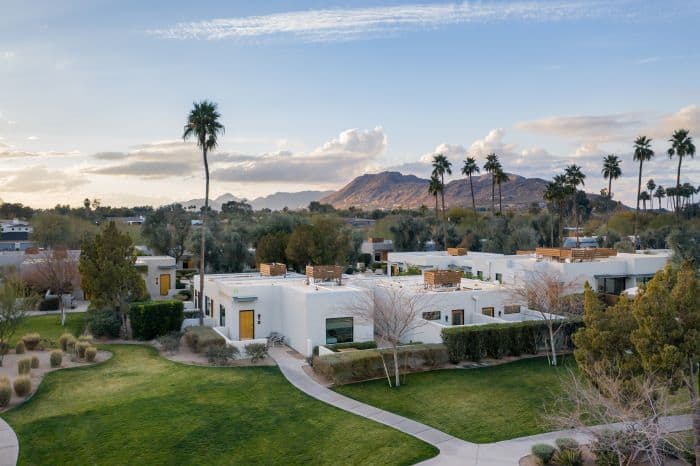 The Phoenician is the perfect resort for families to relish a luxury Arizonian life. Choose from 645 rooms in total, including 107 casita suites beside the shimmering Necklace Lake and 60 exclusive Canyon Suites with private infinity pools.
Relax and reconnect in your blissful accommodation before indulging in the resort's other perks. Head to the Phoenician Athletic Club for a whole host of virtual exercise classes, or dive into the three-tiered pool complex, with family-friendly and adult-only sections. The Funicians Club keeps five to 12 year olds entertained with fun activities, and the Mediterranean-inspired eateries on site make for a delicious date night.
Surrounded by 40 acres of distinctly American desert, with rangy cacti and rugged hills, you're set right in the heart of an authentic Arizonian experience at Four Seasons Resort Scottsdale at Troon North. Venture to the nearby Pinnacle Peak Mountain for an afternoon of hiking and scenic views, while little guests (five to 12 year olds) can chill out at the Kids for All Seasons club. Reconvene as a family in the evenings for an incredible fine dining experience at the award-winning Talavera Restaurant; serving sizzling steaks and unbeatable mountain views, it's a great place to watch the sunset.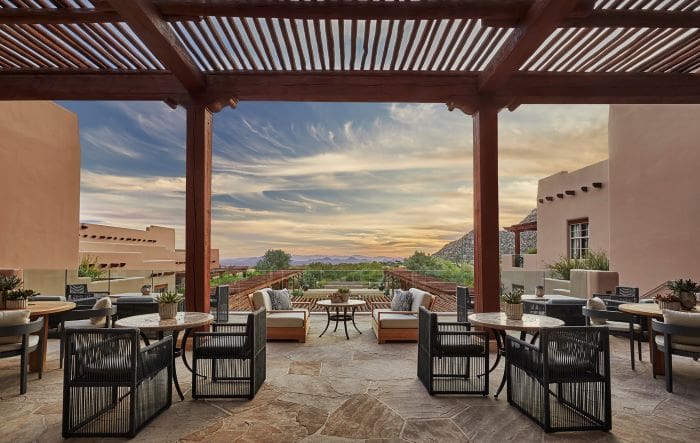 ---
How to Get Around Scottsdale?
Arizona is known for its inventive ways of getting from A to B. Pedego Scottsdale, located in Old Town's Fifth Avenue district, offers battery-powered bikes to let you whiz around Scottsdale at pace. Segways are equally speedy, with guidance from Segway of Scottsdale or Scottsdale Segway Tours to get you up and running.
You can also hail a golf cart taxi in Old Town to take you on wine-tasting expeditions and culinary tours, with plenty of pitstops for extra tastings and photos.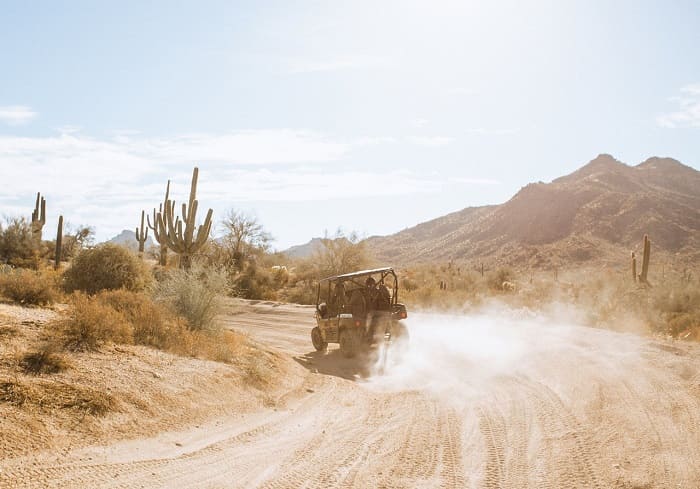 ---
Where to Eat & Drink in Scottsdale?
Scottsdale is renowned for its bar and restaurant scene. If you consider yourself a foodie, you'll be spoiled for choice with over 800 delicious restaurants to take your pick from! After a morning hike, a day of retail therapy or a treatment at the spa, be sure to dig in.
Best Places to Eat in Scottsdale
The Mission
The Mission is a hit in Scottsdale's Old Town, plating up the best of Spanish, Mexican and Southern American flavours for a multicultural menu that pleases one and all. Enjoy soft tortillas with a side of hot sauces, salsa and thick guacamole in the garden, or inside the restaurant's four cosy walls.
Butter Pancakes & Café
Pancakes are a must-have for any holiday in America, and this place promises the very best kind. Tuck in to a stack of sugary pancakes, waffles, French toast or crepes and pair it with freshly-squeezed fruit juices or hot coffee and cream. Just a short drive off Highway 101, it's the perfect way to gather fuel for the day before zooming off on your next adventure.
Karsen's Grill
Serving delicious, American-style pub grub, Karsen's Grill is a triumph with the locals. Oozy burgers, hot dogs and dripping chicken wings are some of the staples, and in true American spirit, there's plenty of it! The restaurant only has a few tables available, so be sure to get in early to secure your seats. 
Outdoor Dining
Restaurants in Scottsdale savour every second of the sun with plenty of al fresco dining. Some popular spots include the multicultural ZuZu at Hotel Valley Ho, the American-style AZ88 bar, the and El , a . You can even fine dine in the desert itself at Cloth & Flame, a truly romantic experience for couples.
Best Bars in Scottsdale
You'll find Scottsdale's nightlife in full flow in Old Town, with a variety of bars, wine tasting rooms and buzzing nightclubs. Similarly, the Entertainment District is electric in the evening. Popular venues include Bentley's Whiskey Row, El Hefe Supermacho Taqueria, The Mint Ultra Lounge and Maya Day + Nightclub Skylanes. On Wednesday and Fridays, head to Buffalo Chip Saloon for live amateur bull riding — American entertainment at its finest!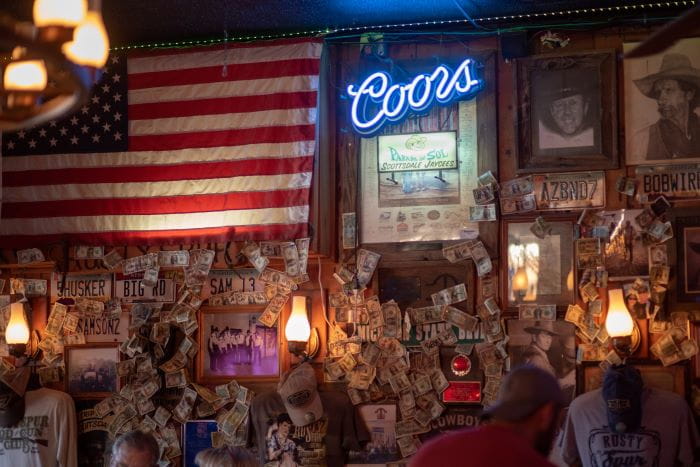 ---
What's the Arts and Culture Scene in Scottsdale like?
Art is a constant across Scottsdale. You'll find bursts of quirky architecture and installations scattered across the city streets, along with more formally exhibited masterpieces at Scottsdale's Museum of Contemporary Art. Based in Old Town, this gallery presents an incredible range of paintings, design features and architecture — including the beloved Knight Rise skyspace, by Arizona artist, James Turrell. The Musical Instrument Museum, home to over 5,000 instruments from around the world, and Scottdale's Museum of the West are also worthy sights to immerse yourselves in Arizonian history and culture.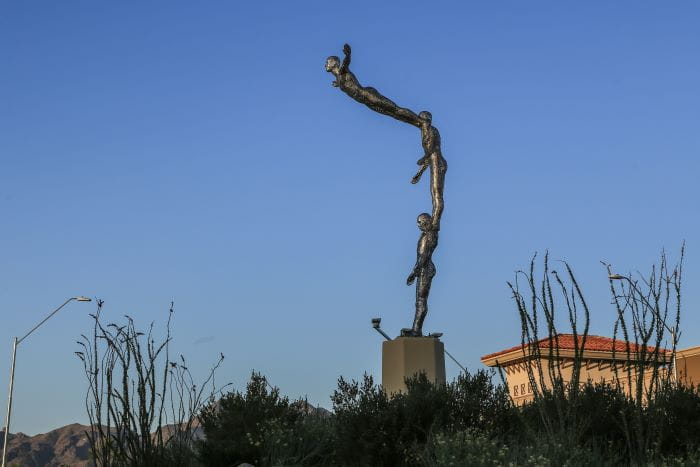 When it comes to events, there's a catalogue of riveting affairs happening throughout the year, including Scottsdale Arts Festival, the Scottsdale International Film Festival and the Scottsdale Arabian Horse Show. The Scottsdale ArtWalk and are spectacular events on the schedule in summer.
Shopping is also a big part of the cultural fabric in Scottsdale. To browse the classic high street stores, or upscale retailers such as Louis Vuitton and Gucci, visit the renowned Scottsdale Fashion Square, a huge downtown shopping mall on Camelback Rd. Fifth Avenue is also awash with popular outlets, while niche boutiques line the streets of Old Town and the Arts District, ideal for finding a souvenir to take home.
---
Your luxury stay in Scottsdale
Whether it's unwinding at the spa or saloon hopping in Old Town, Scottsdale is an exciting getaway for your summer holiday this year.
At Inspiring Travel, we can arrange unique Scottsdale excursions to make your holiday tailored to you. From 4X4 tours of the desert, to ventures further afield in Arizona, we'll use our expert knowledge to build a bespoke experience, just for you.
Speak to one of our Travel Specialists today to arrange your luxury adventure to Scottsdale.