With thousands of tropical islands ringed by white sand beaches and turquoise seas, it's easy to understand why the Caribbean is deemed an irresistible, luxury escape.
We know that not everyone loves a bustling resort. So, for a unique slice of this paradise, consider a stay at a smaller hotel.
From elegant hillside hideaways to the world's most exclusive private islands, we've handpicked the best Caribbean boutique hotels with considerable individuality; places where unparalleled charm, character and the most personalised experiences imaginable prove that bigger doesn't always mean better.
---
Petit St. Vincent, St Vincent & The Grenadines
What makes it boutique?
The 115-acre private island paradise of Petit St. Vincent is made up of just 22 one- and two-bedroom villas, so you can expect a truly exclusive stay.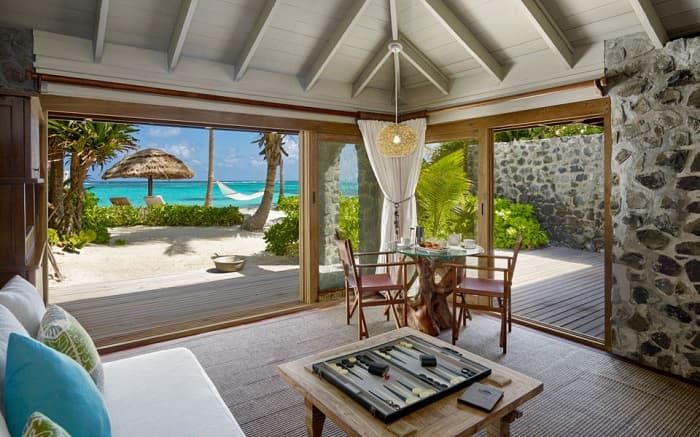 Every accommodation offers an extremely high level of privacy, most with their own secluded stretch of sand, plus a charmingly unique way to request room service. As there's no Wi-Fi or phones in the rooms, you'll communicate using a traditional flagpole; hoist the yellow one outside your villa and leave a request via note, or raise the red flag to be left alone.
Butlers continually circle the island in old fashioned buggies in search of any yellow flags, so your request will speedily and discreetly be taken care of.
What's special about the hotel?
Without modern device distractions, it's safe to say this is the ultimate place for a digital detox. Switch off and allow a team of professionals to seamlessly arrange everything for you, from hillside spa treatments to in-villa daily breakfasts and private picnics along the sandy beach.
Naturally, many activities revolve around the island's natural bounty and surrounding Caribbean Sea. From hikes to the summit of Marni Hill for spectacular ocean views, to island-hopping around Tobago Cays and guided dives from the Jean-Michel Cousteau Dive Center, Petit St. Vincent offers a plethora of adventures.
If you decide to settle in a hammock and spend days blissfully doing nothing on the beach, that's fine too.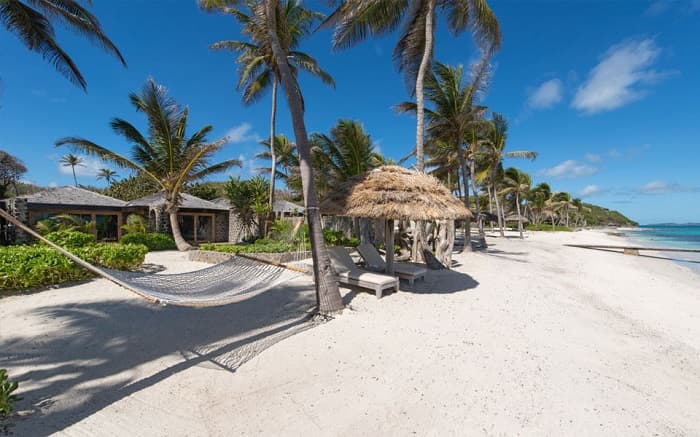 ---
Secret Bay, Dominica
What makes it boutique?
Secret Bay in Dominica is an award-winning under-the-radar escape with just ten villas and six-star personalised service.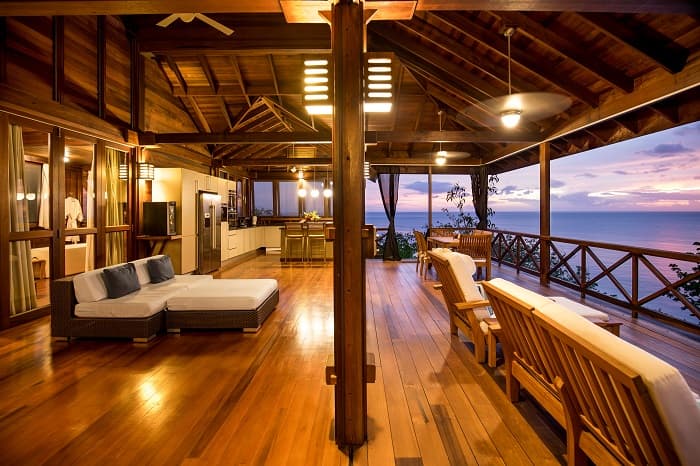 The residential-style villas are extremely private. You'll be treated to jungle-clad plunge pools, gourmet kitchens for private chefs to whip up special dinners and discreet villa hosts who curate completely customised itineraries.
As an acclaimed Relais & Châteaux property, you can expect only the very best when it comes to service and cuisine. Whether you choose to dine in-villa or at open-air restaurant Zing Zing, dining is fully customisable and your dedicated host will take care of everything so you won't have to lift a finger.
What's special about the hotel?
Spectacularly positioned on a rainforest-blanketed cliff, Secret Bay is an off-the-beaten-track resort perfect for nature lovers. Perhaps one of the Caribbean's most beautiful boutique hotels, peek through the lush rainforest foliage to admire the sea views beyond.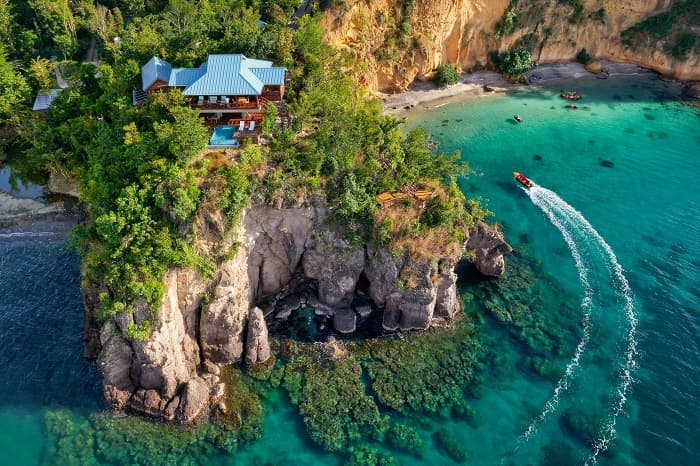 When you're ready to move, explore acres of nature trails full of vibrant wildlife. Or, feel blissfully marooned on two heavenly beaches and take to the warm Caribbean waters to see the sea caves and coral reefs just offshore.
Villas come equipped with all sorts of adventure supplies including kayaks, paddle boards, GoPros and snorkelling gear, so you're fully prepared for all sorts of island adventures.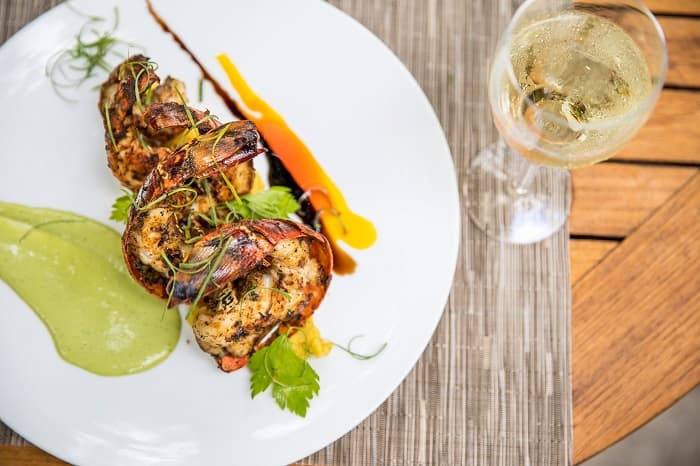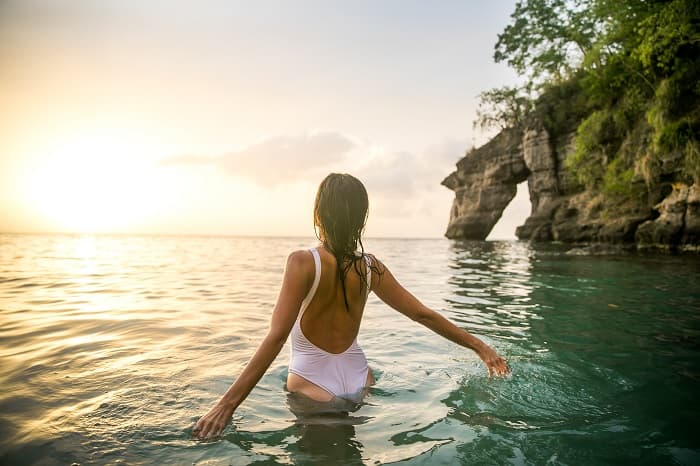 ---
Le Toiny, St Barths
What makes it boutique?
Nestled on a palm-sprinkled bluff on the quiet leeward side of the island, Le Toiny comprises just 22 bungalow suites. In each one, private outdoor pools, sun lounger-sprinkled terraces and wonderful Toiny Bay views come as standard.
With a stay at one of the most enviable addresses on St Barths, be ready to enjoy a new wave of exclusivity and attentive service like never before.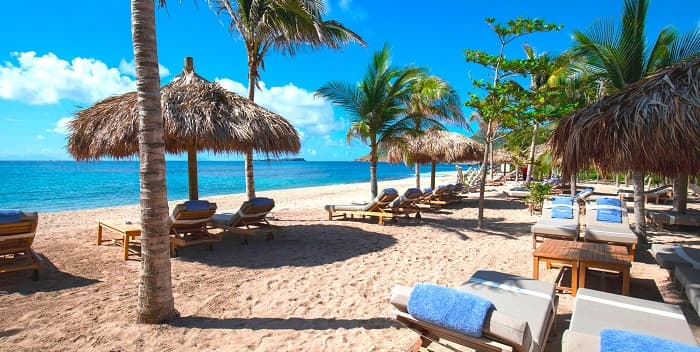 What's special about the hotel?
Intimacy, exclusivity, rejuvenation and relaxation are all qualities that will characterise your stay at this boutique Caribbean hotel.
Whether you request the concierge to arrange a guided island adventure, a private sailing excursion or perhaps a pampering in-room spa treatment, you can do as much or as little as you like. Come evening, take a seat beside the pool terrace at Le Toiny Restaurant. While the waves gently lap away, you'll be taken on a magical dining journey.
For the best sunsets, hitch a golf cart ride down to the exclusive Beach Club. Take your spot on the sand to watch surfers ride the distant waves, as attentive waiters serve rum-infused cocktails straight to your lounger.
---
East Winds, St Lucia
What makes it boutique?
Charmingly understated with an intimate ambience, this all-inclusive small boutique property is one of the Caribbean's best kept secrets.
East Winds comprises just 30 cottage-style suites and an oceanfront beach house scattered across a dozen acres of lush landscaped gardens. With Caribbean-style terracotta floors, tropical leaf-patterned fabrics and terraces with rattan furniture, this self-proclaimed 'tropical garden by the sea' is the perfect place to unwind.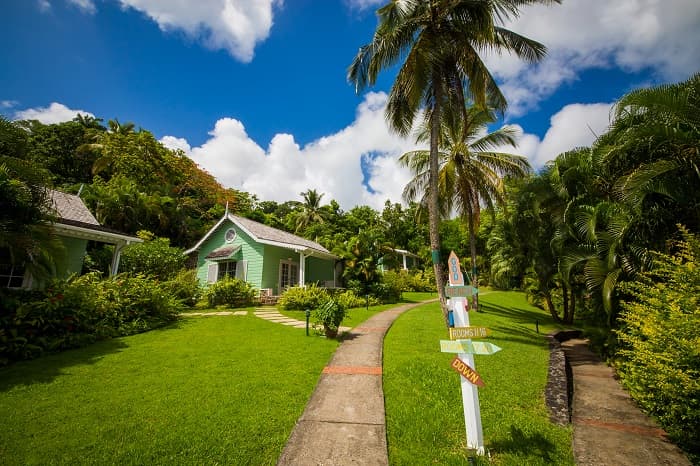 What's special about the hotel?
Don't be put off by the hotel's all-inclusive label; the beachside restaurant caters to the most refined palettes with a daily changing menu of local ingredients. What's more, it doesn't stop serving until the last guests go to bed.
Whether you want a guided tour of St Lucia, yoga classes on the beach or an ice-cold cocktail delivered poolside, the team will go above and beyond to create unforgettable memories for you and your loved ones.
---
Guana Island, British Virgin Islands
What makes it boutique?
Guana Island covers a huge 850 acres. But, with only 18 cottages and private pool villas perched across the hillside, you'll feel like this beautiful boutique hotel is all yours to savour.
With 55 members of staff lavishing attention on no more than 40 guests, service is truly personalised. Always going the extra mile, staff have perfected the art of magically appearing when needed and disappearing when they're not.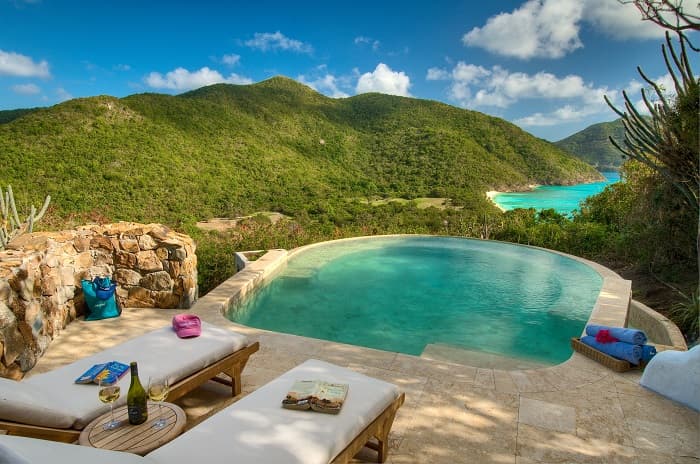 What's special about the hotel?
What makes Guana so special is that it has remained gloriously unspoiled — 99% of it is undeveloped and undisturbed. Surrounded by lush gardens and diverse forest, you might spot some of the once undiscovered wildlife that lives in the British Virgin Islands.
It's also incredibly private, with access strictly permitted to hotel guests only, who reach the island by boat or helicopter.
With no in-room phones or televisions, you can escape the digital era and immerse yourself in the island's natural beauty. Laze on one of seven white sand beaches or hike the twelve-mile trails to see everything from prehistoric-looking iguanas to a flock of resident flamingos.
---
Cobblers Cove, Barbados
What makes it boutique?
Set on Barbados' coveted west coast, the 40-suite, family-run Cobblers Cove instantly makes you feel at home. From the candy-striped accents of the 1940's Great House, to full English breakfasts and traditional afternoon tea, you can expect the aura of an English country house with stunning Caribbean surroundings.
Many of the loyal staff have worked at the hotel for decades, with a deep knowledge of the island. Their warmth and charm is a central part of a stay here; they'll remember your name, your favourite cocktail and even how you take your coffee.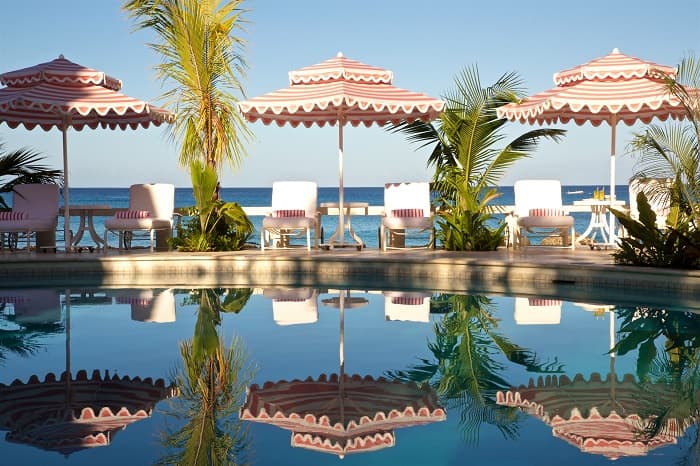 What's special about the hotel?
When you're not languishing on a snooze-ready sun lounger or floating on the sea pontoon, why not take a tour of the private gardens or the nearby rum distilleries?
Later, dare to try a Cobblers Cooler or perhaps take advantage of the hotel's impressive roster of bespoke tours. A daily complimentary boat trip takes you to swim with Hawksbill turtles and you can even join Barker the hotel fisherman, in search of barracuda and tuna.
---
Cotton House, Mustique, St. Vincent & the Grenadines
What makes it boutique?
Small but perfectly formed Cotton House is one the best Caribbean boutique hotels thanks to its private island location and incredibly attentive personal service.
As soon as you touch down in Mustique, you'll be greeted with iced water and a chilled towel as you're shown to your cottage with private plunge pool — one of just 17.
From preparing private island picnics, to horse-riding along the white sandy beach or a match at The Mustique Tennis Club, a high staff to guest ratio ensures you'll want for nothing.
What's special about the hotel?
Mustique is perhaps the most exclusive and iconic island in the Caribbean, attracting royals, rockers, and moguls since the 1960s.
As Cotton House is the only full service hotel property on the island, it's dedicated to your enjoyment and wellbeing. To make the most of your stay, it's encouraged to switch off and enjoy island life at its best, for a 'no shoes, no news' kind of stay.
And don't be surprised if you bump into an A-Lister or two; the hotel is famed for its weekly cocktail parties in the Great Room, where fellow guests and villa owners mingle and catch up on island happenings. Head on over to the Caribbean institution of Basil's Bar later on, where you'll truly fall under Mustique's spell.
---
Montpelier Plantation & Beach, Nevis, St Kitts and Nevis
What makes it boutique?
Expect a thoroughly welcoming ambience at this boutique 19-room hotel. Built on the site of an 18th-century sugar plantation in Nevis's quiet south, it's full of Caribbean character.
One of Montpelier Plantation & Beach's best assets may be its team of warm and personable staff, who are knowledgeable and friendly without disturbing the calm atmosphere. They'll make a point of welcoming you before dinner every evening, and arranging multiple activities across the tropical gardens and wider island.
Thanks to its hillside location, there are multiple spots to watch the ocean. But, one the best is simply from your four-poster bed or private leafy terrace for unobstructed views.
What's special about the hotel?
Visit this Relais & Châteaux hotel for its seclusion, simplicity, and activity offerings – impressive given it's small size.
With a private beach, soothing spa treatments, rainforest adventures and old plantation ruins nearby, Montpelier offers the ideal balance between active and relaxing.
Three restaurants and gourmet cooking classes mean its one of the ultimate destinations for foodies. A sommelier will take great pride in wine pairing advice at Restaurant 750, while the exceptional Mill Privée houses just a handful of candlelit tables within a 300-year-old sugar mill.
---
Your perfect small luxury hotel awaits…
The boutique retreats in our small and personal luxury hotels collection are incredibly exclusive with a very limited number of rooms, so planning early really pays off. So, if you're looking for the best boutique hotels to stay in the Caribbean, book now to avoid missing out.
Looking for more luxury Caribbean holiday inspiration? You might also like these guides…
Four Irresistible Adult-Only All-Inclusive Resorts in the Caribbean