With a trove of golden beaches, divine food and sunny skies, it's no wonder you can find some of the best family holiday destinations right here in Europe.
Close to home, and with plenty of world-class, family-friendly hotels – the only question is, where to start!
From the cobbled streets of Italian coastal villages to the mouth-watering smells of the Greek and Cypriot tavernas, find your perfect getaway with our top picks for a family holiday in Europe.

Cyprus
The gorgeous island nation of Cyprus is a fantastic place for a European family holiday in the sun, especially with young family members.
The cuisine in Cyprus is a mix of Mediterranean flavours, including Turkish and Greek, due to its history with these neighbouring countries. You'll find plenty of Cypriot tavernas where all ages can taste these yummy dishes.
Paphos
Things to do for families…
If visiting in the hatching season, visit Lara Bat Turtle Conservation to learn all about the local turtles.
Take a dip in the cool waters at Adonis Baths Water Falls, ideal on a hot summer day.
Spend a laid back afternoon wandering around the marina, with regular pit stops for ice cream.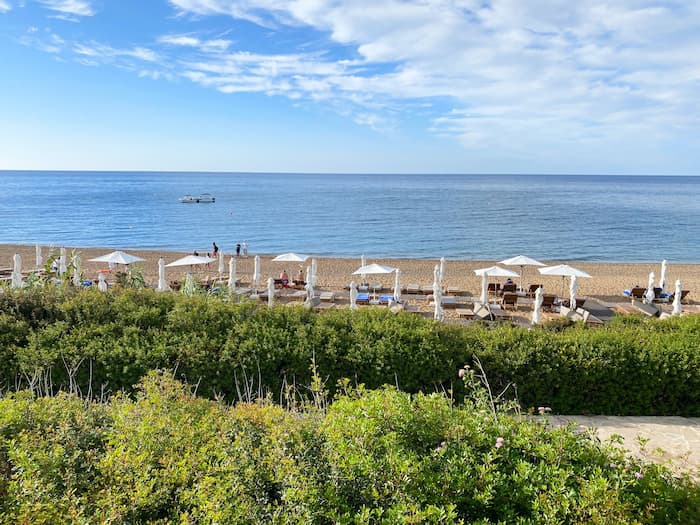 With a charming coastal location in Cyprus, the beautiful town of Paphos is actually on the UNESCO World Heritage list due to its cultural significance. It's known for its mosaics, Tomb of the Kings and the harbour, which is well located for a family boat trip. At a distance, you'll be able to see the Troodos Mountains, which is another fantastic spot for a hike to see Caledonia Falls.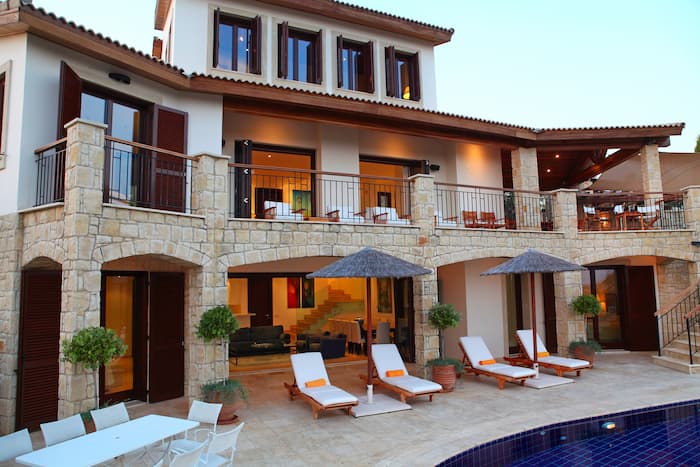 For families, Aphrodite Hills Holiday Residences are a brilliant option. Set in the Aphrodite Hills Resort, these villas offer plenty of space for both children and adults. The resort even has its own Village Square, where you'll find shops, a mini market and a pharmacy for any essentials.
For some relaxation, you can head out to the 18-hole championship golf course or the Retreat Spa. There's also a shuttle to take you to the family-friendly beach club, plus nightly entertainment in the summer months.
If you're staying here, it's recommended that you hire a car to get out and about – Paphos is just a 20-minute drive away, plus you can reach Limassol in around 40 minutes.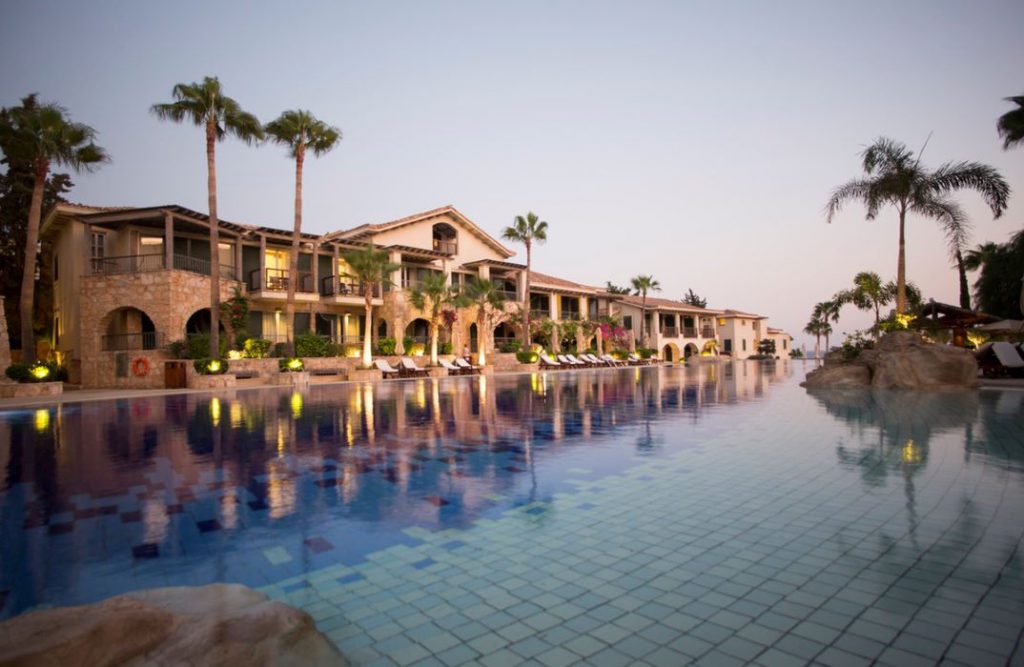 The Columbia Beach Resort is peacefully tucked away in the sheltered bay of Pissouri, overlooked by a curve of white cliffs. Beneath the resort's terracotta roof tiles, you'll find a range of accommodation types, suiting both couples and families, with a choice of views of the pool, leafy gardens or the Mediterranean Sea. Spend long summer days in the 80-metre lagoon-style pool with the family, or brave some adventures in the sea, with windsurfing, sailing and paragliding.
---
Limassol
Things to do for families…
Head to a Cypriot taverna where you can taste the wonderful blend of Mediterranean dishes.
Try your hand at archery, wall climbing and paintballing at the Adventure Mountain Park, located in the Troodos Mountains.
Visit the ruins of Kourion, play hide and seek behind the pillars as you learn about Cyprus's ancient history.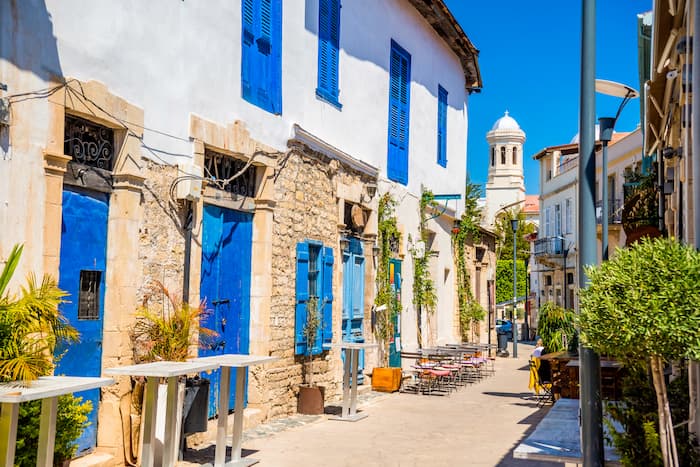 One of the major towns on the south side of the island, here you'll want to take advantage of the sunshine in its beachfront areas. As one of the larger towns in the country, you'll find all the necessary amenities, including fantastic shopping options, attractions that the kids will love for a day out and plenty of restaurants.
The sprawling Parklane, a Luxury Collection Resort & Spa of Limassol is a perfect beachfront hotel for familes. Kids will have a huge amount of space to play at the Park Kidz, and there's a football academy available during the peak season. Only a 15-minute drive from the main attractions of the town, this is a great location for a family holiday.
---
Greece
The assortment of destinations in Greece is one of the top reasons that it's so popular with families. From quaint island harbours to pristine beaches, you'll find something that keeps the whole family happy, right down to the youngest member.
Not to mention, Greece is a true haven for all the young history lovers out there with ancient ruins, historic fortresses and an abundance of mythology that they'll adore learning about!
Halkidiki
Things to do for families…
Visit the intriguing Petralona Caves and admire the impressive stalagmites and stalactites.
Go bird watching to spot the colourful Greek species who live in the Sani Wetlands.
Learn about Halkidiki's history of beekeeping and taste their local produce.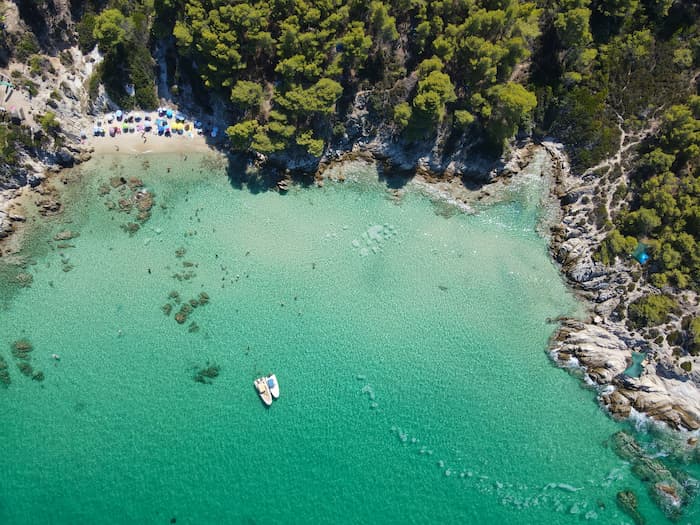 The glittering peninsula of Halkidiki is a gem in the crown of Europe's holiday destinations for families – though it might not be one that always comes to the top of your mind. Halkidiki has a huge amount to offer; its jagged coastline is dotted with hidden beaches lining the ombre blue seas, plus it's in a marvellous location for day trips to smaller islands or further into the mainland of Greece.
Porto Sani is a remarkable resort for families in Halkidiki. The service here is superb and kids will have a host of fun activities to take part in, including Soccer Academy, the kids' and teen's club, bike hire and the open-air cinema, where you can watch movies in spectacular surroundings.
The Westin Resort Costa Navarino welcomes families to a holiday of ultimate luxury, with a 2km beach on its doorstep, and views across the Aegean Sea. The facilities here have earned the resort the title of 'Best Family Destination' in the Mediterranean, and include the incredible Aqua Club, a basketball court and two specially designed hubs for children. Delve further into the luscious greenery of Navarino with a bike ride, or explore the sea together with incredible surfing, water skiing or boating adventures.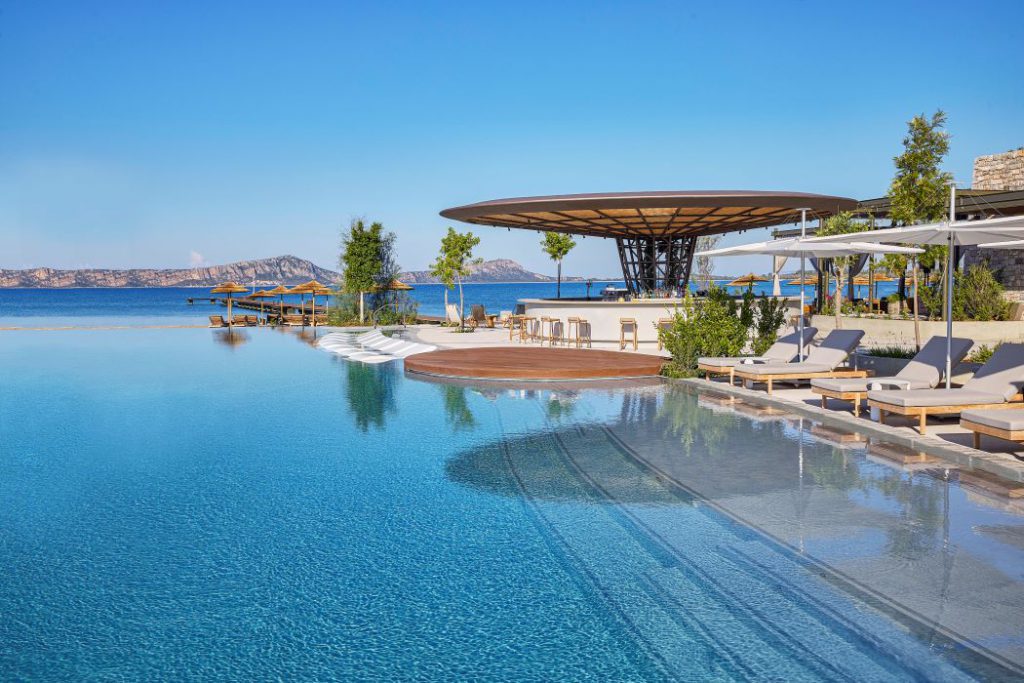 As a family owned property, Elounda Gulf Villas understands the value of quality time together, and offers a range of opportunities to let you achieve just that. There's plenty to enjoy across the uniquely-designed, chic-style villas, including infinity pools and Jacuzzis. Take a shuttle bus to the private beach, or explore the colourful streets of Agios Nikolaos. The Cool Creche and Cook Kids Club can keep younger members of the family entertained throughout the day, while adults can wine and dine in the two exquisite à la carte restaurants.
---
Corfu
Things to do for families…
Wander through Corfu's Old Town, it's Venetian heritage showing on every corner.
Visit the crystal clear waters on Paleokastrista beach.
Charter a yacht to island hop to smaller islands close to Corfu, such as Paxos.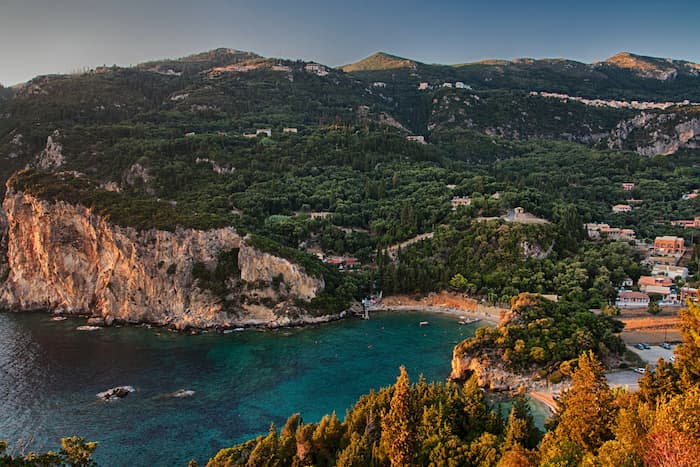 Crescent beaches with crystal-clear waters are calling you from the beautiful island of Corfu. This island is a brilliant destination for families, especially for intrepid little adventurers. Hop from one island to another to visit quaint marinas and jump from the yacht into crystalline lagoons.
If you're looking for somewhere to stay in Corfu, you won't need to look further than Ikos Dassia, with its safe, blue-flag beach and plenty of opportunities for family time. Kids will be able to learn to scuba dive, practice their tennis stances and visit the ice cream parlour for a tasty treat!
Find some more exciting ideas for a family holiday to the Greek islands visit our blog post.

---
Spain
Only a couple of hours on a plane, and with fantastic weather all year round, Spain has countless benefits for families planning their next holiday in Europe.
With a variety of locations, choose between the sun-soaked Costa del Sol on the mainland or the starkly stunning Canary Islands.
Tenerife
Things to do for families…
Hike up to Mount Teide to spot the local wildlife and visit the islands' active volcano. Alternatively, ride the cable car to the top.
Beat the heat with an exciting trip to Siam Park, a water park the whole family will enjoy.
Head onto the high seas with your little pirates to spot whales and dolphins.
Tenerife is one of the Canaries and quite possibly one of the most popular destinations for families in Europe!
The Ritz Carlton, Abama is an ideal place for families to stay, with a huge selection of eateries, plus access to bikes with GPS navigation and seven swimming pools – the kids won't know what to do first! This is also a good pick for parents who need some downtime with an 18-hole golf course and a spa which incorporates natural and local materials into it's treatments.
For families who like to be in the hustle and bustle of a town on holiday, Bahia Del Duque Resort will be the one for you. Located in Costa Adeje, this beach hotel features a teen lounge with chilled-out Californian vibes, while younger kids can take part in treasure hunts, cooking workshops and sports.
Want to warm up in the sun with your family? Check out our top destinations for a family holiday in sunny Spain.
---
Costa del Sol
Things to do for families…
Fly high above the trees and feel the wind in your hair on a ziplining adventure at Adventure Amazonia.
Visit the narrow cobbled streets, historical towns and beautiful whitewashed buildings in quaint villages along the coast.
Take a day out from sunbathing and visit Bioparc which holds over 200 species of animals in natural habitats.
If a little retreat to the sun is just what you and your family need to refresh and rewind, nothing could be better than the sunny Costa del Sol.
This area of Spain is well-loved by British travellers, offering an incredible range of 5-star luxury hotels with private beaches and access to the sea, making it one of the best family destinations in Europe.
Ikos Andalusia is an excellent all-inclusive beach hotel for families. Close to the city of Marbella, you'll find plenty of space by the outdoor pool and along the stretch of pristine sands. Sporty kids will have a great time with the Football Academy, plus the resort has a fantastic playroom.
If you rather be in the midst of Marbella, the Puente Romano hotel is perfect. Spend time relaxing in the indoor pool at the Six Senses spa with its waterfall wall, while kids play in the playhouse.
Last but not least, families will also love staying at Marbella Club. This beautiful hotel is a mix of floral gardens, beach vibes and elegant design. Children staying at the property have access to the kids' club, where they can enjoy flexing their creative muscles and spending time with friends.
---
Italy
Food, sunshine and gorgeous coastal towns give Italy everything it needs to cater to families.
Here, you'll find an array of beautiful sandy beaches, with soft sands and clear waters. It's also a land laden with history, so day trip out to see the historical sites will surely be on the cards!
Sardinia
Things to do for families…
Visit Porto Istana beach for a day of safe swimming, rock scrambling and sun bathing.
Brave the Grotto of Neptune, a stunning marine cave where stalagmites and stalactites protrude from the ceiling and floors.
Breeze through the capital city of Cagliari taking a trip to the medieval quarter and the bustling streets where you can find all kids of tasty Sardinian delicacies.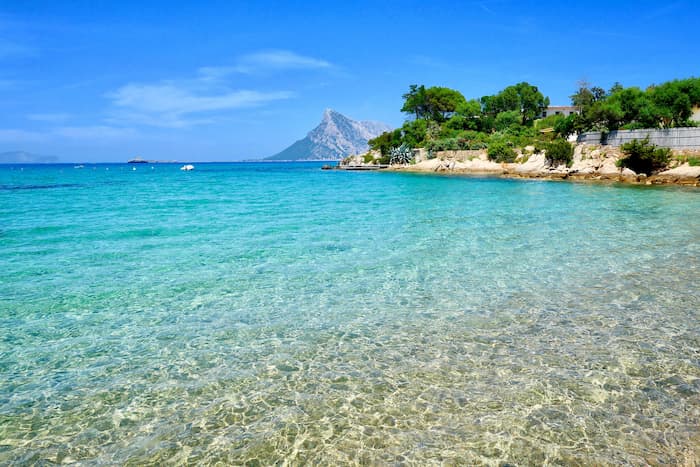 A large Mediterranean island with a storied history and some of the clearest waters in Europe, it's no surprise Sardinia is one of Europe's top family holiday destinations. Wander the cobblestone villages, visit the white sand beaches and savour the tasty Sardinian cuisine!
One of the top places for families to stay in Sardinia is Forte Village. Made up of a collection of hotels, this is a popular resort for plenty of reasons, including its laid-back atmosphere and the range of activities across the resort. Spend the day taking bikes out with your little ones, stopping for lunch and a trip to the beach – or, they can visit a choice of sports academies.
---
Puglia
Things to do for families…
Young visitors will love Parco dei Dinosauri, a park filled with life-sized statues of dinosaurs.
Take a beach day at Pescoluse, with golden soft sand and safe blue waters this is a haven for beach loving families.
Learn to cook traditional Italian foods, specifically those from the Puglia region.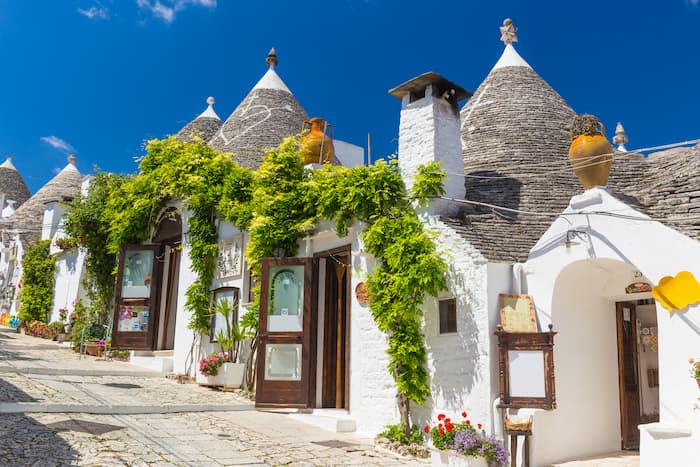 Puglia is another beautiful part of Italy, where you're never far from the sandy beaches of the coast. It's also one of the agricultural centres of Italy, so you'll find a huge focus on fresh, local foods. The olive oil, fresh from the olive trees, is exceptional!
Your family can enjoy pure luxury at Borgo Egnazia. The hotel is a haven for families looking for a peaceful holiday – the kids' club is a wonderland for little ones, and they even have their own restaurant. For a family day of play, spend the day at La Fonte beach, which is sandy and safe, perfect for younger visitors.
If you're planning to travel with your toddler in Europe, why not visit our toddler friendly holidays.
---
Portugal
Dramatic cliffs, a comfortable climate and Blue Flag beaches all add to Portugal's appeal and make it a wonderful location for a luxury family getaway.
Just a couple of hour's flight away, you can be making sandcastles and paddling the warm waters in no time.
The Algarve
Things to do for families…
Take a boat trip to the hidden spots on the Portuguese coastline or head out further to sea and spot some dolphins.
Have a fun day out at ZooMarine, here you'll find fantastic attractions including animals, rides and pirate shows.
One of the most incredible parts of the Algarve is the beaches, lounge on the sands and take in the chilled out atmosphere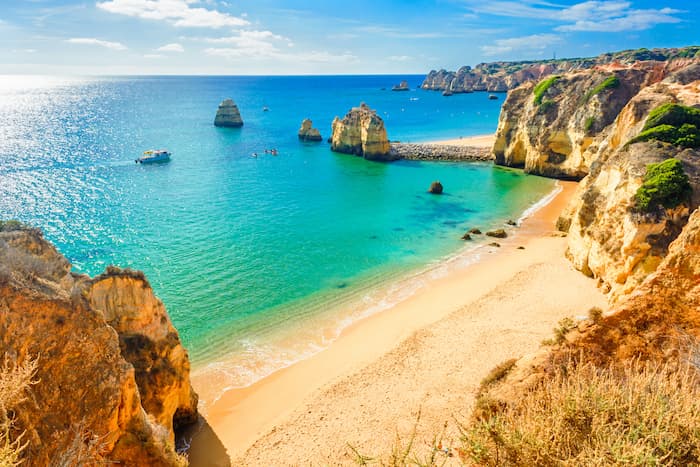 The Algarve covers the southern coast of Portugal and is one of the best places for a family beach holiday. The sheltered rocky coves make a brilliant spot for relaxing on the golden sands, plus there's a number of excellent family-friendly hotels to choose from.
One of the best is the fantastic Vila Vita Parc. Here, you'll be able to enjoy ten amazing restaurants and plenty of activities, including horse riding, banana boats and mountain biking, which are sure to excite the whole family.
Martinhal Beach Resort is another favourite luxury family resort in Europe. Kids can join in at the kids' club, learning to surf, canoe and play with their friends in five pools. The hotel has its own watersports centre, so the most energetic members of your group can have fun even in the laid-back atmosphere of the resort.
---
If you'd like to learn more about the best holiday destinations for families in Europe for your family, contact our Travel Specialists for expert guidance.
Your booking will be protected by our Book with Confidence travel guarantee.
For other ideas on where to visit, take a look at our luxury holidays for families.