Cruise holidays are set to make a big comeback in 2023!
With voyages for some of the best cruise destinations selling out fast for next year, it's time to think ahead to where you'd like to take your next adventure.
Our Cruise Specialist, Denise, has put together her ultimate cruise destination list that's top of her radar over the coming year. Take a look for some inspiring ideas on where you could be sailing off to next…
More inspiration: The Best Luxury Cruises for Your Next Escape
---
1. Japan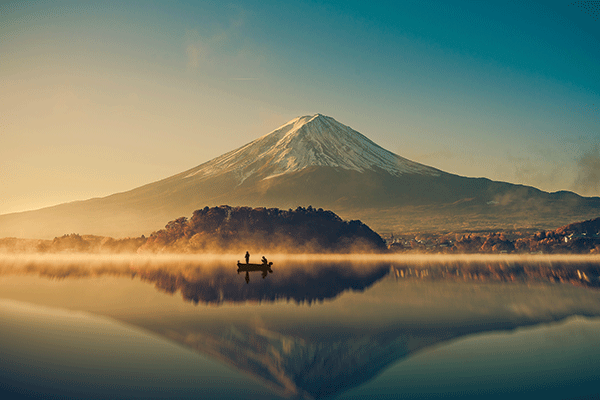 See it with: Oceania Regatta
If you're looking for a showstopper of a cruise to kickstart your wanderlust again, this is it, at the top of our cruise destination list. The 25-night Oceania Cruise voyage from 25 September 2022 – 21 October 2022 takes you from Los Angeles to the Tokyo Pacific Passage. 
This route takes you north from LA, past popular locations in the Pacific North West, stopping off for visits in Canada and Alaska. Take in the staggering icy scenes as you travel through Glacier Bay and the Alaska Inside Passage. The ship will then cruise through the Pacific Ocean, stopping off at Petropavlovsk-Kamchatsky in Russia before starting on your voyage around the 'land of the rising sun'- Japan in all its autumnal finery.
The Oceania Regatta is the ship that will cruise you past these beautiful destinations; having recently been renovated, this luxurious vessel oozes charm and class, with all the amenities and entertainment you'll need during your 25-night voyage. Another point in the favour of this ship is their cuisine options, Oceania's sailings always have fantastic options for vegetarians with their plant based food options.
If that wasn't enough, this brilliant cruise ends with a breathtaking trip to Mt. Fuji and a unique journey on the shinkansen (bullet train) back to Tokyo.
---
Will there be cruises in 2022?
At the time of writing, UK travel guidelines allow cruises to operate from UK ports. Most cruises worldwide are back in the swing of things, and our Travel Specialists are keeping up to date with the latest news to inform you of any changes at the earliest moment.
"Cruising had a record year in 2019. Now, two years later, it's set to be back in an phenomenal way for 2022, so don't miss out!" – Denise, Cruise Specialist
---
2. Antarctica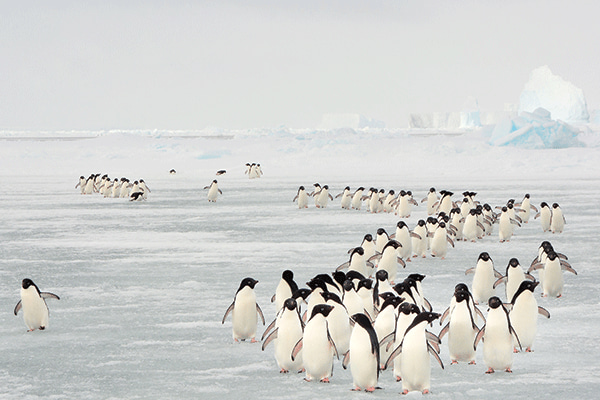 See it with: Seabourn Venture
The next expert pick on our cruise destination list comes from Seabourn's new expedition ship, Venture, sailing to Antarctica starting in 2022. The inaugural sailing is April 2022 into the Wild and Ancient British Isles, then taking to the seas across the globe, heading to some breathtaking bucket list destinations.
The Seabourn Venture is a one-of-a-kind vessel, with two submarines used to take discovery cruisers exploring under the sea. The ship itself is modern and luxurious from bow to stern, making this a truly 5-star, unforgettable experience.
One of the most exciting destinations on the list is their Antarctic Cruise, covering some of the least travelled spots on earth that are beautiful to behold. Voyages to Antarctica will start in Argentina, leaving Buenos Aires and travelling to the southern icy lands with scenic cruising through the Antarctic Sound.
Opportunities to disembark include visits to locations like the Arktowski Station on King George Island, famous for its research on the Adélie and Gentoo penguin rookeries in the area.
Our Travel Specialist will assist you in creating an itinerary for these sailings to suit your needs. Contact us to get your Antarctic voyage planning underway.
---
Is it safe to go on a cruise now?
Absolutely! Criusing is a great way to see the world again safely and securely from your luxury suite. All of our luxury cruise partners have COVID precautions in place to keep the ship hygienic, and you'll be informed of any cruise specific rules as you plan your voyage.
"Having taken three cruises myself in 2021, I can reassure you that all protocols are in place, while still being stress-free. Cruising is a great way to explore the world again in a safe way." – Denise, Cruise Specialist
---
3. The Galapagos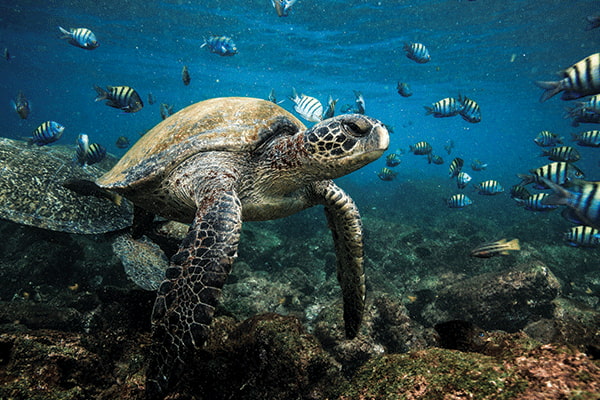 See it with: Silver Origin
Get ready for an experiential cruise like no other with the Silversea Silver Origin to the Galapagos. This impressive ship was built specifically to take a small number of visitors to the Galapagos Islands. This incredible location is renowned for its broad collection of wildlife, flora and fauna, making it one of the best places to go on a cruise ship if you're looking for something special.
These ultra-luxury cruises run between seven and 11 days long, and with only 100 guests on the ship, it's an intimate experience that gives you the very best view of the Galapagos. The ship's interior has been designed to provide you with a full flavour of the island, including a lounge with viewing rooms and artefacts and artwork that represent the area.
To protect the natural beauty, the ship never docks on the island's themselves. But, thanks to Silver Origin's Zodiac boats, you'll get the chance to join excursions that take you to the land to appreciate the Galapagos close up. Highlights include boat trips with the expedition teams, hiking, snorkelling, and kayaking.
---
4. Iceland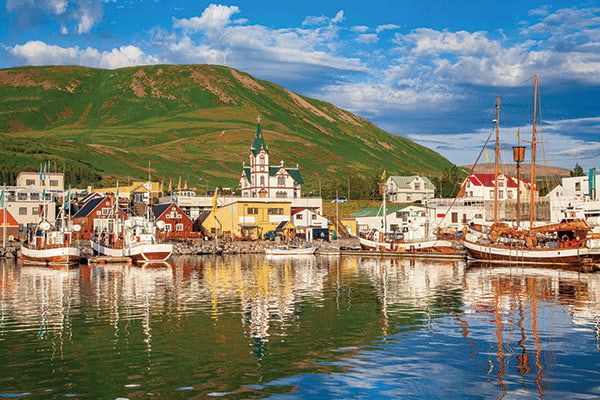 See it with: Azamara Pursuit
Iceland has earned its place on the best cruise destinations list, already being one of the trendiest spots for holidays and cruising over the last few years. Azamara's Land of Fire and Ice sailing takes you on a nine-night voyage, visiting some of the country's natural landmarks, including the Glacier Fjords and whale watching in Husavik.
The ship departs from Dublin and sails out for six days at sea before reaching the first port of call in Iceland. You'll then sail the coast of Iceland, visiting the rugged wilderness, taking in everything the island has to offer in the summer, such as the Icelandic horses at Skagafjodur and the snow-capped mountains in Akureyri.
The Azamara Pursuit takes you on a deep cultural exploration of Iceland. Due to the size of the ship, it's able to port in lesser populated docks – perfect for a relaxing adventure. The ship has excellent amenities and a friendly feel that'll keep you coming back again and again.
Our Travel Specialists pair this with a three-night stay in Dublin, so you can spend some time relaxing in the Irish city before embarking on your Icelandic adventure.
---
5. Alaska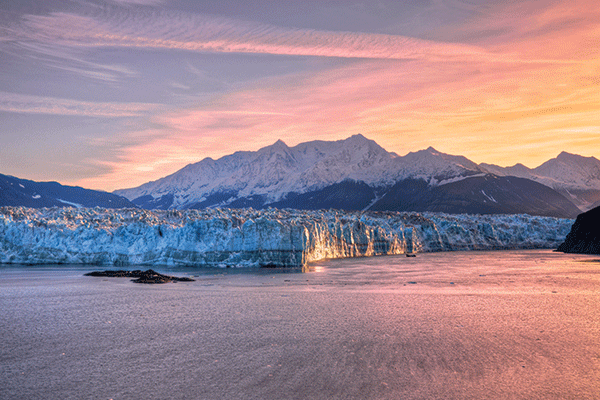 See it with: Seven Seas Mariner
The next choice of best cruise destinations is a tried and tested route, which has been popular on the cruise destinations list for many years. Famous for its breathtaking scenery, the Alaskan coast does rugged beauty like nowhere else. Spend time cruising the Hubbard Glacier and stopping off at the hotspots of Juneau and Ketchikan before disembarking at your final port of Vancouver in Canada.
The Regent Seven Seas Cruises are built with luxury in mind, from dining to entertainment. Our Alaska Natural Beauty and Tlinget Heritage itinerary adds on a post-cruise trip on the Rocky Mountaineer, which trundles through the Rocky Mountains via rail on a specially crafted train with glass ceilings, so you can truly appreciate the beauty of North America.
This is a cruise with the wow factor; if you're looking for a luxury cruise that's all-inclusive and has spectacular views, this is the one for you.
---
6. The Adriatic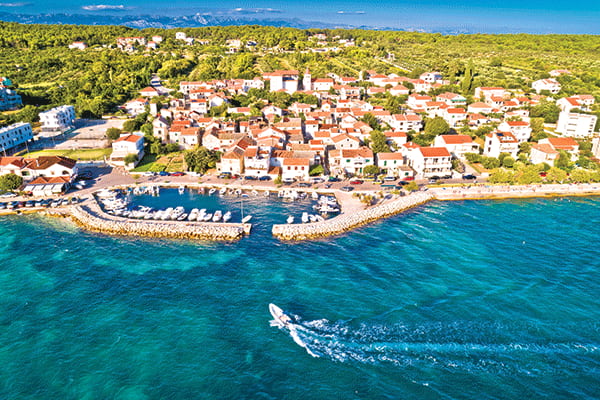 See it with: Seven Seas Voyager
Maybe you have the urge to see a little more of Europe next year?
Regent Seven Sea's Enchantment of Croatia cruise offers the perfect destination to begin an autumnal cruise, sailing on 02 Oct – 11 Oct 2022. You'll start in beautiful Rome and head down the coast, with stops on the Amalfi coast, Greece, Albania, Croatia, and Montenegro. 
Some of these locations are lesser-known and not as often travelled to, but are absolute gems on the European continent and well worth the visit. Some of the highlights include Zadar and the UNESCO world heritage site of Plitvice National Park, known for its cascading waterfalls. The port of Durres is another highlight along the way; it's a Roman city with a modern twist, perfect for exploring or people watching and spending a few hours relaxing with a cool drink.
Along with the itinerary, the Seven Seas Voyager cruise ship has plenty to keep you occupied when you're on board. There's an ample amount of evening entertainment, and the food choices on the ship are delightful, from a classic American steakhouse to traditional French cuisine at "Chartreuse".
---
7. The Mediterranean
See it with: Silver Dawn
Mediterranean and Adriatic cruises do offer some similarities. Both offer some of the best destinations for cruises in the world.
Your choice between them depends on if you'd rather see more of Italy or more of the Dalmatian coast. Silversea's Mediterranean Cruise starts in Venice, cruises down to Croatia visiting three Croatian ports including the UNESCO World Heritage Site of Dubrovnik, and then back to Italy via Sicily.
The Italian leg of the 12-night journey takes you through some beautiful parts of the country, including Naples and Sardinia. Spend time in the picture-perfect Bay of Naples, where you can wander the winding medieval streets — don't forget to enjoy some fresh seafood or aubergine parmigiana, which are just a couple of the many food highlights in Naples.
In Sicily, you'll be able to enjoy the beautiful Mondello Beach and pop into Palermo to visit the attractive markets, overlooked by the stunning Mt. Etna that looms in the distance.
Silversea's fleet is small and luxurious, which means you be able to get into smaller ports for more authentic visits. The Silver Dawn is the epitome of modern luxury with eight dining options and on board entertainment such as cooking workshops, the casino and the panorama lounge for cocktails and views.
---
8. South America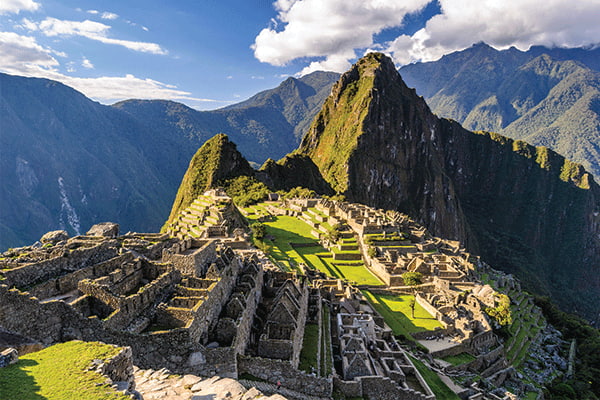 See it with: Scenic Eclipse
The Scenic Eclipse is slightly different from most of the others on the list as it takes place on an ultra-luxury yacht. If you're looking for a cruise on a smaller ship, this is the best pick for you.
This 27-night extravaganza through South America will take you past incredible landscapes. Countries visited on this itinerary include Costa Rica (where your voyage begins), Panama and Peru. Each destination has a host of activities to keep you busy, such as boat rides through mangroves, sea expeditions in a submarine and tours with expert guides through the untouched beauty of South America.
Scenic's Ancient & Natural Wonders in South America voyage is perfect for lovers of history and nature. In addition to the main journey on the Scenic Eclipse, we've included a three-night stay in Lima and a fascinating three-day river cruise, taking in the sights and sounds of the Amazon rainforest on an intimate 22-suite ship. As well as these extra additions, you'll have a chance to visit the ultimate UNESCO World Heritage Site, Machu Picchu, rising through the mist. 
The Scenic Eclipse offers all-inclusive luxury with plush lounges and fine dining. The Senses Spa has everything you'll need to help de-stress as well as Yoga & Pilates sessions in the Pure studio.
---
9. Caribbean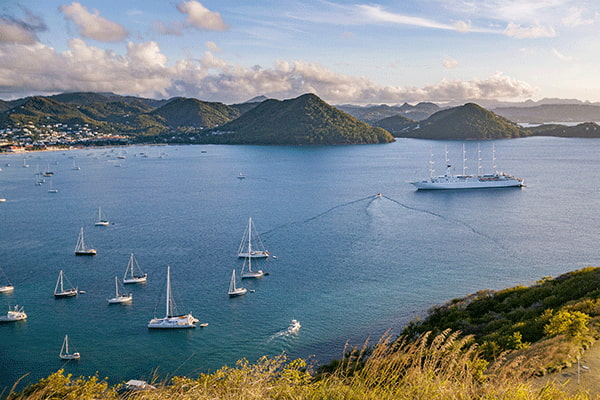 See it with: Seven Seas Navigator
The final cruise destination on our list, but by no means the last.
A Barbados Roundtrip with Regent Seven Seas takes you to some of the most enticing spots in the Caribbean. Starting in Bridgetown, Barbados, this 10-night all-inclusive cruise takes you to nine beautiful islands. Some of the highlights on this cruise include zip lining in St. Lucia, exploring the islands' marine life and soaking up the sun on white sand beaches.
A Caribbean cruise is a chance to take some time out, relax and enjoy the break. For some guests, that will mean taking advantage of the spa facilities and relaxing on the pool deck; for others, this means taking part in the more active excursions on sea and land, including diving and kayaking.
If you are looking for sun, sea, and sand on a cruise – then the Seven Seas Navigator is the one for you. The Caribbean is one of the best destinations to take a week long cruise – our Travel Specialists will be more than happy to tailor the cruise and stay to your needs.
---

If you've found inspiration from this post, contact us to speak to our Travel Specialists. As experts in all our destinations, they'll be more than happy to help you find your perfect luxury cruise destination for 2022.

To hear about our latest luxury travel offers, sign up for our newsletter below.