Not everyone is dreaming of a white Christmas. In fact, many of us have already started thinking about the best places to go on holiday at Christmas to trade in the snow for sand and hours of sunshine.
If spending Christmas on deserted white sand beaches with a cool cocktail in hand is something that gets you in the festive mood, there are a number of winter sun destinations that will be perfect for you.
For a short haul holiday to really get you into the festive spirit, visit the famous Christmas markets in Germany and France as you cruise down the scenic Rhine River, enjoying mulled wine and carols along the way. This is the perfect option for those who want to skip a long flight and who prefer a more relaxed way of travelling.
So, if you're already planning your trip for this year, you'll find plenty to put a smile on your face here. We've rounded up some of the best places to go on holiday at Christmas for 2023.
1.Mauritius
Flight time from UK: 13 hours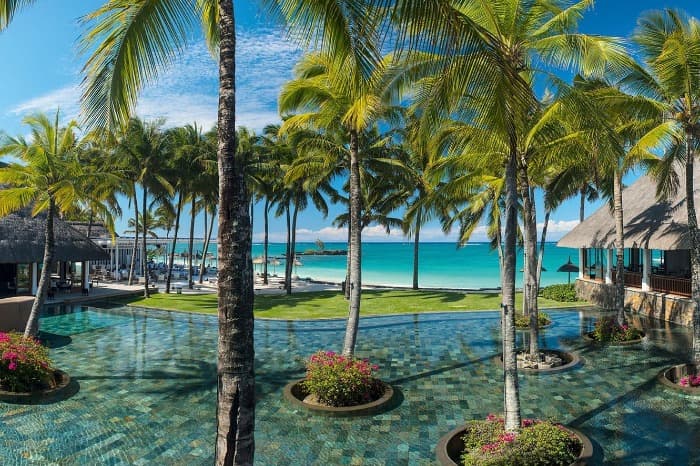 Mauritius is one of our favourite places to go at Christmas if you want to celebrate the end of the year on the beach among the palm trees. It might be a long flight to get there, but every second of the journey is worth it when you arrive on the stunning shores.
The December weather in Mauritius is perfect, with barely a cloud in the sky and temperatures raising as high as 27 degrees. Mauritius offers an incredible coastline making it best for lovers of beachside relaxation and watersports.
Some of the once-in-a-lifetime activities and excursions that you'll discover include wildlife walks in the verdant jungle and heading out to find romance on a deserted island of your own.

Where to stay: Constance Belle Mare Plage
If you like the sound of migrating to the warmer shores of Mauritius this winter, we recommend Constance Belle Mare Plage. Excellent for families, you can snorkel the azure lagoon, take a catamaran ride or head out to one of two 18-hole championship golf courses.

"I loved the beachfront location of this hotel, with a fantastic long stretch of beautiful sands, perfect for that early morning stroll or to work up an appetite for a meal in one of the hotel's restaurants. I recommend lunch at the golf club, even if you're not playing, as the setting is stunning; you may even spot the resident herd of deer wandering around the lake." Lucy – Luxury Travel Specialist
---
2. St Lucia
Flight time from UK: 8 hours 45 minutes
St Lucia offers rich history and breathtaking natural beauty around every corner. We think that this spectacular island is perfect for families looking for adventure or couples wanting an intimate getaway in paradise.
If you want to escape into a world of relaxation you'll also find a selection of world-class spas to enjoy. Above all, if you're the kind of traveller who spends their time imagining long winter days on some of the best beaches in the world, then St Lucia will make your dreams a reality.
There are so many ways to enjoy Christmas in St Lucia. The weather is stunning and reaches a December high of 29 degrees. It's the perfect compliment to all of the exciting activities and romantic hideaways found all over the island.

Where to stay: The Landings Resort & Spa
For an unforgettable escape this winter, why not head to St Lucia? The Landings Resort and Spa is the perfect spot for a multigenerational escape, with a soft sandy beach just steps away, along with the renowned bars and restaurants of Rodney's Bay, and the historic Pigeon Island, on its doorstep.
---
3. St Kitts
Flight time from UK: 10 hours 15 minutes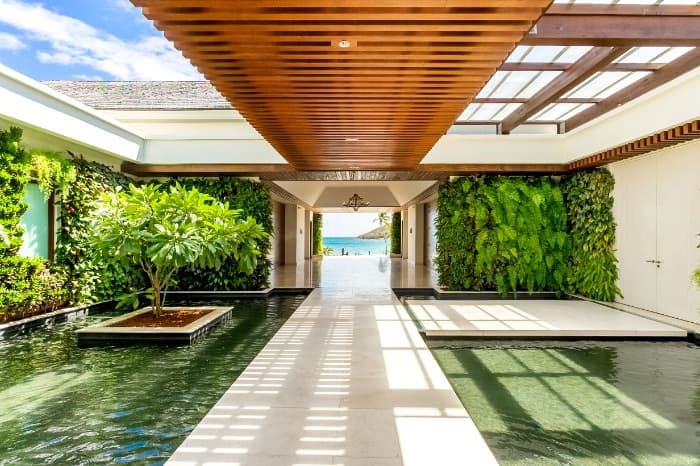 With volcanic slopes, verdant forests and turquoise sea, a St Kitts holiday offers you a taste of laid-back island living with plenty of sunshine. This majestic destination has something for everyone, whether that be relaxation, activity or anything in-between. We think that makes St Kitts one of the best places to go on holiday at Christmas.
You'll find a relaxing beachside experience coupled with fantastic spas, a laid-back island ambiance and average December temperatures reaching a hot 29 degrees. Or if you want your winter escape to include exciting watersports, volcano hikes, and other natural explorations such as hot springs, there's plenty for you too.
There are some completely unique experiences to be had in St Kitts and we highly recommend a trip on the Scenic Railway. The railway was built a hundred years ago and is the only one of its kind in the West Indies. Your journey is made even sweeter by complimentary rum punch and the train's resident choir.
Where to stay: Park Hyatt St Kitts
There's nowhere quite like the Caribbean at Christmas. Stretched along the beautiful Banana Bay, Park Hyatt St Kitts offers everything you need to warm up the winter months. Soak up the glimmering sea views, snorkel the crystalline waters and lay back in a private pool cabana.