Not everyone is dreaming of a white Christmas. In fact, many of us have already started thinking about the best places to go on holiday at Christmas to trade in the snow for sand and hours of sunshine.  
If spending Christmas on deserted white sand beaches with a cool cocktail in hand is something that gets you in the festive mood, there are a number of winter sun destinations that will be perfect for you.
For a short haul holiday to really get you into the festive spirit, visit the famous Christmas markets in Germany and France as you cruise down the scenic Rhine River, enjoying mulled wine and carols along the way. This is the perfect option for those who want to skip a long flight and who prefer a more relaxed way of travelling.
So, if you're already planning your trip for this year, you'll find plenty to put a smile on your face here. We've rounded up some of the best places to go on holiday at Christmas for 2022.
---
1. Mauritius
Flight time from UK: 13 hours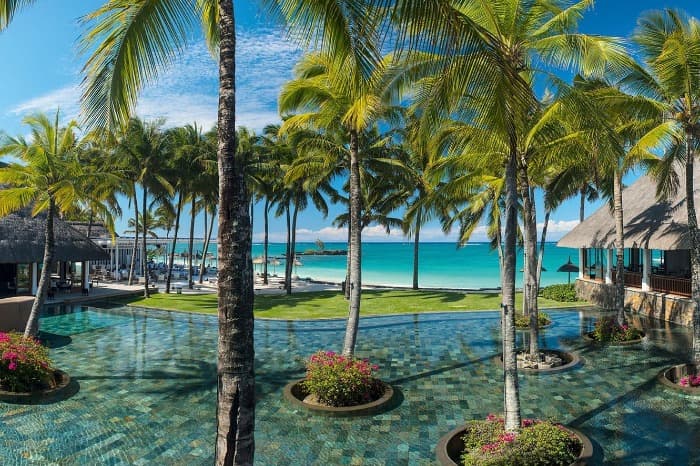 Mauritius is one of our favourite places to go at Christmas if you want to celebrate the end of the year on the beach among the palm trees. It might be a long flight to get there, but every second of the journey is worth it when you arrive on the stunning shores.
The December weather in Mauritius is perfect, with barely a cloud in the sky and temperatures raising as high as 27 degrees. Mauritius offers an incredible coastline making it best for lovers of beachside relaxation and watersports.
Some of the once-in-a-lifetime activities and excursions that you'll discover include wildlife walks in the verdant jungle and heading out to find romance on a deserted island of your own.
Where to stay: Constance Belle Mare Plage
If you like the sound of migrating to the warmer shores of Mauritius this winter, we recommend Constance Belle Mare Plage. Excellent for families, you can snorkel the azure lagoon, take a catamaran ride or head out to one of two 18-hole championship golf courses.
"I loved the beachfront location of this hotel, with a fantastic long stretch of beautiful sands, perfect for that early morning stroll or to work up an appetite for a meal in one of the hotel's restaurants. I recommend lunch at the golf club, even if you're not playing, as the setting is stunning; you may even spot the resident herd of deer wandering around the lake." Lucy – Luxury Travel Specialist
---
2. St Lucia
Flight time from UK: 8 hours 45 minutes
St Lucia offers rich history and breathtaking natural beauty around every corner. We think that this spectacular island is perfect for families looking for adventure or couples wanting an intimate getaway in paradise.
If you want to escape into a world of relaxation you'll also find a selection of world-class spas to enjoy. Above all, if you're the kind of traveller who spends their time imagining long winter days on some of the best beaches in the world, then St Lucia will make your dreams a reality.
There are so many ways to enjoy Christmas in St Lucia. The weather is stunning and reaches a December high of 29 degrees. It's the perfect compliment to all of the exciting activities and romantic hideaways found all over the island.
Where to stay: The Landings Resort & Spa
For an unforgettable escape this winter, why not head to St Lucia? The Landings Resort and Spa is the perfect spot for a multigenerational escape, with a soft sandy beach just steps away, along with the renowned bars and restaurants of Rodney's Bay, and the historic Pigeon Island, on its doorstep.
---
Is it safe to book a holiday abroad for 2022?
Absolutely! Travel is back in full swing, and there are currently no countries on the travel red list. Find out more about travelling in 2022 here.
---
3. St Kitts
Flight time from UK: 10 hours 15 minutes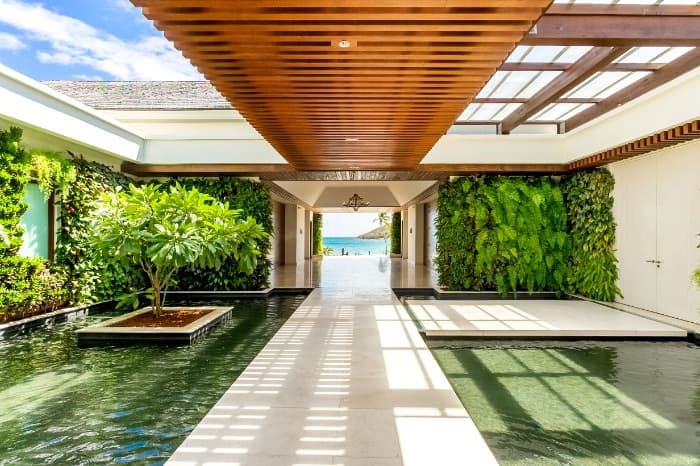 With volcanic slopes, verdant forests and turquoise sea, a St Kitts holiday offers you a taste of laid-back island living with plenty of sunshine. This majestic destination has something for everyone, whether that be relaxation, activity or anything in-between. We think that makes St Kitts one of the best places to go on holiday at Christmas.
You'll find a relaxing beachside experience coupled with fantastic spas, a laid-back island ambiance and average December temperatures reaching a hot 29 degrees. Or if you want your winter escape to include exciting watersports, volcano hikes, and other natural explorations such as hot springs, there's plenty for you too.
There are some completely unique experiences to be had in St Kitts and we highly recommend a trip on the Scenic Railway. The railway was built a hundred years ago and is the only one of its kind in the West Indies. Your journey is made even sweeter by complimentary rum punch and the train's resident choir.
Where to stay: Park Hyatt St Kitts
There's nowhere quite like the Caribbean at Christmas. Stretched along the beautiful Banana Bay, Park Hyatt St Kitts offers everything you need to warm up the winter months. Soak up the glimmering sea views, snorkel the crystalline waters and lay back in a private pool cabana.
---
Which are the best Christmas holiday destinations for families?
The Caribbean offers plenty of ideas for families looking to go abroad at Christmas. Not only are the islands perfectly warm over December, but resorts across Barbados, St Lucia, Grenada and Antigua put on plenty of fun activities for children, with Father Christmas appearing in his own tropical winter wonderland.
---
4. St Vincent & the Grenadines
Flight time from UK: 10 hours 15 minutes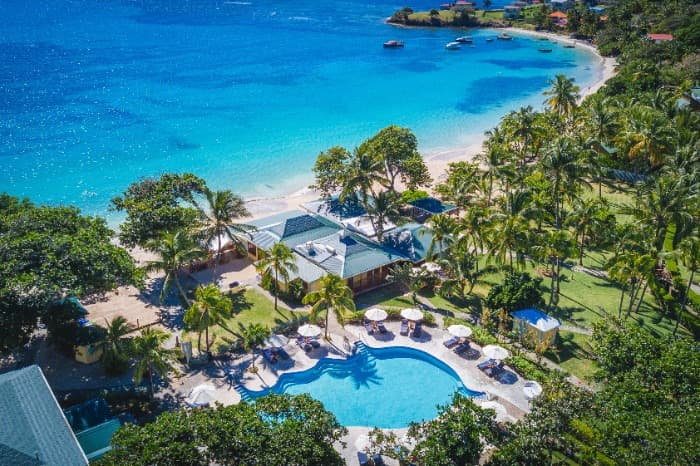 Peaceful, enchanting and welcoming, here you'll be able to get in touch with the true tranquillity of nature. With old-world charm and stunning surroundings, a luxury holiday to St Vincent & the Grenadines will transport you to a simpler, more relaxing time.
The white sand beaches dotted across this chain of Caribbean islands offer a Christmas holiday full of relaxation and luxury. Christmas holidays on these islands will give you time to relax and recharge whilst enjoying a special festive season away.
But there's another side to St Vincent & the Grenadines, one that offers an opportunity to immerse yourself in nature, or even to exercise your adventurous streak. Sailing is the number one pastime in St Vincent & the Grenadines and you are guaranteed to spot boats bobbing on the calm water. With temperatures reaching a December high of 29 degrees, you are sure to be tempted to charter a vessel and experience the joys of the water for yourself.
Where to stay: Bequia Beach Hotel
This family-owned boutique hotel is the 'jewel' in the Grenadines, renowned for its laid-back ambience and vintage island style. Bequia Beach Hotel makes sure you are always in touch with the beauty of the ocean and Beachfront Suites are just steps from Friendship Beach.
---
5. Christmas Markets on the Rhine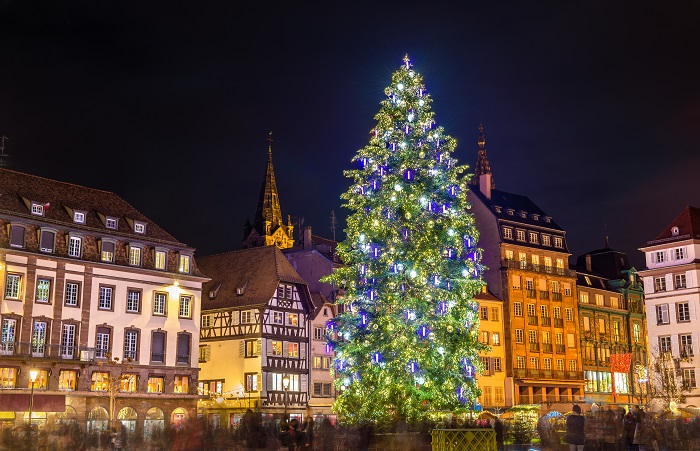 Deciding on one destination can be a tricky decision. So why choose? A luxury river cruise down the Rhine could be the perfect way to see more attractions without having to re-pack your bag every time.
For a unique Christmas, AmaWaterways offers a spectacular voyage around Germany and France that departs from the Netherlands. On board you'll find incredible amenities, excursions, service and, of course, breathtaking river views.
This is an ideal itinerary for adventurous travellers who want to combine luxury and comfort with excitement and choice. After action-packed days full of immersive shore excursions and Christmas market tours, you can retire to a plush room with a glass of mulled wine or relax with a pampering massage.
Where to stay: AmaCerto
With this AmaWaterways itinerary, you'll enjoy a range of expertly guided excursions included at every port to get you into the Christmas spirit. AmaCerto is a small 162 passenger luxury vessel that offers award-winning cuisine in both the Main Restaurant and at The Chef's Table specialty restaurant. With a sundeck and heated pool featuring a swim-up bar, a wellness programme and an eclectic schedule of evening entertainment, you'll want for nothing.
---
6. Lanzarote, Spain
Flight time from UK: 4 hours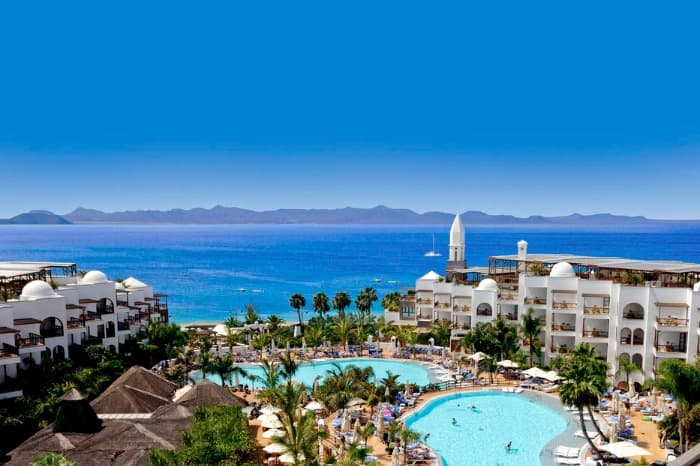 Christmas is the ideal time for a holiday in Spain if you want daily sunshine without the long flight. You can be in Lanzarote in just 4 hours from the UK, and you'll land in a temperate paradise with average December temperatures of a warm 21 degrees.
Perfect for lounging beside the pool, you'll find a stunning selection of hotels and resorts to suit any type of traveller. Lanzarote offers an enchanting mixture of bustling cities comprised of traditional European architecture, and endless beaches that rival anywhere in the world.
Many of the hotels are perfect for families and have speciality kids and teens clubs, as well as a host of all-inclusive options.
Where to stay: Princesa Yaiza Suite Hotel Resort
A Christmas escape to Lanzarote is the perfect solace from any creeping winter chills. For families, Princesa Yaiza Suite Hotel Resort  has plenty to offer with eight swimming pools, a bounty of activities and a kids' club where little imaginations can be set loose.
---
Where to go at Christmas if you don't want a long flight
While most destinations that have hot weather at Christmas are further afield, the Canary Islands offer the perfect solution if you don't want a long flight time. Tenerife, Lanzarote and Gran Canaria offer beautifully warm temperatures and plenty of beaches for an end of year escape.
---
7. Oman
Flight time from UK: 7 hours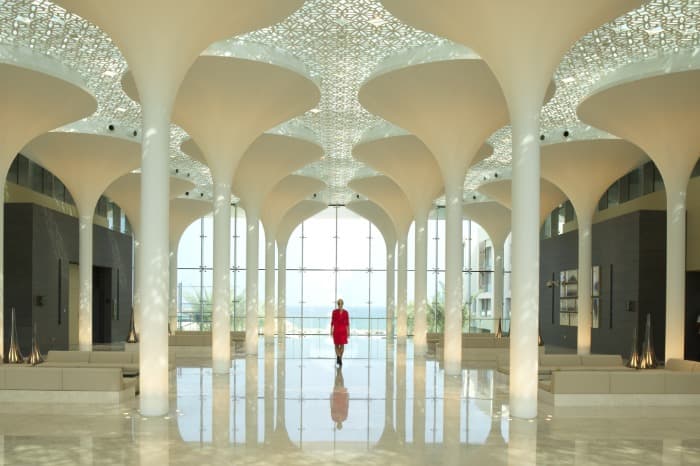 If you're yearning for the ultimate blend of culture, history and stunning beaches then Oman will steal your heart. There's so much choice in this enchanting country and you could easily combine mountain, coast and city into one unforgettable trip.
A heady mix of towering palaces, sprawling markets, endless desert and unique culture creates a fairy tale atmosphere. The weather is incredible, with average highs of 27 degrees during December, and the shining sun completes the image of quintessential Arabian paradise.
A stay in the capital, Muscat, puts 5,000 years of fascinating history at your doorstep. There are some world-famous landmarks here including the famous Al Alam Palace by the sea and Sultan Qaboos Grand Mosque.
Where to stay: Kempinski Hotel Muscat
Culture vultures and beach bums alike will fall in love with this remarkable country. Stay at Kempinski Hotel Muscat to be in the perfect location for exploring the capital city and the stunning Gulf of Oman. Along with a gorgeous beach, you can enjoy an exquisite spa and world-class dining options.
---
8. Phuket, Thailand
Flight time from UK: 11 hours 30 minutes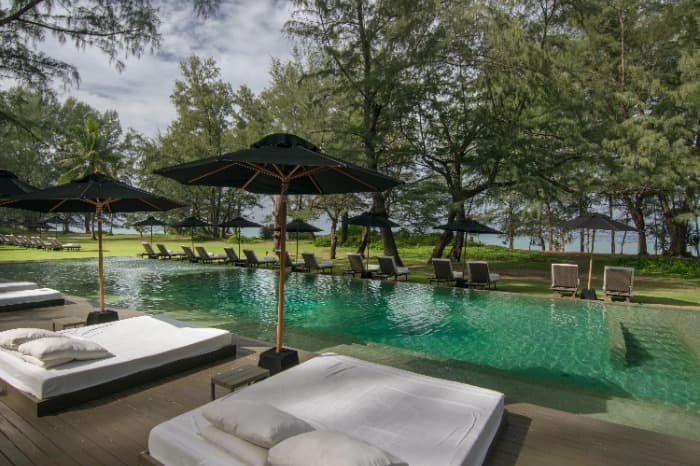 If you're looking for a long-haul adventure to a totally unique culture and climate, then a Thailand Christmas holiday should be at the top of your travel bucket list. With its mix of ancient and buzzy-right-now cultures, Phuket is one of the world's favourite beach destinations as it effortlessly blends exciting city centre experiences with enchanting natural wonders.
The weather in Thailand during December is scorching. With average highs of 32 degrees this is definitely a top destination for a hot Christmas holiday. This ensures that whether you're exploring a natural landscape, ancient temple or shimmering city, you will not have to battle the elements.
Expect to discover beautiful beaches lined with coconut trees, warm hospitality and fascinating culture. Whether you're a family looking to make memories together, a couple seeking a romantic escape or a group of friends searching for incredible nightlife, Phuket has something for everyone.
Where to stay: SALA Phuket Mai Khao Beach Resort
Unwind in the beautiful surroundings of SALA Phuket, set in a protected National Park area on the white sands of Mai Khao Beach. Here, you can lounge in one of three beachfront swimming pools, dine on vibrant Thai cuisine and watch movies under the stars for a winter unlike any other.
---
9. Florida, USA
Flight time from UK: 9 hours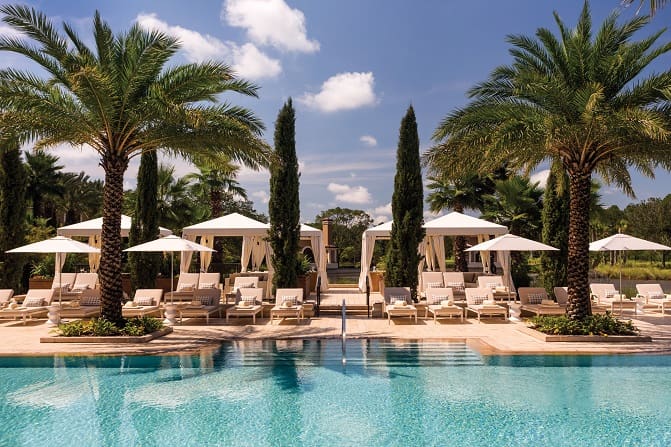 Is there anything more appealing than jetting off to a place nicknamed 'The Sunshine State' when the skies are overcast and grey? There's so much to love about Florida during the festive season, from the extravagant Christmas parades at Walt Disney World to the tropical climes of the Florida Keys.
Drive down the Overseas Highway to Key West and visit the home-turned-museum of esteemed American novelist, Earnest Hemingway,  before tucking into a thick slice of Florida's favourite dessert: key lime pie. Soak in the sun on one of the key's immaculate beaches and embrace the laid-back island lifestyle.
Glide through mangroves and see alligators in their natural habitat with an airboat tour of the Everglades. Or head up to the iconic city of Miami and bring in the new year with night on the city's legendary club scene.
Where to stay: Four Seasons Resort at Walt Disney World
Feel the magic of Christmas with a stay at the Four Seasons Resort at Walt Disney World and see Mickey Mouse in full Santa Claus getup. With an adult-only pool and sophisticated décor, this stylish hotel ensures that the whole family can relax and enjoy the festive season beyond the bright lights and thrilling rides of the parks.
Dine at the hotel's Ravello restaurant for the best Disney Character Breakfasts in town and watch the park's spectacular nightly firework display from the rooftop terrace Capa Bar.
---