Whisking the family away to a wintery wonderland of mountains, chalets and ski slopes this year? We know the best family ski resorts in Europe that will make you all feel truly at home, whether it's the French, Swiss or magnificent Austrian Alps.
Take a look at our top ten resorts for your luxury ski holiday to find the best destination for all ages. Our favourites include child-friendly facilities, beginner slopes, ski schools and so much more to accommodate little guests and give adults some well-earned time to rest!
---
1. Courchevel
The snowy vistas of Courchevel reside in Tarentaise Valley, in the heart of the Alps, at a staggering 1,850m above sea level. The resort is ringed by dense pine forests, where the ice-capped peaks of Aiguille du Fruit, Vizelle, Saulire and Mont Blanc can be spotted through the leaves. It's a stunning location that makes for one of the best French ski resorts for families, with plenty of snow promising ideal conditions for skiing from December to mid-April.
A chair lift system operates from the centre of the resort, allowing easy access to a variety of ski slopes for all skiing abilities. Little guests and beginners can opt for the gentle slopes to work on their skills, while pros have plenty of more advanced runs to choose from, including the 3,340m-high Grand Couloir on the Aiguille du Goûter. You can also easily access six neighbouring ski resorts, including Val Thorens and Meribel.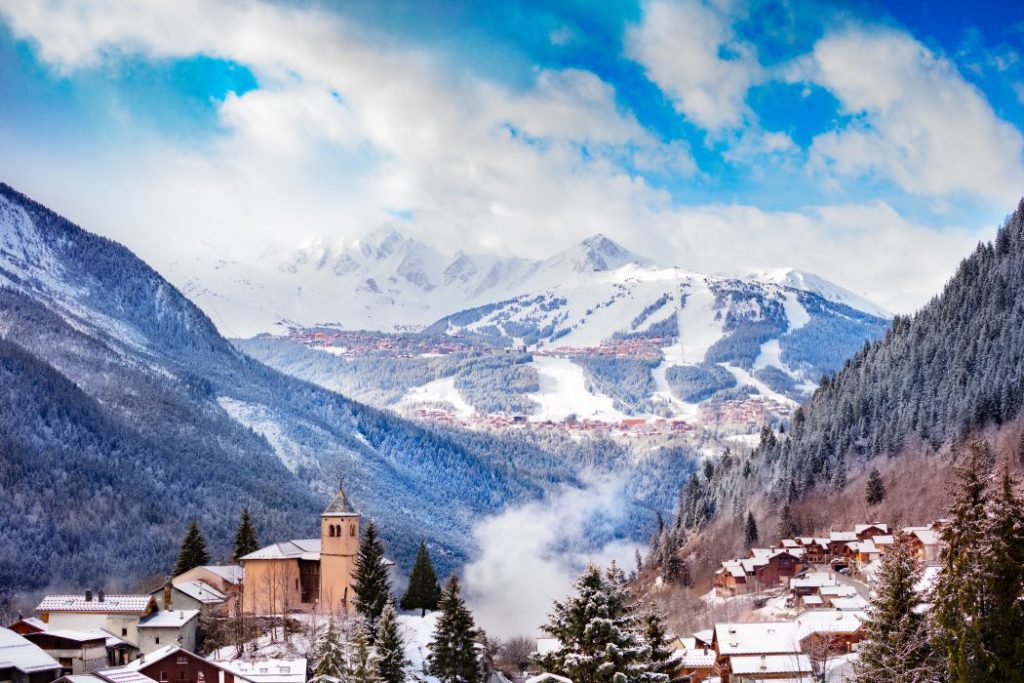 The resort is divided into six unique ski villages, including the world-renowned Courchevel 1850, which was France's first purpose-built ski resort. Among the high-end restaurants and designer boutiques, such as Chanel and Louis Vuitton, you'll find a number of family-friendly ski hotels and chalets. Kids will also love the Aquamotion Aquatic Centre, deemed as one of the best alpine water centres in the world. There's also a dedicated children's area and a selection of hair-raising water slides.
---
2. Val Thorens
Val Thorens is also situated in France's Tarentaise Valley and steals the title of Europe's highest ski resort – as well as being great for families. At 2,300m above sea level, the mountains here never fail to impress, and they're quite the feat for skiers!
There's a wide variety of slopes to choose from – 600km of them! This includes the testing mogul fields of the Cime de Caron, along with La Masse for kids and beginners. If you're feeling more confident, there's the off-piste routes on the Chaviere or Peclet glaciers. If you're beyond the average beginner, but not yet a pro, you'll really appreciate the long cruises that help you build your confidence.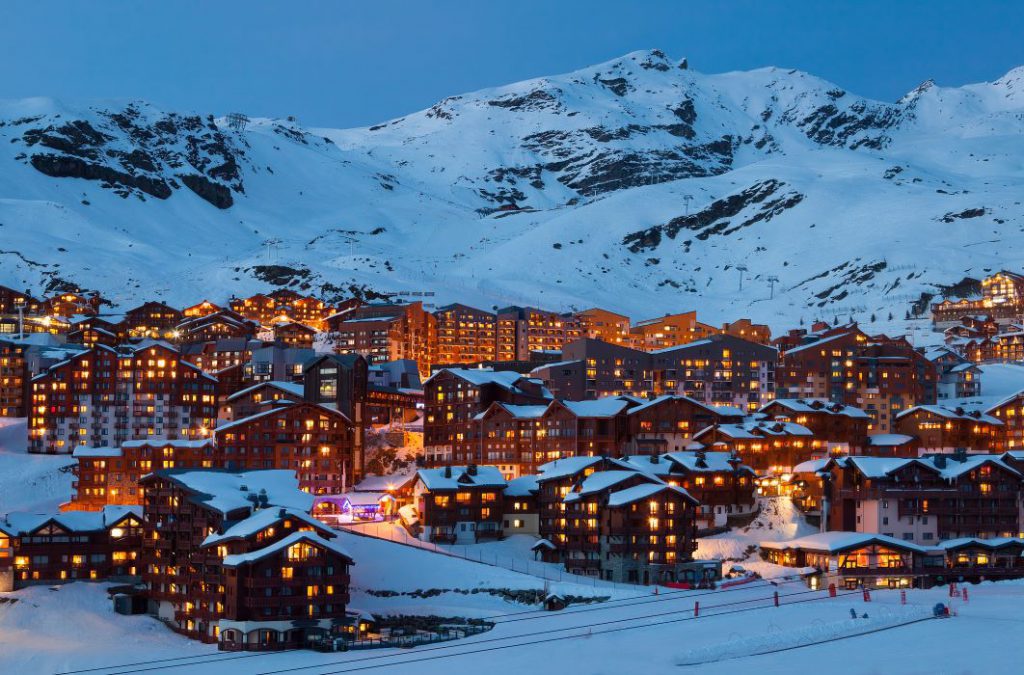 If your family wants to take a break from the slopes, you can glide down Europe's highest zipline at over 100km/h or admire the valley from above on a paraglide flight. For even more fun, take on the snappy twists and turns of the Cosmojet, Europe's longest toboggan run. These are once-in-a-lifetime opportunities, great for making long-lasting memories with the family.
The village centre is a huddle of chalet-style buildings, sheltering swimming pools, sport centres, ski schools and top-tier restaurants. You can experience the lively, slopeside apres ski nightlife at La Folie Douce and 360 Bar, or cosy up at the homely pubs in the centre.
---
3. Megève
Nestled in the breathtaking French Alps, Megève is one of the best spots for family ski holidays in France. It's a prime location, renowned for its extensive skiing terrain, world-class amenities and picturesque village charm. The resort was first established in the 1920s, and its original spirit lives on its charming old-timer feel. Along a network of cobbled streets, you'll find chic boutiques, elegant restaurants and intimate bars, with the majestic Mont Blanc Massif Mountain in the distance.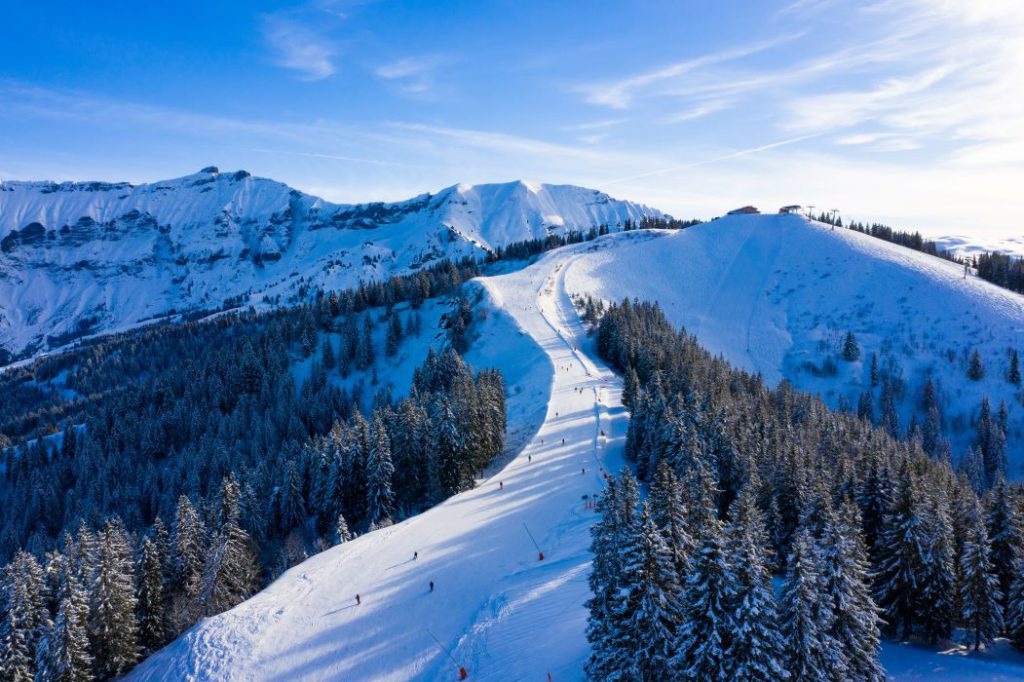 The resort's runs are most popular with intermediate skiers, but all abilities and ages can find slopes that suit their skills. Le Jaillet is the least busy option, whereas Mont d'Arbois is the gateway to the beginner slopes above St Gervais, so it can be much livelier. You'll find a number of ski schools scattered across the resort, teaching kids how to master the slopes. There are also childcare facilities, too, if you want to take on some of the trickier slopes!
In the evenings, you can reconvene for some family-friendly entertainment. There's always something happening, whether it's a themed festival, a parade, a firework display, or an outdoor concert. The resort offers exciting opportunities for all the family, whether you're gliding across the mountains or simply admiring them from afar!
---
4. Méribel
Méribel also resides in the stunning French Alps and has welcomed families to embrace its Alpine charm since the 1930s. With its incredible range of slopes and variety of winter snow activities, this resort is the perfect location for an unforgettable family ski holiday.
The resort is particularly accommodating for beginner skiers and families with young children, with a selection of green runs and nursery slopes. For advanced skiers, there are challenging black runs and off-piste opportunities that provide an exhilarating experience. The resort is interconnected with the vast Three Valleys ski area, offering over 600 kilometres of slopes to enjoy!
It's a great place for children to fill up their winter with fun experiences. They can try igloo building, snowboarding lessons, tobogganing and go horse riding through the snow.
The family fun doesn't have to stop once you've retired from the slopes; evenings at Meribel are brought to life by lively music performances, themed nights and a cinema if you fancy relaxing with a film. Alternatively, you can simply unwind together around the fireplace in your cosy chalet.
---
5. Val d'lsere
Val d'lsere is an extremely popular European ski resort in the French Alps for families, renowned for its stunning mountain scenery and vibrant village atmosphere. The skiing experiences are incredible too, with a vast 300km spread of powdery snow inviting skiers of all abilities. This area is shared with the nearby Tignes, which features a range of blue slopes – the perfect place for young skiers to practise!
The resort welcomes families with open arms, boasting luxury accommodation that offers spacious living areas and a cosy home-from-home feeling. Some chalets will offer suites with interconnecting rooms, so children can be kept close by.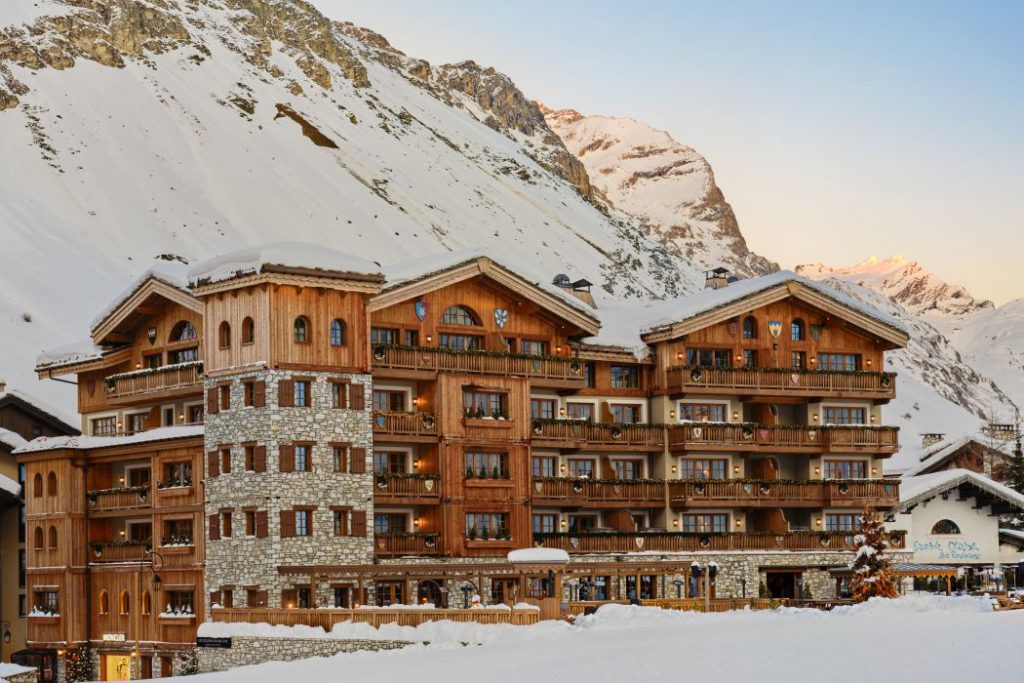 Dine together at the exclusive line-up of restaurants, whether it's Savoyard specialities, a gourmet meal or just a classic all-day breakfast. Child-friendly dining options are always available, or you can head to the Michelin-starred La Table de l'Ours for a really memorable dining experience.
Val d'Isère offers a variety of non-skiing outdoor activities for children that cater to the whole family. Ice skating is a popular choice, with a charming outdoor rink in the heart of the village. Families can also enjoy tobogganing on designated slopes or thrilling dedicated toboggan runs. For indoor fun, the sports centre offers swimming pools, wellness facilities and a climbing wall.
---
6. St. Moritz
Set atop the Swiss Alps in the Engadin Valley, St. Moritz is a hit with families and winter enthusiasts alike. With its dedicated children's ski areas, renowned ski schools and a stunning alpine setting, it's a highly sought-after destination among all the luxury ski holidays in Switzerland.
This European resort was established among the Corviglia and Piz Bernina mountains over 150 years ago and has hosted two Winter Olympic Games and five Ski World Championships since. It's a seasoned space for all kinds of skiers to come together and take on its 87 pistes.
Across the staggering 50km of runs, there's a dedicated children's ski area with gentle slopes manned by expert instructors. The resort's renowned ski schools provide specialised lessons for children of all ages, helping to boost their confidence.
The resort links three ski areas together via 42 lifts, expanding your horizons to cover 300km of high-altitude skiing opportunities and other winter activities. Families can enjoy a variety of non-skiing activities like ice skating, snowshoeing and tobogganing down Cresta Run. There's also the world's first yoga slope on offer, plus you can enjoy an indulgent spa treatment up to you on the slopes.
---
7. Verbier
Set in south-western Switzerland in the canton of Valais, Verbier is great for you if you're from a family of talented skiers. There's over 400km of slopes in the Four Valleys inviting confident skiers, with plenty of black runs if you're seeking some heady downhill skiing. Little guests might not be quite there yet, so the dedicated children's ski areas and ski schools provide a space for them to learn.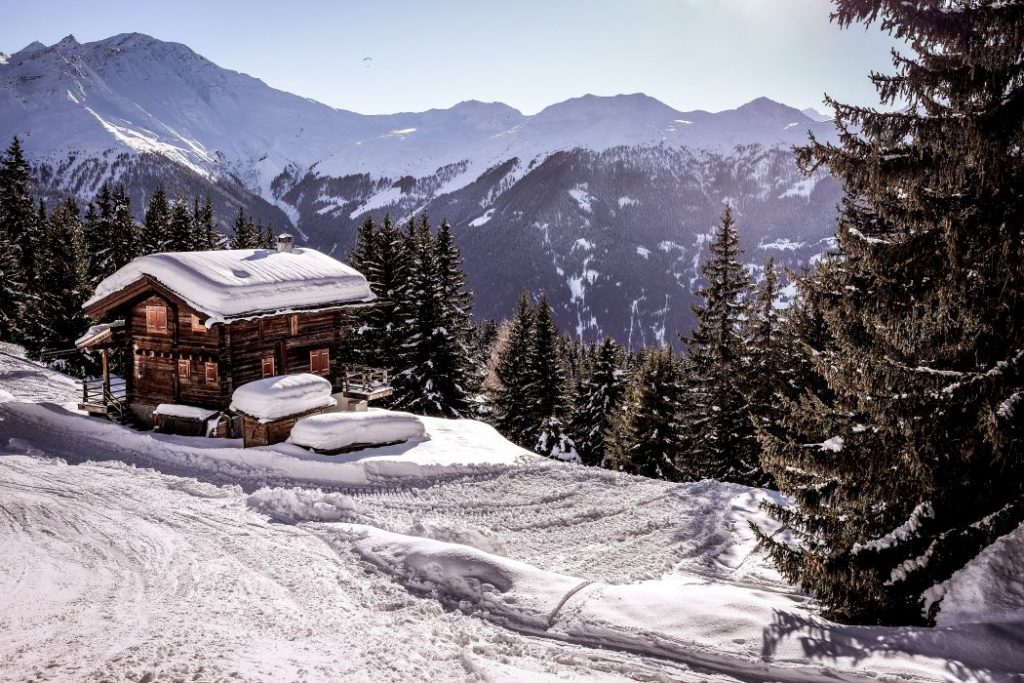 The slopes lead down to the hustle and bustle of Verbier's town centre, which has a selection of top restaurants and trendy shops and boutiques. You can spend the whole afternoon here with the family, sampling the local cuisine and soaking up the Alpine atmosphere.
For a family day out, visit the summit of Mont Fort, the highest peak in the Four Valleys. You can get there via a series of cable car trips followed by a steady climb up a stone staircase. Once you reach the top, the views are unparalleled, showcasing the snow-coated beauty of Mont Blanc, Dents du Midi, Matterhorn and Rhone Valley.
---
8. Andermatt
Tucked away in the Swiss Alps, this hidden gem has an impressive yearly snow record, and a lengthy ski season from the end of October to the beginning of May. That's a huge window of time in which you can book your family holiday here, with a promise of excellent snow conditions. It's a favourite in Europe among expert skiers and offers the perfect facilities for families to learn from the best.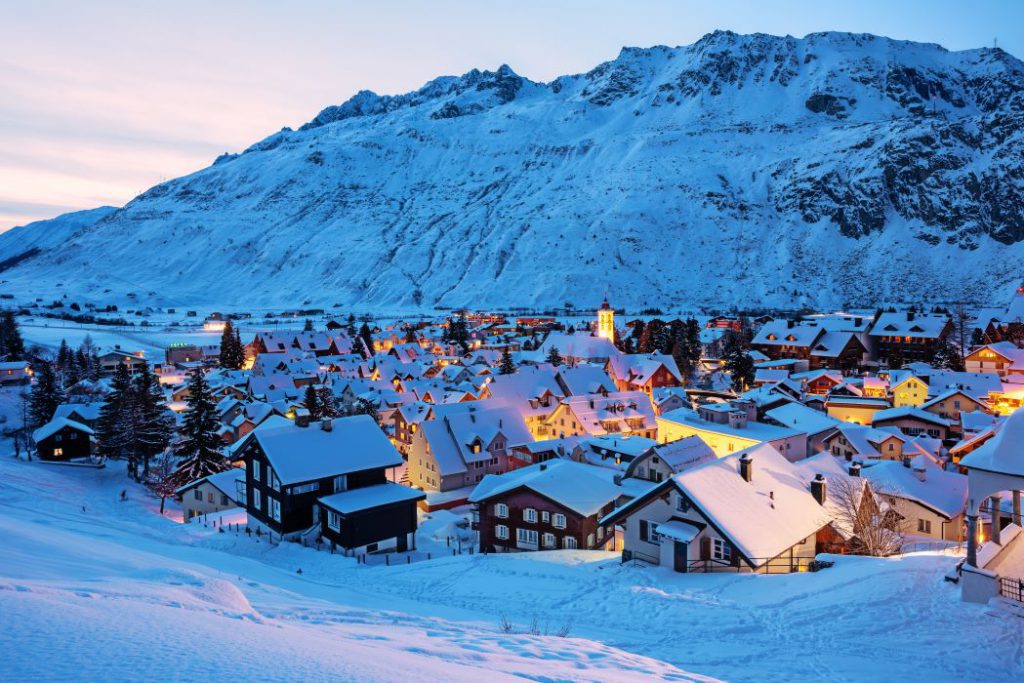 Andermatt is Switzerland's largest ski resort, with a vast amount of space for non-skiing winter activities. Off the slopes, you and the family can take some leisurely winter walks or try some sledging together, or keep warm with hot chocolates and pastries in a local café.
---
9. Crans-Montana
Nestled in the Swiss Alps, Crans-Montana is renowned for its breathtaking slopes, luxurious amenities and panoramic views from Matterhorn to Mont Blanc. This sunny, south-facing resort is one of the leading destinations in Europe for families, recently receiving the 2019-2021 "Family Destination" label from the Swiss Tourism Federation. It's one of just a few ski resorts to be awarded this, and the resort's meticulous attention to detail explains why.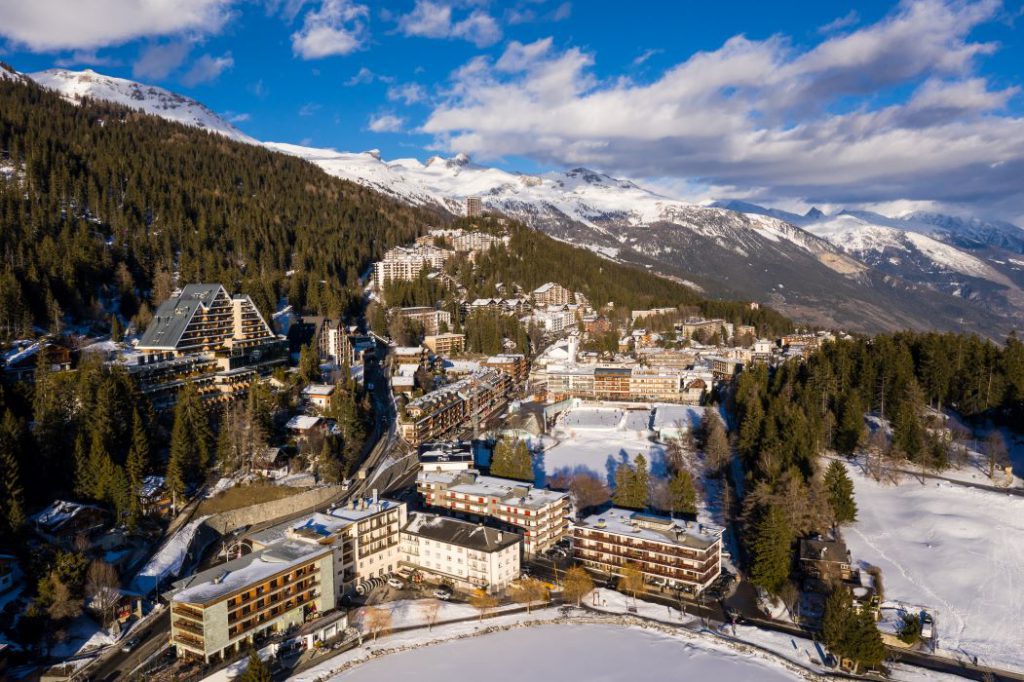 When it comes to skiing, Crans-Montana offers safe and comfortable chairlifts and plenty of wide slopes that are perfect for families. There's also a selection of ski kindergartens run by the local ski schools. In the winter, the resort's golf course is transformed into "Snow Island", a magical winter wonderland for children. Other fun activities include a thrilling torchlit descent of the slopes, snow tubing and tobogganing.
Back at base, families are offered babysitting and non-ski nursery services, along with rental baby equipment. You can steal some time together at the resort's array of cafes and restaurants, or try indoor tennis, ice skating, climbing and bowling.
---
10. St. Anton
Located in Austria's Tyrolean Alps, St. Anton is often referred to as the "cradle of alpine skiing" for its role in inventing the sport. But, it's world-class skiing, vibrant après-ski scene and charming alpine village atmosphere also make it a top ski resort in Europe for families. The arena is laden with history, making it one of the most educational ski holidays in Austria.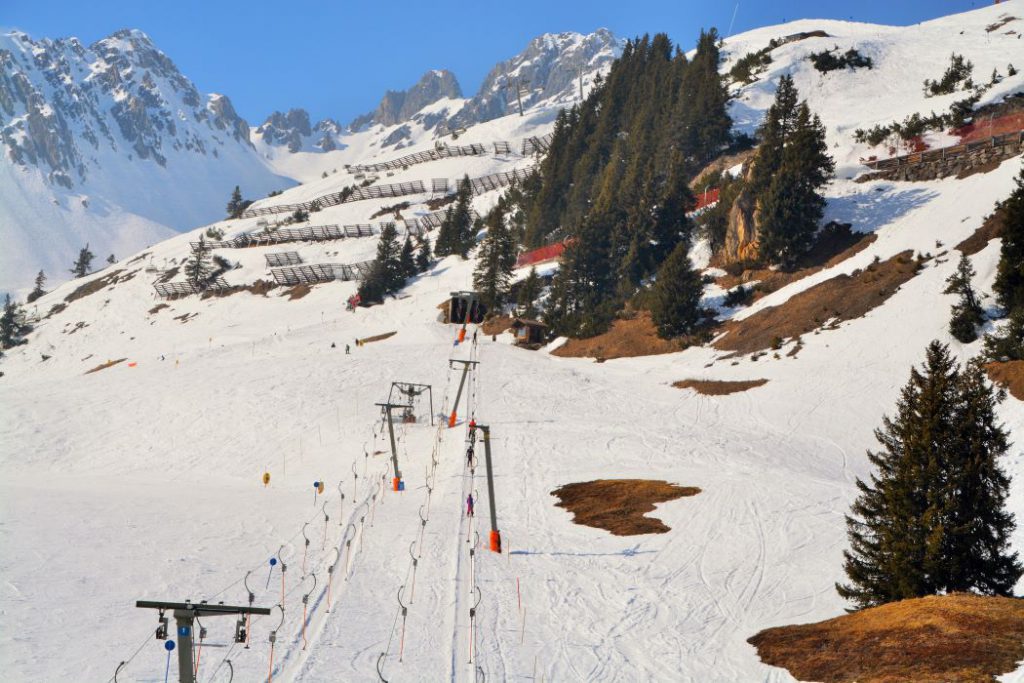 St Anton is commonly visited by experienced skier or snowboarders, but there's plenty of slopes for beginners too. Novice skiers and children can hone their skills at the ski school, which is one of the oldest (and therefore most experienced!) in the world.
When you and the family are taking a break from the skis, you can try steering a traditional wooden sledge, or ice skating on the local wellness centre's outdoor rink. If you'd like to educate yourself on the history of skiing, head to the St Anton Ski and Local Heritage Museum to learn all about the sport's development in Arlberg.
---
Inspired by our selection of ski resorts in Europe?
Speak to our Travel Specialists to start planning your family ski holiday. With our concierge service, you'll have every detail tailored just for you – from kids' amenities to ski schools and babysitting, simply let us know what you'd like and we'll create a whole holiday around you.
---