Mountain gorillas are one of the world's most majestic yet seriously endangered animal species. So, it's no surprise to us that seeing them in the wild is so high up on the bucket list of wildlife lovers. 
Our Product Director, Matt Rushbrook, recently returned from his own gorilla safari in Rwanda. In the Land of a Thousand Hills, he trekked through the mist-covered rainforest to watch these stunning primates and chimpanzees, staying in spectacular One&Only Resorts in both Nyungwe and Volcanoes National Park along the way.
Here, he gives us his complete guide to tracking the world's most majestic primates.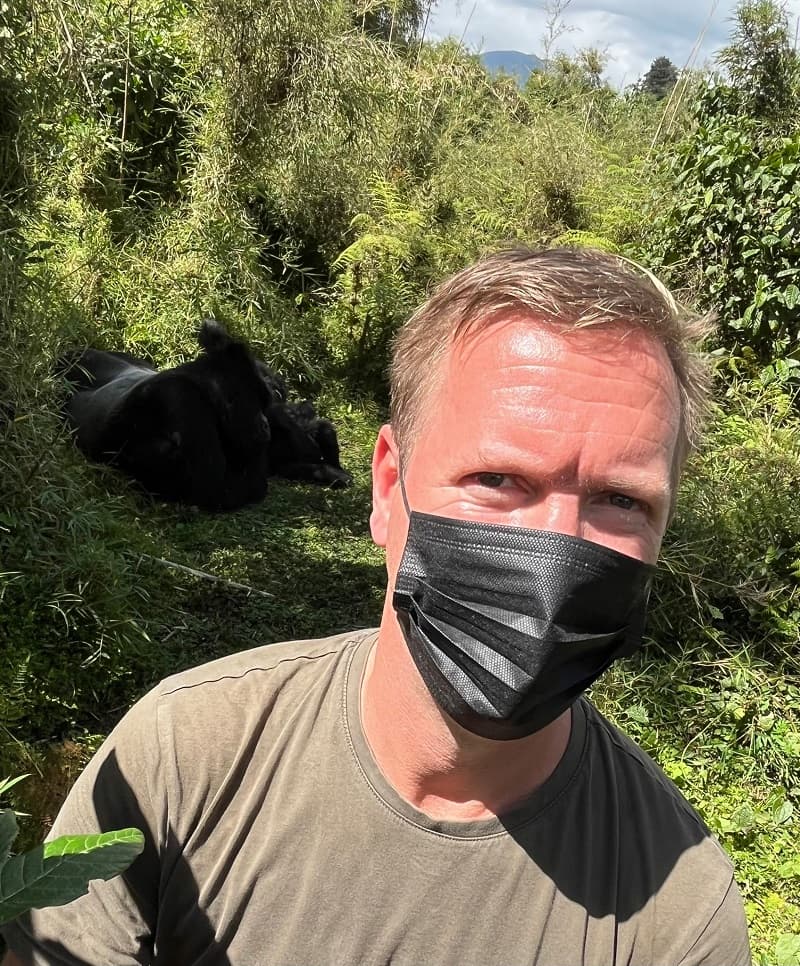 How to Travel to Rwanda
I travelled with the national airline of Rwanda, Rwandair, which launched direct flights between London Heathrow and Kigali International Airport in 2022. Operating four times a week, it's now easier than ever to travel to Rwanda. I recommend choosing Business Class if you want to enjoy the utmost comfort for eight hours, where you can recline your seat to fully flat.
---
How to see gorillas in Rwanda
You must have an official permit to see mountain gorillas in Rwanda. The permit costs around $1,500 per person, which should be booked months in advance. The funds from tourists' gorilla permits are hugely beneficial for the country, contributing to local environmental causes and conservation activities toward the protection of the gorillas.
Treks are reserved for a group of just eight and you're allowed a strict maximum of one hour per day to watch gorilla families. Meanwhile, porters are available to carry backpacks and cameras, as well as to offer a helping hand along the route.
Matt's Top Tip

"I recommend award-winning Primate Safaris for a luxury experience in the African wilderness. They took care of us for the entire trip and sourced local drivers and expert guides including Ismail, who won Rwanda's guide of the year!"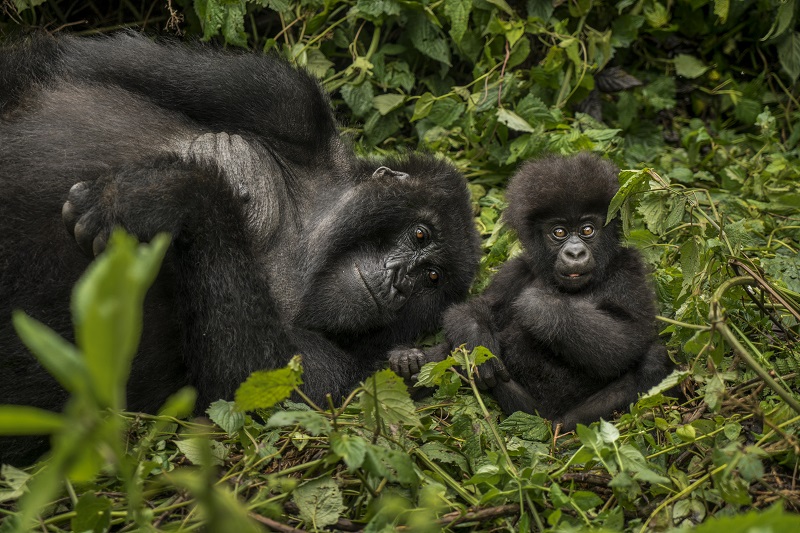 ---
Where to see Gorillas and Monkeys in Rwanda
Nyungwe Forest National Park
Nyungwe Forest National Park is one of Africa's oldest forests, renowned for its 1,000 species of plants along with charismatic chimpanzees and monkeys. One-of-a-kind encounters with these primates are a daily reality in Nyungwe, but you're also likely to spot a wide variety of bird life. With 322 types of bird in residence, you'll want to get your camera ready!
The Canopy Walkway in Nyungwe National Park is another highlight— the only treetop path of its kind in East Africa. Suspended 60m above a ravine, it's a great way to see the ancient rainforest from a different perspective. I recommend a helicopter tour to see more incredible views of the Rwandan countryside from an (exotic) bird's perspective.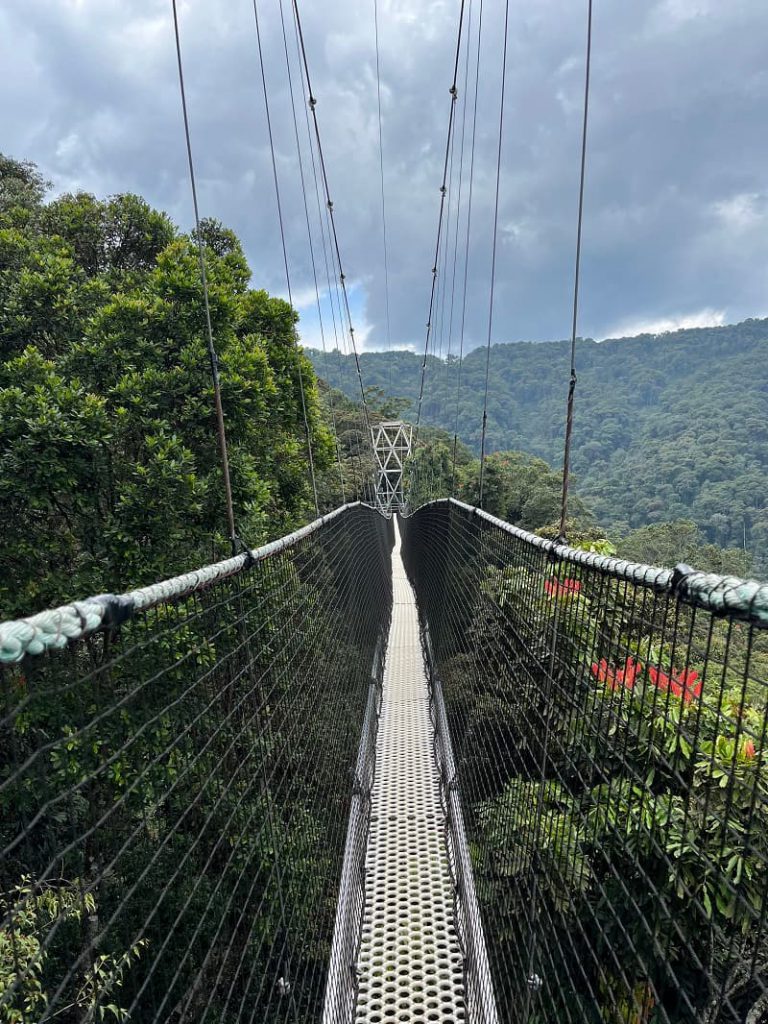 Volcanoes National Park
Volcanoes National Park's main attractions are the famous mountain gorillas and golden monkeys. There are between ten and twelve gorilla families, which feature one dominant male and several females. All adults in the group care for and play with the infants, which is a joy to witness. Around 170 golden monkeys also live on these bamboo-covered slopes.
You can choose an easy, medium or hard trek, which can last anywhere between 10 minutes to four or more hours. Gorillas are usually found between an altitude of 2,500m and 4,000m, however in low season they feast on fresh bamboo shoots at lesser heights. When we visited, we only has to trek for five minutes to come across a family of gentle giants!
Other National Parks in Rwanda include Akagera National Park, Central Africa's largest park and Gishwati, home to chimpanzees, buffaloes, antelopes and elephants.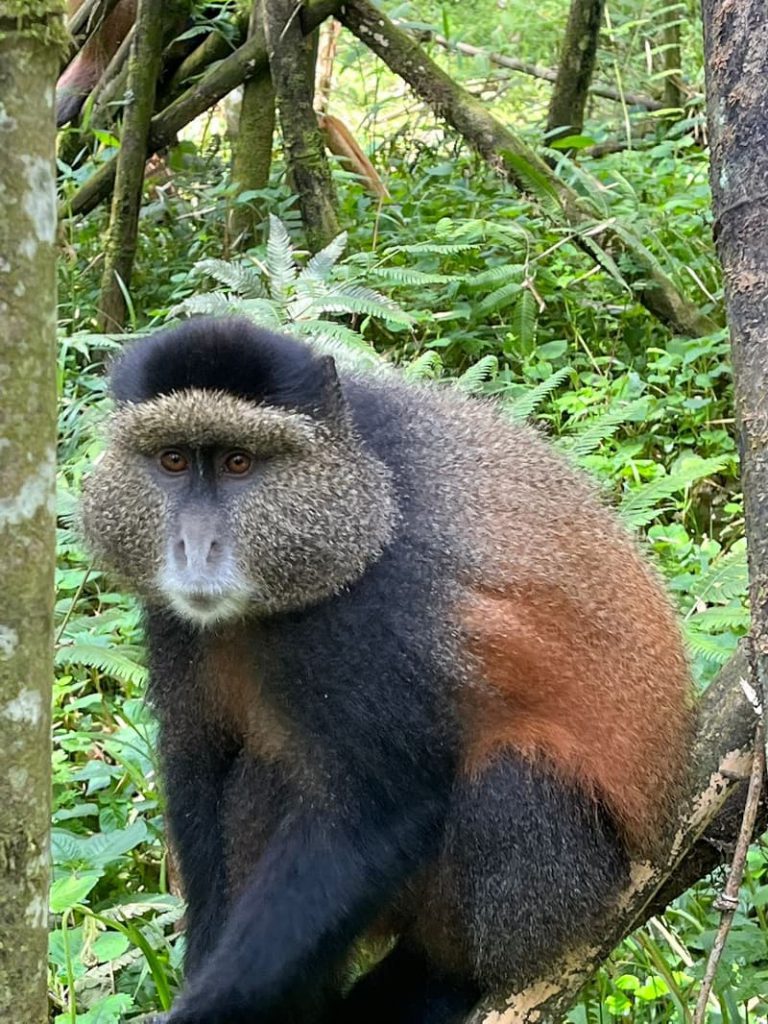 ---
Where to Stay?
Spend one night in Kigali
After arriving in Kigali, Rwanda's thriving capital city, I checked into The Retreat by Heaven. Despite being in the centre of Kigali, the property is a tranquil refuge to rest your head. Rwanda is one of the cleanest countries thanks to the nationwide 'Umuganda' programme. Citizens devote the last Saturday morning of every month to working in the local community helping to clean the streets, and even the president helps out!
Get a feel of local life by taking part in this positive initiative and don't miss cultural experiences at Inema Arts Gallery, housing works by a collective of Rwandan creative artists. As Rwanda is a world-class destination for growing coffee, Question Coffee Café & Roastery is another must-see, powered by 30,000 Rwandan women coffee farmers.
Matt's Top Tip

"The Kigali Genocide Memorial is a must-see. Rwanda's painful past has haunted the country for years, yet their recovery has turned them into an inspiration."
One&Only Nyungwe House
Set on the scenic border of Rwanda's renowned Nyungwe National Park, you'll feel fully immersed in nature at the beautiful One&Only Nyungwe House. The surrounding landscape is blessed with a picturesque tea plantation and an ancient rainforest, home to some of Rwanda's most fascinating wildlife.
We first enjoyed cultural activities, trying out hilltop archery, imigongo painting and touring the the working tea plantation. After tea leaf picking and a traditional African tea ceremony, our adventurous spirits continued as we headed to the depths of the jungle with experienced guides. Here, we encountered the region's rare chimpanzees which were so entertaining to watch. Chimpanzee trekking is one of the main draws, but Colobus monkeys can also be spotted here (the only place in Africa!).
Matt's Top Tip

"Fly with Akegera Aviation from Kigali Airport to Ngungwe, or take a helicopter transfer directly to the hotel's private helipad."
One&Only Gorilla's Nest
The luxurious One&Only Gorilla's Nest is the closest resort to the dramatic landscape of Volcanoes National Park. Upon arrival, enjoy welcome drinks in the Nest Bar with a local guide and gorilla expert, who will ensure you have the most fulfilling experience possible when interacting with our closest relatives.
With only an estimated 1,000 wild mountain gorillas left in the world, to see these gentle creatures in their natural habitat is a truly unique moment. Our amazing guide soon discovered a fully habituated family of mountain gorillas who we spent an hour with, enjoying personal and up-close encounters like none of us had ever experienced.
Matt's Top Tip

"One&Only Gorilla's Nest is the perfect pairing with One&Only Nyungwe House. Enjoy a road transfer between properties and stop off at picturesque Lake Kivu."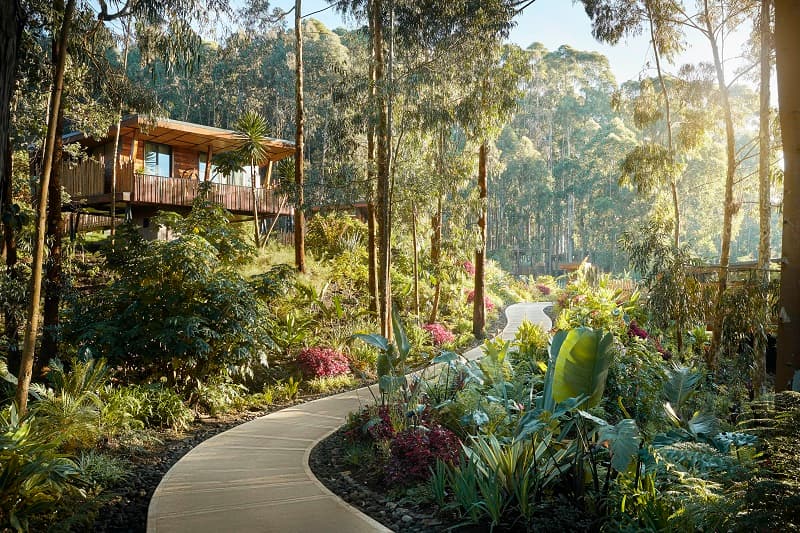 Golden monkey treks are also popular in Volcanoes National Park. During our October visit, we saw many babies following the mating season between March and May. These lovable creatures are often found lower down the slopes feasting on bamboo, so the trek to find them is less challenging.
Return to your luxury lodge to unwind in your suite nestled in the treetops, dine on authentic local flavours and sample delicious Rwandan coffee. Learn even more about gorillas at the Dian Fossey Fund's new Ellen Degeneres campus, close to the resort.
---
Our Recommended Rwanda Gorilla Safari Holiday itinerary
7-night Twin Centre – your perfect itinerary for gorilla trekking:
1 night in Kigali: Stay overnight at The Retreat by Heaven
3 nights in Nyungwe National Park: Stay at One&Only Nyungwe House
2 or 3 nights in Volcanoes National Park: Stay at One&Only Gorilla's Nest
---
Feeling inspired to visit this beautiful country?
Contact our expert Travel Specialists who can create a tailor-made itinerary around gorilla and monkey trekking in Rwanda, for an African safari like no other.
For more luxury travel guides and to be the first to hear about our latest offers, sign up to our newsletter below.