We caught up with our very own Nikhil Chhibber – the world's leading expert in luxury travel in Indian Sub-Continent and the Himalayas – who shared his passion for this region and let us know his top places to visit in India.
Its diverse offerings and experiences from lush jungles to bustling cities combine to create an unforgettable holiday of a lifetime. If you feel inspired to visit the Taj Mahal, Ajanta Caves or the Golden Temple, our Travel Experts can tailor-make your dream India holiday.
In our list we include:
Taj Mahal
Ranthambore National Park
Tiger's Nest Monastery
Authentic Cuisine
Jaipur
Golden Temple
Kathakali dance performance
Udaipur
Maharaja Express
Ajanta Caves
The Most Beautiful Places to See in India
Taj Mahal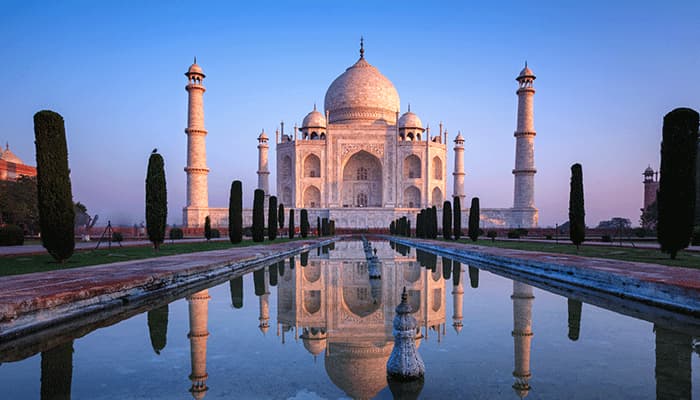 What can you say about one of the most recognizable buildings in the world that hasn't already been said? Attracting tourists for years, this legendary structure drips history from every inch of white stone and is one of the top places to see in India. If you can get there early enough, watching the beautiful sunrise over the Taj Mahal truly has to be seen to be believed.
See it with us… Taj, Temples and Tigers Tour
This itinerary is perfect for families with grown-up children and teenagers, and takes in some of India's most breathtaking sights including the storied Taj Mahal. In addition, you get to experience one of the most scenic parks in India, Ranthambore, a photographer's delight.
Ranthambore National Park
Capture the spirit of the Jungle Book and spot a number of its most recognizable characters, including majestic Royal Bengal Tigers, at Ranthambore National Park. One of the world's finest national parks and one of the most beautiful places to see in India, this is the ideal place to undertake an epic guided safari and take in the breathtaking landscape and wildlife.
See it with us… Boutique Rajasthan with Relais & Chateaux
Alongside several unforgettable days exploring Ranthambore National Park, this tour offers up some of India's other most beautiful sights. You will discover the wonders of old and new Delhi on a guided tour, explore the pink city of Jaipur and much more.
Tiger's Nest Monastery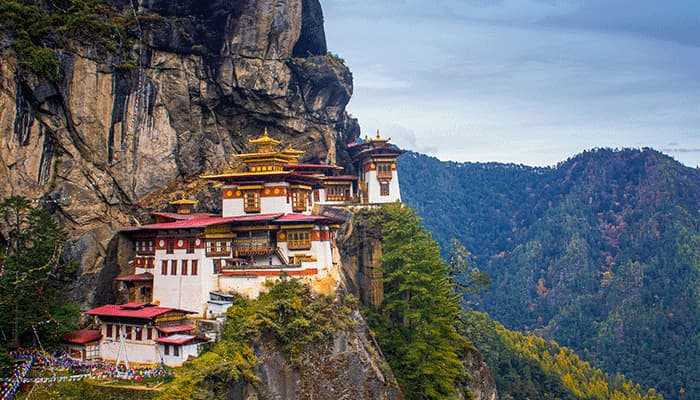 Perched in the most improbable of locations is one of the India's most breathtaking sights to see. This stunning monastery sits high up on the cliffside, affording awe-inspiring views of the forested Paro valley below. The views alone are worth the climb up 3,000 adventurous meters, but the architecture and palpable sense of history make it all the more worthwhile.
See it with us… Monks, Mountains and Monasteries – The Last Shangri-La
Bhutan is often referred to as the world's last Shangri-La, and on this tour you are invited to discover exactly why. Alongside Tiger's Nest Monastery you will find more colourful dancers, imposing fortresses and ancient monasteries than you could anywhere else in the world.
Authentic Cuisine
India is a destination that truly appeals to the senses, and its world-famous culinary heritage and traditions are something that awakens each and every one of them. No trip to India would be complete without sampling some of the cuisine, and why not take the taste of India home with you and attend a traditional cooking class?
Hyderabad is steeped in rich culture, heritage and tradition. Today it is home to one of the best cultural experiences and a perfect getaway for lovers of history, culture and food. There is no better way to experience the flavour of India than on this tour.
Jaipur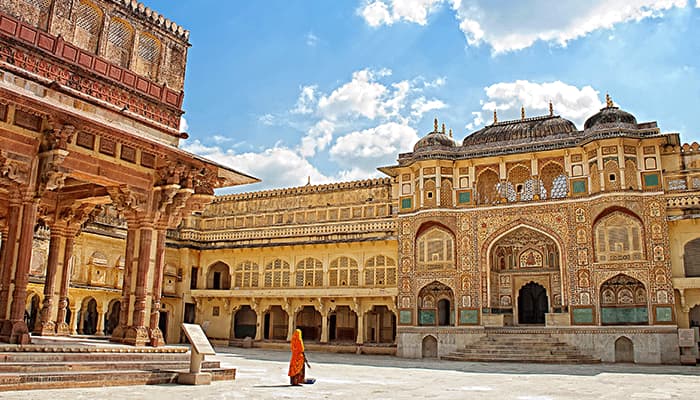 One of the most beautiful places in India, Jaipur is teeming with unmissable sights. From the Maharaja's City Palace and the Amer Fort to the Jantar Mantar astronomical observatory and a vast array of authentic shops and marketplaces to explore, there is so much to enjoy in Jaipur. Our Travel Specialists can even arrange a hot air balloon ride over the city for unbeatable views.
See it with us… Indian Summers with Luxury Oberoi Hotels
On top of Jaipur and its treasure trove of sights and experiences, this tour allows you to immerse yourself in even more of India. Over 14 days you will also take in the sights of Old & New Delhi on a full day guided tour, and explore some of the best architectural wonders of Agra.
Golden Temple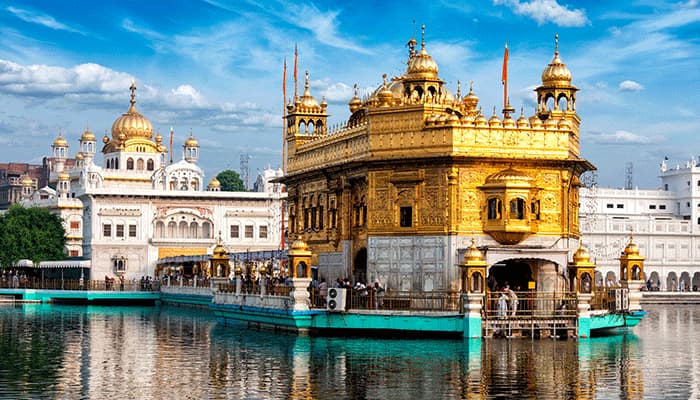 Seeing the Golden Temple is something that you will remember for a lifetime. Sat like an island of gold, reflecting a majestic mirage into the surface of the river, the Golden Temple is like a picture of decedent tranquillity taken straight from a storybook. Immerse yourself in the sounds of meditative chanting during a ceremony and leave feeling refreshed and renewed.
See it with us… The Himalayan Foothills
The Golden Temple is undoubtedly one of the highlights of any visit to this region of India, but there is so much more to see. Visit Dharamsala, home of his holiness the Dalai Lama, enjoy one of the most scenic train rides in India aboard a toy train in Shimla and marvel at the Himalayan landscape.
Kathakali Dance Performance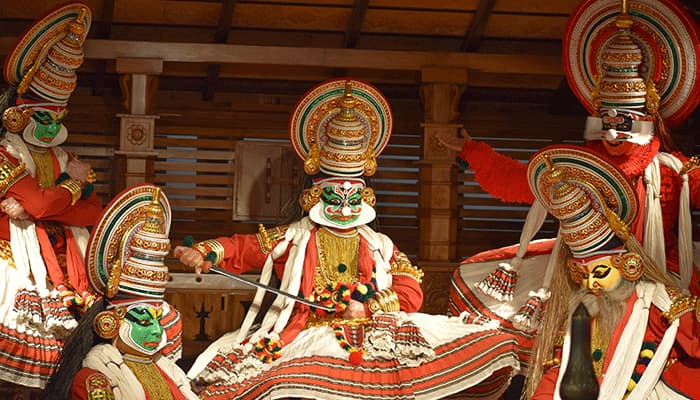 Kathakali dance is a style of performance unlike any other in the world and is undoubtedly one of the highlights of a trip to India. Performances are energetic, engaging, and colourful, and Kathakali uses elaborate make-up, costumes and face masks to tell a fascinating story with the movement of the performers.
See it with us… Taj Mahal, Palaces and Backwaters
A perfect introduction to both northern and southern India, this unique tour immerses you in every facet of Indian heritage and culture, from the architecture and history of the Taj Mahal to the cuisine and traditional ceremonies like Kathakali dance performances.
Udaipur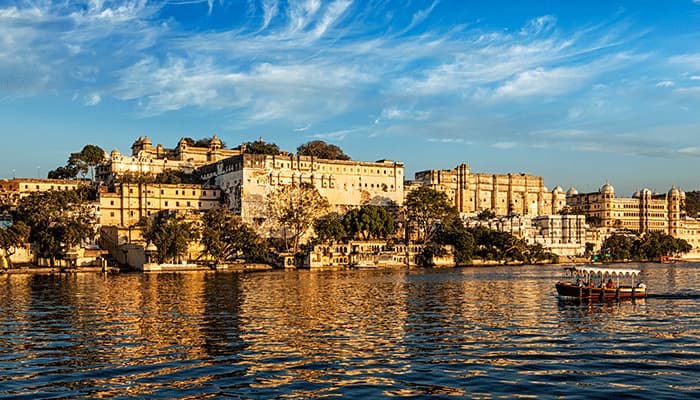 Another one of India's most beautiful places, Udaipur is known as 'the Venice of the East' for its many wonderful waterways and stunning architecture. Set on the shores of Lake Pichola, Udaipur is home to fascinating sights like the City Palace, Sahelion-ki-Bari Gardens and Jagdish Temple. Watching the sunset over the many stunning sights is a uniquely romantic experience.
See it with us… Palace on Wheels – The Luxury Train Experience
One of the best-loved ways to experience India is by train, travelling in lavish style aboard some of the world's most romantic luxury transports. This journey takes in many of our India highlights including Old and New Delhi, Jaipur, Taj Mahal, and Tiger Tracking at Ranthambore National Park.
Maharaja Express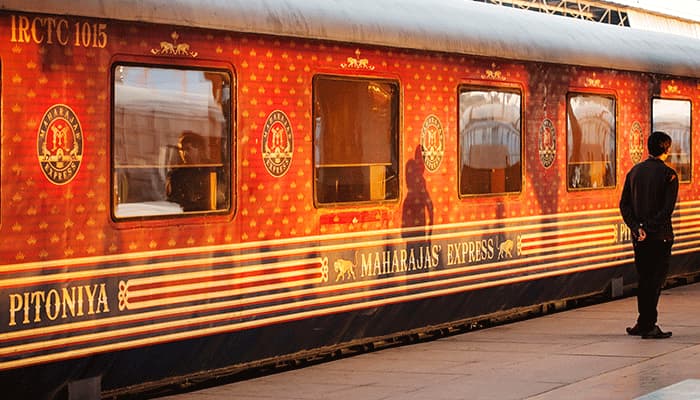 The Maharaja Express has been voted the world's leading luxury train and a journey aboard it is one of unparalleled comfort and sightseeing. Stopping at all the stunning sights in India's golden triangle, including the Taj Mahal and Ranthambore National Park, this elegant train is designed to transport you back in time, to the decedent personal carriages of the Maharajas.
Another incredible luxury train ride across India taking in some of the top places to visit in India from New Delhi to historic Agra, with plenty in between. You might have even seen this train journey recently featured on Trevor McDonald's Indian Train Adventure.
Ajanta Caves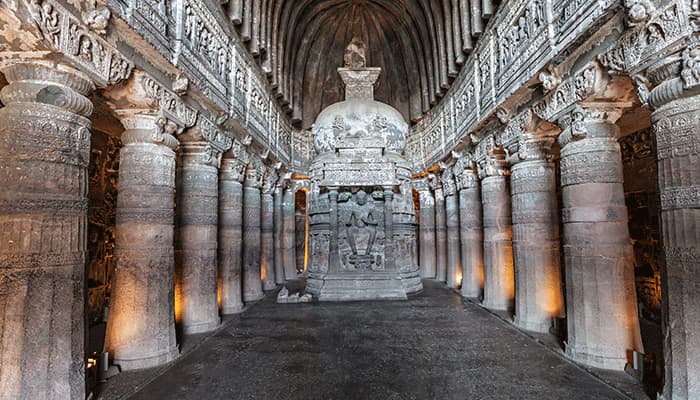 The Ajanta Caves are a World Heritage Site and one of the most miraculous architectural marvels and best things to see in India. The Ajanta Caves are a stunning collection of 30 rock-cut cave monuments which date back over 2000 years. The caves themselves depict a unique mixture of Buddhist and Hindu faith and house many masterpieces of Buddhist religious art.
See it with us… Deccan Odyssey Train – World Heritage Sites
If you're looking to immerse yourself in the storied history of India, then this tour will appeal to you. See the finest example of cave-temple architecture in India at Ellora and Ajanta Caves, enjoy a UNESCO World Heritage Walk in Goa and explore authentic local markets.
If you'd like to know more about how to see the most beautiful places in India for yourself, contact us to chat to one of our expert Travel Specialists. They can help tailor your perfect trip.
For more luxury travel guides and to hear about our latest offers, sign up to our newsletter below.