With over 200 islands strewn across the glistening Aegean and Ionian Seas, you're spoiled for choice when looking for the best Greek island for couples. Steeped in mythology and natural beauty, each island has its own romantic charm and offers something unique.
With breathtaking beaches, quaint whitewashed villages and luxurious hotels, the Greek islands are the perfect place for a honeymoon.
You'll also be treated to spectacular sunsets, welcoming locals and fascinating history. Here you can explore ancient myths and legends and add your own love story to the history books of Greece.
---
When's the best time for couples to visit Greece?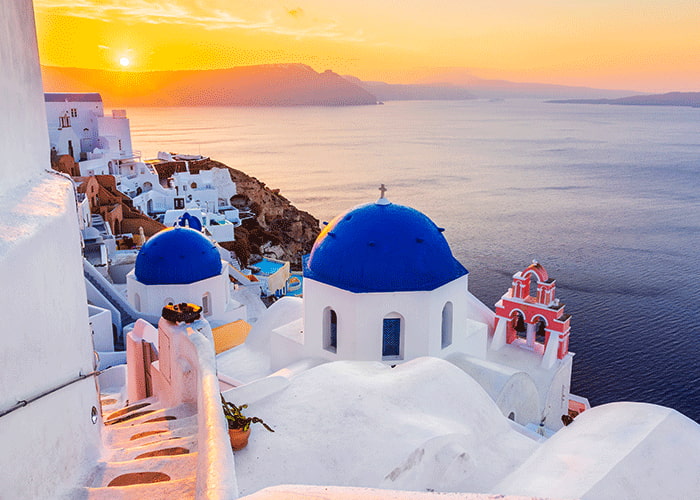 If you're a sun-seeking couple then the best time to visit greece is summer, with temperatures reaching as high as the mid 30's in June, July and August. However, you'll still be enjoying highs of over 20 degrees in May and September, so the summer feels endless on the Greek islands.
If you're looking for more of a peaceful couple's break in Greece, the quieter seasons between September and February still have blue skies and moderate temperatures that rarely dip below 10 degrees. Early spring and autumn are perfect time for a quiet escape for two.
Which is the most romantic Greek island?
Santorini is often hailed as the romantic of the Greek islands, thanks to its famed sunset views over the caldera and sea beyond. There are also a fabulous selection of luxurious hotels for couples, nestled high up with romatic private pools and terraces, plus stylish restaurants and bars to spend the evening in.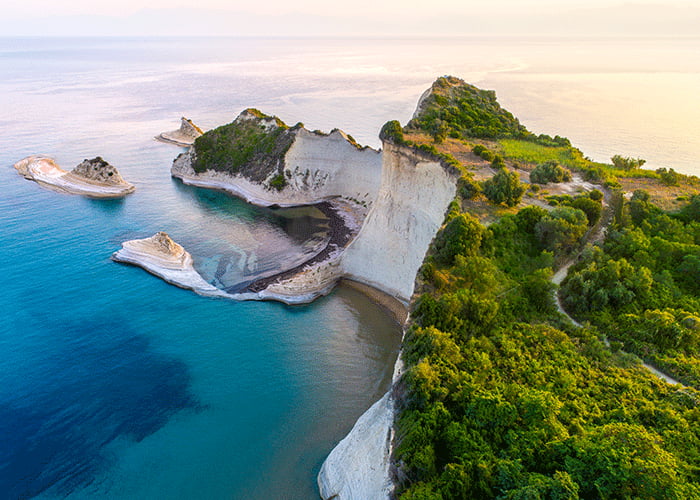 ---
Our Top 6 Greek Islands for Couples
So, which island are you going to choose for your couples' escape?
With history in Crete, nightlife in Mykonos and luxury relaxation in Santorini mixing with stunning landscapes in Kos and authentic villages in Corfu, see our experts' favourite options…
---
1. Santorini
This romantic island is a famed Greek honeymoon destination
Come here for the most spectauclar views and romatic sunsets
Perfect for a twin-centre holiday with Mykonos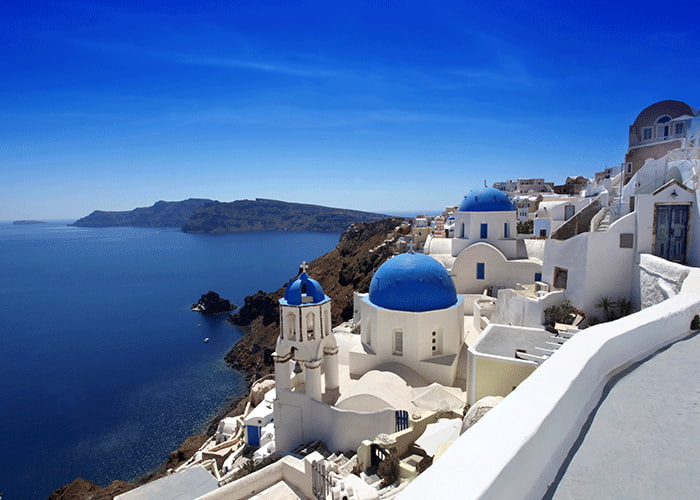 Santorini is one of the most famous Greek islands for a honeymoon or romantic couples' holiday. With iconic sun-bleached architecture and soaring white cliffs dotted with small churches, it's easy to see why. The definition of romance, expect jaw-dropping sunsets, long sandy beaches and glistening turquoise waters just waiting to be explored.
Santorini is also renowned for its vineyards and foodie culture, making it the perfect destination for an indulgent holiday filled with romance. However, as Santorini is so popular, it can be incredibly busy during the peak season, so couples should visit outside of the school holidays.
We often recommend combining Santorini with another Greek island. Mykonos makes for an excellent twin-centre partner, allowing you to delve into the famed nightlife before hiding away in Santorini to unwind.
Where to stay
For couples wanting to truly immerse themselves into the luxury of Santorini, Mystique is an enchanting boutique hotel resting on the rugged volcanic cliff tops. Perfect for escaping the crowds for a truly romantic escape, the surroundings are breathtaking, and the accommodation offers plush interiors and incredible views.
Located in the picturesque village of Oia, the hotel is just a short walk from the lively bars, restaurants and shops of Santorini. However, if you'd rather stay in the lavish surroundings of the hotel, you'll discover several indulgent restaurants, including the 'Secret Wine Cave' where you can enjoy a romantic candlelit dinner or sunset wine tasting within a stunning 150-year-old cellar.
---
2. Mykonos
The 'party island', Mykonos is a popular destination for couples who love nightlife
Visit the birthplace of the Greek gods, Apollo and Artemis
Try out the watersports on the renowned Ornos Beach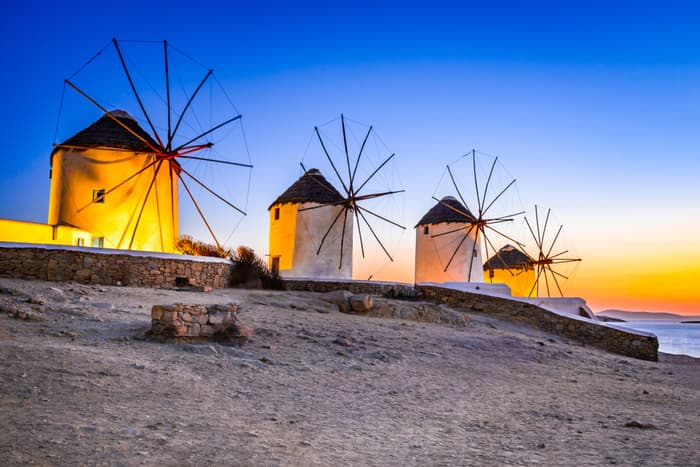 If you're a couple looking for vibrant nightlife, Mykonos should be at the top of your list of Greek islands to visit. Known as a party island, Mykonos town's cobbled streets are jam-packed with lively bars and restaurants. However, it isn't just the post-sundown scene that makes this a perfect destination for couples. During the day, you can discover one of the island's best kept secrets – its indulgent food scene.
There are also plenty of romantic activities waiting to be discovered in Mykonos. Spend your afternoons sipping cool cocktails on a sun-drenched beach, try your hand at watersports or take a day trip to the nearby UNESCO World Heritage island of Delos, birthplace of the Greek gods, Apollo and Artemis.
We highly recommend a visit to Ornos Beach, one of the best beaches in Europe. For some extra romance, ask our Travel Specialists about arranging a once-in-a-lifetime helicopter tour of the island.
Where to stay
One of the best resorts in the Greek islands for couples, Myconian Ambassador could be the perfect hotel for you. Upon arrival, you'll discover a chic and cool Miami-style aesthetic with bright, statement décor and a host of modern amenities that bring the atmosphere of Mykonos directly into the hotel itself.
A member of the coveted Relais & Châteaux group, you'll also enjoy a convenient location in the heart of the action near Scorpios Beach Club. This allows you to experience the lively lifestyle of Mykonos while also enjoying a peaceful island refuge. Unwinding together in the elevated pool and bar area with the most amazing views is a truly romantic experience.
---
3. Zakynthos
Spend the day at the famously beautiful Navaggio Beach
Sample authentic Greek food at the restaurants
Hide away in one of the Greek islands' best adult-only hotels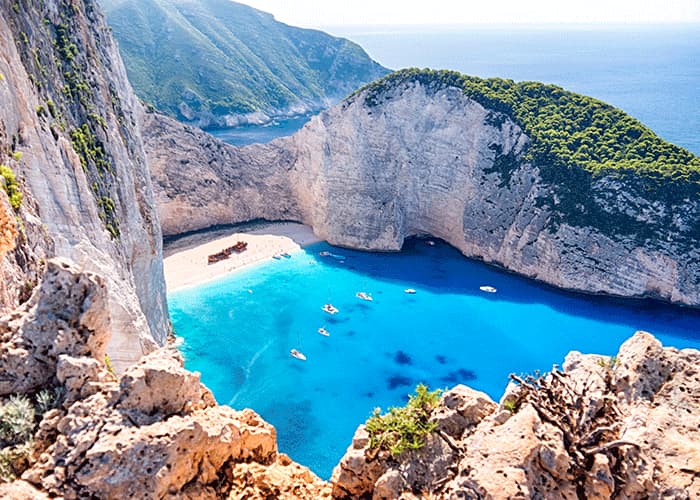 If the perfect Greek island for your romantic holiday is made from crystal-clear waters, pristine sandy beaches and breathtaking landscapes, then Zakynthos will be ideal for you. We recommend a day trip to see the Navagio Shipwreck, one of the most Instagram-worthy spots in the Greek islands. Navagio beach even made it onto our list of the most beautiful beaches in the world.
The island is much smaller than Santorini, making it a great choice for couples wanting to escape the crowds. However, Zakynthos is also well known for its vibrant nightlife, so you can dance the night away before spending a day recovering on the beach. You'll also have the opportunity to discover some delicious Greek food in a variety of authentic restaurants found all over the island.
Where to stay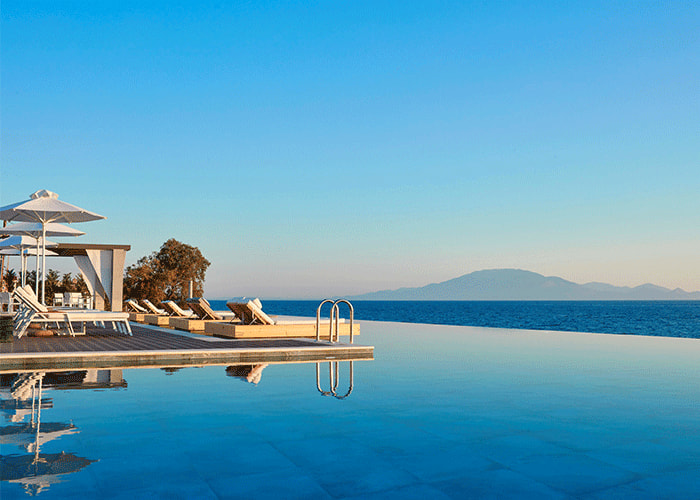 Discover unparalleled luxury on Zakynthos at Lesante Blu. This 5-star adults-only resort is a member of 'The Leading Hotels of the World' and exudes class, style and luxury from every corner. All over the resort you'll enjoy incredible views of the Ionian Sea, Kefalonia and the Peloponnese, truly capturing the magic of the island.
One of the best places in Greece for couples seeking a peaceful escape, this resort is a haven of relaxation. At the Essence Spa, you'll discover a host of bespoke treatments designed to leave you refreshed and rejuvenated. Enjoy a couples massage before a meal or drink at one of several chic bars and restaurants. Sipping a sundowner and watching the sunset is guaranteed to make you fall in love all over again.
"I've recently returned from a trip to Lesante Blu and just loved this tranquil hotel. Lounging by the infinity pool overlooking the water is pure bliss. I particularly enjoyed the choice of dining options, from traditional Greek cuisine to exquisite fine dining at Melia with an incredible 10-course tasting menu." – Jackie, Travel Specialist
---
4. Kos
Wander the harbour and historic streets of Kos old town
Tuck in to freshly-caught fish and seafood
Stay at one of the top all-inclusive hotels and dine on Michelin-starred cuisine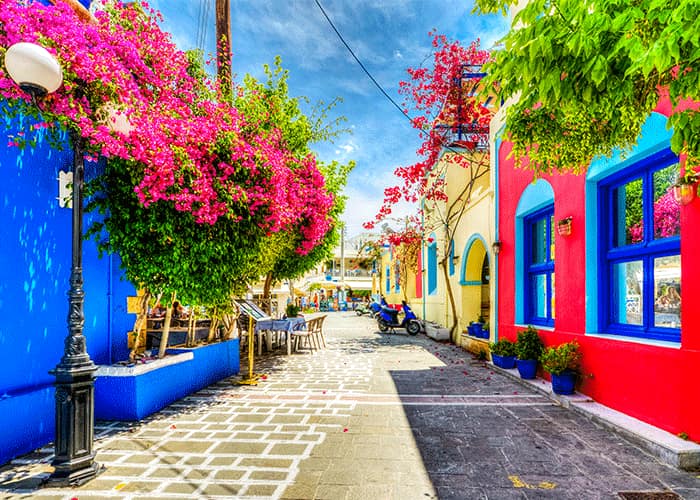 Kos is one of the best places in Greece for couples to visit as it combines incredible beaches with picturesque towns and unique architecture. Walking the sleepy streets of Kos Town will introduce you to Venetian and Ottoman architecture, traditional tavernas and bustling bars. The port is home to luxury yachts and chic restaurants offering some of the freshest seafood imaginable.
The countless beaches found around the island are amongst the best in Greece and offer incredible watersports. There's also a number of ancient sites for couples who want a glimpse into the fascinating history of Greece. The many luxurious hotels and resorts around the island leave you perfectly situated for exploring sites like the Antimachia Fortress and the Ancient Agora excavation area.
Where to stay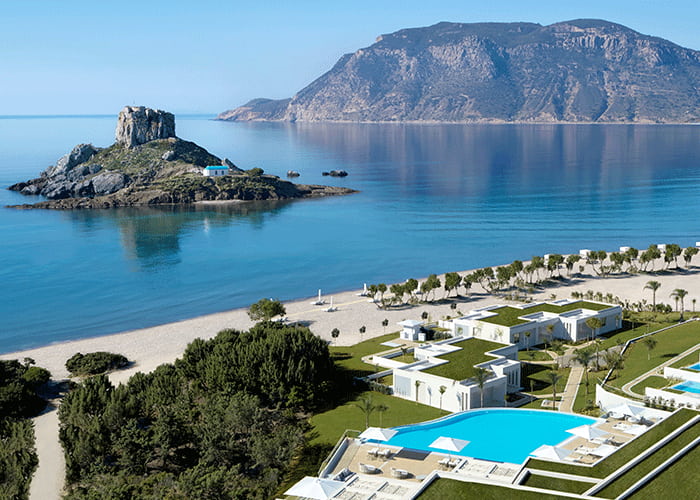 Kos is also home to one of our favourite all-inclusive hotels in Greece, Ikos Aria. Perfect for couples who want ultimate luxury and relaxation, this resort offers the 'Infinite Lifestyle' all-inclusive programme. This will allow you to enjoy delicious food by Michelin-starred chefs, top-shelf spirits, the finest wines and 24-hour room service, so you can focus on your quality time together.
For active couples, there are a huge variety of activities included in your stay and many more available at an extra cost. Around the resort you'll discover scuba diving, water skiing, catamaran cruising, windsurfing, canoeing, yoga, mountain biking and more! However you want to spend your romantic trip away, this hotel will have something to make your stay extra special.
"Ikos Aria is set in the most beautiful part of the island. Swim out to the church of Kastri to ring the bell – it's said to bring good luck! There are two archaeological sites around the hotel to explore too – plus, 300 wine labels to taste!" – Jasmine, Travel Specialist
---
5. Corfu
Explore the beloved Corfu old town and its Venetian influences
Take a seat at one of the quaint taverns for the quintesseantial Greek island experience
Discover your own secluded, pebbled beach cove for a romantic day out
Corfu is a picturesque island that has a rich history of romance. Couples and honeymooners looking to make unforgettable memories have been venturing to this enchanting island for many years. With a UNESCO World Heritage listed Old Town boasting Venetian-style architecture, you're guaranteed to find a view that makes your heart soar. Also possessing an incredible coastline dotted with quaint taverns and fishing villages, there are no shortage of options for a romantic meal.
One romantic activity that is not to be missed is renting a scooter and heading off on a private exploration of the luscious green island. Discovering secluded coves, sleepy villages and some of the best beaches in Greece is an incredibly romantic experience and makes Corfu one of our favourite Greek islands for a couple's holiday.
Where to stay?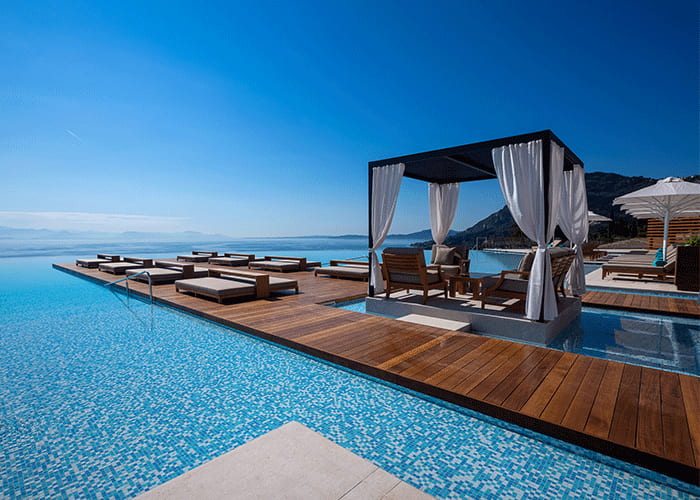 With an unrivalled location a short distance from Corfu's UNESCO World Heritage Old Town, Angsana Corfu is perfect for a romantic trip to Greece. Its elevated position on a verdant hillside offers breathtaking coastal views. Watching the sunset with a cool drink in hand is the perfect way for couples to toast a perfect day in paradise.
Relax on the beach or in the infinity pool then find your ultimate inner bliss at the award-winning Angsana Spa, complete with 16 treatment rooms and outdoor spa pavilions. What's more, if you're a couple who loves fine dining, you will find plenty to satisfy your discerning palette. Enjoy tapas under the stars or discover gourmet dishes by Ettore Botrini, a Michelin-starred chef.
"I loved Angsana Corfu. The Michelin-starred restaurant was incredible and watching the sunrise on the pool deck was also amazing. We took a trip into Corfu town and went olive oil tasting. The spa was also incredible; all the staff are trained in Thailand to perfect their skills." – Vicky, Travel Specialist
---
6. Crete
Explore the mountainous landscape of Greece's largest island
Watch the sunset over the ancient landmarks
Potter the streets of Agios Nikolaos and head out to Spinalonga Island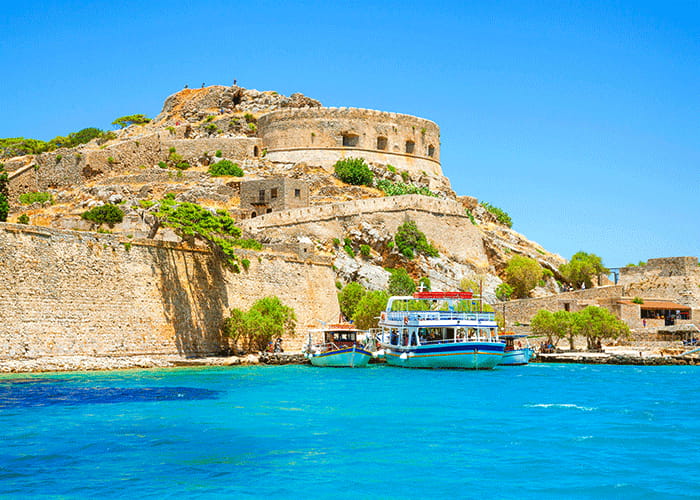 For couples that like to get active, Crete is a paradise. With incredible mountains and canyons just begging to be explored, alongside a variety of thriving seaside towns, there's so much to discover. The landscape couldn't be more romantic, and the coastline is home to gorgeous beaches and hidden coves that are perfect for a day of peaceful relaxation.
Crete is also famous for its fascinating history. All around the island you'll find remnants of ancient civilisations. The Minoan palaces of Knossos, Phaistos and Malia are well worth a visit, and watching the sunset over an ancient landmark is a once-in-a-lifetime experience to share with your partner. For another day trip unique to Crete, venture out to the beautiful island of Spinalonga for a relaxing afternoon of discovery.
Where to stay?
Just a 15-minute drive from the harbour town of Agios Nikolaos, you'll find a chic hotel that's perfect for couples – Daios Cove. Set in a secluded and quiet cove, you'll enjoy a sea view from every room and villa. Every day at a Daios Cove villa starts with a romantic breakfast on your private terrace. Then, you can wash down your meal with a dip in the ocean or a nap on the private beach.
Adventurous couples will find plenty of opportunities to explore the island together. You could take a guided trip out to sea or tour the rugged mountains on a Land Rover expedition. Or, if you'd prefer a relaxing day, The Spa by Germaine de Capuccini has treatments and facilities to calm the mind, cleanse the body and rejuvenate the soul.
---
If you're feeling the allure of a romantic holiday to the Greek Islands, contact our Travel Specialists for expert recommendations, guidance and help when creating your dream couples' holiday.

To hear about our latest luxury travel offers, sign up for our newsletter below.