The Maldives is a dream destination for making memories that last a lifetime, but where is the best luxury family resort in the Maldives?
Well, that entirely depends on what kind of family you are. Whether you're looking for entertainment, dining, accommodation, nature or just about anything else, the Maldives will have something for you.
Keep reading to see which luxury resorts our Travel Specialists have handpicked as being the best places in this Indian Ocean paradise for a family holiday…
---
Is the Maldives good for a family holiday?
It might be famed for its romantic setting, but the Maldives makes just as good a holiday spot for families. The beaches are perfect for children of all ages, with the softest of sands, shallows for paddling in and plenty of fun activities to keep their interest.
"The Maldves is amazing for families! Many family-friendly resorts have world-class kids' clubs that offer indoor and outdoor activities like cooking classes, Lego rooms and more. These islands are perfect for encouraging your children's fascination with nature. What could be better than nature hikes, crabbing and stingray feeding with your family?" – Zoe Saunders, Indian Ocean Product Manager
---
Our 10 Best Maldives Resorts for Families
1. One&Only Reethi Rah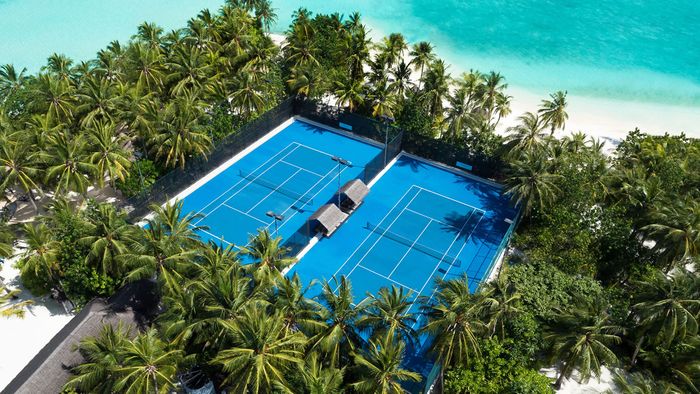 Best For: Entertainment
has been designed with family entertainment in mind and stakes its claim as one of the best family-friendly resorts in Maldives with an unrivalled range of activities.
With two floodlit tennis courts, a climbing wall and a FIFA approved synthetic grass football field, the kids' and teens' clubs get youngsters outside and interacting with the Maldivian landscape. Then, the adventures continue in the water with canoes, pedal boats, windsurfing, jet skis, water skis, flyboards and seabobs available for use.
Whatever activity it is that gets you excited for your next holiday to the Maldives, One&Only Reethi Rah with have something perfect for you.
---
2. Constance Halaveli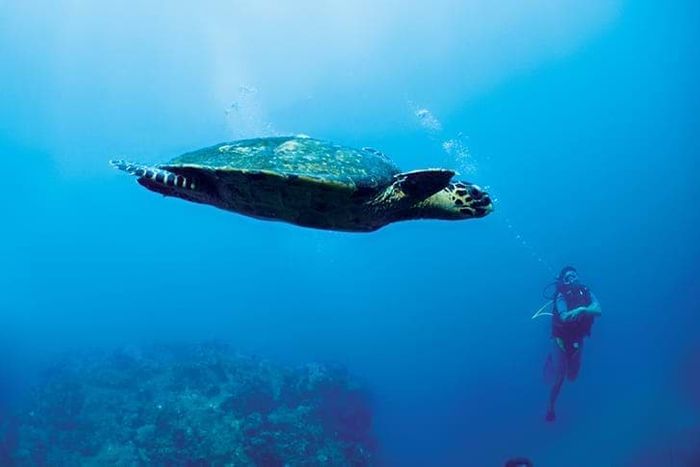 Best For: Kids' Club
Offering a fantastic kids' club that's open from early until late, Constance Halaveli is undoubtedly one of the best family resorts in the Maldives.
The kids' club has a variety of unique and exciting activities including treasure hunts, mini discos, movie nights, crab hunting, sand mosaic and many more. There are also regular theme days that let kids become the chef and make pizzas, ice cream, and more, then enjoy some delicious smoothies and treats.
With the kids busy having the time of their lives, adults can make the most of their well-deserved time away. There's even the opportunity to swim with turtles!
---
3. Soneva Fushi
Best For: Service
The villas at Soneva Fushi are perfectly suited to families. The accommodation options range from one to nine bedrooms and offer plenty of space with, luxurious amenities.
Villas are all very natural in design and come with a dedicated 'Mr Friday' butler who will ensure that all your family needs are taken care of. There's also a treasure trove of sweet culinary delights including So Guilty, a chocolate parlour serving handmade treats, and So Cool, an ice cream parlour with over 60 flavours.
Also coming with a huge kids' club, featuring music, cooking classes, Lego building and much more, the whole family will love Soneva Fushi.
---
4. Ritz-Carlton Maldives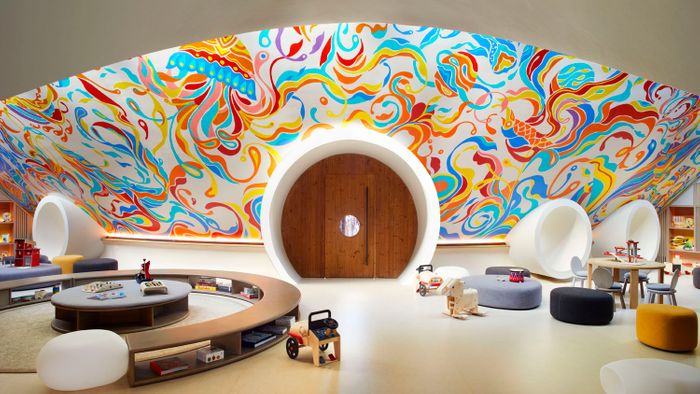 Best For: Activities
The Ritz-Carlton Maldives is one of the best resorts in the Maldives for families, with a fantastic kids' club that truly encapsulates everything that these stunning islands have to offer.
The Ritz Kids Club boasts a futuristic indoor-outdoor space populated with playgrounds, napping pods, an area for video games and movies, and a swimming pool with slides and jets for a day of water sports. Parents can unwind in paradise while kids enjoy a specially curated schedule of daily activities including bike rides, pottery lessons, cooking classes, beach sports, board games and more.
The kids' club programme is grounded in the four main pillars of the island: land, water, environmental responsibility and culture.
---
5. OZEN Life Maadhoo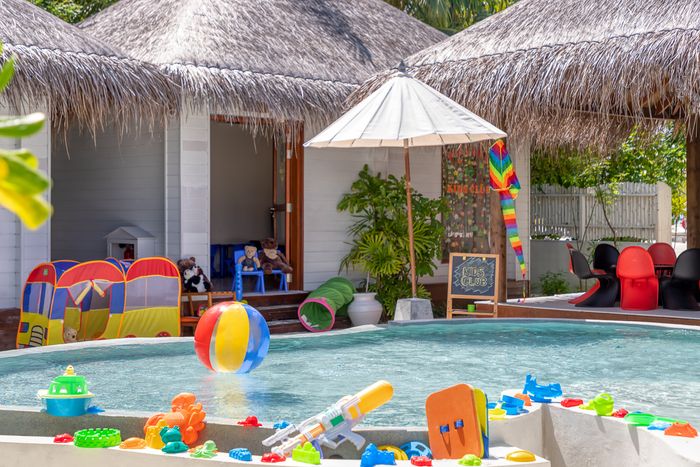 Best For: All-inclusive
The incredible all-inclusive resort program at OZEN Life Maadhoo ensures that the whole family is smiling and enjoying the Maldives their way.
Enjoy the benefit of one fabulous adventure experience and one authentic sunset fishing excursion included as part of the all-inclusive offering. You'll also gain access to complimentary non-motorised watersports and snorkelling excursions. Parents, meanwhile, receive one complimentary spa treatment per four to five-night stay, two treatments for six to eight-night stays, and more the longer you stay.
The fun doesn't stop there! Every Friday, The Palms immerses guests into the vibrant personality of the Maldives with an Indian Ocean Gala Dinner with local entertainment.
---
6. Niyama Private Islands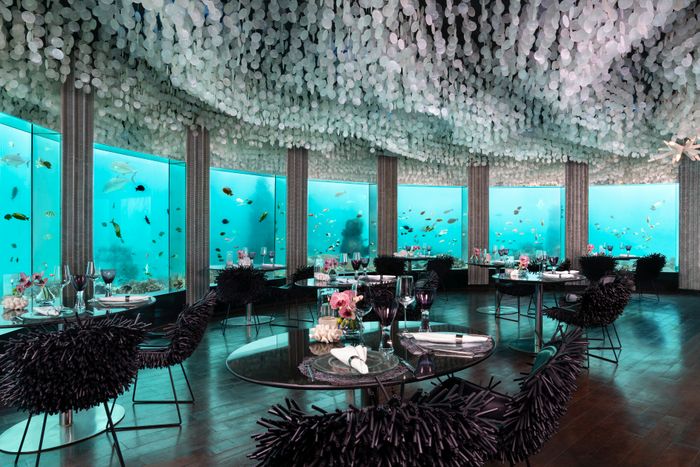 Best For: Dining
The best Maldivian family resort for dining, Niyama is made of two breathtakingly beautiful islands and offers a host of incredible accommodation and thrilling activities.
Villas offer one, two, or three bedrooms, ensuring that the entire family has plenty of space to enjoy. There's also an incredible choice of 11 restaurants and bars including a deli, food truck and even a unique underwater fine dining experience. With the breathtaking surf just five minutes paddle from the resort, you'll never be bored at Niyama.
The Explorers' Kids' Club is perfect for all ages and takes children aged from as young as 12 months, making Niyama a paradise for every generation.
---
7. Conrad Maldives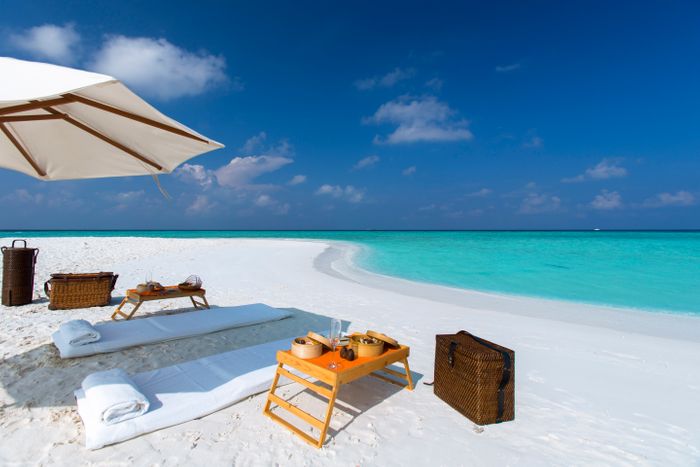 Best For: Nature
If you're looking for an incredible family adventure that immerses you into the beautiful natural island surroundings, Conrad Maldives is the best family resort in the Maldives for you.
With luxurious Deluxe Beach Villas, built as recently as 2019, there's plenty of space for the whole family to enjoy, just a stone's throw from the soft sands and crystal ocean. Specially designed for children of all ages to enjoy, MAJAA Explorers Hub has a fantastic splashpad and playground designed for children of all ages.
Programmes for kids and teenagers aged three to 17 years include ecological explorations, gardening and cooking lessons, allowing them to discover more about the importance of caring for the environment.
---
8. Anantara Kihavah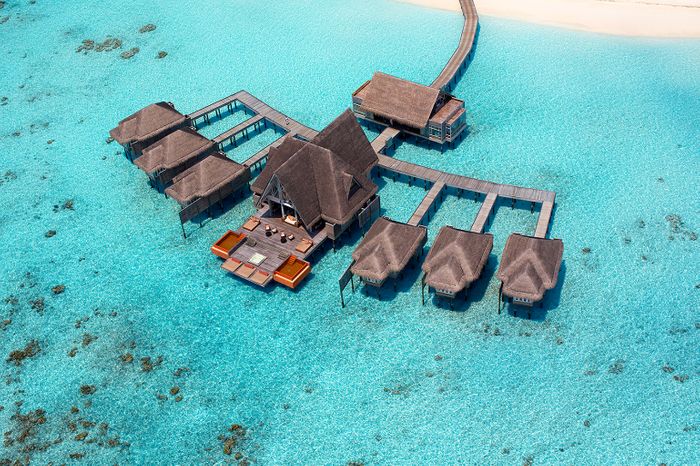 Best For: Keeping fit and active
If you're a family that doesn't like sitting still for too long, then the range of activities at the Maldives resort, Anantara Kihavah will top your list of best family resorts.
On top of an incredible range of amenities including a state-of-the-art spa and fitness centre, there is so much to keep kids occupied, including an exciting trampoline park. With everything from taking painting classes at the dedicated art studio to the enjoying unique inflatable overwater playground, every day will be fuelled with fun.
There's plenty to do for parents while the kids enjoy the entertainment, including Muay Thai boxing instructors and other world-class health and fitness amenities.
---
9. Amilla Maldives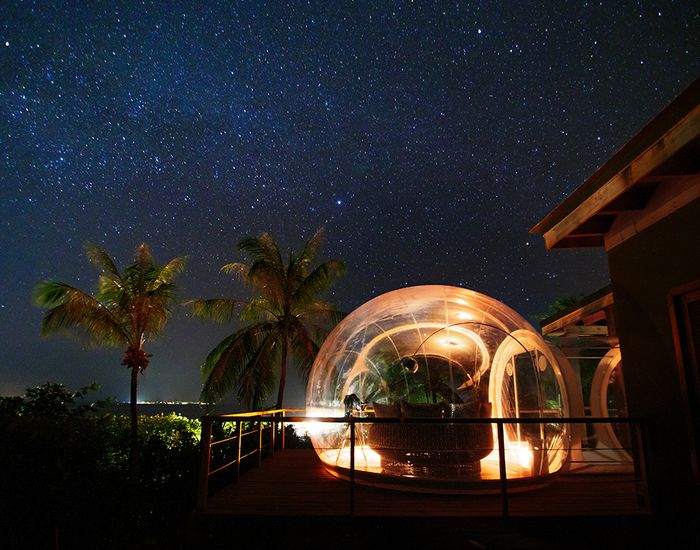 Best For: Accommodation
If you're looking for the best accommodation in the Maldives for families, then look no further than Amilla Maldives.
Amilla Maldives boasts a range of one to eight bedroom villas that come with plenty of space and luxurious amenities. There's also a vast array of dining options that will keep even the fussiest eaters happy – you could even order a takeaway pizza to your room, orenjoy it under the stars in a bubble dome!
Amilla Maldives is also the dream resort for making memories beneath the waves. Enjoy exploring a fantastic house reef that includes the acclaimed 'Blue Hole' diving site.
---
10. Six Senses Laamu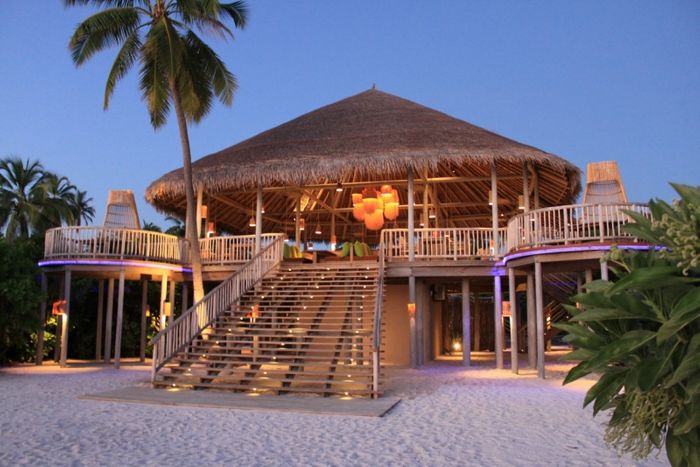 Best For: Indulgence
Unwind in a natural Robinson Crusoe-inspired hideaway while the kids enjoy activities including yoga, crafts, and cooking workshops at Six Senses Laamu.
There's plenty for the whole family to enjoy including an on-site ice cream parlour with 42 unique and locally inspired flavours on offer. The culinary adventure doesn't stop there; you'll find a variety of homemade chocolates in the chocolate studio. Kids can also learn to be a Junior Marine Biologist in The Den, a complimentary kids' club.
With all of this and more keeping you busy during the day, the Cinema Under the Stars shows open-air movies with popcorn and refreshments at night.
---
If you need any help or advice planning your next holiday to the Maldives, contact us and speak to our Travel Specialists. They'll help you tailor-make your dream family getaway, whenever it suits you.
Perhaps you're looking for something a little different? Why not consider one of these beautiful overwater villa escapes for your next family break?

For more of the latest travel advice and offers, sign up to our newsletter below.