Autumn is in full swing in October and you'll no doubt be waking up to dark frosty mornings; so, why stay and shiver in the UK when you could be enjoying the warmth of sunnier shores?
If you're wondering where's hot in October to get your sunshine fix, we've got plenty of destination suggestions, plus tips, travel trends and event happenings.
From family holidays in Dubai over half term to a long-haul desert island break in Fiji, we've picked places where summer is far from over; days are long, evenings are balmy and you can soak up the rays on beautiful sandy beaches.
So, where's hot in October? Let us inspire you…
---
1. Fiji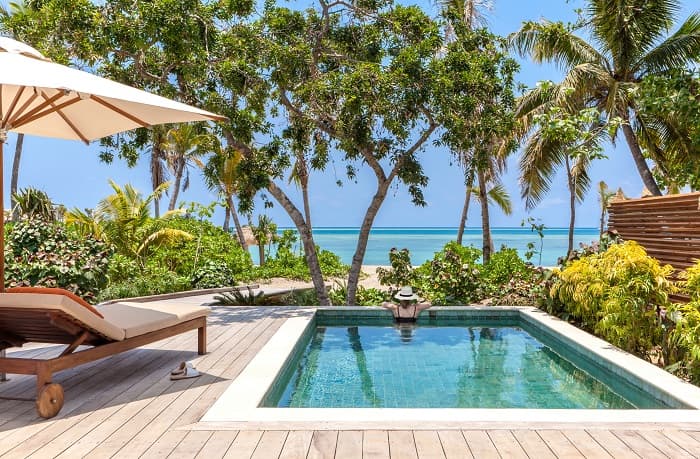 Allow all your castaway fantasies to come to life in Fiji, a paradisiacal collection of 333 islands sprinkled in the South Pacific Ocean.
Blissfully distant from the rain and dark days at home, the sun shines brightly year-round in Fiji, making it one of the best places for some Autumn sunshine. The best time to visit Fiji is October, when shoulder season brings steadily climbing temperatures as the Southern Hemisphere moves towards its summer.
In October, there's little to no rainfall, heaps of sunshine and comfortable, mild temperatures thanks to refreshing sea breezes. With fewer visitors in October, set your clock to 'Fiji time' and make the most of the uncrowded white-sand beaches.
Get your daily sunshine dose from the comfort of a sun lounger, go horse-riding along the beach or cruise around the celebrated islands of Levu, Mamanuca, and Yasawa on a luxury boat trip. You can even visit the small uninhabited island of Monuriki to see the real Castaway Island from the Tom Hanks film.
The water temperature is blissfully warm and the best visibility for diving is between June and October. Known as the 'soft coral capital of the world', get out to explore the pristine reefs with over 1,500 different species of fish.
The endless swathes of rainforest are perfect to explore on a day trip when temperatures aren't too hot. Visit historic caves, scale a mountain, or hike to traditional villages and experience a mix of Melanesian, Polynesian and Indian culture.
Inspiring Insight

There are no direct flights from the UK to Fiji, so why not break up your flight time with a few days in California enroute? LAX is a popular connecting airport and makes for a more leisurely twin-centre escape.
---
2. Southern California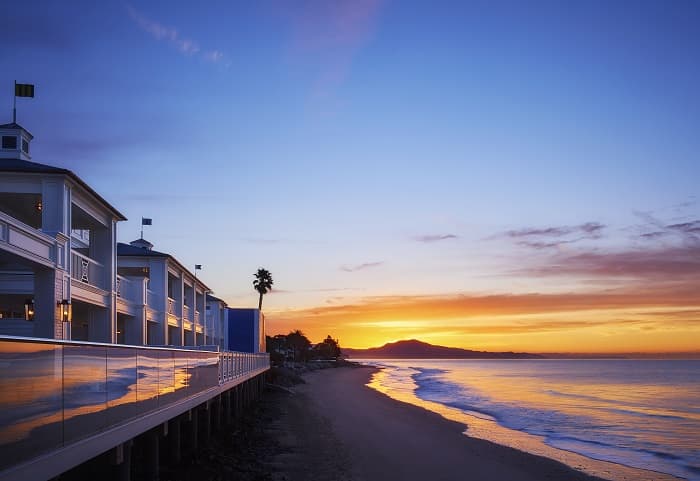 If you want to suppress all thoughts of temperatures swiftly falling back in the UK, escape to California to feel like you're on another planet entirely.
October is one of the best times to visit Southern California (or SoCal to the trendy locals), with lots of sunshine, little-to-no rain, and average temperatures hovering around a delightful 25 degrees.
With peak tourist season travellers gone, you'll no doubt want to get outdoors and visit the popular attractions, now with less queues. Shop on Rodeo Drive, stroll the Hollywood Walk of Fame and enjoy movie magic at Paramount, Universal and Warner Brothers Studios. The amazing weather also makes for great hikes around the breathtaking scenery of Griffith Park and up to the Hollywood sign.
With balmy climes and miles of beautiful beaches, don't forget to hit the shores! Soak up the rays in Santa Monica, Long Beach and Malibu, all far less crowded in October.
In Santa Barbara, make the most of the daily sunshine at Leadbetter Beach, Miramar Beach, East Beach and Arroyo Burro Beach County Park. San Diego also has perfect daytime temperatures in October, without oppressive heat or humidity. Bask in the sun on Coronado Beach, then discover the sophisticated art, dining and nightlife scene later on.
Fancy a roadtrip? Explore the beautiful wine region of Napa Valley in October while the grape harvest season is in swing. Many vineyards offer delicious gourmet picnics and wine-tasting as part of the tour. On the way back, stop off at Monterey or Carmel-by-the-Sea for whale-watching opportunities.
---
3. French Polynesia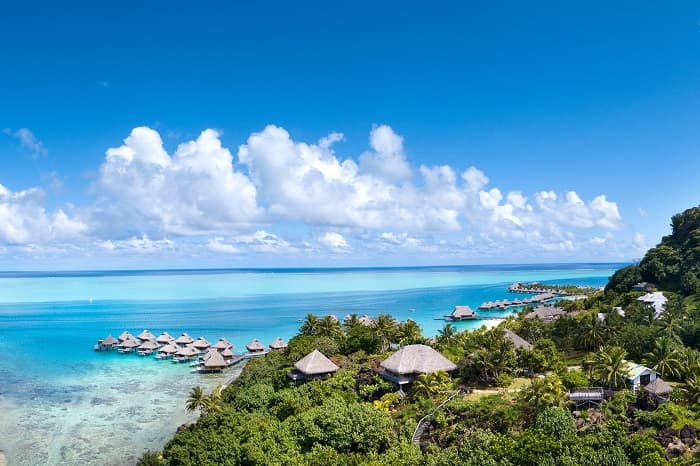 Wouldn't you rather swap those autumnal leaves for golden beaches? Comprising more than 100 dreamy islands scattered across two million square miles in the South Pacific Ocean, French Polynesia is a place of pure tropical fantasy.
The islands of Tahiti, Bora Bora and Marlon Brando's private island of Tetiaroa just might be the closest version of paradise on our planet. In October, the sun's rays hit the islands' lagoons at just the right angle, bringing out the most intense turquoise hues imaginable.
Related: Inside The Brando: The Latest in Eco-Luxury for Tahiti
Though October is the best time to visit French Polynesia, the islands are blessed with year-round sunshine. October falls just outside of high season with fairly dry spells, blue skies and hot weather. If there are rain showers, they tend to pass quickly and are welcome during those adventure-filled days traversing jungles and mountain peaks.
The absence of strong winds makes for calm, clear seas in October and the water surrounding the heart-shaped island of Moorea in particular, is a haven for calving humpback whales.
The islands' shallow lagoons also teem with fascinating marine life, so you don't have to venture far out to see exotic reef fish and colourful corals. With bath-warm temperatures, don your mask and snorkel to swim with rays, turtles and technicolour fish that dart under your overwater villa.
There are plenty of cultural activities too; plan your trip in October to witness the popular outrigger canoe race (the national sport) Hawaiiki Nui Va'a, that starts on the island of Huahine, and goes all the way to Raiatea, Taha'a and Bora Bora.
And last but certainly not least, the beaches. You'll feel world's away as you're lulled into tranquillity on a white-sand motu, lapped by the Tiffany-blue Pacific Ocean.
---
Is October a good time to go to the Caribbean?
October is a good time to visit the Caribbean, especially the southern islands as they lie beyond the reach of the vast majority of hurricanes.
---
4. Barbados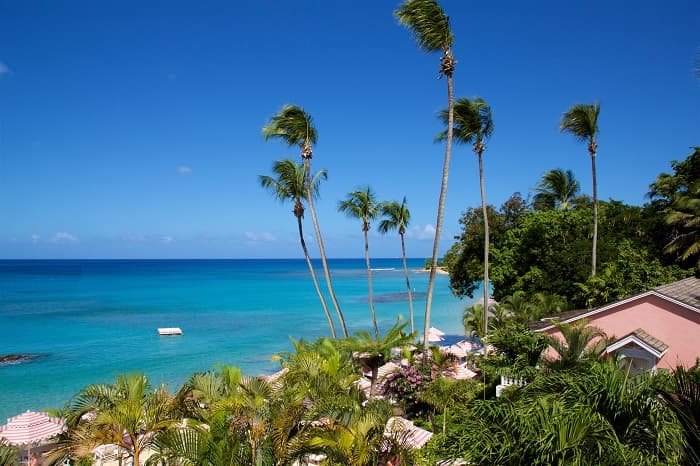 By October, the rainy season has edged its way across many parts of the world. However, sunny skies and warm temperatures continue in Barbados throughout October with maximum temperatures of 29ºC.
Some rain is still likely, so save these days for exploring the network of caverns in Harrison's Cave, touring grand plantation houses or visiting the world's oldest rum distillery in Bridgetown. Hailed as the birthplace of rum, time your visit for the end of October to attend The Barbados Food & Rum Festival!
There's plenty of hot weather to appreciate the island's beaches. The sands on the Caribbean 'Platinum Coast' side are the most idyllic and home to our luxury hotels, while watersports enthusiasts flock to the windy and rugged eastern Atlantic coast to surf the Soup Bowl at Bathsheba. You'll likely spot professionals getting ready for the November Surf Festival.
The night temperature only drops to 23ºC, so make the most of it by dining al fresco. As well as cook-outs and the famous fish fries, pull up a chair at one of the fine dining restaurants overlooking the sea. Some of the best include Lone Star, The Tides and brand-new Quattro Passi located on the former site of legendary restaurant, The Cliff.
More inspiration: Top 10 Things to do in Barbados
---
5. St Lucia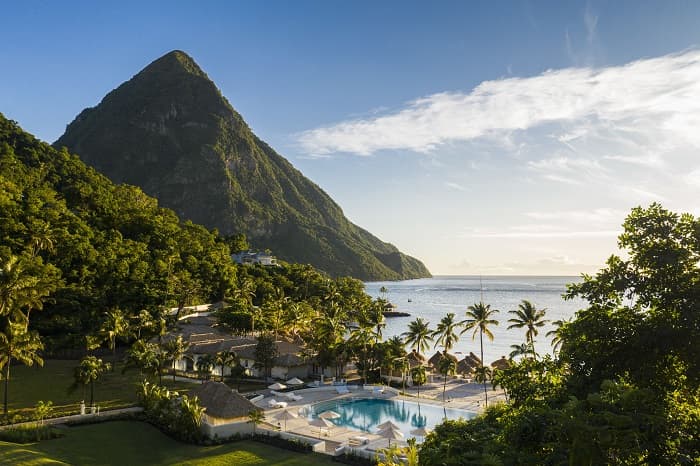 The laid-back, sun-soaked isle of St. Lucia is not only famous for its volcanic sands and photogenic Pitons that soar 2,000 foot. There's also a wealth of culture and riveting rainforest activities for little ones on their half-term holiday.
Expect a typical high of 31ºC in October. There can be intermittent rain showers, however these only make the island more beautiful by turning the rainforests a vivid emerald-green. Plus, they can be a welcome reward while you're hiking through the UNESCO World Heritage-listed Pitons or ziplining through the treetops!
In October, St Lucia's heritage is the focus throughout the month. The island celebrates its French and African cultural influences with a number of events culminating in Jounen Kwéyòl (Creole Day). Get into the festival spirit with traditional activities and try authentic creole food including the national dish: saltfish and green fig (unripened banana).
The warmth of October also attracts whales and dolphins to the surrounding waters. We can arrange a boat trip a few miles off Soufriere for fun family days out watching pods of spinning and spotted dolphins, pilot, sperm and orca whales.
With an average of eight hours of sunshine per day, head for the picturesque Sugar Beach to admire the Piton mountains. Should you be lured by the rhythmic waves, go snorkelling to swim with sea turtles just offshore.
See Kat Farmer's Favourite Hotels in St Lucia
---
6. The Maldives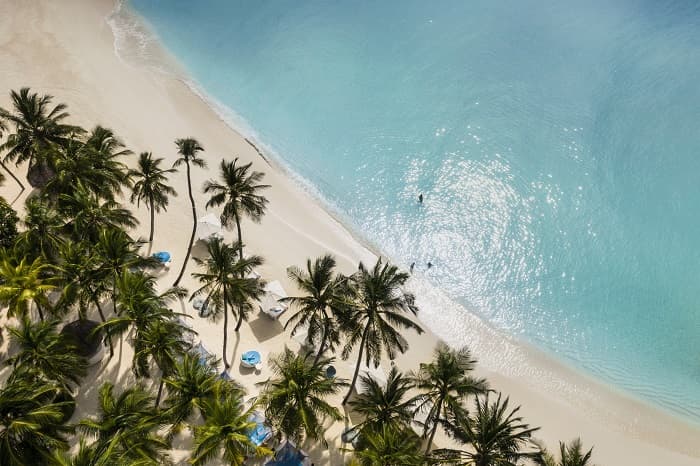 The Maldives is a chain of 26 coral atolls lost in the heart of the Indian Ocean. With bone-white beaches, year-round warmth and bucket list-worthy hotels, you're in for a treat.
In October, crowds of tourists are a distant memory and there's normally eight hours of bright sunshine every day. There is a slightly increased risk of rain but the islands are low-lying, so clouds blow over quickly and showers are short-lived.
Make the most of the steady 27°C heat from your villa's private pool or pick a secluded spot under a palm tree for lazy sun-soaking. Though it may be tempting to remain here, what you'll find below the surface is even more beautiful.
October is the last month of the year for good sightings of whale sharks and manta rays, which come to feed on the plankton. The Baa Atoll UNESCO Biosphere Reserve is famed for its sightings around this time, and a number of our incredible hotels are located close to Hanifaru Bay.
Between June and November, the world's largest groupings of manta rays can be seen at Hanifaru. Many of the PADI dive centres offer snorkelling and scuba-diving excursions with a marine biologist, so you can see the rays up-close, and even swim with whale sharks.
Thrill seekers will be pleased that October is the last month of the Maldives' surfing season. Embrace the tropical waters and world class waves in the Baa Atoll for the ultimate thrill. You may even encounter a pod of friendly dolphins skimming the surface!
Find out where to stay in the Maldives here.
Inspiring Insight

If you're travelling to the far-flung Indian Ocean, break up your journey with a few days in the UAE for a magical multi-centre holiday.
---
7. United Arab Emirates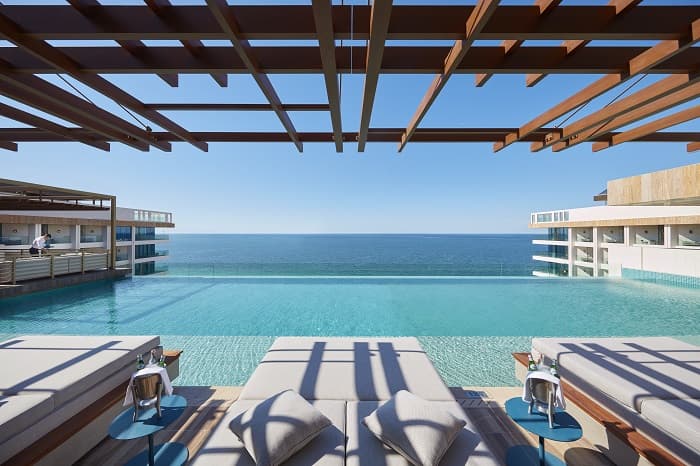 Dubai and Abu Dhabi are made for a fun-filled October half-term holiday, so jet off to sunnier climes for that well-earned family break.
Both emirates are some of the hottest places to visit in October, where you can expect daily temperatures in the low to mid 30's with sun-filled days and zero rain. What's more, they're full of family theme parks, the world's most luxurious hotels with incredible swimming pools, and the best beaches.
Aside from the private hotel beaches where you'll likely spend a lot of time, Jumeirah Beach is perhaps Dubai's best known, and Abu Dhabi's Yas Beach is famed for its golden sands and turquoise waters. If you get bored sunbathing or simply want to cool off, almost every watersport you can imagine is on offer, from jetskiing to paddleboarding to kitesurfing.
Of course, these seafront hotspots are not just about flying and flopping, especially with teens in tow. Make the most of the sunshine and peruse the new crop of urban-style outdoor malls or embrace the desert on a safari, complete with dune bashing, camel riding and sand surfing. The desert reaches well over 40 degrees in the sweltering summer months, so October is the perfect time to embrace the red-sand beauty.
If 30°C plus heat gets a little much for your tribe, there's a plethora of indoor family-focused theme parks. Dubai has IMG Worlds of Adventure, the largest indoor theme park in the world, along with Dubai Parks and Resorts housing LegoLand and Hollywood-themed Motiongate. Meanwhile, KidZania and Ferrari World in Abu Dhabi could keep families entertained for a lifetime.
---
8. Tenerife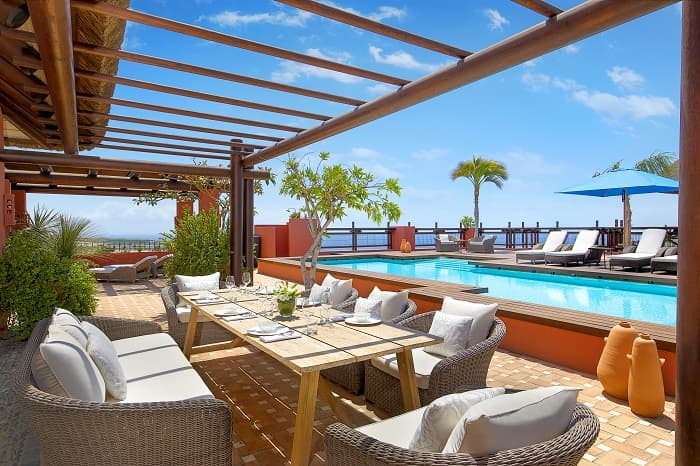 The largest island of Spain's Canaries chain, Tenerife showcases year-round sunshine, bewildering natural beauty and the best stretches of sand catering to every sun worshipper or sports enthusiasts' needs.
With a flight time of just over four hours, Tenerife is perfect for a short haul holiday during the school holidays. The crowds of summer have fizzled out, yet there are still highs of 27ºC and the Atlantic waters remain comfortable from the heat of summer.
October in Tenerife is the best time for quiet exploration, so combine languishing on the golden-lined coast with seashore rambles or jeep tours around Mount Teide, the highest peak in Spain. Little kids and teenagers alike will love Forestal Park, the largest zip-line park in Tenerife, as well as Siam water park with twelve rides to cool off in, plus the tallest artificial wave in the world.
Key events in October include the almond harvest. One of the island's specialties is bienmesabe, a delicious sauce made of almonds and best enjoyed drizzled over ice-cream on a sunny day. There's also the Tenerife Opera Festival held at the Auditorium and the Guimerá Theatre in Santa Cruz, for an evening of culture.
---
Where else is hot in October in Europe?
Ibiza: Pleasant temperatures make for beach bliss and fun outdoor activities
Cyprus: Summer lingers longer here than anywhere else in the Mediterranean
Bodrum Peninsula: The Aegean remains like a bath from the hot summer
Other places that are Hot in October
Mauritius: The weather is perfect for sunbathing and hiking around Le Morne
Las Vegas: Balmy evenings are perfect for alfresco dinners and late-night dancing
Bali: Daily sunshine and mid-twenty climes will leave you in a tropical state of mind
---
Looking to get away during the autumn season?
We hope these popular holiday regions with pleasant temperatures and plenty of sunshine have inspired you.
For more holiday ideas, simply contact us and we can tailor-make a holiday personalised to you, and advise on the ideal time to visit.