Short flights from the UK to somewhere hot are becoming increasingly popular. Let's face it, the weather in the UK isn't exactly perfect for hitting the beach!
So, it's no surprise that more and more of us are searching for destinations that are just a few hours flight away, allowing us to plan a last-minute escape or even just a weekend break when we need it most.
So, if you're looking for a quick getaway this year, you'll love these sunny destinations, all with two to four-hour direct flights from the UK.
1. Marbella, Spain
Flight Time: 3 hours
Best For: Sun-seekers
Summer Average Temperature: 30°C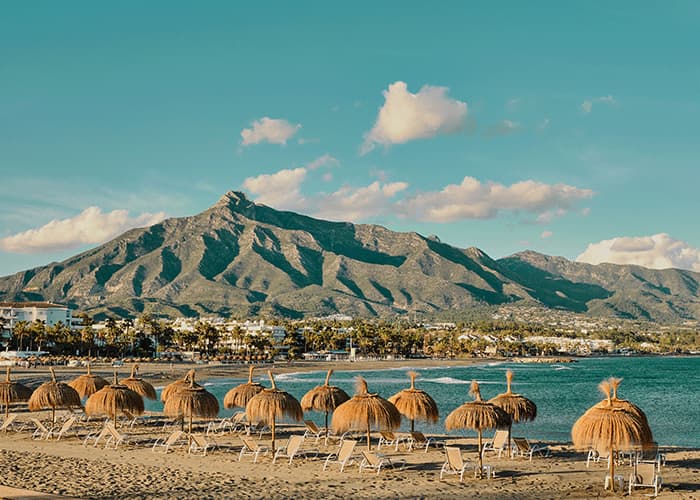 Located on the Costa del Sol, Marbella is the perfect destination for sun-seekers, with less than a four-hour flight from home. Costa del Sol literally translates to 'Coast of the Sun', and you'll discover a range of activities that are perfect for the enjoying the sun – its glorious weather even makes it a possible short-haul winter sun destination. From relaxing on beautiful beaches to enjoying watersports, there's something for everyone.
Where to stay
Marbella Club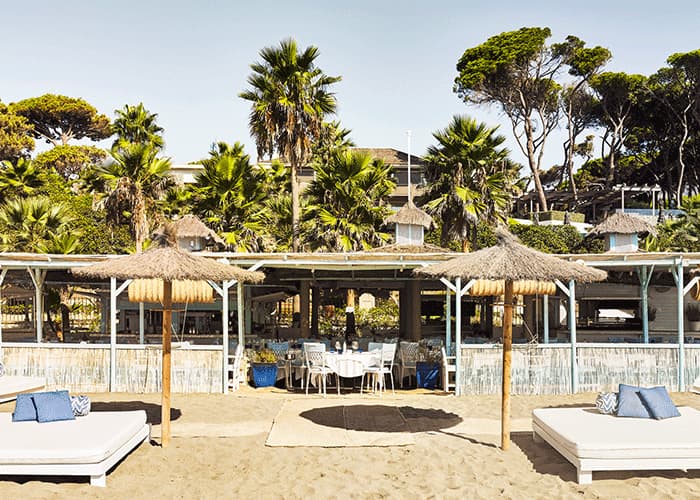 Marbella Club is the perfect retreat for couples looking for an easy escape in the summer. The hotel has a laid-back, old-world glamour to it and boasts an enviable beachfront location on the Golden Mile, between Marbella and Puerto Banus.
During your stay, there are plenty of ways to experience the balmy weather on Spain's famous 'sun coast'. Take a private 20-minute shuttle to the Dave Thomas-designed golf club to while away several hours on the sun kissed fairways framed by picturesque mountains. Horse riding amongst the rugged hills also gives you a taste of the open air, as do bike rides along the beach paths and watersports in the warm Mediterranean.
If you'd rather take things a little easier, dine outside all year round at El Patio or stroll around the subtropical Botanical Gardens, which flourish with various fruit trees thanks to Marbella's sun-drenched microclimate. Then, head to the Beach Club to lounge by the seawater pool, sip cocktails and soak up the ambience by the Marbella promenade.
Food fans – be sure to check out Marbella's mention in our top hotel restaurants in Spain!
"I would always recommend an escape to Marbella. The flight is so short and so worth it for a relaxing break on a sandy beach." – Gabrielle, Product Manager
---
2. Mallorca, Balearic Islands, Spain
Flight Time: 2 hours 30 minutes
Best For: Art and Museums
Summer Average Temperature: 28°C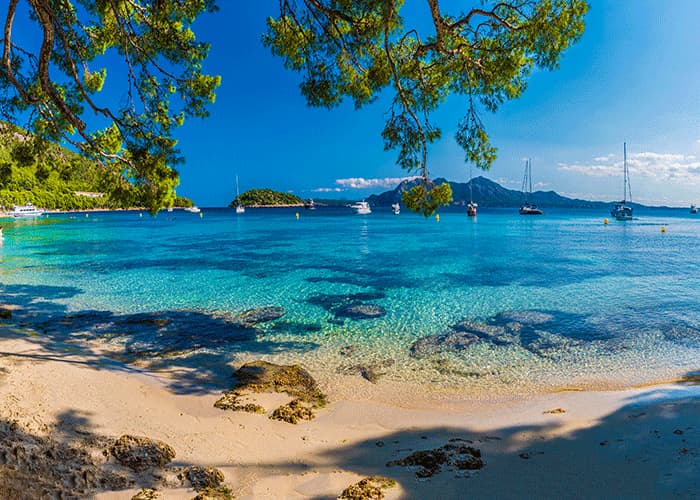 Mallorca is a quintessential location for a luxury Spanish holiday, offering a breathtaking coastline, rugged mountains and sleepy villages with less than a three-hour flight time from London. Palma, the island's capital, offers incredible restaurants, cool bars and world-class museums. Around the island you'll also find plenty of chances to enjoy top golfing, sailing and windsurfing.
Where to stay
La Residencia, a Belmond Hotel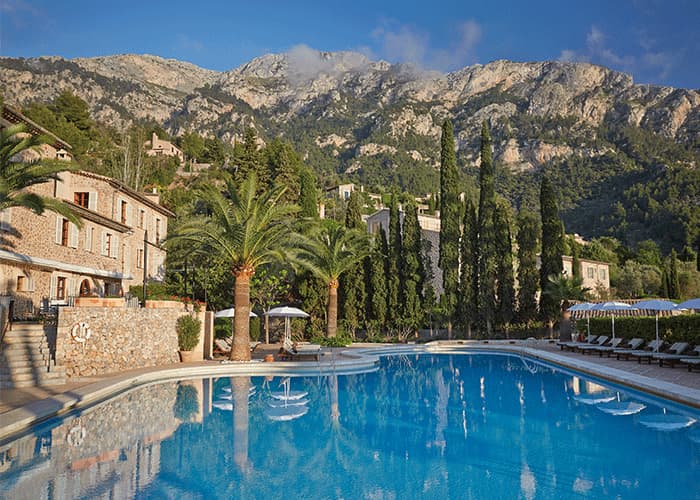 La Residencia, A Belmond Hotel, is a boutique-style hotel with stylish surroundings. Perfect for lovers of art, the resort has its own resident artist and a picturesque sculpture garden – which made it perfect for our round-up of the best quiet resorts for a holiday in Spain. You'll also have the chance to enjoy exhibitions of local art that are held regularly on the property.
"Mallorca is perfect if you love boutique hotels – there are so many wonderful options that are ideal for a short-haul escape." – Gabrielle, Product Manager
---
3. Ibiza, Balearic Islands, Spain
Flight Time: 2 hours 30 minutes
Best For: Nightlife
Summer Average Temperature: 28°C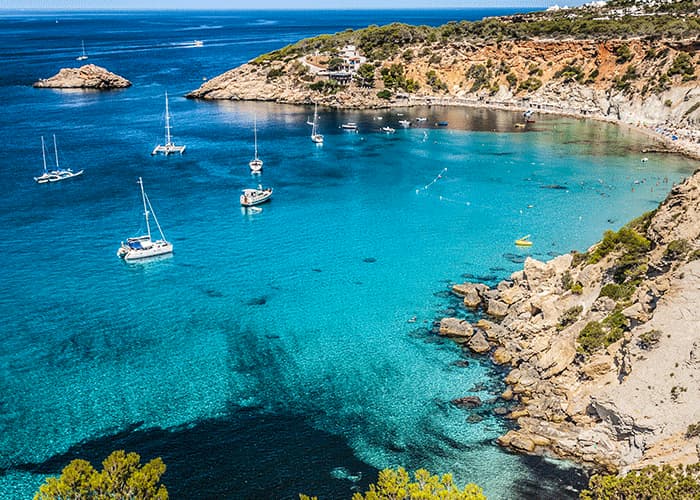 Ibiza is known for its vibrant nightlife. However, there's more to this picturesque island than just the party scene, with plenty of opportunity for relaxation in the summer months. Whether you're looking to dance the night away or unwind on a yoga retreat, Ibiza will have something for you – plus, you can be there in just over two hours when flying from London.
Where to stay
7Pines Resort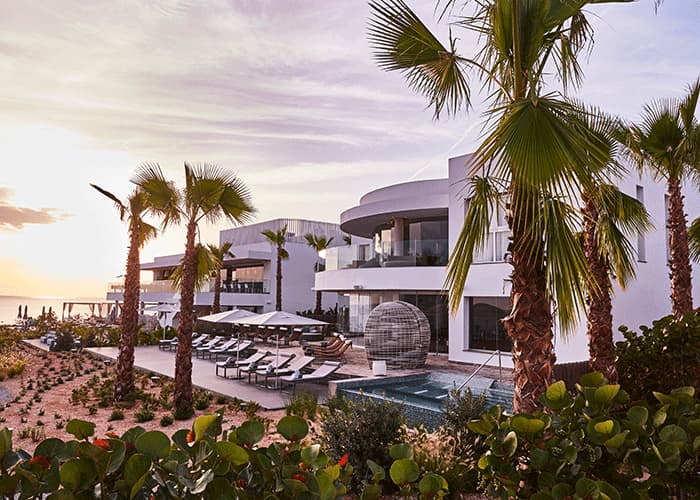 7Pines Resort boasts one of the most exclusive locations in all of Ibiza. Perched on a clifftop and offering panoramic sea views, the view cannot be beaten. With an adult-only infinity pool and an incredible spa, this is a haven of relaxation. However, with a fantastic location, you can be in the heart of the action in no time.
"If you're looking for undisturbed peace, 7Pines Ibiza is a dream. Set in the style of an Ibizan village, you can look out for stunning views of the mythical island of Es Vedra, made even more magical by the incredible sunset." – Gabrielle, Product Manager
Find out more: The Best Places to Stay in Ibiza
---
4. Puglia, Italy
Flight Time: 3 hours
Best For: Architecture
Summer Average Temperature: 30°C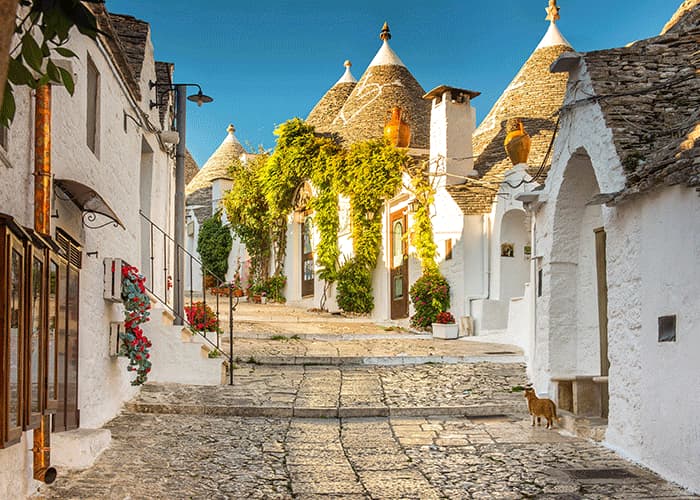 If you're seeking fantastic food, sandy beaches and a temperate Mediterranean climate, a Puglia holiday will be exactly what you're looking for. Located in Southern Italy, Puglia is just a short three-hour flight from the UK and boasts rolling hills, white-washed historic towns and rich history.
Where to stay
Borgo Egnazia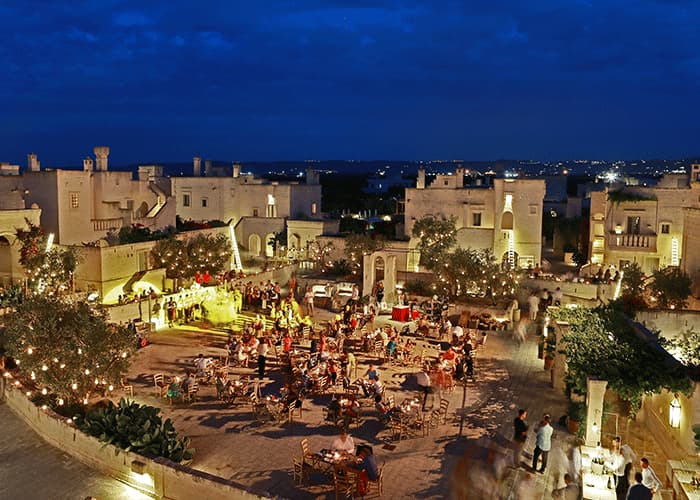 Borgo Egnazia provides breathtaking sea views, delicious dining and two exclusive beaches. Borgo Egnazia is designed to resemble a traditional 'Apulian Village'. The architecture of the village comprises of traditional sun-bleached buildings that will take your breath away.
"Stunning beaches, amazing food, great weather… and all within a three-hour flight time. Puglia offers the perfect opportunity for a stress-free summer holiday." – Gabrielle, Product Manager
---
5. Sardinia, Italy
Flight Time: 2 hours 40 minutes
Best For: Family Activities
Summer Average Temperature: 24°C
A holiday in Sardinia is an ideal destination for well-heeled families and couples looking for a gorgeous coast, quaint towns and facsinating archaeological remains, with some dating back to 1700 BC. With just over a two-hour flight from the UK, culture-vulture families will be in their element with a holiday to Sardinia.
Where to stay
Forte Village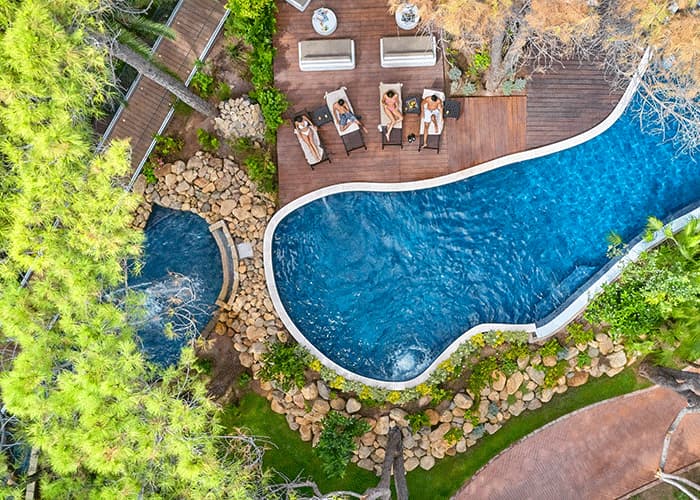 Forte Village is one of the most impressive resorts you'll find in our collection. With a choice of seven incredible hotels, there's something for everyone. There's a stunning range of land-based activities to suit all ages and with easy access to a white powder beach, you'll also find a variety of watersports, too.
---
6. Sicily, Italy
Flight Time: 3 hours
Best For: Romance
Summer Average Temperature: 21°C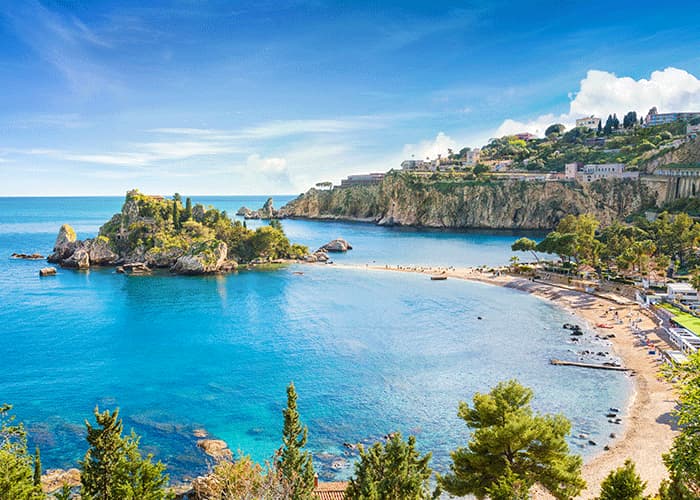 Sicily is a romantic island with enchanting landscapes, charming towns and tranquil bays. Around the island, you'll find plenty of quiet spots to explore. With just a three-hour flight time, the dramatic coastline and towering Mount Etna makes for the most excellent views.
Where to stay
Four Seasons San Domenico Palace
For couples looking for a romantic escape that takes in all the best that Sicily has to offer, head to the newly renovated Four Seasons San Domenico Palace. Located in beautiful Taormina, you can spend the day lounging beside the pool and then stroll into the quaint town for a delicious dinner.
---
Are you tempted by a holiday to Puglia, Sardinia or Sicily? They also boast some of the best beaches in Italy.
You can also discover Six of the Best Family Hotels & Resorts in Italy.
---
7. French Riviera, France
Flight Time: 2 hours
Best For: Glitz and glamour
Summer Average Temperature: 23°C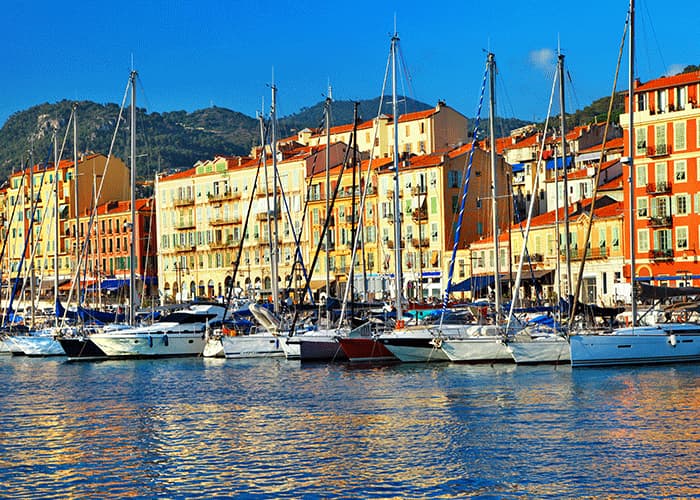 The French Riviera is an elegant destination that comes with a reputation for exclusivity and style. Breathtaking views await around every corner and colourful architecture lines a coastline that's dotted with superyachts. Just a two-hour flight from the UK, you might even find yourself spotting celebrities in Nice, Cannes, St. Tropez and Monaco.
Where to stay
Royal-Riviera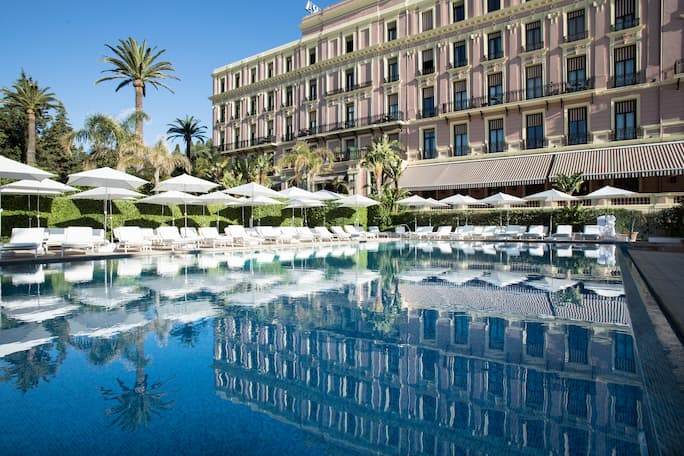 The Royal-Riviera will immerse you in the luxurious history of the South of France. Located on the luxurious Côte d'Azur directly between Nice and Monaco, you'll be just a short drive from some of Europe's most glamorous and beautiful cities. Since opening its door in 1904, it's been a popular destination for the French elite. With a regenerative sauna and hammam, a private beach and plenty of old world charm, this hotel is not to be missed.
---
8. Corfu, Greece
Flight Time: 3 hours 15 minutes
Best For: Relaxation
Summer Average Temperature: 25°C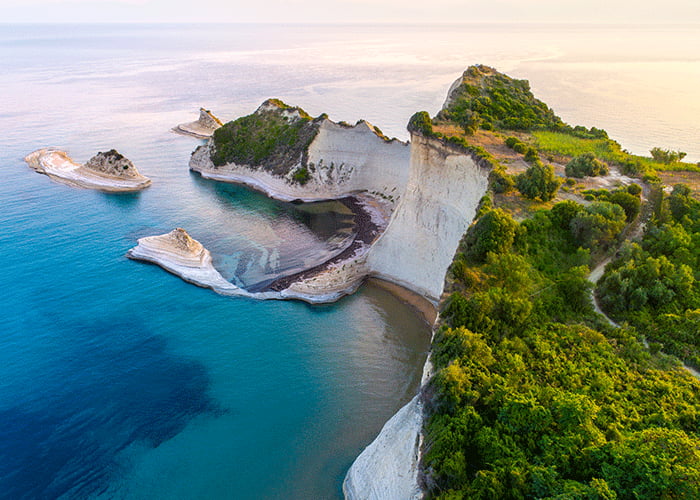 Referred to as the Emerald Isle of Greece, Corfu is an enchanting Greek island with plenty of daily sunshine, perfect for those seeking some hard-earned relaxation. Under four hours from the UK, expect sun, sea and sand, with plenty of opportunity for unwinding on the beach. You'll also discover a host of world-class spas and laid-back villages that only add to the chilled-out vibe.
Where to stay
Angsana Corfu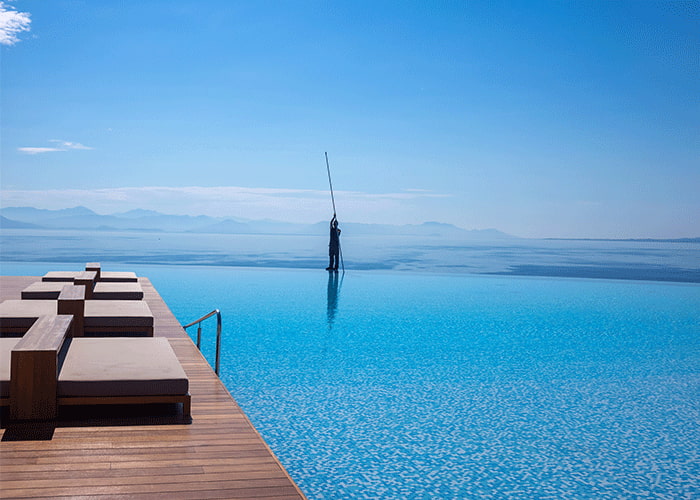 Located just a short distance from Corfu's UNESCO World Heritage Site, the Old Town, you'll find the breathtaking Angsana Corfu. The infinity pool here provides unrivalled views of Corfu's gorgeous coast, and the award-winning spa offers a range of incredible treatments in 16 spacious treatment rooms.
More inspiration: See our most luxurious hotels with private pools in Greece
"I loved the Angsana Corfu, especially the gorgeous beach with a shallow cove and warm waters. The Michelin-starred restaurant was incredible and watching the sunrise on the pool deck was also amazing." – Vicky, Travel Specialist
---
9. Algarve, Portugal
Flight Time: 3 hours
Summer Average Temperature: 22°C
Best For: Golf holidays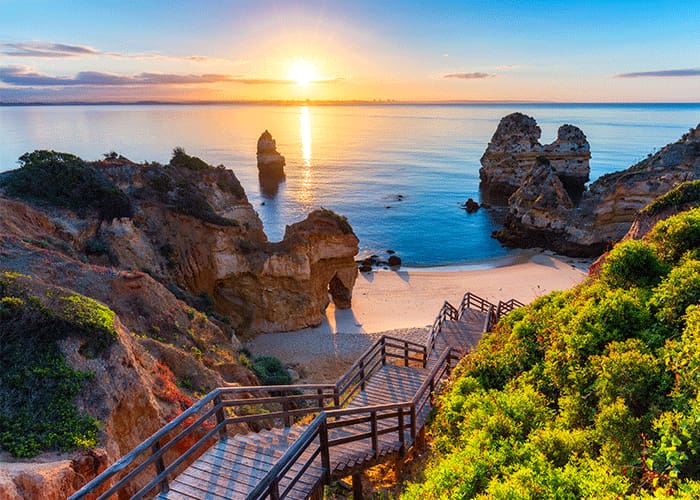 With 300 days of sunshine every year and just a short flight from the UK, the Algarve is one of Portugal's most sought-after spots. The perfect golf destination, there are 18 professional-standard golf courses, including the Arnold Palmer-designed Victoria Golf course, the perfect place for polishing your swing.
Where to stay
Vila Vita Parc and Pine Cliffs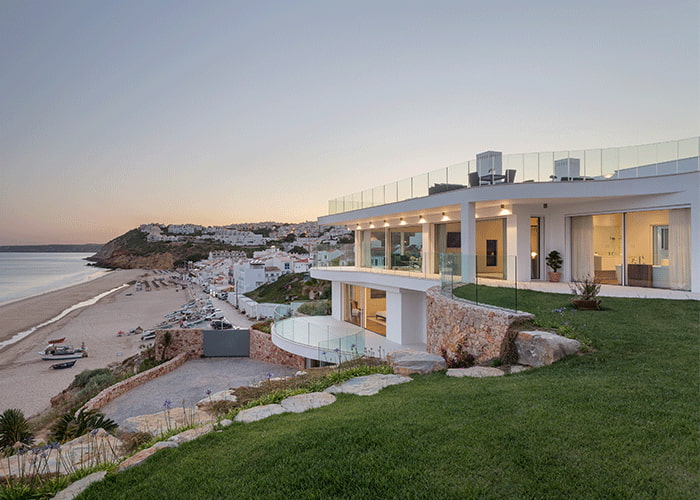 Vila Vita Parc offers an enviable location on a secluded clifftop making for winderful coastal views. The surroundings feel incredibly private and secluded, but you are just a short distance from all the Algarve's biggest attractions. Golfers will love the 9-hole pitch and putt, 18-hole putting green and 18-hole minigolf course.
If you're looking for a fantastic family holiday in the Portuguese sun, look no further than Pine Cliffs. There are an incredible variety of activities for kids including the 7,000-square metre children's village. There's also a 9-hole golf course to be enjoyed while the children play.
"Having stayed at Pine Cliffs, I'd definitely rate it as one of the best hotels in Portugal. The array of restaurants is very impressive, with one that specialises in raw, organic cuisine called ZEST, which I loved." – Moreno, Travel Specialist
---
10. Dubrovnik, Croatia
Flight Time: 2 hours 30 minutes
Summer Average Temperature: 24°C
Best For: A cultural city break with a beach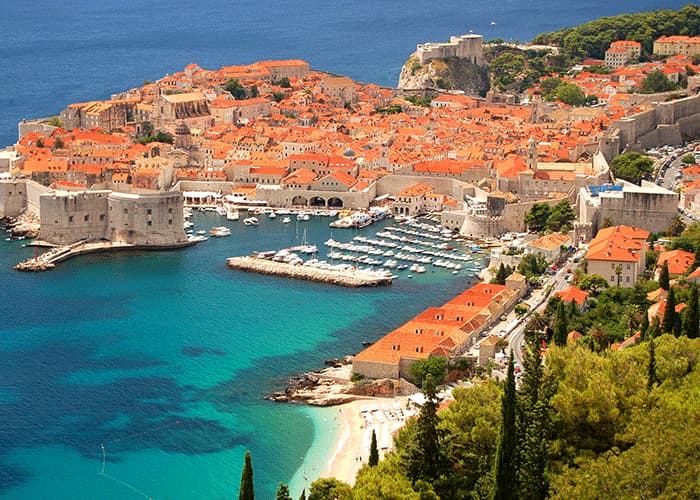 While it's an enchanting city break, Croatia's historic capital is also home to some of the best beaches in Europe. There are also historic sights and famous terracotta architecture in the UNESCO World Heritage listed old town. We recommend pairing a visit to Croatia with a stop in neighbouring Montenegro. A Croatia and Montenegro holiday promises breathtaking landscapes and long, sandy beaches.
Find out more: The Best Things to Do in Dubrovnik
Where to stay
Hotel Excelsior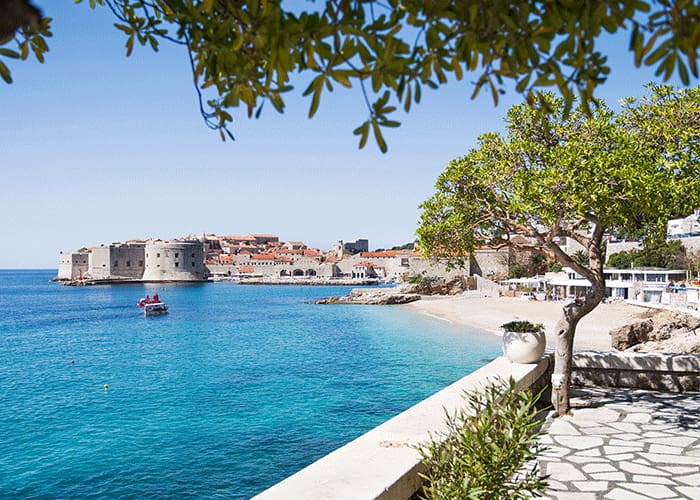 Hotel Excelsior is an iconic hotel with a history of A-list celebrity visitors. It has a fantastic location that's within walking distance of the historic city centre of Dubrovnik. When staying here you'll also have direct access to the sea and Croatia's world-famous coastline.
"Croatia and Montenegro have so much to offer, whether you want a European city break, beach escape or love admiring nature at its most beautiful." – Gabrielle, Product Manager
---
If you've been inspired to jet off on a short flight holiday from the UK into the glorious European sun, contact our Travel Specialists and start planning your tailor-made luxury holiday today.

To hear about our latest luxury travel offers, sign up for our newsletter below.