Everyone's got their favourite tipple; that signature drink you always find yourself ordering or mixing up yourself.
Sometimes you just can't beat a classic cocktail, whether you're after something smooth or in the mood for something a little fruity. So, you know your poison of choice, but you might not know its history, or how easy it is to whip up at home.
With that in mind, I've put together a round-the-world cocktail menu featuring classic cocktails from some of our favourite destinations, plus an easy cocktail recipe for each so you can become a master mixologist right in your own kitchen.
Moscow Mule
Classically served in a shiny copper mug, the Moscow Mule has been around since 1941, when Sophie Berezinski walked into the Cock 'n' Bull pub in Los Angeles. The story goes that Sophie had been sent to the US to try to sell the beautiful copper mugs designed by her and made by her father's company in Moscow. She wasn't having much luck finding a buyer for her mugs until she entered the Cock 'n' Bull, owned by would-be ginger beer maker Jack Morgan.
The night Sophie ventured inside, one of the pub's patrons happened to be Smirnoff Vodka distillery owner John Martin, who was having trouble selling vodka in America. The trio put their heads together and crafted a drink that would solve each of their problems, combining the kick of the vodka with the fizz of ginger beer inside the cooling copper mug.
And thus, the Moscow Mule was born.
Moscow Mule recipe
A copper mug is traditional, but if you don't have one you can easily serve your Moscow Mule in a classic cocktail tumbler.
Ingredients:
200ml ginger beer
50ml vodka
Ice
Lime juice (optional)
To serve:
Fill your mug or a tumbler ¾ full with ice. Pour in the vodka and a splash of lime juice (if using), fill up to the top with ginger beer and give it a gentle stir to mix together. Garnish with a lime wedge and enjoy.
Pisco Sour
Peru and Chile's national drink is a truly unique tipple, combining sour with sweet, the smooth texture of the liqueur contrasting with soft egg white foam. Like most of the cocktails in this list, its origins are a little cloudy, but the drink nonetheless is one of the South American countries most proud exports.
One of the most agreed upon versions of the Pisco Sour origin story is set in Lima's Morris Bar in the early 20th century, when proprietor Victor Vaughan Morris made a version of the drink as an adaptation of the classic whiskey sour.
The cocktail as we know it today was created by Mario Bruige, a bartender who added the signature egg whites. Pisco itself is a Peruvian (or Chilean, depending on who you ask) tipple with a particularly robust concentration – it's a crime for manufacturers to dilute pisco, which typically carries a hefty 40-48% alcohol content!
Pisco Sour recipe
Ingredients:
50ml pisco
15ml simple syrup
35ml lime juice
1 egg white
A few drops of bitters
Add the pisco, syrup, lime juice and egg white to a shaker filled with ice and shake together for at least 30 seconds, until combined. Strain into a chilled cocktail glass over ice and top with a few drops of bitters.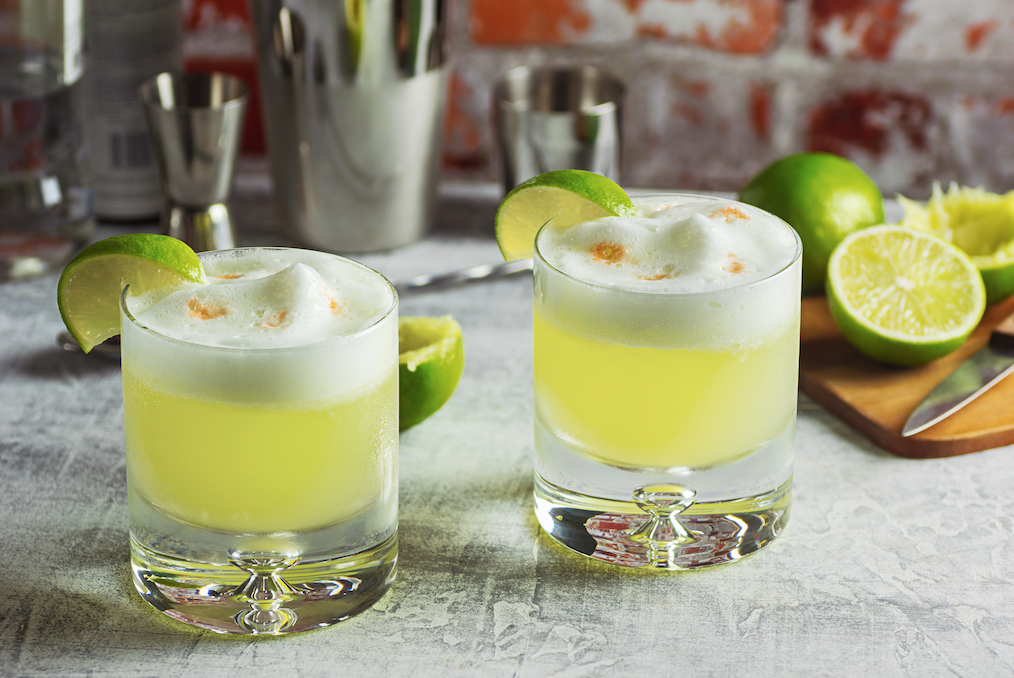 Mai Tai
Like any cocktail worth its salt, the Mai Tai has a disputed history, though it's generally accepted that California restauranteur Victor J "Trader Vic" Bergeron created the concoction in 1944 to show off a particular 17-year vintage of rum.
The story goes that when Trader Vic gave the drink to his friend Carrie Guild, she remarked "Maita'i roa a'e!", which translates as "out of this world!", and the cocktail was named. Trader Vic eventually took the Mai Tai to Hawaii where it became a local favourite and world-famous. We think these stunning islands are the very best place to enjoy this tropical tipple.
Mai Tai recipe
Ingredients:
50ml white rum
40ml dark rum
20ml Cointreau
15ml lime juice
50ml pineapple juice
50ml orange juice
A few drops of grenadine
Fill a cocktail shaker with ice and all the cocktail ingredients. Shake for at least 20 seconds, then strain over ice into a chilled cocktail glass. Garnish with fresh mint leaves and a lime wedge.
Singapore Sling
The Singapore Sling is one of the most classic, fashionable and just plain cool cocktails out there. Unsurprisingly, it hails from Singapore, and is quite famously associated with the Raffles Singapore hotel, where the drink was created.
The hotel is one of the most iconic sights in Singapore, and is an unmissable stop on any holiday here; everyone from literary luminaries to reigning royalty has stayed here, so it really is an A-lister's paradise.
History says that the Singapore Sling was dreamed up by Ngiam Tong Boon, a bartender at the hotel, and has since counted the likes of Rudyard Kipling, Joseph Conrad and Hunter S. Thompson as fans. Sitting in the Long Bar at Raffles with a Singapore Sling in hand – if that's not a bucket list experience, we don't know what is.
Singapore Sling recipe
The Singapore Sling has evolved and varied a lot over the years, sometimes leaning more heavily on sweetness than citrus. This is our version of an 'classic' Sling.
Ingredients:
30ml gin
15ml cherry liqueur
5ml herbal liqueur (Bénédictine if you have it, or substitute with brandy)
5ml Cointreau
100ml pineapple juice
15ml lime juice
5-10ml grenadine
A dash of Angostura bitters
Add all the ingredients to a cocktail shaker, adding in a few ice cubes. Shake together for at least 30 seconds until chilled. Pour into a cocktail glass, and garnish with a cherry or pineapple slice for extra luxury!
Pimm's
For many of us, it's not really summer until someone breaks out the Pimm's. This is one of the few famous libations whose story is in no doubt, and it's homebrewed right here in the UK.
The original gin cup cocktail, Pimm's No 1 Cup, was devised by James Pimm and was initially meant to help with digesting oysters at Pimm's oyster bar in London. The secret blend of gin, herbs, fruits and spices was an instant success, and was soon being served to Queen Victoria and, famously, guests at Wimbledon. Even within the first few years of success, Pimm's was being sold around the globe in places like Australia, India and the Caribbean (coincidentally, some of our favourite destinations for sipping a Pimm's under the sun).
These days there are a number of Pimm's cocktails out there – including variations with gin, vodka and champagne – and the liqueur is still universally recognised as the taste of summer.
Pimm's No 1 Cup recipe
This recipe makes a pitcher of Pimm's – perfect for enjoying out in the garden on a sunny afternoon.
Ingredients:
200ml Pimm's No 1
600-700ml lemonade
Cucumber slices
Orange slices
Strawberry slices
Mint sprigs, to serve
Fill a glass jug with ice. Pour over the Pimm's, then the lemonade, and stir well together. Mix in the sliced cucumber, orange and strawberry, and add in the mint. Serve in chilled glasses with extra ice.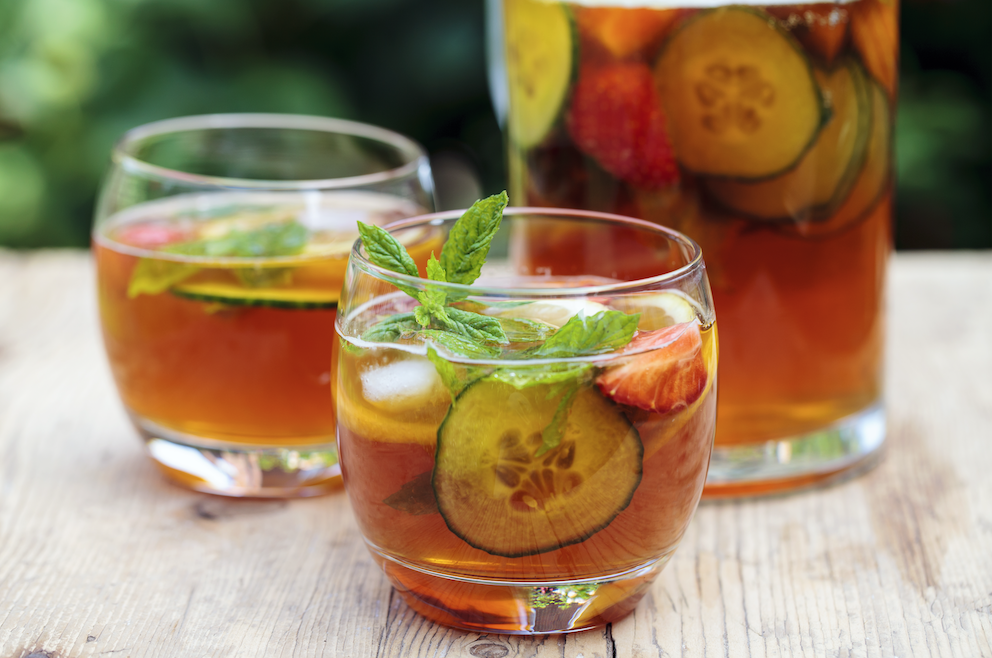 Bellini
The Bellini was first served at Venice's legendary Harry's Bar, by founder Giuseppe Cipriani. Harry's Bar is a stalwart of the Venice social scene, and is an unmissable stop on a trip to the City of Masks; Humphrey Bogart, Ernest Hemingway, Nicole Kidman, Orson Welles and Truman Capote are just a selection of the famous faces known to frequent Harry's when they're in town.
The Bellini was inspired by Giuseppe's fondness for the region's white peaches. Apparently, the drink's pink-tinged hue reminded Giuseppe of artist Giovani Bellini's paintings, and thus the sweet and fruity drink was named.
Bellini recipe
Ingredients
2 ripe peaches (or use a tin of peaches in juice)
Chilled prosecco or champagne
Start by making the peach purée – if using fresh peaches make sure to peel, half and remove the pit. Add the peach flesh to a blender and puree until smooth. This purée can also be kept in the fridge, so you always have some on hand for when the Bellini mood takes you!
Add a few spoonfuls of purée into the bottom of a chilled champagne glass or flute – this is of course a matter of personal taste, but we usually aim for about one part purée to two parts prosecco/champagne, which you slowly pour into the glass, stirring to mix as you pour.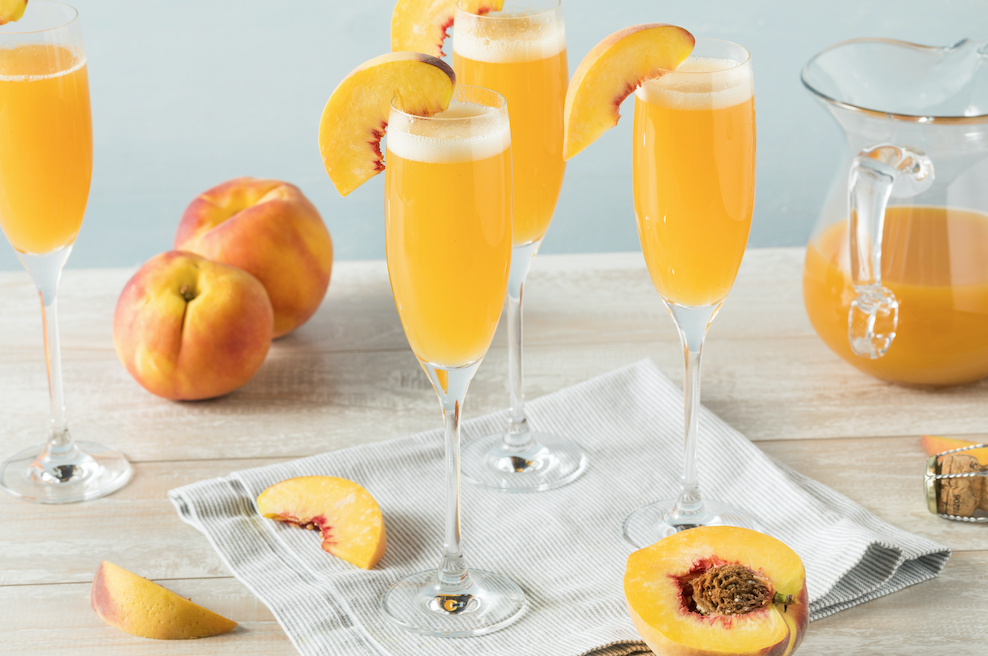 There's a snapshot of a round-the-world cocktail menu – what's on yours?
Comment below if we've missed your top tipple!