While a white winter in the UK certainly has its charms, we've got an idea that will certainly tempt you away next festive season. Swapping snow for sandy beaches, Christmas in St Lucia is something every lover of the Caribbean should experience at least once.
With December marking the start of St Lucia's finest weather, you can enjoy very pleasant temperatures of 30 degrees, leaving those cold mornings far behind.
But, does that mean you have to sacrifice everything else we love about Christmas? Not at all. While you certainly won't see any snow-dusted rooftops, Christmas in St Lucia still has plenty of festive appeal.
Read on to find out more.
What is a traditional Christmas dinner in Saint Lucia?
St Lucia is a Catholic nation so while Christmas definitely won't feel the same as it does in the UK, there are certainly a few similarities. One of the best things about booking a tropical Christmas break here is that you won't miss out on a delicious roast dinner on December 25th.
A big, family-sized feast is still the order of the day when it comes to Christmas in St Lucia, just bear in mind that it's likely to be served in the late afternoon or evening instead of lunchtime.
Embrace the differences of a traditional St Lucian Christmas dinner as you tuck into roast lamb with sweet potatoes, plantains or yams in place of the usual turkey and trimmings.
Ready for a festive tipple? In St Lucia, you'll be swapping your glass of mulled wine for a fiery ginger beer or sorrel, a local spiced drink.
Last but not least, the crowning glory of the St Lucian Christmas dinner is the Christmas pudding – although as you'd expect, it does come with a little twist. Instead of brandy, the raisins and currants are soaked in red wine – delicious.
If you want to try something even more local and authentic for your Christmas dessert, why not give St Lucian black cake a try? This tasty treat is made with rum-soaked ginger, cherries, nuts and prunes – plenty of flavours that are guaranteed to have you feeling festive in no time at all!
St Lucian Christmas Traditions
One of the best things about spending Christmas somewhere different from home is having the opportunity to experience some of the local festive traditions – and you won't be disappointed if you choose to spend Christmas in St Lucia. Here's the lowdown on St Lucia's Christmas events and festivities.
Festival of Lights & Renewal
Be sure to arrive in St Lucia by mid-December if you're planning to join in with the Festival of Lights traditions leading up to December 13th. This celebration honours St Lucia's namesake, Saint Lucy of Syracuse (also known as the Saint of Light) and commemorates the triumph of good overcoming evil, represented by the lights.
Join the locals to watch the artisan lantern competition before creating your own colourful lantern, which you will be able to light up before joining the procession to Derek Walcott Square, Central Castries. This square is where the town's Christmas lights are switched on. The grand finale of the celebration is a spectacular firework display that fills the night sky with colour, making the Festival of Lights a truly magical way to kick off the holiday season in St Lucia.
Jouvert (Christmas Day)
Immediately after Catholic midnight mass on Christmas Eve, rural communities across St Lucia begin their daybreak street party celebrations to welcome and honour Christmas morning.
Each party is different – some have specific themes, whereas others invite people to just come along as they are.
The festivities usually continue all the way through to the early hours of the morning, ending at around 6 am, so it's easy to see why locals tend to enjoy their Christmas meal later in the day.
Burst the Bamboo
During December and into the new year, don't be surprised if you hear plenty of loud pops and bangs in St Lucia.
This is because in the run-up to Christmas, the local people (and visitors who want to get involved with local customs) "burst the bamboo".
This local tradition involves filling the hollow end of a bamboo cane with rags that have been soaked in kerosene.
Once they are lit, the bamboo canes burst and pop loudly, just like a firecracker would.
How do hotels in St Lucia celebrate Christmas?
Spending Christmas in St Lucia doesn't mean having to miss out on the Yuletide celebrations – after all, this is an island that just loves to celebrate all-year-round, so why should Christmas be any different?
Whether it's a visit from Santa Claus on a jet-ski (complete with gifts for all), delicious festive food and drinks or colourful celebrations and parties, the hotels of St Lucia have something on offer to meet the preferences of every guest over the festive period.
Our Top Hotels for Spending Christmas in St Lucia
Rendezvous St Lucia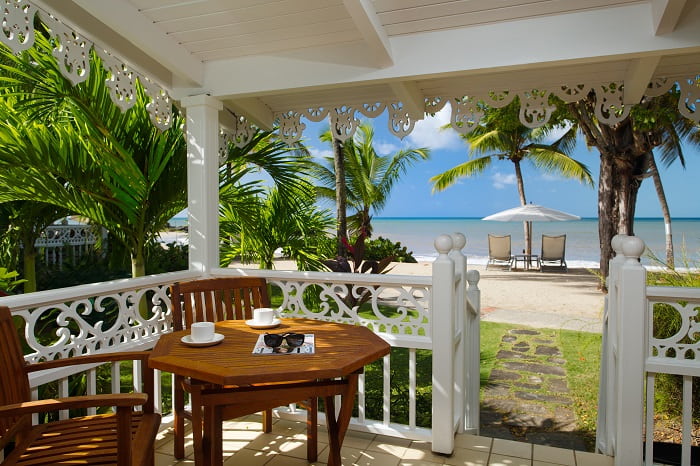 With its boutique beachfront location on a stunning two-mile stretch of the Malabar Beach, Rendezvous St Lucia is the ideal place to spend a memorable Christmas holiday. This hotel hosts a lively Christmas Eve cocktail party with live al-fresco entertainment that's sure to get you in the festive mood.
On Christmas Day, youngsters will delight in seeing Santa Claus arriving at the resort by speedboat and presenting each guest with a gift.
A lunchtime BBQ with music from a local steel band will keep you entertained until the main event – an authentic Caribbean Christmas dinner with traditional live music, followed by dancing on the beach as the sun sets.
The Landings Resort and Spa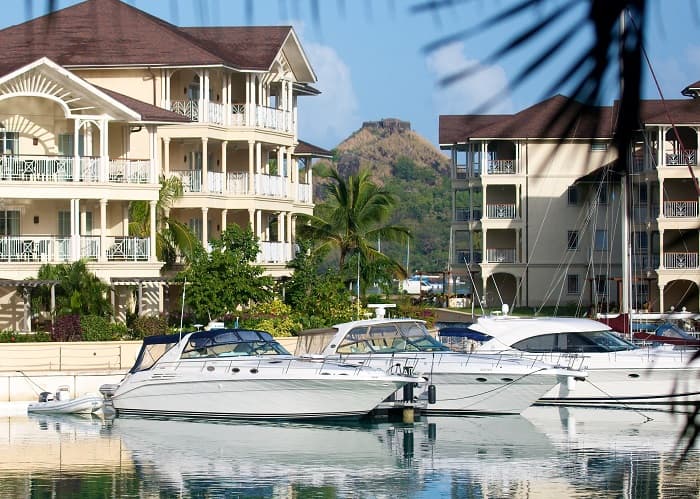 Nestled on the soft white sands of Rodney Bay with magnificent views of Pigeon Island, The Landings Resort & Spa boasts its own private yacht harbour, making it a wonderful base if you're planning to explore the sparkling ocean by boat.
And if Christmas just wouldn't be Christmas without cooking a traditional turkey dinner for your family then this is the place to be – each villa has its own fully-equipped designer kitchen. For entertainment, book your stay towards the end of December to enjoy the entertainment at the hotel's New Year gala evening celebration.
The Landings Resort & Spa even made it onto our list of Best Places To Go On Holiday At Christmas – so if you're considering a trip away, this is a fantastic pick!
Calabash Cove
Longing for a truly peaceful, relaxing break over the Christmas period?
Calabash Cove is an adult-only resort in a stunning waterfront location.
For ultimate luxury, opt for the unconditional all-inclusive package – this includes meals, premium drinks, in-room bar stock, premium bottled water to accompany every meal, daily lobster (during the lobster season), tips, Wifi and spa services (including facial treatments).
Staffing levels are second-to-none, with two members of staff per guest, so you can rest assured you'll be well looked after here.
A glittering New Year fireworks display provides a fitting finale to the festive season and the perfect end to your holiday at Calabash Cove.
Ready to book your St Lucia Christmas break? Contact us today to discuss your requirements and start counting down to your Christmas break in St Lucia.
If you'd like more travel inspiration, and to see our latest luxury travel offers, sign up to our newsletter below.
More Christmas in the Caribbean? These posts will help you out…