Since so many holidays have been cancelled or postponed lately, your next trip may as well be a big one.
We've all been spending a lot of time indoors recently, so it's time to get out. Splash out, push the boat out, go all out.
Here are some insider tips on how the A-list holidays. Book a glamourous stay in one of these destinations and you could be brushing shoulders with society's richest and most famous.
1. Necker Island
Considered 'home' by billionaire businessman Richard Branson, Necker Island is a remote dot in the British Virgin Islands.
The island was envisioned as a highly exclusive sanctuary for discerning guests, as well as a Branson family home. Truly, this place does laid-back luxury like nowhere else on earth.
The island can host a maximum of just 30 people. For most of the year, it's only available to those who can hire it on an exclusive basis. Indeed, some of the world's most famous names have graced its shores. Supermodel Kate Moss chose Necker as the setting for her 40th birthday celebrations. Back in the early 90s, Princess Diana favoured the island as a peaceful sanctuary from the paparazzi.
Guests here stay at the Great House. This is a palatial nine-bedroomed house with gorgeous Caribbean interiors and incredible views out to sea. Or, stay in one of the unique and private Bali Houses, which accommodate one or two guests. There are almost 100 staff catering to the needs of only 30 people. Indeed, this is a luxury lifestyle that has to be experienced to be believed!
2. Private Reserve at Six Senses Zighy Bay
The pinnacle of superb accommodation choices at this luxury resort is undoubtedly the Beit Musandam, The Private Reserve. It has its own private stretch of beach, as well as a private 17-metre infinity pool.
In this four-bedroom Omani mansion, a live-in butler will be on hand whenever you desire. There's also a private spa suite and wine cellar, granting easy access to the finer things in life. In fact, with an emphasis on the unique, Zighy Bay will even arrange for guests to arrive via paraglider!
Surrounded by the rugged, mountainous landscape of Oman, Six Senses Zighy Bay is a true hideaway. Picture a secluded coastline, lapped by the blue waters of the Gulf of Oman.
3. One&Only The Palm
If Dubai is synonymous with luxury, then the Beachfront Villas at One&Only The Palm represent decadence indeed. There are just four of these stand-alone, two-bedroom hideaways. All enjoy round-the-clock service from personal villa hosts. Entered via a grand entrance hall, each villa has plush furnishings and extremely spacious rooms.
The view from the private pool isn't bad either. You've got the Arabian Gulf on your doorstep, and another frond of iconic Palm Island in the hazy distance. Never being over-looked means guests can relax and enjoy this expansive vista from anywhere they choose. Enjoy privacy, whether you're in the stand-alone bathtub or on the terrace having dinner. The villa comes complete with a lovely kitchenette. However, you may never enter it, as sumptuous in-villa dining is provided at your convenience.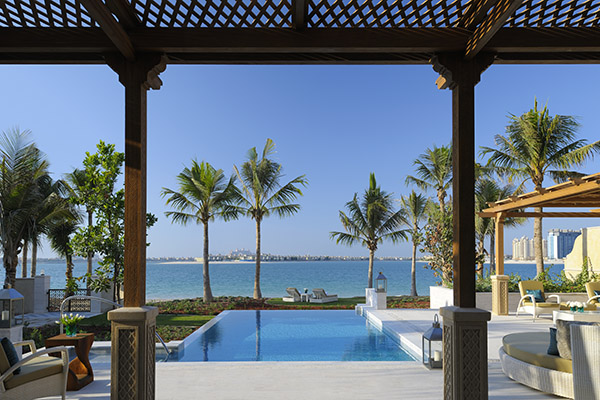 4. North Island, Seychelles
North Island in the Seychelles is one of the most luxurious and environmentally responsible private islands in the world.
You may have seen the island on the BBC's The Millionaires' Holiday Club. Here, the luxury villas are served by a dedicated butler. Furthermore, every aspect of the holiday experience is as bespoke as it possibly can be.
Guests can dine wherever they want and chose whichever cuisine they desire. So, whether it's fresh seafood on the beach or sushi by the pool, your wish is the island team's command.
The understated, luxury accommodation here serves perfectly as the ultimate escape from the everyday. Additionally, the island is also available as an exclusive hire for 22 guests.
Still not impressed? Well, this is where the Duke and Duchess of Cambridge honeymooned. So, this holiday hideaway is truly fit for royalty!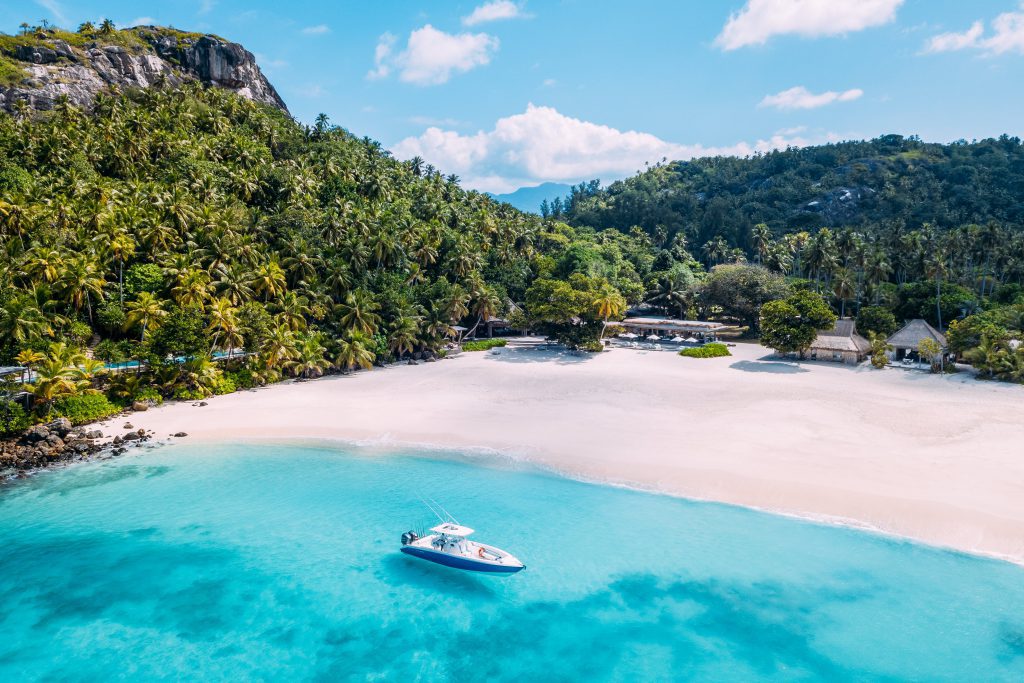 5. Tradewinds Barbados
This incredible luxury villa was featured on The Millionaires' Holiday Club episode two. It sits in the Sandy Lane Estate – the ultimate playground of the rich and famous on Barbados's coveted 'Platinum Coast'.
None other than music mogul Simon Cowell owns a house here, where he retreats to each Christmas after a busy X Factor season. Other famous names include Gwyneth Paltrow and the Rooneys, who favour this location for its famously idyllic beach and ultra-exclusive atmosphere.
The five-bedroom Tradewinds villa itself sits within its own lush grounds, so privacy is a byword for any guest staying here. With its majestic, colonial-style courtyard and private, secluded swimming pool, days on end could be spent never leaving these luxury surrounds. This is especially true when you remember that a full staff, including a private chef, butler and house-keeping, are on hand to cater to your every whim!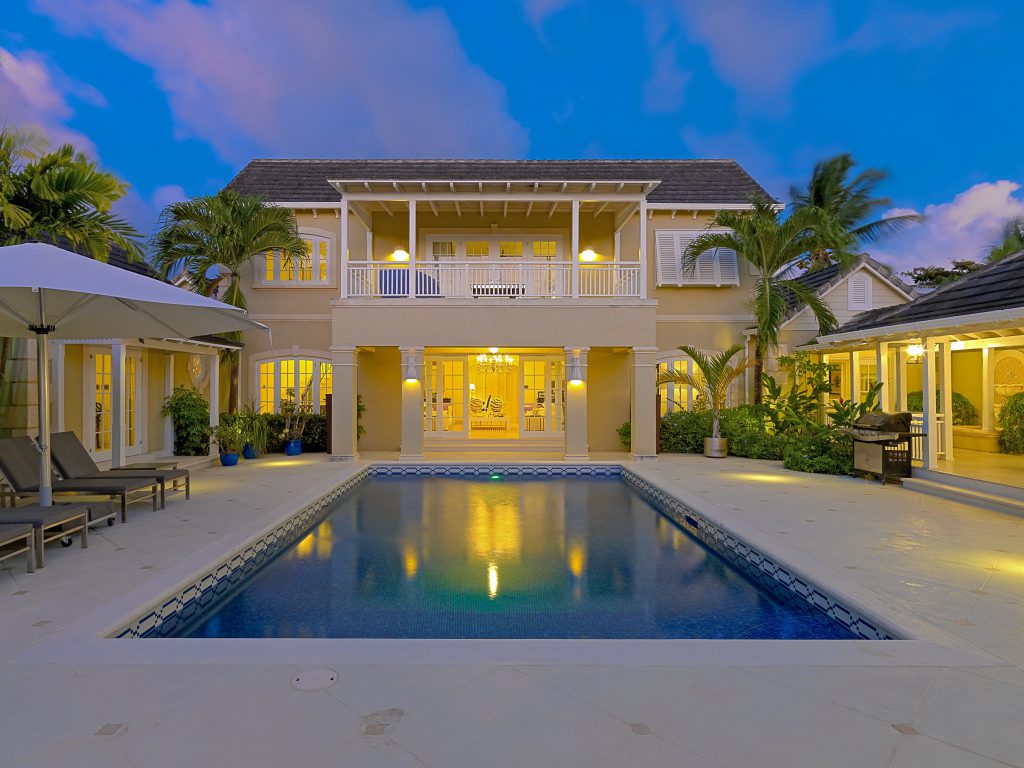 6. The Mansion, Daios Cove, Greece
The secluded, luxury resort of Daios Cove in Crete has recently unveiled its most ambitious and luxurious accommodation yet: The Mansion.
Spanning some 600 square metres of indoor space, this ultraluxe stand-alone villa encompasses three king-size bedrooms, en suite bathrooms and spacious living areas.
Then there's the basement, where you'll find an entire private SPA level, complete with heated indoor pool, steam bath, sauna, gym and treatment areas. Outside there are another 300 square metres of space to enjoy, including an infinity pool with views out to sea.
Service levels are as impressive, as in-villa dining as lavish as you like and extras such as a personal trainer or spa therapist are available upon request.
7. Owner's Residence, Four Seasons Resort Koh Samui
The expansive Owners Villa also featured in episode two of The Millionaires' Holiday Club.This Four Seasons Resort Koh Samui property is a luxurious paradise overlooking the crystal clear waters of the Gulf of Siam and surrounded by lush palms.
During their stay, guests enjoy the exclusive services of a private chef, who is on hand to whip up just about anything that they might desire.
These sumptuous meals can be enjoyed in the luxurious indoor living spaces, or the open-air pavilion, whose position perched above the bay takes full advantage of the outstanding natural beauty, providing panoramic views to savour along with the cuisine.
If guests want to get and explore this beautiful area of Thailand whilst maintaining the privacy and exclusivity of their villa lifestyle, there's a private yacht for up to 12 people, which can be chartered and at your disposal throughout your stay.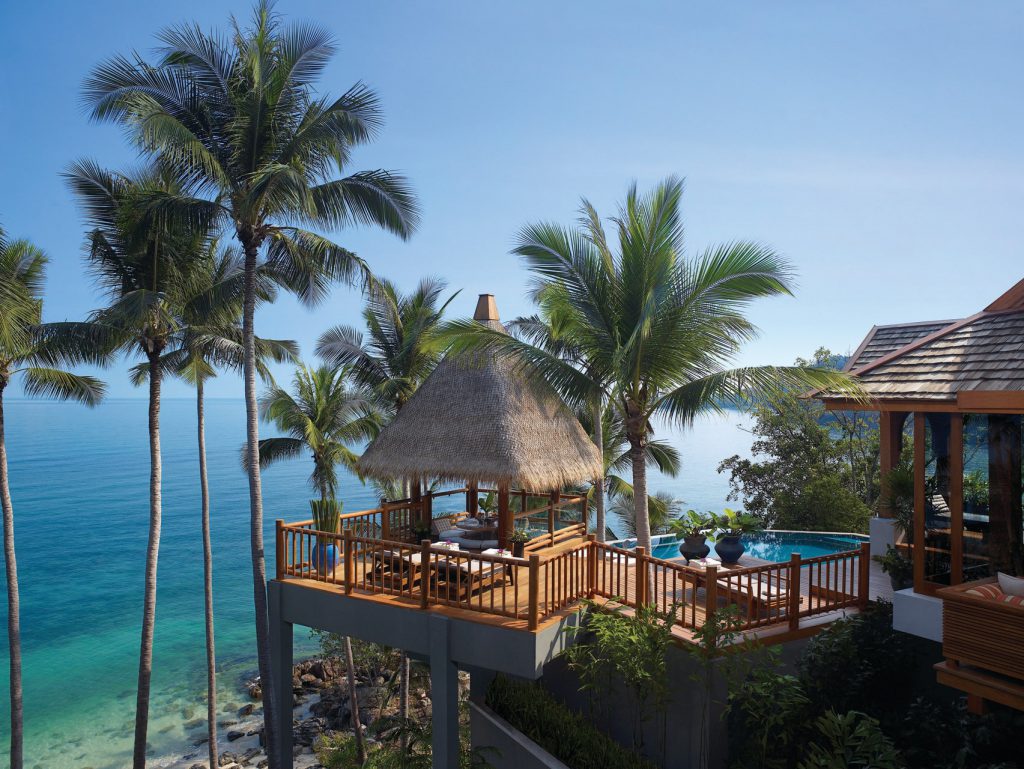 8. Villa Del Mar, Marbella Beach Club, Spain
With plush furnishings, acres of space and ostentatiously appointed surrounds, the six-bedroom Villa Del Mar is a favourite with elite guests in search of decadence in the Spanish sunshine.
At this exclusive villa, which is within the grounds of Marbella Club Hotel, Golf Resort & Spa on the Costa del Sol, you'll find hand-woven silk carpets, unique works of art, and 24-hour, 'nothing-is-too-much-trouble' service.
Outside, a stunning private beach is just steps away from the incredible pool area, which wouldn't be out of place serving an entire boutique hotel!
The unrivalled sea views can be enjoyed from virtually every floor-to-ceiling window of this exquisite property.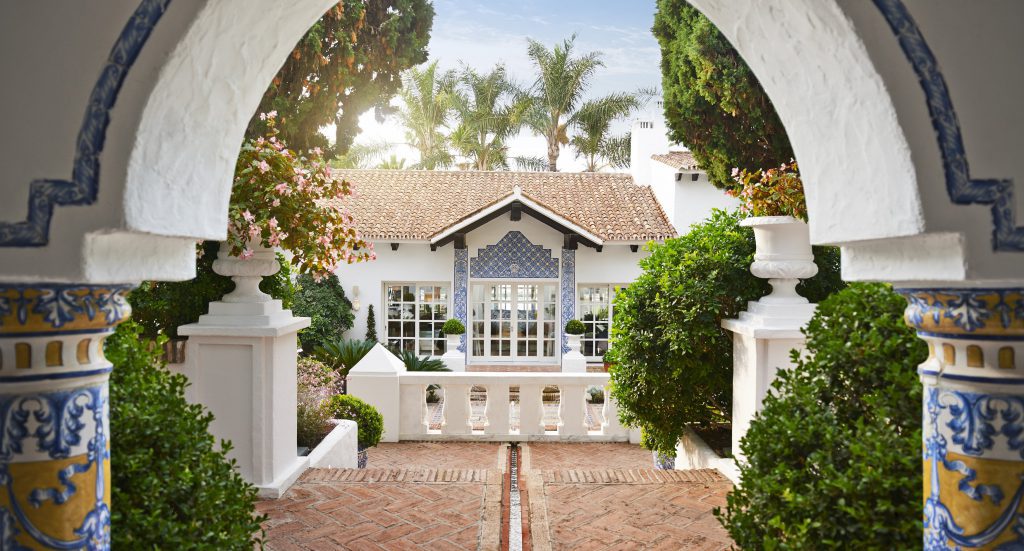 9. Jumby Bay Estate Homes
Marooned off the coast of Antigua, Jumby Bay, A Rosewood Resort is the perfect, private island, luxury escape.
With four and a half miles of pristine, white-sand shoreline, plus tropical island interiors, you'll discover that winding paths and resort bicycles are the perfect way to explore this car-free paradise.
Within the meandering Jumby Bay Estate, there is an exclusive selection of luxurious and pleasingly spacious private estate homes.
Boasting three to eight bedrooms, their own pools and ocean views, they represent the crème de la crème of holiday hideaways. Ty Molineux is one of the finest properties among these, with eight beautiful bedrooms, a private gym, huge pool and even its own croquet lawn!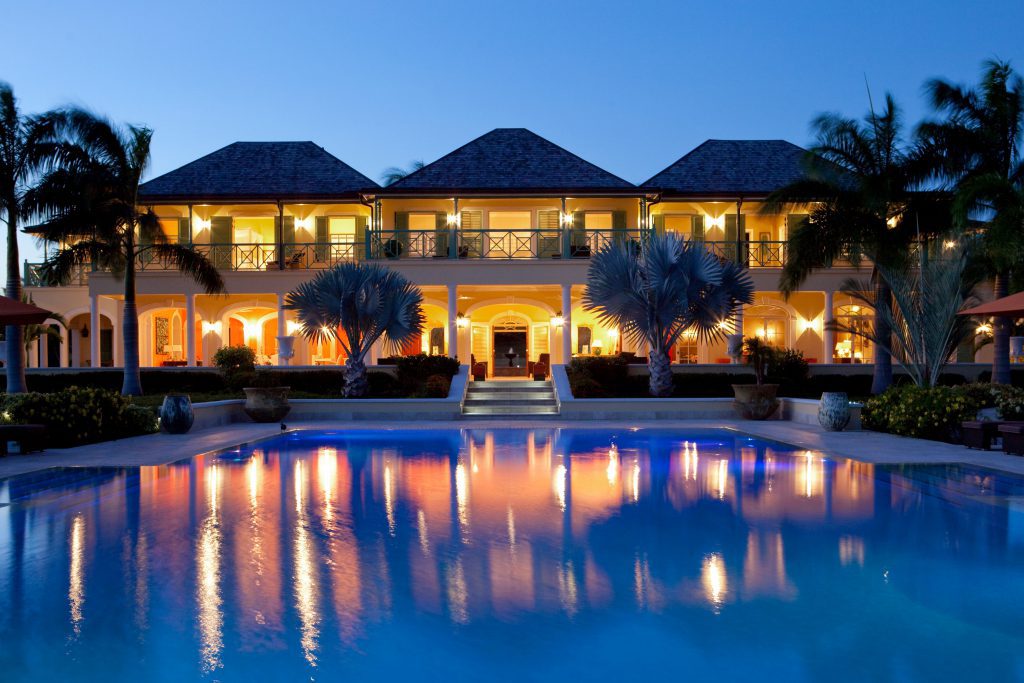 10. The Private Reserve, Gili Lankanfushi, Maldives
Private island holidays in the Maldives are a coveted luxury for many, and A-listers from all over the world flock to this archipelago. Everyone from the Beckhams to Kate Winslet holidays in this desirable destination, which has more than its fair share of exclusive properties to delight.
Marooned off the shore of small private island resort Gili Lankanfushi, The Private Reserve is only accessible by boat, and provides a complete getaway experience, with guests so well provided for that they never even have to step foot on the island itself should they not wish to.
A resident Mr or Ms Friday – named after Robinson Crusoe's loyal assistant and dear friend – is on call 24-hours a day.
The Private Reserve itself boasts many luxurious touches, such as a private couples' spa with sauna, steam room, indoor and outdoor treatment pavilions, rooftop terraces, and infinity pool.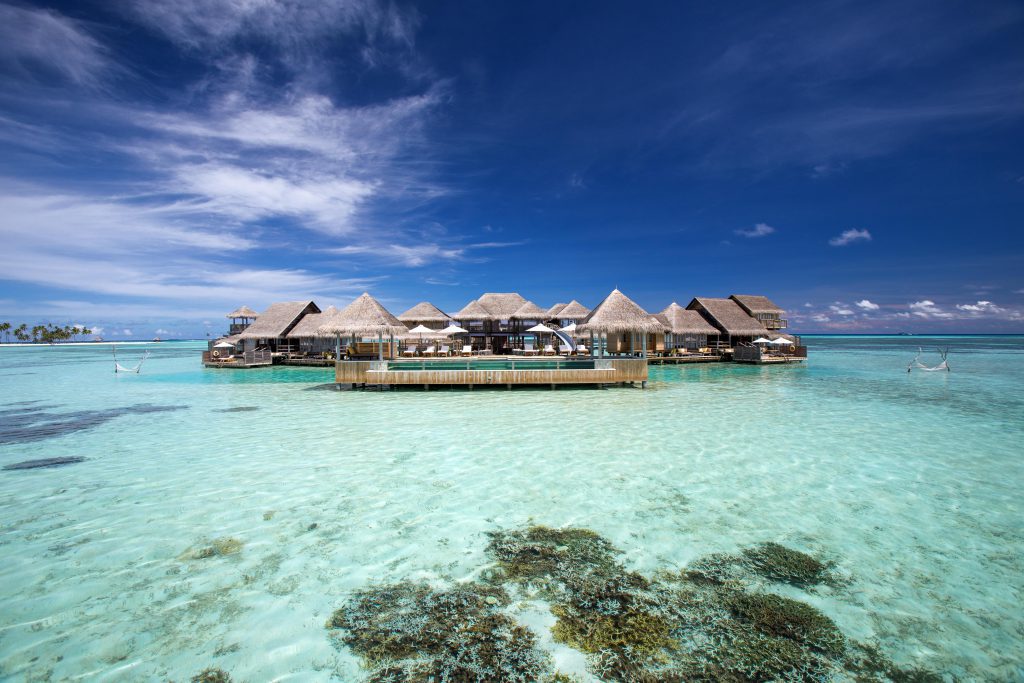 Are you feeling inspired to visit any of these millionaire-worthy destinations? Contact us to speak to one of our Travel Specialists or leave us a comment below.
Don't forget to sign up to our newsletter for more luxury travel inspiration and advice.