Oman is a jewel in the Arabian Gulf, renowned for its vibrant cultural heritage, wildly dramatic landscapes and the warm hospitality of its people.
From bustling souks and ancient forts to desert safaris and up-close wildlife encounters, Oman is one of the Arabian Peninsula's top spots with an abundance of attractions.
It's also the perfect destination for a luxury beach holiday, as the country is blessed with over 3,000km of magnificent coastline, blue waters and sensational sunshine all year round.
So, whether you choose to soak up the culture or prefer to take things a little slower on the magnificent beaches, we've highlighted some of the best things to do in Oman.
---
Natural Wonders
Due to its greatly contrasting landscapes, Oman offers a lifetime of exciting outdoor experiences in the Middle East. From the peaks of the Hajar mountain range to spectacular wadis and sand sports amongst desert dunes, Oman's varied topography and natural wonders are ripe for exploration. Our Oman's Natural Beauty itinerary takes in some of the most popular natural wonders to visit in Oman.
Hike and Swim in a Wadi
Wadi Bani Khalid, Wadi Tiwi and Wadi Shab are some of the region's most well-known wadis, but the latter is said to be the most beautiful. Fittingly translating from Arabic to the 'Gorge Between Cliffs', Wadi Shab is one of the most famous canyons in Oman and within easy reach of the capital city, Muscat.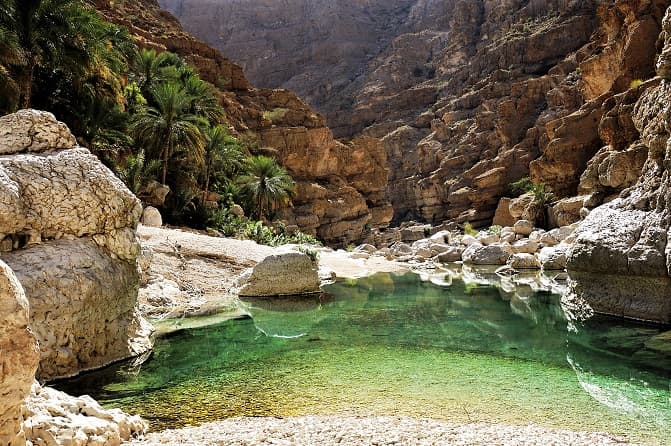 Take the five-minute boat ride to cross the mouth of the wadi to the trail head of this deep gorge to begin your hike. Along the way, you'll be rewarded with sparkling blue-green pools and an oasis of soaring palms and wildflowers. Learn about the falaj (irrigation system) and the local lifestyle, then treat yourself to a refreshing dip at the top in one of the glistening natural pools.
Enjoy a Desert Safari
One of the best things to do in Oman is visit the sprawling Wahiba Sands desert. Between October and April, the weather during the day peaks at around 23 degrees so you can explore in comfort.
Around a three-hour drive from Muscat, Wahiba Sands is a rippling copper ocean that seems to stretch forever, where sand dunes can reach impressive heights of 200m.
Spend a day negotiating its colossal sand dunes as you dune-bash in a 4×4, quad-bike and even sand-board across the desert. For a more traditional — and less-frenetic — option, admire your golden surroundings during a camel safari which is a popular activity during a luxury family holiday.
For a real desert adventure, take to the skies in one of the world's most manoeuvrable aircrafts. Soar 90m over the sand in a microlight fixed-wing craft with an expert pilot, for a pulse-racing bird's-eye view of the desert, punctuated by roaming camels.
Marvel at the Grand Canyon of Arabia
Known as the mountain of the sun, Jebel Shams is the highest mountain in Oman's Hajar range. You'll drive through the scenic foothills past ancient villages, the carpet weavers of Wadi Nakhr, and the mountain village of Misfah to reach the peak — a little over 3,000m above sea level.
At the summit, expect soul-stirring views as you look down into Wadi Nakhr, a staggering one kilometre drop. This area (sometimes referred to as Wadi Ghul) has been dubbed Oman's 'Grand Canyon', where you can embark on many hikes. Depending on your fitness level, highlights include the 'Rim Walk', the 'Abandoned Village Walk' and the 'Balcony Walk' for the true adventurer.
---
Get Close to Wildlife
Despite being 82% desert, Oman has a varied wildlife both on land and in its surrounding waters, where you can observe many fascinating animals in their natural habitat.
Watch Turtles Hatching at Ras Al Jinz
Framed by soaring cliffs and unblemished sand, the fishing village of Ras al Jinz boasts one of the most stunning stretches of coastline in the Middle East. However tempting the beach may look, swimming is strictly off limits as this is considered one of the largest and most important turtle nesting sites near the Indian Ocean.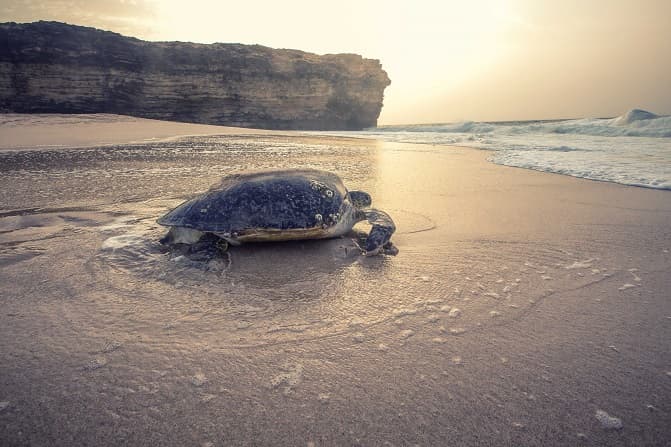 We recommend visiting the Ras Al Jinz Turtle Reserve between May and September for prime turtle-hatching season. Approximately 20,000 green, olive ridley, loggerhead, leatherback and critically endangered hawksbill turtles migrate to the beaches to dig nests and lay their eggs. Around 55 days later, you may be lucky enough to see baby turtles breaking free of their eggs and making their way to the salty sea.
Our Omani Turtles by Night tour includes a stay at the Ras Al Jinz Scientific and Visitor Centre for an in-depth study of these fascinating creatures.
At Shangri-La's Barr Al Jissah Resort and Spa, two out of the seven species of sea turtle regularly nest on their aptly named, Turtle Beach. During your stay you can get involved with the Turtle Care Project, which aims to educate guests through talks and viewings with the resident turtle ranger.
Swim with Whale sharks
Touring and snorkelling the paradisiacal Daymaniyat Islands are one of the must-do parts of any holiday in Oman.
If you've been dreaming of seeing or even swimming with whale sharks, visit the islands (which comprise an archipelago of nine small islands about 40 miles off the coast) between July to September.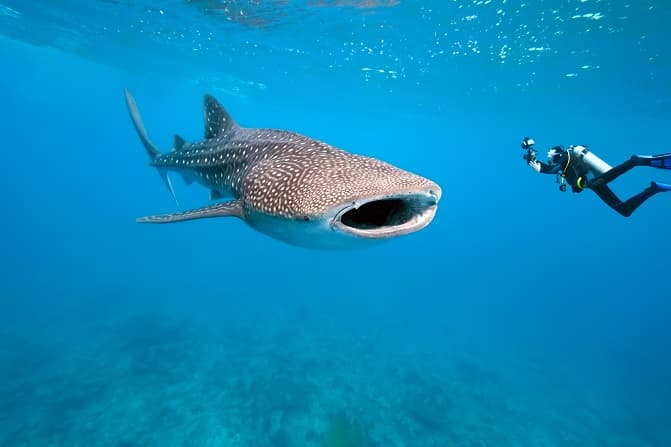 Although they can reach lengths of over 40ft, whale sharks are placid creatures who feed on the tiniest ocean critters. They regularly visit the small Daymaniyat Islands during their migration, and snorkelling in the clear waters makes for an ideal day trip to try and spot them. The islands are also popular with scuba divers, so don your oxygen tank to spend even more time with these gentle ocean giants.
Set Sail on a Dolphin Cruise
Watching dolphins in their natural habitat is one of the most rewarding and sought after travel experiences. Many of our luxury beach hotels in Oman arrange dolphin-watching trips, where you can board either a luxury yacht or traditional dhow to explore the dramatic Omani coastline.
If you're lucky, grab your camera for sightings of playful spinner dolphins frolicking near the surface, as well as majestic humpback whales. If you'd prefer to explore under the water, snorkelling and scuba diving are ideal ways to see graceful turtles, moray eels, rays and a variety of colourful fish.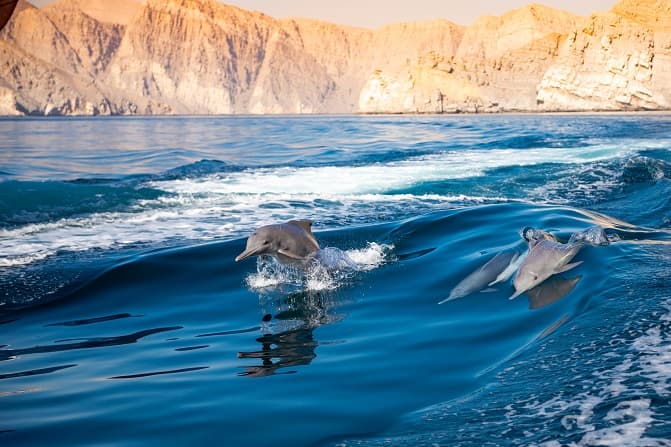 ---
Historical Attractions
Dotted with vibrant souqs and ornate places of worship including the grand Sultan Qaboos Mosque, you won't have to look far to find your perfect historical experience.
If you're interested in combining wonderful mountain landscapes with visits to historic ruins, have a look at our Mountains and Castles of Oman tour.
Be Humbled by the Sultan Qaboos Grand Mosque
The Sultan Qaboos Grand Mosque dominates Muscat's skyline and is a must-see for art and architecture fans. Crafted from beautiful sandstone, granite and marble, the mosque has five minarets and a huge central dome, adorned with extravagant artefacts.
While Sultan Qaboos is an active place of worship, regular tours are available. When you're not admiring the huge Swarovski crystal chandelier and the world's second-largest hand-woven carpet (that took no less than four years to complete), stroll through the vast courtyard colonnade and extensive manicured gardens weaved with with serene fountains.
Explore the ancient city of Nizwa
Take a spectacular drive through the mountains to the town of Nizwa, the birthplace of Islam in Oman and the country's ancient capital.
Constructed in the 17th century, Nizwa Fort is an iconic national monument and the largest fort in the Arabian Peninsula. Climb the 40m tall tower to admire the view of the Hajar Mountains that loom over the town, and visit the museum and castle housed within its walls.
If you want to experience Oman like a local, lose yourself in the markets of Nizwa Souq. It's particularly bustling during the Friday cattle auction and you can marvel at stalls bursting with Bedouin silver jewellery, Bahla pottery and hand-carved khanjar daggers. Bring along some Omani rials to pick up some of the famous spices and souvenirs.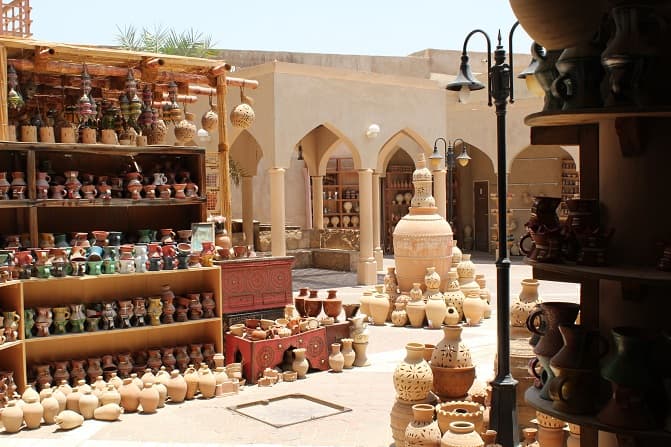 ---
Soak up the Culture
Vibrant souqs, overnight stays in a nomadic desert camp and stargazing in the Wahiba Sands; there are many ways you can immerse yourself in the fascinating culture of Oman.
Go on a Rosewater Tour in the Jabal Akhdar Mountains
Jabal Akhdar, meaning 'Green Mountain' in Arabic, is nicknamed the fruit bowl of Oman thanks to its hidden wadis, orchards and gardens where apricots, pears, pomegranates and walnuts flourish.
The scenic spot is also famous for its damask roses, which cover the mountain slopes in swathes of pink from March to mid-May. The roses harvested each year are used to make Omani rose water, a staple in many households for culinary flavouring, fragrances and healing remedies.
At Anantara Al Jabal Al Akhdar resort, travel by 4×4 to the tiered valleys full of colourful rose gardens. You'll meet local families, learn rose water recipes passed down through generations, and tour a traditional distillery using centuries' old techniques. At the end of your visit, you'll take home a fragrant reminder of the famous 'Rose Potion'.
Marvel at Celestial Formations in the Desert Sky
Alila Jabal Akhdar offers some of the clearest night-time views thanks to its mountain location 2,000m above sea level.
If you want to discover the wonders of our solar system, you'll also have the opportunity to look deep into distant galaxies during a stargazing experience. Capture amazing images of the beautiful night sky, spend time with the resident expert astrologer as you observe the moon, planets and stars through a hefty telescope, and listen to fascinating stories about the big bang, cosmic dark matter, and time travel.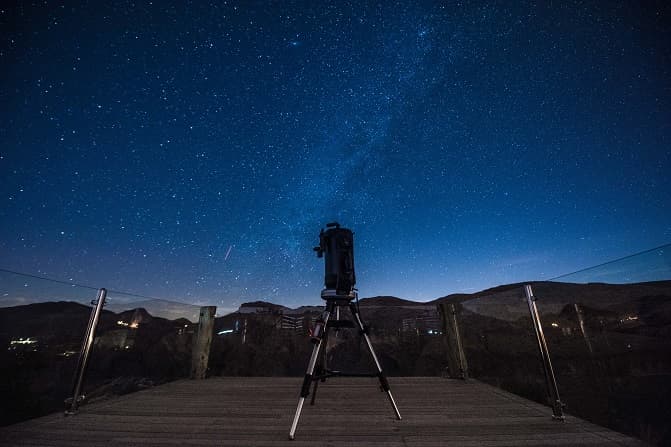 Sleep under the stars at a Bedouin camp
After spending the day dune bashing in the golden-red Wahiba Sands, revel in the noiseless beauty of the desert by night.
Desert Nights Camp offers an authentic experience and sprawls across ten-acres of silky sands within the the vast Omani desert. When you arrive, refresh yourself with cold towels and enjoy fresh Omani dates and "khawa", traditional Arabic coffee.
Feast on mezze and skewers in the flickering glow of the campfire, as an Omani Oud player and frankincense and myrrh aromas take you back in time. Then, retreat to your private Bedouin style tent with tasteful Arabian furnishings for a night under the stars.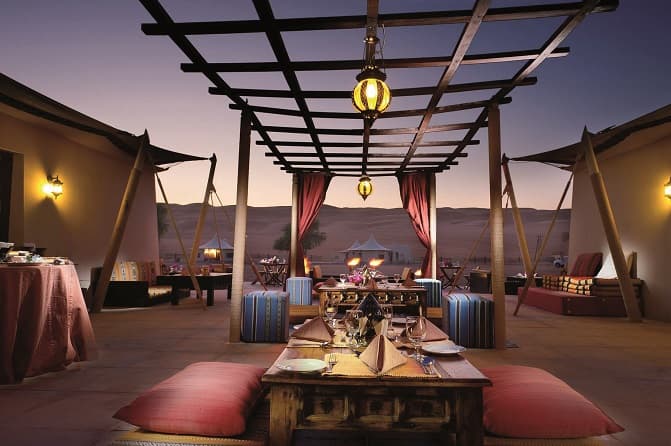 Take a Private Opera and Perfumery Tour
A relatively recent addition to Muscat, The Royal Opera House was built in 2011 and is Oman's premier arts and cultural institutions.
During a thrilling day trip, marvel at its stunning Arabesque and Italianate design, then head inside on a private guided tour. You'll learn about the amazing opera, ballet and jazz performances which have taken place over the years with world-renowned artists such as Andrea Bocelli. Continue with a private viewing of rare musical instruments, then enjoy a special moment on the opera's roof to take in panoramic views.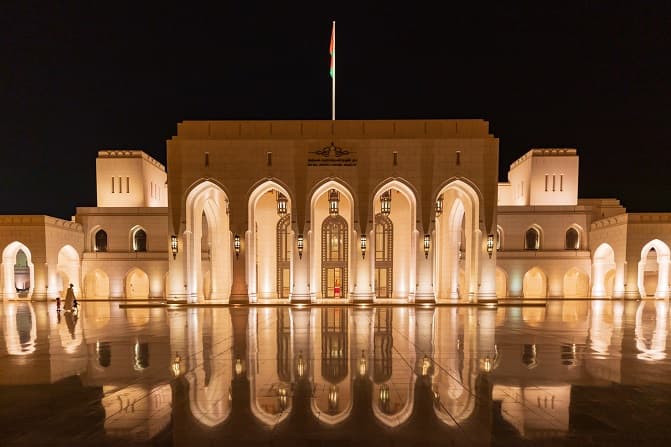 If you're a fragrance fanatic, don't miss a guided tour of the Amouage Factory and Visitors' Centre. Produced from 120 ingredients including frankincense, musk and oud, explore the world's most expensive perfumery and pick up the ultimate Arabian gifts for friends and family.
---
Best Beaches & Resorts
Perched on the the Arabian peninsula where the desert meets the ocean – Oman is a beach-lovers dream. So, if you have an irresistible urge to laze on sun-warmed sands at any time of year, consider these waterfront wonders for your next luxury beach holiday.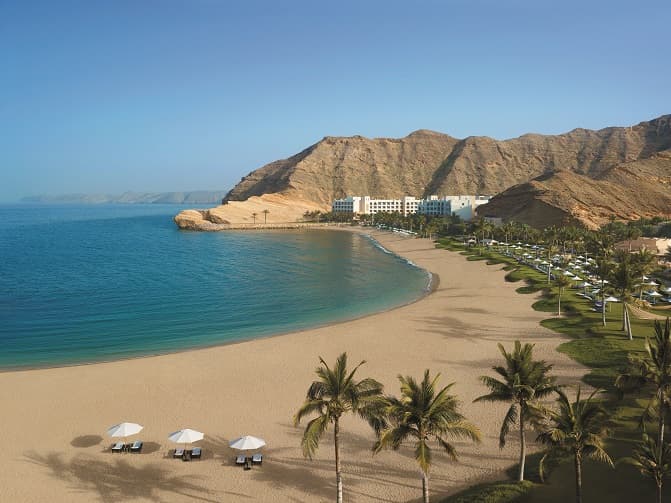 Kempinski Hotel Muscat
Set on six kilometres of stunning coastline, Kempinski Hotel Muscat is an unparalleled luxury beach resort. The pristine sandy beach with its captivating shoreline invites you to get close to nature and take a dip in the balmy Arabian Sea along the Gulf of Oman.
Al Bustan Palace, A Ritz-Carlton Hotel
Featuring one of the longest private beaches in the Sultanate, there's plenty of places to unwind in the sun at Al Bustan Palace, A Ritz-Carlton Hotel. If you're feeling adventurous, take to the water in a kayak or paddle board, or enjoy a refreshing dip in one of the six sparkling swimming pools.
The Chedi Muscat
Occupying a prime beachfront location, The Chedi Muscat was one of the first stylish resorts on this stretch of the Gulf. There's the pristine beaches to relax on, as well as three pools including the region's longest — a 103m-long spectacle and the resort's centrepiece, lined by palms and sumptuous double day beds.
Six Senses Zighy Bay
Nestled in Oman's dramatic Musandam Peninsula, the village-inspired Six Senses Zighy Bay is fronted by a one-mile stretch of pristine, white sandy beach lapped by vibrant emerald waters. Relax on the powder-soft sands or a dip in the two swimming pools — the 35m salt water pool is the only one of it's kind in the Gulf.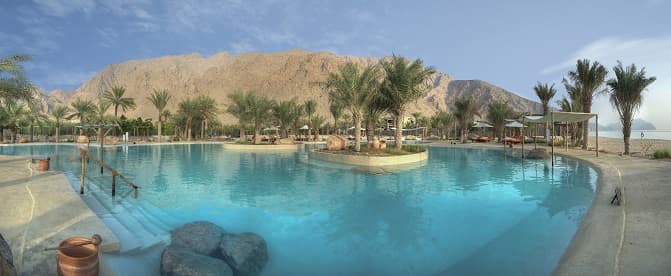 We have a large choice of luxury hotels and resorts in Oman in beach, desert and mountain locations. If you're looking for a tailor-made tour combining stays in a luxury beach resort and desert camp, Oman Beach and Desert offers the best of both worlds.
How to get to Oman
There are regular flights to this popular winter sun destination and the average direct flight time from the UK to Muscat International airport is 7 hours 5 minutes.
---
Plan your luxury escape to Oman
Are you inspired by some of the amazing things to do in Oman?
Contact our Travel Specialists for some more expert tips. With their expertise, they'll be able to plan your bespoke holiday to Oman to perfection for you.
More blogs you may enjoy: