August has long since been one of the most popular months of the year to jet off on holiday.
So, why not swap the cloudy skies of the UK for the shining shores of the world that are calling your name? Take the leap and read on to find the best August holiday destinations that are guaranteed to quench your travel thirst this August.
Spain
Croatia
Italy
Greece
Cyprus
Thailand
Borneo
Barbados
St Barths
North America
South America
---
Our Top European Summer Destinations for August
Autumn might be round the corner, but a trip to a sun-soaked spot in Europe is even closer. Keep your cardigan in your wardrobe a little longer and take a short flight to keep the UK drizzle at bay.
You can experience the calming atmosphere of a quaint village, the serenity of blue waves meeting white sands with a cocktail in-hand, or the vibrancy of a cosmopolitan city in the heart of an iconic destination.
---
Tenerife, Spain 28°
This island is arguably the best of the Canary Islands to visit in August. The heat during this month in Tenerife is at its hottest, and this paired with the stunning views of natural landscapes and pristine sandy coves, can make for an extraordinary summer holiday.
This island might be small, but the impression it leaves on visitors is mighty. Find your inner explorer and take an exhilarating trip up Mount Teide — the world's third-biggest volcano, which sits as a natural barrier between the North and South.
Sprawl out on one of Tenerife's beaches and bask in the impressive August temperatures. If you're a night owl, enjoy balmy evenings with a pleasant breeze that caresses you, as you enjoy a glass of the island's finest wine or a signature cocktail.
---
Mallorca, Spain 30°
Experience the crystal blue waters, secret caves, and beautiful coastlines of Mallorca this August — its driest and hottest month. Beach lovers migrate to this stunning island to blend exciting beach activities and sports, with the island's irresistible invitation to recline and admire the idyllic landscapes it's famed for.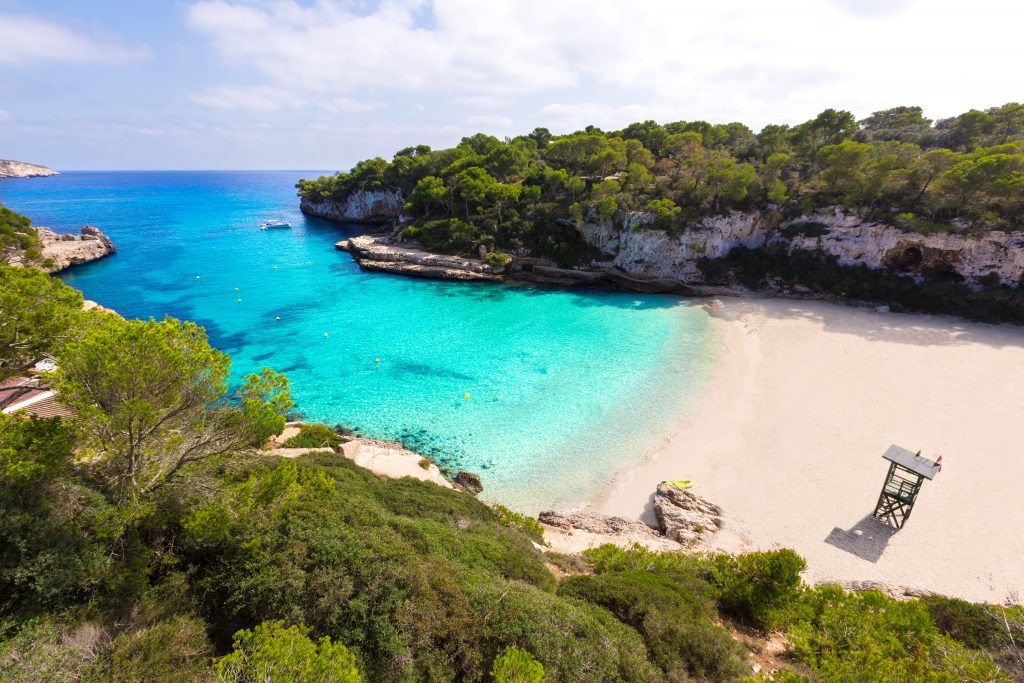 Immerse yourself in traditional Mallorcan culture with a visit to the mountainous region and Old Town of Pollenca, hidden between the rugged mountains and sandy beach coves. Its natural charm and warm welcome from the locals make this area a place you won't want to miss out on your journey.
If you're looking for a low-key getaway to the Balearic Islands, Mallorca also offers some unspoilt locations to visit for your relaxing getaway.
---
Croatia 31°
This little gem of Europe is hidden along the coast of Croatia, a perfect spot for your travels to explore, with only a short bus into Dubrovnik, the famous Old Town. This is a corner of the world you wouldn't want to miss, with shining shores and landscapes like no other, complete with adventure and rich in history.
Renowned for its outdoor pursuits, Croatia is filled with adventurous activities that you can fill your days with while at the beach. Take a scuba swim to explore the best of the world under the water, and sail through the gorgeous sea on a kayak! Mountain biking is unmissable for the explorers looking to see the natural wonders of the stunning country at a faster pace.
The stunning unspoilt coastline is perfect for your days relaxing under the summer sun overlooking the beautiful coastline. Stroll through the ancient village for your days getting to know their culture through food sampling and shopping.
---
Venice, Italy 27°
Take your August break to a harbour city that's brimming with unique style, captivating beauty, and sites that wouldn't look out of place in a fairy tale. In Venice, you can transport yourself back in time as you walk through the historic buildings that exist to the keep Italy's ancient history alive amongst its streets.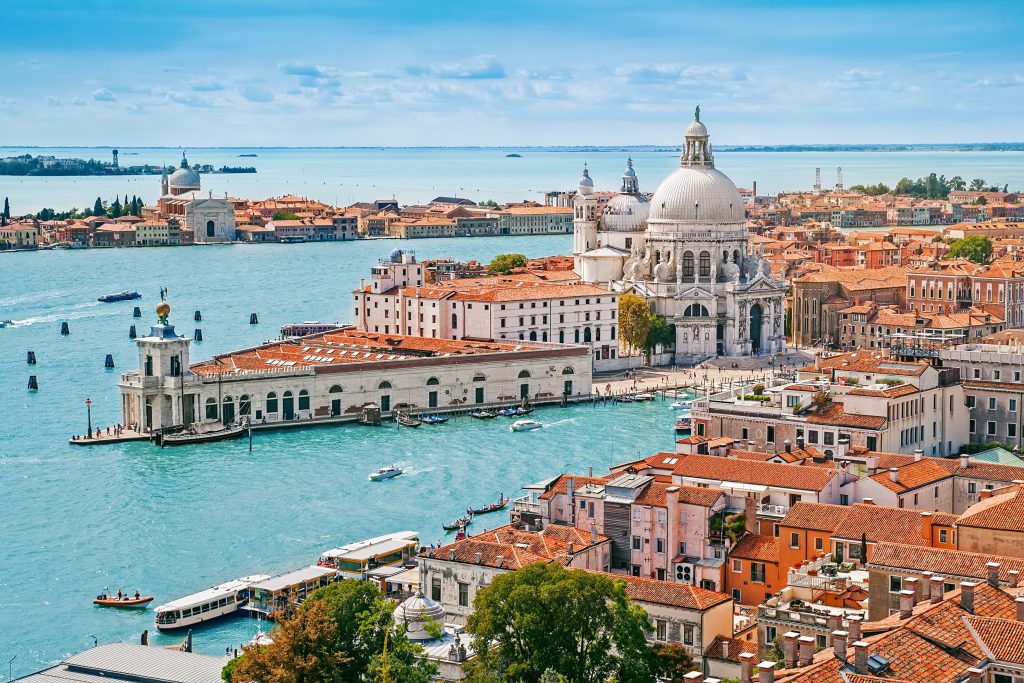 The classic artistic style of Venice is what makes it one of Italy's most popular destinations, with hints of Renaissance architecture in the Rialto Bridge, and The Basilica oozing with Romanesque-Byzantine splendour.
August is one of Italy's warmest months — great for capturing picturesque views of the country's most beloved architecture bathed in sunlight. Take a ride on a gondola between the stunning buildings to marvel at the city's beauty from the Venetian Riviera.
---
Santorini, Greece 30°
Santorini is the embodiment of scenic beauty. There is no denying that you'll immediately fall in love with this stunning island — one of Greece's most popular destinations.
Santorini offers some of the world's most incredible attractions that you can enjoy all-year round. However, during the prime time of August is when you'll experience the best of the island.
With extreme low chances of rain, you can drink in the warm summer sun while you indulge in views of the island's romantic beaches and stroll around its white-painted villages that are perfectly perched on the cliffs.
You can feast on Santorini's local cuisine at the beach restaurants and bars, and end your evening with a walk along the pebbly beaches, overlooking the island's iconic red cliff landscapes.
---
Athens, Greece 32°
Travel to Athens — one of the world's oldest cities — this August, when the weather is at its hottest and the crowds have dispersed dramatically. This incredible spec of ancient history is an experience that you won't find anywhere else in the world.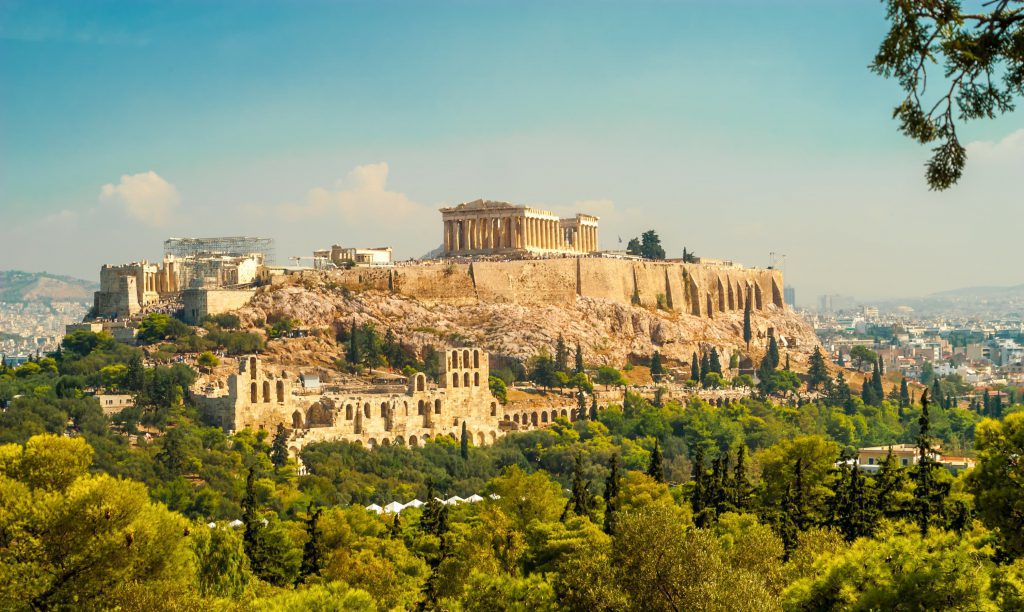 Enriched with ancient culture, this location is perfect for history buffs itching to explore something new!
Climb high to visit the spectacular historical site of the Acropolis, sitting at the top of Athen's hill for over seven thousand years. Or, satisfy your tastebuds with local cuisine in the markets of Athinas St., packed with everything perfect for a Greek antipasti plate.
---
Cyprus 34°
Cyprus in August is the best time of year for spotting the marine creatures of the Mediterranean Sea. Get your snorkelling gear on and set your eyes on the beautiful seabed to be in with a chance of spotting the docile Loggerhead Turtles.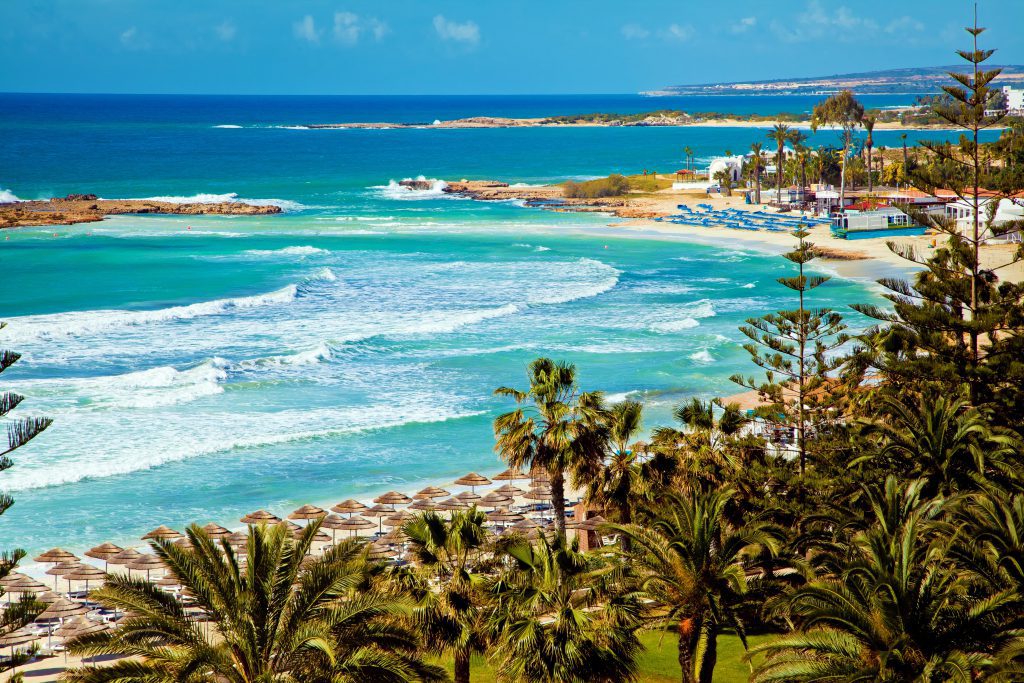 Take your adventuring a step further and join a group of curious mariners like yourself to swim amongst the schools of tropical fish and colourful corals.
What's more, this idyllic island has so much more to offer than stunning white-sand beaches and calm pristine waters. Its cosmopolitan cities are buzzing with the enchanting culture of Cyprus, and are filled with places to treat yourself with delicious food and drinks.
---
Our top Asian summer destinations
If a long-haul trip is what you're looking for this August, Asia might be the place for you! Asia is crammed with brilliant wildlife and tranquil shores — all coated in the delightful summer sunshine.
---
Koh Samui, Thailand 30°
For travellers searching for unspoilt lands to revel in the world's natural beauty, Thailand's Koh Samui is a magnificent destination for the ultimate in summer-style bliss. Your welcome from the locals will make you feel at home as soon as you arrive, and help you immerse yourself in the island's laidback rhythms.
The island's golden sands are perfect place for sinking your feet into this August. For beach lovers, Koh Samui will certainly satisfy your yearning for the soft sounds of waves and the feeling of sun rays soaking into your pores.
Seek out popular destinations on the island by visiting Chaweng, Lamai, and Maenam, all of which offer superb peace and tranquillity, as well as an excellent variety of restaurants and bars.
And don't forget about excursions! Take speedboat tours and visit beautiful coral gardens, or embark on an elephant trekking adventure if you're an animal lover.
---
Borneo, Asia 28°
August is the peak season in Borneo, offering perfect conditions for wildlife safaris, trekking through tropical jungles, and wandering through the lush rainforest.
The region's unspoilt rainforest is like no other — a place where you can spot wild orangutans swinging through the canopy, elephants walking lazily through the trees, and Proboscis monkeys perched on branches.
But the greenery isn't all Borneo has to offer. Stunning beaches envelop this tropical oasis, where you might be lucky enough see sea turtles hatching on its golden sands, before making their way down to the pristine blue waters.
---
Our top Caribbean summer destinations
August is a great time to visit the Caribbean as it's technically low season but you can enjoy the warmth of both the people and the destination while benefiting from some great rates and offers, and with the opportunity to explore those exclusive islands and hotels that are fully booked year on year in peak season.
This beautiful region is home to some of the world's best beaches and each island opens its arms to visitors and shares its own unique culture. In the Caribbean you can do just about anything, from reconnecting with your other half in an idyllic island hideaway to enjoying an activity-filled family adventure for all ages.
---
Barbados, Caribbean 31°
While you're imagining an island of swaying palm trees on pure white sandy beaches and gorgeous sun beams twinkling on brilliant blue waters, you can bring that image to life with just an nine hour flight away to the sunny island of Barbados.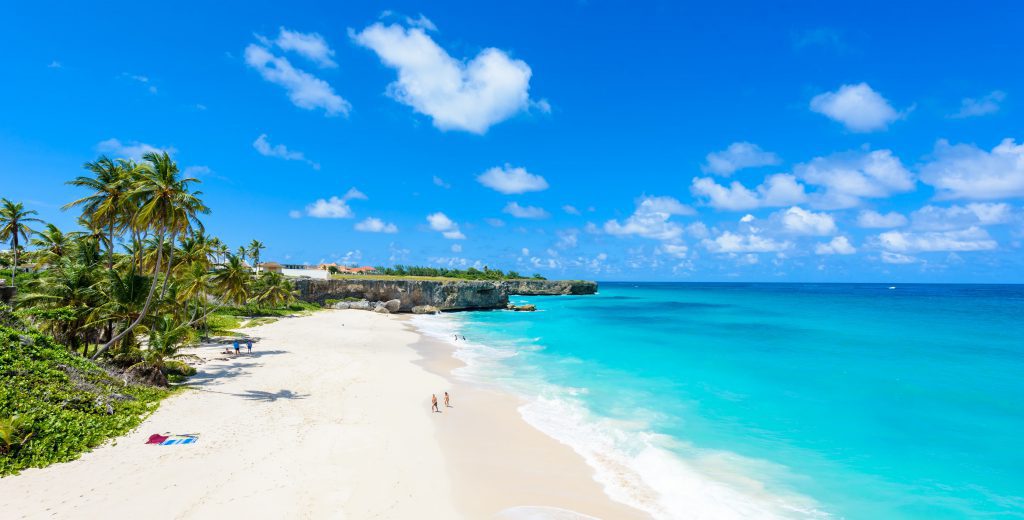 Take the plunge this summer and treat yourself to a getaway to experience this exotic gem fit for all kinds of travellers from couples searching for a romantic oasis to family holiday perfect to spend time together.
You can spend your time on this island getting to know their culture with dinner reservations on the beach, or by timing your visit well you can attend the Bajan Crop Festival for street celebrations to mark the end of the sugar cane harvest. Immerse yourself in the dancing, vibrant colours of the costumes, and spectacular traditional music and art of Barbados.
For less partying and more relaxing, seek seclusion in the beautiful beach coves of the island and catch the sunny rays while you listen to the swish of the ocean.
---
St Barths, Caribbean 31°
On this stunning summer island, you will be greeted with a splendid blend of European sophistication and striking natural Caribbean beauty.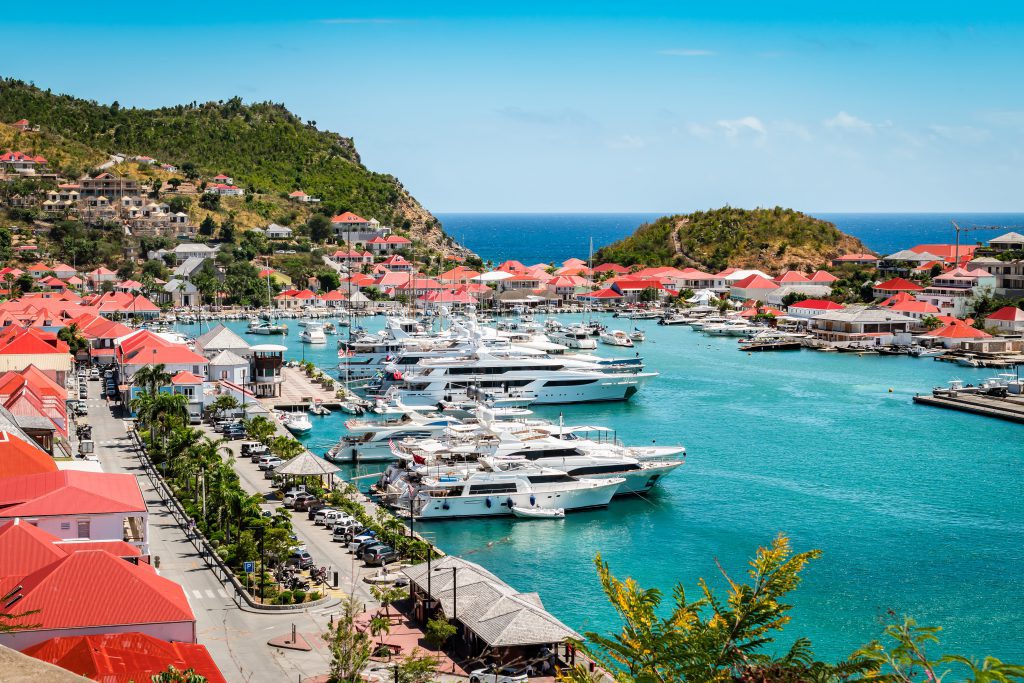 Fall in love with the enchanting coast of St Barths, surrounded by green hills offering picturesque views, as you soak up the August sun. For a more thrilling day at the beach, take advantage of the calm waters and enjoy thrilling water sports at one of its beaches.
Don't forget to visit the islands harbour town, Gustavia, for a Caribbean cultural experience with gourmet restaurants, exclusive boutiques, and pavement cafes.
---
Our top North American summer destinations
Peek at some of our best August destinations in North America for a taste of city life and beach bliss all at once.
If you want to delve into the culture of the south, you can take a tour of the best cities and rural regions for a cowboy-style summer adventure.
---
San Francisco, California 27°
Famed for its iconic Golden Gate Bridge and magical skyline, visit one of the world's most visited cities to experience its cosmopolitan life met with beach vibes.
The weather is warm during August in San Francisco — perfect for admiring the incredible views of the gate from the beach, or taking a stroll through its various quirky neighbourhoods.
As a great starting point for exploring, vacate to Lake Tahoe, Yosemite National Park, or Las Vegas to add that extra bit of excitement to your holiday!
---
Arizona, USA 39°
For those seeking a holiday of Southern comfort, put on your cowboy hat and take a tour of some of the best locations that Arizona has to offer.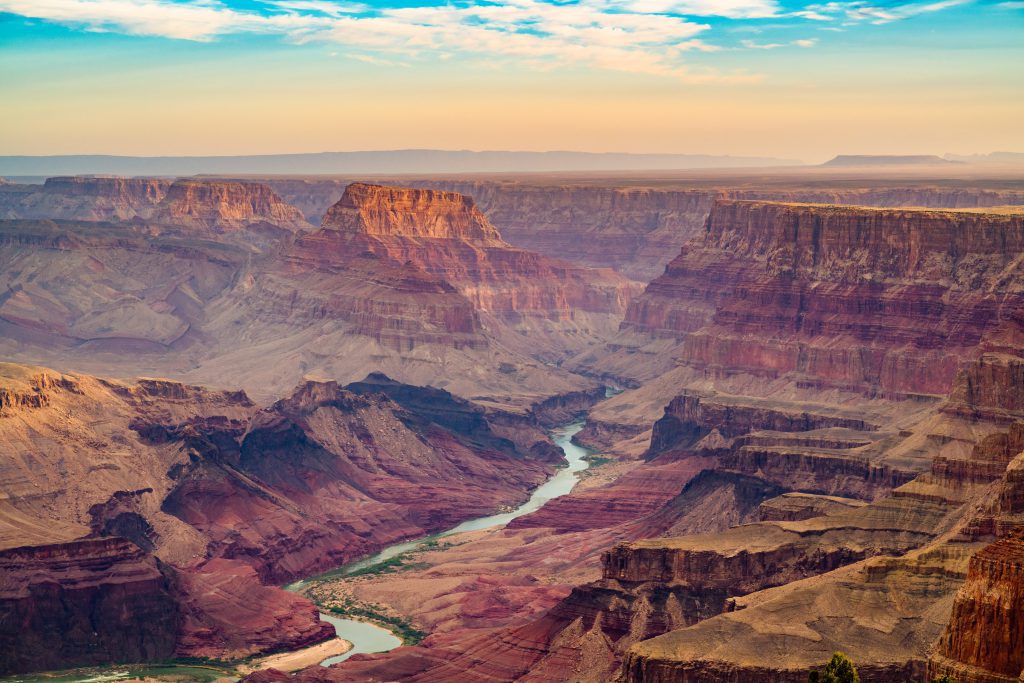 Arizona is perfect for a road trip adventure, where you can spend one day chasing the sunshine through the dessert, and the next in a dazzling new city.
Don't forget about the world-famous National Park and the jewel of Arizona: the Grand Canyon. Whether you hike up, take the train, or fly, you will have a wonderful time wandering around one of the greatest natural wonders of the world.
---
Our top South American summer destinations
South America is painted in scenic beauty. With such a variety of things to do, there's something for everyone on this beautiful continent.
With fantastic coastlines, extraordinary wildlife, and natural beauty at every corner, you'll be welcomed with extraordinary experiences, fantastic landscapes, and exciting famous locations!
---
Machu Picchu, Peru 28°
August is right at the peak of the dry season in Peru, so take this chance to do the famous hike up Machu Picchu for a truly breathtaking experience.
Take residence at the hilt of the mountain in a sanctuary lodge for incredible views all day long. Or, you can take a tour spread across a week or two and visit some of the highlights of the mountain and surrounding attractions, like the vibrant city of Lima, Iguazu Falls, and Sacred Valley.
This destination is perfect for something different to explore! One for the hikers and nature lovers, take this bucket-list-worthy trip to satisfy your wanderlust.
---
Galapagos, South America 23°
If you chose The Galapagos for your tropical getaway this August, you have chosen the best time to go. This is the high season for the islands, with temperatures perfect for families to visit.
Take your family to this wildlife and marine life haven to spot some of the world's most incredible sea creatures — including those you won't find anywhere else on Earth. You might even see the giant Galapagos tortoises wandering along the islands' beautiful white sand beaches!
With daily excursions to other islands, you can experience the diverse culture of coastal streets in Ecuador and Guayaquil, or visit San Cristobal for an incredible greeting by herds of seals lazing across its pristine beaches.
These islands are home to some of the world's most wonderful creatures, so don't miss out on an opportunity to escape to the Galapagos this August!
---
Start planning your August holiday today
Found a destination or two that speaks to you? Get in touch with one of our Travel Specialists today to start planning your journey!
We can help tailor your holiday to you. Simply tell us about your dream escape, and we'll create your perfect getaway in paradise.