The Covid-19 pandemic has brought an untold amount of stress and worry for everybody. That's why, when it's all over (and it will be) a wellness retreat might just be the thing for you to do.
What better way to reboot your mind and rejuvenate your body than taking some time out on holiday?
Discover our top 10 below.
---
What is a wellness holiday?
A wellness holiday could be any type of break or trip thas physical and mental wellbeing as the reason for going away. This could be a yoga retreat, a spa weekend or even a fitness bootcamp.
---
1. BodyHoliday, St Lucia
You know you're in the right place for a wellness holiday when the resort's mantra is "give us your body for a week and we'll give you back your mind."
How does BodyHoliday do it? Well, complimentary spa treatments are just the start. Couple this with healthy food and drink (no all-you-can-eat buffets here) and you can start to see why BodyHoliday is considered one of the premier places for wellbeing on a holiday.
As well as all that, there are a multitude of yoga, reiki and ayurvedic treatments and practices to reset the mind.
It's not just the mind that is taken care of at BodyHoliday, however. The BodyScience Clinic team will tailor a personalised programme, including diet and fitness, to match your goal. There are regular cardio, dance and aerobics classes as well as tennis courts and world-class facilities.
BodyHoliday is an ideal place to seek wellness for your next break away.
2. SHA Wellness Clinic, Spain
This resort in Alicante is the leader in wellness holidays in Europe. The innovative SHA method matches your wellness goals with the perfect expert health programme that is completely result orientated.
As well as exercises and a bespoke fitness programme, your nutrition is also taken care of (pressed organic kale, anyone?). The team make sure that you're putting the right stuff in to get the maximum out from your time at the SHA Wellness Clinic.
There are a variety of professionals on hand to provide you with a range of relaxation techniques including:
acupuncture
shiatsu
reflexology
moxibustion
yoga
massage
meditation
These, plus many other approaches, combine with a bespoke fitness and nutrition plan that will help you to rebalance your body and mind.
3. Chiva Som International Health Resort, Thailand
Nestled by a long stretch of sandy beach overlooking the Gulf of Thailand, this is a premier resort with a whole host of wellness opportunities.
The first positive about this health hotel is the accommodation, which perfectly accentuates the beautiful surroundings. Beachfront Suites invite the soothing sounds of the sea, while Thai Pavilion Suites are surrounded by natural tropical greenery for a more natural experience.
So, how about holistic experiences and programmes to promote your wellbeing? As part of your stay at The Chiva-Som International Health Resort, you'll receive a complimentary treatment for each night of your stay. So, you could be indulging in an invigorating Thai Massage without adding any costs to your holiday. To add to this, there are a plethora of daily activities including yoga and breathing exercises perfect for focusing on you.
If you have a specific goal in mind, the resort offers specific retreats and weeks designed around common ailments including:
detoxing
destressing
chronic injuries
weight-loss
insomnia
backpain
Whilst the natural views are obviously a big draw, the totality of immersive wellness opportunities here mean you'll arrive home completely revitalised.
4. Landaa Giraavaru, Maldives
The Maldives already evokes a complete sense of relaxation with images of crystal clear blue waters and cloudless skies. At Lanndaa Giraavaru, this sense of heaven is taken even further. This Four Seasons resort has a three-acre Spa & Ayurvedic Retreat offering ayurvedic treatments, anti-gravity yoga, mediations and serene chakra blessings.
If fitness forms part of your holiday wish-list visit the on-site boot-camp, where professional trainers will put you through your paces.
Given its island location, it should come as no surprise that there's excellent scuba diving here for exploring the underwater world.
There is even a Turtle Rehabilitation centre, proving that the approach to wellness here really is all-encompassing.
This island paradise is an excellent place to get away from it all and allow yourself to be pampered.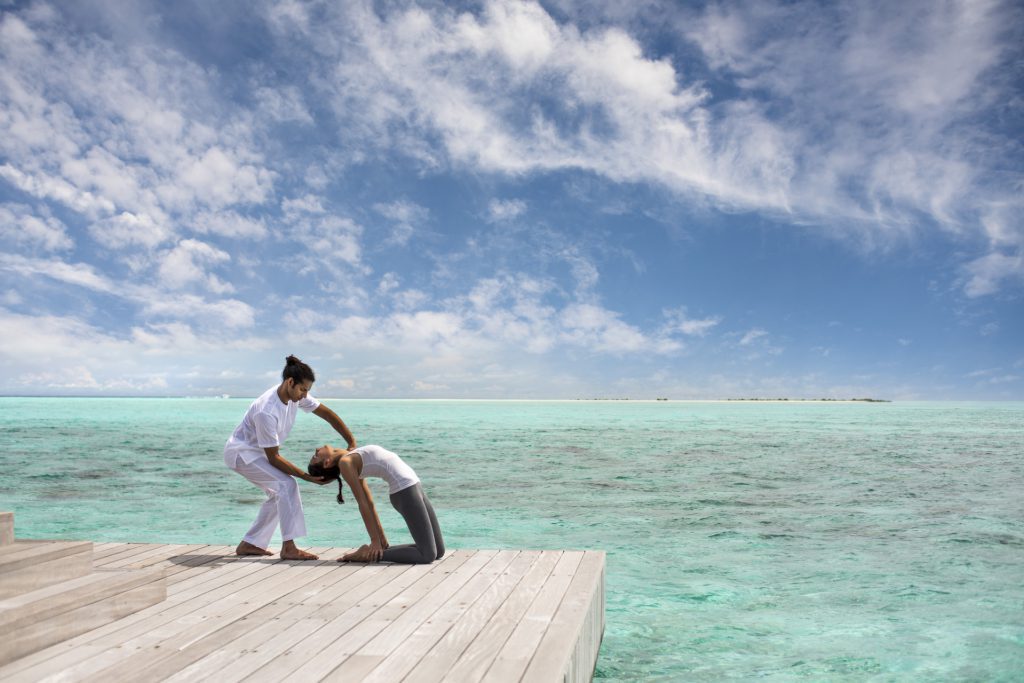 5. Bushmans Kloof Wellness Retreat, South Africa
If you seek wellness through getting closer to nature, then maybe this retreat is for you.
Set amongst the UNESCO World Heritage Site of the Cape Floral Kingdom, whereever you look at this resort you'll have your breath taken away by the majestic beauty.
Here you can enjoy hiking, swimming, cycling, rock climbing, canoeing and fishing. This area is also free of predators and malaria so you can unwind in nature without having to keep one eye on your surroundings.
To add to the sense of wellbeing here, Bushmans Kloof also houses a remarkable spa. Utilising traditional healing approaches, the spa was recently awarded the Best Spa in Africa & Indian Ocean at the Global Spa & Wellness Awards.
6. Marry Oneself Journey at Rosewood Mayakoba, Mexico
The Rosewood Mayakoba is already synonymous with luxury and wellness.
But the resort team has gone one step further with the Marry Oneself Journey. Working one-on-one with a shaman over four days, you'll immerse yourself in a series of experiences and practices to overcome any challenges you face in everyday life.
Once your course is complete, a shaman-led ceremony will finalise this chapter in your life and will ensure you are ready to face the next one as the best version of yourself.
7. Grantley Hall, UK
If you are looking for a bit of 'me time' closer to home, you can't go wrong with a stay at Grantley Hall.
This luxury Yorkshire retreat is resplendent in every aspect… not least the incredible spa and wellness centre.
Here the Three Graces spa transports you to Grecian luxury with white columns and soft ambient lighting.
The wellness area has everything you'd expect from a gym. However, there are a few additions that will enhance your experience, including:
a 3D body scanner,
an underwater treadmill
an altitude training room
an EMS suit that makes your workout more effective by sending electric pulses through your body
Moreover, the quintessential English country gardens are ideal for strolling through relaxing in before or after your spa treatment.
8. Six Senses Kaplankaya, Turkey
Just north of the popular holiday destination of Bodrum lies Six Senses Kaplankaya.
There is already so much to love about this resort, but the state-of-the-art Hammams (Turkish baths) really allow you to cleanse both your body and your mind.
Other facilities here include a massage parlour and hydrotherapy pool. Coupled with the expert nutritionists, meditation specialists and fitness gurus on the team here, a stay at Six Senses Kaplankaya may well be just the wellness break you are looking for.
9. GocheGanas in Namibia
A wellness holiday isn't necessarily the first thing you think of when you dream about a trip to Namibia.
However, the iconic scenery means it's impossible not to relax, surrounded by world-class natural beauty. GocheGanas lodge, settled amongst a 6,000-acre nature reserve, merely accentuates this by providing game drives, mountain biking and bush walks.
Moreover, Gocheganas also has a state-of-the-art heated pool, a cave sauna and a team of masseurs ready to unknot those tired muscles.
10. Sanctuary at Bay of Islands
Similarly to GocheGanas, the Sanctuary at Bay of Islands is another retreat that places nature at the heart of everything.
Set on the North Island of New Zealand, your day could consist of:
a wine tour along the Northland wine trail
a boat trip out to converse with dolphins and orcas
yoga set amongst the surrounding rolling hills
a massage on the deck of your suite
What's more, with only four suites available you can ensure that the only thing to interrupt your meditation will be the nature that you came to see.
---
So there you have it. Whether you want a totally immersive experience or just a morning yoga to add to the incredible landscapes, there are so many opportunities to have a holiday focused on your wellbeing – why not contact us to start planning yours?
There are so many stresses and strains right now that maybe 2021 should usher in wellness as well as topping up your tan to your holiday wishlist.
Wellbeing Right Now
Just because our minds are turning to the next holiday after the Coronavirus pandemic has lifted, it's still really important to look after your mental health right now. Take time each day to reset and rebalance.