Showcasing the sparkling Douro River, distinctive sloped vineyards and emerald mountains speckled with whitewashed 18th-century quintas, the Douro Valley is an outstandingly beautiful region.
It's a surprisingly silent place too, aside from the bustling wine harvest during the autumn when the flame-coloured hills come alive with the ancient ritual of hand-picking and grape-stomping.
Visit this well-deserved epicurean paradise for immersive experiences in Portuguese viniculture, excellent local produce, spectacular scenery and abundant outdoor adventure.
---
What is the Douro Valley?
Located in northern Portugal, the beautiful Douro Valley covers some 250,000 hectares, and is one of the oldest demarcated wine regions in the world (since 1756). The Douro 'vinhateiro' wine growing area has been a designated UNESCO World Heritage Site since 2001 and is set around the River Douro, which rises in Spain and lazily flows across northern Portugal to the city of Oporto, where it meets the Atlantic Ocean.
Port wine is the cultural treasure of the Douro Valley, though the region also has a growing reputation for excellent red and white wine. There are so many highlights in the area that it's worth spending a good few days here for some in-depth exploration.
Here's why the Douro Valley should be on your travel bucket list…
---
Top Wine Experiences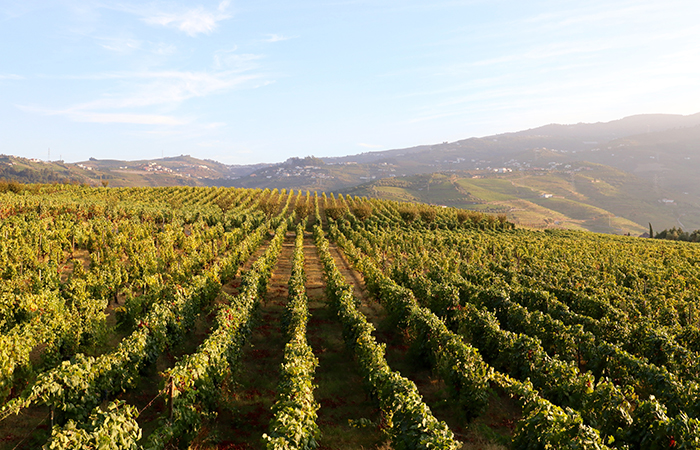 One of the best ways to immerse yourself in the Douro Valley region is by learning about the region's primary industry which, in many families, has filtered down through generations.
From vintage tawny ports to light-bodied whites (Douro Branco) and full-bodied red wines (Tinto Douro), the wines across the region are sensational and there's plenty of choice depending on your palette. Let us know which tipple you prefer and we will pair you up with the perfect tour.
Visit the famous quintas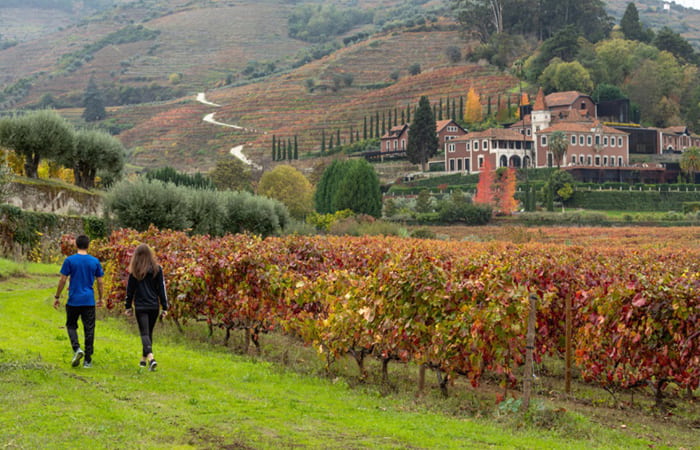 For grape-to-glass gratification, a journey to the Douro wouldn't be complete without visiting one of the wine estates, also known as 'quintas'. These wine cellars offer a glimpse into the region's soul, with tours, tastings and traditional home-cooked meals. There are over 200 quintas in the valley, so we've narrowed them down to our favourites.
Sprinkled around 1,400 acres, Quinta de la Rosa is one of Douro's most famous estates thanks to the privileged views and river-facing location. Delve into the winery and traditional port cellar and learn how they oversee the entire production process in-house (most port houses make their wine in the Douro and then store it in in Porto).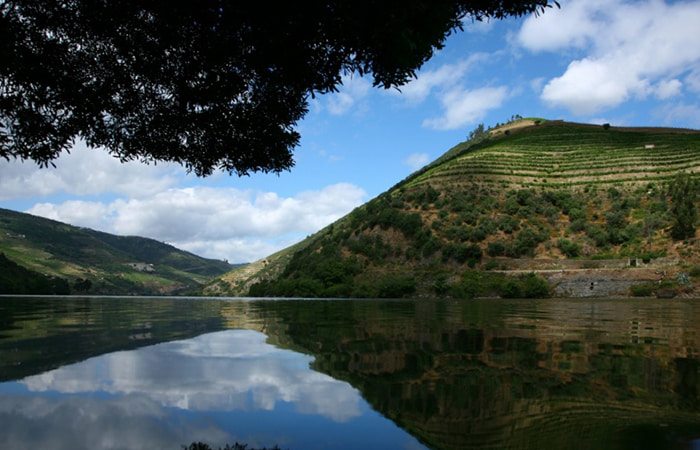 If you're staying at Six Senses Douro Valley, Quinta do Mourão sits next door and makes for a fascinating visit. Get to know the best Port and Douro wines, and explore the cool, dark cellars which protect 100-year-old vintages in ancient port barrels.
Quinta da Pacheca in Lamego is one of the Douro's oldest wineries, and one of the first properties to bottle wine under its own label. Learn all about winemaking operations for the wonderful whites, reds, rosés or ports that you'll no doubt be enjoying in the tasting room later on.
Go grape stomping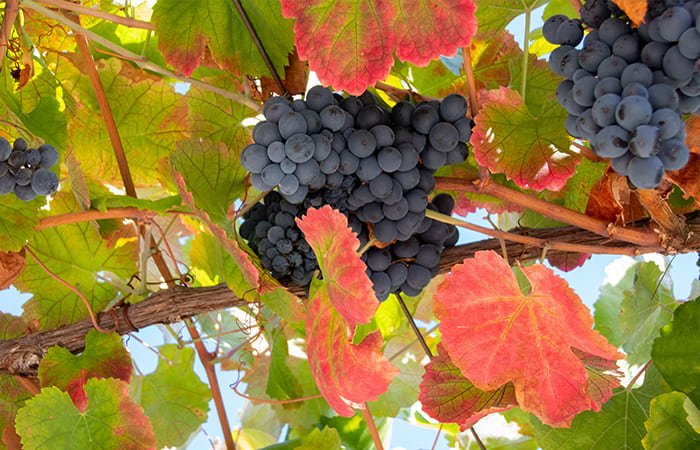 The Douro is never more charming than during the autumn, when its vine-cloaked slopes turn bright red and gold, meaning the vendimia (grape harvest) is in full swing.
And what better way to immerse yourself in the seasonal harvest than by picking and treading the grapes yourself? Although it only comes once a year, it's one of the best educational experiences you can have in Douro, not to mention the most enjoyable!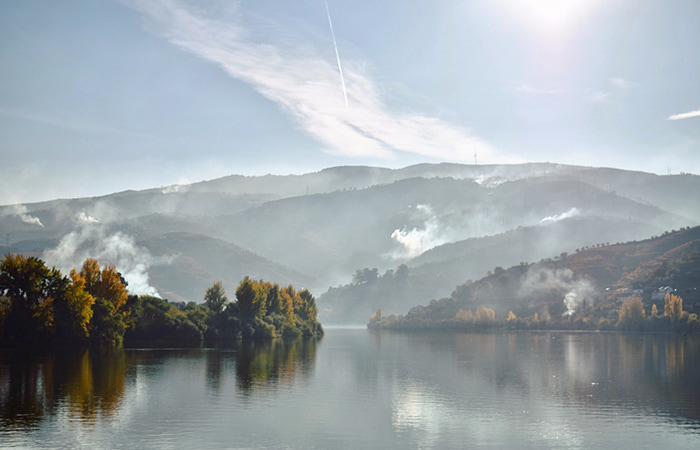 The harvest usually takes place in September and October, however the exact timing often depends on the weather. Not all wineries continue the tradition of stomping grapes, however plenty still do and offer full day harvest experiences to get involved and turn your hands and feet a wonderful rich purple hue in the process!
Get to know your fellow harvesters with a wine and appetiser tasting session, before learning how to correctly pick and cut the grapes. Then it's time to roll up your trousers and stomp the grapes in stone lagares (granite stone tanks), before enjoying a well-earned traditional dinner with a backdrop of stunning valley views.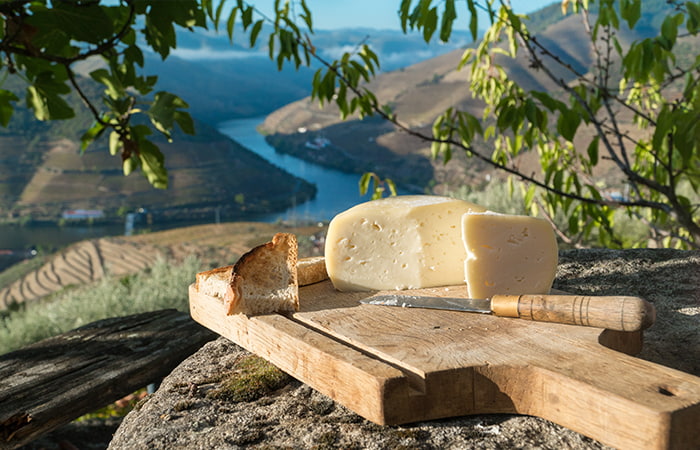 ---
Looking for more holidays for wine lovers? See our roundup of the most beautiful places to go wine tasting this year.
---
The Best Restaurants to Try
The Douro Valley may be most associated with wine, but it also plays host to exceptional restaurants which showcase the area's rich bounty through their traditional Portuguese dishes. Go from grape stomping to gourmet dining at some of the best restaurants in the region, many of which are housed in ancient quintas for an authentic experience.
The Vale de Abraão Restaurant
This contemporary two-level dining space at Six Senses Douro Valley celebrates the region, with much of the produce coming from the verdant valley and surrounding countryside. The vast space sprawls across three different atmospheres; the open kitchen, The Dining Room and sun-kissed terrace, so you can take your pick on where you dine.
The open kitchen featuring a cooking station complete with wood-fired oven is also the location for cooking classes, where you can learn some of the finer points of preparing Portuguese cuisine. And if you're in the area between June and September, pop into the hotel's Summer Garden, serving fresh fish from the Atlantic and delicious seasonal vegetables from the Organic Garden.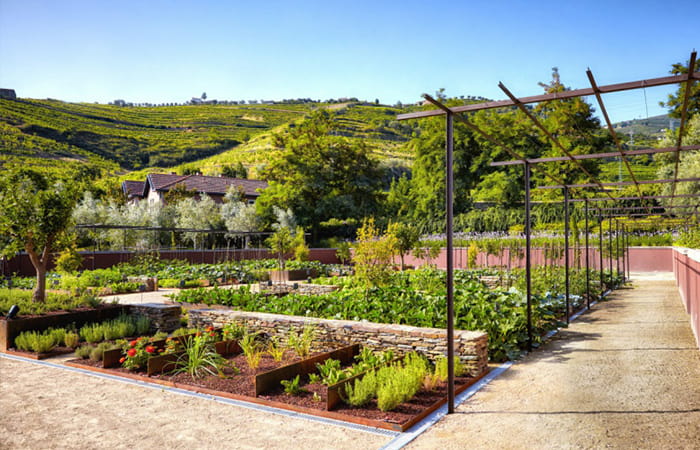 "Immerse yourself in valley life whilst staying at Six Senses Douro Valley. Restaurant menus are sustainable and use fresh fruit and vegetables either grown on site or sourced from local suppliers. The wonderful spa also uses local produce in its treatments which include grape facials and citrus peel scrubs." Moreno, Relationship Manager
The Wine House Restaurant
Housed in a restored 18th-century manor, Quinta da Pacheca is surrounded by lush countryside just south of Régua. After a day of wine tastings at the estate, make a pit stop at its gorgeous restaurant which showcases traditional Portuguese cuisine and typical products of Douro through its varied and tempting menu. Delicious gourmet dishes are perfectly harmonised with the award-winning wines of Quinta da Pacheca, making dining a unique experience.
Castas e Pratos
This converted railway warehouse in Réguais an atmospheric spot for a taste of the region's best cuisine and wines. Featured in the MICHELIN guide, dishes are creative and offer a modern twist on traditional Portuguese cuisine. You can also take your pick from the 700 vintages on the wine list, with a nibble or two from the tantalising tapas menu.
---
More Things to Do in Douro Valley
There are many things to do in the Douro Valley aside from touring the many wineries. From excursions by foot or bike to picturesque villages and historic churches, plus cruises and activities on the river, the Douro Valley presents a whole host of options.
Cruise the majestic river
Unsurprisingly, the ultimate way to see the Douro Valley in its full glory is from the river itself. Feel like a sailor from a bygone era as you breeze past the vine-strung terraces on both sides of the river to understand how terroir influences the character of wine.
Aside from having the pleasure of admiring centuries-old vineyards and picturesque quintas from a different angle, you'll enjoy long, leisurely lunches on board and watch the sun set in the late afternoon, when the rays turn the blue-grey Portuguese waters a glorious golden hue.
Visit spectacular viewpoints
Portugal has an abundance of spectacular hiking opportunities and you'll find some of the most panoramic hiking trails in the Douro Valley. Miradouro São Leonardo de Galafura is close to Régua and sits 640m above sea level. Head into the hills with a gourmet picnic and find yourself a rock at the top to soak up the views.
There's also Casal de Loivos, a true balcony overlooking Pinhão which was named as one of the six most beautiful viewpoints in the world by the BBC.
For the ultimate luxury, try a helicopter tour along the river if you're feeling adventurous. You'll enjoy birds-eye views of the Douro Valley and its mesmerising beauty, following the river as it weaves its way around medieval villages and patchworks of beautiful landscapes.
Visit museums and enjoy cultural workshops
Learn about the region's history, cuisine and wine culture at the Douro Museum in Peso da Régua, or make a pit stop at Lamego to see its little chapel which dates back to the 7th century. There's also Museo de Lamego, which houses historic Flemish tapestries and an impressive collection of artwork by esteemed 16th-century Portuguese painter, Vasco Fernandes.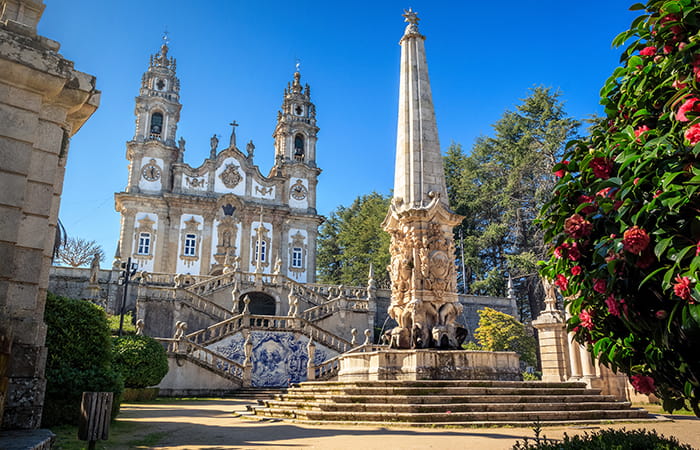 The open-air Côa Valley Archaeological Park at the confluence of the Côa and Douro rivers is another fascinating area, which features an impressive array of prehistoric rock art dating as far back as 20,000BCE.
Painting tiles has been a traditional Portuguese form of architectural embellishment for centuries. For an immersive cultural experience visit Six Senses Douro Valley, where the resident artist teaches this ancient technique in colourful workshops. This is a fun way to practice mindfulness, and you can take your tile home as a souvenir!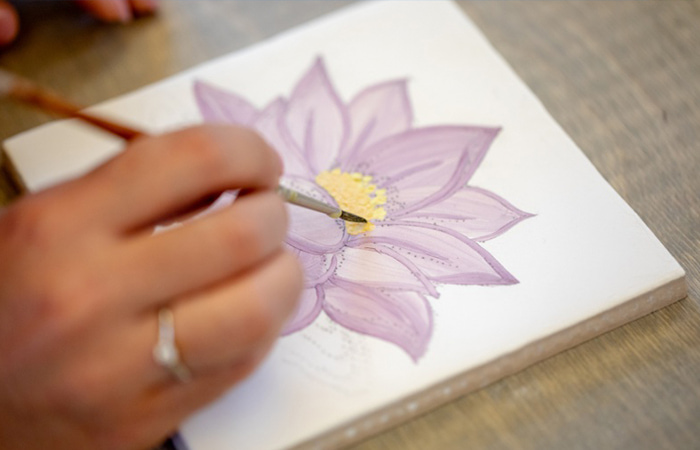 ---
Where to Stay in Douro Valley
Six Senses Douro Valley
Set in a gorgeously renovated, award-winning 19th-century manor house, Six Senses Douro Valley is nestled on an idyllic bend in the river and ticks all the boxes for a laid-back Douro Valley stay. Rooms, suites and villas are chic and sleek, the spa is extraordinary with many wine-oriented treatments, and the restaurant is among the region's finest, with fresh ingredients from the on-site organic gardens and wine as the centrepiece.
"I've just returned from a fabulous trip to Six Senses Douro Valley. This intimate hotel is ideal for couples and if you're a foodie and wine lover, this is the place for you – the pizza making is a must! I'd recommend opting for a Vineyard Room to enjoy the luxury of your own spacious terrace." – Matt, Product Manager
Vidago Palace Hotel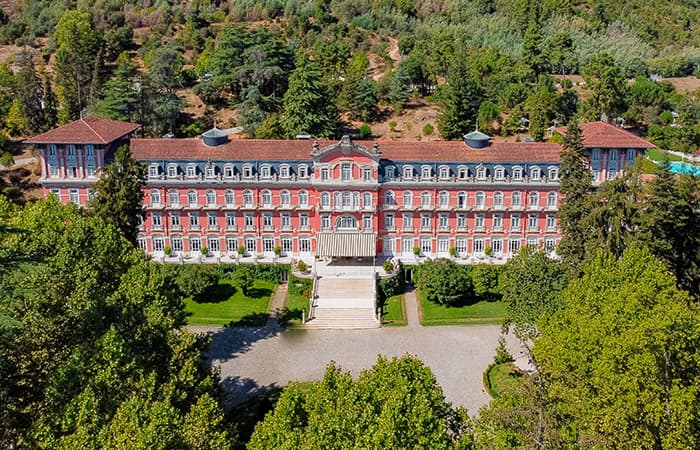 The hundred-plus-year-old Vidago Palace Hotel is a Douro Valley idyll, nestled between therapeutic mineral springs and lush woodland. Visit for a relaxed countryside escape; the spa is a big draw, where massages rank among the world's best, as are the various sophisticated dining experiences. The 19th century Club House is the venue for relaxed, informal lunches whilst the Grand Ballroom serves up a gourmet take on local favourites where you'll be surrounded by silk curtains, gold wallpaper and opulent chandeliers.
---
Best Time to Visit? 
The best time to visit Portugal's Douro Valley depends on your interests as there is something to do during every season. We recommend skipping the sweltering summer and visiting between April and June or September and October, when the famous harvest takes place.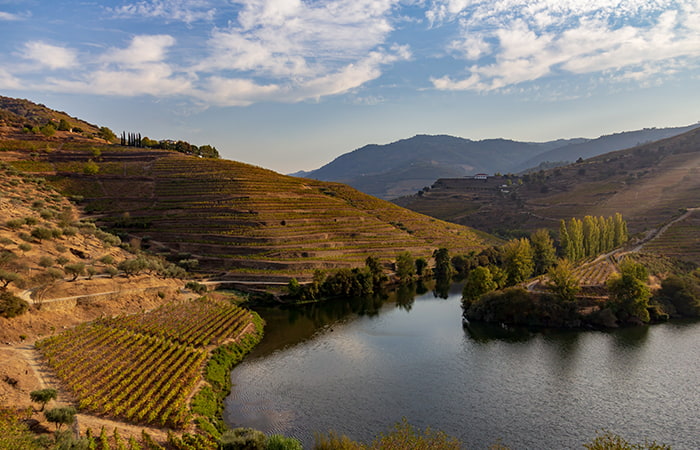 How many days should I spend there?
It's worth spending at least three to four days in the Douro Valley area to take advantage of all the incredible epicurean activities on offer.
Can I visit in winter?
Although many people flock to the region during the balmy summer, winter in the Douro Valley is also a beautiful time to visit, when the hillsides are covered in a golden hue. Come December, the olive harvest is underway and you can explore without the crowds.
How to get to Douro Valley
Fly to International Airport Francisco Sá Carneiro (OPO) in Oporto, then drive for around an hour to reach the Douro Valley region.
---
Plan your gourmet getaway to Portugal's Douro Valley
If you'd like to know more about Douro Valley or our featured hotels, you can contact us to speak to one of our Travel Specialists.
They can tailor-make your bespoke luxury holiday in Portugal, taking care of every detail from start to finish.