One of the most exclusive luxury retreats in Halkidiki, Sani Resort is serious about providing guests with an outstanding gastronomic experience. From using only the finest locally-sourced ingredients to creating a diverse culinary scene across it's 40 bars and restaurants, it's safe to say that some of the best things to eat in Greece can be found at Sani.
While all dining venues here live up to the resort's exceptionally-high standards, we've selected a few highlights to guide you on where to go and what to eat during your stay. Whether you fancy Italian fine dining, traditional Greek fare, Michelin-starred menus or casual beachside bites — treat your taste buds to an unforgettable adventure during your luxury holiday in Greece.
Read on to discover some of the most amazing restaurants, mouthwatering dishes, and 'must try' food in Greece.
---
1. Greek Feast — Ouzerie Restaurant
Perched on a cliffside overlooking the mesmerising Aegean Sea, you won't beat the table views at Ouzerie! With its charming chequered table cloths, white-washed aesthetic and low-hanging pine trees, this stunning venue at Sani Club encapsulates the local food scene.
A luxury take on a traditional Greek taverna, the venue serves authentic regional cuisine at its absolute finest. You'll begin your dining experience with hearty olive-infused bread, premium olive oil and a whipped feta dip that arrives at your table as you browse the menu.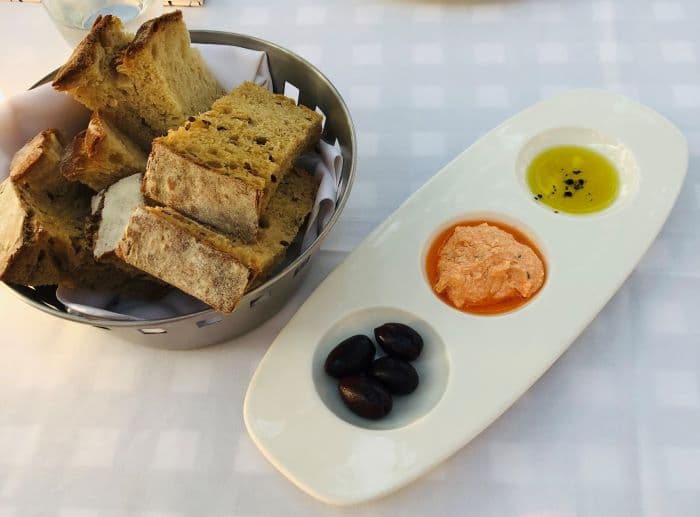 Order several starters here to feast like a Grecian god! From homemade tzatziki to deep-fried zucchini balls, sundried grilled octopus and smoked aubergine — your first course is your opportunity to sample all the flavours that define Greek cuisine.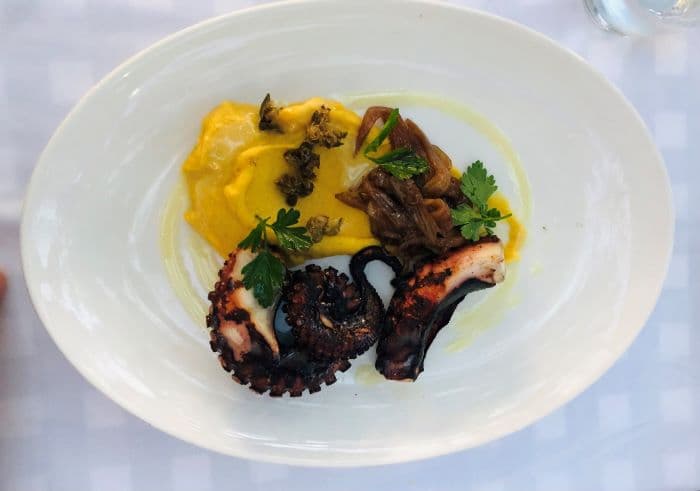 As attentive waiters top up your glass with refreshing whites or bold red wines, settle in for the main course. Tuck into a succulent lamb kebab, grilled lobster in aromatic butter or a classic Greek salad with tangy feta cheese. Note, all these dishes are only improved by a side order of crisp French fries, sprinkled with fresh thyme.
And finally, what could be more Greek than honey-soaked baklava to satisfy your sweet tooth? With its delicate layers of phyllo pastry and crunchy pistachio nuts, its no surprise that its one of the most popular desserts in Europe!
---
Inspiring tip: For non-wine drinkers, the mocktails here are equally as spectacular; order an innovative 'Cloudy Berry' mocktail for a fun, fruity refreshment with a candyfloss garnish.
---
2. Italian Fine Dining — Fresco Restaurant
Showcasing a menu created by Michelin-starred chef, Ettore Botrini, Fresco serves authentic Italian cuisine that lets quality ingredients speak for themselves. From homemade pasta dishes to fresh seafood creations and classic desserts — this is sophisticated comfort food in a fine-dining setting.
In the tradition of keeping it simple, order the Caprese salad to start. While you might have enjoyed this popular dish in many an Italian restaurant before, Fresco shows why not all Caprese salads are created equal. Tear into this creamy orb of mozzarella di bufala with cherry tomatoes and Taggiasche olives, drizzled in flavourful virgin olive oil and served with rustic breadsticks.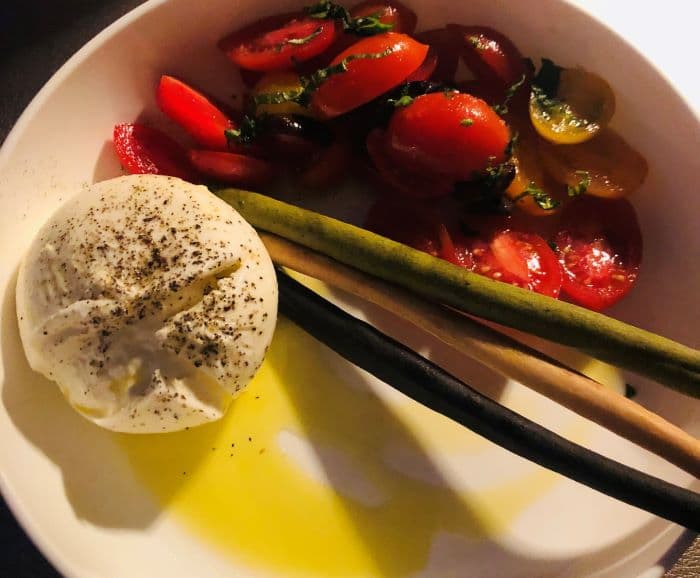 While you can't go wrong ordering any of the pasta dishes on the menu here for your main, the pappardelle with duck ragout is seriously good. Served with a sprinkling of fresh truffle to give it that rich body of flavour, its one of Botrini's most satisfying and masterful recipes. Order this with a side of sautéed spinach to add more colour and texture to your meal.
And whatever you do, don't skimp on dessert. Served tableside, watch your server scoop a wedge of thick Tiramisu or a decadent slice of rich chocolate cake onto your plate, and ask for a scoop of gelato on the side too — the perfect end to your gastronomic journey around the famous culinary regions of Italy.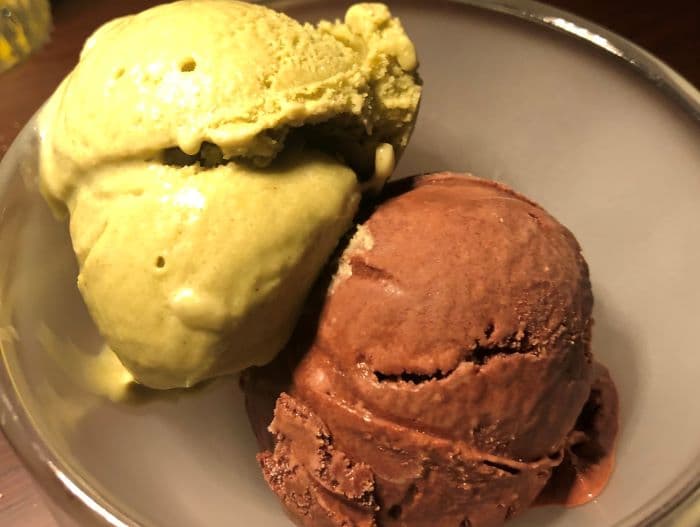 ---
Inspiring tip: Fresco Restaurant is located on the upper floor of Sani Dunes' reception area, so you'll also enjoy spectacular views of the resort's lagoon pools and the starry night sky as you dine.
---
3. Beachside Bites — Bousoulas Beach Bar
Picture it…you've spent the morning at Bousoulas Beach, swimming in the crystal-clear shallows of the Aegean Sea, sunbathing on Halkidiki's platinum sands and exploring the surrounding pine forest. You've worked up quite an appetite by lunchtime, so you head to the white-washed idyll of Bousoulas Beach Bar.
A chic spot, perched above the popular coastline at Sani Beach, this alfresco venue serves an eclectic selection of Mediterranean eats. Sip on cooling mojitos as you browse the a la carte menu, which consists of generously-topped flatbreads, innovative salads, and of course, light-as-you-like seafood plates.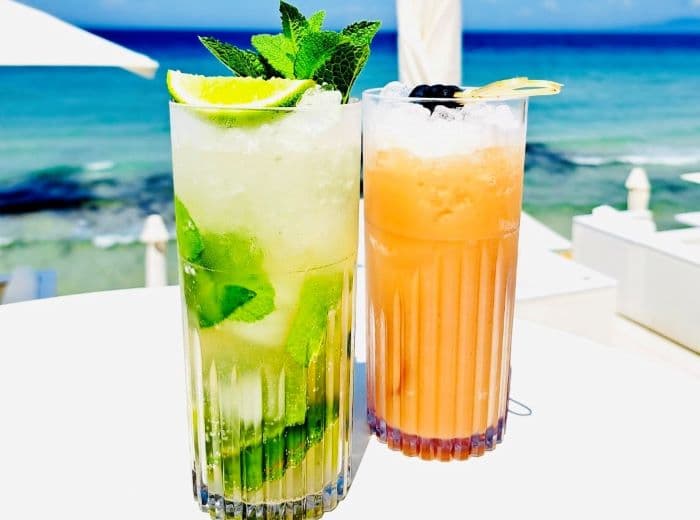 Order a couple of dishes and share them between you to get the full foodie experience here. Be sure to include the exceptional watermelon and prosciutto salad in your lunch order, as well as the artichoke flatbread with peppery rocket and buttery mozzarella.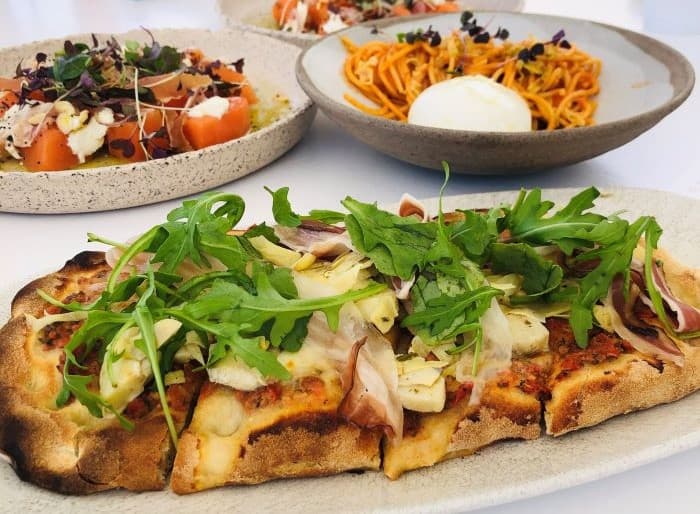 For an added bit of theatre, order the armenovile for dessert! A semi-frozen treat combining ice cream, crunchy almonds and delicate meringue, watch your server slow-pour warm chocolate sauce onto this marvellous creation at your table. Simply mouthwatering!
---
Inspiring tip: Swing by Bousoulas Beach Bar on a Wednesday evening to witness the famous White Night party. Let your hair down to live saxophonists playing iconic dance tunes, set against the stunning backdrop of the Halkidiki coastline bathed in moonlight. It's a truly unmissable event at Sani Resort.
---
4. Sharing Platters — Beach House Restaurant
The Beach House restaurant brings luxury bohemian vibes to the shorefront of Sani Dunes. With its rustic wooden canopy and ocean-inspired palette, its the perfect place to stop for a spot of lunch in between sunbathing sessions.
Served in heavy duty stoneware, feast on a Greek meze and other Mediterranean delights, all with a contemporary-yet-easy-going presentation.
To start, choose a couple of bits to share, such as smoked aubergine salad, crispy calamari and salty Padron peppers with pitta breads.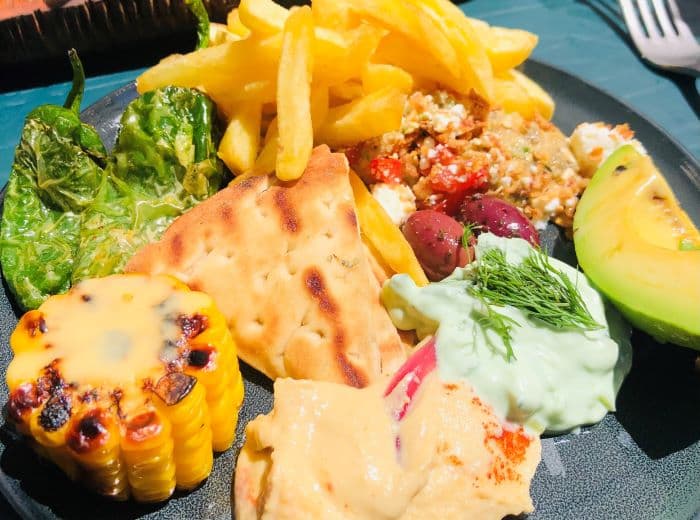 To start, choose a couple of bits to share, such as smoked aubergine salad, crispy calamari and salty Padron peppers with pitta breads.
The star of the show here, though, is the sharing platters; a dramatic display, brought to you on unfussy wooden boards. You can order three versions of these platters: a seafood-based one, a meat-lovers one, and a vegetarian version.
On the 'Meat on the Flame' platter, for example, you'll find succulent baby chicken, prime rib-eye tagliata, grilled meatballs, as well as variety of accompaniments, such as cornichon, beach house tzatziki, olives and burned limes.
---
Inspiring tip: If you have room for more sides with your sharing platter, try the grilled avocado with tomato chilli. While you might not immediately expect avocados to be prepared with heat, this buttery flamed-grilled dish is a revelation!
---
5. Bespoke Breakfasts — Elia Restaurant
Start your day the right way at Elia Restaurant, located in Porto Sani. This airy poolside venue is the ideal place to sit and enjoy a laidback breakfast while you make your plans for the rest of the day.
Elia lays on a seriously elevated breakfast buffet, featuring an array of warm golden pastries, freshly-cut fruit that glistens like jewels, handmade granola pots, as well as continental specialities, such as premium cured meats, Greek spinach pie and a selection of European cheeses.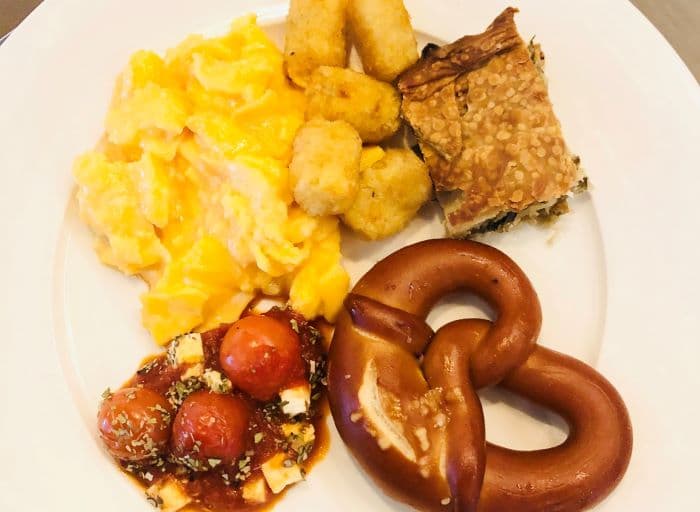 The best thing about Elia is that you get the best of both worlds — a buffet experience and an a la carte menu for diners who like their eggs cooked just so. Whether you want you them in the form of an 'everything' omelette, scrambled with cream or poached to perfection, mornings are tailored to you at this alfresco spot.
And if you're ordering a bespoke breakfast, be sure to treat yourself to some pancakes; two fluffy pillows drizzled in a chocolate-hazelnut sauce, topped with crunchy almond flakes and dusted with icing sugar (other toppings are also available).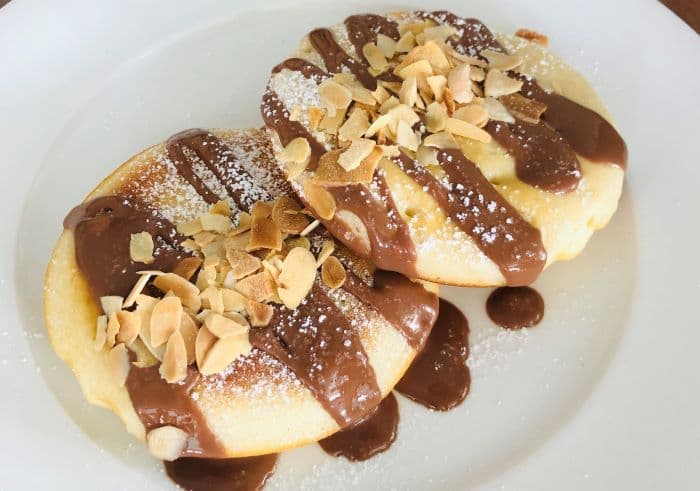 ---
Inspiring tip: Once you've had your fill of rich coffee, help yourself to the selection of freshly-squeezed juices here for a boost of vitamin C in the morning. They're lip-smackingly good and made with only the finest ripe fruits.
---
6. Kebabs & Meat — Vosporos Grill House
Watch superyachts glide in and out of Sani Marina from this classic Greek restaurant. Specialising in slowly-grilled and rotisserie meats, Vosporos Grill House is a must for diners looking for a seriously satisfying evening meal during their stay at Sani
As well as all the quintessential Greek comfort food you'd expect on the menu — Greek salad, succulent lamb chops and grilled aubergine to name but a few — you can also order a half or whole roasted chicken from the rotisserie.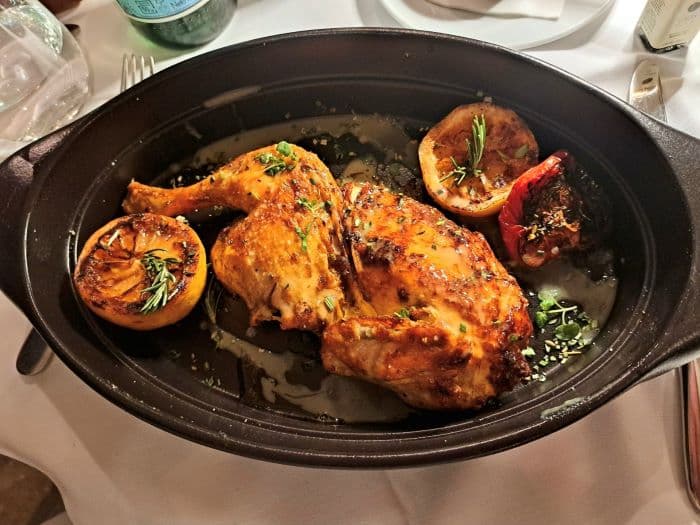 Kebabs (or gyros) are the main event here, though, with your choice of meat encased in a pitta bread and stuffed with cropped tomatoes, onions, fried herb potatoes and homemade tzatziki.
Vegetarians can easily dine here too with starters like zucchini croquettes and sautéed mushrooms in aged balsamic vinegar, as well as a triumphant halloumi kebab for main.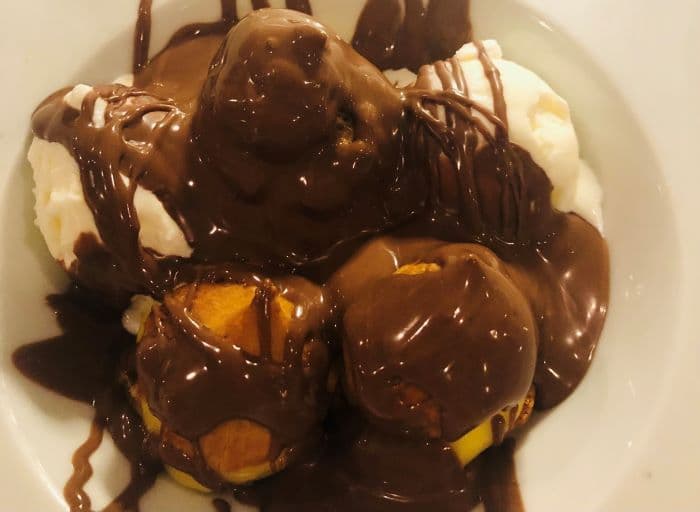 ---
Inspiring tip: After all this savoury goodness, it might come as a surprise that dessert is not merely an afterthought at Vosporos Grill House. Do yourself a favour and order the profiteroles with 'Valrhona gianduja' chocolate, served with a scoop of vanilla ice cream. Day we say it, they rival those found in any upscale Parisian patisserie. Heavenly!
---
7. Wood-Fired Pizza — Macaroni Restaurant
Who doesn't love a slice of pizza on holiday? That thin layer of savoury dough, baked in an authentic wood-fired oven and slathered in melted cheese. While simple, getting pizza right is the barometer of a top-notch Italian eatery and Macaroni Restaurant has mastered the art.
Located along Sani Marina, this alfresco spot is ideal for a leisurely lunch. Watch the world go by and enjoy people watching in the glorious Halkidiki sunshine as you share some delicious antipasti: arancini balls infused with ground pork sausage, warm bruschetta piled high with chopped tomatoes and creamy ricotta, and vibrant green salads sprinkled with nutty parmesan shavings.
Then, tuck into Macaroni's exceptional wood-fired pizzas. Fancy a meat feast? Go for the Capriccioso, layered with succulent ham and spicy salami di Napoli. Or, if you want something a bit out-of-the-ordinary, order the innovative white pizza, adorned with tender broccoli, caramelised onion, crispy pancetta and tangy pecorino.
And finally, cheese lovers will rejoice at the Quarto Formaggi pizza! Showcasing four distinct cheeses — mozzarella, taleggio, gorgonzola, and ricotta — it's one seriously indulgent creation.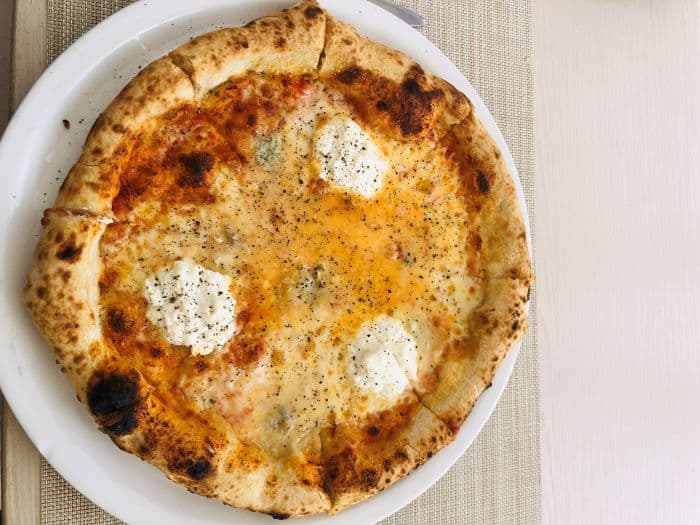 ---
Inspiring tip: Look out for the incredible warm apple pie pizza with vanilla ice cream on Macaroni's dessert menu. When the pizza is this good, why wouldn't you order it for dessert too?
---
8. Delicious Desserts — Marina Creperie
If you're in need of a little pick-me-up in the afternoon, swing by the Marina Creperie for a sweet treat and a quick caffeine hit.
This all-day venue situated in the heart of the resort serves sumptuous breakfast, light bites, amazing coffee, and of course, delicious French crêpes. Choose between sweet and savoury options, such as the 'New York' crêpe, made with pastrami and smoked cheese, or the 'Banoffee' crêpe, stuffed with Kinder Bueno praline, banana, and caramel.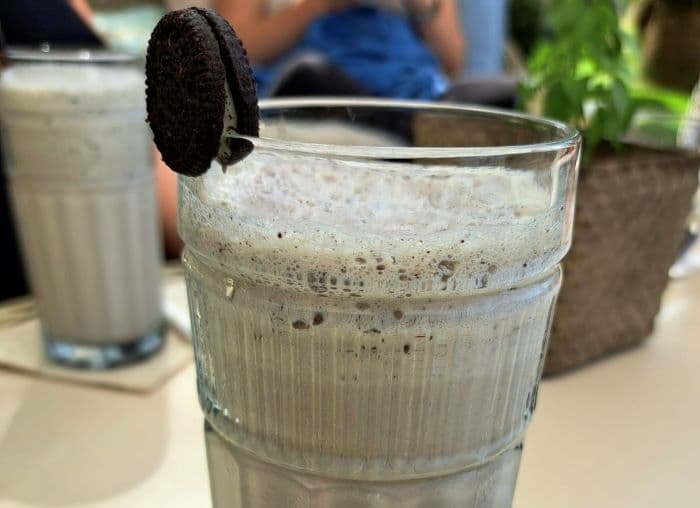 Go all out and order a thick milkshake or a fresh fruit smoothie here — the perfect accompaniment to a hot summer's day on the Kassandra peninsula! In particular, the Oreo milkshake is really something to write a postcard home about.
---
Inspiring tip: By night, the crêperie transforms into a chic chill-out bar. Enjoy an aperitif here, overlooking the glistening waters of the Marina, or wander further along the marina to Sea You Bar for unforgettable sunset views and cocktails in another ambient setting.
---
Any of these delicious dishes take your fancy?
Indulge in some of the best cuisine in Greece with a luxury stay at Sani Resorts.
Whether its traditional Greek food or fine Italian fare that inspires your taste buds, speak to one of our Travel Specialists today to start planning your gourmet getaway in Halkidiki.