A regular on TV and radio for nearly 20 years, Edith Bowman is a beloved household name.
You might know her from her Radio 1 Breakfast Show. Or, perhaps you've seen her hosting the BAFTA Scotland Awards. In the world of travel, she visited Cambodia for a documentary on endangered crocodiles. She's a woman of many interests!
We sent Edith to one of her favourite holiday destinations – Portugal – for a short-haul family break. There, she was able to indulge her love of golf, cooking and all things 'Algarve'…
As a regular traveller to the Algarve, what is it that you love so much about it?
I've been coming to this part of Portugal since I was a young girl and there are so many things I love about this area.
The people, the beaches, the food… and the general atmosphere is just wonderful and welcoming.
A lot has changed here over the years but one thing that remains is the pace of life; and that's really appealing for me.
What were your first impressions of the Anantara Vilamoura Algarve Resort?
First impressions of Anantara Vilamoura were, 'fancy'! Slightly different from what we are used to on our regular visits to Portugal! It was very impressive.
We heard you tried your hand at a golf masterclass in the same location where the PGA Portugal Masters tournament is held. How do you rate your skills?
We had a fantastic golf lesson for myself, my kids and my Mum and Dad. We all loved it and the pro was fantastic – brilliant with the kids, really encouraging and fun.
Growing up eight miles from St Andrews, golf has always been a part of my life really, but it was so great to get a lesson, particularly as a group with the kids.
On your Spice Spoons Cooking Class did you pick up any great culinary tips?
Yes! In fact, we were lucky enough to return to Portugal again recently and when we asked my 10-year-old son what he wanted to do one day, his reply was to go to the market in Loulé to buy fresh produce to make the chorizo flame dish; just like we had done on the Spice Spoons Cooking Class!
What are the main things you look for in a holiday? Are you more rest and relaxation, or exploration and adventure?
Ideally a bit of both. I can't just do sitting on a beach, I need to soak up some kind of local culture or experience and speak to people.
My latest discovery on this trip to Portugal was a tiny little bakery up a dirt track near my folks' place in Vilamoura. My dad kept banging on about it! It's full of locals and a million miles away from tourism; just the kind of thing I love finding on holiday.
But, I also love having a day or two at the beach, reading or just playing in the water. For me there's nothing better than a swim in the sea, it's good for the soul.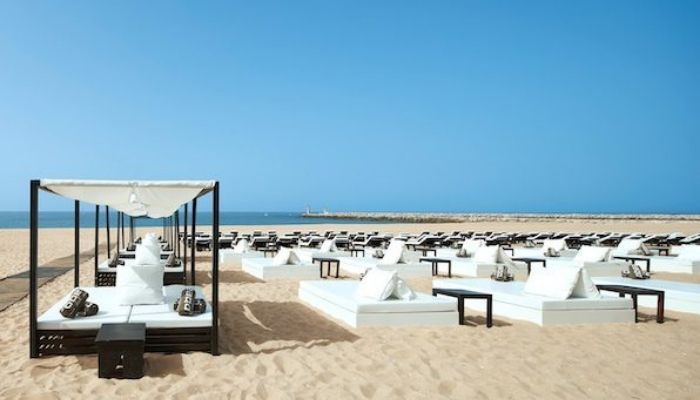 With two young boys, what is your favourite thing to do on holiday as a family?
Anything to do with water for them. Pool, beach, waterpark or even a fountain in a town will do! We recently took them out on a fishing boat for the day. It was the first time for us all and despite the fact that I thought they'd get bored after an hour (and we were out for four!) they absolutely loved it. Rudy even caught an octopus! He was so impressed, but we made sure he put it straight back in the water.
What's your favourite holiday memory from your own childhood?
Disney. A particularly strong memory was when we went before my brother was born to Florida for the first time and I remember the sounds, the smell, the colours, the tastes of food, the temperature on my skin. The whole thing was magical. We had a week in Orlando and then a week down in the Florida Keys. I'd love to repeat the same experience with my gang.
What item can't you travel without?
I thought it would be my music but I recently went away without it by accident and so we just had the odd bit of music on the radio in the car. Other than that, it was talking or silence, and that was quite amazing for a change. I definitely can't travel without a good book though.
What's on your holiday playlist?
I always try to listen to something local or find something local. When we first started coming to Portugal when I was about eight I really remember watching traditional dancers spin until you thought they were about to fall over! That rhythm and music I will always associate with this place. So, I think you have to find something about the place you're in.
Where was the best dining experience you've had abroad?
Italy. Cat [Deeley] and I did a travel show for the BBC called 'Roadtripping' and Italy was one of our destinations. On a night off in Florence, the whole team went for a meal to relax. There was no menu, they just brought you food, and I've honestly never tasted anything like it. The problem is, I can't remember specifics about what we ate; it's almost like I imagined it, or it was like 'Fight Club' and "the first rule of Fight Club is you do not talk about Fight Club"!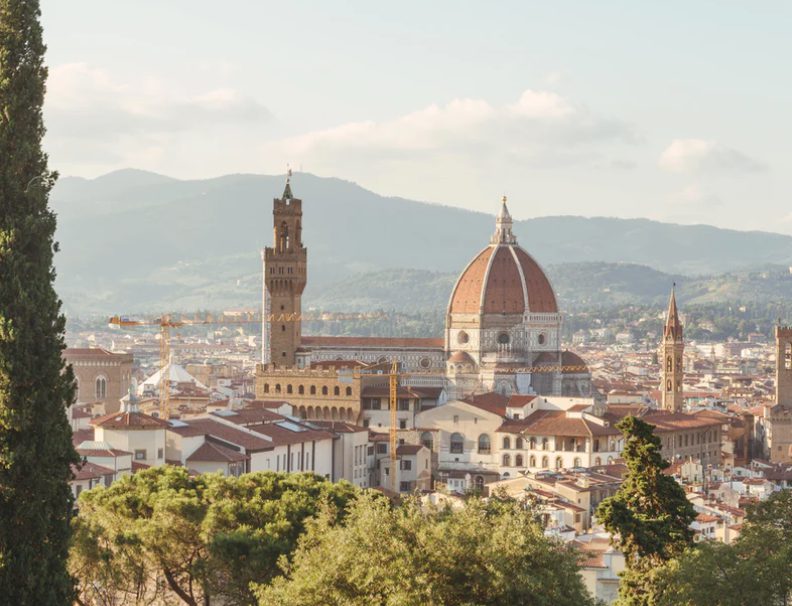 What's the most unusual destination you've ever visited?
Japan, but not because it was unusual in a strange or negative way. It was just out of this world. From the 'Blade Runner' scenes of Tokyo to the enchantment of sleeping in a Buddhist monastery on a clifftop. All of it was bewildering and amazing.
Finally, where is next on your travel bucket list?
I've always wanted to go to Iceland and Cuba.
If you'd like to plan your holiday with Inspiring Travel Co., contact us to speak to our expert Travel Specialists.
For more luxury travel ideas and to be the first to hear about our latest offers, subscribe to our newsletter below.