Sunny skies, a chilled-out vibe and plenty of golden beaches to choose from – it's no wonder Ibiza is one of our most popular holiday destinations in Europe.
What's more, while it might be small, each part of Ibiza can offer a totally different experience. While some areas are the life of the party, others offer a more peaceful haven.
So, where is the best place to stay for you holiday?
Our Product Manager, Gabrielle, and Chief Financial Officer, Emma, recently went out to Ibiza on their own trips.
Here, they share their recommendations on what they consider to be the best parts of Ibiza...
The Best Places to Stay in Ibiza
---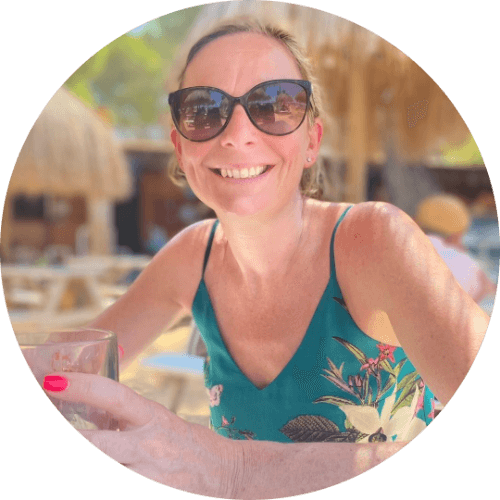 Emma Pickering
Chief Financial Officer
1. Talamanca
What's it like?
"I found Talamanca to be a great place to stay. It's located just a short distance from Ibiza Old Town, but you have the benefit of being in a big resort – something you won't really be able to find in the town itself. Hotels in the Old Town are often up hills, making it more difficult for families, plus, if you wanted to relax on the beach, you'd have to head out to find a beach club.
Staying in Talamanca gives you the best of both worlds. You can lounge by your pool, just steps from the beach, then take a taxi to be in the middle of the Old Town in less than 20 minutes – you could even walk. Talamanca does have a few nice chilled out restaurants of its own – but, for more from Ibiza's culinary scene, you'll likely head into the Old Town in the evenings."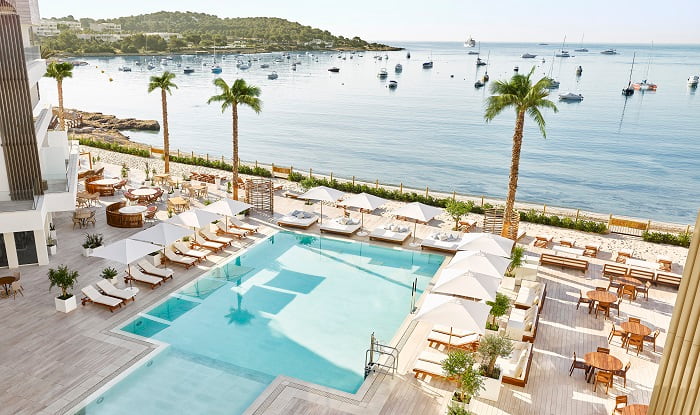 Where to stay in Talamanca
"We stayed at the fabulous Nobu Hotel Ibiza Bay. It has a fantastic location right on the beach, where the waters are so clear and low, so you can walk right out!
The service here was excellent. For me, a major highlight is the separate areas for families and adults to enjoy. One swimming pool is next to the kid's club, so our children could come and go as they pleased, having fun with activities like pizza making, graffiti art classes and jewellery making. Then, there's an adult-only pool where you can go for a more chilled vibe.
The hotel does have a lively feel to it. It's home to three excellent flagship restaurants, which attract a lot of people in the evenings. So, if you like to feel a little bustle, rather than total peace and quiet, I'd recommend this hotel to you."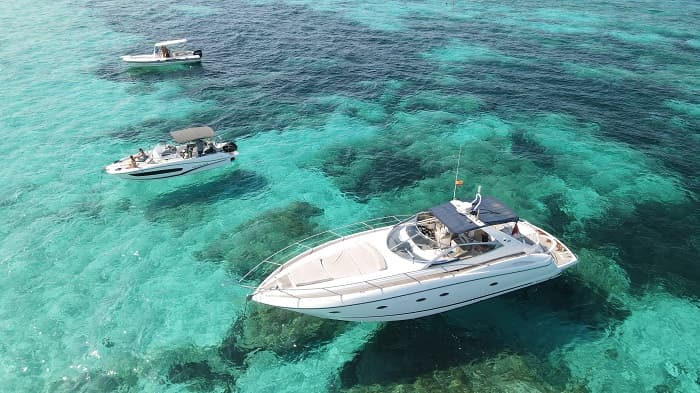 Top things to do in Talamanca
Hire a boat to Formentera. "We took a private boat charter out for the day to visit the beautiful beaches of this little island just off Ibiza's coast. As you cross, there are shallow parts of the sea, creating tiny islets with crystal waters you can get out and sit on!"
Enjoy the Old Town nightlife. "While nightclubs aren't open at the moment, the streets are still busy with markets, restaurants and huge superyachts in the harbour you can go and admire! The atmosphere has changed a little, with many families now staying out later since the party scene isn't in full swing. It's different, but still has a great feel to it."
The Fish Shack. "This little cabin sits on the cliffs at the end of Talamanca's boardwalk. It's laid-back, serving fresh whole fish with delicious potatoes, salad and a lovely cold beer!"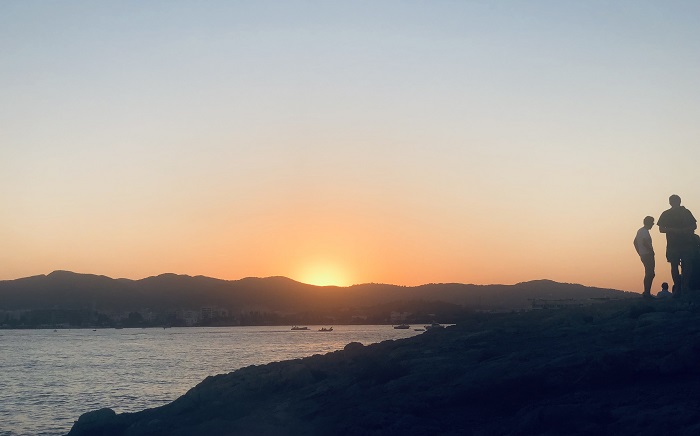 Where to Eat in Talamanca
"You must try the restaurant offering at Nobu Hotel. There's Japanese food at Nobu, Mexican at Bibo and laid-back fare at Chamboa – all are brilliant!
SHU Ibiza sits on the beachfront of Talamanca Bay – I'd recommend trying the sushi or pizza.
La Bodega Talamanca is just a short walk away from Nobu and is great for tapas."
Who would you recommend Talamanca for?
If you want to enjoy the best of Ibiza's Old Town, but still be close to the beach, Talamanca is a great place to stay. Nobu Resort Ibiza is something of a hotel of two halves – you'll find lots of families there, but couples will love the bars and adult-only areas.
It's not the place to come for a peaceful, chilled out week – there's plenty going on!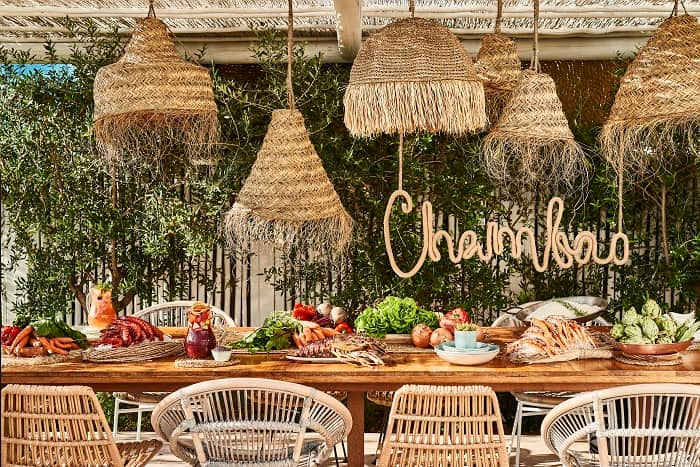 ---
2. Santa Eulalia
What's it like?
"Santa Eulalia is one of the quieter areas of Ibiza. It's located on the east side of the island, though it's a good base from which to get out and explore. You can easily take a taxi to the Old Town, which is less than 10 miles away down the coast.
I found there was more of a relaxed atmosphere in Santa Eulalia compared to Talamanca. You'll find a small, pretty beach to sit on, though there are also some good beach clubs nearby, such as W Ibiza's, which has a great restaurant.
For me, one of the main highlights of Santa Eulalia is its wonderful selection of restaurants. Walking down the promenade and main streets, there're so many choose from, so you can easily eat somewhere new every night. The atmosphere is lively without being too noisy, so is well-suited to families as well as couples seeking somewhere sophisticated away from the major clubs.
There's also a good handful of shops to browse, plus a weekly market is held in the town centre."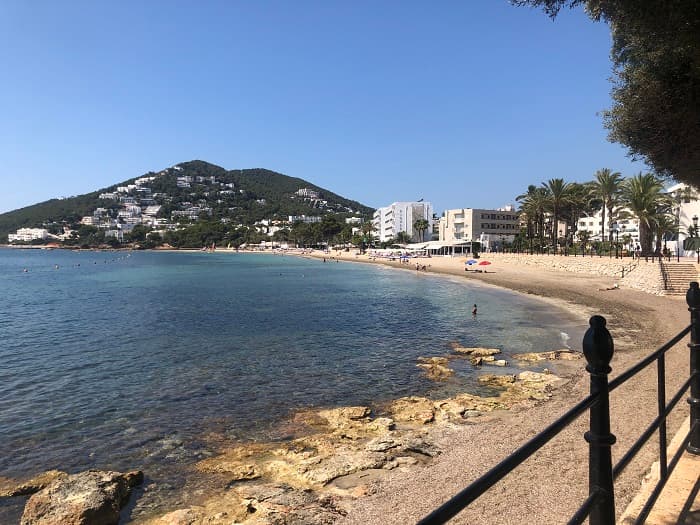 Where to stay in Santa Eulalia
"We stayed in Hotel Aguas de Ibiza, which I'd say is one of the best places to stay in the area. It has a lovely, chilled feeling and very helpful staff, plus, it's recently been refurbished so the rooms are bright and airy.
From here, you'll be an easy 10-minute walk to the centre of Santa Eulalia and only five minutes from the beach, so it's a perfect location. I also highly recommend stopping by the Peruvian restaurant for dinner one night and booking into the spa. Set over 1,500m2 and with products curated by Clarins, it's the height of relaxation."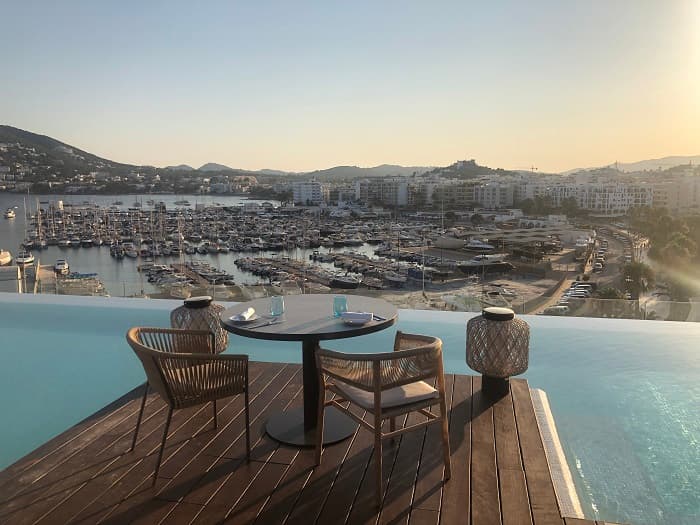 Top things to do in Talamanca
The hippy markets. "Santa Eulalia does have its own weekly market, though to experience Ibiza's most famous one, take the boat to Es Canar. This market first began in 1973 and has hundreds of stalls to browse. I recommend stopping for lunch on the beach at Chirincana before returning."
Make the most of the restaurants. "Known as the 'belly of Ibiza', I suggest arranging dinner reservations at your top picks so you don't miss out. If you've got children, you can stop by the little playground with a bar on the way back to the hotel, located just behind the marina."
Go to Chiringuito Blue. "This restaurant and beach club makes for a wonderful day out. It serves amazing food and has entertainment for children every afternoon. Be sure to book your sunbeds in advance – you won't regret it!"
Where to Eat in Talamanca
"Just across the road from Hotel Aguas de Ibiza is La Mar de Santa. It has a lovely beachfront location and a tranquil, romantic atmosphere.
In the centre of Santa Eulalia is Higo, which serves a Peruvian and Japanese fusion. There are plenty of vegetarian options, too.
I also recommend Maymanta, Hotel Aguas de Ibiza'a rooftop restaurant which has amazing views over the marina"
Who would you recommend Santa Eulalia for?
Santa Eulalia is a great place to stay if you love eating out! It's not for clubbing, though there are a few bars, so it's a nice middle ground for both couples and families. It's definitely a more chilled out and relaxed area of Ibiza.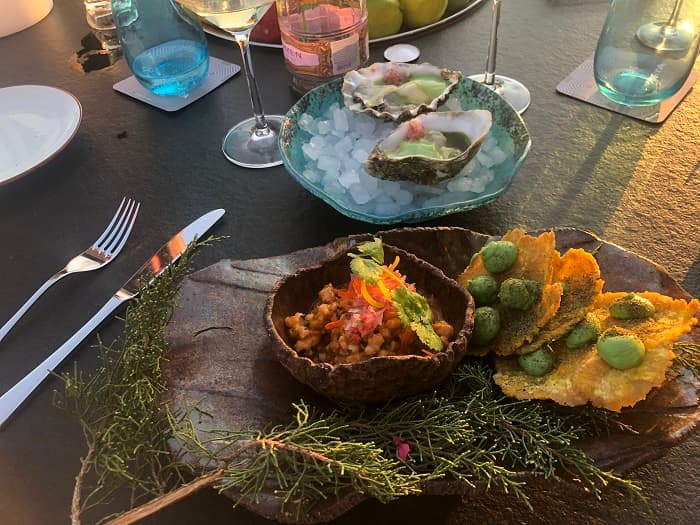 ---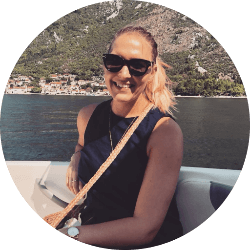 Gabrielle
Europe Product Manager
3. West Coast Ibiza
What's it like?
"For many people, the west coast of Ibiza means the party capital of San Antonio. But, it's also home to plenty of quiet pockets where you can totally relax.
I stayed at 7Pines Resort Ibiza, which sits on a clifftop between the beaches of Cala Conta and Cala Codolar. The sea views and green landscape tends to take people by surprise, it's so beautiful! With a peaceful bohemian feel, I recommend a stay here if you're looking for some well-earned relaxation.
If you did want to get out and about, you can reach a few local bars, restaurants and beach clubs; I recommend Cala Basa Beach Club for lunch or dinner. However, this isn't the place to go if you want a lot of action right on your doorstep – it's all about taking it easy."
Where to stay in West Ibiza
"If you're looking for undisturbed peace, 7Pines Resort Ibiza is a dream. Set in the stye of an Ibizan village, you can look out for stunning views of the mythical island of Es Vedra – made even more magical by the incredible sunsets.
I loved the style and décor of the hotel, too. With a contemporary bohemian vibe, you instantly know you're in Ibiza!"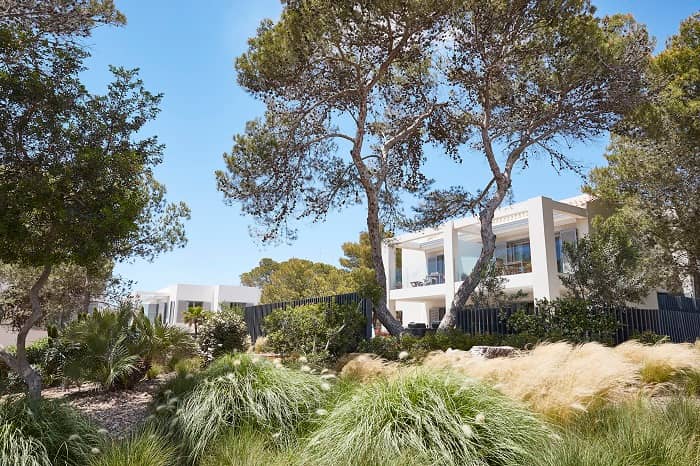 Top things to do in West Ibiza
Es Vedra. "This renowned island is literally a stone's throw away if you're staying at 7Pines. While you can admire it in the distance, you can also take a boat charter around it, perhaps then continuing around the coast or on to Formentera."
Admire the sunset. "As you're on the west of the island, you'll have the best views of Ibiza's famed sunsets. I recommend heading down to the local bar, Sunset Ashram, which has panoramic views. Be sure to get there early to bag a prime viewing spot and order yourself a cocktail."
Relax at the beach clubs. "Ibiza's west coast has some of the most beautiful beaches, so make the most of them by reserving a lounger at a beach club. You can also arrange activities like stand-up paddle boarding and kayaking around the coast."
Where to Eat in West Ibiza
"I love Cala Basa Beach Club for lunch. It serves amazing sushi, plus you can relax on Balinese-style day beds.
If you stay at 7Pines, you'll have three fantastic restaurants to choose from. Cone Club serves Mediterranean cuisine, with a daily sunset ritual; The View offers a tasting menu with endless sea views; Pershing Yacht Terrace has an Asian food offering with live music in the evening."
Who would you recommend West Ibiza for?
While clubbers make a beeline for San Antonio, 7Pines Resort offers a totally different world. It's perfect for families who are happy to stay mainly in the hotel, though I'd also say it's a lovely spot for a romantic holiday. However, if you like to be able to walk out to local bars and restaurants, it's probably not the best place to stay for you.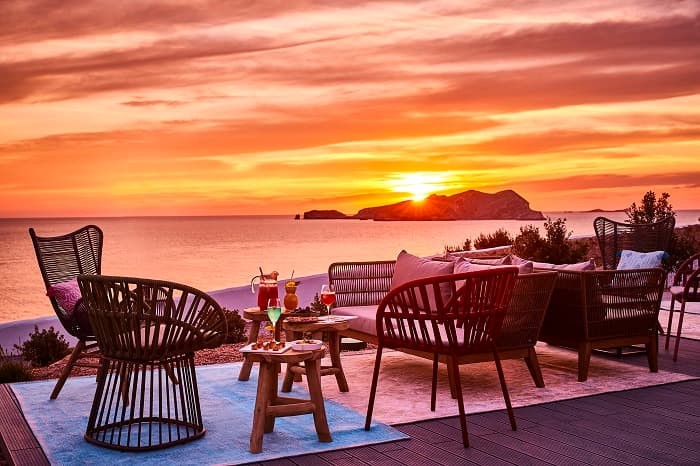 ---
4. Portinatx
What's it like?
"The north of Ibiza is considered to be one of the most beautiful and peaceful parts of the island – which is where you'll find Portinatx. Tucked far away from the thumping nightclubs, it's the place to stay if you want to escape the summer crowds.
However, this doesn't mean that there's nothing going on here. The small village has a good selection of restaurants and bars that still have a sense of atmosphere about them. There're lovely beaches across the area too, backed by picturesque pine forests. You can follow some of the walking trails through the trees, or take a boat trip, to admire the coastal scenery.
The beauty of Ibiza, though, is that you're never too far away from anything. So, if you did want a day out in Ibiza Old Town, you can take a taxi there in around half an hour."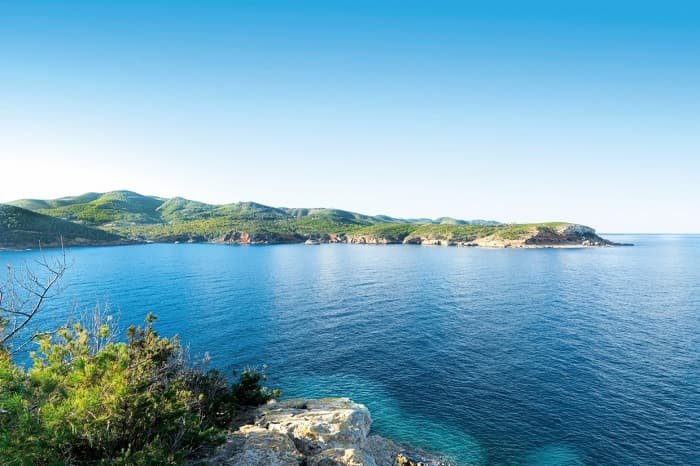 Where to stay in Portinatx
"I recently stayed in the brand new Six Senses Ibiza, located on a peaceful peninsula overlooking Portinatx's bay.
This hotel is the ultimate Ibizan retreat. Channelling the island's history of spirituality, and combining it with Six Senses own wellness focus, Six Senses Ibiza is ideal if you're looking to unwind.
Like with most Six Senses hotels, one of the main draws is the spa. You could spend days indulging in the array of treatments and facilities, with everything from a Hamman and seafront yoga deck, to 'biohacking' and cryotherapy.
For more, take a look at my full review of my first look at Six Senses Ibiza."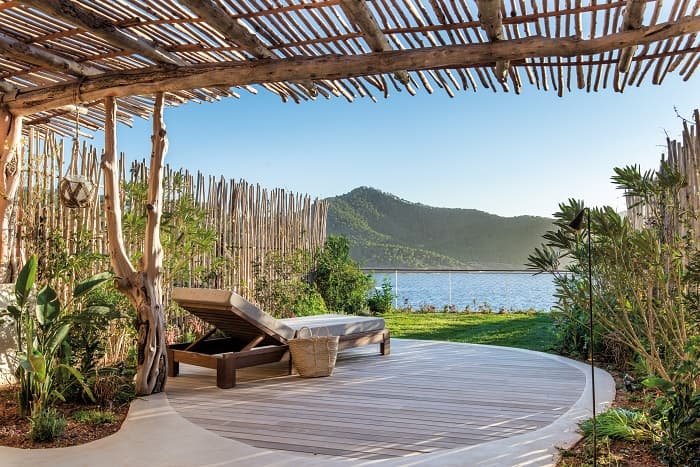 Top things to do in Portinatx
Take a boat charter. "This is always a top thing to do in Ibiza! The north coast is beautiful to see from the water, or you can head to Es Vedra."
Explore the trails. "Head to the pretty Cala Xarraca to find crystal waters, a small beach and rugged coastline. There are some lovely walking trails around here."
Try cliff jumping! "While I've not been brave enough to try it myself, cliff jumping is something of a tradition for many in Ibiza! Six Senses offer a guided trip, where you'll be shown how to safely dive into the water – they'll even take a photo of you in mid-flight to show off back home."
Where to Eat in Portinatx
"Don't leave without trying the food at Six Senses' HaSalon. Ingredients are sourced straight from the local farm, so you know they're as fresh as possible. Israeli chef, Eyal Shani, has created an exciting menu, which you can pair with biodynamic wines and cocktails created with botanicals from the gardens – all while relaxing under the olive trees!"
Who would you recommend Portinatx for?
If you're looking for the quiet side of Ibiza, you'll find it here in the north of the island. I'd recommend Six Senses Ibiza as the perfect place to unwind and recharge, plus there are some beautiful beaches and scenery in the surrounding area too.
---
---
Would you like more advice on the best places to stay in Ibiza for your luxury holiday? Contact us to speak to our Travel Specialists.
For more of our latest travel guides, inspiration and luxury holiday offers, sign up to our newsletter below.