For many people, a holiday begins the moment you check-in at the airport. So, shouldn't your flight experience do justice to your hotel or resort?
Across all of our preferred airline partners at Inspiring Travel Company, there're a number of premium upgrades available that can make a huge difference to your holiday. Allowing you to arrive in style, and already feeling totally relaxed, they really can be a worthwhile addition to your luxury travel plans.
Among our most popular are Virgin Atlantic's Premium Economy and Upper Class.
But, we often get asked whether it's really worth making the upgrade.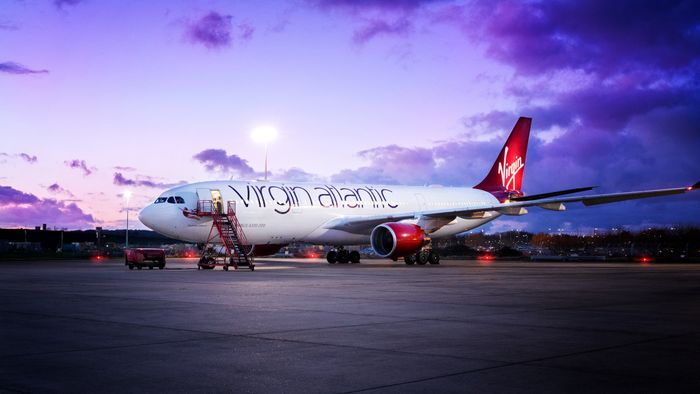 Virgin Premium vs Upper Class: Is it Worth Upgrading?
Our Travel Specialists are frequent flyers. So, they understand the importance of a smooth, enjoyable flight.
When it comes to upgrading to Virgin Premium or Upper Class, it's certainly worth it to make the most of your holiday. Both classes have dedicated check-in desks and priority, allowing you to bypass queues for a speedier start to your holiday.
Upper Class, meanwhile, really ups the luxury. These pods feature the brilliant flat-lay beds, which are perfect for longer flights where you crave the ability to stretch out more.
To find out more about the differenced between Virgin's Premium and Upper Class, and whether they're worth the upgrade for your holiday, see our guide below…
Virgin Premium Class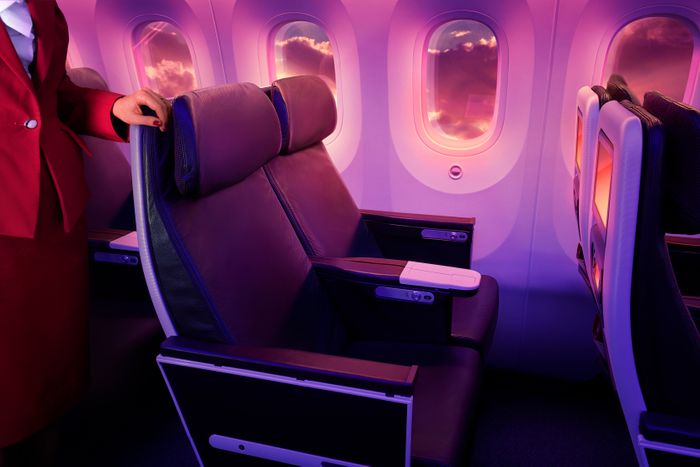 What is Virgin's Premium Class?
Virgin's Premium cabins are among the top upgrades for your flight, just a step down from Upper Class.
When flying Premium, you'll enjoy a number of benefits. From your seat to your meal, with some luxurious special touches along the way, your holiday will get off to a seamless start.
"Virgin's Premium cabin is lovely. It offers that exclusive feeling of luxury, but without a huge pricetag. The extra leg room and dedicated check-in area is definitely worth it, though I also love picking snacks from the 'Wander Wall'!" – Catherine, Aviation Manager
What's included in Virgin Premium Class?
Checking in
With Virgin Premium, you can head straight to the Premium check-in desk to drop off your bags. When your flight is ready, you'll have priority boarding, while your baggage will also be given priority delivery.
Your Premium seat
As you board, you'll be given a welcome glass of bubbly to start your journey off in style. You'll have plenty of space to get comfortable in your seat, which is one of the biggest in its class. With extra width and recline compared to Economy seats, you can also keep your phone or tablet fully charged with in-seat power outlets.
Your on board meal
Premium class also brings an upgraded dining experience. You can choose from three dishes, served with plates and cutlery, along with a choice of accompanying wines. If you're still feeling peckish, you can visit the 'Wander Wall' to choose from a selection of treats.
What's the main difference between Economy class and Premium?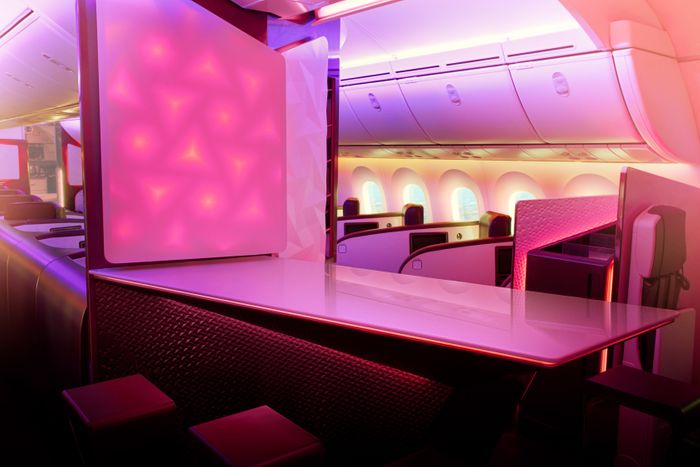 So, is Premium class worth upgrading from Economy?
There are some good benefits that can help your holiday get off to a much smoother start. The dedicated check-in desk and priority boarding reduces the time spent queuing and waiting, allowing you to spend more time relaxing.
The cabin is also a big draw. Bigger seats with more legroom are a great addition, especially for longer flights – plus, if you're on a night flight, you'll get a Premium amenity kit with some extra essentials.
---
Virgin Upper Class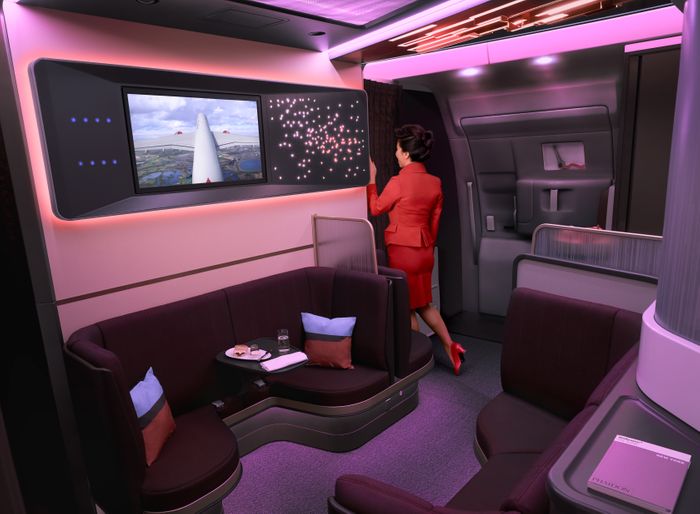 What is Virgin's Upper Class?
Upper Class is Virgin's most premium upgrade available. It offers a host of additional benefits which add the most luxurious touches to your flight experience. You can lie down for a refreshing sleep, unwind in the exclusive on board bar area and even freshen up with Rituals sleep amenities.
"I'd recommend that everybody experiences travelling in Virgin Upper Class at least once. Checking in becomes a breeze, allowing you to feel miles away from the bustle of the crowds. It can really make your holiday something special – and, it's the only time you'll actually be excited to fly home! Worth every penny." – Denise, Product Manager
What's included in Virgin Upper Class?
Checking in
Like Premium passengers, if you're travelling Upper Class, you'll get to head straight to the dedicated check-in desk. If you're flying from Heathrow, you can even be greeted straight from your car. Along with priority boarding, you'll also be fast-tracked through security.
One of the stand-out benefits of travelling Virgin's Upper Class, though, is the exclusive Clubhouse access, which isn't included in Premium. Heathrow's Clubhouse and Revivals Lounge is located in the dedicated Upper Class wing, where you'll find a host of luxuries to enjoy while you wait to board. Sip a cocktail at the bar, fuel up with a freshly cooked breakfast or freshen up with a shower and luxury amenities. For flights from Heathrow, Gatwick and New York JFK, you can even enjoy a complimentary treatment at the spa.
Your Upper Class seat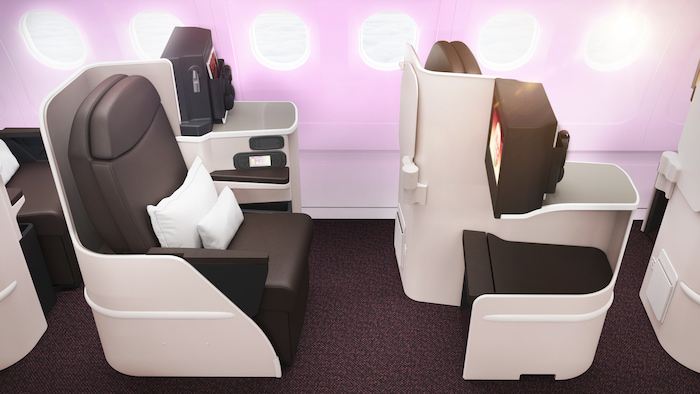 The next highlight of Virgin's Upper Class experience is your seat.
Not only can you enjoy an extra large seat with plenty of legroom; the Upper Class pods offer a complete bubble of privacy. Each seat has direct aisle access and can recline into a fully flat bed, with pillows and duvets ready if you'd like to take a nap.
You'll also be able to charge your devices with in-seat power outlets, though your persoanl18.5 inch touchscreen, which is the largest out of all classes, also offers plenty of entertainment.
Your on board meal
There're plenty of treats to enjoy when you fly Upper Class with Virgin. After a meal at the Clubhouse, you'll be welcomed on board with a glass of Champagne or English sparkling wine. Before your meal is served, you then can enjoy an aperitif. When it comes to your food, you'll be able to choose from three options, all served with plates and cutlery and a choice of wines.
Depending on the length and time of your flight, you'll be well taken care of to ensure you never go hungry. On longer flights, Extra Bite dishes can be ordered at any time, while on night flights, you'll wake up to your choice of hot or cold breakfast.
If you get peckish in between, you can help yourself to snacks, or head to the bar for a drink with fellow passengers.
What's the main difference between Premium class and Upper Class?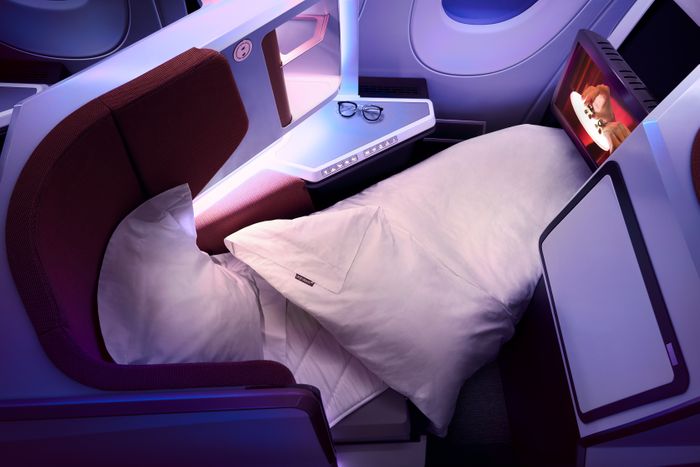 If you want to fly in ultimate luxury, it's definitely worth upgrading to Upper Class. While Premium class offers plenty of perks, Upper Class really goes to the next level. From the pre-boarding experience in the lounge or Club House, to your spacious seat and bed during your flight, long-haul journeys will certainly be able to make full use of the extra services and facilities included.
---
Flying with Virgin Atlantic
Ready to fly away? Virgin Atlantic flies to over 30 destinations including Antigua, Barbados, Grenada, Miami, Los Angeles, New York, Cape Town and more.
If you'd like to know more, contact us at Inspiring Travel Company to speak to our expert Travel Specialists.