The UK has a reputation for being a little chilly in springtime, so it's likely the sunshine of distant shores will start calling your name.
So, if you're wondering where's hot in May for your next escape, don't worry – there are plenty of sunnier destinations where you can enjoy a few weeks of warm weather, both in Europe and further afield, including:
Where's Hot in May in Europe?
So, you've got your sights set on a May holiday, but you don't fancy going too far from home?
For the best chance at getting your fill of the sunshine, you'll want to head to Europe. With temperatures starting to rise, May is the perfect time to visit a number of sunny European countries. Head to Turkey for an escape into the glittering Aegean waters, Greece for a sandy beach escape and some island-hopping, or Cyprus for a little history, culture and exploration.
Each of these destinations boast toasty average temperatures, plenty of sunshine and overall excellent weather for a spring getaway.
Beach Dreams in Turkey
May temperature: 22°C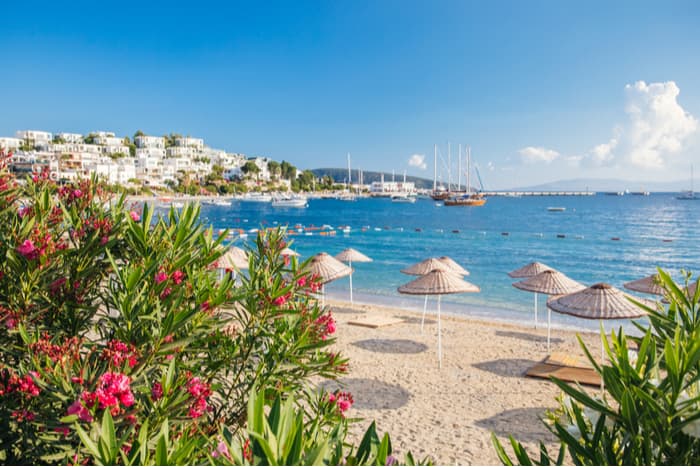 The best way to experience Turkey is along its beautiful coastline. There are many small islands and towns dotted along the shores where you can stay in ultra-luxury resorts and enjoy the secluded beaches.
If you want to see the bigger picture, head out onto the Aegean Sea on a private yacht or a gulet. This vast expanse of water is home to hundreds of coves and bays where you can swim and snorkel. It's also home to some fantastic diving sites, where you'll be delighted with the chance to dip in the sea.
The winter months will feel far behind you when you're lounging on the stunning beaches of Turkey, surrounded by its iconic green landscapes, while the gentle waves of the Aegean lap at your feet. It takes only four hours to get to Turkey from the UK and, if you travel in May, you'll be right at the early end of the summer season – perfect if you want a holiday with fewer crowds.
Stay at Six Senses Kaplankaya in Bodrum, where you can access its three private beaches, dine on sumptuous sustainable meals and take day trips to some of the best diving locations on the Turkish coast.
---
Family Time in Greece
May temperature: 21°C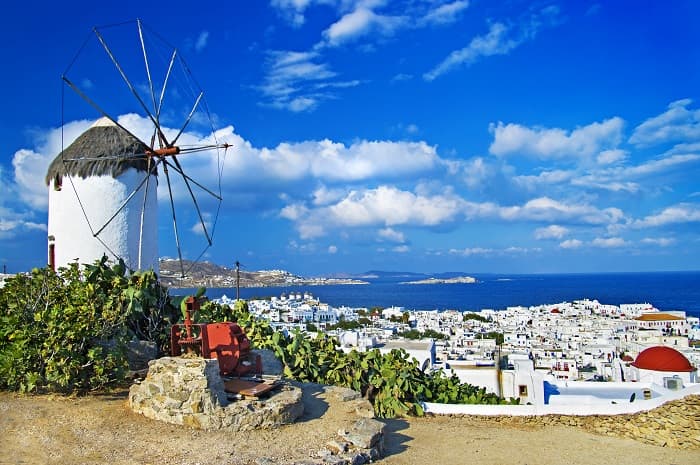 Considered a top-tier sun holiday destination, this year why not head for the Greek islands for a May getaway?
We recommend heading straight to Mykonos – it has everything from beautiful sandy beaches to cosmopolitan nightlife. It's also a fantastic location to bring your family and spend time in the hours of sunshine that gleams on the Aegean Sea. Let the whitewashed buildings and cobbled streets enchant you as you watch the world go by.
Another of the popular holiday destinations of Greece, especially in May, is Corfu – a perfect spot for both a family holiday and a couples retreat. On the north-western end of the island, you'll find Ikos Dassia, a stunning hotel that welcomes families to an unforgettable five-star experience.
Sun-seekers will adore laying out on the private Blue Flag-awarded beachfront. If you'd rather be out and about, the hotel hosts a choice of eco-adventures to teach you all about the island and its local wildlife.
If you're set on finding the warmest area in the Mediterranean, head to Crete, which is the hottest destination in the Mediterranean in May. Similarly to Corfu, Crete has plenty to offer, from its beaches to tavernas, making it perfect for a spring holiday.
More inspiration…
---
Are Greece and Turkey hot enough in May?
The easy answer to this question is yes! The eastern end of Europe is much warmer than the west, making it ideal for a Spring holiday. May is the early season for both Greece and Turkey, so the sea will just be starting to warm up, tourist locations will begin to re-open for the season and it will undoubtedly be warm enough to have a splash in the pools.
---
Exploring Cyprus
May temperature: 22°C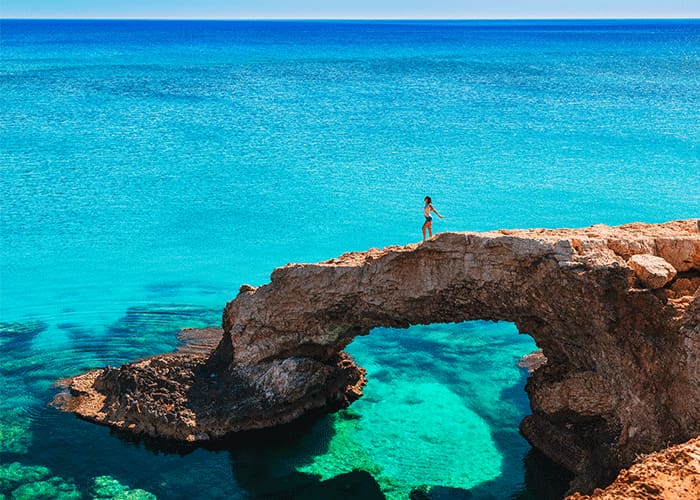 The last European destination on our list, but by no means the last, is Cyprus.
Cyprus' charming towns and coastal cities are lovely for enjoying the warm May sunshine. Head out on a day trip to see some of the ancient towns and ruins, medieval streets and historical sites that rest alongside the turquoise water. For a more relaxing experience, spend some time on Cyprus' Mediterranean coastline and palm tree-lined beaches, a perfect spot for unwinding.
Cyprus is truly a country that keeps you intrigued; you might spend one day hiking through the Troodos Mountains, followed by a day exploring the quaint villages on the island, before spending your third day taking it easy on the beach.
Stay at one of the fabulous five-star hotels on the coast, such as AMARA – a contemporary hotel with gorgeous sea views, a perfect base from which to strike out across the island.
"AMARA is a wonderful hotel for a relaxing May holiday. Treat yourself to an exclusive spa treatment suite, complete with refreshments and your own private sauna and plunge pool. For something extra special, opt for a Rooftop Duplex Suite with rooftop pool and unparalleled views of Limassol." – Elyse, Travel Specialist
---
Where is Hot in May? – Long Haul Destinations
If you're willing to take a more extended trip, there are plenty of long-haul sunny holiday options during May. From a beautiful beach escape in the idyllic Caribbean to an isolated atoll in the Indian Ocean, you can easily migrate to warmer climes.
Relax in The Caribbean
May temperature: 24°C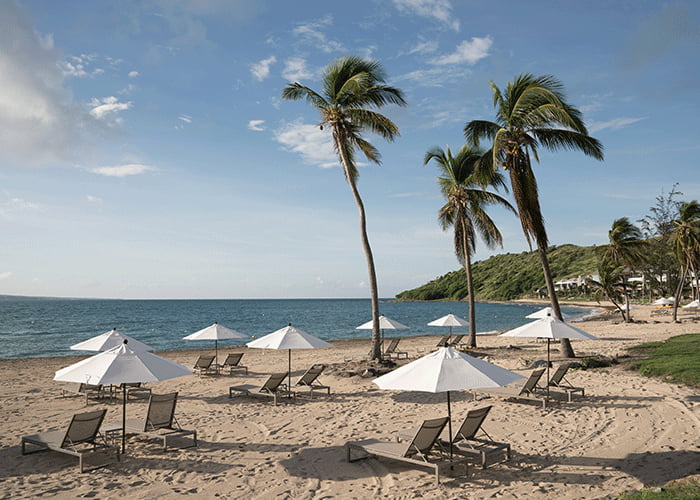 In the Caribbean, you'll find some of the most beautiful beaches in the world. From the turquoise waters of Jamaica to the white sands of Antigua, the region offers an array of gorgeous options for beach holidays. If you're looking for something quieter than the vibrant resorts, try a smaller Caribbean island like St Lucia or St. Kitts and Nevis – both come highly recommended by our Travel Experts for a romantic retreat.
Related: Where to Find the Best Beaches in the Caribbean
The sun shines across the Caribbean year-round, making it one of the best places to grab your slice of warm weather; if you visit in May, you'll also be staying just before the start of the low season, so rain, or 'liquid sunshine', shouldn't impact your trip too much!
Head here for a break and you could be enjoying a swim in the water with turtles or enjoying a more active holiday on one of the surf beaches – try your hand at kite-surfing or paddleboarding.
Whatever takes your fancy, the islands have fantastic hospitality and you'll often be greeted with a glass of Champagne and fresh tropical fruits. St Kitts's Park Hyatt Resort, located in the stunning Banana Bay, is just one fabulous option for enjoying these beautiful surroundings in total luxury.
---
Bucket List Trip to The Maldives
May temperature: 28°C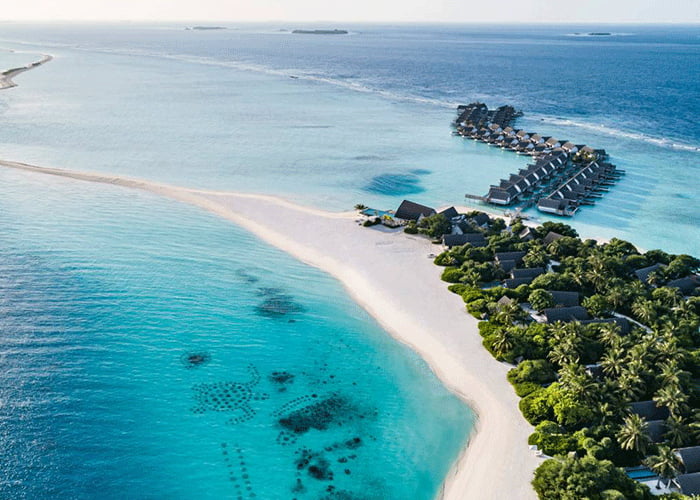 At around 14 hours flight time, you could find yourself in a sunny paradise, surrounded by some of the most crystal clear waters in the world – we're talking about the unparalelled Maldives islands.
This serene location feels aeons away from anywhere else in the world. Here, you'll find small islands with plenty of accommodation options that literally float on the lagoons. The clear, warm water and sunshine make this a perfect location for getting your hair wet as you dive into the water to meet creatures such as manta rays and even whale sharks – a true bucket list trip!
Each of the resorts in The Maldives is exquisite, with panoramic views of the Indian Ocean, plenty of delicious food choices, and a relaxing atmosphere that will immediately put you in the holiday spirit. Stay at the Four Seasons Resort Maldives at Landaa Giraavaru for a blissful experience in stunning surroundings.
"The Four Seasons Resort Maldives at Landaa Giraavaru is one of my personal favourite hotels. There's amazing food, extensive activities for children at the kids' club and stunning overwater spa treatment rooms. Be sure to head down to the Marine Discovery Centre for diving lessons, to learn about the turtle rehabilitation and grow your own piece of coral!" – Holly, Sales Manager
---
Retreat to Oman
May temperature: 34°C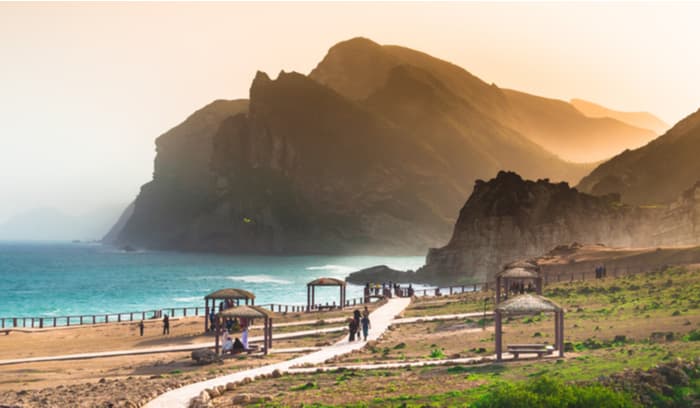 Perhaps you're looking for something a bit different out of your May holiday?
In around seven hours, you could be on the southern coast of the Middle East in Oman. Surrounded by dramatic mountain ranges, golden waterfronts and impressive dunes, the scenery here is simply stunning.
Oman can hit very high temperatures in the summertime, so it's advisable to visit when it's cooler. In May, you can expect average temperatures of around 34°C, so while still hot, it's not as searing as the 40°C heat of summer.
While here, you can spot the turtles who visit the beaches, take an intrepid search through Oman's beautiful forts and head to the dunes at the Wahiba Sands. There are plenty of luxury spots across Oman, including beachfront resorts and hidden mountain retreats. Find a bit of both at Shangri-La Barr al Jissah Resort and Spa; with 21 restaurants and a myriad of activities spread across the three resorts, there'll never be a dull moment.
---
Twin Centre Trip to Florida
May temperature: 25°C
There are plenty of reasons to take the nine-hour flight to visit Florida in May:
It's a major spot for visiting some of the world's best theme parks in Orlando, but it's also fantastic for a beach holiday in places such as Key West, Miami and Clearwater.
There are fewer crowds during May, as spring break and the school holidays are over.
The weather is lovely with long hours of sunshine; the average daily highs are around 25°C.
Families will love the bustle of the Orlando theme parks, including Walt Disney World® Resort, Universal Studios Orlando ™ and Busch Gardens® Tampa Bay. A two-centre holiday is an excellent choice in Florida; spend a week staying at the amusement parks and then transfer to a beach holiday on the coast for a second week. Stay somewhere like the brilliant Ritz-Carlton in the beachy Fort Lauderdale, close to Miami, which is constantly bathed in plenty of sunshine.
---
For more details on panning your tailor-made adventure for May, contact us to speak to our expert Travel Specialists. All of our holidays are protected by our travel guarantee.