If you're looking for a Caribbean paradise a little off the beaten track, St Vincent and the Grenadines should top your list.
There are a huge range of activities and adventures here to suit any visitor. And, as any Caribbean holiday destination should, it also offers stunning weather and a laid-back atmosphere.
But before you pack your bags, here are the best things to do during your trip to St Vincent and the Grenadines.
1. Immerse yourself in St Vincent's underwater world
Before you even think about exploring St Vincent and the Grenadines on shore, you have to sample the incredible sights to be found under the waves' surface.
Snorkelling in the Tobago Cays is one of the best things to do in St Vincent and the Grenadines.
This inconspicuous smattering of small islands off the east side of Mayreau offer some of the best snorkelling in the Caribbean – if not the world.
Dive from the mangroves into the calm waters and immerse yourself in the vibrant underwater world of colourful coral gardens, teeming with exotic marine life of all shapes and sizes, from stingrays to green turtles.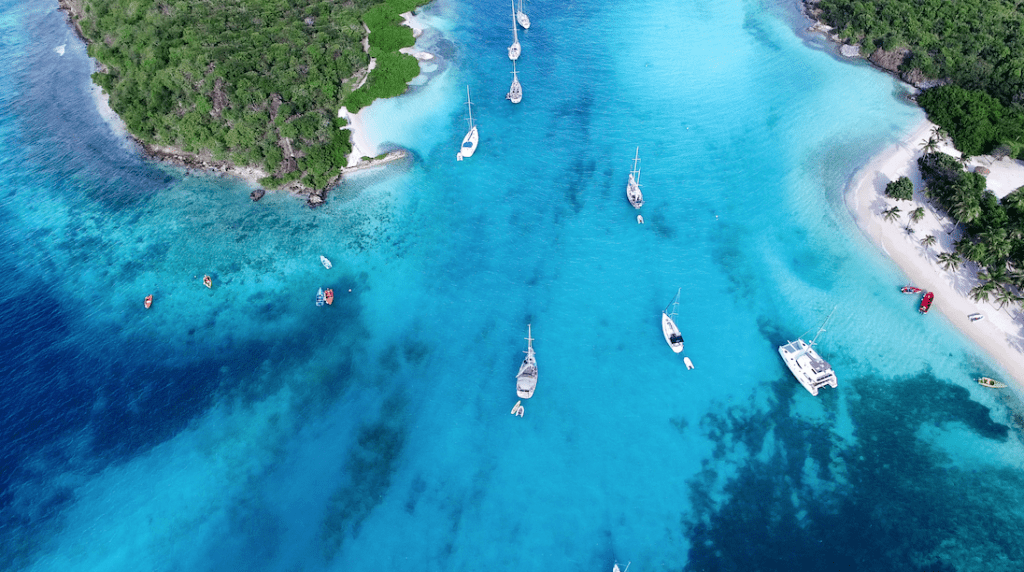 2. Get off the beaten track by hiking to La Soufriere volcano
Another iconic experience you won't want to miss during your visit to St Vincent and the Grenadines is hiking up to the crater of La Soufriere volcano.
Sitting at 1,234m above sea level, the summit of La Soufriere is the highest point on St Vincent and offers commanding views over the island's rugged hills and coastline. Spending the day on a guided hiking tour to the volcano's crater is a real adventure.
The La Soufriere Cross Country trail is about nine miles long and whilst the ascent can be difficult, the views are completely worth it.
Finally, emerge on the crater rim, surrounded by magma domes from eruptions of yore, and gaze down into the crater of this active volcano as its steam billows up into the sky.
---
Insider tip: Don't try and climb this yourself – it is a requirement that all non-residents hike with a certified guide. No alcohol, smoking or loud music is permitted – let the flora and fauna be your entertainment.
---
3. Admire the views from St Vincent's historic forts
Holidays to St Vincent and the Grenadines aren't just about nature.
There is also a rich cultural legacy here, and the best way to begin exploring it is by visiting the islands' many forts.
The most famous ports on the islands are Fort Charlotte and Fort Duvernette.
Fort Charlotte
Visiting Fort Charlotte is a must when spending a day in Kingstown.
Perched on the harbour, Fort Charlotte enjoys panoramic views across the Leeward side of the island. From the top of this 19th-century fort, you can see a bird's-eye view of Kingstown. On a clear day, you can even spot Grenada, 90 miles in the distance.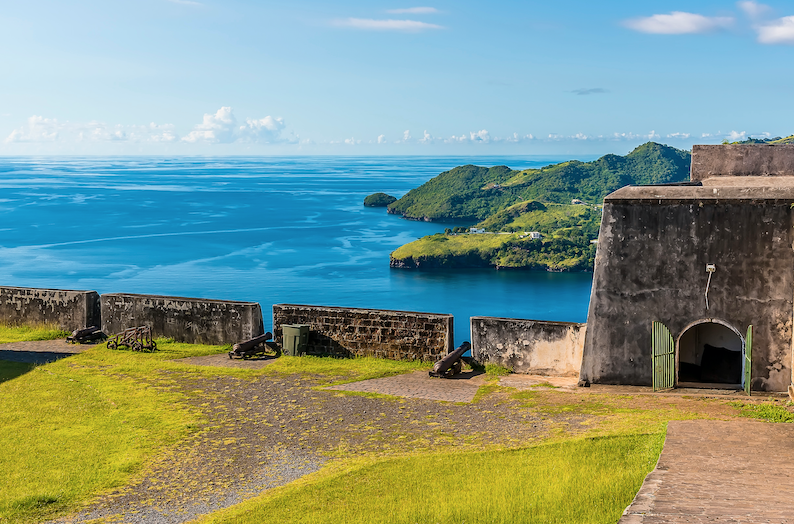 Fort Duvernette
Fort Duvernette, on the other hand, can only be reached by boat.
Perched atop a volcanic rock, this fort features a 225-step spiral staircase carved into the rock, and affords phenomenal views of the southern coastline.
4. Spend an afternoon strolling around St Vincent Botanical Gardens
If you're looking for places to visit in St Vincent and the Grenadines during the afternoon, the St Vincent Botanical Gardens are the perfect choice.
These gorgeous gardens in Kingstown have been preserved for over 250 years and abound with blooming agave trees, verdant ferns and huge palms. The labyrinthine walkways are perfect for exploration, amongst flocks of St Vincent parrots chattering from the branches.
The gardens are open every day from 7 am to 6 pm.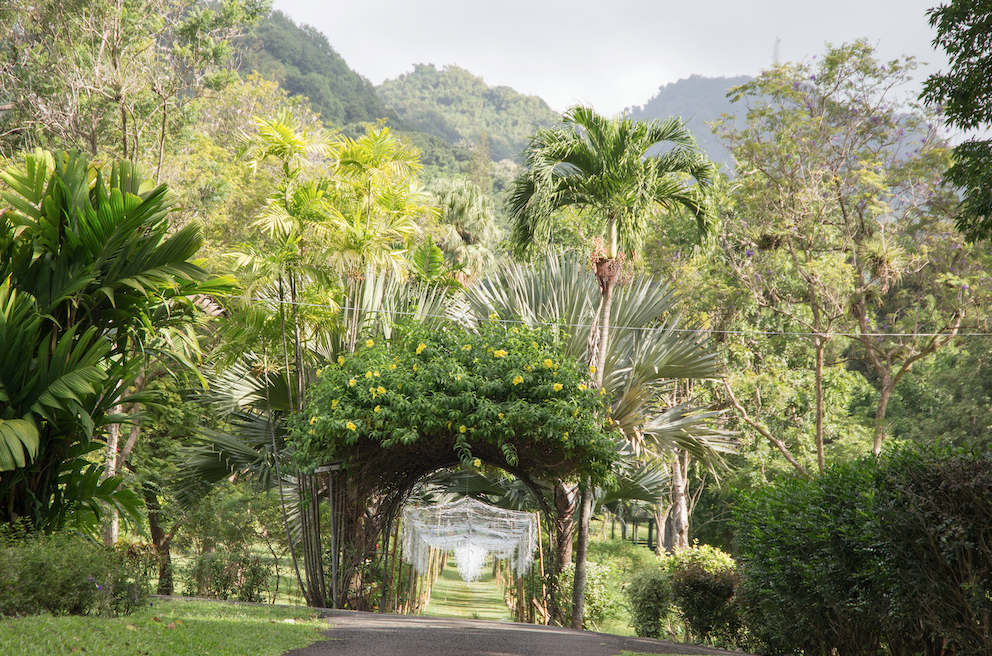 5. Escape in style to Mustique
Follow in the footsteps of Tommy Hilfiger and Mick Jagger during your holiday to St Vincent and visit the paradise island of Mustique.
This islet may only be 5km long, but it has everything you could need from a tropical paradise: untouched white sand beaches, bright coral reefs just offshore and – crucially – peace and quiet!
Lunch at Basil's, dinner on the beach by a candlelit barbecue at Cotton House; it's all incredible and all very relaxed – yet sophisticated.
As this is a private island, you will need to contact Mustique Company and organise a mooring.
It's not cheap, but many returning visitors would attest that Mustique is worth every penny.
6. Find your paradise on St Vincent's beautiful beaches
Of course, we can't forget the beaches!
There are so many beautiful beaches to choose from in St Vincent and the Grenadines that, no matter what kind of traveller you are, you will find the perfect retreat here.
Surfers will flock to Macaroni Beach on Mustique, whereas sunbathers will lay their towels at Saltwhistle Bay, shaded by luscious grape trees and palms.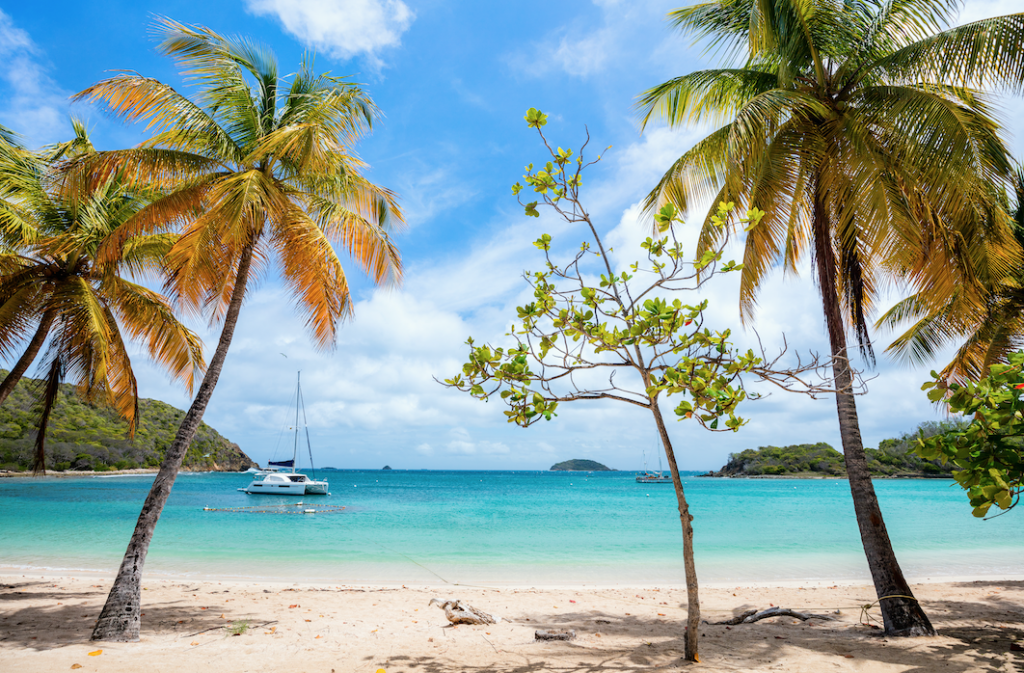 7. Soak up the atmosphere of carnival
It wouldn't be a holiday in the Caribbean without experiencing a glimpse of carnival culture. Vincy Mas festival is St Vincent's annual carnival celebration, and if you're lucky enough to visit during the summer, you will want to soak up as much of its infectious energy as possible.
Expect elaborately-costumed dancers, spellbinding steel-pan performances and a lot of colour, creativity and charisma in every street.
Get ready to soak up the soca and answer the call of the calypso, because carnival is coming to town!
Other festivals to enjoy in this Caribbean nation include:
Mustique Blues Festival (January – February)
Bequia Easter Regatta (Easter)
Nine Days Festival (Christmas Tradition)
8. Explore ancient Kingstown
When you first decide what to do in St Vincent and Grenadines, you should write "exploring Kingstown" at the top of your list.
The beaches may be beckoning, but the capital city of St Vincent is not one to miss. Kingstown is full of character, from its colourful buildings to its cobbled streets.
Enjoy lunch in one of the many local restaurants, marvel at the stained-glass windows of St. George's cathedral or the Gothic spires of St. Mary's, and buy local handicrafts from the many market stalls.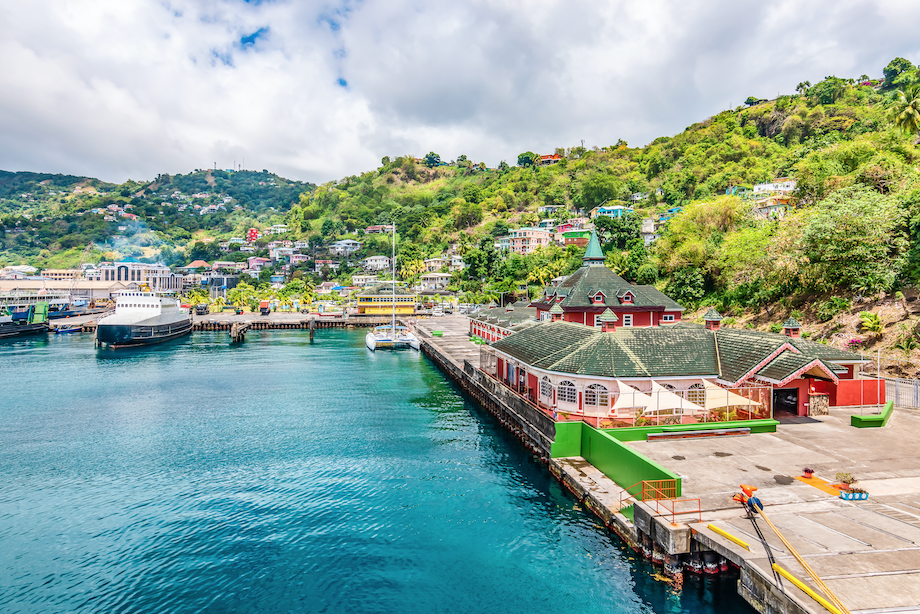 9. Bathe beneath cascading waterfalls
Nothing makes you feel like you're on a tropical holiday quite like swimming in a waterfall.
Luckily, St Vincent and the Grenadines have plenty to offer in this department. As a starter, you could visit:
Dark View Falls
Falls of Baleine
The islands' most accessible waterfalls are the Dark View Falls, just a 15-minute hike through bamboo groves. It's a really exciting hike, crossing bridges and weaving through the jungle to reach the cascades. Beneath the falls are two pools, perfect for a refreshing dip.
For the more adventurous traveller, there are the Falls of Baleine on St Vincent's northern coast. To reach them, you will need to take a boat around the Leeward coast to Fancy, or trek along the hilly trails. The waterfall has carved striking ridges into the rocks of the canyon, crashing down into several plunge pools covered in leafy vines. The Falls of Baleine feel truly wild.
10. Find paradise at Petit St Vincent
Petit St Vincent is without a doubt one of the most incredible places to visit in St Vincent and the Grenadines.
Located between Union Island and Tobago Cays, this privately-owned island is so intent on delivering unadulterated luxury that the villas don't even have telephones.
But you don't need to be checking your emails or scrolling through Twitter when you're relaxing with a cocktail in a bamboo cabana. Or when you're watching the wind bristle through coconut palms and the sun twinkle on the waves as they lap upon golden shores.
It's simply perfection.
As you can see, there are many sides to St Vincent and the Grenadines. This is a destination that refuses to be pinned down – its beaches are luxurious, yet its hills are rugged and wild. While its capital is intoxicating, its waterfalls will make you forget that the rest of the world exists.
St Vincent and the Grenadines might be best known for being one of the world's most sought-after honeymoon spots, but it is so much more than this. Yes, you will find powder-soft white sand beaches, pristine waters and swaying palms, but you will also encounter thriving carnival culture, rich history and – if you so wish – adventure upon St Vincent and the Grenadines' shores.
Whatever kind of traveller you are, there is a place for you here. The only problem will be convincing yourself to board that plane when the time comes to return home.