Spain is one of the most popular spots for a beach holiday – and for good reason. It's a beautiful country, packed with culture and history.
But with popularity comes crowds of people. If you want to escape the hubbub and see a more authentic version of the country, we've compiled a list of our favourite quiet resorts in Spain.
Read on to discover the best spots for peaceful beaches, excellent restaurants and luxurious spas…
1. Finca Cortesin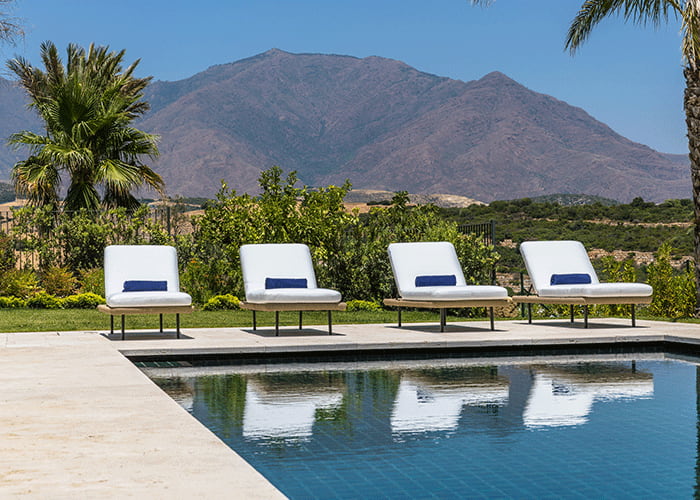 First on the list of our quiet Spanish resorts has to be Finca Cortesin. This stunning hotel is tucked away in Spain's picturesque Costa del Sol region. While the Costa del Sol attracts thousands of tourists every year, the luxurious Finca Cortesin resort is far removed from the hustle and bustle.
This place is truly peaceful – nestled in the palm trees, it's perfect for those who want to relax and unwind in a quiet Spanish escape. But relaxing doesn't translate to boring. You'll find a wide range of entertainment and facilities at Finca Cortesin.
There's something for everyone here. Fancy getting active? Make full use of the on-site gym and fitness centre, or try your hand at a game on the paddle tennis courts. And if you're a keen golfer, this really is the resort for you. Finca Cortesin boasts one of the biggest golf courses in Europe, which is home to the Volvo World Match Play Championship.
Tranquillity isn't hard to find at the laid-back resort of Finca Cortesin. There's a private spa, indoor and outdoor swimming pools, and the sandy beach with its turquoise waters is just a stone's throw away. And while the Costa del Sol is often brimming with tourists visiting its world-class beaches, museums and galleries, this resort is nestled between rolling green hills with undisturbed views of the Mediterranean Sea.
Total relaxation is easy to achieve here, without compromising on easy access to the Costa del Sol's golden sand beaches, historic towns and cultural attractions.
---
2. Son Brull Hotel & Spa
With its historic blend of traditional terracotta tiling and pastel-wash stone, the Son Brull Hotel & Spa is one of the most beautiful buildings on the Balearic island of Mallorca. Standing tall since the 12th century, the Son Brull is a breath of fresh air. It offers the chance to escape the madness of modern life and immerse yourself in rich culture, history and heritage.
Nestled in the foothills of the Serra de Tramuntana, one of Spain's most sublime mountain ranges, the Son Brull promotes a peaceful way of life. That's what makes it such a perfect pitstop when it comes to quiet resorts in Spain.
Son Brull is far removed from Spain's bustling big cities and party towns. However, it's only a short distance from the beautiful village of Pollença. Steeped in history and culture, Pollença offers historic landmarks and a plaza lined with cafes serving fine Spanish cuisine. For a relaxing day at the beach, you'll be close to one of the best golden beaches in Mallorca; with its long stretch of sand backed by pine trees, Formentor Beach is just 7km away.
There's a particular emphasis on wellness at this hotel, best demonstrated by the Son Brull Hotel Spa. Inspired by Japanese culture, it's a refuge of complete and utter peace: holistic massage, hydrotherapy rooms, and swimming pools, complemented by classes and relaxation rituals. Once you've had the chance to unwind, you can enjoy a wide range of more active pursuits including a gym and fitness centre, tennis courts and on-site golf.
---
3. Marbella Club
Marbella Club has something for everyone. If you love a little glitz and glamour, this place has an impressive history, having welcomed the likes of Brigitte Bardot and Audrey Hepburn on their own beach holidays. It also provides an air of elegance and refinement, while still being child-friendly and welcoming for families. That said, if you avoid the school holidays, Marbella Club is one of the most opulent quiet resorts you'll find in Spain.
This Spanish hotel is something to behold. Steeped beneath the peaks of the Sierra Blanca mountains, it's in the Costa del Sol region's city of Marbella. This beautiful destination enjoys a microclimate of mild temperatures all year round and typically more than 320 days of sunshine each year.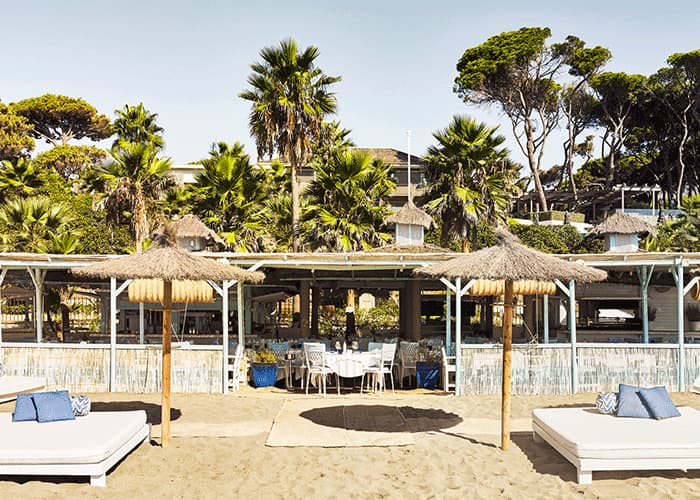 While Marbella's beach bars might be bustling in the height of summer, visit off-season and you'll be enveloped by the resort's peaceful Mediterranean gardens.The climate helps the aromatic gardens to thrive all year round, adding an air of romance to the grounds of the hotel. Framed between mountains, lush green space, the crystal-clear waters of the Mediterranean ocean and its own private golden beach, Marbella Club enjoys a total sense of privacy – which makes it perfect for a peaceful escape.
And one thing that adds to that is the Thalasso Spa, an indulgent space to relax, unwind, and enjoy a treatment. Once you've enjoyed a bit of peace and quiet, you'll be ready to take part in Marbella Club's range of activities; gym and fitness, on-site golf and tennis.
---
4. La Residencia, A Belmond Hotel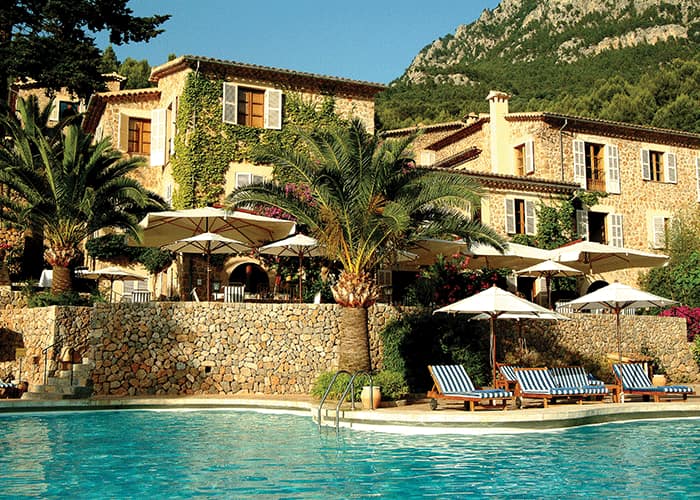 Our final pick is back in Mallorca, at the base of the Serra Tramuntana Mountains. The impressive La Residencia, A Belmond Hotel, is quintessential, cultural and picturesque. In fact, it's one of our favourite quiet and laid-back resorts in Spain.
It's set on the edge of the sleepy artist village of Deia, a romantic destination that's brimming with historic charm. The accommodation at La Residencia is made up of 16th, 17th and 18th century stone manor houses, lovingly converted yet retaining distinctive Mallorcan architecture and heritage.
At La Residencia, you get the best of both worlds: a sprawling luxury five-star resort that doubles as an intimate hideaway. It's tucked between the Mediterranean Sea and the foothills of the Tramuntana Mountains and far removed from the modern city centre of Palma. If you wish, you could stroll along the coast path, which takes you straight from Deia to the former fishing village of Port Soller.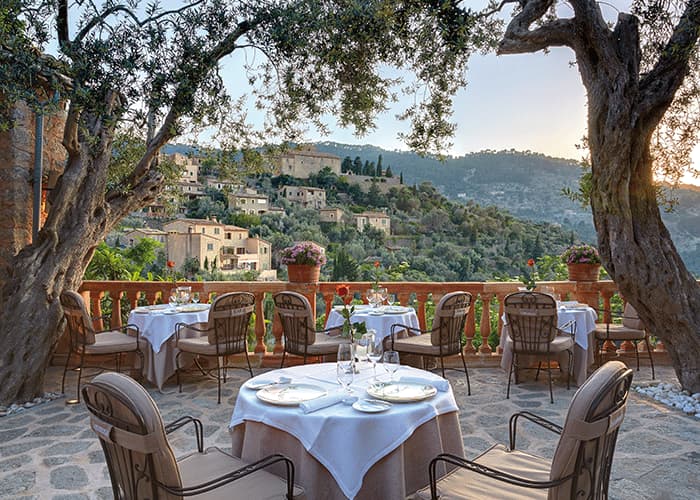 The award-winning spa here certainly promises a calming oasis. It's packed with ambience and boasts an indoor pool, jacuzzi, gym, and open-air terraced treatment rooms to ensure absolute indulgence. The spa menu includes bespoke therapies, tailored to the individual needs of each guest. A trip to La Residencia promises utter relaxation, away from the rest of the world and the hustle and bustle of Spain's tourist trade.
This resort is brimming with amenities and it's close to a beautiful beach, too. The diversity of La Residencia coupled with its mountain top views and ocean vistas makes this one of the most impressive quiet Spanish resorts – and it's the perfect place to enjoy a beautiful sunset.
---
Whether you want to visit Spain for an unforgettable beach holiday, charming village locations or picturesque towns, let us help you to plan your next Spanish holiday. 
Head here for more ideas on relaxing locations with a focus on spas and wellness.
Make an enquiry today and speak to one of our travel specialists to discover the perfect quiet places in Spain for you and your travel companions.