The Caribbean isn't short on stunning views. So obviously, when it comes to the world's most Instagrammable places, it's got to be up there.
With crystal clear waters and white sandy beaches, the Caribbean certainly looks amazing on any Instagram feed.
To help you know where to go to take those all-important snaps, here are our picks for the most Instagrammable sights in the Caribbean. These include:
The Pitons in St Lucia
Animal Flower Cave in Barbados
Underwater Sculpture Park in Grenada
Swimming with Pigs in the Bahamas
Pink Sand Beach in the Bahamas
Stingray City in Antigua
Shirley Heights in Antigua
Bioluminescence at Rum Point in Grand Cayman
Seven Mile Beach in the Cayman Islands
Blue Hole Jamaica
Read on to find out more.
The Pitons in St Lucia
Whether you enjoy climbing volcanoes or not, you'll be sure to marvel at the Pitons in St Lucia. These two volcanic spires are majestically beautiful and have become an iconic St Lucia sight.
Lots of visitors use the rich, green Pitons as a stunning photo background. We recommend framing against one of the volcano's bases with waves crashing beside you. Alternatively, why not take your selfie on top of the volcanoes, if you're brave and fancy a hike?
Either way, the Pitons are one of the most Instagrammable sights in the Caribbean, known for their lush tropical appeal. Worth a visit whether you want to climb or not.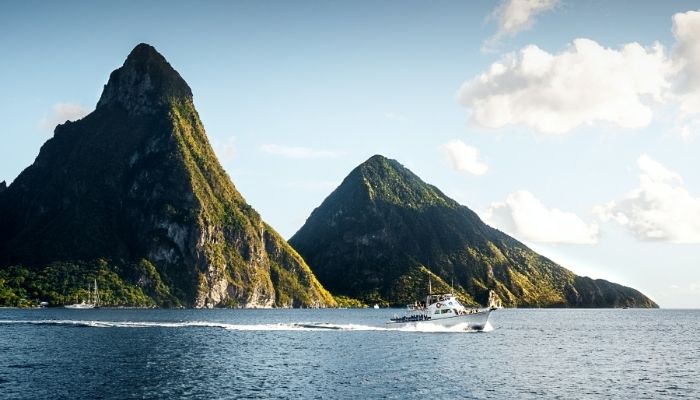 Animal Flower Cave in Barbados
If you're a fan of nature and like your Insta feed to be full of unique exciting places, then this natural cave will be perfect for your latest snap. Named for the sea anemones that live there, it offers amazing views onto the Atlantic Ocean at one of the most northerly points of Barbados.
This amazing view from inside the cave directly out onto the ocean makes the Animal Flower Cave a very photogenic spot that is loved by tourists and locals alike.
A quick disclaimer: this is a natural sea cave, so it is slippery and even when '"doing it for the 'gram", it's important to remember that safety should come first.

Underwater Sculpture Park, Grenada
If you like to snorkel and love to get out into the ocean, the Underwater Sculpture Park in Grenada will be a perfect destination for you.
The most Instagrammable spot is probably the children holding hands sculpture, which is eerie and beautiful all in one go and makes an amazing underwater photo.
As artificial reefs, these sculptures provide a great place for the natural marine life to congregate too, so be prepared to see some amazing natural wildlife that might even sneak their way into your pics!
Word of warning: the busier sculptures can get busy, so be careful when people dive down – a flipper to the face hurts!
Swimming Pigs of Bahamas
This has to be the most Instagrammable sight in the Caribbean, and the novelty of it really speaks for itself. Pig Beach or Big Major Cay (as it's really called) is located on one of the many Exuma Islands in the Bahamas.
These little piggies love to bathe in the cool waters, and are friendly enough that you can swim with them too! You'll get some amazing pictures of you swimming with the pigs that will always remind you of your perfect holiday to the Caribbean.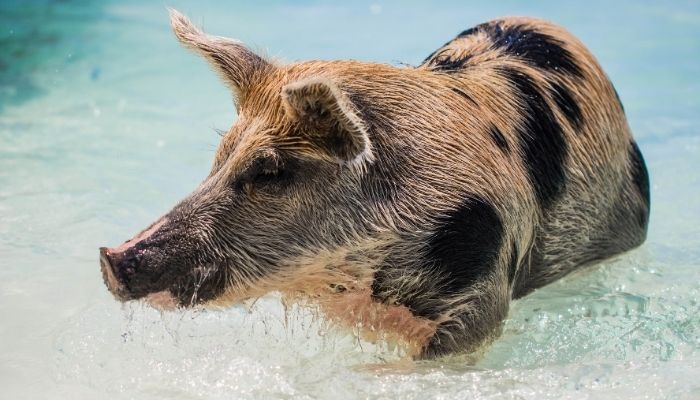 Pink Sand Beach, Bahamas
Another natural beauty that really speaks for itself, this pink sand beach in the Bahamas is one of the most 'gram-worthy sights in the Caribbean. The pink beach is located on Harbour Island, and literally stretches on for miles (more than three, to be precise!) and offers stunning pink views as far as the eye can see.
It's one of the most popular tourist spots for its stunning natural pink scenery, however due to its length it rarely fills up like some of the other beaches that are renowned in the Caribbean.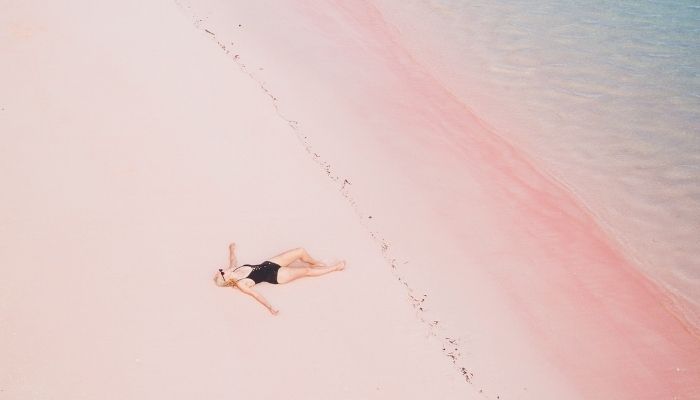 Stingray City in Antigua
One for the daredevils! Stingray City is a white sandy bank surrounded by crystal-clear water home to tropical sea life and lots of stingrays. These little guys are very friendly and will allow you to swim with them and even feed them too!
You'll be able to get some amazing pictures right next to the stingrays, but as always it's recommended that you're careful and respectful when dealing with wild animals.
You'll probably need to book an excursion by boat to get there unless you're planning on making your own way, but these trips can be booked in advance.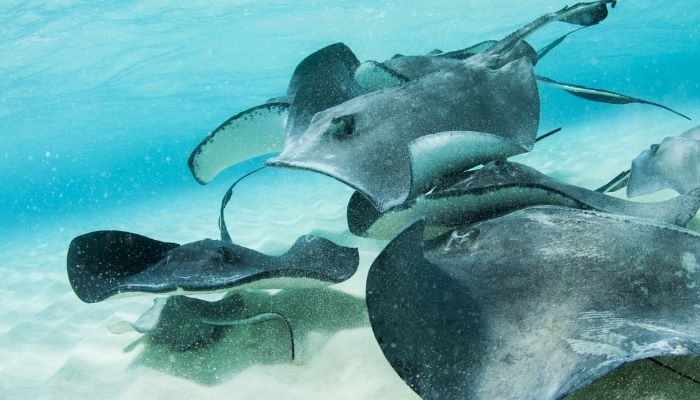 Shirley Heights in Antigua
Shirley Heights is a retired military trail that can be hiked two ways via the Lookout Trail. Once at the top of this magnificent trail you will overlook the beautiful protected bays, rolling hills and stunning sunsets that Antigua is famous for. This view makes it one of Antigua's most Instagrammable places and is popular with tourists and locals alike.
In fact, if you're lucky enough to be visiting Antigua over a weekend, you should make time for the celebration that takes place every Sunday evening on top of Shirley Heights. You will be treated to a real Antiguan celebration that is not to be missed. Getting some snaps of the local celebrations is always a good way to celebrate the culture and enlighten people back home on how they do things in Antigua.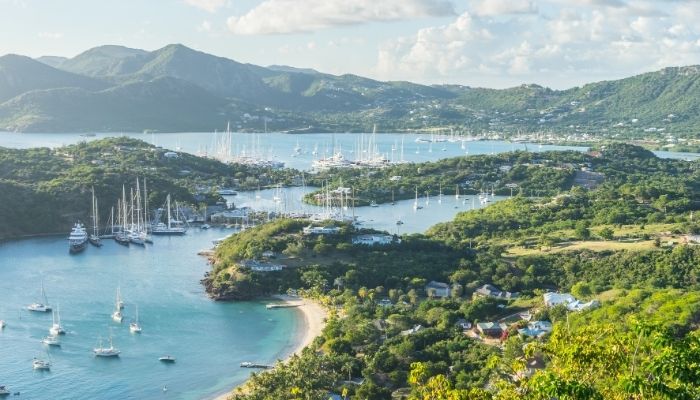 Bioluminescence at Rum Point in Grand Cayman
Although the bioluminescent plankton that create this amazing glow only come out in certain moon cycles, if you plan it correctly you can expect to see an amazing light glowing from the water. The bioluminescence is actually caused by the phytoplankton themselves, glowing from the chemical reactions that are going on within the organism.
Although the light that they illuminate can be quite strong, they are actually microscopic entities that float in the water.
Normally they won't glow intensely, however when disturbed they give off a strong burst of light which is thought to ward off predators. It's this light that causes the amazing glow and gives you that Insta pic you've always dreamed of.
Arrange a tour with a local expert to see the bioluminescence in all its glory at the best time. Many of these tours offer kayaking and boat trips, during which you can either travel by boat or by kayak through the bioluminescent bay.
Seven Mile Beach in the Cayman Islands
Looking for the perfect backdrop for your next bikini snap? This stunning stretch of white sand and amazingly clear water is a must-see when visiting the Cayman Islands.
With rocky areas that are ideal for snorkelling and deeper, more tranquil areas for swimming, there is something for everyone at this incredible beach. You'll be the envy of all your friends when you get your next Insta shots on the seven-mile beach. Plus, in the summer you'll be able to bathe for hours in the warm, clear water. What could be more relaxing?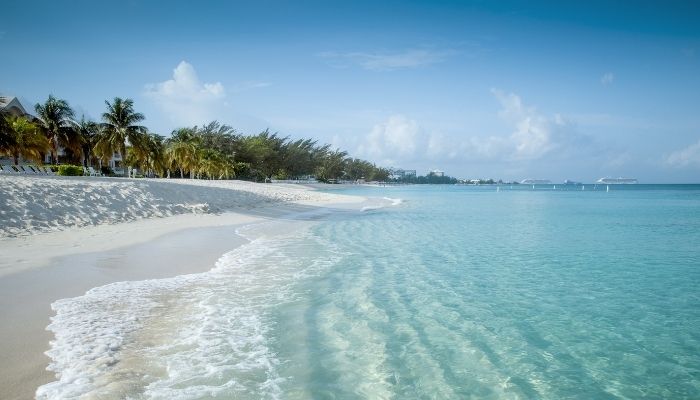 Blue Hole Jamaica
Nestled in the Jamaican jungle, this amazing natural river and waterfall combination literally looks like a blue hole, hence the name. Here you'll find amazing backdrops for pictures with the luscious natural landscapes and waterfall splashes just in view.
Some of the more daring tourists often jump from the waterfalls. It can make for amazing photos, but is of course extremely risky! This hidden gem of Jamaica features stunning bright blue pools of water accompanied by rich green trees and bushes. A real Caribbean dream.
Are you ready to explore the most Instagrammable sights of the Caribbean? We don't blame you! It's one of the most picture-perfect locations that is renowned for its sunrises and sunsets that set the sky on fire.
With so many gorgeous locations to choose from, you'll be sure to get some of your most insta-worthy pics ever when you visit these locations. Get ready to ooze Caribbean class and get some stunning snaps.