February offers some excellent opportunities to seek out some sun. So, while it's rainy and chilly in the UK, why not escape to one of them and take a break from the cold?
Here's our list of the best holiday destinations to keep you warm this February.
---
Where's hot in February: Short haul – medium haul (7 hours or less)
20°C average temperature
4h 30min flight from London to Tenerife
30% chance of rain
25°C average temperature
6h 55min flight from London to Dubai
26°C average temperature
7h 10m flight from London to Muscat
---
Where's Hot in February: Long Haul (8 hours or more)
29°C average temperature
8h 30m flight from London to Barbados
34°C average temperature
12h flight from London to Phuket
17°C average temperature
11h 5m flight from London to Hanoi
28°C average temperature
10h 25m flight from London to Colombo
29°C average temperature
15h 40m (connecting) flight from London to British Virgin Islands
25°C average temperature
16h 35m flight from London to Perth
---
Barbados 29°C
February is an excellent time to enjoy the highlights of Barbados, when the weather is still at its winter peak and the Christmas crowds have wound down. Enjoy warm temperatures without too much humidity, a low chance of rainfall and – most importantly – plenty of Bajan sunshine.
Hotel Highlight
Among Barbados' many fine hotels is Sandy Lane, a renowned haven of luxury along the West Coast. It's the perfect place for a romantic couples retreat or a family getaway, with a silky stretch of sands at its doorstep.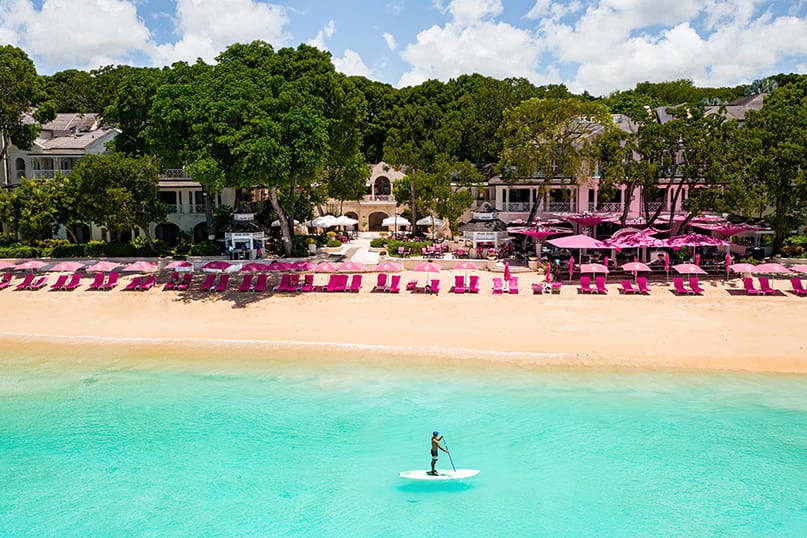 Perfect your swing on the hotel's three golf courses, including the fabled Green Monkey, exclusive to Sandy Lane guests. Soothe your soul at the palatial spa with a treatment from the extensive menu, or take your kids to the complimentary Treehouse Club, where they'll find a fun-filled itinerary of adventures.
Thinking of visiting Barbados this February? See our guide to the top 10 things to do in Barbados.
"If you've never been to Sandy Lane before, you really will be blown away. The rooms are stunning and offer luxury at every turn, while the beach is absolutely pristine. My highlight was the renowned Sunday Brunch – though the word 'banquet' might do it more justice!" – Ceri, Content Manager
Top experience: Head down to Oistin's Fish Fry to try local street food and music on a Friday night
---
Oman 26°C
Next on our list of warm holidays for February, Oman guarantees a good time for all the family. With temperatures creeping towards the 30s, it's a great time to embrace all the incredible outdoor events on offer – before the searing heat of summer.
Oman is famed for its stunning scenery. Sweeping coastlines, lofty mountains, and boundless, sun-scorched deserts are just some of the staple sights on show. You can make the most of these beautiful surroundings with hiking or biking trails, or perhaps a camel ride across the desert.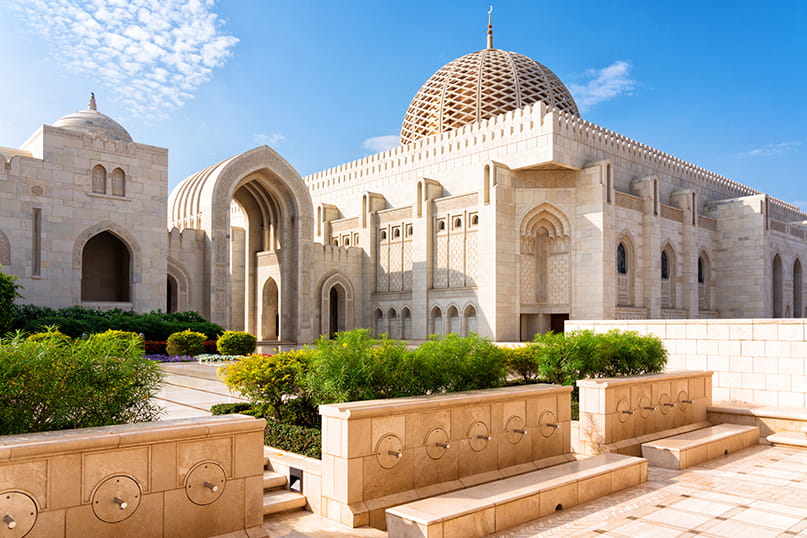 If you're searching for some activities in the shade, you should check out Oman's various cultural touchpoints in the capital, Muscat. The Sultan Qaboos Grand Mosque is a magnificent piece of architecture, with so much fascinating history contained inside. Join a guided tour to unlock all its secrets. Meanwhile, The Royal Opera House is ideal for classical music fans, and The National Museum is the place to be for history buffs.
Hotel Highlight
For easy access to Muscat and all its thrills, we recommend a stay at Shangri La's Al Waha Hotel. Set on the beachfront with several swimming pools, watersports equipment, and a kids' club for little guests, this is the perfect spot for families to relax and soak up the sun. What a way to spend the February half-term!
Top Experience: Lay your weary heads on Wahiba Sands and watch shooting stars alight the night sky.
See our guide to The Best Things To Do In Oman for more.
---
Phuket 34°C
Fancy peeling off your scarf and gloves for a while? February is the perfect time to visit Phuket in Thailand. It's just at the end of the peak season, when days are sunny, nights are balmy and rainfall remains low.
Visit the Wat Chalong and Phuket Temples for a dose of culture. The temples are decorated with reflective sparkling glass, golden Buddha statues, and stunning floral arrangements.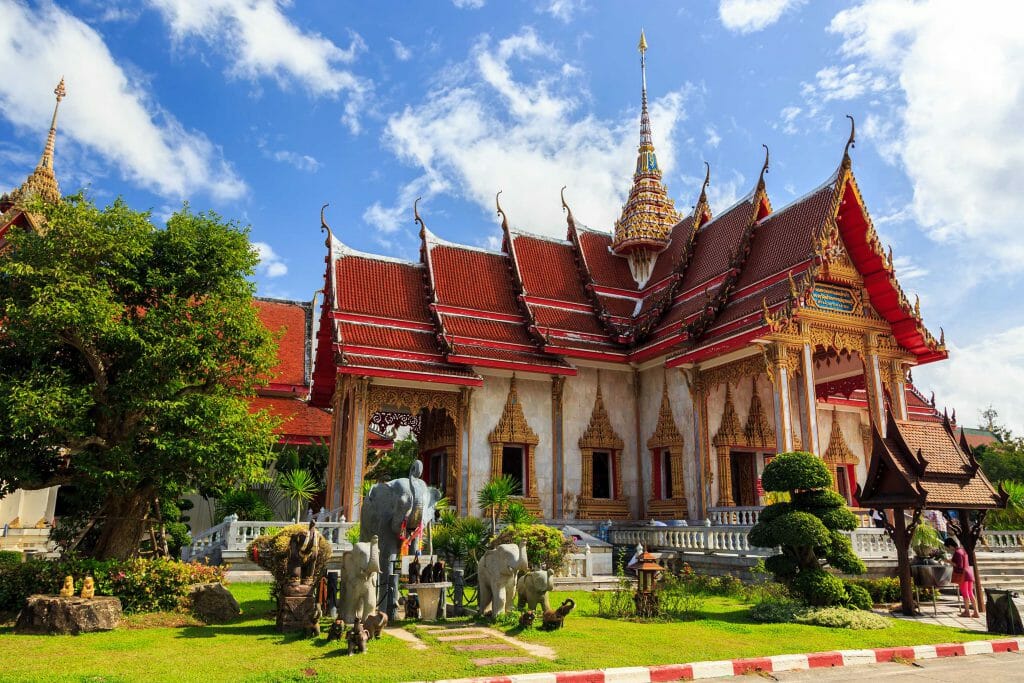 For those who prefer to soak up the sun rather than the culture, Phuket has some of the most pristine beaches in the world, including the aptly named Paradise Beach. Sit on your little slice of golden heaven as you indulge in some me time on the white sand beaches and dip a toe in crystal-clear waters.
Phuket offers many opportunities to explore multiple tropical islands on one trip, including the Phi Phi Islands, the Racha Islands, and Koh Panyi Island Village. Talk about the holiday of a lifetime!
Top Experience: Delve deep into Thai culture and visit the temples in Phuket.
---
Vietnam 17°C
Vietnam may be your perfect answer to the question, "where is warm in February?". With temperatures at an average of 17°C, it may not sizzling hot, but it's still a whole lot warmer than home! Vietnam's February usually brings warm temperatures, plenty of sunshine, and less rainfall than other months.
According to the Vietnamese Calendar, the festival of Tết celebrates the arrival of spring, which usually takes place in late January or February.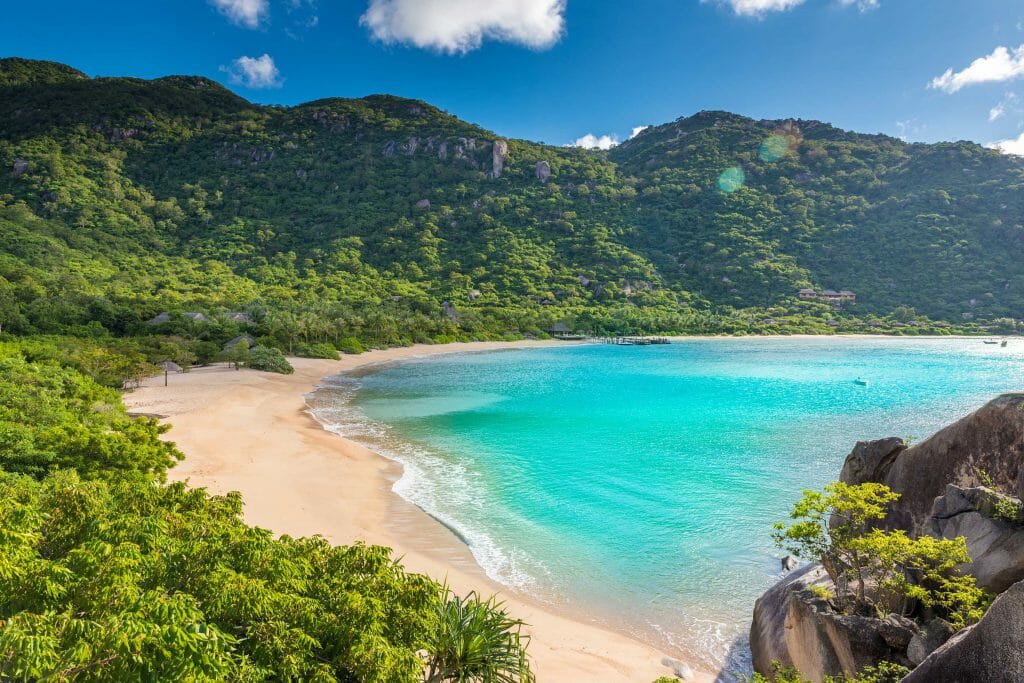 While many shops and restaurants close during the festival, you can enjoy all the colourful celebrations in the city instead. Expect eye-catching processions, masked dancers, traditional music, and delicious Vietnamese cuisine.
Hanoi is an amazing place to visit in Vietnam. It has a thriving culinary scene alongside luxury hotels and intriguing architecture. Other highlights include Nha Trang, a land of beautiful beaches, and Hue, a city of atmospheric charm and riveting history.
Top Experience: You can't visit Vietnam without tasting Pho!
---
Sri Lanka 28°C
February is the perfect time to visit Sri Lanka. The small island's climate varies from region to region, but February is generally a safe bet for hot weather. The torrential rains of monsoon season are swapped for warm, revitalising sunshine.
There are many experiences to enjoy in Sri Lanka. Try a wildlife tour of Yala or the Minneriya National Parks. Head to cosmopolitan Colombo for excellent shopping, dining, and culture. Or dive into Sigiriya and Anuradhapura to learn about the island's history.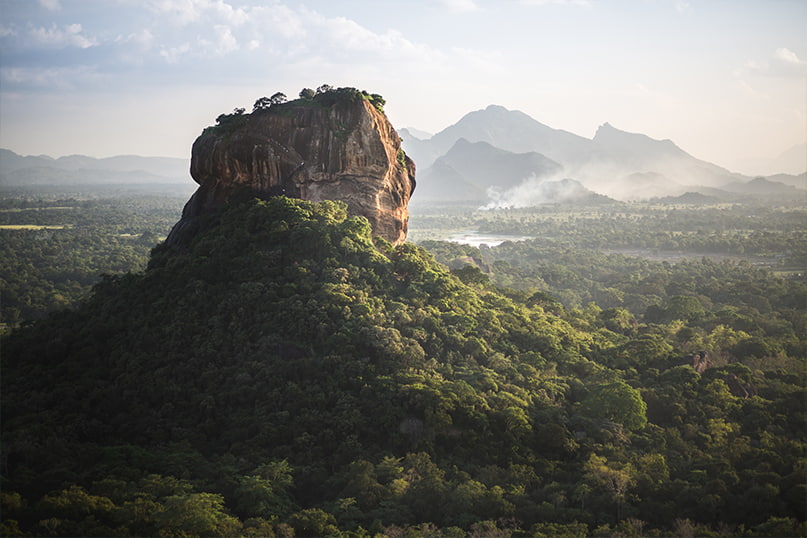 Top Experience: Watching a game of cricket at the scenic Galle International Stadium will provide you with incredible views and an opportunity to experience a national pastime.
---
Tenerife 20°C
Those who don't want to wing it too far may be wondering: where is hot in February in Europe? We have an idea! Stay closer to home with a trip to Tenerife. It's just four hours and thirty minutes away by plane, so you won't waste a whole day in the air. The weather in Tenerife is perfectly mild in February, making it a great option for a short-haul holiday in half term.
Tenerife has plenty of attractions to keep you entertained on your February getaway. If you're after a laidback holiday, the beaches of Tenerife offer all you need. Look to La Caleta or Bollullo Beach for a soothing day beside the sea. The latter beach is made up of Tenerife's iconic black sand, a truly unique sight to remember.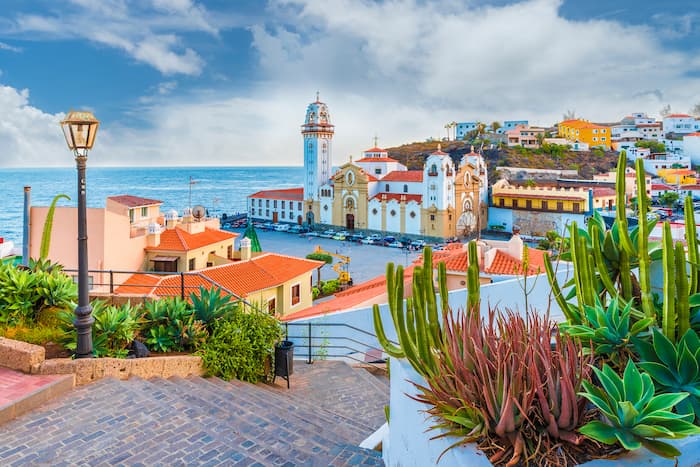 These secluded spots are far removed from the hustle and bustle of Tenerife's larger beaches, perfect for a private family day out. As you admire the waters, keep an eye out for the dolphins, orca, and blue whales – regular visitors to the Canary Islands. When you fancy a bit of action, you can check out Teide National Park, or explore the hiking trails of Sendero El Bosque Encantado.
For a romantic getaway, we suggest the beautiful resort of Royal Hideaway Corales Beach on the southwest coast. Meanwhile families may prefer The Ritz-Carlton, Abama. It's a golfer's paradise, the perfect place to enjoy some fun in the sun with the kids.
Tenerife also featured in our guide to the best family holiday destinations in Spain.
Top Experience: A hike up Mount Teide, the fourth-largest volcano on Earth. As the highest point in Spain, it offers amazing views of the sweeping scenes below. If you don't fancy the walk, you can also take a cable car to the summit.
---
British Virgin Islands 29°C
With endlessly sunny skies and temperatures reaching a toasty 29°C, the British Virgin Islands offer the ultimate tropical island escape in February.
The British Virgin Islands is a group of over 60 beautiful islands in the Caribbean sea, many of them uninhabited. Sunseekers and adrenaline enthusiasts alike will find something to charm them here. For beach-lovers, you can expect beautiful sands bordered by warm waters; great for cooling down in after a sunbathing session.
"You quickly get used to jumping on small boats – basically in the way you'd get in and out of taxis back home – popping over to a tiny island for lunch at a great restaurant or taking a picnic to a deserted beach." – Jackie, Relationship manager
If you go in for watersports and more action-based activities, you'll be spoiled for choice. From kite-surfing to sailing and scuba diving among the corals, you'll be deep diving into the very best of the British Virgin Islands.
For those seeking a secluded getaway, why not stay at Rosewood Little Dix Bay? This luxury, eco-friendly resort sits on a crescent-shaped beach on Virgin Gorda, overlooking the beautiful seas. If you're feeling adventurous, you can take the resort's private water taxis to some super secluded beaches for a day trip.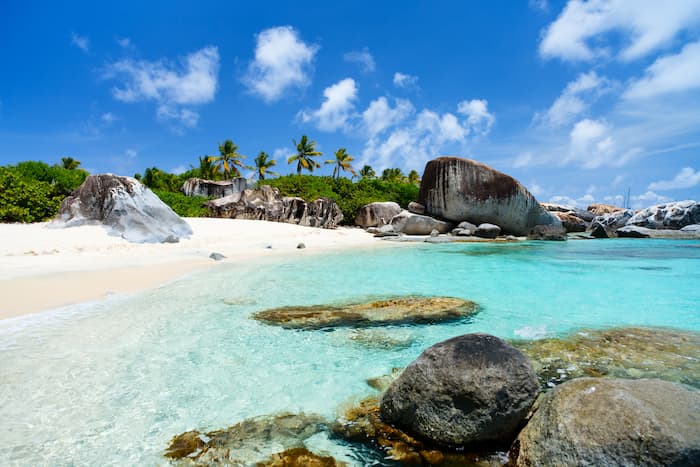 With the temperature hitting highs of 29°C you will instantly forget the grizzly weather back home and make up for the winter blues.
Find out more about what it's like to stay at Rosewood Little Dix Bay.
Top Experience: Visit the beautiful grotto, "The Baths", surrounded by massive boulders from volcanic eruptions. This area is perfect for swimming, exploring, and bouldering.
---
Western Australia 25°C
Australia is another February hotspot. Working through the seasons in reverse, the "Lucky Country" really is lucky, reaching the peak of its summer during the dreary European winter. Daily sunshine and hot weather are the norms in February, especially in some areas of Western Australia, where there are many attractions to explore.
It's always sunny in Western Australia's state capital, Perth. Expect sandy beaches and majestic views from the coastline, resting alongside a vibrant city blooming with modern perks. Highlights include the Swan River and Swan Valley Wine Region, and Rottnest Island. Both sights are best admired in the sunshine.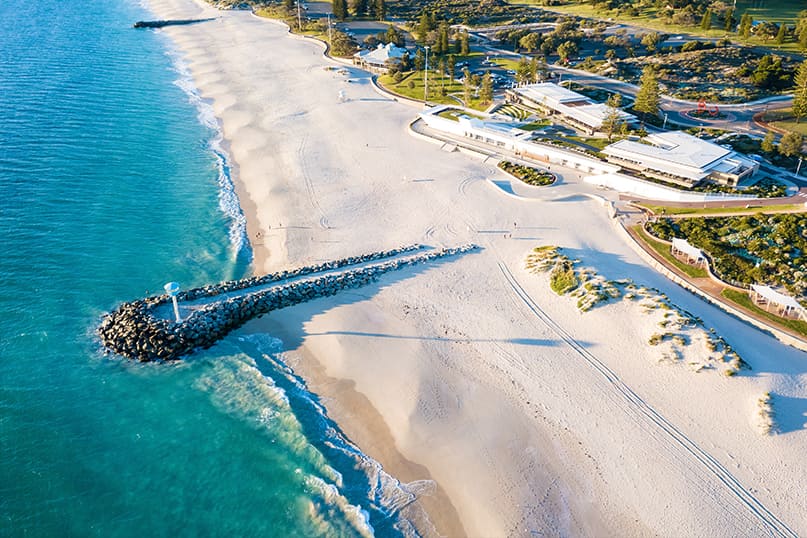 Be sure to book your accommodation in Perth at COMO The Treasury. These restored 19th-century state buildings are now a place of dreamy luxury, bringing you immaculate cuisine and holistic spa treatments right in the heart of the city.
The Margaret River Region is another must-do. Located south of Perth, this river is more than just a slow flow of water, but the lifeblood of its local community. Explore the beloved Margaret River Region and its stunning surroundings with a coastal hiking trail, or a rugged bike ride across the mountains.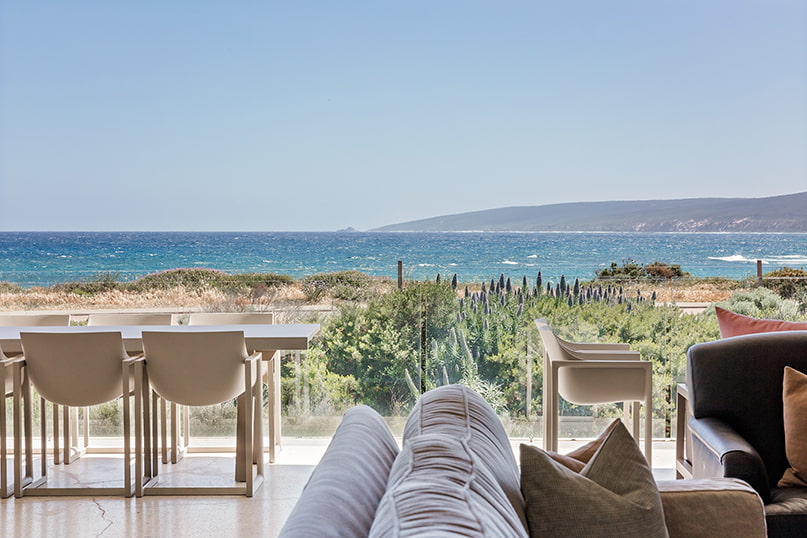 We suggest you rest your head at Smiths Beach in Margaret River. Beaches, swimming pools, sun patios, and vineyards are just steps away from you in this resort.
For more tips, see our full guide to Things To See And Do in Western Australia.
Top Experience: Snorkel down to the Omeo Wreck in on the Coogee Maritime Trail.
---
Dubai 25°C
If you don't visit Dubai at Christmas, or you do but you'd like to go again ASAP, then February is your next best bet. Tourism dies down but the sun shines on during this time, so you have more space to explore the sights while remaining nice and warm.
The main crowd pleasers are the Dubai Fountain, the lofty Burj Khalifa, and Palm Jumeirah, a manmade work of art. Then there's a list of outdoor adventures you need to tick off. Quad biking in the Dubai Desert, skydiving over the city's skyline, and a watersports session at Kite Beach are just a few examples.
For accommodation, we suggest staying at Ritz Carlton Dubai, one of the finest luxury resorts in town. The JBR Walk lies just across the road from here, offering a choice of restaurants and shops to explore. That's if you ever leave Club Lounge, the Ritz Carlton's sensational bar and restaurant. Unlike alternatives, this iconic place serves alcohol from midday onwards, so you can get the party started sooner.
Top Experience: Thrill seekers, it's time to see Dubai at high speed. Zipline through Dubai Marina to admire the skyline like never before.
Find more amazing things to do in Dubai.
---
Looking for more warm places for a February holiday?
For more holiday ideas, simply contact us and we can tailor-make a holiday personalised to you, advise on the ideal time to visit, and arrange the best bespoke experiences to make your February holiday extra special.