Antigua is a paradise full of amazing cuisine, idyllic locations and friendly locals.
The chilled-out Antiguan way of life combined with delicious traditional cuisine makes it easy to unwind after a day of sightseeing.
Because there are so many incredible dishes to sample here, your taste buds will enjoy your Antigua holiday as much as you.
Here's our selection of the top restaurants in Antigua, so that you can plan your meals before you get there.
The restaurants in Antigua we recommend are:
Terrace Restaurant
Trappas
Carmichaels
Sheer Rocks
Le Bistro
Estate House
Cove Restaurant
Catherine's Cafe
Abracadabra
Terrace Restaurant
The Terrace Restaurant is located on the top of the hillside in the Inn at English Harbour resort. This traditional restaurant conjures a colonial atmosphere amongst stunning gardens and offers a mix of Caribbean flavours and global cuisines. Perfect if you're looking for food to suit everyone, coupled with a great atmosphere and stunning views.
As an all-round resort, they also have a secluded beach and well-appointed rooms. You'll be within touching distance of the Antiguan National Park with stunning views across the English Harbour.
Enjoy a cocktail while watching the sunset as you indulge in a special 'al fresco' candlelit dinner beneath the stars.
This high-end restaurant is the full package for those looking for something a little bit special when visiting Antigua.
Trappas
Nestled in English Harbour, you'll find a delightful restaurant that's full of Caribbean flavour. Trappas has become one of the must-visit restaurants on the harbour. This is chiefly thanks to its fabulous traditional food and drinks. However, a location at the heart of this yachting paradise doesn't hurt either.
Customer favourites include the flatfish, Cajun shrimp and fried green tomatoes that offer a real taste of Antigua. You won't be disappointed by the delicious sides on offer too. Don't be shy when you visit this restaurant. If you're not sure what something is, the staff are always more than happy to help. They're equally delighted when guests try new things, so dive in!
The service is one of the best parts of this gorgeous Antiguan hideaway.
Expect down-to-earth dining, plus an amazing location with views that will make you feel every inch the Antiguan local.
This is more of a locals joint than a tourist hot spot. Therefore, it's the ideal place for those looking to immerse themselves in a truly Antiguan experience.
Carmichaels
Carmichaels is a renowned Antiguan restaurant that offers a romantic setting and beautiful fine dining. The restaurant is nestled at the top of Sugar Ridge, offering stunning views of the lush greenery and beautiful bays. So, photographers take note – this is the place for photo opportunities.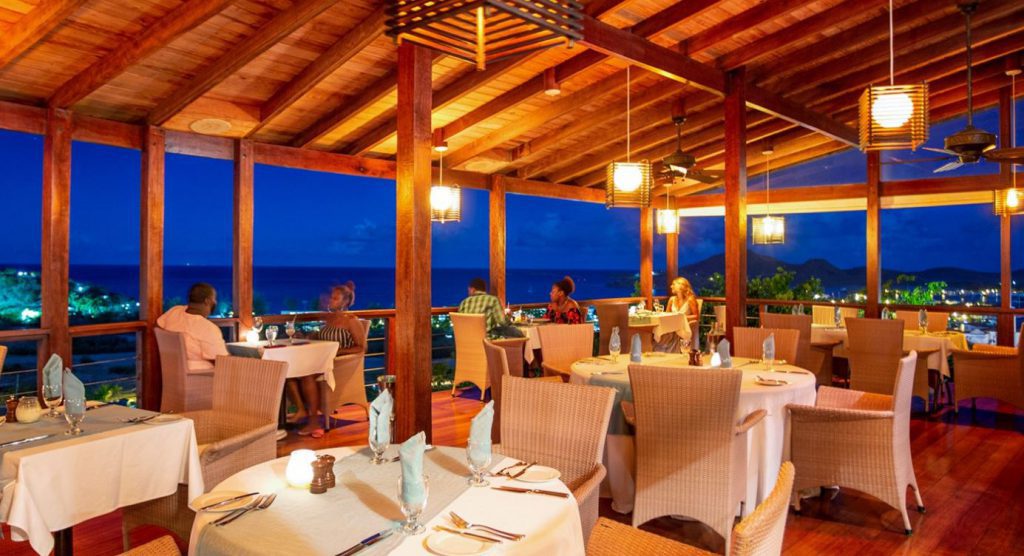 If you're looking for fine dining with amazing views, Carmichaels has got you covered. Executive Chef Gregory Williams has been with Sugar Ridge since 2009. During that time, he's created a menu emphasising fresh seafood and local ingredients with a Caribbean flair.
Plus, if all you're looking for is a drink, visit Carmichael's bar. Grab an exotic cocktail to punctuate the beginning or end of your evening.
Sheer Rocks
If you're looking for a sunset-facing bar and restaurant to wind down within, Sheer Rocks is ideal. Located on the cliffside, and protruding over the rocks of Ffryes Bay, this bar offers an optional wine-paired tasting or a truly gourmet à la carte dinner menu.
Perfect for a chilled lunch or drink, this place oozes Caribbean flair. It's a romantic, fun and elegant place with plenty of menu choices for all the family. The combination of friendly staff and chilled Caribbean music offer a superb location to relax and unwind in after a day of exploring Antigua.
Located on the side of the rock, you'll be able to gaze into the Caribbean sea and explore the island taste bud by taste bud.
Equal parts relaxing and elegant, you won't find a place that nails the shabby chic aesthetic more than Sheer Rocks.
Oh and don't forget to try their artistic cocktails – just one of the many reasons that they have been nominated for USA Today's 10 Best Beach Bars in the Caribbean!
Le Bistro
Antigua's first authentic French restaurant, opened in 1981, is still full of charm and charisma today. One of the most popular spots on the island for luxurious French/Caribbean fusion dining, you won't be disappointed by the style and elegance of this place.
It's a little fancier than some of the other restaurants on the island, but if you're a fan of French fusion cuisine you won't be disappointed. 'Le Symphonie de l'Ocean' is a must for lovers of seafood – a trio of lobster, mahi mahi and snapper served in a basil sauce.
The Estate House
This beautiful restaurant situated within Jumby Bay comes highly recommended by tourists and locals alike. The fine dining on offer combines classic fare with modern flavours to reveal a taste of Antigua. The circa 1830 plantation house, once the centrepiece of the island's sugar plantation, is a wonderful backdrop to discover the delectable dining that Antigua has to offer.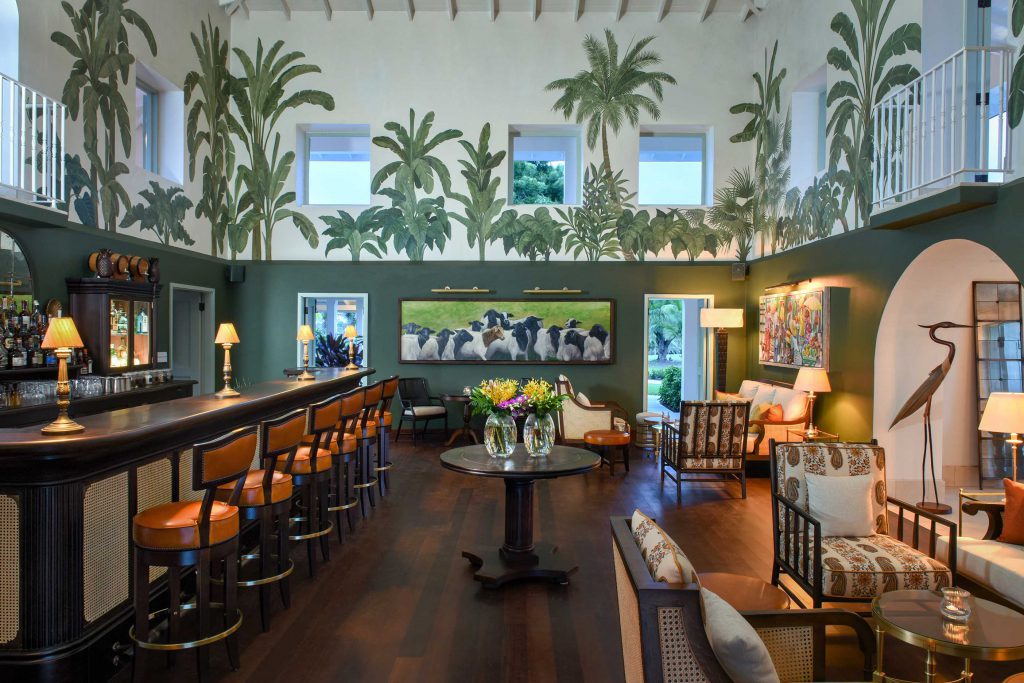 The Estate House's design represents a modern interpretation of the Colonial spirit. This restaurant is more than just fine dining, it's an experience in itself and an adventure into the history of Antigua. You'll find glorious artwork, vintage maps and gorgeous tableware that beckons to historic Antigua.
This restaurant is a must-visit when you are staying at the luxury hotel. For the full refined dining experience, we recommend sampling the freshest seafood, meats and produce of the Caribbean in this stunningly elegant foodie heaven.
Cove Restaurant
Cove Restaurant is a charming and luxurious French-Caribbean fusion cuisine venue that offers fine dining with stunning views. It's uniquely situated on a clifftop and offers mesmerising views of the Caribbean sea. Definitely one to add to your list of places to dine in Antigua.
As you arrive, you'll see flaming torches and a dramatic entrance that illuminates breathtaking views of the Caribbean Sea.
This place doubles up as a stunning resort and spa that can make an amazing day trip for those who like to fully relax and unwind on holiday.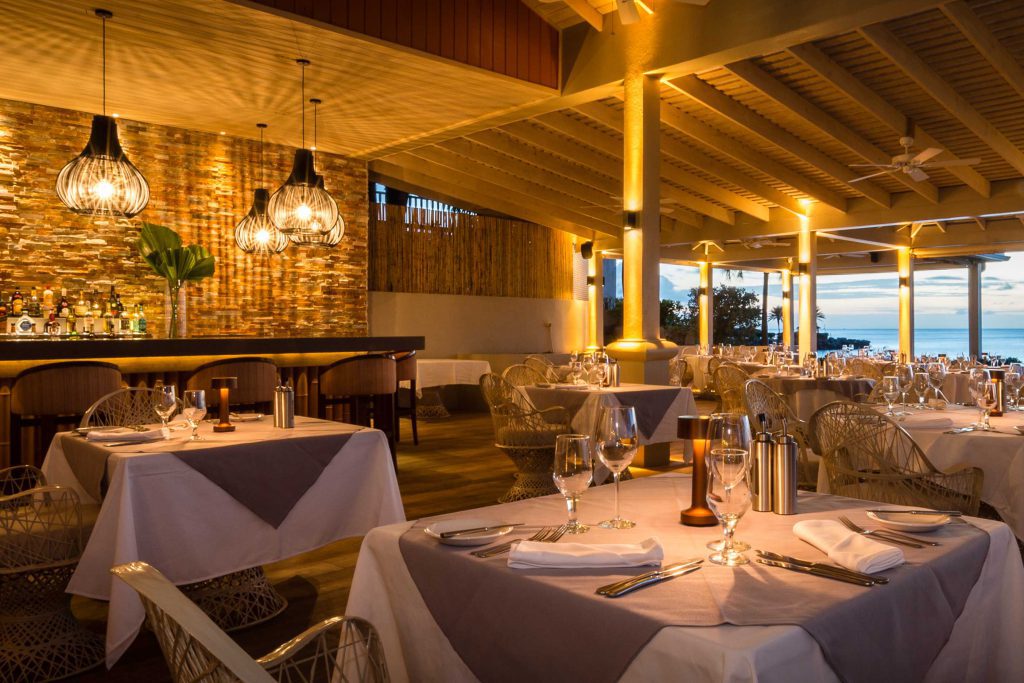 Insider Tip: If you're heading into the restaurant in the evening, you'll need to be dressed in tailored shorts and smart casual wear, including collared t-shirts. No flip flops allowed!
Catherine's Café
Catherine's Cafe is located on Pigeon Beach – one of the most popular beaches on the island – and offers the perfect location to unwind all day. Catherine's offers classical French cuisine with Provencal influences working with local ingredients, alongside a chilled-out atmosphere that is ideal for daytime or nighttime dining.
The cafe's luxe wine list makes it stand out as a great location for those who know a thing or two about their wine. You'll find food served from 10 am – 6 pm every day, with extended hours on the weekends.
This location offers an unparalleled relaxation experience with beautiful areas on the beach perfect for groups to lounge all afternoon. The menu is full of French classics with a touch of Caribbean flair – if you're there for brunch, why not try the rum-cured carpaccio of beef?
Catherine's offers a refined but relaxing setting to enjoy delicious food and the cool sea breeze.
Abracadabra
If you're looking for a beautiful place to enjoy quintessentially laid-back Antiguan vibe, Abracadabra might be just the trick.
The European influence is clear at Abracadabra, but their beautiful beachside location means you can't forget for a second that you're nestled in the heart of the Caribbean. They also have native dance celebrations and an array of events that are ideal for those looking to party the Caribbean way.
So, if you're planning a trip to Antigua, one of the best ways to explore the island is via the food.
You'll never be disappointed with the level of service in Antigua, as exemplary staff seem to always go out of their way to make your meal special. Each of these restaurants has been tried and tested by a member of the Other Shores team, and come highly recommended.
Get in touch if you'd like to know more, request a different recommendation, or even suggest an Antiguan favourite of yours that we should add to our list!