Got St Lucia on your bucket list? You're in for a treat – as well as amazing views, beautiful beaches and a laid-back vibe, the island is home to some seriously amazing places to eat.
International flavours including French, Chinese, Italian, Indian and Thai are most likely to be found in tourist hot-spot Rodney Bay. However, if you're longing for a more local dining experience there are many authentic establishments offering Caribbean and Creole flavours throughout the island too.
Here are some of our recommendations on where to eat in St Lucia…
---
Tipping
In St Lucia, tipping is at the customer's discretion – the amount should reflect the level of service received. However, a minimum of 10 to 12% is suggested. Some restaurants automatically add a 10% service charge to your bill, so watch out for this to avoid tipping twice by mistake.
---
Our top picks of the restaurants in St Lucia include:
Martha's Tables
The Cliff at Cap
Big Chef Steakhouse
The Naked Fisherman
Masala Bay
Pink Plantation
Jade Mountain Club
Orlando's
The Coal Pot
Jump Up
Martha's Tables
Malgretoute Jalousie Rd, Soufrière
Tel: +1 758-459-7270
Open for lunch only, Monday to Friday, 11:30 am to 3 pm. Closed weekends.
Close to many popular tourist favourites including the sensational Sugar Beach and picturesque Piton Falls, technically Martha's Tables isn't a restaurant. But don't be put off by the no-frills approach on offer here.
Far from fancy, guests visiting Martha's describe the experience as akin to being treated to a home-cooked meal on a beautifully decorated patio at a friend's house.
Moreover, while the menu here isn't exactly extensive, every dish is prepared on-site using local ingredients and served with a welcoming smile.
Dine here to enjoy traditional St Lucian hospitality, generous portions and good value-for-money.
The menu includes local specialities such as grilled meat and seafood. In particular, the creole shrimp comes highly recommended. Everything is served with authentic side dishes including rice and beans, potato salad and plantains. A vegetarian menu is also on offer.
Insider Tip: Head to Martha's early on in your trip, as you're bound to want to eat here more than once. Reservations are advisable.
The Cliff at Cap
Cap Maison, Smugglers Cove Rd, Gros Islet
Tel: +1 758-457-8681
Open daily. Lunch: 12pm to 2:30pm. Dinner: 6pm to 10pm.
Part of the magnificent Cap Maison hotel, island-inspired The Cliff At Cap is perched upon a private oceanfront bluff. Indeed, the views of Pigeon Island and nearby Martinique are worth a visit alone.
However, the food's pretty good too. The chefs at this elegant, fine-dining establishment take great pride in their commitment to serving French-West Indian cuisine. They use only seasonal, local ingredients that are guaranteed to tantalise your tastebuds.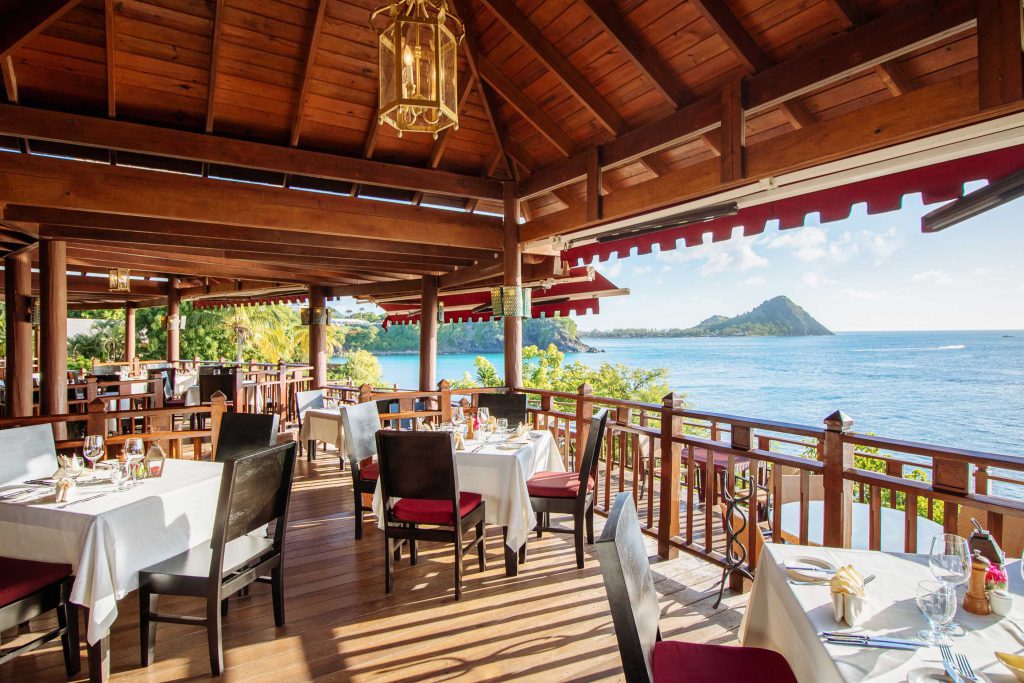 And the food here doesn't just taste wonderful – it's a real feast for the eyes too. The contemporary, inventive menu is regularly updated so there's always something new to enjoy.
The delicious cuisine is complemented by first-class service and a decadent, inventive cocktail selection. This luxurious restaurant is the ideal venue for a special occasion or celebration dinner.
Big Chef Steakhouse
Reduit Beach Avenue, Rodney Bay Village
Tel: +1-758-450-0210
Open daily from 6pm
You'd be forgiven for thinking this elegant, airy restaurant was reserved exclusively for the steak fans. But, in reality, that's just the tip of the iceberg.
Of course, if steak is what you fancy, this is probably one of the best places to visit on the island. After all, Big Chef Steakhouse is proud to serve only certified Angus, which the kitchen team promise to season and grill to your exact preferences.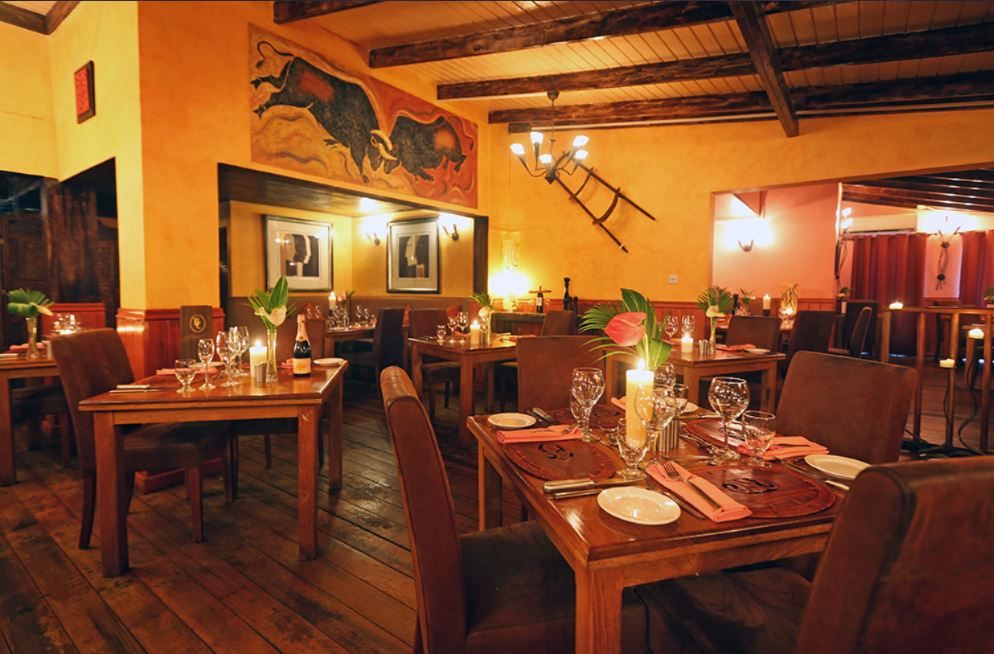 The menu also offers the freshest locally-caught seafood and lobster.
If you just can't decide between meat and lobster, why not order the Lobster Surf 'n' Turf Burger, guaranteed to give you the very best of both worlds?
End your meal with a tropical cocktail or delicious dessert, crafted using a colourful array of island fruits.
Aside from the delicious food offering, Big Chef Steakhouse also boasts accommodating staff, a great kids' menu, and regular entertainment from some of St Lucia's finest musicians.
The Naked Fisherman Beach Bar & Grill
Smugglers Cove Rd, Gros Islet
Tel: +1-758-457-8694
Open Tuesday, Wednesday, Thursday, Saturday, Sunday. Lunch: 12:30pm to 3pm. Dinner: 6pm to 11pm.
Closed Friday evenings for dinner during July. Closed Monday and Friday for the rest of the year.
Tucked away in a natural bay just south of Cap Maison, a visit to The Naked Fisherman presents the perfect opportunity to relax, unwind and cast aside all of life's stresses.
Laid-back, welcoming and popular with the locals, the menu here includes locally caught dorado, grouper, snapper and lobster. There's also fresh, juicy steaks, burgers, ribs and platters – all of which can be washed down with a classic or signature cocktail while listening to the calming sounds of the waves.
Guests can enjoy artfully-presented delicacies from the beach, deck or casual bar seating area. The ocean views here are spectacular day and night, but the evening sunset is simply unmissable.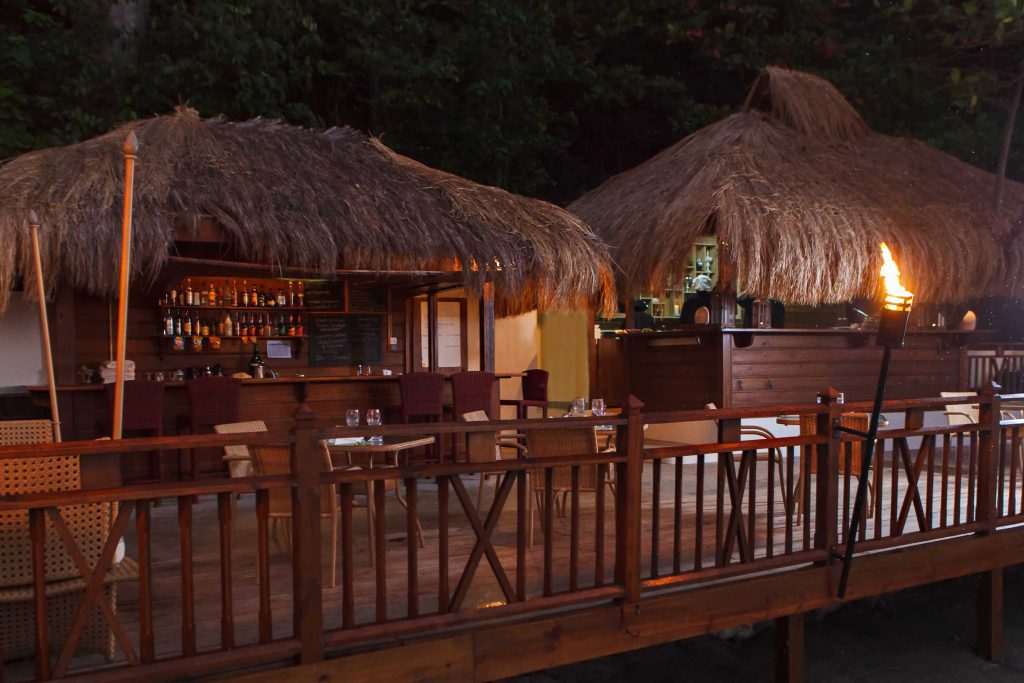 Masala Bay
Capella Hotel, Marigot Bay, Castries
Tel: +1-758-451-4500
Open daily. Lunch is available from Tuesday to Sunday, 12 pm to 3:30 pm. Dinner is available daily, 5:30 pm to 10 pm.
Set on the waterfront, this Asian-fusion restaurant combines Indian and Hakka delicacies to create new and exciting flavours. Sister restaurant to Spice of India in Rodney Bay, Masala Bay is incredibly popular, so it's advisable to make a reservation.
Insider Tip: Ask for a table at the front of the balcony for the best views of the boats sailing in and out of Marigot Bay.
Visit at lunch to indulge in the chef's tasting menu, available for the set price of ECD 65 per person. We recommend this option because it offers the chance to experience all the delights of Hakka cuisine – a deliciously unusual combination of Chinese and Indian flavours.
All dishes are cooked to order, so you can specify exactly how spicy (or not!) you want your meal to be. Impeccable service from the professional front-of-house team makes Masala Bay the obvious choice for lunch or dinner close to Castries.
Pink Plantation House
Chef Harry Dr, Castries
Tel: +1-758-452-5422
Open for lunch from Monday to Friday, 11:30 am to 3 pm. Open for dinner on Friday, 6:30 pm to 9 pm. Breakfast on Sunday, 9 am to 12 pm.
Closed Saturday.
Hidden away in a centuries-old plantation, Pink Plantation House is a little off the beaten track, but we think you'll agree it's definitely worth the effort. Our advice? Make a reservation and book a taxi, making sure you allow plenty of time to explore after dining.
Perched high above the port of Castries, this enchanting restaurant boasts lush rainforest views and efficient service that's never overbearing. Locally-sourced ingredients are combined to create fresh, Caribbean dishes that are delicious and visually-pleasing in equal measure.
Allow plenty of time to wander through the grounds and listen to the tropical birdsong after your meal.
Vegetarian and vegan options are plentiful here. Oh, and we also think the rum punch might just be the best on the island. Don't forget to check out the on-site pottery studio, especially if you'd like to keep a souvenir of your meal at the Pink Plantation.
Jade Mountain Club
Soufrière
Tel: 1-800-223-1108
Open daily for breakfast, lunch and dinner
Exclusive to resident guests at Jade Mountain, the sparkling infinity pool is the centrepiece at this luxurious restaurant, but the stunning panoramic views of the Piton Mountains are simply off-the-scale.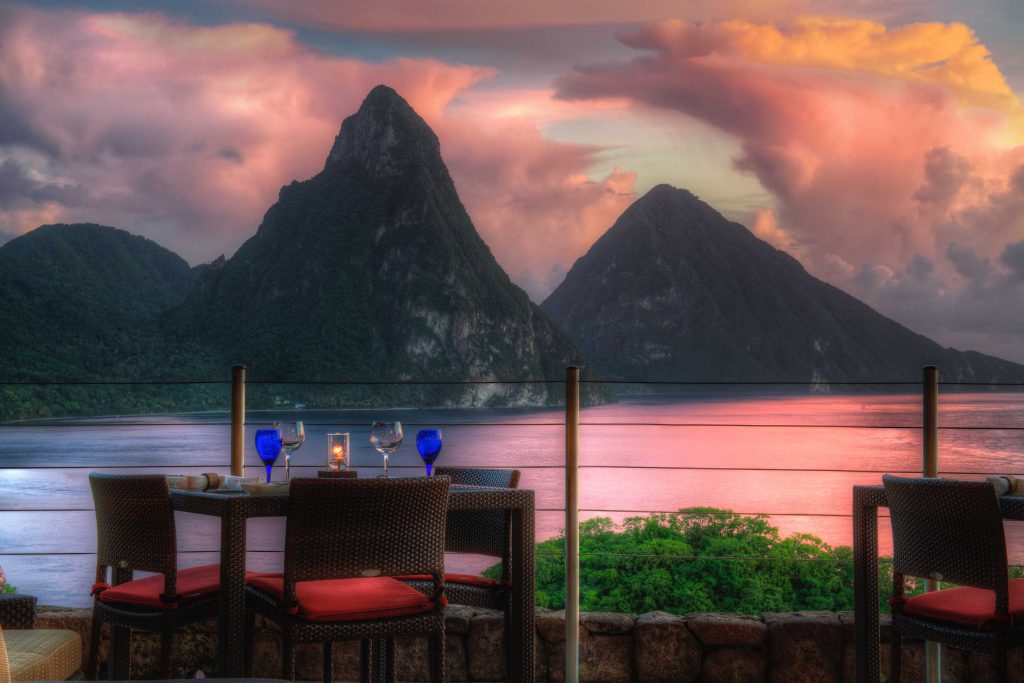 Natural beauty and daring flavours are combined to create locally-sourced dishes that celebrate Chef Allen Susser's 'Jade Cuisine', winner of the James Beard Award.
Make the most of the spectacular views on offer by heading to the rooftop lounge for pre-dinner cocktails.
The modern-fusion delicacies served here are perfectly complemented by regular live music from classical acoustic guitarists and local jazz musicians.
Orlando's
Cemetery Rd, Soufrière
Tel: +1-758-459-5955
Open daily. Lunch: 12pm to 2pm. Dinner Wednesday – Sunday only, 6pm to 9pm.
Chef Orlando Sachell's authentic Caribbean restaurant is at the base of the Pitons, and is also just a stone's throw from Soufrière Bay.
Fine-dining, farm-to-table cuisine is delicately seasoned and presented beautifully, alongside a generous serving of charm from the friendly front-of-house team.
One of only a few independent restaurants in Soufrière, Orlando's promises cosy, sophisticated and modern interiors. The ever-changing menu is sure to keep you wanting to return again and again.
The team is proud to offer traditional St Lucian flavours and an unrivalled dining experience.
Choose from Orlando's balanced selection of gourmet tasting menus to sample an array of culinary delights.
The Coal Pot
Seraphine Rd, Castries
Tel: +1-758-452-5566
Open for lunch Monday – Friday, 12 pm to 3 pm. Open for dinner Monday -Saturday, 6:30 pm to 9:45 pm.
Closed Sunday.
Just a five-minute car or ferry journey from Castries, The Coal Pot's twinkling lanterns, cosy lounge bar and flickering candlelight make it the perfect venue for a romantic meal.
Established in 1966, this family-run restaurant sits on the waterfront of Vigie Marina. The welcoming dining room is always cool and breezy because of the year-round trade winds that flow through.
A selection of delicious local fish, poultry, meat and seafood dishes are offered, all created with Chef Xavier Ribet's trademark French twist.
Generous plates, attentive service and a wonderful atmosphere are the perfect complements to the tasty menu. Request a table on the water's edge to hear the soothing sounds of the waves lapping against the rocks and take in stunning views of the boatyard as you enjoy your meal.
Jump Up
Castries-Gros Islet Hwy, Rodney Bay
Open Friday evenings from 6:30 pm until late
Jump Up is a street food extravaganza rather than a restaurant, but it's still a foodie experience you won't want to miss while you're in St Lucia.
The barbecued food and rum stalls begin setting up from around 6:30 pm, but the party doesn't really get started until a lot later.
If you're more interested in the food than the festivities, aim to arrive at around 7 pm – if you want to experience Jump Up with the locals, aim to arrive from 11 pm onwards, as that is when most of the local people will have finished their shifts at the bars and restaurants nearby.
Be warned, it gets pretty crowded.
There really is a dining option to suit every taste in St Lucia. You'll be well sunned, well entertained and well fed on your Caribbean holiday!
St Lucia's food is so diverse and thrives on fresh local ingredients – the island has got to be one of the top foodie destinations. Which of our choices are you most looking to dine at?