What could be better than discovering new flavours and dishes whilst travelling?
Traditional Greek cuisine is a feast for the senses. Here, delicious food is not only a way of life – the loving and sustainable way in which it's prepared, and served with a dose of warm Greek hospitality, is equally important.
So, which charming island will you choose? Whether you want traditional tavernas or Michelin star venues, organic food tours or winery visits amongst whitewashed villages, we share the best Greek islands for food and epicurean experiences.
Freshness, authenticity and exceptional flavours take centre stage on these five Greek islands. Just don't forget to bring your appetite.
---
1. Crete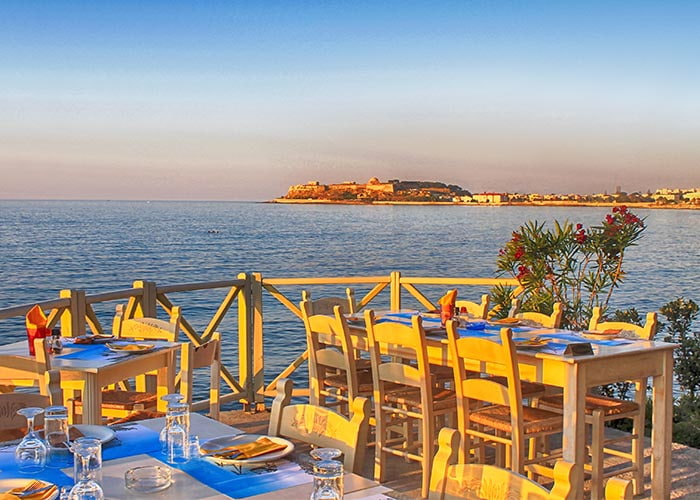 You'll be in Greek food heaven when you visit Crete, Greece's biggest island, where ingredients are locally sourced and dishes burst with fresh Mediterranean flavours.
From fine dining restaurants to rustic tavernas, eateries pay special attention to where their ingredients come from. To ensure a truly authentic taste, herbs and greens are foraged from surrounding hillsides, free range meat and poultry is sourced directly from local farmers, and sun-ripened sweet tomatoes are grown in the taverna owners' organic gardens.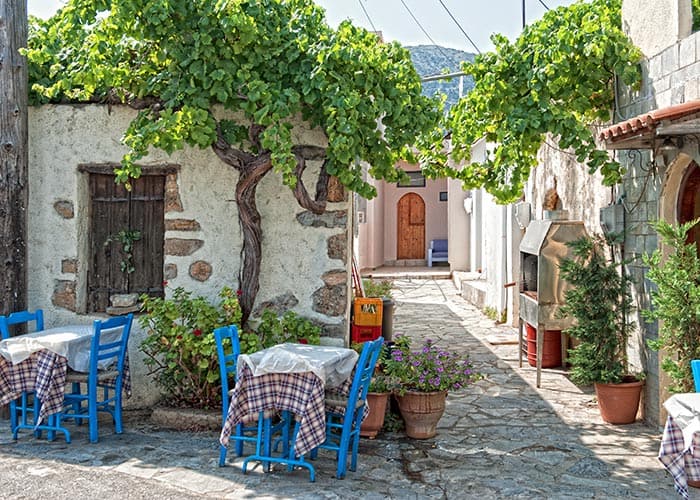 The island also produces superb cheese, honey and olive oil known as 'liquid gold', sourced from the island's plentiful olive groves. To accompany your Cretan dish, try a glass of homemade wine or a fiery shot of raki (Cretan grappa).
Best Cretan Food Experience
Traditional Pastry Cooking
Grab a slice of authentic Cretan food by learning how to make their famous — not to mention highly addictive — sweet cheese pastries.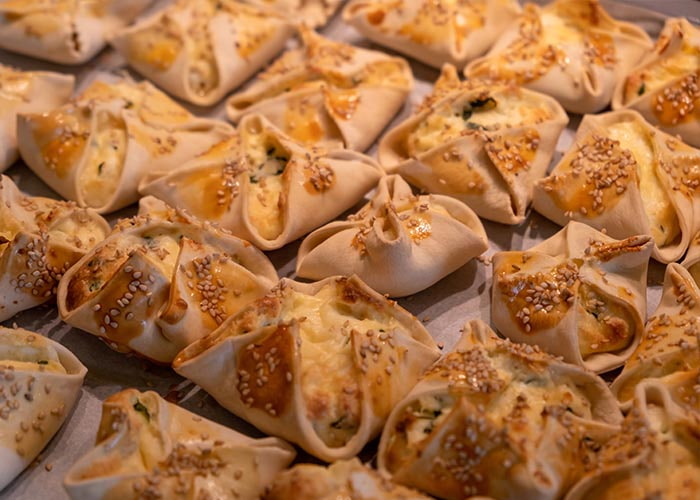 Travel to the traditional village of Kritsa to meet local village residents who share recipes passed down from generations. Uncover the secrets of the Mediterranean diet before making a delicious sweet treat for yourself with lashings of Cretan olive oil and honey.
Five Must-Try Dishes
Chochlioi boubouristi – Fried snails
Kaltsounia – Cretan soft cheese pies
Lamb Stamnankáthi – Slow-cooked lamb using a herb native to Crete
Loukoumades – Fried dough served with nuts and honey
Hirina apakia – Smoked pork
Where to Stay
Daios Cove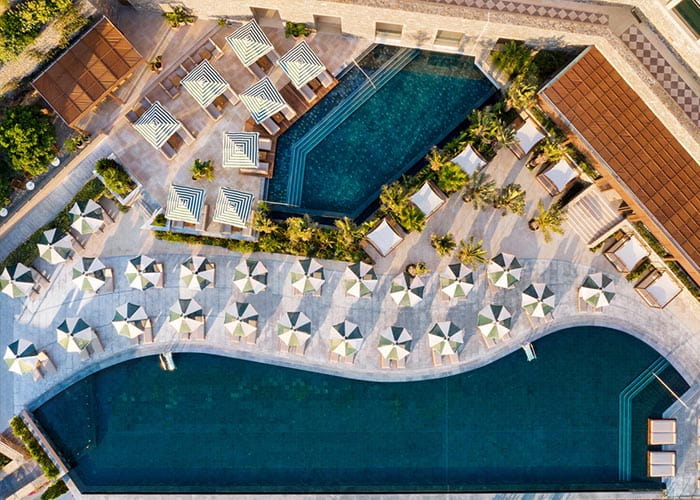 Stay at Daios Cove to eat your way around six venues which will impress even the most discerning palates. Sample homemade jams and local honey over breakfast at Pangea, then treat your taste buds at The Ocean Restaurant with kalamata olive-studded red mullet, oven-grilled feta and Cretan honey madeleines.
---
2. Corfu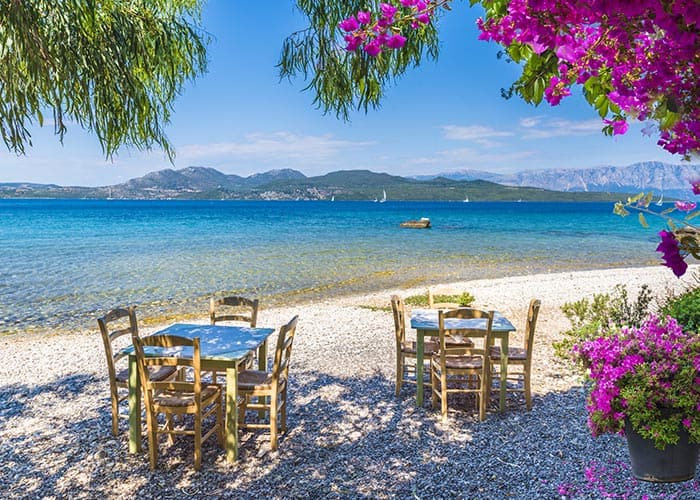 Like the rest of the Ionian Islands, Corfu is famous for its traditional cuisine. Dishes are strongly influenced by the island's four centuries of Venetian rule, with names like stufato, (a hearty Ionian stew with Italian origins), and pastitsio (macaroni and ragú) yet, the taste is unmistakably Greek.
As you'd expect from an island, fresh seafood is plentiful on the coast. Fishermen often supply waterfront tavernas directly, docking right outside and handing over the catch to the chef! Inland, there's an abundance of lamb and game, and a host of locally grown vegetables used to create full-bodied flavours key to Corfiot cuisine.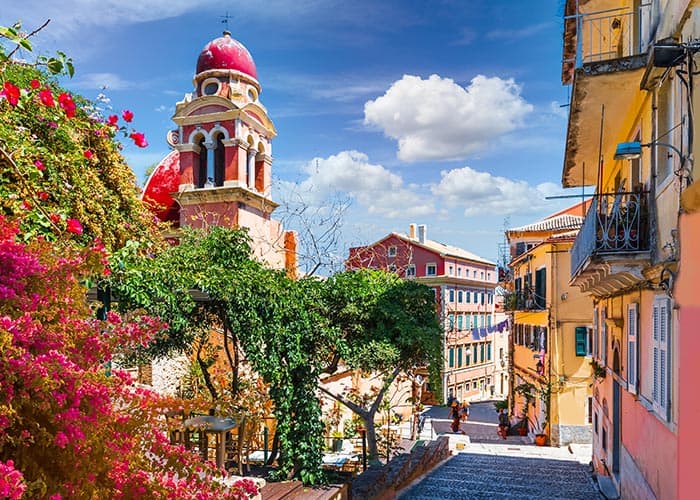 Dine in the heart of Corfu Old Town at one of the laid-back mezedopolia (where meze is served) or more upscale eateries where edible flowers colour beautifully presented traditional dishes.
Surprisingly, one of the best known Corfiot products is tsitsibirra (ginger beer). On hot summer days, you'll find locals sitting on shady porches sipping this healthy homemade refreshment made with lemon juice and ginger.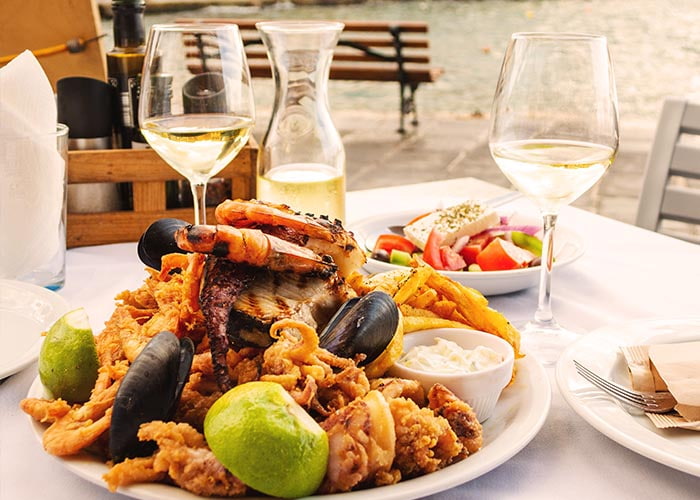 Five Must-Try Dishes
Sofrito – Pan-fried veal in a wine-based sauce
Pastitsada – Beef, veal or cockerel casserole
Bianco – Fish stew
Tsigareli – Braised greens with tomato and feta cheese
Porpetes – Meatballs in red sauce
Best Corfu Food Experience
Visit a traditional olive mill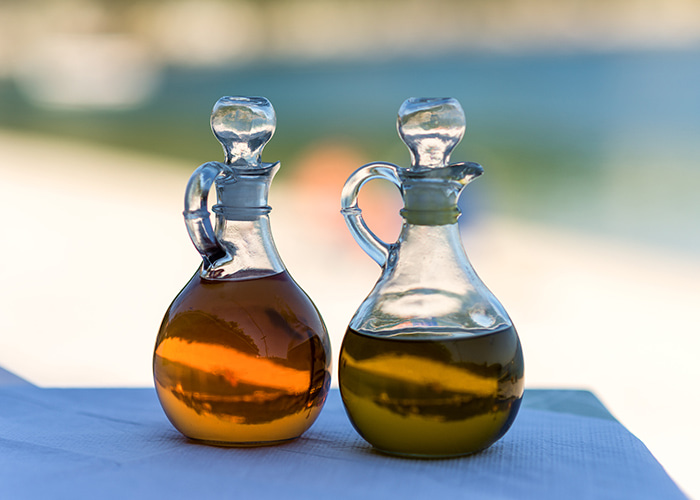 The Mavroudis family are the proud owners of 2,000 olive trees, some of which are over 700 years old. Visit their historic olive mill and museum to learn about the variation of these juicy fruits, traditional harvesting methods and their importance in Greek culture.
A large proportion of groves feature the 'Lianolia Kerkyra' olive tree native to Corfu, along with the Koroneiki trees which produce an intense green oil with a fruity grassy flavour. Sample the different varieties of 'liquid gold' with homemade crusty bread and participate in ancient wooden pressing techniques. Then, shop for olive pate, soaps, olive wood, and cosmetics all made on-site.
Where to Stay
Angsana Corfu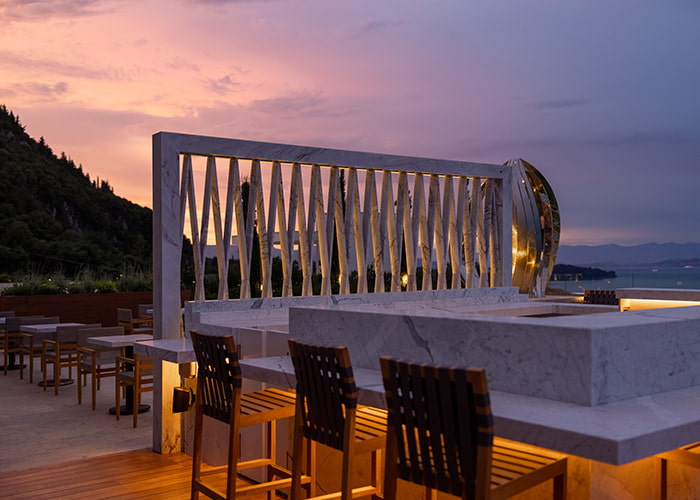 Situated a 20-minute drive from Corfu's UNESCO World Heritage Old Town, Angsana Corfu is a wonderful choice for gastronomes. Foodies will be especially impressed with fine dining Botrini's, personally curated by the Corfiot Italian Michelin-star chef, Ettore Botrini. Savour every gourmet bite on a grand terrace overlooking the crystal-clear waters, open to the cooling Corfiot breeze.
---
3. Halkidiki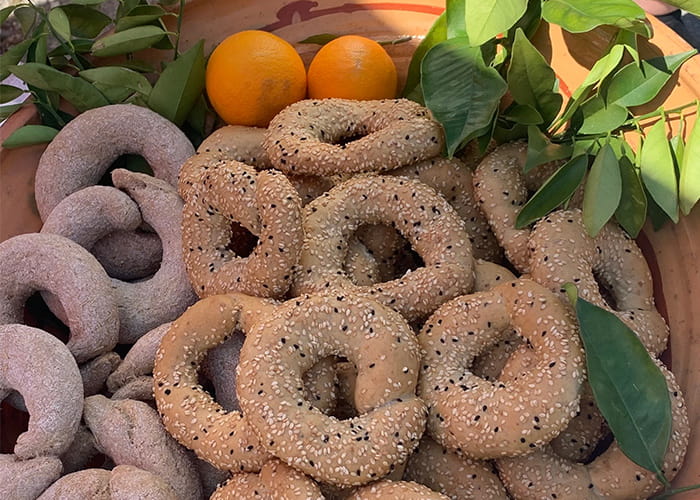 The three-pronged peninsula of Halkidiki in northern Greece may not technically be an island, but it's delicious cuisine makes for some of the best Greek dishes, helped by its balmy climate and fertile land.
Dishes have been influenced by delicacies from Anatolia, as well as fresh fish from the Aegean. With its rippling vineyards, orchards and rich fauna, the island produces excellent quality olive oils, honey, cheese, wines, fruits and vegetables, marmalades and jams.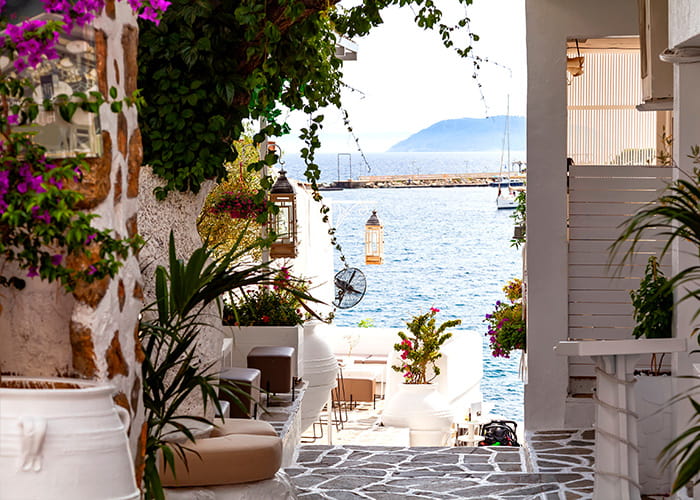 Feast like a local by ordering catch of the day at one of the beachfront tavernas. Some of the best are in Sithonia, where you must try the Halkidiki favourite; sundried and grilled octopus. For dessert, opt for the island's famous spoon sweets, which evolved from the ancient practice of drying seasonal fruits and combining them with honey or molasses.
Five Must-Try Dishes
Chtapodaki – grilled or boiled slices of octopus
Dolmadakia – Vine leaves stuffed with rice, dill, parsley, olive oil and lemon
Saganaki – Hard cheese often served fried with Greek salad
Trigona panoramatos – Cream-filled triangular pastries
Koulouria – Sweet and buttery Greek spin on the bagel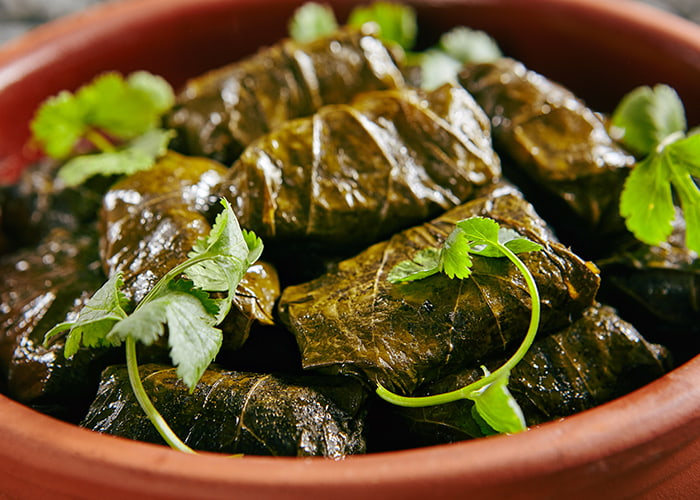 Best Halkidiki Food Experience
Visit beekeepers to learn how Greek honey is made
An impressive 32% of all Greek honey is traced back to the fragrant pinewood forests of Sithonia, Halkidiki's central peninsula where beekeepers foster thousands of colonies.
The sap of the pinewood trees cause the bees to produce a dark coloured and flavourful honeydew honey, which is Halkidiki's trademark and accredited with countless healing properties.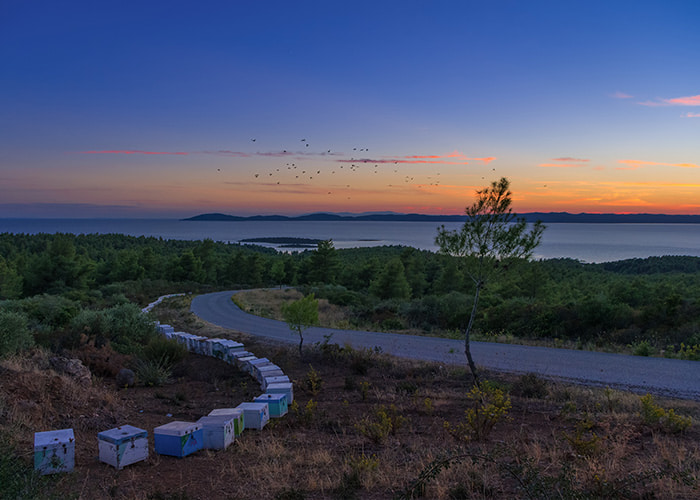 Guided by a local expert, hike through the idyllic countryside to local apiaries to get an authentic insight into this ancient profession, join a honey-extraction workshop then sample the delicious treat for yourself.
Where to Stay
Danai Beach Resort & Villas, Halkidiki
With first class service and award-winning cuisine, a stay at Danai Beach Resort & Villas will certainly make you feel like royalty. Gourmet restaurant 'The Squirrel' features only five tables for guaranteed exclusivity overlooking the blue water of the Aegean Sea.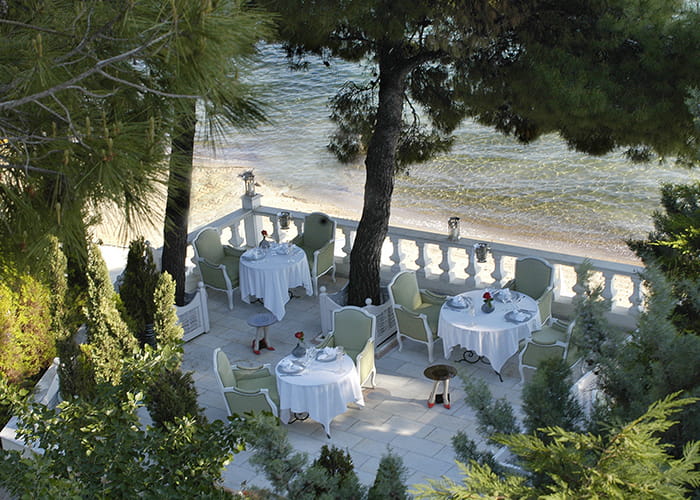 If you're something of a wine connoisseur, don't pass up the chance to tour the cellar packed with 1,700 labels from all over the world. Join knowledgeable sommeliers for a tasting session or book a private dinner surrounded by vintages acquired over the decades.
For a traditional Greek celebration, the Garden Tavern plays host to the weekly Bachtses Night. Expect a spectacular evening steeped in Greek authenticity, revolving around live cooking, locally produced drinks, music and dancing.
---
4. Zakynthos
Zakynthos is the largest of the Ionian Islands, and it's as fruitful as it is beautiful. The mild, Mediterranean climate and the plentiful winter rainfall endow the island with dense vegetation, producing a bounty of crops like olives and grapes.
Like many Greek Islands, Zakynthian food is defined by extensive use of virgin olive oil. The 2,000-year-old olive tree in the village of Exo Hora is living proof that the world's healthiest oil has been produced here for centuries.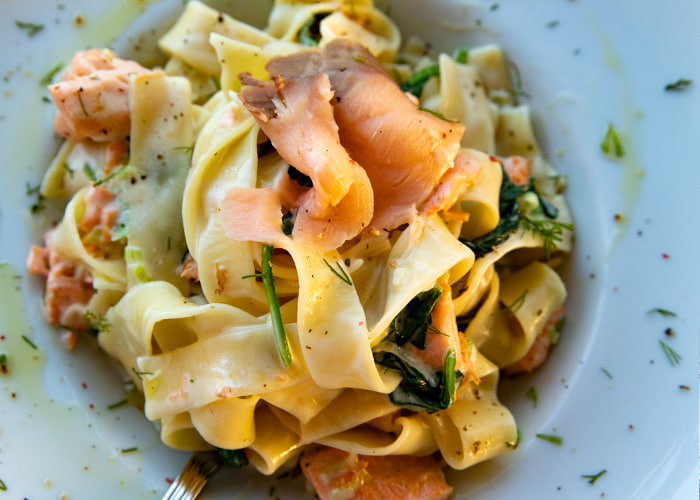 After savouring a traditional Greek meal, round it off with the island's spicy ladotiri cheese made from sheep's or goat's milk and a glass of the sherry-like Verdea wine. Despite its small size, there's thought to be over 30 native grape varieties which have been cultivated on the island for decades.
Five Must-Try Dishes
Aubergines skordostoubi – Aubergines with tomatoes, potatoes and carrots
Sartsa – Beef casserole
Ladotyri – Sheep or goat cheese preserved in oil
Kolokithokeftedes (Zucchini balls)
Kouneli stifado – Rabbit Stew
Best Zakynthos Food Experience
Organic farm tour
Experience authentic agricultural life at Logothetis, one of the the island's best and most beautiful organic farms.
Set on an 80-hectare hillside in the south, fall in love with the Zakynthian nature and the Mediterranean way of life as you stroll among the olive and fig trees, rustic farmhouses, and vegetable gardens.
The farm produces purely organic olive oils (some flavoured with orange, lemon and other fruits) as well as olive oil products. Make your own concoction or relax over a private lunch or dinner on the estate, surrounded by grazing horses.
Where to Stay
Lesante Cape Resort & Villas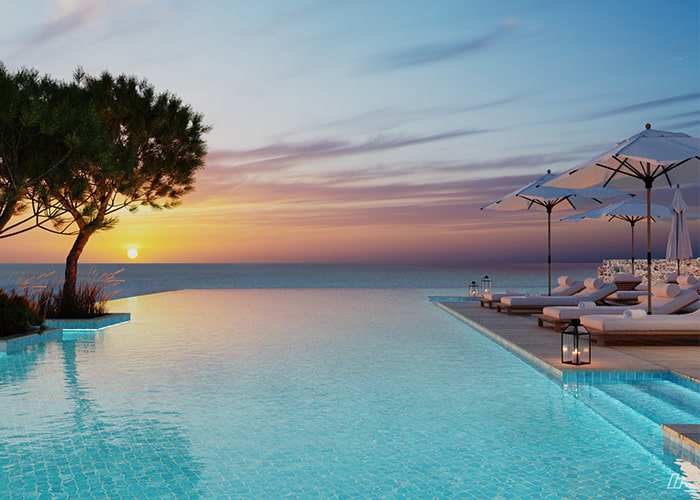 Brand-new Lesante Cape Resort & Villas is surrounded by the emerald blue sea and rolling green olive groves, with a handful of eateries positioned to make the most of the views.
Step into the authentic culture of Zakynthos at Kafeneio, a tribute to a traditional Greek café with freshly brewed Greek coffee, foraged mountain tea, homemade preserves and traditional spoon sweets.
Every dawn, local fishermen return from the sea holding the fresh catch of the day: sea bass, octopus and sardines. Sample the freshest seafood at Novita All Day Restaurant & Bar, a love letter to Ionian gastronomic tradition.
---
5. Santorini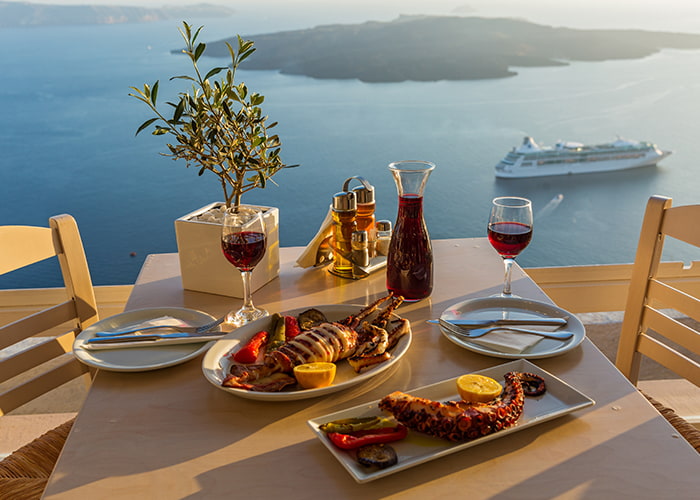 Beyond gazing at sweeping caldera views on this volcano-moulded Cycladic island, visitors will be equally impressed with Santorini's agricultural heritage rooted in its volcanic-ash-rich soil.
Menus feature the great Mediterranean staples, but standouts include Santorini's white aubergine (eggplant), cherry tomatoes, Fava beans and crisp white wine. Benefitting from the island's arid climate, Santorini winemakers excel at growing flavourful grapes like Aidini, Athiri, Mandelaria and, most notably, Assyrtiko.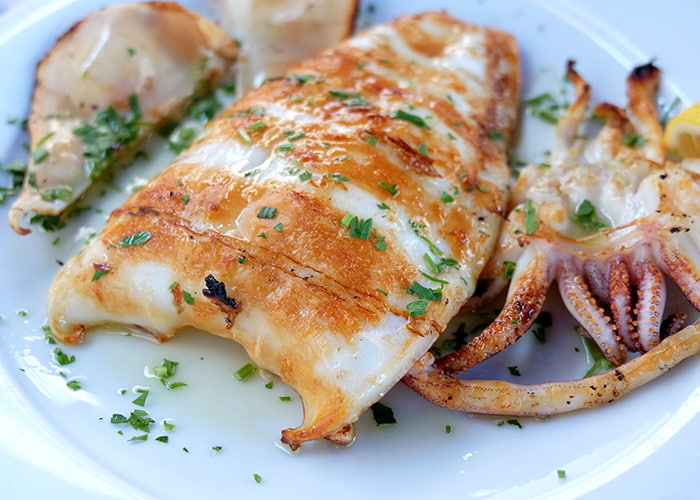 Best accompanied with seafood such as fried calamari and grilled octopus, make sure to pick up a bottle or two to bring home. With intense aromas of citrus fruits and a tinge of saltiness, you'll be transported back to the Oia oceanfront in no time.
Five Must-Try Dishes
Ntomatokeftedes – Tomato fritters
Fava me Koukia – Fava bean dip drizzled with olive oil
Melitzanosalata – Eggplant salad
Saganaki – Fried cheese appetiser
Apochti – Cured pork loin carpaccio
Best Santorini Food Experience
Wine Tour
Santorini is home to Greece's oldest vineyards and there are close to 2,000 grape growers on the island.
Some of the island's most legendary wineries and traditional cellars offer wine-tasting tours to learn how wind, heat, and volcanic soil give the Assyrtiko grape a character valued throughout the world. The winery with the best caldera views is Santo which boasts an on-site restaurant, deli shop and many wine tasting experiences.
Where to Stay
Grace Santorini, Auberge Resorts Collection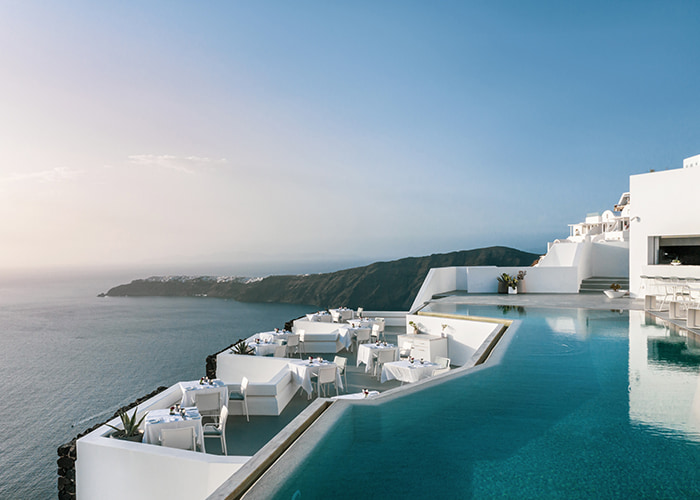 At the heart of Santorini's stunning Imerovigli village, Grace Santorini, Auberge Resorts Collection wows with its caldera vistas and culinary genius.
Start your day right with a Champagne breakfast next to the infinity pool, which towers over the sapphire caldera and the ancient fortress of Skaros Rock.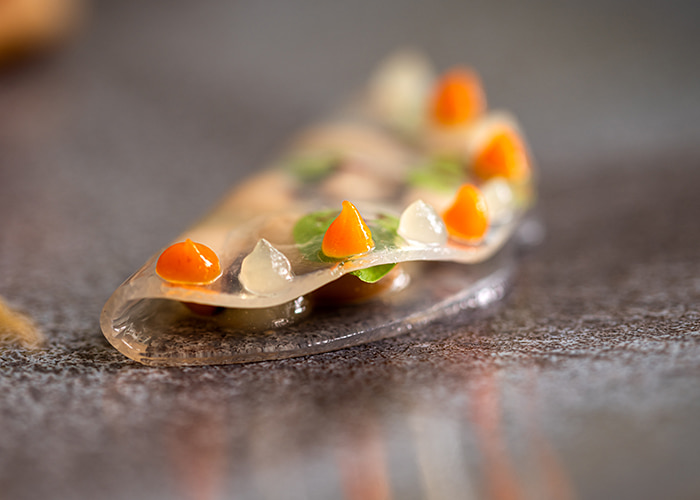 Explore Santorini for a few hours on a wine tour or honey testing experience at a local farm, before returning to dine at Varoulko Santorini.
Serving contemporary Greek cuisine courtesy of accolade-awarded chef, Spiros Agious, feast on specials such as pan-seared octopus with smoked fava, kakavia fisherman's soup and and dark and milk chocolate cremeux with smoked white aubergine pudding.
---
If you'd like to start planning you tailor-made luxury holiday to Greece, our Travel Specialists are here to help. Using first-hand experience, they can create a bespoke holiday that's totally unique to you.
Simply contact our Travel Specialists for more.
We can also arrange luxury family holidays to Greece, along with a Greek-island hopping itinerary – so, you can savour the best food from each of your chosen islands!
Food lovers can find more holiday ideas with our gourmet getaways holiday collection.
---
Other articles you may enjoy:
The 6 Most Romantic Greek Islands for a Couple's Holiday