The Maldives is renowned for its brilliant blue waters, bright lagoons and breathtaking underwater scenery. For travellers looking to experience the magic of the Maldives under the surface of the ocean, it's useful to know why One&Only Reethi Rah is a paradise for diving and snorkelling.
This award-winning private island resort, located in the North Male Atoll, offers world-class underwater experiences. With incredible snorkelling and diving opportunities here, you can discover the Indian Ocean in a way that suits you. 
What's the difference between diving and snorkelling?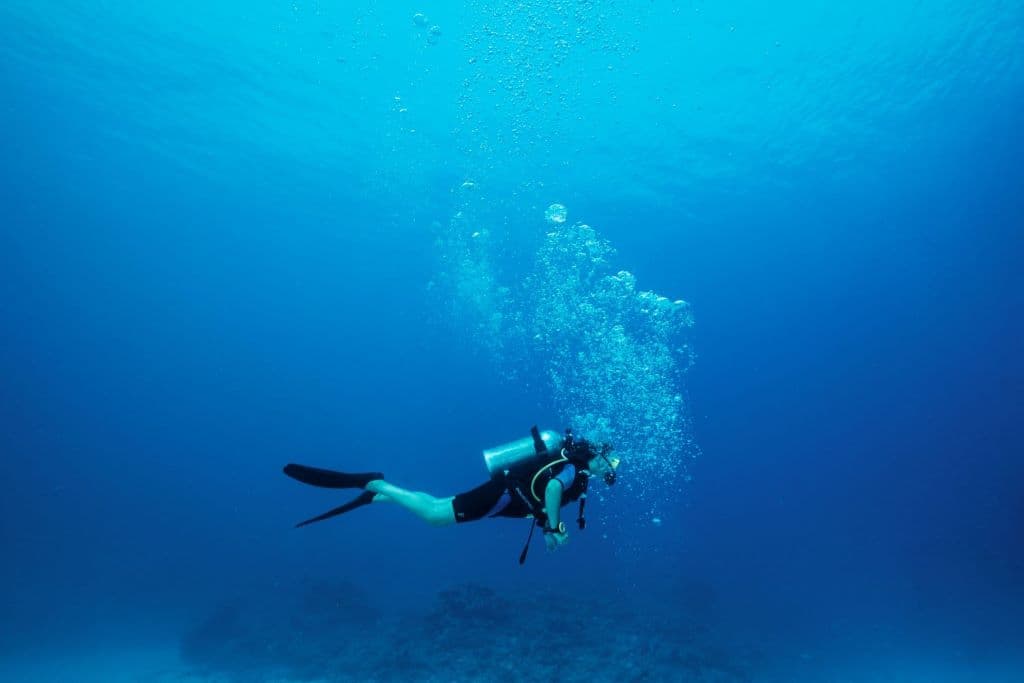 The difference between diving and snorkelling is based on your positioning in the water. If you prefer floating above mattress-sized manta rays and observing underwater landscapes from above, then snorkelling is ideal. Whereas, if you want to get amongst the marine life, swimming with sharks and manta rays, then scuba diving is the best option for immersing yourself in ocean life.
Whichever type of exploration appeals to you, One&Only Reethi Rah is the one of best resorts in the Maldives for both snorkelling and diving. From its lively house reef to its aquatic excursions and PADI certified dive centre, it's the perfect place to stay for a seamless underwater experience.
When's the best time to visit?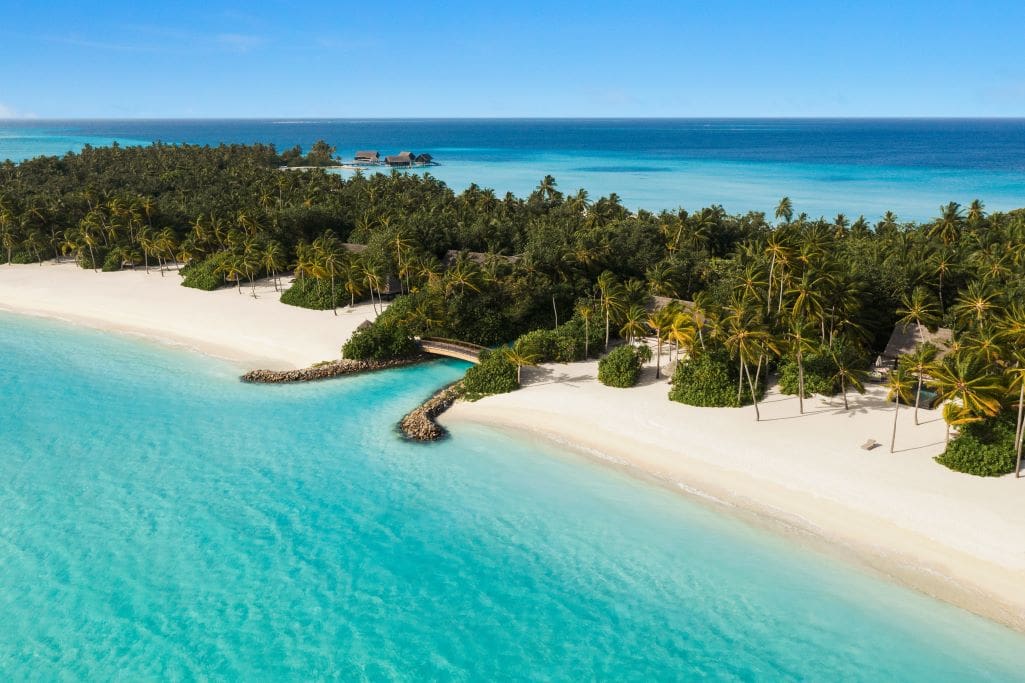 The best time to visit the Maldives for diving and snorkelling is during dry season (January – March), when the sea is calm and the waters are crystal clear, giving you optimal conditions to spot sea creatues. Just be sure to visit outside of monsoon season (May-November), which brings heavy bouts of the rain to the islands and affects visibility.
With so much to consider when planning an aquatic adventure, check out our top reasons why One&Only Reethi Rah offers the most amazing snorkelling and diving holidays.
---
1. You can swim with reef sharks
One&Only Reethi Rah is located in the heart of the Maldives' best diving region — the North Male Atoll. The current-swept channels bring much needed nutrients into the lagoons, attracting all manner of hungry sea creatures.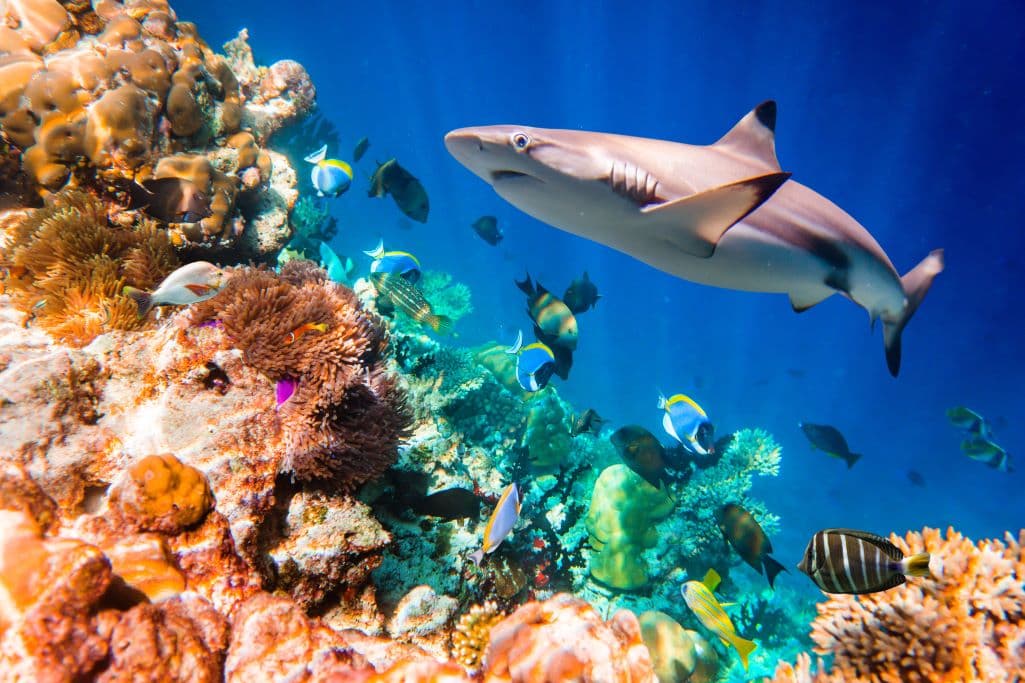 In particular, it's a hotspot for large marine life, including majestic reef sharks that comb its pristine coastlines to feed on schools of small fish.
Divers can spot several different species of reef shark in these warm shallows, including black-tip reef sharks, hammerheads, silvertips and grey reef sharks. Encountering one or several of these majestic creatures is a once-in-a-lifetime experience and one that the resort invites you to enjoy.
Embark on One&Only Reethi Rah's 'shark safari' and you'll have the rare opportunity to swim with these fierce-looking creatures in their natural habitat. Plus, you'll also get a chance to visit the South Ari Atoll to swim with the wonderful whale sharks there. Just don't be put off by their formidable size — they prefer to feast on fish, molluscs and crustaceans, than humans!
---
2. Glide above gigantic manta rays
There's nothing quite like seeing these gentle giants glide below you from the surface of the water. Manta rays are renowned for their incredible wing span, which can reach up to seven metres in some cases, making them amongst the largest animals in the ocean.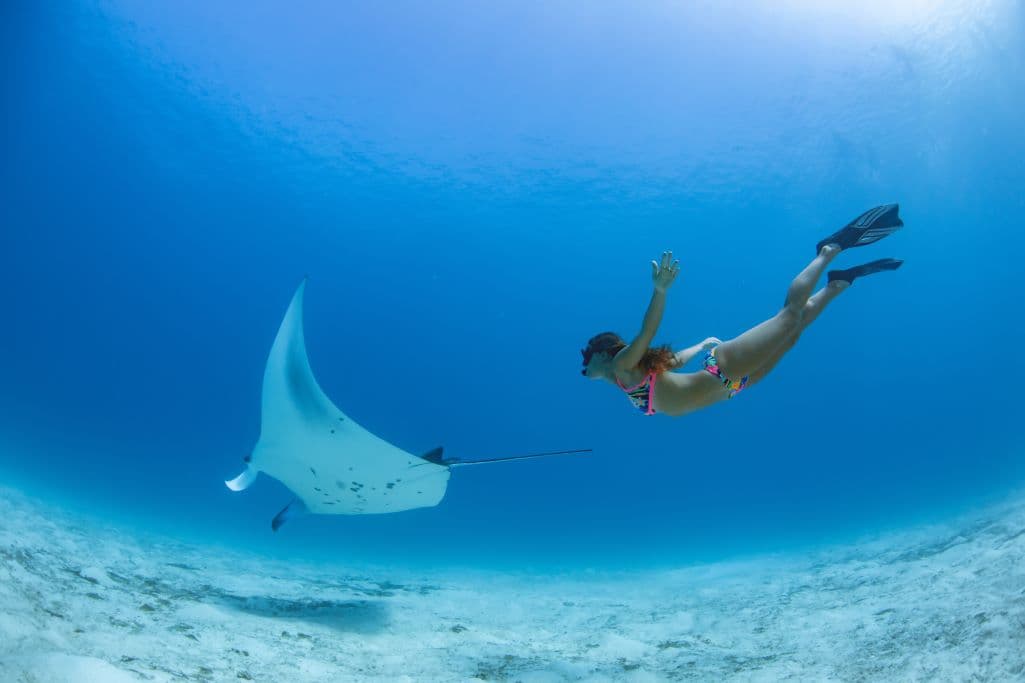 The Maldives is one of the best destinations in the world to observe manta rays, thanks to its crystal-clear lagoons and active snorkelling sites. If swimming with manta rays is high on your bucket list, then plan your visit during dry season, when the sea is calm around the island shores.
To help you make the most out of manta ray season, Reethi Rah Beach Resort host a 'Meet the Manta Rays' excursion. Operating from December to April, you can enjoy a private boat ride to the Hanifaru Bay Marine Protected Area in Baa Atoll, where these graceful creatures congregate in groups of up to 200 and 'fly' together in formation.
It's a truly unforgettable sight!
---
3. It's a hotspot for endangered hawksbill turtles
For nature lovers, spotting rare aquatic life is about as exciting as it gets. Visitors travel from all over the world to get up close and personal with the region's hawksbill turtle population, of which there are only approximately 8,000 left on the planet.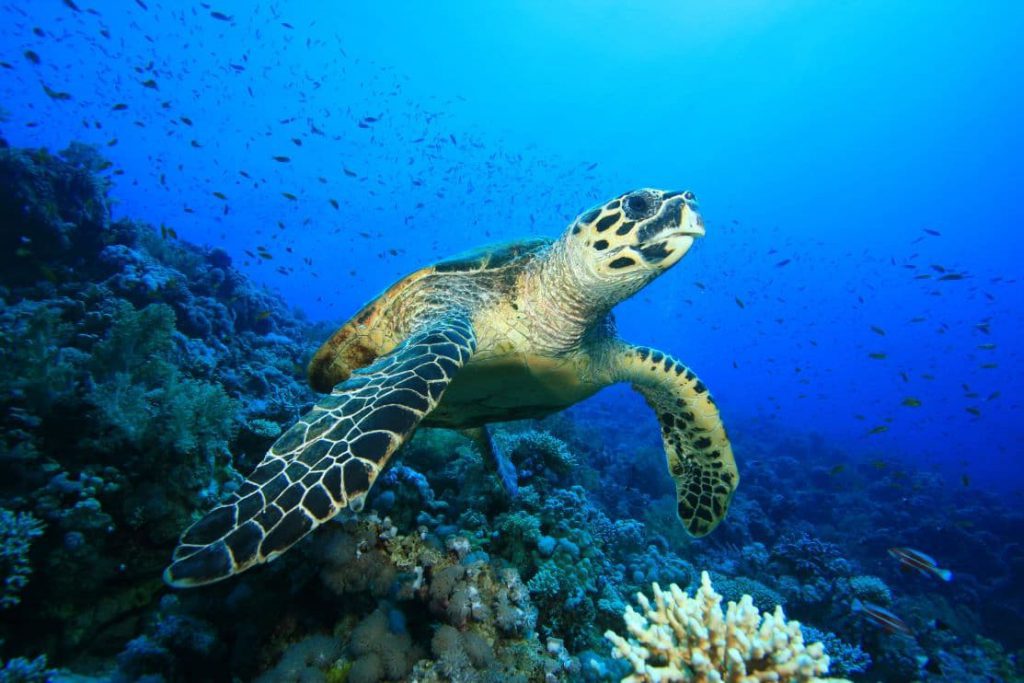 These docile sea creatures are easy identifiable by their pointed beak and striking 'tortoise shell' markings. Mainly found scanning the islands' coral reefs for sea sponges, tropical lagoons are the perfect places to find them while holidaying in the Maldives.
In fact, you're almost guaranteed to encounter them when you stay at One&Only Reethi Rah's private island resort. Immerse yourself in the underwater universe, just steps away from the island's immaculate white sands, and swim alongside these endangered marine reptiles.
Oh, and once you've spotted the hawksbill, why not try and find the other species of turtle that occupy the region's waters? These include loggerheads, leatherbacks, green sea turtles and olive ridley sea turtles.
---
4. Learn to dive in the Maldives with PADI certified instructors
Want to immerse yourself in ocean life, but don't know how to scuba dive? No problem.
One&Only Reethi Rah is one of the best resorts in the Maldives for learning how to dive safely and sustainably. With its PADI Gold Palm Resort Dive Centre offering globally-recognised courses, beginners can gain their scuba diving accreditation while on holiday and start exploring the beautiful house reef in no time.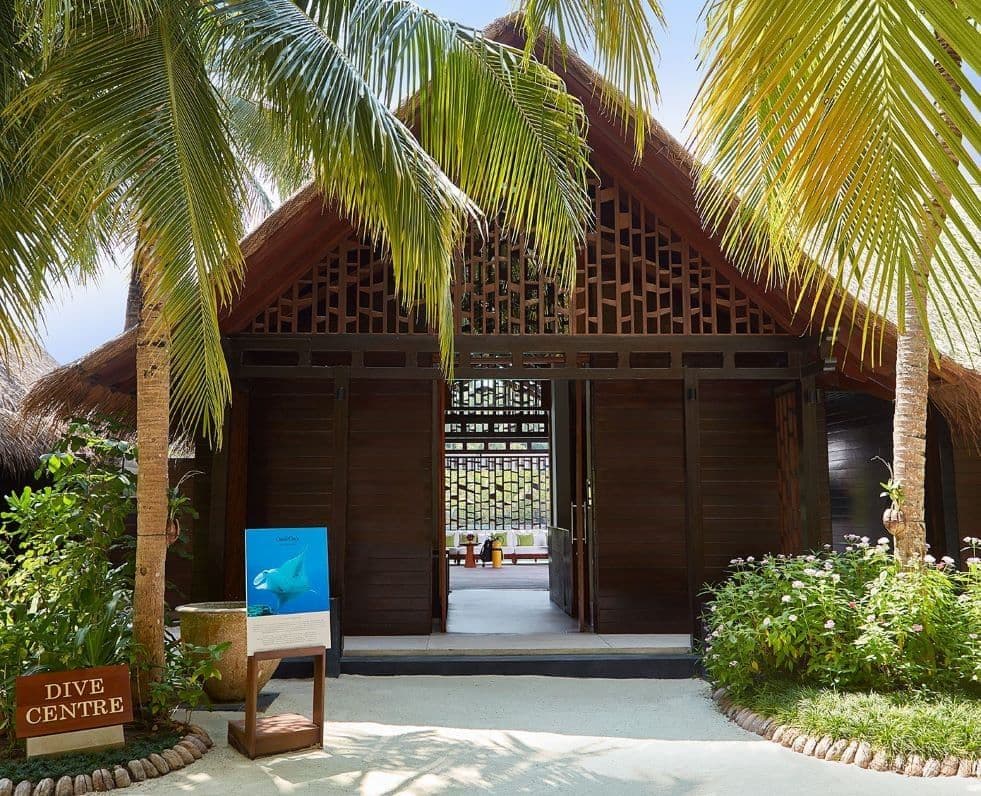 The courses and guided dives are led by professional PADI instructors, ensuring that you have a completely seamless aquatic experience.
And for more advanced divers, there's the opportunity to take to the ocean on bespoke adventures, exploring outer reefs and intrepid dive spots.
What's more, you can enjoy all this underwater exploration guilt free; Reethi Rah's dive centre is one of the few centres in the Maldives to commit to the 100% AWARE project, which serves to protect the islands' underwater environment.
---
5. Enjoy eco-friendly underwater exploration
Much like the dive centre, One&Only Reethi Rah's eco-friendly approach to underwater exploration is rolled out in other ways at the resort. Their resident marine biologists are involved in other conservation projects that boost the vitality of the Maldives' aquatic scene.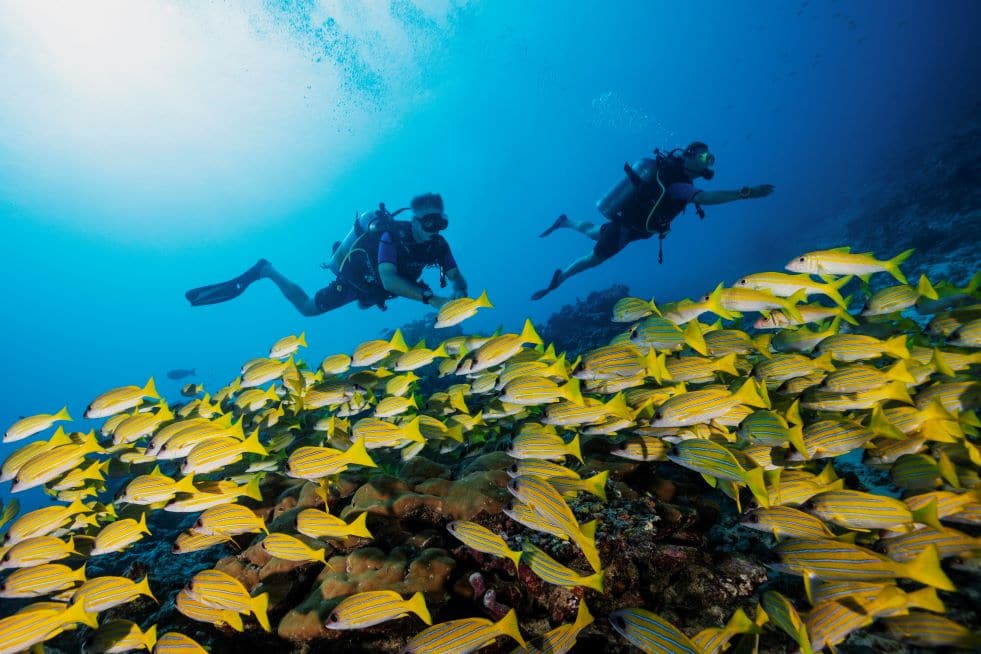 Firstly, there's the coral conservation project, which aims to extend the coral coverage around the private island resort, creating a large habitat for marine life — not to mention a larger area for snorkelling.
The resort also runs a Sea Turtle Rehabilitation Centre, in partnership with the Olive Ridley Project. This involves housing injured sea turtles in their private tank (one of the biggest in the Maldives), before getting them treated at the nearby veterinary clinic.
Once fully recovered, the turtles are then released back into the wild, ready to continue their life's journey in their natural habitat.
---
6. Direct access to the Maldives' most active reefs
It can't be stressed enough that being near lively reefs can seriously elevate your Maldives experience.
Step off one of One&Only Reethi Rah's 12 platinum sand beaches and you're in close proximity to some of the most active reefs in the region.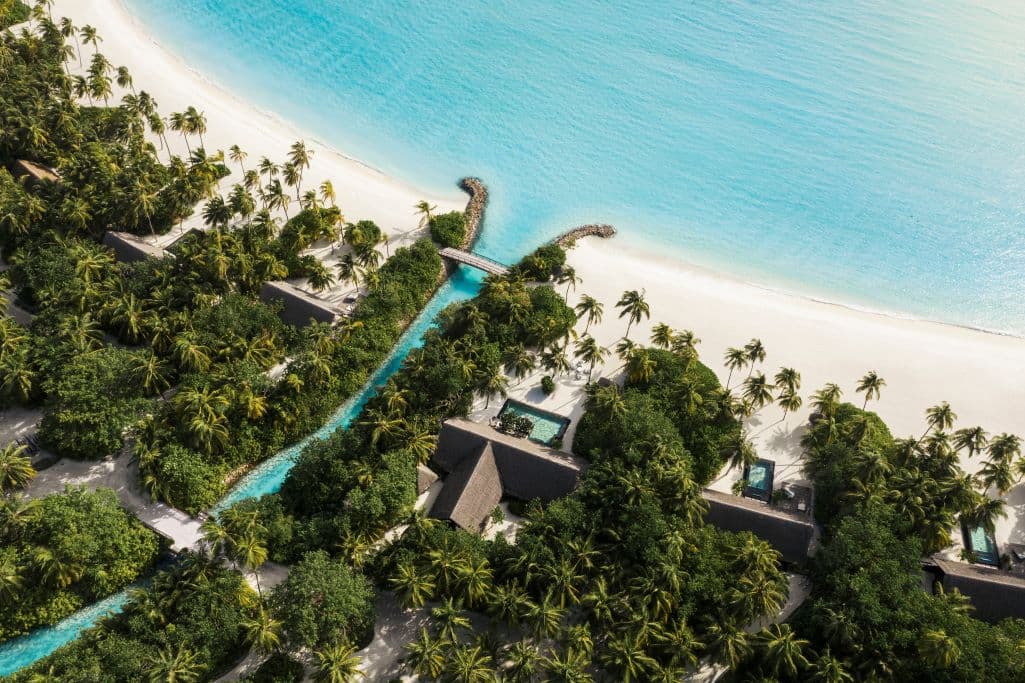 Outstanding underwater adventures are at your fingertips here, with over 6km of pristine coastline to explore, three dedicated dive sites and access to some of the best snorkelling areas in the Maldives — all less than 20 minutes from the resort!
With easy access to the famously vibrant reefs of the North Male Atoll, everyday is an opportunity to see more incredible marine life. Besides larger sea creatures, there's also a wealth of smaller reef fishes to spot amongst the soft corals, from blue-lined snappers to threadfin butterfly fish.
---
Ready to experience the magic of snorkelling and diving in the Maldives?
See colourful coral formations, magical marine life and the Maldives' beautiful scenery on your next luxury escape. Speak to one of our Travel Specialists to start planning your tailor-made holiday to One&Only Reethi Rah.
Or, see our full portfolio of One&Only Resorts to find the finest luxury properties in spectacular locations worldwide.