Western Australia is the country's largest state, covering nearly one-third of Australian land. A reasonable question to ask before you visit may be, then: where should you begin?
The starting point is up to you, but rest assured that whichever route you choose will offer an array of incredible experiences. From stunning rock formations, sweeping beaches and vibrantly green vineyards to authentic Aboriginal sites and endless oceans, Western Australia has all your bucket list essentials and more.
Our guide below includes our expert insight on the best things to do in Western Australia, with the necessary details on how to do them. The main aim of a luxury holiday in western Australia is to keep it stress-free and fun-filled, so that you relish your time down under, and don't miss a trick.
---
Perth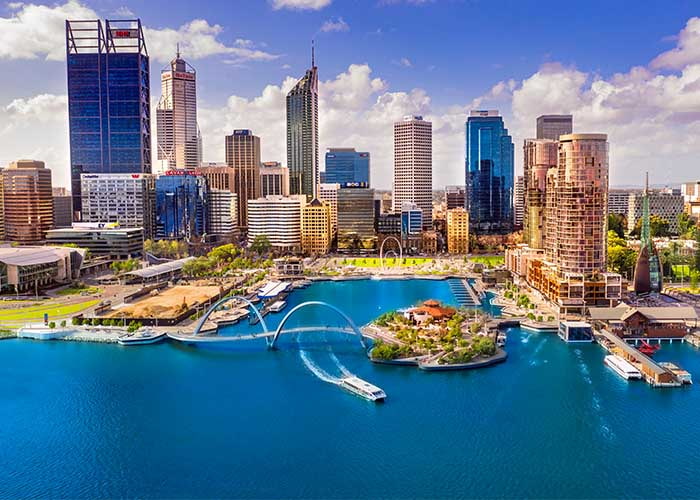 There's much to boast about Australia's sunniest state capital. A holiday to Perth promises the best of both worlds; soft-sand beaches and beautiful views alongside a bustling metropolis, thick with authentic bars, world-class restaurants and stunning street art. It's the place to be for new adventures, all under the soothing sunshine.
To prove it, here are some of Perth's highlights:
Swan River & Swan Valley Wine Region
Swan River is one of the best things to see in Western Australia, but it's also one of the easiest, because you can't really miss it! Perth resides right on the banks of these 72km-long turquoise waters, which serve as a vessel to alternative places of discovery. If you follow its stream northeast from the city centre, you'll find the celebrated Swan Valley wine region.
Here you can let your hair down, if you hadn't already, and dedicate an afternoon to exploring the wineries and cellar doors that are responsible for some of Australia's best cabernet sauvignons and chardonnays.
Active (and clear-headed!) visitors can take part in watersports along the stretch of the Swan River that winds through the city centre, including water biking, kayaking and pedal boarding.
There's also the chance to see beautiful aerial views of Perth and the Swan River from the Matagarup Zip & Climb. One for the adrenaline seeker, the Matagarup Zip & Climb gives participants the opportunity to soar across the Swan River, flying 400m at up to 75km an hour, before soaking in the breathtaking views of greater Perth from the top.
Walk through the wilderness
When you need to cool down and catch a break from the sun, take a walk through Kings Park and tour it's botanical gardens with an Aborginal guide, or picnic among its wildflowers and native plants. You'll find lots of leafy goodness to block out the rays, as around one quarter (3,000 species) of all Western Australian plants are growing here.
For nature-lovers, there's even more to discover on King Park's Bushland Natural Trail. This wonderful walk provides a visual guide to Australia's biodiversity. You'll see an array of Western Australian trees across the bushland, including tuart, jarrah and marri, which are all entirely unique to the region.
There are plants in flower all year round, the peak being between July and October. Once you've soaked up all the facts and secured enough holiday photos, you can head out on the Law Walk to nab some more of those lovely river views.
Rottnest Island
Rottnest Island is a little pocket of paradise, jam-packed with adventure, explore the island by scenic flight, segway, hop-on-hop-off bus, waterbike or even a glass bottom kayak. One of the best ways to see the island is by bicycle – peddle around at your own pace or take a guided tour.
You can also join a hiking trek through nature or a guided snorkelling tour to experience the island's underwater wonders.
---
Broome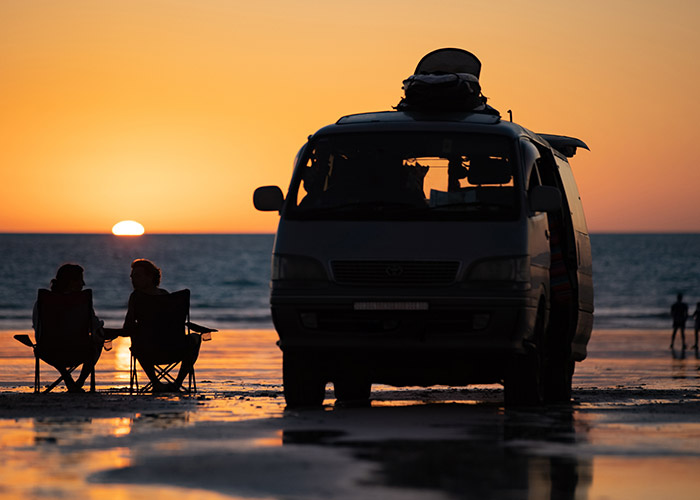 Speaking of beaches, where exactly is Australia's most spectacular stretch of sand? You're never too far from a fabulous white sand beach in Western Australia, but Cable Beach may just claim the crown. The old pearling town of Broome takes the credit for this beloved gem, and has worked hard to make it a hub of activity. For those feeling active, you can swim, fish, kayak, surf (when the swell is up) or even take a camel ride into the sunset!
Alternatively, you can just chill out. Despite its beauty, these sands remain uncrowded even in peak seasons between May and October, so you can always find a quiet spot to sit back and relax. Cable Beach proudly presents a spectacular ocean sunset, with an explosion of colours from fiery reds to pretty purples, the perfect way to end a long day of exploring or sleeping
As you'll see on our overview of Broome holidays, beaches are just a small part of all that this multicultural region has for you. Here're a few more of its best bits:
Gantheaume
Broome's glorious waters are more than just a pretty face; they're also the home to a range of fascinating creatures, including the largest known population of rare snubfin dolphins.
There's no better place to explore this, and more, than Gantheaume Point. This popular meeting place is a great spot to launch boats, or spend the day relaxing, swimming and enjoying a cold drink at sunset with family and friends. It's also a departure point for Broome's kayak tours, fishing charters, whale watching tours and extended cruises.
Don't be disheartened if you don't spot a snubfin as you gaze upon the sea. You can still be amazed by Gantheaume's incredible collection of dinosaur footprints! That's right, history's footfalls frozen in time, preserved to the best they can be and ready for your discovery.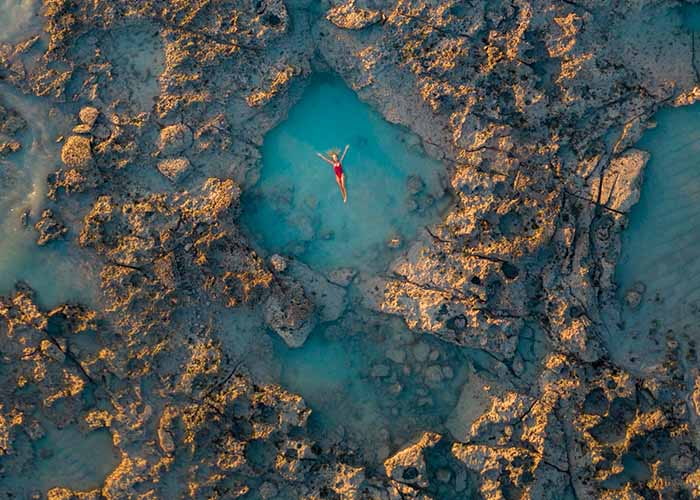 Pearl Farms
Broome bursts with so much more than that, though, including the fascinating history of the South Sea Pearl, the finest in the world, born and bred in this very town. To reveal all the secrets of its origin, take a visit to a pearl farm at Willie Creek or Cygnet Bay by helicopter, aircraft, bus or self-drive. If you'd rather stay grounded, you can embark on a walking tour with a local Aboriginal guide.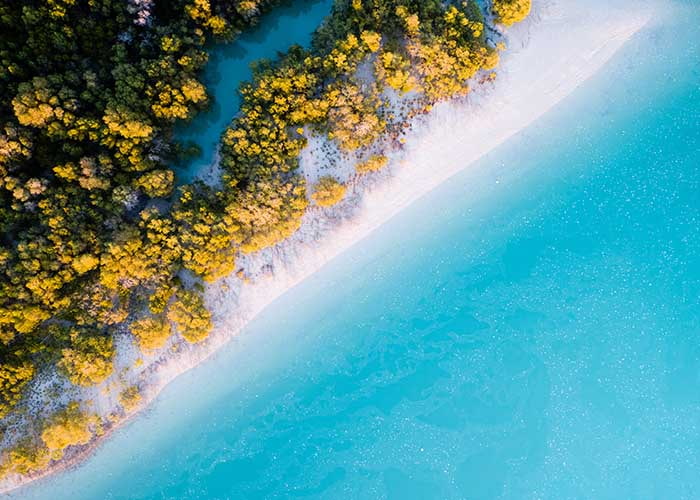 Dampier Peninsula & Cape Leveque
No doubt one of the best things to do in Western Australia is to let your feet wander over, under and through its heavily textured terrain. To make your mark on its timeworn footpaths. Luckily we're privy to a few great places to do so. Residing 200km north of Broome, the Dampier Peninsula and Cape Leveque are ideal for this kind of exploration. Pindan cliffs meet sandy shores and crystal-clear waters in these stunning spots, providing the perfect backdrop to a remarkable cultural and coastal expedition.
The local Bardi and Nyul Nyul people are there to greet you and offer insight into their day-to-day lives. You can try your hand at fishing, mud crabbing or learn ancient hunting techniques. Serve up some bush foods, swim in the sparkling waters, go snorkeling, or simply relax and enjoy the luxurious beaches.
---
Western Australia's Southwest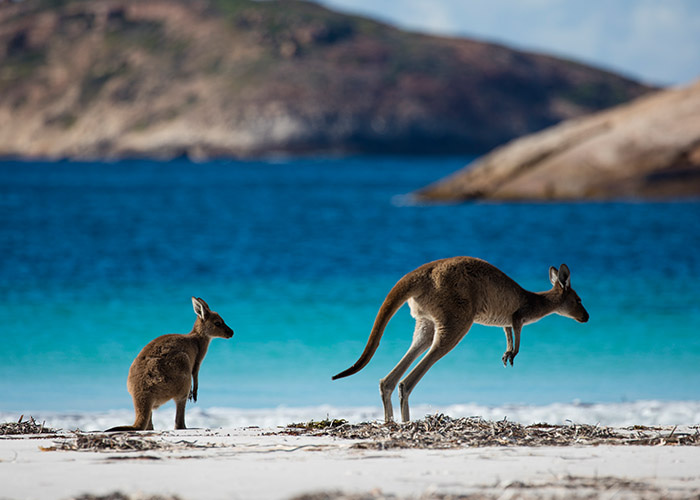 The south-west region of Western Australia attracts the most tourists outside of Perth. This is in some part due to the details that make up its extensive fabric, from its wineries, fresh produce and restaurants to its thriving arts communities and galleries. But what else is responsible for the area's success? We've got a few ideas…
Albany
Albany is a prime example of Australia's natural beauty. Its bustling town is surrounded by the Earth's finest creations – a jagged coastline of sculpted rocks, smooth-sanded beaches, and the never-ending sea.
Explore the full extent of its breath-taking scenery with nature trails along the coast, treks through the Torndirrup National Park, and a well-earned pitstop at the Natural Bridge rock formation.
Visit between May and October to get a glimpse of a humpback whale. You can rely on your trusty binoculars for a sighting as you drive around the Vancouver Peninsula or bag a front row seat on a whale watching cruise. Either way, it's pretty cool.
Above all, Albany is steeped in history. It's the place where the first European settlers made their debut appearance in Western Australia, an event that changed the state of the nation forever. It also leads you to the National ANZAC Centre, which sits proudly upon Mount Clarence. This museum offers fascinating insight into the experiences of Australians and New Zealanders during World War I.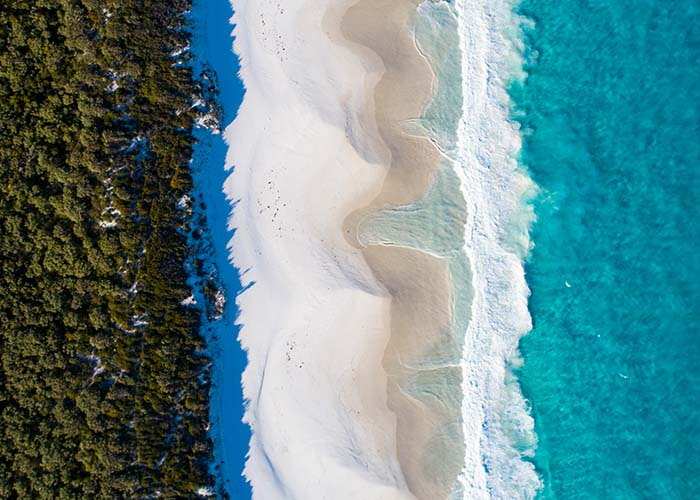 Esperance
Like Albany, Esperance is another portal to a postcard Australia. Iconic beaches punctuated by coasted parks, staggering views, and the dazzling sun. Here, though, you'll be among some furry friends. Frequently spotted sunning themselves on the shore, kangaroos are just some of the wildlife you'll find across Esperance, especially at Cape Le Grand National Park and Lucky Bay.
If you're keen to see some more of Western Australia's mysterious wildlife, more of the floral kind, head on over to the Fitzgerald River Park. Drive yourself through the park's rugged terrain and watch hundreds of native plant species flourish before your eyes.
Any surfers out there can take on the reef breaks at West Beach, Fourth Beach or Observatory Beach, and fishing fans can cast a line at Bandy Creek Harbour.
Margaret River
The Margaret River is another of Western Australia's stunning streams of glittery blue. Located in the Margaret River Region south of Perth, this river is deemed to be the life source of the town and all that's held within it — the vines, trees, caves, waves and, of course, the Wadandi people, who welcome their visitors with open arms. Embrace awe-inspiring coastal hiking trails, underground caves, and the thrilling highs and lows of rocky mountain bike trails, all in good company.
A natural work of art, Margaret River also celebrates its inhabitants' own creative offerings. Browse the streets to discover stalls displaying hand-crafted pieces, town centre art galleries, and artisanal produce at the Farmer's Market.
If you like the sound of both rivers, a tour that incorporates the two can certainly be arranged. In fact, it has been! This seven-day foodie road trip through the Swan Valley and Margaret River is for all those who love to wine and dine in the world's best locations, which is quite possibly everyone.
Stock up on delicious snacks and rich wines from local businesses, all while witnessing incredible landscapes, extraordinary river views and the friendly faces of like-minded visitors enjoying the same good times as you.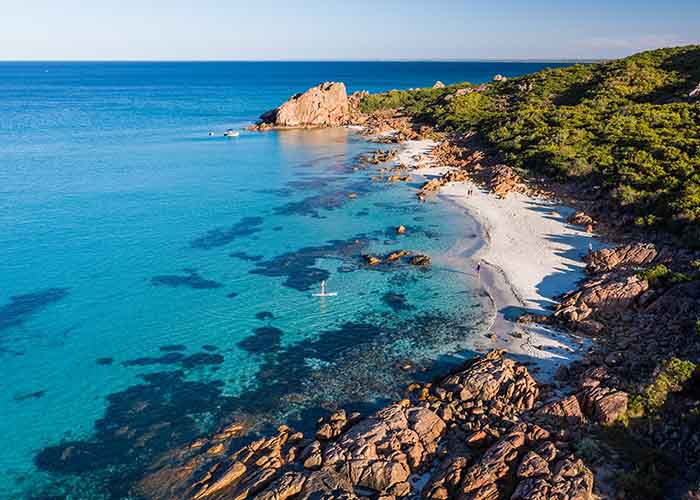 The Outbacks
Kalgoorlie is one of the best places to go in Western Australia if you're seeking the raw, authentic feel of its historical landscape. Think gritty grounds, dusty air, wide, red-dusted roads and limitless sky, and that's Kalgoorlie. This outback town is saturated with history, from the region's gold rush era to the modern-day Super Pit mine, which is unearthed and relived again and again with every tour.
---
Extra Adventures
Perth, Broome, and the Southwest are some of our favourite regions in Western Australia, as they have so much to offer.
However, as you'll find below, there's a whole lot more to Western Australia…
Mitchell Falls Helicopter Ride
It may be that many of your experiences so far have been limited to a ground-level perspective. Even if you've climbed a couple of mountains or dived deep into the sea, your viewpoint has still been somewhat restricted to one point of view.
So, here's one of our favourite fun things to do in Western Australia: Mitchell Falls Helicopter Tours, the best way to achieve a magnificent bird's eye view of the remote wilderness below. You'll sweep over gorges, waterfalls, remote beaches, and spectacular secluded islands.
Helicopter flights operate from Mitchell Falls between April and September (approximately), depending on the weather.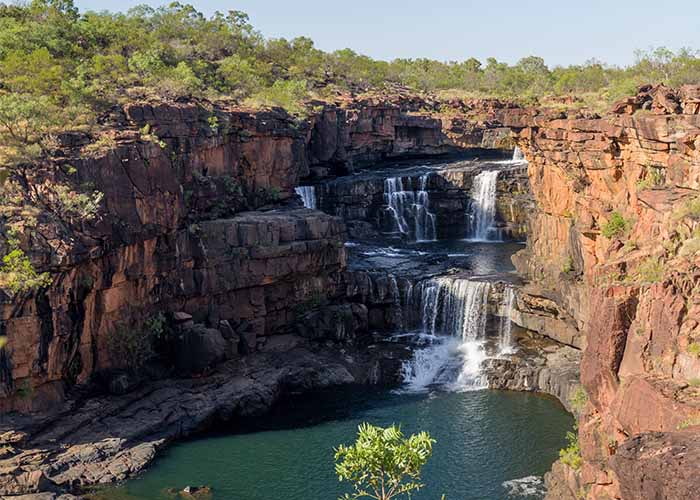 Ningaloo Marine Park
Western Australia's Ningaloo Marine Park guards the UNESCO World Heritage-listed Ningaloo Reef as one of the most biologically diverse marine environments on earth. It's home to around 200 species of coral and 500 species of fish and resides just a few metres from the shore in some places, making it easily accessible to snorkelers.
Alongside the reef, you can also find several other sea-dwellers, including whale sharks, manta rays, turtles, fish, and humpback whales, all of which attract an abundance of visitors from across the globe.
Whether you're looking for thrills or seeking a sense of calm in Ningaloo, we recommend you stay at Sal Salis for accommodation like no other. Located just a few metres from the coral reef, you can rest in an eco-luxe safari tent and watch the world unfold around you. Wake up with the sunrise and fall asleep with the soft sounds of the sea. There's nothing quite like that level of immersion.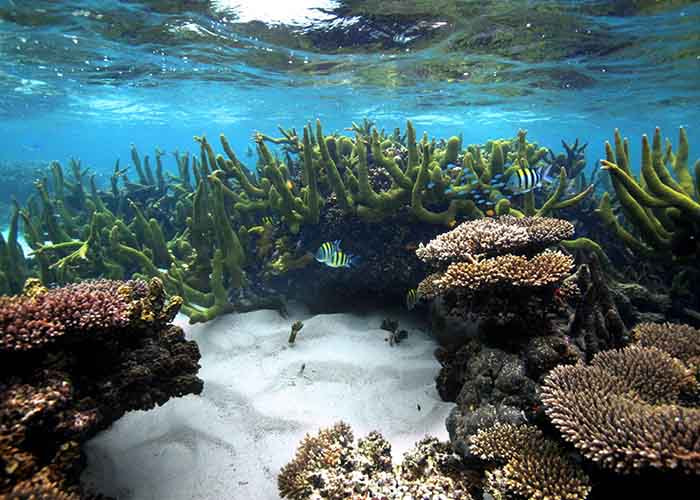 …& Some More National Parks!
The beauty of Western Australia's National Parks is that not a single one even vaguely resembles the other.
Western Australia has around 60 National Parks open to visitors, all of which offer inventive ways to make your way around. You can walk through the treetops of Karri Forest at Walpole-Nornalup National Park, hang high over Murchison Gorge on the skywalk at Kalbarri National Park, or wind your way through amazing limestone structures on the Pinnacles Trail. Whichever mode of meandering you choose, if not all, you're in for a very special experience!
---
Your Western Australian Adventure
This list of the best things to do in western Australia isn't exhaustive, but it should give you enough to tick off all the boxes of your western Australia bucket list.
Once you've completed the western regions, you've still got a fair patch of Australia to cover until you can mark it as complete, and we want you to continue to enjoy yourself every step of the way. Check out our guide to the top tourist attractions in Australia, where we've pinpointed the best places to prioritise on your trip.
To start planning your trip, contact us to speak to our Travel Specialists – they can share their expertise and tailor-make your own bespoke itinerary.