The smell of nutmeg wafts through the air as you idle along pristine, white sand beaches that blend into crystal blue waters.
In Grenada, all concept of time slips away as you melt into its landscape of lush tropics.
Then there's Grenada's food – a colourful and indulgent world. Grenadian cuisine is home to a panoply of vibrant and beautfully spiced dishes, meals, delicacies and inspired creations from the land and sea.
The island is known as the 'Spice Island', and for good reason. Just some of the abundant spices grown here include:
Ginger
Nutmeg
Cinnamon
Clove
Turmeric
Thyme
Lemongrass
Grenada's cuisine takes inspiration from all corners of the world, with Asian and African influences aplenty.
Fresh produce here is phenomenal, and from young coconuts and succulent mangoes to the more exotic breadfruit, local dishes use the most flavorful ingredients for an incredible cuisine like no other. Dishes are anchored by flavourful seafood and local meats, with plenty of warming local spices for a unique flavour.
Those with a sweet tooth aren't left out in Grenada either, with a rich selection of desserts on offer across the island, plus perhaps the most tempting of all the island's treats… chocolate.
From rum punch and conches to spicy stews, we've put together the ultimate hit list of must-try foods in Grenada…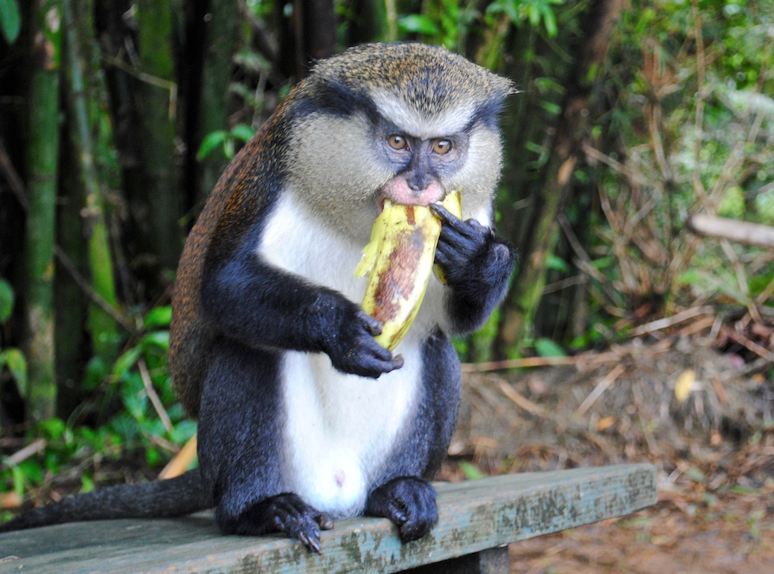 1. Roti
Grenada's favourite sandwich, the Roti is a bursting fusion of Indian spice and warmth. Wonderfully spiced flat breads make up this hearty, everyday staple, which most often comes stuffed with generous servings of vegetable, seafood or meat curries and stews. Rotis are best enjoyed as a street food on the go, so we recommended hitting up a laid-back venue like the Nutmeg Bar and Restaurant in St George's for a rustic takeaway experience.
2. Oil Down
After something comforting, flavourful and packed with local flavour? Look no further than Grenada's national dish – Oil Down. You can't really say you've been to Grenada without trying this iconic one-pot dish. A permanent fixture at local gatherings, celebrations and festivals, it's the beating heart of Grenadian culture.
Turmeric, salted meats, dumplings, breadfruit and vegetables are all stirred through a creamy base of coconut milk. Of course, every true Grenadian will have their own take and style, so we recommend trying as many Oil Downs as possible!
Meander through the St. George's Market to find food stalls where this stew is served up fresh from the pot. If you've watched Ainsley Harriott's Caribbean Kitchen you will have seen Oil Down being prepared and served by the chef at BB's Crabback – a Grenadian institution.
You might also find it bubbling away occasionally at a roadside diner, like Rosy's in Grand Anse. We also highly recommend Creole Shack on Melville Street, St. George's.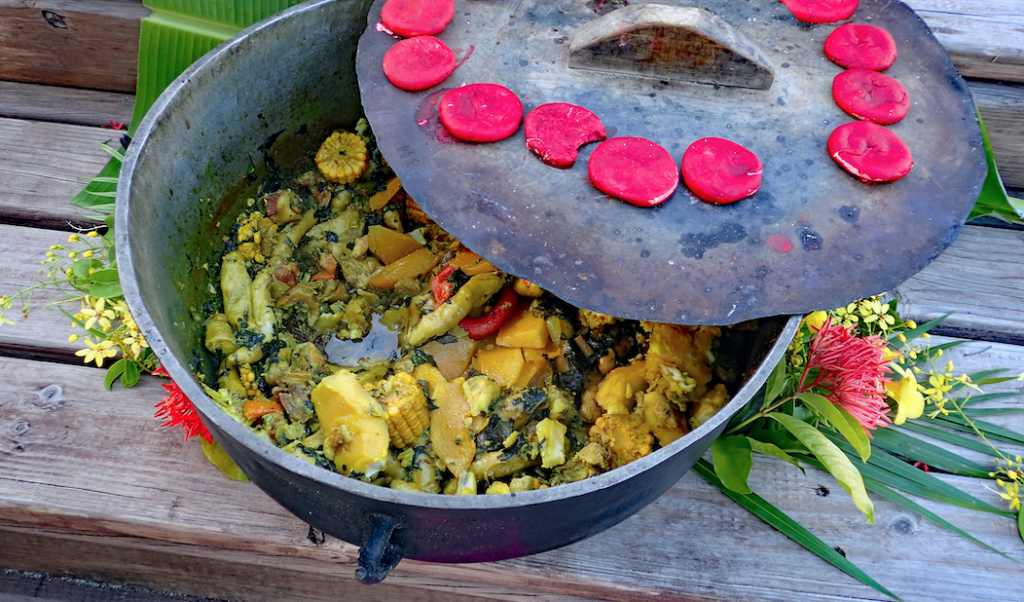 3. Nutmeg ice cream
Grenada has a real love affair with nutmeg. The best way to discover why is to try the fragrant spice in ice cream. Delicately flavoured, a refreshing scoop of this cool cream by the sea is the perfect Grenadian treat; made with heavy cream, it's one of the isle's most beloved desserts. You can find it being scooped out by the bucketful at many local restaurants, but we'd particularly recommend Helena's on Main Street, St. Patrick's.
4. Chocolate
Grenada is the home of chocolate, and really takes this reputation to heart; here you can find everything from cocoa tea to cocoa balls, cocoa bean flesh and even tree-to-bar chocolate, which you can sample at the Grenada Chocolate Company.
Many of the cocoa plantations across the island practise sustainable farming practices, and provide truly exquisite cocoa to create world-class chocolate. For a truly immersive experience, why not attend the island's chocolate festival?
Want a real bite of paradise? Then we recommend sampling cocoa balls. These delightful little treats are packed with creamy, chocolatey goodness and embellished with thyme, cinnamon and bay leaf. Make sure to take a packet back with you on the plane! Hot chocolate lovers will rejoice at the lush taste of cocoa tea, made by stirring cocoa balls into warm milk.
5. Lambie Souse
This is seafood at its best.
A brothy mixture of garlic, onion, hot pepper and lime juice provides the sharp and zesty base to the star of this dish: slow-cooked, tenderised conch (otherwise known locally as Lambie).
Yes – conch, as in the sea-dwelling gastropods encased within large, spiral-like shells. While it might be an acquired taste for some (mainly due to its toothsome texture) this famous seafood packs a punch when it comes to protein.
6. Callaloo Soup
Perfect for a quick daytime bite or starter, this leafy soup is surprisingly creamy in texture thanks to the coconut milk it's infused with. Africans brought callaloo, known as collard greens or dasheen leaf in other parts of the world, to the Caribbean along with their tradition of steamed greens. And while you'll find callaloo elsewhere, it's worth taking advantage of this healthy superfood while you're in the region for a unique Grenadian dish.
If you like the taste of spinach, then you'll get along well with this indigenous, elephant-ear-shaped leaf that comes in green or purple hues. You'll find Callaloo Soup as a must-try starter at many dining venues throughout the country. For enhanced flavour, try a bowl with some slivers of land crab meat added in.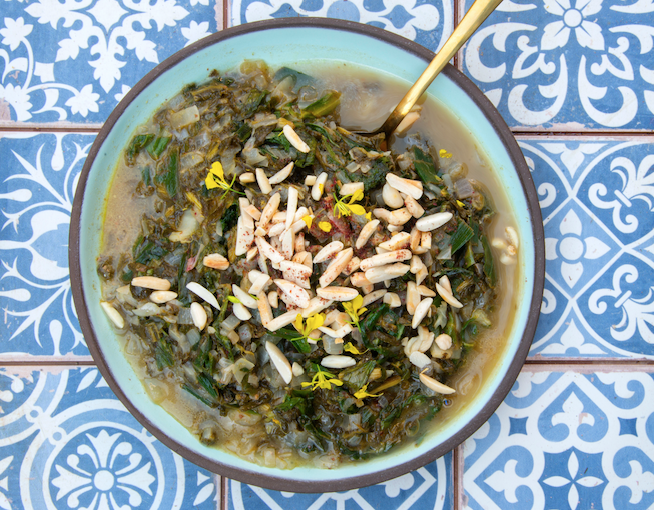 7. Crab Back
When it comes to Grenada's cuisine, there's always a distinct element of fun, and Crab Back's magical presentation is a perfect example. Crab meat is removed and mixed with spices, then stuffed back into its shell and topped with breadcrumbs before being baked.
Eating crab back is like digging your fork into an epicurean's treasure trunk. This dish made from land crabs is considered by many the height of Grenadian cuisine, and is something that feels just as home as part of a fine dining experience as it does by the beach.
While you can find this culinary marvel across the Caribbean, the spices of Grenada – thyme, clove and mace – really make it something else.
Insider Tip: Visitors and locals swear by BB's Crabback on St. George's waterfront, which specialises in this spicy delight. Enjoy this firm Caribbean favourite while soaking in views of the seascape.
8. Rum punch
Rum really is the sparkle in the Caribbean's eye.
Grenada, in particular, boasts countless local recipes and concoctions of this fermented sugar alcohol to warm the cockles and tingle the senses. For a true Grenadian moment, enjoy a thirst-quenching mixture of rum and fruit drink – otherwise known as rum punch – after a long day of snorkelling and watersports as you sail into the sunset, carefree.
Enthusiasts and history buffs keen to delve into the history of rum should make sure to stop by the Rumboat Retreat. Here, you can learn all about the story of rum on the island (with no entertainingly swashbuckling details left out). You'll be able to explore white and dark rums, along with the over-proofed and well spiced. Sample spirits from the more mellow and aged to the thrillingly throat scorching on a delicious rum flight.
9. Sea Moss
If we told you Grenadians could turn sea moss into a delectably smooth and enticing drink, would you believe us?
This thick, velvety drink goes by a couple of names, including Caragreen or Irish Moss (for its greenish colour). You can think of this sweet, murky drink as a kind of Caribbean milkshake. Try it at the Rumboat Retreat where you can also absorb everything there is to know about local rum.
10. Sweet Potato Pone
You might not readily consider sweet potato as a dessert ingredient.
Not only is it a healthy alternative, but it's also fantastic in Caribbean sweet potato pone, or sweet potato pudding. Made with milk, grated coconut and sugar and with hints of cinnamon and nutmeg laced through, you'll want to indulge in this special treat over and over again.
The recipe is simple and has been passed down through families locally for generations. More authentic versions involve the inclusion of purple sweet potatoes. You could enjoy this during your afternoon break with a cup of cocoa tea.
If the beautiful shores (and incredible flavours) of Grenada are now calling you, we're not surprised. We wouldn't be surprised to hear that you're stomach is grumbling, either!
Whether you manage to try all of these Grenadian delights or only a few, you're in for an exquisite culinary experience that's colourful and expressive while firmly rooted in years of rich tradition. Sampling Grenada's food is like going on an epicurean adventure that's pure joy.