A revered gem that proudly sits on the shores of Lake Geneva, Evian-les-Bains is a go-to for jet-setters in search of rejuvination.
To find out more, our Content Manager, Ceri, visited herself to get the lowdown on this timelessly elegant resort town.
---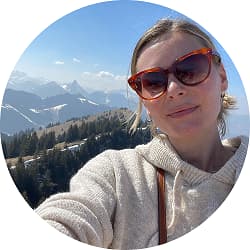 Ceri Foulkes
Content Manager
You've probably heard of the water, but did you know that Evian is about more than just its most famous export?
Evian-les-Bains has long been the wellness escape of choice for the well-to-do. And, indeed, water played a big part in this. When its crystalline, mineral waters were bottled for the first time, the town found its fortune. Along with its breathtaking mountain scenery and fresh air, Evian-les-Bains' water brought with it wealth, glamour and relaxation.
You'll still feel the chic appeal of the so called 'golden age of water' here. There's Belle Epoque charm at every turn. Not to mention, it's practically illegal to serve anything other than Evian water alongside it's unanimously beautiful lake!
Then, there's Evian Resort. Comprising two luxury hotels, a world-renowned golf course, a casino and the sought-after Evian les Thermes spa, it really is the crowning glory of the town and a must-visit for your next holiday.
Where is Evian-les-Bains?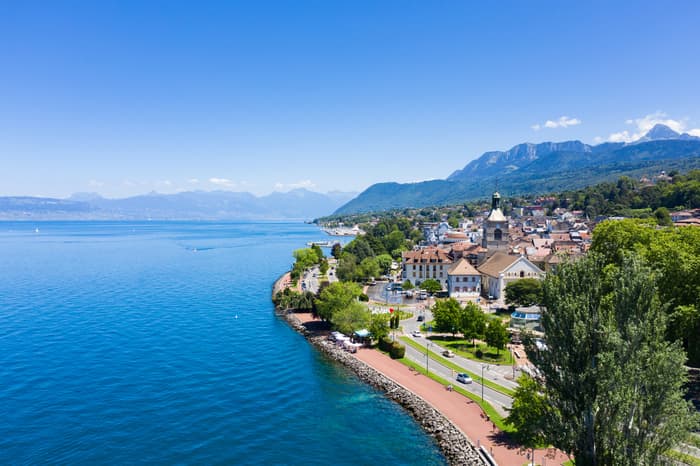 So, let's start with the basics.
Evian-les-Bains sits on the shores of the breathtaking Lake Geneva, the largest lake in the region. While the town of Evian is in France and overlooked by the Alps, the water shares boundaries with Switzerland, which you can spot in the distance.
Evian-les-Bains itself is part of France's Haute-Savoie region, which you may have heard of thanks to its reputation for ski resorts and exceptional cheese – so, bring your appetite, especially for fondue!
---
How far away is Evian-les-Bains and how do you get there?
Evian-les-Bains is a wonderful short-haul destination to visit from the UK – ideal for a long weekend break. If you're looking for a longer luxury holiday in France, you could consider combining it with a stay in the French Riviera for a glamorous getaway.
To get to Evian, you'd typically fly to Geneva airport, which takes less than two hours. Then, it's around an hour's drive from Geneva to the resort. Generally, there are no stops at the border between Switzerland and France, so you can seamlessly drive straight through.
---
What's Evian-les-Bains known for?
Naturally, the water is still a big draw. It's here that the mineral-rich water emerges from the Alps, which has become almost mythological. It's said that the water is so pure, it once even cured a French marquis of his kidney stones – true or not, people still queue up to sample it straight from the springs.
Beyond this, Evian-les-Bains is also known for its beautiful mountain scenery, top championship golf course and fun ski opportunities. The food is exceptional, the spas are sumptuous and there are numerous nearby towns and areas to explore – overall, there's plenty on offer.
---
Where to Stay in Evian-les-Bains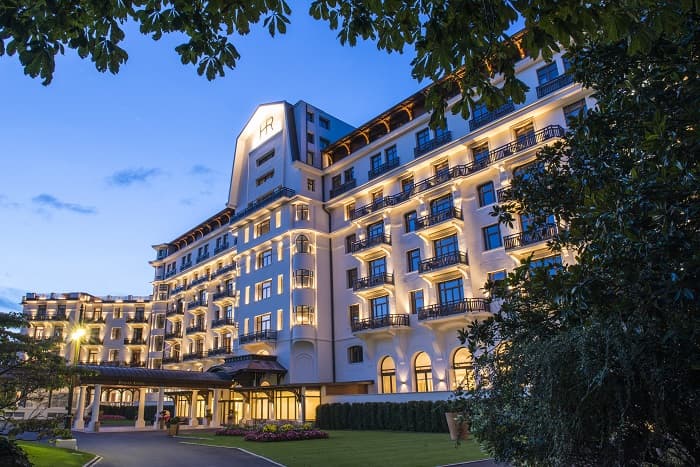 The best place to stay in Evian-les-Bains is without a doubt the Hotel Royal, which is one of France's coveted palace hotels. This 5-star retreat has a prime location overlooking the lake, with 60 percent of rooms offering beautiful views across the water. Each has a balcony too, making the perfect spot for breakfast in your room or a glass of Champagne in the afternoon.
Hotel Royal is part of the Evian Resort, so if you stay here, you'll also be able to make use of the facilities at sister hotel, Hotel Ermitage.
The Hotel Royal certainly captures the sense of grandeur Evian is known for. Fittingly, the original hotel was built for King Edward VII when he asked for the most beautiful hotel property to be built for him. Sadly, he passed away before it was completed, though the Edward VII suite pays tribute to him with its incredible panoramic balcony.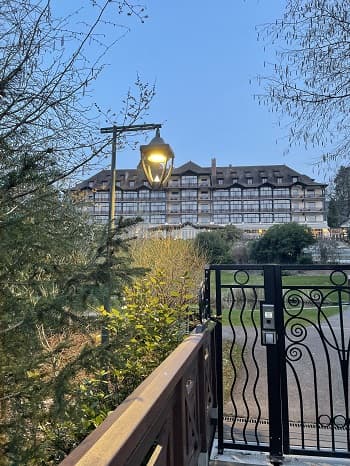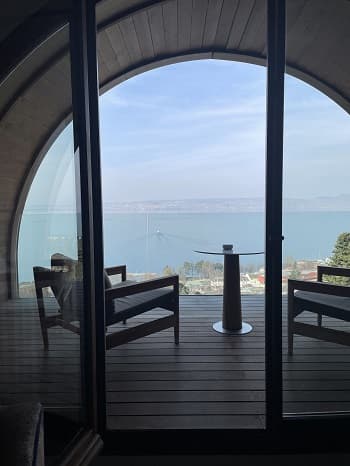 The hotel is a trove of luxuries. You can dine in the excellent Michelin-starred restaurant, relax in the stunning infinity-edged pool that gazes out over the lake, or unwind in the spa with a massage and a visit to the sauna, steam room and bubbling hot tubs. One of the best things about the spa is that it's open until 11pm, so it's never too late for a spot of pampering.
Nearby, the resort's Evian championship golf course is a huge draw, attracting players from across the world to play the 18 holes with stunning views.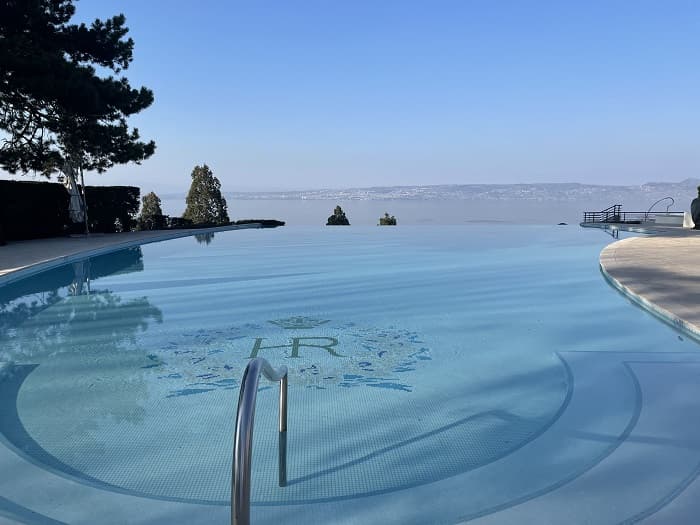 ---
What things to do are there in Evian-les-Bains?
While it might be a small town, there's plenty to see and do when visiting Evian-les-Bains…
Skiing in winter
Sitting on the hem of the Alps, it's no surprise that Evian-les-Bains is a great base for winter activities.
During the ski holiday season, you'll have a choice of slopes nearby. Just 15 minutes from the Hotel Royal is the closest ski resort of Thollon-les-Mémises – make sure you stop by the slopeside restaurant for some fondue and a glass of kir while you soak in those incredible lake views.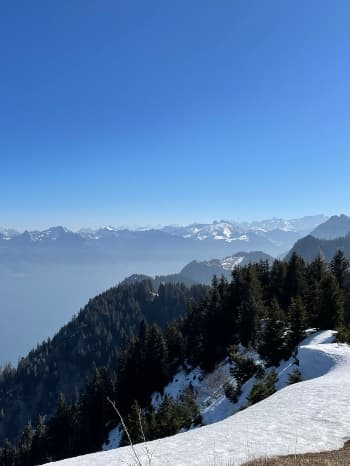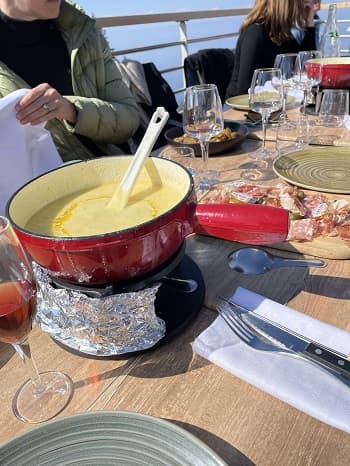 If you drive out a little further, you'll reach the largest ski area in Europe – Les Portes du Soleil – which offers runs for all abilities, ideal for more experienced skiers.
It's not just about skiing, though. Snow permitting, you can also head out for a scenic snow-shoe hike or a dog sledding adventure – you can always warm up in the sauna back at the resort afterwards.
If you stay at Hotel Royal, you can stop by the ski shop to borrow any equipment you need, including skis, clothing, boots and snowshoes.
Summer activities
When the snow has melted, there's still plenty to do in Evian-les-bains.
The lake itself offers numerous watersports, including waterskiing, kayaking and stand-up paddle boarding. Hotel Royal can arrange a motorboat trip for you too, so you can cruise the shores of Lake Geneva and stop to see some sights.
When the snow has melted , you can still head out to the mountains in summer for a hike. With clear bright skies, there's stunning scenery to admire. For something a little different, Hotel Royal can take you on a guided night hike, where you can walk through the gentle moonlight. For a really memorable day, you could even paraglide out over the surface of the lake.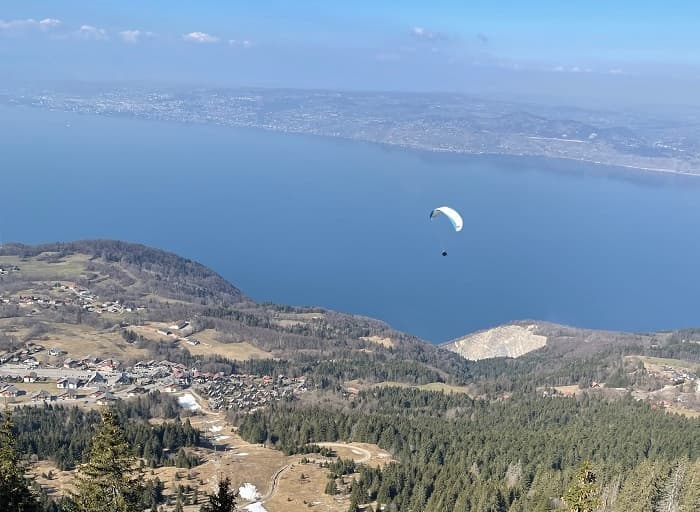 If you fancy a wander around Evian town centre, Hotel Royal has a funicular railway that runs straight down for hotel guests during summer. Stroll the shores of the lake and visit the beautiful Pre Curieux water gardens, Palais Lumiere or the Cachat spring, where you can taste the pureness of Evian water.
Explore the nearby towns
Evian-les-Bains is a wonderful base for venturing further afield.
In the summer, take a boat over to Lausanne on the Swiss shores of Lake Geneva. Home to the International Olympic Committee, you can visit the popular Olympic Museum. If that doesn't interest you, there are over 20 further museums to take your pick from. Alternatively, wander the cobbled streets in search of cheese and wine to taste, or climb the bell tower of the Cathedral of Notre Dame.
A little further around the lake, you could stop by Montreux for the day. The town is known for its mild micro-climate, picturesque promenade and charming Belle Epoque buildings. For music fans, it's worth visiting Montreux in July to enjoy the famed jazz festival.
Finally, I highly recommend a trip to the medieval town of Yvoire. Officially one of France's prettiest villages, you'll be delighted at every turn. For foodies, there's a Michelin-starred restaurant, or you can simply relax over a coffee or glass of wine for the afternoon and potter around the shops.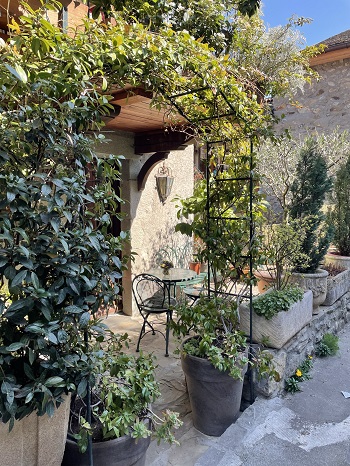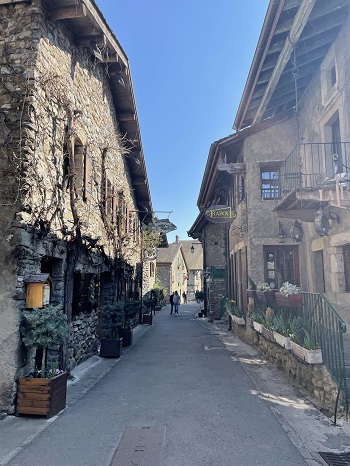 Play golf
Golf is huge in Evian-les-Bains. The Evian Resort Golf Club offers one of the world's most prestigious courses, with players travelling across the world to tee-off on the Champions course. It hosts the only major tournament in continental Europe, The Amundi Evian Championship and, of course, has more stunning lake views.
If you're looking to learn new skills or improve your technique there's also the Lake Course. You'll be able to make use of The Academy, which has all the state-of-the-art technology you could need to perfect your swing – whether you're a seasoned golfer or a total beginner.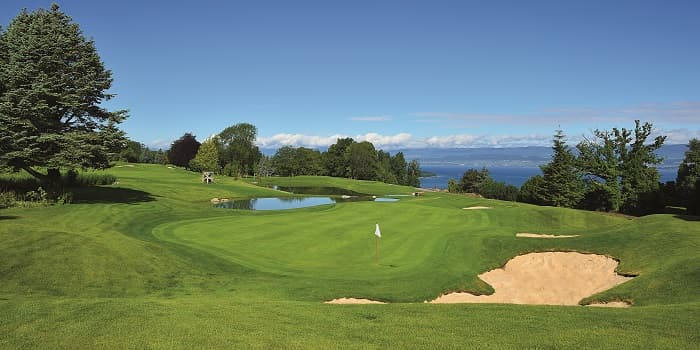 Take the whole family
There's something for all ages to enjoy at Evian-les-Bains – especially at Hotel Royal.
With a complimentary kids' club for ages three years and over, plus a separate teens' zone, young family members can have plenty of fun while parents head to the spa or golf course. Sporty families will love making use of the tennis courts, while in summer, kids can even learn how to sail on the lake.
Unique music festivals
We've already mentioned Montreux's jazz festival, but Evian Resort has something even more special to enjoy.
Located in the resort's grounds is an incredible concert hall. Built completely from wood, La Grange au Lac offers one of the most unique music experiences, creating incredible acoustics. Enveloped by the fragrant birch and pine, there are three music festivals held each year, making an unforgettable addition to your stay.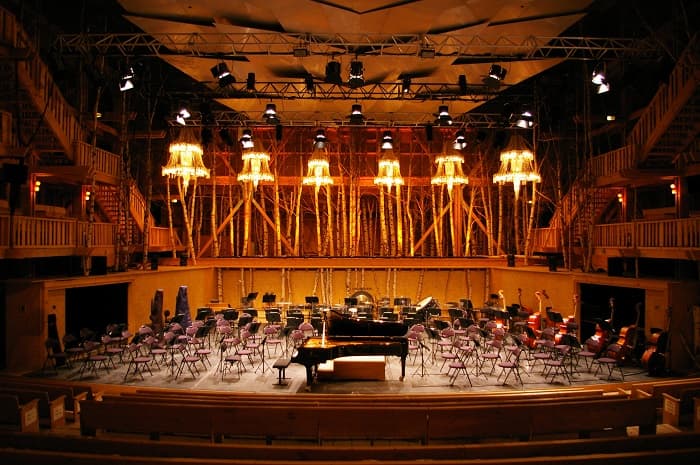 ---
When is best to go?
It might attract throngs of skiers come winter, but summer is the most popular period for Evian-les-Bains. The summer months are warm and sunny, with temperatures reaching around 28°C at their peak.
Late spring is also a great time to visit. With mild temperatures and bright skies, it's perfect for golfing, relaxing at the spa and heading out on mountain walks – what better way to rejuvenate for a few days?
---
Plan your escape to Evian-les-Bains
If you'd like to know more about Evian-les-Bains or Hotel Royal, you can contact us to speak to one of our Travel Specialists who've visited it themselves.
To start planning, they can tailor-make your bespoke luxury holiday, taking care of every detail from start to finish.