As the summer starts to fade away many of us start wondering where to go in Europe in September. With shorter flights and hotter weather, September is the perfect time to take a luxury holiday in our own continent.
Even if the British summer has left something to be desired in terms of rays, there are still many parts of Europe enjoying long days of warmth and blue skies. Plus, outside of peak season, there are fewer crowds and increased availability at top hotels, making it unsurprising that many people choose to travel at this time of year.
Where's hot in September in Europe?
On a sun-seeking September holiday in Europe, you'll find temperatures soaring up to 26ºC as you explore fascinating history and culture in destinations like Greece and Croatia. Or, you could find yourself enjoying a picturesque escape to the stunning coastline and endless beaches of the Costa Del Sol in Spain and the Amalfi Coast in Italy, where temperatures can hit up to 23ºC and 26ºC, respectively.
Sound good to you? If you're starting to wonder where to go in Europe in September for the sun, we've put together a list of destinations that are just perfect for a last-minute luxury holiday to Europe for some September sunshine.
Our Best Places to Visit in September
1. Athens, Greece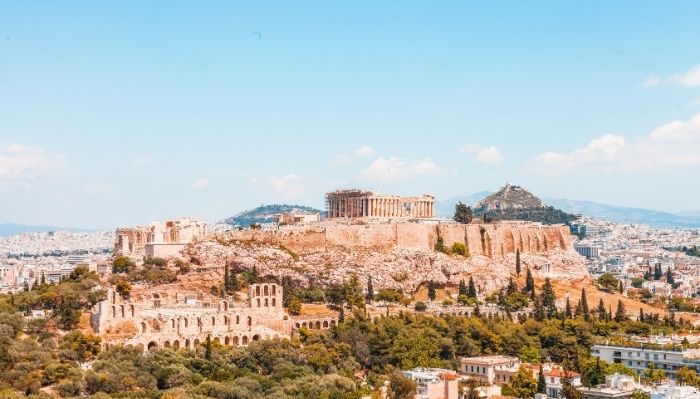 There are so many fabulous destinations to choose from when it comes to a holiday in Greece, from tiny islands with unspoilt coves to chic, cosmopolitan hubs. Athens is a great choice for a September city break; with temperatures hovering in the mid-twenties you can stroll the streets in comfort, plus it's still warm enough to sunbathe!
Of course, history buffs will be in their element in Athens, where you can explore thousands of years of history at the Parthenon or the Acropolis. There are countless ways to explore this city, which has been inhabited for over 7,000 years; we particularly recommend wandering the markets on Athinas Street for a taste of real Athenian culture.
Average September temperature: 24ºC
Average September rainfall: 14mm
Approx. flight time from UK: 3.5 hours
---
2. Costa del Sol, Spain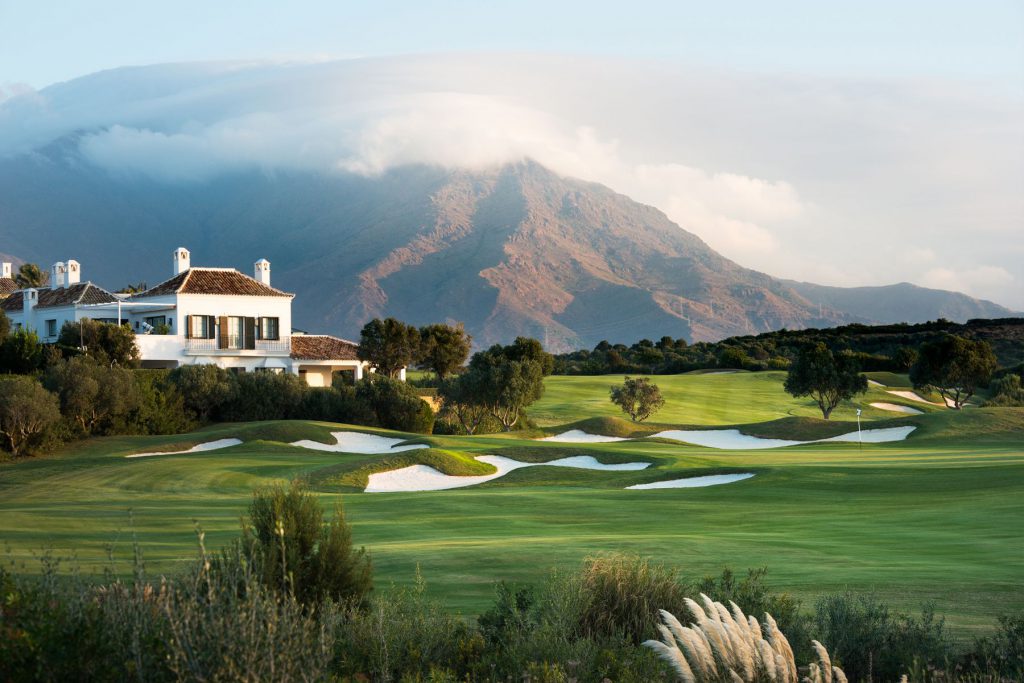 A last-minute holiday to Spain's 'Sunshine Coast' is perfect for those in search of September sun in Europe.
Ever popular with British tourists, you'll find the many charming restaurants and bars less crowded here in September. Or, if you prefer to tee-up you can enjoy a leisurely round of golf without too much waiting around!
This area is, of course, well-known for its fabulous coastline, complete with sparkling waters and sun-soaked golden beaches. But there's plenty more beyond the beach to explore on your September holiday here. There's the fascinating Picasso Museum, the famous Alhambra, plenty of charming villages and towns to explore, and remarkable hikes along El Caminito Del Rey.
Average September temperature: 23ºC
Average September rainfall: 15mm
Approx. flight time from UK: 3 hours
---
3. Tenerife, Spain
With fantastic weather all year round, the Canary Islands are a reliable option for winter sun. Luxury resorts and warm weather lie only four hours away by plane. Plus, during British Summer Time there's no time difference, meaning no nasty jet lag to deal with.
A popular choice year-round thanks to a mild climate, Tenerife is perhaps at its best in September, when visitors will still find warm temperatures and little rain but not have to contend with heaving beaches and hordes of families on holiday. Those looking for adventure on holiday should make a beeline for Mount Teide, one of the world's biggest volcanoes; take the cable car up to the top for unbeatable views. There's also waterpark fun to be had at Siam Park, plenty of picture-perfect beaches and amazing natural landscapes to explore on the island.
Average September temperature: 23ºC
Average September rainfall: 9mm
Approx. flight time from UK: 4.5 hours
---
4. Dubrovnik, Croatia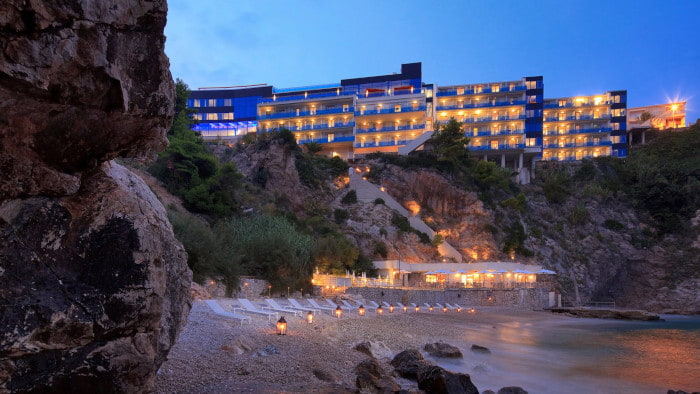 Croatia has been considered one of Europe's premiere "up-and-coming" destinations for many years. But with something for every traveller including pristine beaches, fascinating history, and enchanting cities, we think it's about time that a Croatia was promoted to its rightful place amongst the best destinations for a luxury holiday in Europe.
The walled city of Dubrovnik is the jewel in Croatia's coastal crown. The old city is a listed UNESCO World Heritage site and was the filming location for numerous blockbuster movies. Right on your doorstep is Montenegro, so combining these two destinations is highly recommended. A luxury holiday in Croatia has something special for families, couples, and solo travellers alike.
Average September temperature: 23ºC
Average September rainfall: 54mm
Approx. flight time from UK: 2.5 hours
---
5. Corfu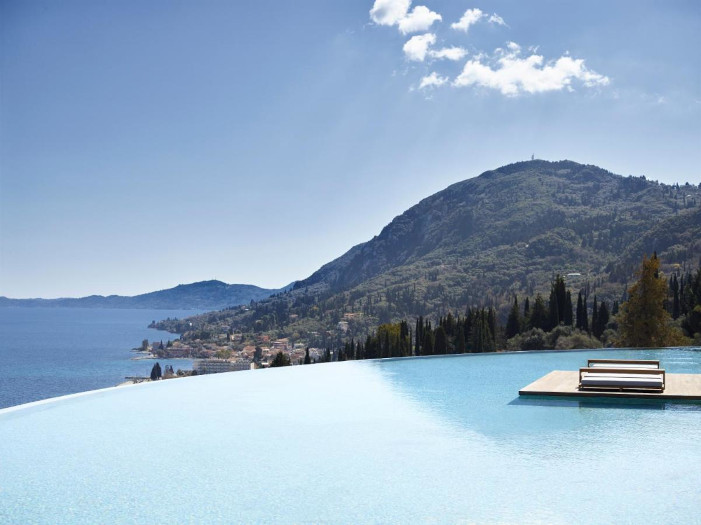 A luxury Corfu holiday guarantees sun, sea, and idyllic sandy beaches. But there is far more than that to discover on Greece's second-largest island. Often referred to as the Emerald Isle for its sweeping plains and lush mountains, Corfu has an incredibly rich culture and heritage that dates back to the Romans, and there are still some incredible historical sites to explore.
Corfu Town, the island's enchanting capital, is famed for the two forts that guard it and its Venetian Architecture. Make your way here for exciting nightlife and delicious dining. For a more relaxed approach, head to any of the quaint fishing villages that litter the coastline, or pick a spot on the picture-perfect beach and spend the day relaxing in the sun.
Average September temperature: 22ºC
Average September rainfall: 40mm
Approx. flight time from UK: 3.5 hours
---
6. Algarve, Portugal
There's a reason why holidays to the Algarve have a glittering reputation. With 300 days of sunshine each year, fantastic beaches, fashionable cities and romantic villages, there is something to please everyone. The Algarve is also one of the most sought-after golfing destinations in the world and there are numerous courses designed by some of the most famous names in the sport.
The Algarve boasts a rich seafaring heritage and visits to fishing villages like Armacao de Pera and market towns like Loule are the ideal excursion for getting to know Portuguese culture more intimately. Expect incredibly fresh seafood and quaint traditional handicrafts. You could also embark on wine tasting day trips that will surround you in in olive groves, vineyards and enchanting flavours and fragrances.
Average September temperature: 22ºC
Average September rainfall: 20mm
Approx. flight time from UK: 3 hours
---
7. The UK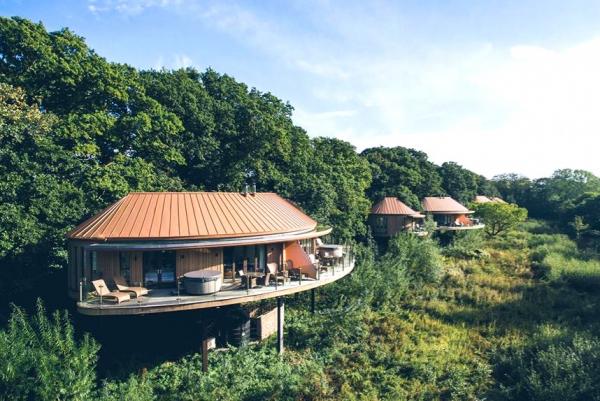 Of course, there are plenty of amazing places right on our doorstep here in the UK that offer amazing summer breaks (and we might even be lucky enough to get some sunshine!). Staying closer to home for holidays offers a world of benefits, and there are some beautiful properties perfect for a holiday that really feels like a holiday.
Scotland's combination of vibrant city life, world-leading culture, fascinating history and stunning natural landscapes makes it a fantastic choice. England boasts some truly luxurious properties that offer plentiful activities and lots of opportunities for soaking up the summer sun. Ireland's sweeping green pastures and perfectly picturesque countryside makes for a wonderfully peaceful getaway too.
---
What are you waiting for? The sunshine of Europe is calling. If you'd like to arrange your winter sun holiday, contact us to speak to one of our expert Travel Specialists.
For more travel guides, inspiration and to hear our latest luxury travel offers, sign up to our newsletter below.