With so much stunning coastline to explore, listing the top beaches in Europe is no easy task.
Indeed, you don't have to go far to find some of the world's most beautiful shores. In fact, just hours from the UK you can find a haven of white sands, pebbled swathes and gorgeous hidden coves, right here in Europe.
Which country in Europe has the best beaches?
With so many different beaches to choose from the answer depends on what you're looking for.
With a warm and welcoming climate stretching across most of the continent, particularly during the sunny summer months, there are so many destinations that proudly boast some of Europe's best beaches. Spain, Greece, Italy, and Croatia could all stake their claim to the title and are home to some of the most famous beaches in the world.
Where in Europe has white sandy beaches?
There's something about white sand beaches that makes them stand out above the rest.
Beu, you don't have to fly all the way to the Maldives or Thailand to find one.
To find a white sand beach in Europe, the best place to look is in the western Mediterranean, with Mallorca, Ibiza, Sardinia and Sicily all hosting enchanting coastline. Its not just the islands to the west that have stunning white sand beaches either, with Greece and Cyprus also offering exactly what you're looking for.
Our Top 10 Beaches in Europe
So, where exactly do you need to go to find Europe's best beaches?
We asked our Travel Specialists for the specifics on the top ten beaches to be found in Europe.
1. Nikiti Beach – Halkidiki, Greece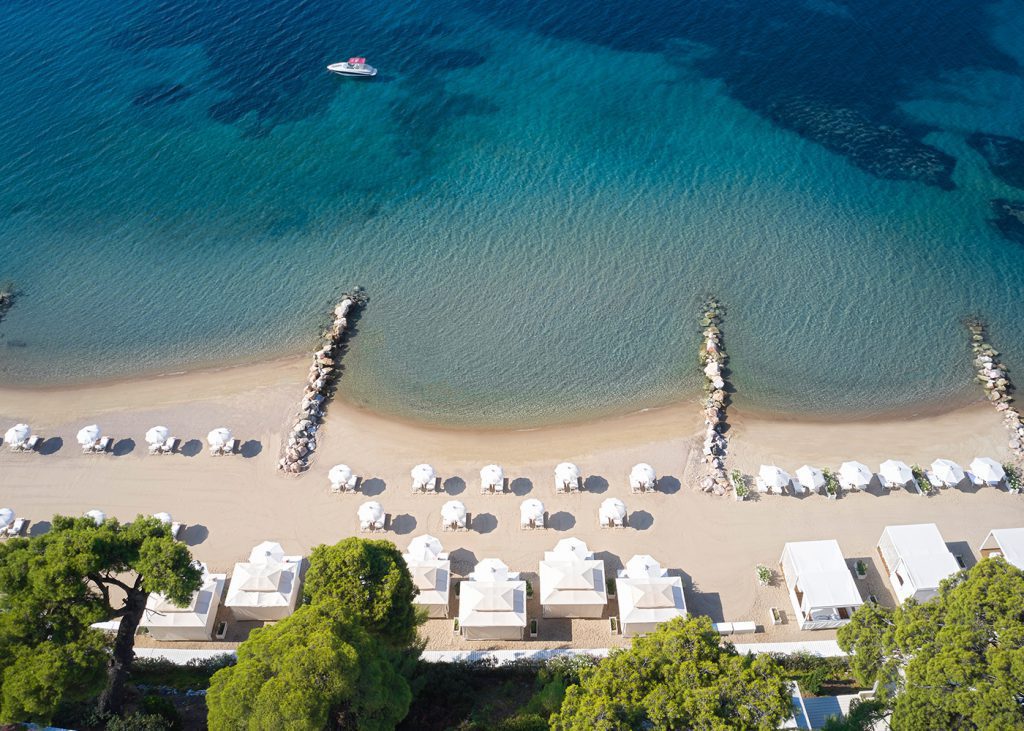 Follow the sound of the waves breaking onto the white sands, head down boardwalk lined with high-end shops and restaurants, and discover one of the most exclusive and sought-after beaches in Europe.
This beautiful beach spans several kilometers, with stunning views stretching out in every direction. Ideal for families, the crystal-clear water is shallow and perfect for family fun. It's also brimming with fascinating sea life that can be explored on a boat or yacht trip from the local marina.
Where to stay
If you want to stay close enough to the beach to visit every day, then we recommend a stay at Danai Beach Resort & Villas. As a member of the Leading Hotels of the World, guests can expect the highest luxury at this romantic boutique-style resort
---
2. Talamanca Bay – Ibiza, Spain
Talamanca is one of the most famous beaches in Europe and it's easy to see why. Very much living up to the chic, elegant and cool reputation that Ibiza comes with, Talamanca Beach is an adult-oriented paradise.
The beach is long and curved, with soft sands and clear water, easily deserving of a place amongst our top ten beaches in Europe. The nearby promenade is packed with upmarket bars, shops, and restaurants, and a lively atmosphere is guaranteed.
Where to stay
Just a five-minute drive away, Nobu Hotel Ibiza Bay is a trendy escape from the buzzing Ibiza atmosphere. As you would expect from this world-renowned brand, Nobu is a delight for foodies and the range of restaurants is staggering.
---
3. Ornos Beach – Mykonos, Greece
Ornos Beach is one of Mykonos' most popular and trendy beaches. Its magnificent appearance is one of the main reasons for attracting so many people. But its wide range of activities also has a hand in it, too.
The views from the beach are stunning, with blue sea stretching out in front of you and traditional houses perched delicately on the cliffs behind. If you want to get more active, there's also a wonderful diving school and plenty more watersports to enjoy including sea-skiing and windsurfing. Hungry after your dive? No problem! Plenty of delicious restaurants line the beach.
Where to stay
For easy access to the beach, alongside a host of other benefits, Mykonos Grand Hotel & Resort is the perfect place to stay. This romantic haven offers stunning views of the Aegean Sea and the sacred island of Delos.
---
4. Uvala Lapad Beach – Dubrovnik, Croatia
Dubrovnik has surged in popularity over recent years. Many people head to this ancient-walled city to immerse themselves in its rich history, with productions like Game of Thrones also shooting here. Whatever draws you to Dubrovnik, the beaches are guaranteed to steal your heart.
Uvala Lapad is one of the largest and easiest to access beaches in the city and one of our favourites in all of Europe. Facing directly west, Uvala Lapad is the king of all suntraps and you're guaranteed stunning afternoon rays and sunsets. It's also a great place for kids, with slides, trampolines, and inflatable water toys available.
Where to Stay
Sun Gardens Dubrovnik, a member of The Leading Hotels of the World, is the ideal hotel to stay at to make the most of Uvala Lapad. The hotel is great for families and has an excellent kids club and unique sports academy.
---
5. Praia do Martinhal – Algarve, Portugal
There are few places more romantic than the Portuguese coastline and Praia do Martinhal takes its heart-stopping beauty to a whole new level. The beach is just a short walk from town, though it's usually quiet and perfect for a couple's escape.
The water here is uncommonly calm, so swimming and snorkelling are an absolute must. The beach is also home to a set of sand dunes, offering protection from the wind and creating the perfect conditions for windsurfing. Whether you're looking for activity or relaxation, Praia do Martinhal is undoubtedly one of the best beaches in Europe.
Where to stay
Although perfet for couples, the activities on offer make this beach equally well-suited to families. The Martinhal Sagres Beach Family Resort Hotel is known as one of the finest luxury family resorts in Europe. With the perfect mixture of relaxation and activity, this is a serene location for a family holiday, just a stone's throw from the beach.
---
6. Sa Colonia Beach – Sardinia, Italy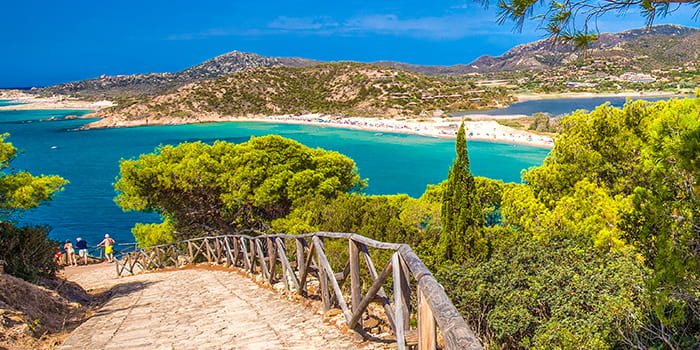 Sardinia is renowned for its beautiful blue seas and some of the best beaches in Europe. Sa Colonia Beach is our favourite. Not only is it magnificently beautiful, but it's reached in a special way too.
Make your way along an enchanting foot path overlooked by a historic Spanish tower. At the base of the tower, you'll see the ruins of the 8th century BC Phoenician city of Bithia. The walk isn't strenuous and provides almost as many incredible sights as the beach itself.
Where to stay
Only 700m from the shining Sardinian sands, you'll find the luxurious Chia Laguna hotel. The entire hotel is designed to bring you closer to the coast, with breathtaking views of the lagoon and coastline available through the window of every room.
---
7. Gümbet Beach – Bodrum, Turkey
If, for you, the best beach in Europe is one that's packed with exhilarating activities, then Gümbet Beach is probably top of your list. With scuba diving, windsurfing, water skiing, jet skiing, parasailing and more, the options feel endless.
The beach itself is a gorgeous one-kilometre long stretch of delicate golden sand. The waters here are relatively shallow, allowing for the great watersports options and creating one of Bodrum's best diving spots. On a dive here expect to see a stunning coral reef populated by sea urchins, starfish, and brightly coloured fish.
Where to stay
To stay as close to the beach as possible, while also receiving a world-class spa, then Mandarin Oriental Bodrum has everything you're looking for. If you aren't relaxed enough from a day at the beach, then you will be after one of their massages.
---
8. Silence Beach – Fethiye, Turkey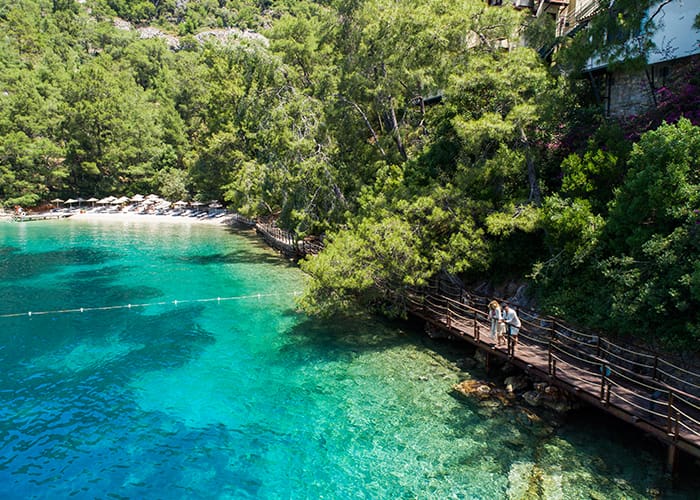 We might be staying in Turkey with this on, but Silence Beach is an entirely unique entry on our list. One of two adults-only beaches belonging to the Hillside Beach Club hotel, Silence Beach is a technology-free, noise-free, distraction-free paradise.
Designed to help you switch off from technology and the stresses of modern life, Silence Beach has its own library, a dedicated bar, and a spa nearby. As you lay in a hammock listening to the gentle birdsong, you're guaranteed to feel like you're on your own private island paradise.
Where to stay
Also owning the equally relaxing Serenity Beach, Hillside Beach Club is one of the most impressive hotels in Turkey. Offering a calm atmosphere and a state-of-the-art range of facilities, it is the perfect hotel for families and couples alike.
---
9. Marina Piccola – Capri, Italy
Capri is a haven of chic, elegant luxury, so a visit here absolutely needs one of the best beaches in Europe to compliment your itinerary. Marina Piccola is a uniquely pretty little beach that has wonderful views and lies directly opposite Capri's giant sea stacks.
On the temperate south side of the island, this relaxing nook is hidden away from the crowds and is ideal for a romantic day in the sun. The waters are calm, welcoming and perfect for swimming. Being sheltered by a steep wall of rock, this private paradise is almost always warm and is rarely windy.
Where to stay
An exclusive beach needs an equally elite hotel. Capri Palace Jumeirah is one of the most sought-after hotels on Capri and puts you in the perfect place to visit Marina Piccola. Here, you'll also find a world-renowned spa and elegant Mediterranean décor.
---
10. Dollymount Strand – Dublin, Ireland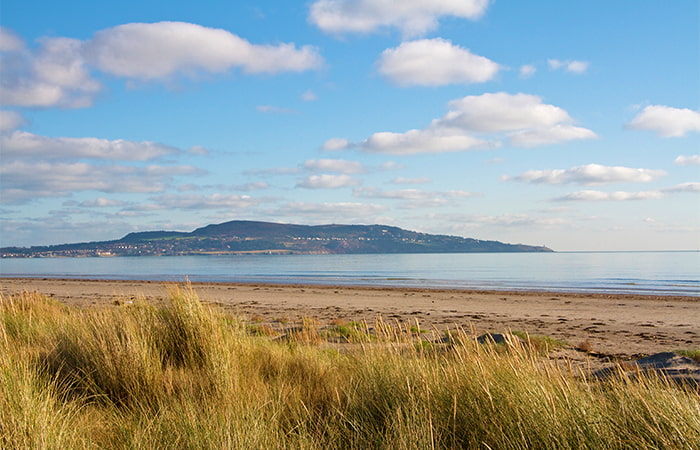 Dollymount Strand definitively proves that you don't have to leave the UK to find some of the best beaches in Europe. Stretching over 5 kilometres, this vast stretch is perfect for a beautiful walk in the fresh Irish air.
Walking this UNESCO biosphere reserve is an extremely popular pastime with locals and visitors alike. The calm waters are also perfect for paddle boarding or surfing during sunny summer days. As the sun starts to set, looking across the water and witnessing the twinkling lights of the city sparkle into life is an unmissable opportunity.
Where to stay
Luttrellstown Castle Resort is a one-of-a-kind Dublin hotel that puts Dollymount Strand on your doorstep. The likes of Queen Victoria and Ronald Reagan have stayed in the castle over its 600-year history. Why not spend the night in Queen Victoria's favourite room?
Dreaming of a beach holiday Europe? Contact our Travel Specialist if you have any questions about where you would like to go!
Don't forget to subscribe to our mailing list for more of our luxury travel guides and see our latest offers.