With so many things to do in the Algarve for families, it's hardly surprising that Portugal remains such a popular holiday destination for those with younger travellers. From the beautiful coastline with amazing cliffs to the endless days of sunshine — it's the perfect setting for a family summer holiday.
Beyond the stunning beaches, parents will be pleased to know there are many family-friendly attractions and experiences to inspire all ages. From enchanting pirate ship cruises to thrilling waterparks, plan your ideal itinerary for babies right through to teens.
Read on to discover the top 10 best things to do in the Algarve for families.
---
1. Explore Sea Caves
No family holiday to the Algarve is complete without exploring the otherworldly sea caves around Portugal's southern coastline. A natural phenomenon, these dramatic rock formations are the result of erosion from the sea and are now an iconic feature of the region's landscape.
One of the most popular sea caves to visit is Benagil cave, located just around the corner from Benagil Beach in Lagoa. With a wide opening in the top of the grotto filtering natural daylight onto a small stretch of beach inside, it's truly a feast for the eyes.
Book the whole family onto one of the many boat trips that cruise Portugal's sea caves, departing from Carvoeiro, Lagos and Vilamoura. For families with a sense of adventure, you can also kayak to both Benagil and Zorreira caves from the beach.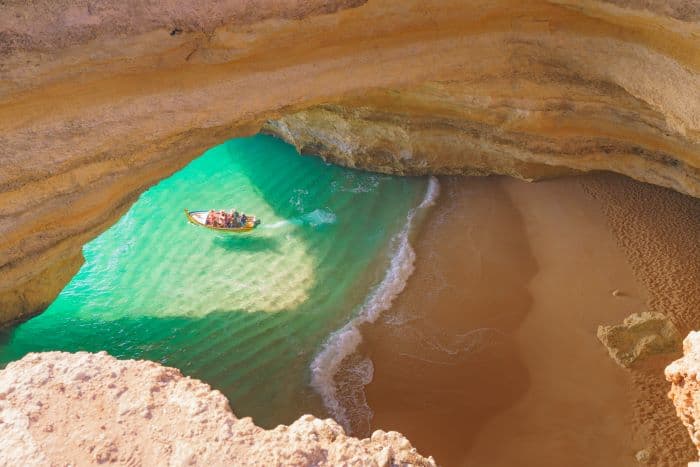 ---
2. Visit Lagos Town
Beyond being a fantastic beach destination for families, the Algarve also boasts many charming coastal towns where you can soak up the culture in between sunbathing sessions.
In particular, the fascinating town of Lagos, situated on the western part of Portugal's southern coastline, is a wonderful place to immerse yourself in the region's rich heritage. From the town's picturesque promenade to the medieval castle, wander through its narrow cobbled streets to find many historic sites.
Escape the midday sun with a fun and educational visit to Museum Municipal Dr. Jose Formosinho, located in the old town of Lagos, where you can learn about Portuguese from its collection of Roman and Islamic artefacts.
---
3. Annabella's Kids Park
For a truly family-friendly experience in the Algarve, stay at Vila Vita Parc — home to the impressive 'Annabella's Kids Park'.
Open Monday to Sunday during the summer months, it's the perfect place for kids to let off some steam with a variety of slides, swings and trampolines at the adventure playground. Hosted by a team of trained childcare staff, Annabella's Kids Park also aims to inspire young minds with creative painting classes and baking sessions in its versatile playroom.
Plus, for teenagers, the resort also offers their exclusive Teen Wellness Programme, which takes a holistic approach to supporting young people aged 10-15 years. With personalised programmes and a diverse range of activities for older kids, the Teens' Club also lays on workshops designed to boost their mental, physical and emotional health.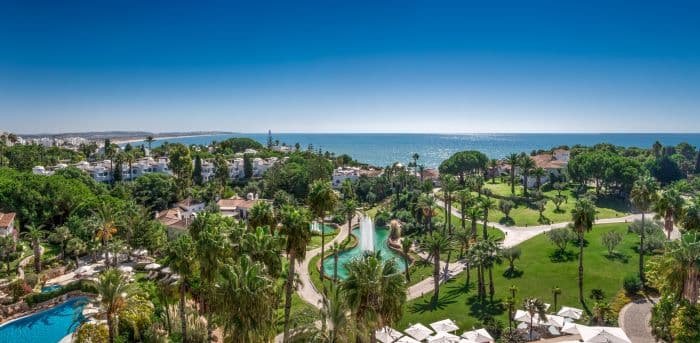 ---
4. Enjoy a Beach Day
The Algarve boasts some of the most beautiful and unique beaches in Europe. It's one of the best beach destinations for families looking to spend some quality time together in the sun, basking on the golden sand and frolicking in the surf of the Atlantic Ocean.
With numerous breathtaking beaches dotted along the Algarve coastline — including the rustic cliff-encase bay of Praia Da Marinha and the secluded shores of Praia da Rocha — beach lovers will be spoilt for choice here.
Be sure to pack your sunscreen and enjoy a family beach day at the award-winning Praia da Falesia beach. The most beloved stretch of sand in Portugal, it's immediately recognisable by its iconic sweep of burnt-orange cliffs. Simply stunning!
---
5. Dolphin Watching
Set sail on a magical cruise off the coast of southern Portugal to be in with a chance of spotting playful dolphins.
The waters around the Algarve are a natural habitat for various species of dolphin, including Bottlenoses, Striped and Common dolphins. Watch these majestic marine mammals leap out of the depths of the Atlantic Ocean from inflatable boats or family-friendly catamarans, depending on your operator.
Departing from several popular resort areas, its best to enjoy a dolphin-watching tour in spring and summer, when the sea water is warmer and more inviting for dolphins looking to socialise.
It's a bucket list wildlife encounter for both parents and children — one they will remember long after they've left Portugal's sunny shores.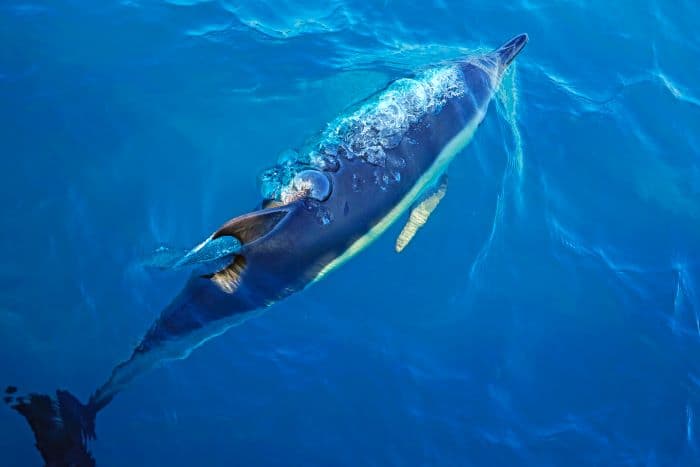 ---
6. Pine Cliffs Football Academy
The birthplace of some of football's biggest stars, from Cristiano Ronaldo to Bernardo Silva, it's safe to say that Portugal is a country of football fanatics.
If your kids can't get enough of the sport, then a stay at Pine Cliffs, A Luxury Collection Resort, is a must! Home to the Pine Cliffs Football Academy, this award-winning luxury resort runs football camps during all school breaks from February to December.
Welcoming players aged five to 16 years, the academy is ran by professional coaches, with each day focusing on a different topic. Best of all, at the end of each week, kids will enjoy the thrill of playing in a World Cup-style tournament.
Families with children enrolling in the Pine Cliffs Football Academy will also receive discounted rates on accommodation at the resort. Score!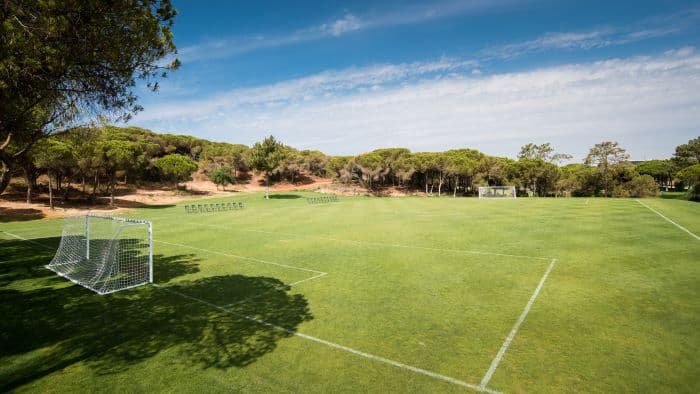 ---
7. Aqualand Algarve
Enjoy aquatic adventures and stay cool in the endless Portuguese sunshine with the entire family.
Located in the central Algarve, this popular water park boasts an huge network of slides, rides and attractions. From floating on rubber rings along the lazy Congo River to zooming down the Kamikaze (the highest water slide in Portugal), there's something for every member of the family at Aqualand Algarve.
The park also caters to littles ones with the addition of Kidzworld, offering shallow pools with mini slides and fountains for splashing around in safely.
Be sure to experience the newest attraction at the park, the King Cobra, where thrill-seekers can face off against the fearsome snake, twisting down the 'body' of the cobra on inflatable rings before being confronted with its sharp teeth!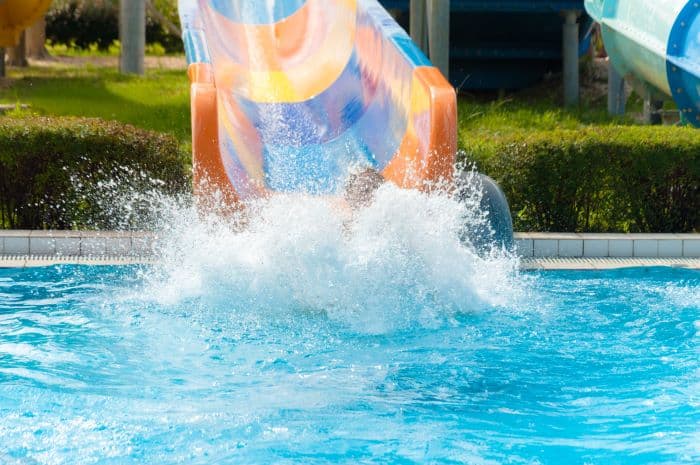 ---
8. Horse Riding
Explore the rural Algarve landscape on horseback ride for a fun family day out.
In addition to being a memorable encounter for animal-loving children, it's a fantastic way to take in the region's beautiful beaches, verdant hills and azure lagoons at a leisurely pace.
Some of the best areas in the Algarve for horse trekking include Albufeira, Vilamoura and Silves, each offering awe-inspiring ocean views and diverse trails. Some long tours can even include a stop at a local restaurant to feast on traditional Portuguese cuisine.
For a truly magical horse riding experience, why not opt for an evening tour? Nothing beats the feeling of gracefully trekking along miles of empty beach as the sun sets in the horizon.
---
9. Family Golf Park
Challenge your family to a round of golf at Family Golf Park!
Complete with two 18-hole courses — Classic Minigolf and Crazygolf — every hole presents a different degree of difficulty to keep all players engaged in the game.
Learn all about the history of the Roman Empire on the Classic Minigolf course by reading the stone plaques as you advance in your game. On the Crazygolf course, loops, bridges, volcanoes and inverted ramps present a range of surprising challenges for golfers.
When you're not mastering your putting skills, parents can relax on the terrace with a well-earned drink while kids play at the park's Family Kids Club.
---
10. Pirate Ship Cruise
What could inspire young imaginations more than an adventure on a traditional pirate ship? Cruise Portugal's picturesque coastline one of these majestic wooden vessels and enjoy a swashbuckling experience for all the family.
Embark on a 'Captain Hook' cruise on Leãozinho, departing from the Marina of Albufeira. Meet a pirate onboard who will regale you with interesting facts about the history of the beaches you see and take a refreshing dip in the sea midway through your voyage.
Alternatively, peruse the many sandy beaches along the Algarve on the Santa Bernarda. Choose between a three-hour cruise to caves of Benagil or enjoy a full day adventure, including a BBQ on a secluded beach.
Whichever pirate ship you board, these cruises are sure to transport you to a bygone era and spell a fun, immersive experience for all the family.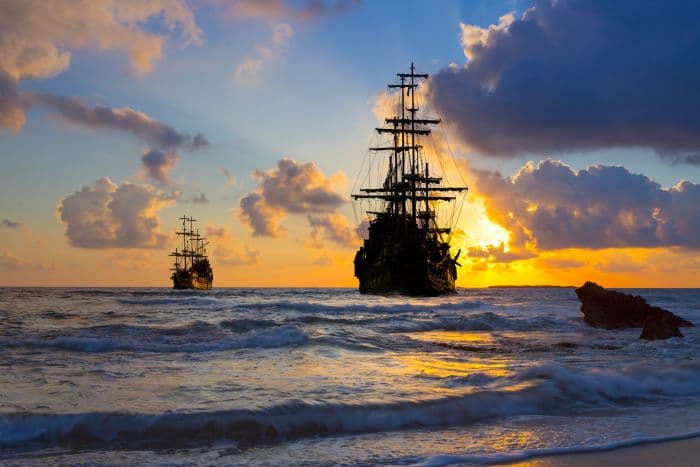 ---
Start planning your luxury family holiday to the Algarve
If you're looking to enjoy some of these extraordinary experiences, browse our Luxury Algarve Holidays to find some of the best family-friendly resorts in the region.
Thinking of another destination for your family getaway? Get inspired with our Luxury Family Holidays collection and let us help you find your dream scape.