It's no secret that magnificent views can truly enhance your experience of a destination, which is what makes clifftop hotels so special – they guarantee breathtaking views!
After all, what could be more spectacular than watching the sun set over one of the most historic cities in the world, or taking in panoramic views of a vast ocean, than from an elevated vantage point?
Check out these most amazing clifftop hotels from around the world. You're sure to be inspired to reach for the sky when booking your next hotel stay.
---
1. Canaves Oia – Santorini, Greece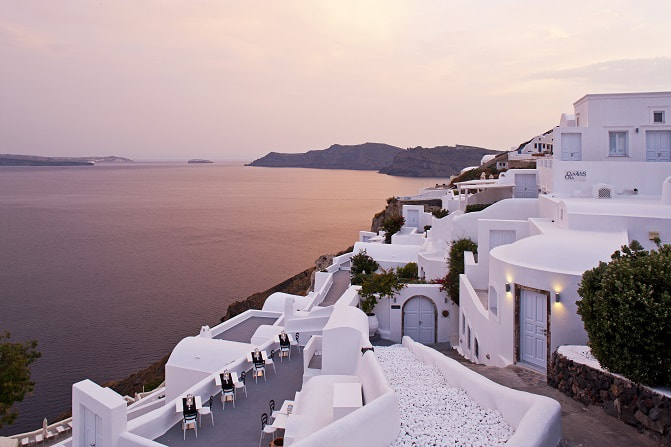 Perhaps the most iconic village on the Greek island of Santorini, Oia is famous for its whitewashed buildings accented with bright blue dome roofs. For travellers seeking breathtaking views over the Caldera – the famous volcanic depression forming the region's crescent-shaped coast – need look no further than this luxurious resort.
Boasting an array of airy white suites with ensuite plunge or infinity pools, at Canaves Oia you can spend mornings relaxing on your private terrace, espresso in-hand, looking out over the eternal blue waters of the southern Aegean Sea.
The hotel's romantic appeal is also not lost on couples, many of whom opt for the Panorama Balcony dining experience – a candlelit table-for-two on a private terrace that juts out from the cliff, offering even more dramatic views of the Caldera (if that's possible).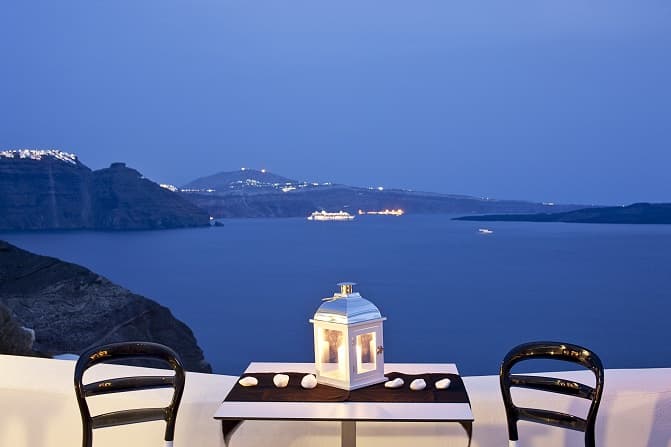 And with Santorini also being one of the world's most beautiful places to go wine-tasting, it would be rude not to sample some of its crisp summer whites with your intimate meal. Simply divine!
---
2. Villa San Michele, A Belmond Hotel – Florence, Italy
Located just 15-minutes outside Florence – a city famous for its renaissance art and architecture – the outstanding Villa San Michele, A Belmond Hotel is perched hilltop in the Tuscan countryside.
Formerly a 16th-century monastery, this extraordinary boutique hotel is surrounded by classical terraced gardens, abound with lush lemon trees and intoxicating herbs. Its panoramic heated pool, surrounded by a grass-carpeted patio area, offers stunning views over the Arno Valley.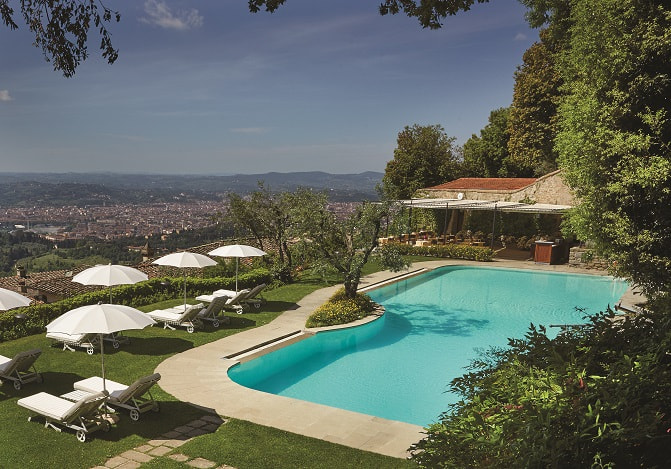 Reflecting the legacy of the city in the distance, Villa San Michele is adorned with artwork throughout and despite its modern amenities, is faithful to its original architectural features. The hotel also stages art installations by exciting artists from around the world, paying homage to Florence's artistic heritage.
Take a seat at Ristorante San Michele on the terrace and sip on a glass of Chianti from the hotel's extensive wine cellar, while watching the sun set over the Duomo in the Florentine skyline.
For more things to do in Florence, take the short drive into the city to visit Uffizi Gallery and walk over the famous Ponte Vecchio bridge.
---
3. Anantara Al Jabal Al Akhdar – Oman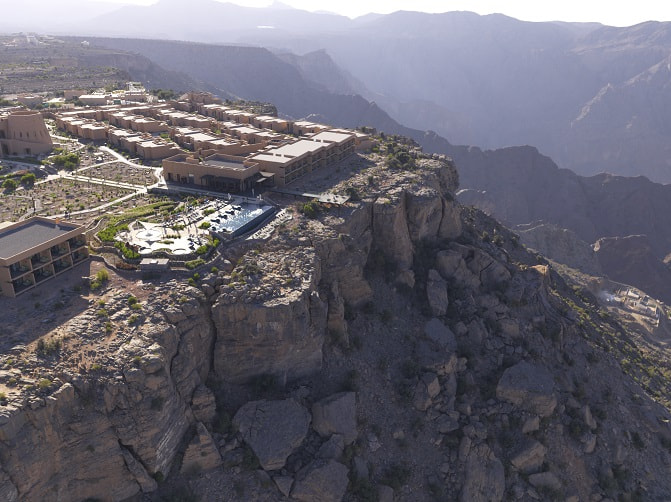 One of the highest luxury hotels in the world, Anantara Al Jabal Al Akhdar sits 2,000m above sea level on Green Mountain – part of the Al Hajar Mountains in north-eastern Oman. A favourite amongst royalty, the hotel was visited by Princess Diana in 1986 and even has a stargazing platformed named after her, 'Diana's Point'.
Enjoying 360-degree views over deep terracotta canyons, you can admire your clifftop surroundings from the resort's incredible infinity-edge pool. Hiking is also one the best things to do in Oman, and especially around this resort, with its unique landscape and killer views.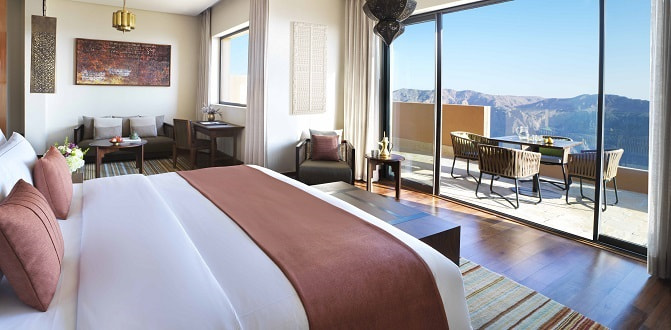 Anantara Al Jabal Akhdar is renowned for its expression of Middle Eastern opulence, which is understated yet utterly sumptuous. The rooms and interiors combine traditional Omani décor with modern amenities and contemporary clean lines, making for a seamless and comfortable stay.
Oh, and if you're worried about being too hot being so close to the sun – don't be! The mountains are 15 degrees cooler than Oman's capital city of Muscat, making it the ideal place for a summer holiday.
---
4. Post Ranch Inn – California, USA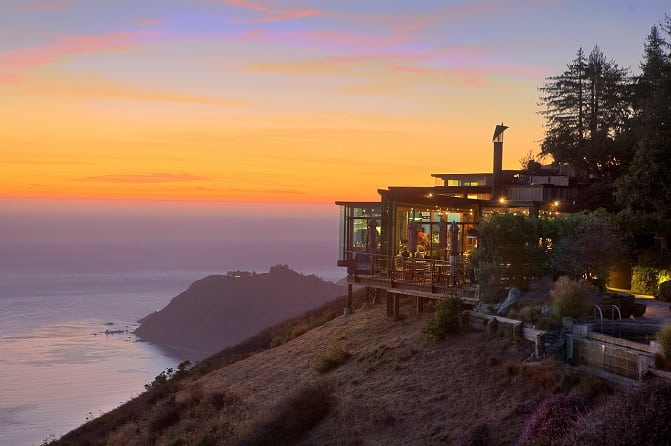 Drive along the California coast between San Francisco and Los Angeles and you'll come across the exceptional cliff-edge hotel, Post Ranch Inn, idyllically situated on the big sur.
Boasting expansive views of the Pacific Ocean, this luxury hotel consists of just 39 individually designed rooms and feels a world away from the bustling 'city of angels'.
Backed by formidable mountains and surrounded by a dense redwood forest, the hotel's floor-to-ceiling windows ensure dramatic views at every turn.
You're sure to achieve complete relaxation at Post Ranch Inn with a signature treatment at its two clifftop spas. Or, simply bask in the Californian sun by its outdoor heated infinity pool.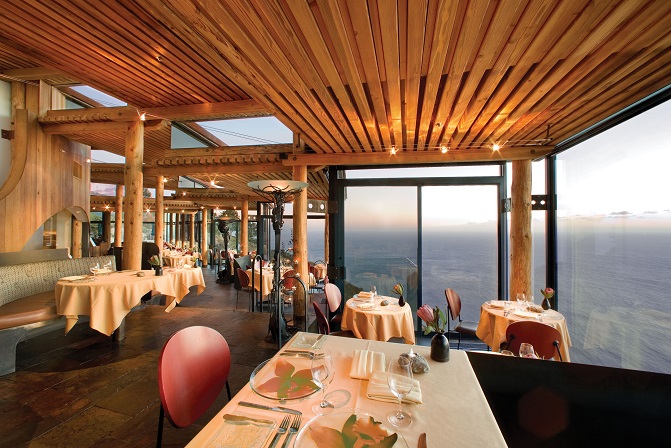 In the evening, enjoy some star gazing over a delicious meal at the property's glass-enclosed Sierra Mar restaurant and share a bottle of crisp white wine from its award-winning cellar.
---
5. Secret Bay – Dominica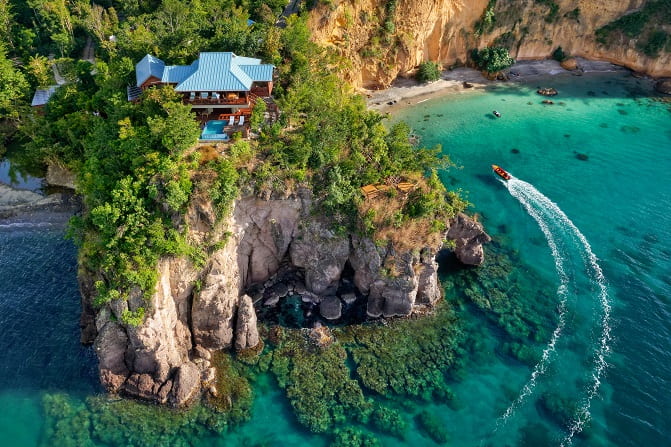 Nestled in a tropical rainforest on the remote clifftops of Dominica, Secret Bay is an ultra-exclusive resort comprised of just a handful of treetop residences and luxury villas, each with their own private plunge pool.
Providing guests with the utmost seclusion, these accommodations look out over the turquoise expanse of the Caribbean Sea – a stunning view that is best observed from the cooling depths of the resort's beautiful infinity pool.
Venture down from the clifftops and you'll find two unspoilt sand beaches, as well as a magical sea cave that guests are free to explore at their leisure.
Embracing its high vantage point, Secret Bay is also complete with several meditation points around the resort, inviting guests to listen to the waves lap the shore as they calm the mind and relax the body.
---
6. One&Only Mandarina – Mexico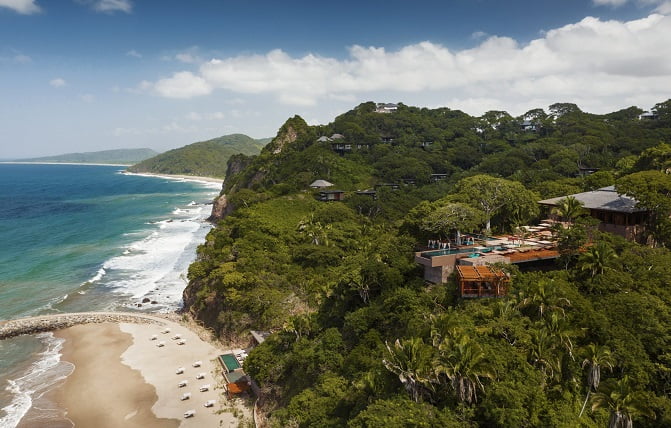 Encased by vast swathes of jungle, the One&Only Mandarina is nothing short of a paradise on earth. Set atop the triumphant cliffs of Riviera Nayarit, where the Pacific Ocean meets the west coast of Mexico, this secret sanctuary embraces the surrounding landscape in true luxury.
Immerse yourself in nature and stay in one of the resort's exclusive adult-only treehouses; floating 12m above the ground in the canopy of the rainforest.
Or, take a dip in the surreal cliff-edge infinity pool, complete with glass frontage for fully unobstructed ocean views, while floating in the tranquil water.
Be sure to enjoy high-altitude dining at Carao restaurant and take in the rugged natural beauty of the Pacific coastline while savouring the unmistakable flavours of Mexico.
---
7. Six Senses Yao Noi – Thailand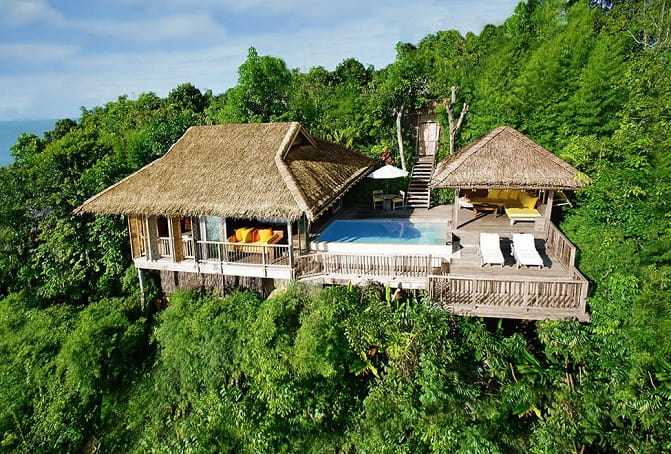 Resting on the cliffs above Phang Nga Bay, this all-villa boutique resort offers awe-inspiring views of the region's famous limestone karsts that jut out of the sea in dramatic fashion.
Mirroring the natural landscape of southern Thailand, the properties around Six Senses Yao Noi are adorned with grass-thatched roofs and made almost entirely from local materials, giving them a luxury treehouse feel while remaining committed to resort's eco-friendly vision.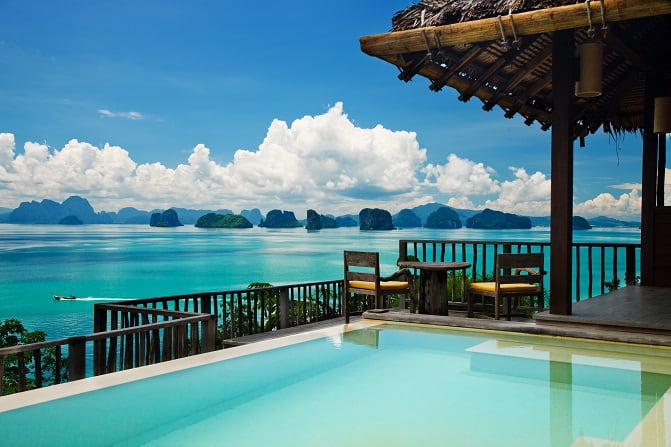 In-keeping with the area's numerous secluded beaches, all residences feature their own private pool and are surrounded by bountiful tropical blooms, giving guests maximum privacy for the duration of their stay.
With a personal villa team on standby to attend to your every need, guests can truly put their feet up in these self-contained hideaways, making them ideal for both families and couples.
---
8. Alila Villas Uluwatu – Bali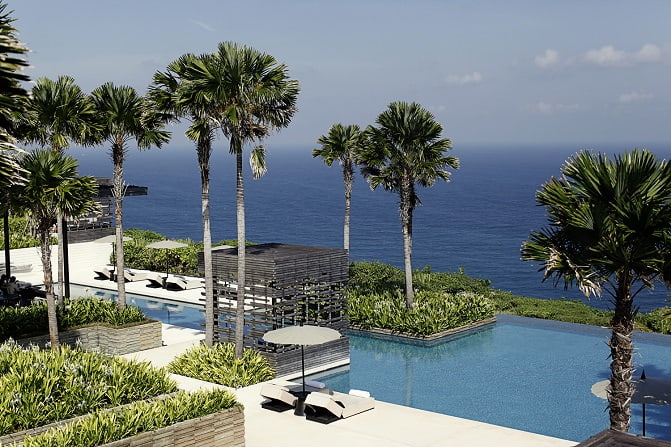 The perfect destination for a culturally rich beach retreat, Bali is a spiritual mecca and has long been a favourite amongst intrepid travellers and yoga enthusiasts.
It's home to some of the most beautiful beaches in the world: immaculate stretches of sand fringed by palm trees and lapped by crystal-clear waters.
Elevated on stunning limestone cliffs in the south of Bali, the Alila Villas Uluwata resort features 64 luxury pool villas, each embracing a contemporary open-air design with accents of traditional Balinese art and architecture.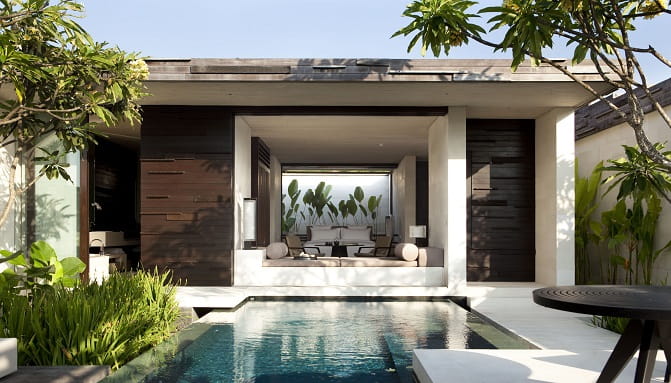 Watch the sun rise out of the endless turquoise waters of the Indian Ocean at a morning yoga class, before invigorating your senses with a mango coffee colada prepared by the resort's very own 'liquid artist'.
---
Get your head in the clouds.
From the high-altitude havens of Bali to the mountainous ranches of California, let us personalise your next luxury stay at one of these stunning clifftop hotels.
Contact us today for a bespoke quote and enjoy breathtaking views over the destinations of your dreams.