When choosing a holiday destination, we usually decide based on what the location has to offer. But if you're considering taking a snorkelling holiday, you'll also want to know what's under the sea.
The good news is, you'll find some of the world's best places for snorkelling right here in Europe.
From pristine Greek waters, to exotic fish in the Canary Islands, you'll be spoilt for choice when it comes to European snorkelling adventures. You'll need to consider your snorkelling abilities, but whether you're a snorkelling novice or a seasoned diving pro, we've collated all the best options.
Dive in to discover what's under the waves with these top snorkelling spots.
---
1. Elafonisi Beach, Crete, Greece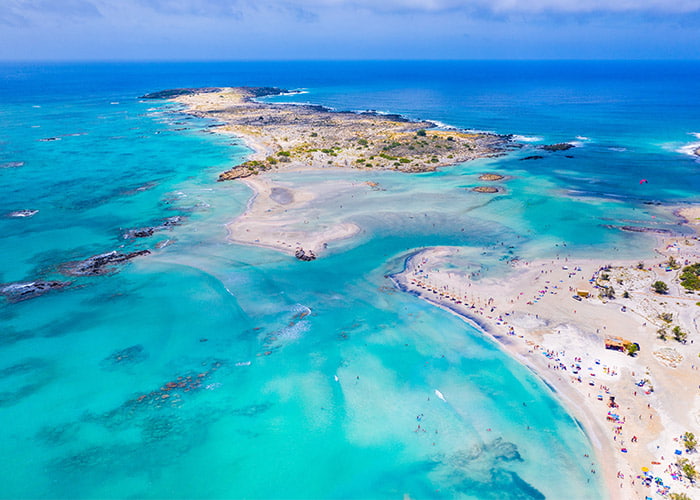 On the Greek island of Crete, Elafonisi Beach is renowned for its beautiful pink sandy beach and jet-black volcano rock. The sand dunes here go on for days, so it's great for snorkelling in shallow, gentle waters with excellent visibility of up to 30m. It's easy to see why it's one of the most popular European destinations for the summer holidays.
Elafonisi is a pink-tinged sandy peninsula with a sheltered lagoon, so you can easily wade through the clear waters to reach the beach. Rare loggerhead sea turtle lay their eggs here, so it's a designated Natura 2000 nature reserve.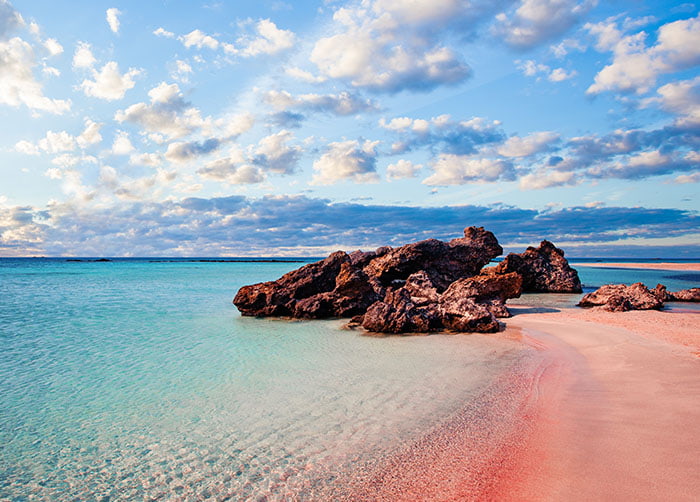 You can rent snorkelling equipment from the nearby town of Chania.
When to go?
Daily visitors can hit 2,500 during peak season. For a quieter visit, go off-peak between April and June.
Where to stay?
Domes Zeen Chania luxury resort, offers picturesque views over the Mediterranean and is just under two hours by car from Elafonisi Beach.
---
2. Tragonisi Island Caverns, Mykonos, Greece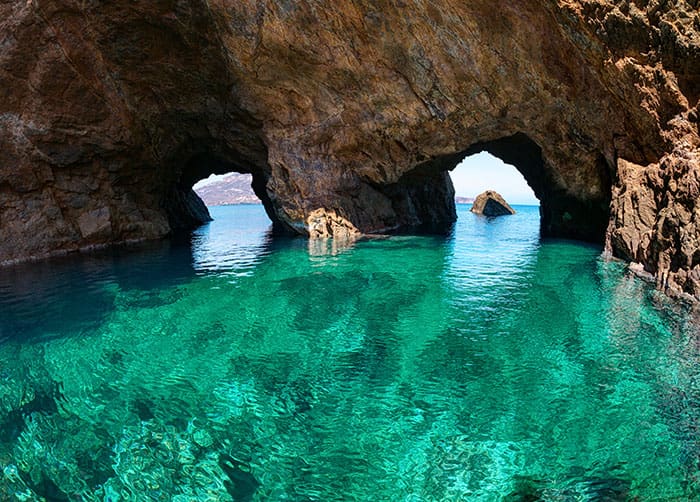 From exploring natural caves, to swimming in the azure waters amid hundreds of colourful fish, Tragonisi Island Caverns is one of the best places for snorkelling in Europe. This popular dive is just a few metres east of Mykonos. It's well-known for its unique marine life and you can explore many different underwater caves, tunnels and chambers here.
At this protected nature reserve, you can search for yellow sea anemones and spot the endangered Monachus seal. As this is such a popular snorkelling hotspot, you can book tours with diving or snorkelling gear included for an extra cost.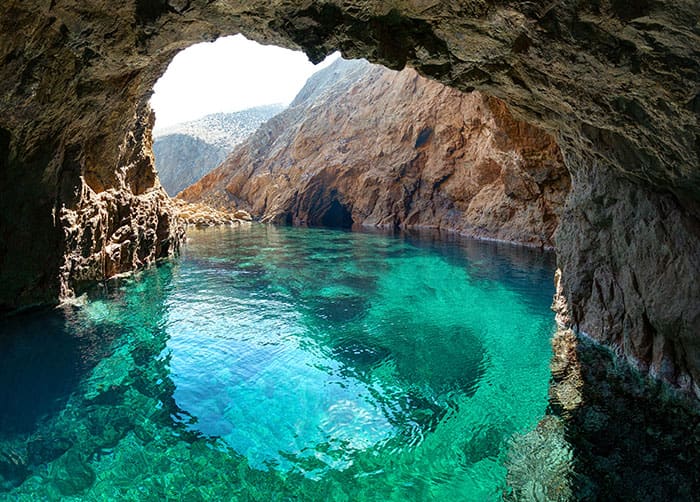 When to go?
Visit all year round for a great snorkelling experience. The best time to visit is September or October when it's quieter but the ocean is still warm.
Where to stay?
Enjoy a luxurious stay at the Mykonos Grand Hotel & Resort.
---
3. Amoudi Bay, Santorini, Greece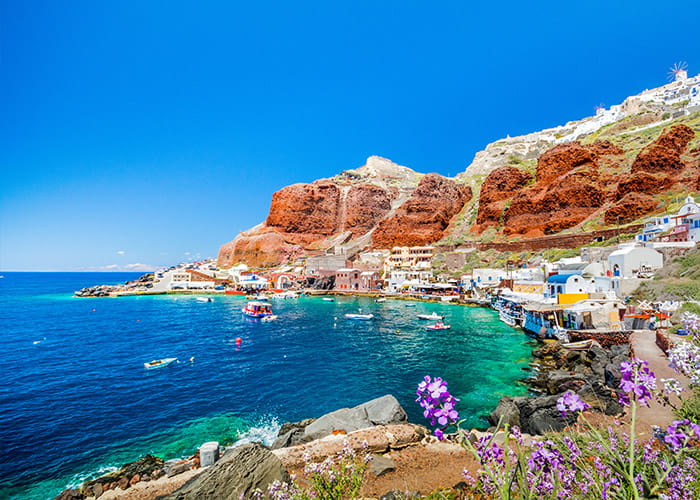 This is one of the most picturesque snorkelling destinations on our list. With its pure blue waters, you can see everything under the waves, while a volcanic spring keeps the sea temperature warm. Whether you're a novice or a pro, diving and snorkelling enthusiasts of all abilities should head to breathtaking Amoudi Bay in Santorini.
The bay and port of Amoudi are on the north-western tip of the island, offering fantastic views over the seafront town of Oia. You can take the stone staircase down to the town, either on foot or by donkey ride.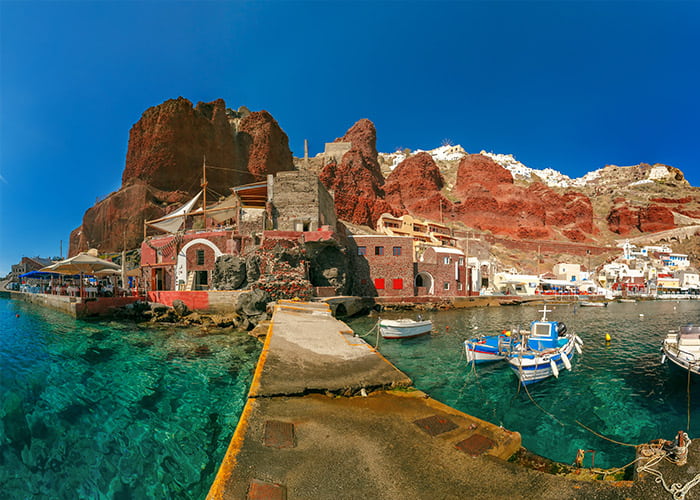 A cargo shipwreck lies around 30m from the shore, and the bay is an easy diving spot for beginners. Snorkelling equipment is available to rent nearby.
After a busy day snorkelling, you can enjoy freshly caught fish at one of Amoudi Bay's restaurants. The grilled octopus is an unmissable local delicacy!
When to go?
September or October when the air and sea temperatures remain high, but it's not so busy.
Where to stay?
Canaves Oia is just a short walk from the main town.
---
4. Reserva Natural da Berlenga (Berlenga Grande), Portugal
Portugal is one of the top family holiday destinations in Europe. You'll find the rocky Portuguese archipelago of Berlengas just 10km from the coast. Described as paradise on earth, you can reach it by hopping on a boat from the port of Peniche. The boat timetable varies throughout the year, but there's a regular daily liner service from May onwards.
You can snorkel through the crystal-clear waters, explore the cliffs and spot nesting seabirds. Around the shoreline, you can see a variety of fish in the deep turquoise water. With its nearby shipwrecks, you'll soon see why this is one of the best places for snorkelling in Europe. You can hire snorkelling equipment nearby.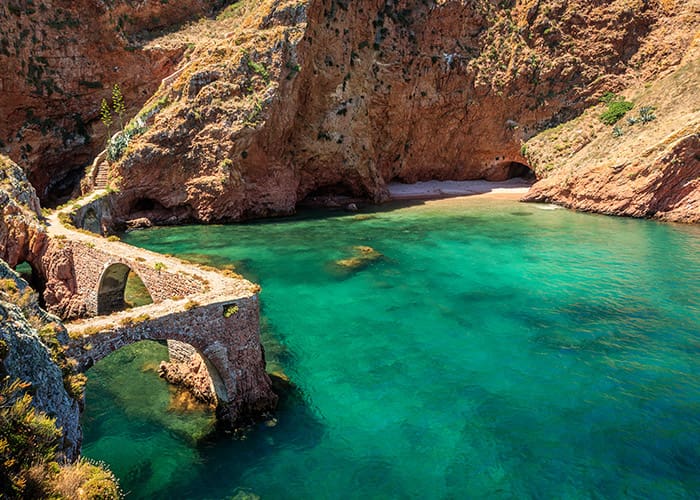 When to go?
Between May and October: Temperatures are comfortable, and a wide variety of restaurants and bars are open.
Where to stay?
Hotel Quinta Do Lago is around 140km from Peniche. You'll be surrounded by nature, right in the heart of the Ria Formosa National Park.
---
5. Coco Beach, Nice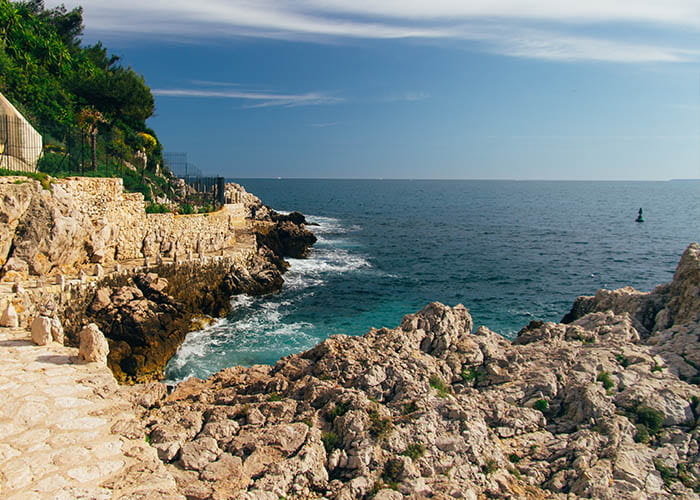 This beautiful secluded beach is one of only a handful of beautiful snorkelling spots in Nice. It's hidden in a quiet and private location, so it's perfect for beach holidays. You can swim in the clear blue water and observe the fascinating marine life. Around the rock shores of Coco Beach, you can encounter seabreams, mullets, barracudas and octopuses.
Coco Beach was once considered a secret hideaway, but it has become increasingly popular with tourists. As more people find out about it, you can expect to see more tourists visiting this snorkelling hotspot. Due to the remote location, you'll need to bring your own snorkelling equipment.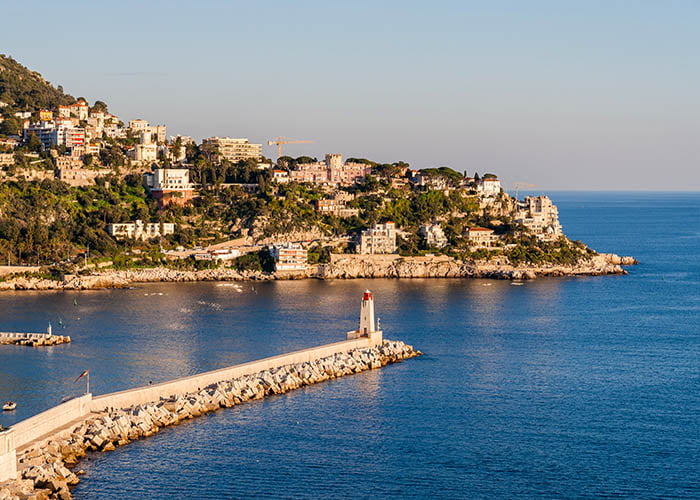 When to go?
June to September are the hottest months, but you can enjoy warm weather all year round in France. Be mindful that the waves can become strong, so you should always exercise caution.
Where to stay?
Le Mas Candille Hotel is just 7km from Cannes and around 40km from Coco Beach.
---
6. Lake Silfra, Thingvellir National Park, Iceland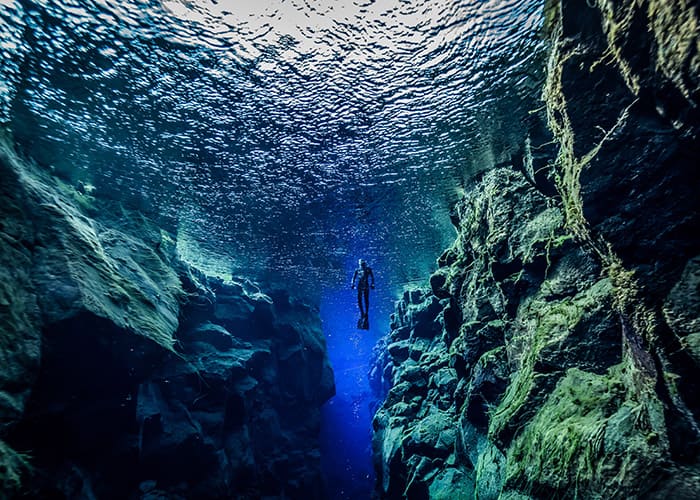 When considering the best places for snorkelling in Europe, many people overlook Iceland's Golden Circle, but this natural wonder has so much to offer. Lake Silfra is the name of the glacial lake between two tectonic plates in Thingvellir National Park, which is a UNESCO World Heritage site. The rift was created by earthquakes in 1789, and is now a perfect place for snorkelling.
There are many snorkelling tours to choose from, and many include snorkelling gear. While you might assume that snorkelling in Iceland will be cold, the water stays fairly warm thanks to the nearby water geysers. You'll see an array of freshwater fish from the shallow water lagoon.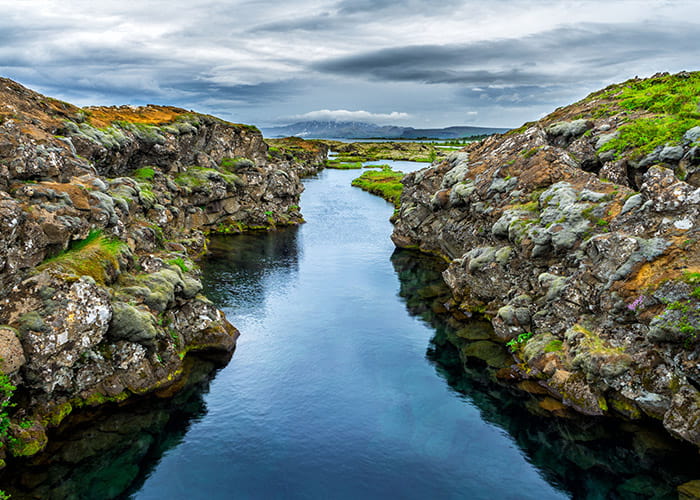 When to go?
The best thing about a snorkelling holiday in Iceland is that you can visit all year round. In the colder winter months, you'll need to wear a dry-suit to stay warm in the freezing cold waters.
Where to stay?
The luxurious Retreat Hotel is within the Golden Circle, so it's the perfect place for nature lovers to relax and recharge.
---
7. Cala Goloritzé and Isola Rossa, Sardinia, Italy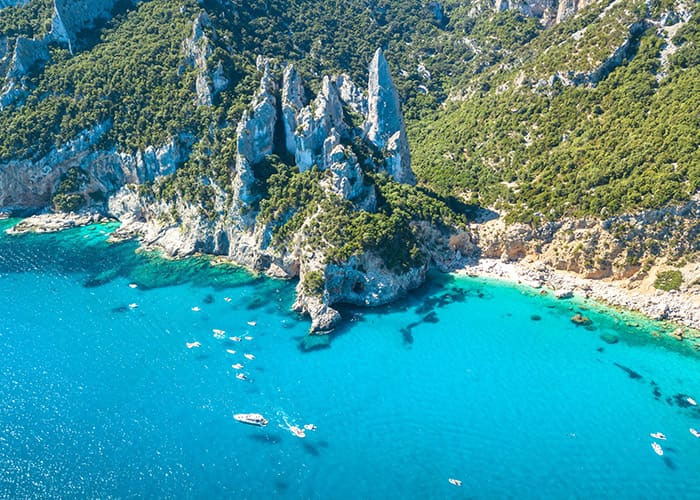 The Italian island of Sardinia is packed with snorkelling havens, and offers 2,000km of coastline beside the sparkling Mediterranean. From white sands to clear blue water, it's home to some of the best places for snorkelling in Europe.
Cala Goloritzé is located on the east coast. It has a unique white pebble beach, and the water is so transparent, you can see the seabed 15m below. Be sure to swim out to the arch and look for the small cave just behind it.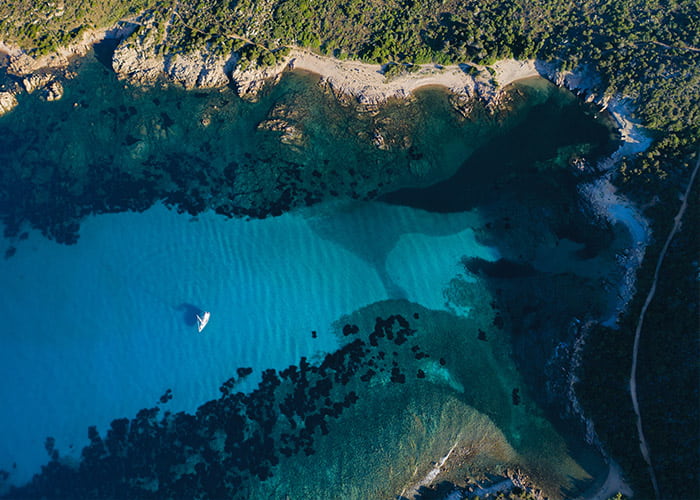 Another popular snorkelling hotspot in Sardinia is Isola Rossa, in the Maddalena Archipelago National Park. Isola Rossa is a favourite travel destination with white sandy beaches and deep waters. It has rich underwater life, so it's a great place for scuba-diving.
When to go?
Sardinia enjoys a mild and sunny climate all year round. It's warmest between June and September. July and August can be very busy, so it's best to visit in September or October, when temperatures are cooler but it's quieter.
Where to stay?
Hotel Romazzino is a family-friendly luxury property on the enchanting Costa Smerelda. It's around 40km from Maddalena Archipelago National Park, and around 180km from Cala Goloritzé.
---
8. Makarska Riviera and Buza Beach, Croatia
Makarska is a popular tourist destination in mainland Croatia. It's home to some of the finest beaches in Croatia, and the Riviera is one of the most accessible locations for exceptional snorkelling.
It sits on a 60km stretch of rocky terrain on the stunning Dalmatian Coast. There are plenty of small bays and caves to explore, where you can encounter snails and schools of fish in the crystal-clear waters of the Adriatic Sea. You might even spot a seahorse!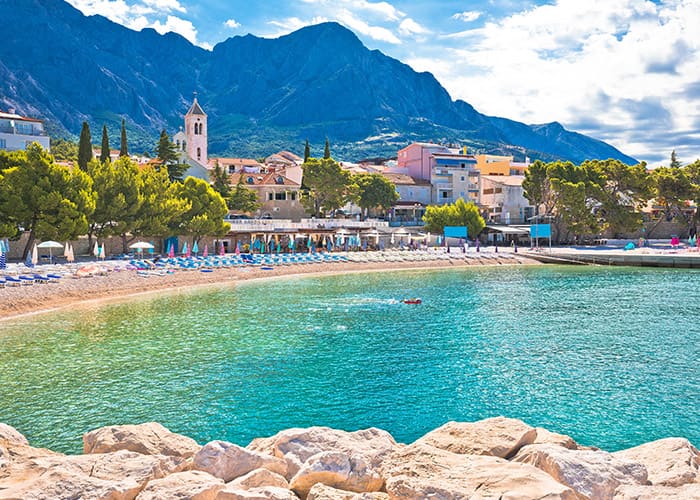 There are a variety of excellent beaches to visit, from pebbly shorelines to secret bays. Visit the tiny beaches between Igrani and Drasnice to snorkel with tiny crabs, star fish, sea urchins, and octopus.
Buza Beach is one of the best places for snorkelling near exciting Dubrovnik. It's accessible from the town centre – just step through a hole in the Town Walls and descend down the steps to the cliffs. Underwater visibility is always good, and the attractive, rocky terrain is perfect for swimming and sunbathing. You'll also enjoy fantastic views of Lokrum Island and the Adriatic.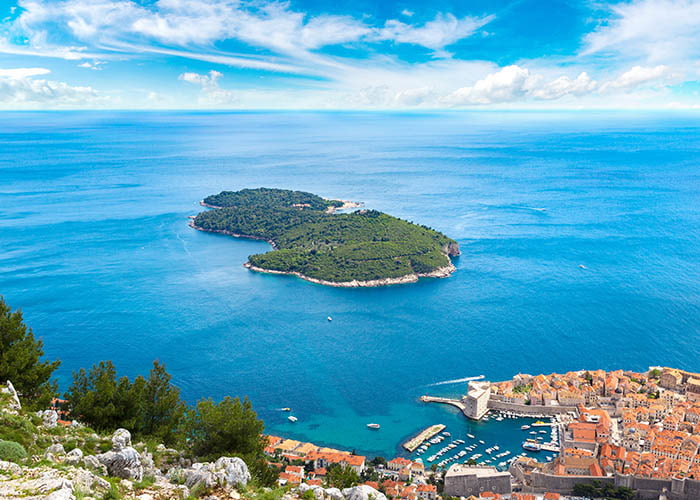 In Croatia, there are limited places to hire snorkelling equipment. However, there are shops on the coast which sell snorkelling gear. Local boat trips usually include snorkelling equipment hire.
When to go?
You can expect warm, dry weather between June and September. It can get very windy in the summer, so it's best to snorkel early in the morning.
Where to stay?
Hotel Bellevue is an excellent base to explore Dubrovnik and the local area.
---
9. Vardas Beach, Paphos, Cyprus
The terrain in Paphos is rocky and the water can be rough, so it's best for experienced snorkellers.
Vardas Beach is a small sandy cove on the rugged Chloraka coastline. Ideal for sunbathing, swimming and snorkelling, it's close to the Agios Dimitrios shipwreck and Pharos Lighthouse, which sits on a Blue Flag sand and shingle beach. You'll see plenty of brightly coloured fish here, and if you're lucky, you might spot loggerhead turtles, trumpet fish and sea urchins too.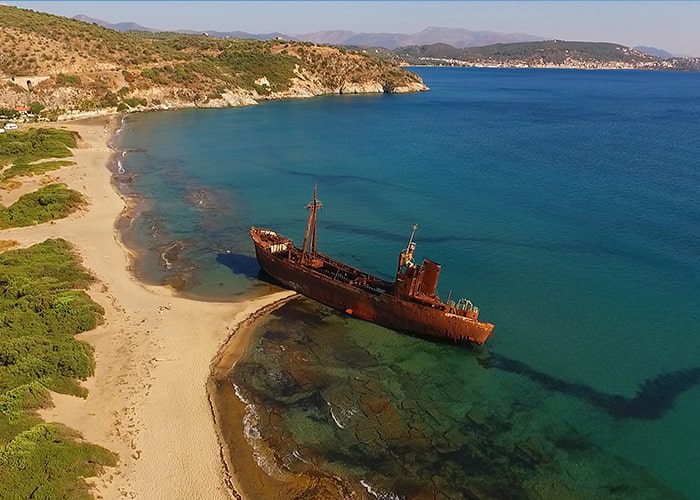 When you need a break from exploring the sea caves and rock pools, you can rent a sunbed and parasol, or relax at the beach bar. There are number of coastal dive clubs and adventure tour companies, where you can hire snorkelling equipment and book day trips.
When to go?
The ocean is warmest from June to October, but it can get very busy during the hot summer months. In September, the air and ocean temperatures are pleasant, but the island is quieter.
Where to stay?
The Olympic Lagoon Resort is a tropical paradise just 10km south from Vardas Beach.
---
10. El Puertito de Armeňime, Tenerife – Canary Islands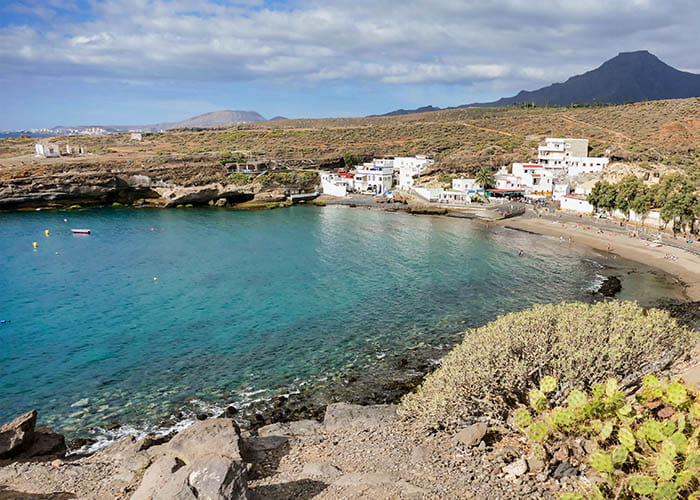 Last, but by no means least, is El Puertito de Armeňime in Costa Adeje, Tenerife. This small bay is famous for its natural beauty and clean water, which offers wonderful views of the stunning ocean floor.
With great accessibility and a maximum depth of 15 metres, El Puertito is a fantastic snorkelling spot for the entire family. Look out for the friendly green turtles, which take shelter in the surrounding cove area.
Visit first thing in the morning to avoid the tourist boats. There's no current to worry about, so it's a good place for family snorkelling. You can buy or hire snorkelling equipment from the local shops and dive clubs.
When to go
Between June and September, when the water temperature tends to be higher. However, you can enjoy snorkelling on the Spanish island of Tenerife all year round.
Where to stay
The Royal Hideaway Corales on the Canarian Island of Tenerife has a luxurious, laid-back atmosphere, making it the perfect place to unwind after busy day trips and snorkelling adventures.
---
Plan your perfect snorkelling holiday in Europe
Wherever you're hoping to dive into the crystal-clear waters of Greece, or swim the coast of Italy, we can tailor-make a holiday that's unique to you.
Ready to plan your luxury snorkelling holiday? Contact our travel experts today for a bespoke quote.