With its rich culture and over 400 Blue Flag beaches, it's hardly surprising that Turkey has remained a popular family holiday destination for many years. It has all the amenities you could wish for, and the warm weather is a definite plus point. Add in the friendly hospitality of the local people, and it's easy to see why so many families choose to spend quality time together in Turkey.
With all this in mind, we've put together a guide with everything you need to know to find the best luxury family resort in Turkey for you.
1. Six Senses Kaplankaya
Location
Bodrum
Perfect for…
A relaxing beach holiday with plenty of history to explore nearby.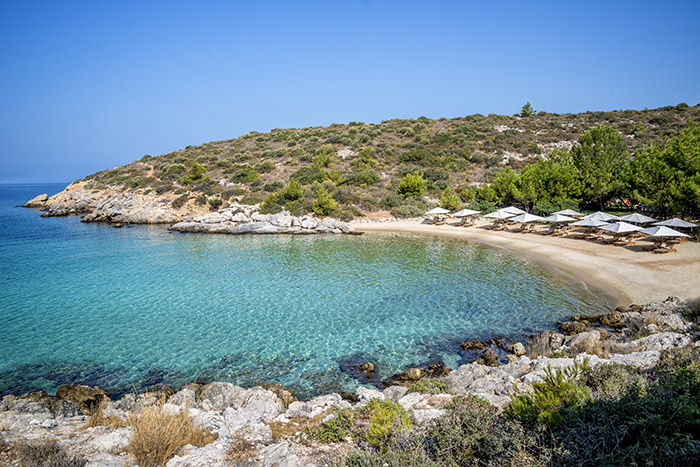 If you're searching for family hotels that offer a relaxing and stress-free trip then look no further than the Bodrum peninsula, which is home to the Six Senses Kaplankaya resort. This luxury hotel is passionate about wellness and offers a range of exclusive activities to both kids and parents. From meditation to yoga classes, and even hiking sessions, this hotel will leave every member of the family feeling refreshed.
This impressive resort is perfect for a family beach holiday, with no less than three private stretches of sand to choose from! You'll also find two outdoor swimming pools and a heated indoor pool.
For children, there's an array of kids' club activities are available at the resort, including cookery classes, art classes, and swimming. There are also activities that you can enjoy together as a family, such as making your own beauty products using organic ingredients from the hotel's very own garden.
The best thing about this resort? Just a 30-minute boat ride from Bodrum, it's away from the hustle and bustle of everyday life. It really does offer you and your family the ideal environment to enjoy a calming holiday, away from all the usual distractions.
If you want to get a taste for local life, take a two-hour trip to explore the town of Sirince, where you can experience traditional Turkish culture. From there, head to the ancient city of Ephesus, home to the Mausoleum at Halicarnassus.
---
2. Hillside Beach Club
Location
Fethiye
Perfect for…
Kids' clubs for all ages while parents enjoy some peace.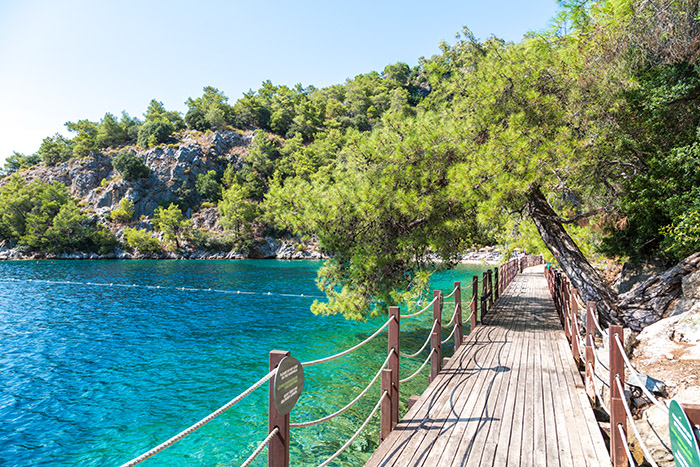 One of the best family resorts in Turkey, the Hillside Beach Club is just a few minutes from the scenic and popular resort of Fethiye. Popular with families thanks to its 650m long pebble beach, the resort is nestled in a picturesque private bay. It's surrounded by pine trees and provides the ultimate relaxed environment for your family holiday in Turkey.
This beachfront hotel has activities for adults and children of all ages, from watersports and sailing to yoga and Pilates. A great choice if you need a hotel for babies, it offers age-specific kids' groups, from the Baby Park to older teens' groups. While tiny tots aged up to three years splash in the water park and and dig in the sandpit, kids aged four to 10 years will be kept busy with an array of activities.
If you have teens to please too, the activity centre caters perfectly. They can hang out with new friends, or stay active with everything from watersports to basketball, football and sailing classes.
A major highlight of the resort, however, is its four beaches, which includes an adult-only beach. Children and technology-free, Silent Beach is one of the best places in Europe where parents can get some rest, while kids have fun at the kids' club.
With fun activities both on land and sea, you won't run out of things to do here. Enjoy family games of tennis or beach volleyball, or try your hand at archery, water-skiing or wakeboarding if you're feeling adventurous.
---
3. D Maris Bay
Location
Marmaris
Perfect for…
A bounty of beaches to chose from.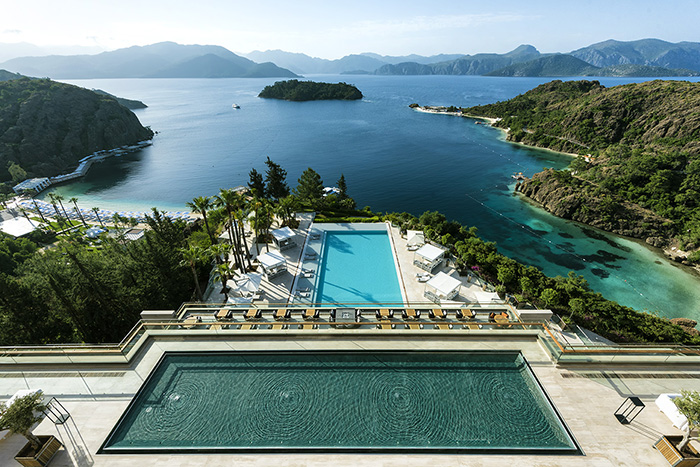 Another of the most popular and best family resorts in Turkey is the D Maris Bay. This luxury hotel is located in a secluded hillside in the Datca Peninsula, which is a 50-mile stretch of picturesque beaches, surrounded by forests and mountains.
This 5-star resort is the epitome of luxury. The elegant and spacious rooms are available as interconnecting rooms, making travelling as a family even easier. There are five a la carte restaurants, offering culinary delights from around the world. Even the fussiest child will be able to find something they'll love.
If you're looking for a sandy beach, crystal-clear waters, picturesque surroundings and a fun range of activities for the kids, you'll love the five private natural sand beaches on offer here. Family members with older children will definitely want to consider this resort, as there are so many fun things for tweens and teens to do. At the teenagers' club, they'll be able to enjoy air hockey, mountain biking, fishing and video games.
From tennis courts to catamaran sailing, scuba diving and water skiing, your family is sure to leave the D Maris Bay with a brand new skill or two.
If you want to enjoy some rest and relaxation, this resort has its own ESPA spa with expert therapists. Once the kids are settled into their activities, relax and unwind at the spa with the 360-degree approach to wellbeing and personalised treatments.
---
4. Gloria Golf Resort
Location
Belek, Antalya
Perfect for…
Plenty of fun for water babies.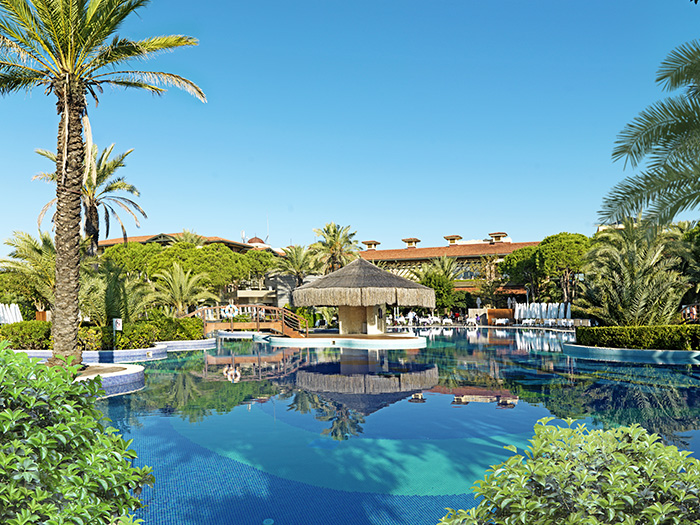 The Gloria Golf Resort is one of the most popular luxury family resorts in Turkey. Located in Belek, on Turkey's southeast coast, it's no surprise that this beachfront hotel has fast become known for being one of the best places to stay for families. Whether you want an action-packed holiday, or some much needed quiet time, this resort has a host of activities and facilities to choose from.
This family resort has adult-only pool options and kids' pools, as well as its own sandy beach and pier. The on site Aquapark is every child's favourite, where they can have endless fun on the eight different sized waterslides. The Gogi Kids' Club is one of the best kids programmes in Europe, and its staff will make sure your children's days on holiday are jam-packed with fun activities.
Kids of all ages will have plenty to get involved in here, with three groups providing different age-appropriate activities. There's everything from treasure hunts to video games, and even football tournaments. In particular, the Gogi Fun Jungle is at the heart of the kids' activities at the Gloria Golf Resort. Here, the kids can enjoy monkeying around as they have fun on the climbing walls and swings.
There's plenty for the adults to enjoy too. The La Source Spa is a great place for adults to unwind and relax, and you can even experience a traditional Turkish bath or sauna.
This resort is home to the biggest golf course in Turkey. It's made up of a 9-hole Verde course, and two 18-hole championship courses. The Gloria Golf Resort is the perfect all-rounder resort, with activities for the whole family can enjoy.
---
5. Mandarin Oriental Bodrum
Location
Bodrum
Perfect for…
Kids who can't sit still.
Offering panoramic views overlooking the Aegean Sea, this stunning 5-star resort is one of the best luxury family resorts in Turkey. Depending on the needs of your family, you can choose from a range of different accommodation options, from spacious suites to sea view apartments with your own private pool.
If you love spending time by the pool on holiday, you'll be spoilt for choice here. The Mandarin Oriental Bodrum has a dedicated children's pool, as well as two private beautiful beaches. This is the ultimate family-friendly resort, with facilities designed specifically for children, from child-friendly room amenities to kids' menus in the resort's impressive array of restaurants – there are 11 in total.
You'll never run out of dining options and cuisines to enjoy here. The bars and restaurants onsite offer every type of food you can think of. From fresh seafood and traditional Turkish meals to contemporary Japanese dishes, you'll leave your holiday with some new culinary experiences. And don't miss the Mandarin Cake Shop. Here, you can buy some of the best patisseries you'll ever taste!
When it comes to activities, there are plenty of options for all ages. The MiniMo Panda Kids' club offers a wide range of fun options, including a nature club, yoga, tennis. It's suitable for children aged between four and 12 years old.
Once the kids are settled, the adults can head to the aquatics centre to enjoy scuba diving or a ride on the pedalos. The resort also provides a babysitting service, allowing parents the chance to enjoy a well-earned break.
---
Discover Your Family Holiday in Turkey
Whether you desire an action-packed escape with enriching activities for all ages, or a relaxing family holiday with children on Mediterranean sands, our Travel Specialists can tailor the perfect holiday to suit you.
Contact us to start planning your unforgettable family holiday in Turkey.