While planning the perfect family getaway abroad may seem like a challenge, there are plenty of top holiday destinations that are perfect for visiting with babies and toddlers.
There are so many benefits from travelling with a young family, allowing you to spend some vital time with your little ones and start creating some precious holiday memories. Plus, with a little help from babysitting and kids' clubs, parents can enjoy a well-earnt rest, too!
So, where to start? Our experts have recommended their nine best luxury holiday spots that are also toddler and baby-friendly – plus, their tips on where to stay.
1. Halkidiki, Greece
After a family-friendly holiday destination that's rich in culture and only a three-hour flight from London? Look no further than Halkidiki, Greece.
With a choice of white sandy beaches and warm, inviting waters, Halkidiki is ideal for families. Your little ones will be able to paddle safely and will have all the room they need on the beach to play.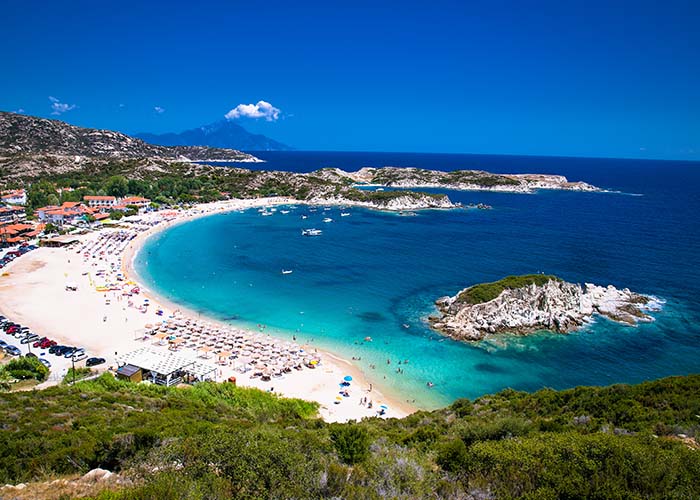 What's the best time to visit?
Halkidiki is a popular tourist destination for families all year round. The best time to visit the many family-friendly resorts is between April and October.
Where to stay?
Situated on Halkidiki's Toroneos Gulf, the popular Ikos Olivia resort offers the ultimate luxurious Greek holiday. Just steps away from a 450-metre Blue Flag beach, you can sunbathe in peace while your little ones are entertained by the resort's professional beach childcare service.
This resort is one of the most baby and toddler-friendly in the area, and boasts a range of kids activities, from arts and crafts to outdoor pursuits. The resort has dedicated children's and baby paddling pools, but there are plenty of on-site activities for adults too, including gym and fitness facilities, tennis courts and a swim-up bar.
---
2. Peloponnese, Greece
With its scenic beaches and abundance of fun activities, Peloponnese in southern Greece is a popular destination for families. If you want to explore the culture, the remarkable UNESCO World Heritage sites will provide your little ones with a mini-history lesson and a fascinating insight into ancient Greece.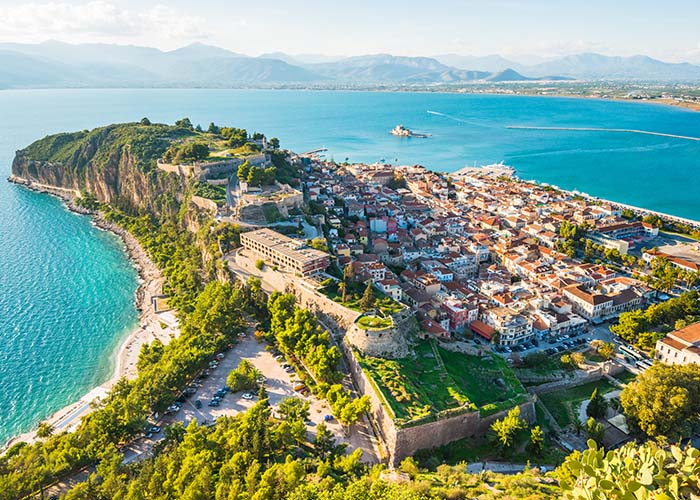 What's the best time to visit?
The best time to visit is between May and June or September, when temperatures are moderate but not unbearably hot.
Where to stay?
With its picturesque views of the Aegean sea, the Westin Costa Navarino is a popular family-friendly escape and one of our top 10 family holiday destinations. There are some amazing facilities to cater for the younger members of your family, including an Aqua Park and mini-tennis. You'll also find SandCastle and Cocoon, the resort's specially designed children's' hubs.
From the award-winning Anazoe Spa to 11 different bars and restaurants to choose from, this resort has plenty to offer adult guests too.
---
3. Costa Del Sol, Spain
The Costa Del Sol has long been one of Spain's best holiday destinations with babies and toddlers abroad. And it's easy to see why it continues to be a popular choice – you can get there from the UK within three hours and it's jam-packed with family-friendly activities.
From theme parks to Blue Flag beaches, you'll be able to enjoy some much-needed rest while your little ones are safe and having fun. The Costa Del Sol is also home to wildlife parks, zoos, and aquariums, so you won't struggle to find an activity that everyone can enjoy.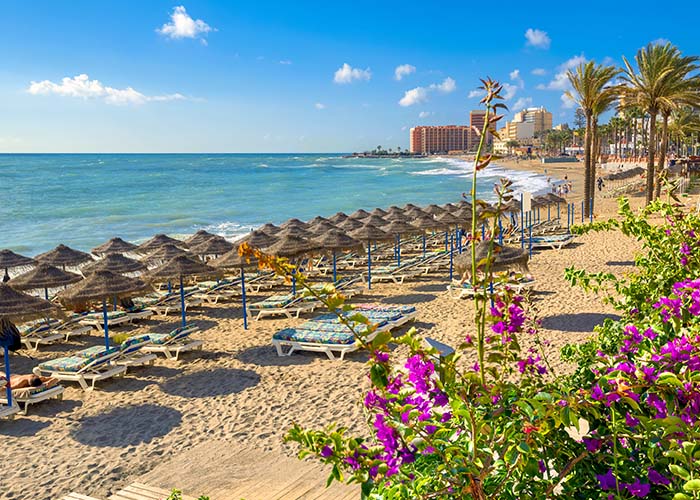 What's the best time to visit?
When travelling with young children, the best time to visit the Costa Del Sol is between April and October. The Costa Del Sol enjoys a Mediterranean climate, so you can expect scorching hot summers. You might want to avoid visiting during July and August when temperatures can reach 31°C.
Where to stay?
Ikos Andalusia is one of the most popular resorts in the Costa Del Sol area. Set in a superb location, it offers a luxury holiday experience for the whole family. Its impressive facilities include activities for babies at the creche, plus kids' and teens clubs, all led by qualified professionals.
With seven on-resort international restaurants to choose from, you'll be spoilt for choice. From Greek to Asian and Spanish food, many of the menus have been created by Michelin-starred chefs.
---
4. Corfu, Greece
The Greek island of Corfu is in the Ionian Sea. With its spotless beaches and crystal-clear waters, it's well-known for being one of the most beautiful islands in the world. You can spend your days hopping from one beach to the next, making this the perfect destination for parents travelling with toddlers and babies abroad.
Another plus point is the baby-friendly airport facilities. Corfu airport isn't very big and it's easy to navigate – and that's exactly what you'll need after a three-hour flight with young children.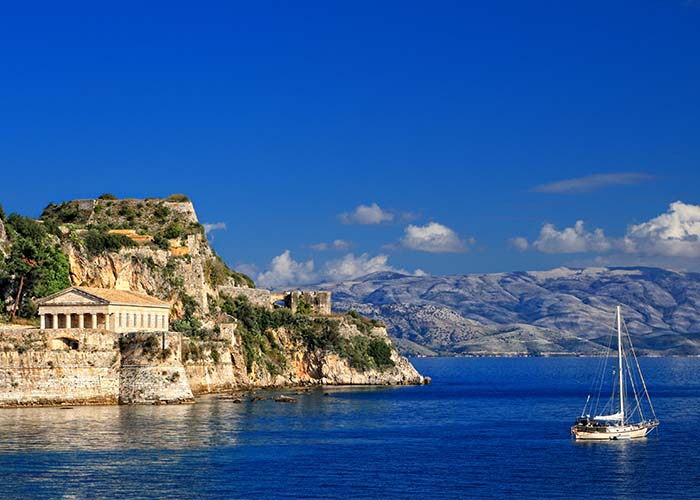 What's the best time to visit?
One of the best times to visit Corfu is from April to May, making it a perfect Easter holiday getaway. At this time of year, it won't be too warm and you'll avoid the crowds that summer brings.
Where to stay?
If you're looking for the best family holiday destinations then look no further than Ikos Dassia.
This luxury 5-star resort has everything you and your family need for an enjoyable, stress-free break. This resort runs three different kids' clubs, catering for all ages, from babies up to 13 years old. Best of all, beach childcare facilities are available at this hotel too.
---
5. Algarve, Portugal
With its safe, modern and picturesque towns, the Algarve makes for a great family holiday destination when you have a baby in tow. You'll find a range of activities to enjoy and the flight time from the UK is about two-and-a-half hours, so you won't need to worry about surviving a long haul flight with your children.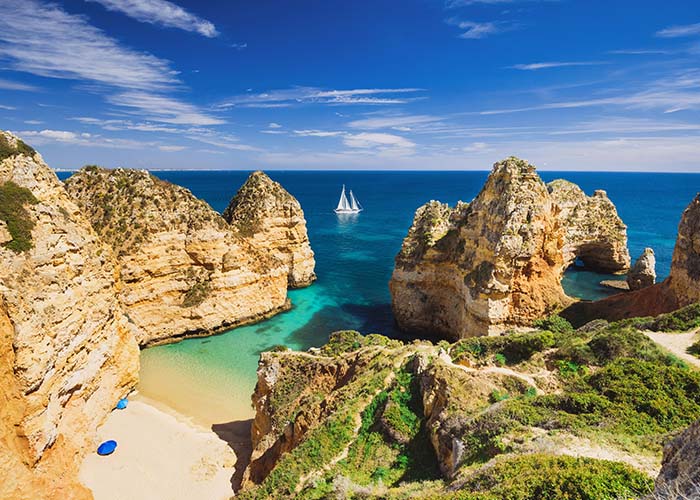 What's the best time to visit?
For families, the most popular time to visit the Algarve is from April to May. However, if you choose to visit during September and October, you'll still enjoy temperatures between 18 and 20°C.
Where to stay?
If you're visiting this popular tourist destination, the Pine Cliffs is the perfect baby and toddler-friendly place to stay. With exceptional views overlooking the beautiful Falésia Beach, this luxury resort is a collection of rooms, villas, suites and apartments. It's set in over 72 hectares of gardens and forest, so your little ones will always find somewhere exciting to explore.
The Pine Cliffs resort offers a host of family-friendly activities. Children as young as six months are able to enjoy the on-site children's village. For the adults, there are nine restaurants offering delicious cuisines from all around the globe.
---
6. Fethiye, Turkey
Fethiye is one of Turkey's most welcoming and family-friendly tourist destinations. You'll find plenty of activities for your toddlers and babies to enjoy and the flight time from the UK is only around four hours. Once you arrive, you'll be able to enjoy endless family-friendly cafés, shops, beaches and restaurants.
What's the best time to visit?
Turkey can get pretty hot in the summer months – if you visit during July and August then you can expect an average daily maximum temperature of 35°C. If you visit in May, the weather is much more baby-friendly, but you'll still be able to enjoy plenty of sun.
Where to stay?
Located in its own private bay, the Hillside Beach Club offers the perfect blend of baby-friendly facilities and luxury for adults. Just a few minutes from Fethiye, this resort has a kids' club, young club and junior club, so babies, toddlers and kids up to 12 years will be kept thoroughly entertained.
The 650m long pebble beach, meanwhile, allows you to enjoy a family day without needing to worry about cleaning sand off the kids for days to come! Adult activities include tennis, archery, scuba diving and speedboat rides.
---
7. Dubai, Middle East
Dubai is well known for its glitz and glamour, but it's also a welcoming when it comes to holidays with babies. With plenty of child-friendly establishments all over the city, Dubai offers unforgettable experiences for the whole family. You can fly there from the UK in around seven hours.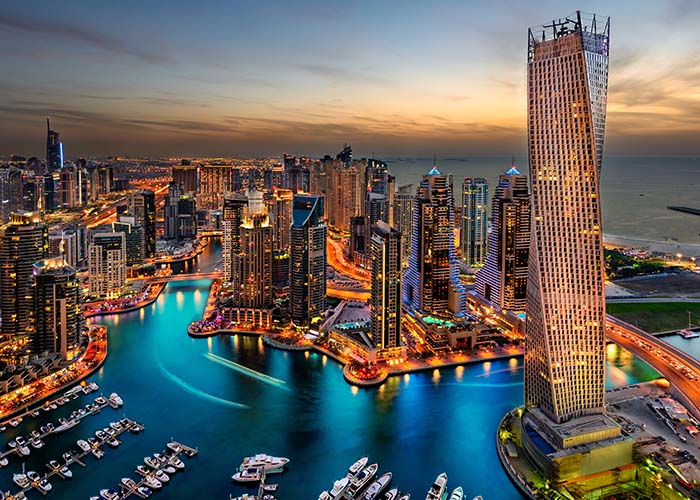 What's the best time to visit?
The temperature in Dubai can get very hot, so it's best to visit from late October when travelling with toddlers and babies. This makes it a great family destination for some winter sun.
Where to stay?
With its private sandy beach and extensive resort facilities, the JA Palm Tree Court is the perfect place for you and your family to stay. It's situated between Dubai and Abu Dhabi and has an on-site creche for babies aged between four and 23 months.
This resort offers endless impressive sports facilities. From a championship-standard golf course to the JA Shooting Club and JA Equestrian Centre, this is the perfect environment for all the family to learn some new skills. If you're hoping for a more relaxing trip, you'll find a spa and salon overlooking exquisite sea views.
---
8. Barbados, Caribbean
Rich in culture and history, Barbados is one of the most family-friendly Caribbean islands. With an average flight time from the UK of eight hours, Barbados is home to many gentle, baby-friendly beaches along its renowned west coast.
Barbados is well-known for being a safe and welcoming destination for families, so you'll feel relaxed and at home during your trip.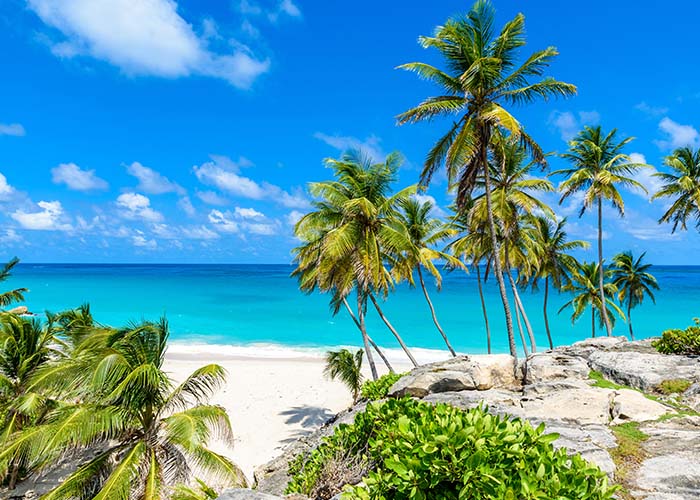 What's the best time to visit?
Barbados is hot and sunny throughout the year. With young children, the best time to visit Barbados is during the dry season between mid-December and mid-April. During this time, you'll see less rainfall and temperatures of around 30°C.
Where to stay?
Situated on the west coast of Barbados, Sandy Lane is one of the top places to stay for families with babies and toddlers. The resort offers complimentary breakfast and dinner to children ages 0 to 12 during the summer months, as well as a range of fun activities for them to get stuck into at The Treehouse Club.
Sandy Lane also boasts an exciting array of complimentary non-motorised watersports for the adults in your group to have some fun with, from windsurfing and Hobie Cat sailing, to kayaking and snorkelling — not to mention trips to swim with the turtles! Or you can practice your swing at the world-renowned Green Monkey golf course, designed by celebrated architect, Tom Fazio.
---
9. Antigua, Caribbean
The popular tropical island of Antigua is a great destination for your next family getaway. This is a safe and child-friendly location when travelling with toddlers and babies.
Famously, Antigua has a beach for every day of the year, making it perfect for beach lovers. Many of the beautiful beaches have shallow and clear waters, so your little ones can paddle on the shore and see small fish swimming around their feet!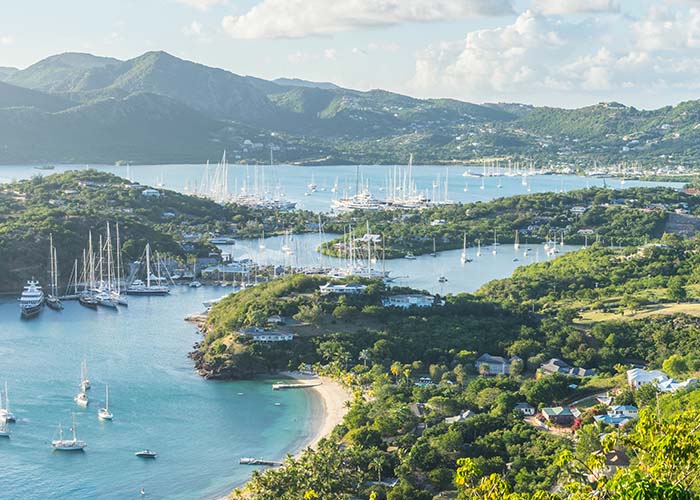 What's the best time to visit?
Choosing a Caribbean destination for your family holiday means you can go pretty much any time of year and still enjoy warm temperatures. To enjoy the sun and escape the winter sun crowds, visit in early spring between march and April.
Where to stay?
Carlisle Bay is a popular place for young families to stay in Antigua. It has all the facilities you could want when travelling with toddlers and babies. There's a baby club for children aged 6 months and older, a 45-seat cinema and nine tennis courts for the entire family to enjoy.
Each of the hotel's four diverse restaurants offers delicious cuisine and picturesque views, so you'll even manage to enjoy a quiet meal with your partner while the children are being entertained.
---
If you'd like to arrange the perfect stress-free holiday for you and your little ones, please contact our experts.
They will advise you on the best destinations and hotels for toddlers and babies, for an enriching and memorable travel experience.