Where can you find the best holiday destinations in Spain for families?
Having long been one of the most popular destinations for a family holiday, Spain has plenty to offer.
Not only is it a short, easy flight away, but it also has an array of excellent hotels, wonderful weather and safe, clean beaches for families of all ages to enjoy.
The only question that remains is – where should you go?
From the warm climes of Tenerife to the trendy beaches of Marbella, our Travel Specialists have chosen their top picks for the best family holidays in Spain and why you should visit…
---
1.Tenerife
A little bit of tropical island living in just over four hours flight time from the UK, be splashing about in the outdoor pool before you know it.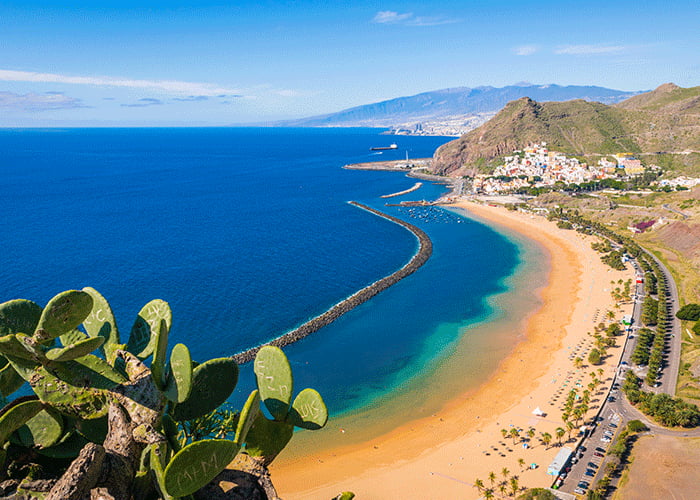 Three reasons it's a top holiday destination in Spain for families…
Volcanic views
The Canary Islands are a little slice of heaven in the Atlantic Ocean, not far off the north-west coast of Africa. As you'd expect, the location makes a haven for blooming flora and fauna that covers the island. Tenerife itself has a gorgeous volcanic landscape, so you'll be enjoying the beach with incredible views of Mt. Teide and the hillsides of the rocky island looming over you, with fabulous weather year-round.
Plenty of activities
Part of your family holiday in Spain should be about the activities that you can enjoy together. In Tenerife, Loro Parque Zoo is a large animal park that offers a fun and informative day out. Or, you could go to Siam Park to cool down from the heat – this waterpark will keep all ages entertained for hours. For something a little less busy, why not take a relaxing day trip to the charming fishing villages on the island?
A bounty of beaches
We couldn't skip the mention of Tenerife's stunning beaches! A mix of volcanic sand beaches and golden shores dot the island. The black volcanic sands are a beautiful sight to see, but for a family holiday, you're better off on the brighter sands that don't hold as much heat. Playa de las Teresitas, close to Santa Cruz de Tenerife, is a beautiful calm sandy beach; kids will enjoy snorkelling and spotting the fish in the surf.
Stay at The Ritz-Carlton, Abama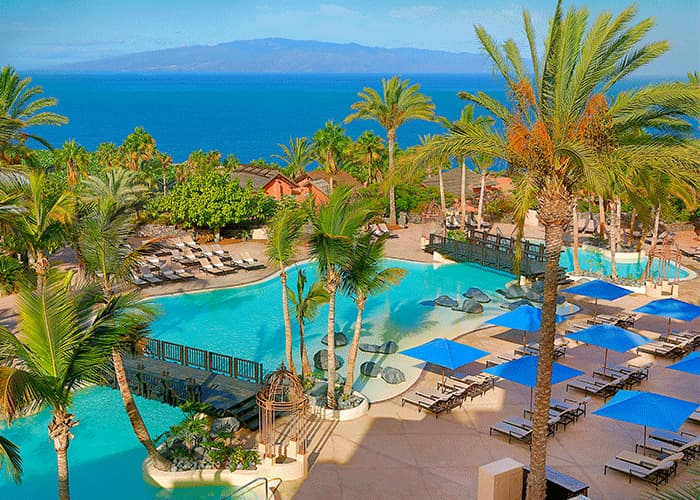 Escape to this ultra-luxurious beachfront hotel located on the island's east coast, above the noise and bustle of Costa Adeje and Los Cristianos – the stunning sea views are not to be missed!
At this child-friendly hotel, your family will enjoy access to a range of services, including babysitting and a dedicated kids' club where the little ones can experience a wide variety of activities. Teenagers can spend time at The Zone, a fun entertainment area with games, music and creative spaces.
The Ritz-Carlton Abama has nine eateries and bars, including a fine-dining sushi bar, plenty of opportunities to try authentic Basque and Spanish dishes, and a family-friendly artisanal pizza restaurant. Even the pickiest eaters will find something they like at The Ritz-Carlton Abama!
You'll also have access to a personal butler who'll take care of everything from ordering room service to organising trips to the spa to make your family holiday to Spain that much more relaxing.
---
2. Ibiza
Probably not your first thought for a family-friendly holiday in Spain, but hear us out; Ibiza has a vast array of fun activities and chilled-out locations for all ages to enjoy.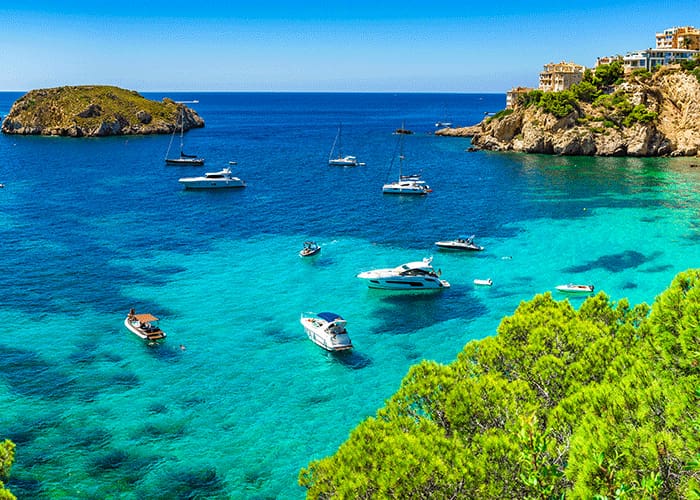 Three reasons it's a top holiday destination in Spain for families…
It's more than just nightlife…
Ibiza is one of the larger Balearic Islands, which means there is plenty to explore. It's more than just a party island; if you head outside of Ibiza town centre, to areas like Santa Eulalia, you'll find it's one of Spain's best destinations for families, too. Your little adventurers will love leading the way as you traverse through the Ibizan landscape to discover secret beaches, a beautiful cove or two, rock pools and scenic overlook points.
Spot friendly fish
If your little ones have fun spotting the fish swimming about in the waters of Ibiza, The Cap Blanc Aquarium will be an absolute treat for them. It has a selection of beautiful Mediterranean fish swimming about in their natural habitat. The aquarium itself is built into an underwater cave, making it a ideal location for exploring under the sea!
Take a day trip
The beaches of Formentera deserve mention here. Located close to Ibiza, you can take a ferry, private yacht or a boat trip across to the island to reach some inescapably beautiful beaches. Pure white sand and clear blue waters are at your family's fingertips here, so why not take a picnic for lunch and spend the afternoon at the beaches of Formentera?
Stay at Nobu Hotel Ibiza Bay
Not far from the vibrant cobbled streets of Ibiza Town is the trendy and upscale Nobu Hotel Ibiza Bay – though it feels miles away from the bustle! Settle yourself for a day at the beach or by the two saltwater swimming pools at the hotel. You'll be close to all the action but far enough away to focus on total relaxation for the whole family.
Kids are well looked after at Nobu; they'll have a fabulous time meeting up with their new friends in the kids' club and joining in with many activities, including DJ workshops, cookery lessons and swimming. In the meantime, adults can visit the spa or have the spa brought to you at the beach cabanas.
Foodies will love the Japanese fusion restaurant and the Spanish beach club meals; the hotel also caters for gluten-free needs, so there's plenty of choice for families looking for a child-friendly hotel in Spain.
"Nobu Hotel Ibiza Bay is excellent for families. A major highlight is the separate areas for families and adults to enjoy. One swimming pool is next to the kids' club, so children can come and go as they please, having fun with activities like pizza making, graffiti art classes and jewellery making. Then, there's an adult-only pool where you can go for a more chilled vibe." – Emma Pickering, Chief Financial Officer
Find out more about the best places to stay in Ibiza.
---
3. Marbella
City feel and beach vibes are mixed in this exciting yet family-friendly city on the Costa Del Sol.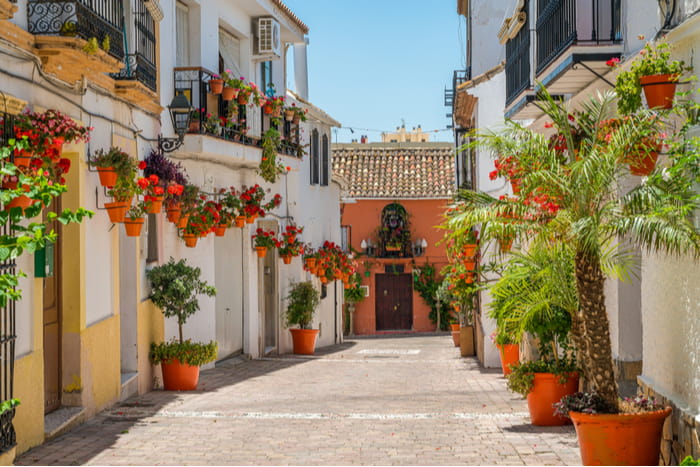 Three reasons it's a top holiday destination in Spain for families…
Perfect for teens
Marbella might be a surprise to some on this best family destinations in Spain list. However, Marbella has so many fabulous highlights for family groups, especially with older kids. Puerto Banus is one spot you don't want to miss; it's glitzy marina setting and a luxury selection of restaurants and stores will be a hot with teens. Stop by La Creperie in the evening for some delicious pancakes and ice cream!
5-star beachfront hotels
The beaches of Spain are one of the main reasons we love it and keep coming back. Marbella has many excellent options, including one at Puerto Banus, which is safe and secure for kids who want to splash around in the surf. For something more exclusive, Marbella has plenty of luxury five-star hotels with private stretches of beaches to boot.
Head out for the day
If you're in search of some family activities, you're in the ideal location in Marbella. You can easily strike out to other nearby areas on the Costa Del Sol to take on some go-karting, horse riding or wakeboarding close to the city. There are a few animal parks and amusement parks that kids will beg you to visit, including Sea Life, Bioparc, Selwo (Safari Park) and Tivoli World theme park.
Stay at Ikos Andalucia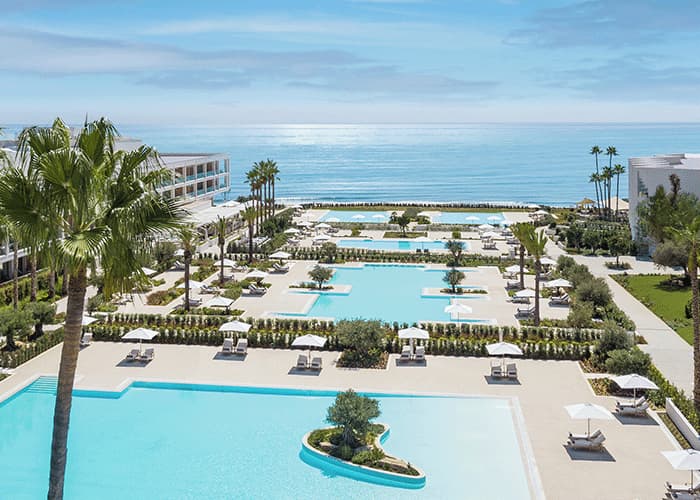 You'll find one of the best places for a family holiday in Spain with Ikos Andalucia; this beautiful, all-inclusive, luxury hotel is located just outside of Marbella. The contemporary, sprawling resort is right on the gorgeous beach with outdoor pools leading to fantastic views of the azure blue waves.
Take a walk or bike ride from the hotel along the seafront promenade to Estepona for a gentle day out near the shallow waters, or spend time in the hotel relaxing as the kids head to the creche, kids' club or teen club.
Ikos Andalucia has a variety of restaurants, including a French Michelin-starred restaurant and an Asian fusion spot, plus you'll find delicious Spanish fayre at Oliva.
---
4. Mallorca
As one of Europe's most popular destinations, Mallorca has something for everyone. It may be close to Spain, but feels like it's miles away from anywhere else…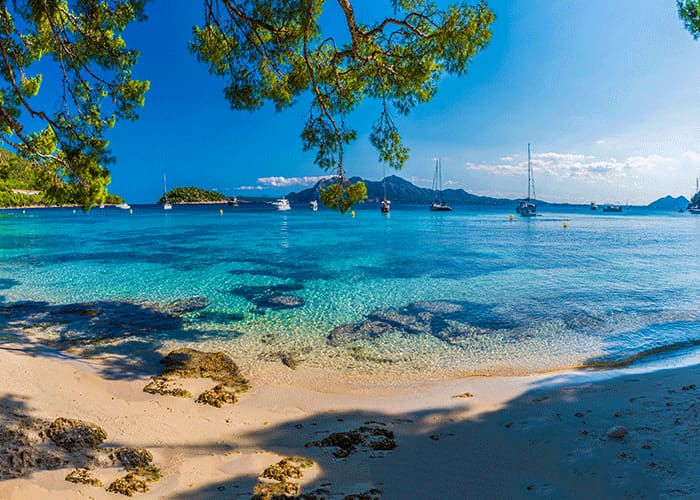 Three reasons it's a top holiday destination in Spain for families…
Charming villages
There's plenty to see and do in Mallorca for families; you'll find water parks, theme parks, adventure parks and museums, without even mentioning the amazing beaches! Explore the exquisite city of Palma with its blend of Roman and Arabic heritage. Visit the port of Sóller, a medieval town where you can munch on some delicious seafood. For a bit of adventure, head to the rocky coves and cool caves, which are filled with mysterious stalagmites and stalactites.
Golden sands
If you're looking for a place in Spain where your family can relax, unwind and enjoy themsleves, then Mallorca is the ideal destination. With golden sandy beaches like Cala Sant Vicenç, Sa Coma and Platja de Palma, it's easy to see why so many families love visiting Mallorca. There are plenty of restaurants and bars where you can eat well, close to the beach, so you needn't go far to refuel.
Crystal waters
If you want to get out and explore the waters around Mallorca, there are plenty of opportunities on boat trips and private yacht charters. You'll visit the beautiful bays of the island, jump into the warm waters with a splash and snorkel as you search for underwater delights. You might even spot some dolphins as you sail!
Stay at The St. Regis Mardavall Mallorca Resort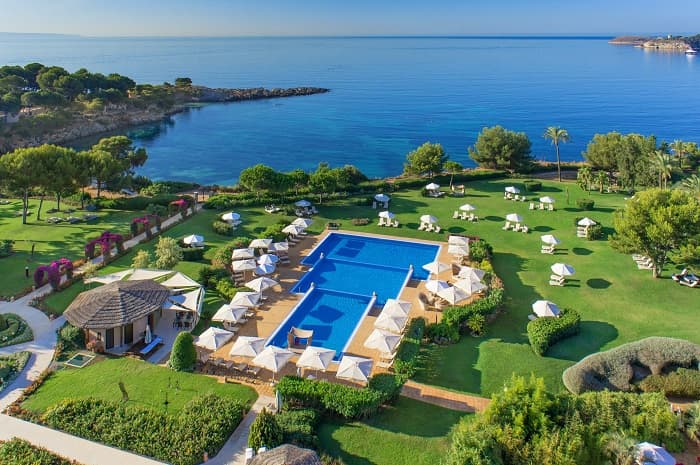 To the west of Palma, you'll find the regal St. Regis Mardavall Mallorca Resort. This brilliant resort is perfect for families looking for a bit of peace and serenity on their holiday in Spain.
You'll be welcomed with drinks on the patio and start your holiday off in style next to the amazing views of the western Mediterranean. The hotel doesn't have direct beach access, but its three-tiered outdoor pool and landscaped gardens which overlook the water more than make up for it.
Kids will have a great time at the kids' club in the resort; the staff make each day special for them, plus they have their own shallow pool, playground, sandpit and football area to enjoy.
The dining options in the resort are fantastic too, and there's a buffet-style restaurant specially for families with kids. If you fancy heading out of the resort for a meal, guest services will be more than happy to help set it up for you, along with any transfers you might need.
---
5. Lanzarote
An otherworldly landscape with beautiful safe beaches, Lanazarote is the perfect place in Spain for families to soak up the sun on a relaxing holiday with the kids.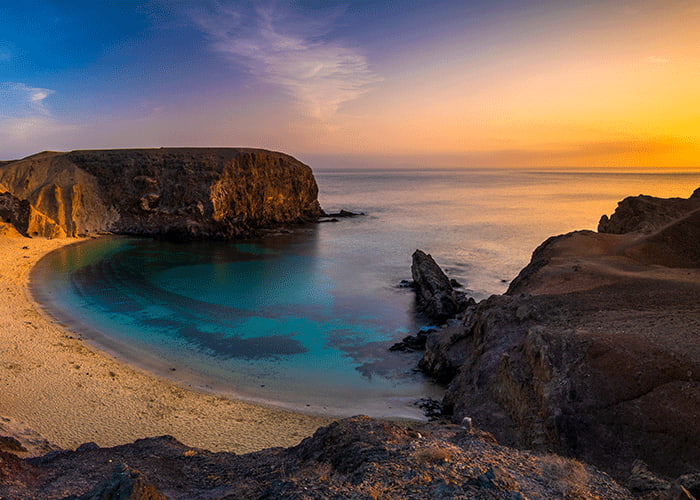 Three reasons it's a top holiday destination in Spain for families…
Mystic landscapes
There are so many things to love about this island – from its laid-back vibe to its gorgeous beaches and amazing volcanic scenery, Lanzarote is one of Spain's best places for families looking for some sun and relaxation. The volcanic landscape will make you feel a little like you've landed on Arrakis from Dune! Whilst here, take a day trip to explore the lava tunnels and learn about their unique history since they were created by flowing, molten lava about 3,000 years ago.
Spolit for choice
The beaches of Lanzarote are great for swimming, surfing, fishing and snorkelling. You'll find small, secluded beaches, long sprawling sands and beaches set in lovely towns with restaurants nearby. Keep in mind that the island's western side tends to get windier, whereas its closer proximity to Morocco shelters the east side, making it the obvious choice for those looking for safe child-friendly beaches.
Endless activities
Families will find plenty of activities to keep them busy at the hotels of Lanzarote, including tennis courts, golf courses, sailing clubs, horse riding stables, swimming pools, and diving centres. If you're planning to head outside the resort for some day trips, why not visit Timanfaya National Park or brave the sea on a catamaran, or privately chartered yacht, to watch the beautiful sunsets?
Stay at Princesa Yaiza Suite Hotel Resort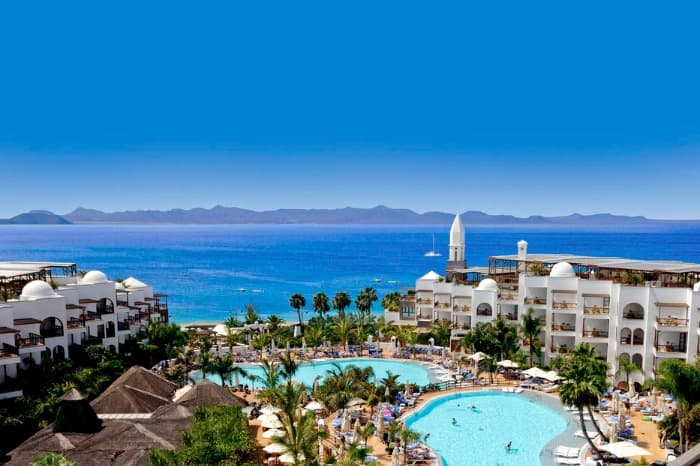 This marvellous Princess Yaiza Suite Hotel is nestled on the south-east coast of the island, boasting a huge variety of activities that the entire family can get involved in. Kids can visit Kikoland, the children's programme in the hotel, where they can try out yoga, games, movies, aqua dance, quizzes and arts and crafts. There's never a dull moment.
Kids and adults alike will enjoy spending time at the hotel's six swimming pools, while the spa and gym facilities are a great draw for adults wanting some downtime. Each experience at the hotel is personalised for your family and the team at Guest Services are always on hand to make your holiday as magical as it can be.
---
More family holiday destination ideas…
Our Top 10 Family Holiday Destinations
The 5 Best Greek Islands for Families
Where to Stay with Babies and Toddler in Europe
---
If you'd like more advice on finding the best family destinations in Spain for your holiday, contact our Travel Specialists for expert guidance. Your booking will be protected by our Book with Confidence travel guarantee.
For other ideas on where to visit, take a look at our Luxury Family Holidays Collection.