The Italian Lakes are some of the most idyllic in Europe. Lake Como is perhaps Lombardy's most famous lake, framed by dramatic pine-swathed mountains with charming villages, neoclassical villas and luxurious hotels sprinkled along the remarkably blue shoreline.
With it's sheer beauty and opulence coupled with cultural hotspots and a balmy microclimate (thanks to its position at the foothills of the Alps), it's little wonder that Lake Como is one of the most visited and most-loved destinations in both Italy and Europe.
If you're planning a trip to one of the most romantic settings in the world, read our expert's Lake Como Travel Guide to help you choose the perfect spot to stay in northern Italy.
If it's good enough for the Clooneys…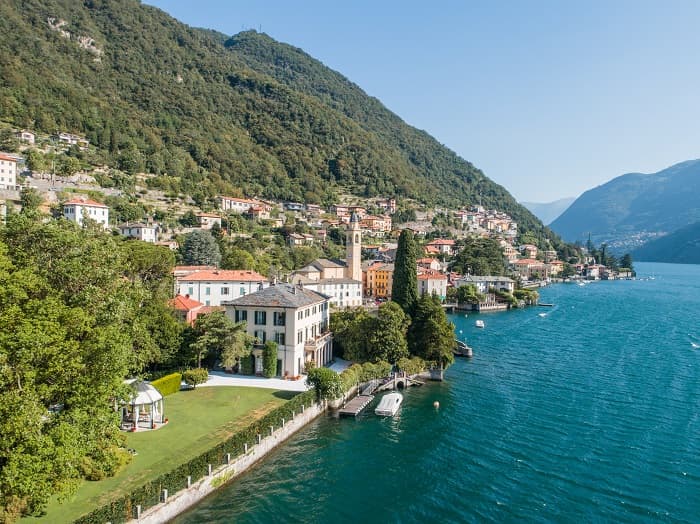 ---
The Best Time to Visit Lake Como
The best time to visit Lake Como is between April and October when the weather is warm and mild, in fact many hotels are closed over the winter. Crowds tend to flock to the lake during the summer when temperatures heat up.
Stay in one of our tranquil hillside hideaways with exclusive facilities for guests, and you'll never have to worry about the crowds.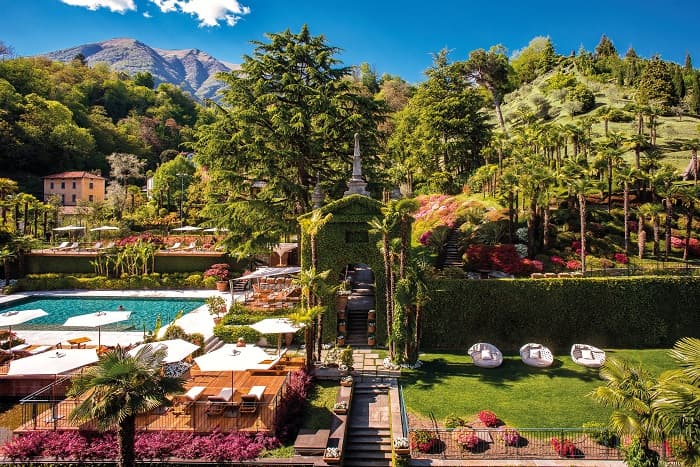 ---
Where to Stay
Being the third-largest lake in Italy after Lake Garda and Lake Maggiore, it may seem overwhelming when it comes to the choice of places to stay in Lake Como.
If you're planning to visit but aren't sure of the best area to stay in Lake Como, (there's 100 miles of shoreline to choose from!), these top luxury hotels are the best place to start.
We can also create a tailor-made tour to Lake Como, where you can stay at multiple hotels of your choice and experience many of the highlights in one seamless trip.
---
Villa d'Este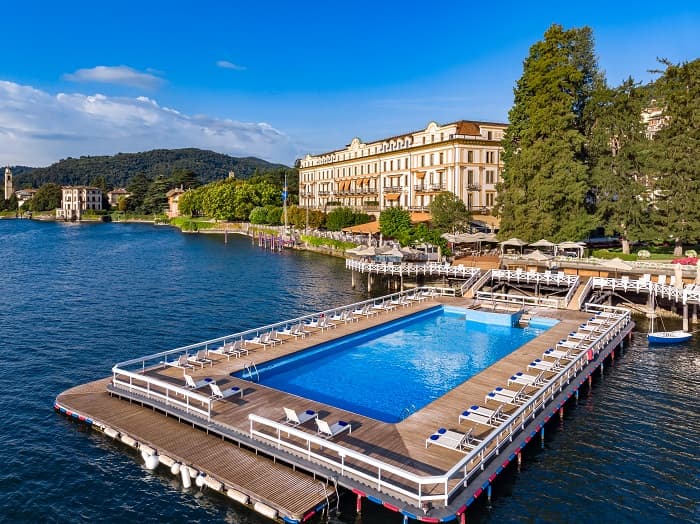 Location
Stay at Villa d'Este to be perfectly placed to explore the small town of Cernobbio at the south-western end of Lake Como, located at the foot of Monte Bisbino. Sip Bellinis at water's edge bars, spot lakeside scenes from the film Oceans Twelve and amble past baroque façades and colourful houses in the old town.
Follow signs out of central Cernobbio and take a scenic 17km drive winding up through villages behind Cernobbio to Monte Bisbino, a wonderful lookout point.
If you fancy seeing more fine villas fronting the water, take the lower lakeside road (via Regina Vecchia) to a row of 19th- century properties around Moltrasio. Winston Churchill holidayed in one and another is owned by the Versace family. Several kilometers north, the hamlet of Laglio is home to George Clooney, who owns Villa Oleandra.
Hotel Highlights
If you want to be a stone's throw from the lake, Villa d'Este is an opulent hotel right on the water's edge at Cernobbio.
It was built in 1568 as a summer residence and later became the home of Princess Caroline of Brunswick. Regal décor still abounds throughout, particularly in the bedrooms decorated with antique furniture, precious velvets, Murano chandeliers and marble bathrooms.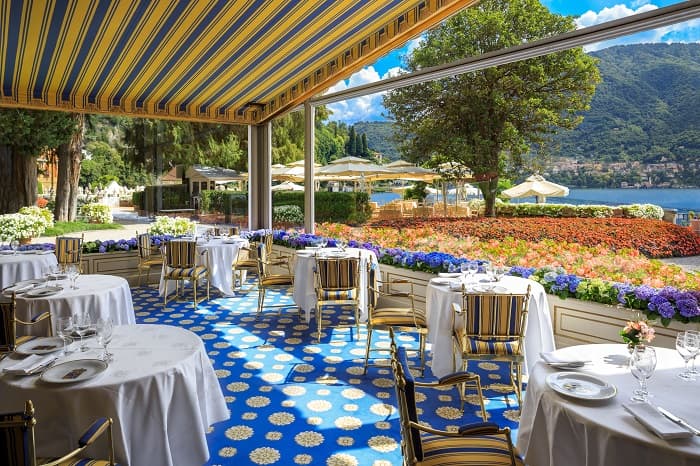 Located in the Cardinal Building or in the Queen's Pavilion, we recommend the Junior Suite Lake View for a splendid frontal lake view and a sumptuous living room.
There's an excellent spa, an infinity pool which sits on a platform in the lake (open during the warmest months), plus private boats and windsurfs at your disposal from the hotel's Sporting Club to make the most of the microclimate.
When you're not dining on refined cuisine or luxuriating with a treatment at the Beauty Centre, explore the outdoors with the choice of eight tennis courts, a putting green, and glorious hiking trails that crisscross the ten hectare private park.
Speaking of the grounds, they are some of the most relaxing in the area with centennial trees, statues and a mosaic-embellished private garden.
---
Mandarin Oriental, Lago di Como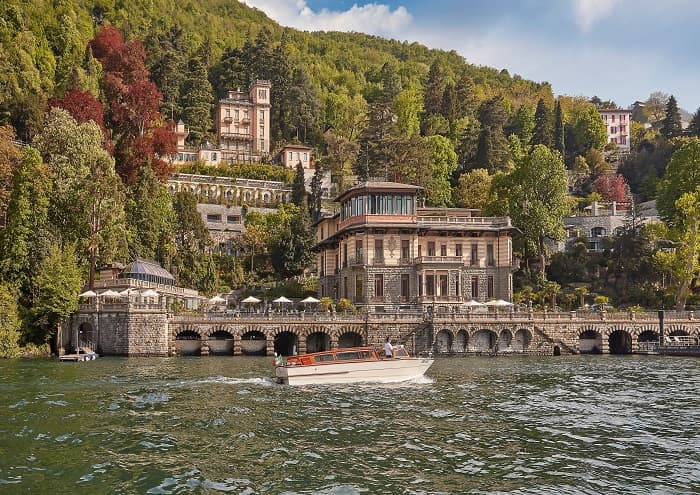 Location
Experience a sanctuary of calm on the scenic south-east banks of Lake Como. Housed in a grand 19th-century villa just outside the beautiful village of Blevio, Mandarin Oriental, Lago di Como is a private enclave that most guests never want to leave.
The hotel is a wonderful base for exploring the northern Italian lakes. Rent the hotel's iconic 1959 Alfa Romeo Giulietta for a day to explore Lago di Como's charming local roads and scenic landscapes. Alternate between pine-strewn forests and waterfront roads, before heading to the commune of Blevio to admire its cluster of grand waterfront villas, bougainvillea-lined streets, and several beautiful churches.
Hotel Highlights
Idyllic lake views can be enjoyed from most of the resort's rooms, bar and the floating pool on the lake. What's more, the luxurious spa complex is the largest in the area and offers two private suites, treatment rooms, a beauty studio, fitness centre and a holistic heat and water experience area.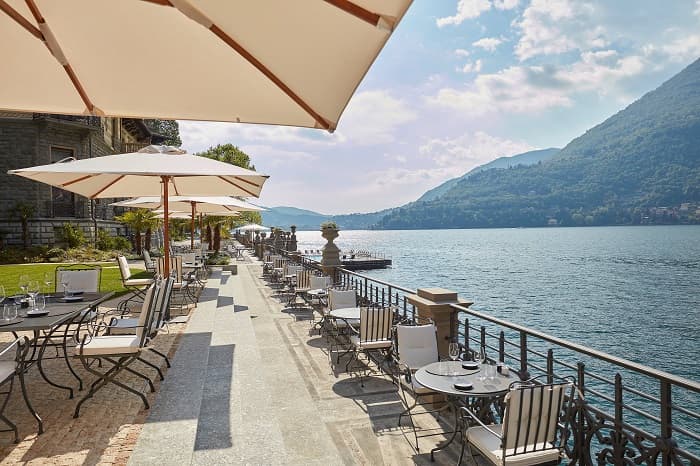 Nestled in the resort's leafy botanical park, Michelin-starred L˜ARIA is one of the highlights at the hotel, offering refined Italian cuisine. Gorge on maccheroncino and local sea bass with black truffle as you sit on the lakeside terrace for a memorable alfresco experience.
For an after-dinner tipple, head to the elegant Co.Mo Bar & Bistrot in the main building, where you can enjoy a Floating Passion cocktail against a dreamy backdrop of shimmering water.
Add to this a heated pool floating above the lake, Neapolitan pizza-making classes and mixology lessons in how to craft the perfect Negroni, and you've got la dolce vita.
---
Grand Hotel Tremezzo
Location
Located approximately an hour from Como facing directly onto Bellagio (just a ten-minute boat ride away), you'll be smitten by Grand Hotel Tremezzo and the world of wonder waiting to be explored outside its gates.
Known as the "pearl of Lake Como", Bellagio is suspended on the promontory where the lake's western and eastern arms split and head south. It's impossible not to be charmed by the waterfront of bobbing boats and lush cypress groves and rhododendron-filled gardens that envelop breathtaking villas.
Hotel Highlights
Grand Hotel Tremezzo is one of the oldest residences on Lake Como and oozes the elegance of a bygone era.
The 89 rooms on the water's edge boast stylish period interiors, and indulgent details like balconies and Jacuzzis. Choose one of the Rooftop Suites for the most panoramic views of the lake and to have the hotel's concierge team at your beck and call.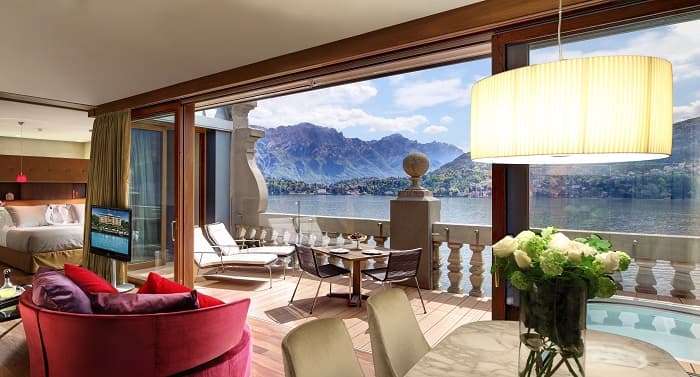 You could easily spend a day rotating between Grand Hotel Tremezzo's epic T Spa, which specialises in rebalancing treatments, and three pools. Water-On-the-Water is perhaps the most spectacular and Instagram-worthy spot of all, an azure oasis floating on the lake waters.
Five distinct bars and restaurants include the fine dining La Terrazza, masterminded by the first chef to bring a Michelin star to Italy, Gualtiero Marchesi.
As the sun slowly sets over the rose-tinted Grigne mountains, treat your palate to delicacies on the terrace; Rice & Gold is a classic Milanese risotto decorated with gold leaf, while the Grand Antipasto lobster platter pays homage to Lake Como.
"Grand Hotel Tremezzo is actually one of the oldest residences on Lake Como, which opened in 1910 and has been in the De Santis family since 1973. It exudes style, opulence, and glamour. From the moment you step through the doors, you'll immediately feet at home thanks to Mandarin Oriental's charming hospitality. We were thoroughly looked after for our entire stay." Moreno, Travel Specialist.
---
Must-Visit Spots in Lake Como
Relaxing at your lakeside hotel will no doubt be high on your list of things to do in Lake Como.
But, when you want a break from spa treatments and gourmet dining, be sure to visit the nearby towns and picturesque villages for some must-visit spots.
1. Go Shopping in Bellagio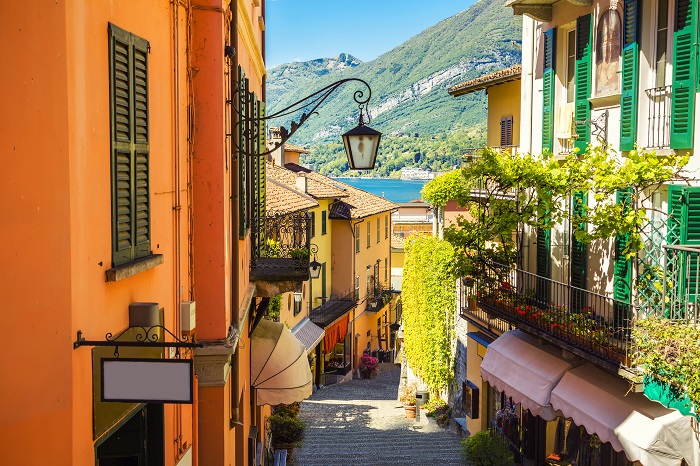 Experience a touch of la dolce vita in Bellagio, known for being the most picturesque town in the region. Explore the lovely lanes strewn with pavement cafés. Stroll around Villa Melzi with its English style park and up to Punta Spartivento for a spectacular view of the lake. Then, pop into the Basilica of San Giacomo, a Romanesque church with sculptures, impressive marble columns and frescoed ceilings.
The upmarket boutiques are also worth spending a couple of hours perusing. Few people know that Como is actually one of the silk capitals of the world. So, leave plenty of room in your suitcase to pick up some screen-siren-worthy scarves.
2. Admire Historical Como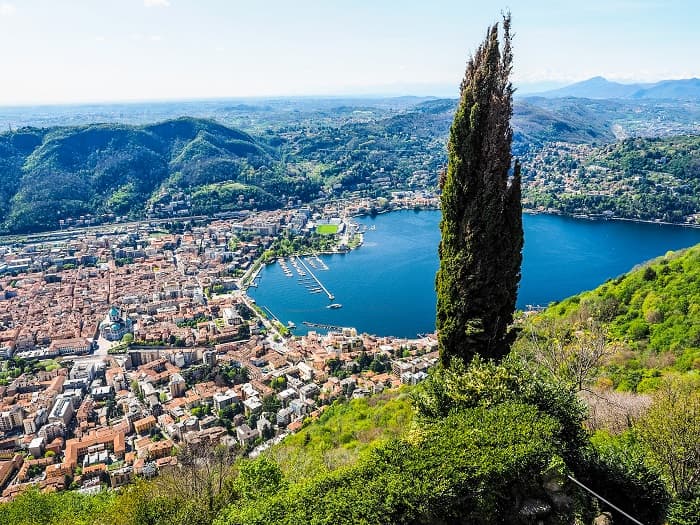 Sitting at the southern tip of its namesake lake, Como offers a world of old-world charms to its visitors. Save time to visit the charming Piazza Duomo and marvel at its iconic gothic-style cathedral. Take the funicular up to the hilltop village of Brunate for unbelievable vistas and sample local fare in one of the hip, bar-lined piazzas.
Also in the area is Museo della Seta, a fascinating museum detailing the silk-making process, and Teatro Sociale, Como's neoclassical theatre. Throughout winter, the venue hosts a fantastic programme of dance performances, symphonic concerts and of course, opera. Free musical recitals are held monthly in the beautiful Sala Bianca ballroom.
3. Tour Tremezzo's Villa Fit for a Princess
Just three minutes away from Grand Hotel Tremezzo, Villa Carlotta and its 14-acre botanical gardens are a must-visit spot in Lake Como. The grand pink and white villa was once home to a Prussian princess and is now a museum, strung with ancient paintings, sculptures and tapestries. Upstairs, feel history breath in the rooms with period furniture, providing an insight into the life of a royal.
The beautifully tended gardens are completely enchanting and a pleasure to stroll around. There's idyllic woodland, waterfalls, avenues of azaleas, rhododendron and hydrangeas, not to mention bamboo forests, and endless arches of wisteria which tumble down towards the waterfront.
4. See a Lakeside Movie Set in Lenno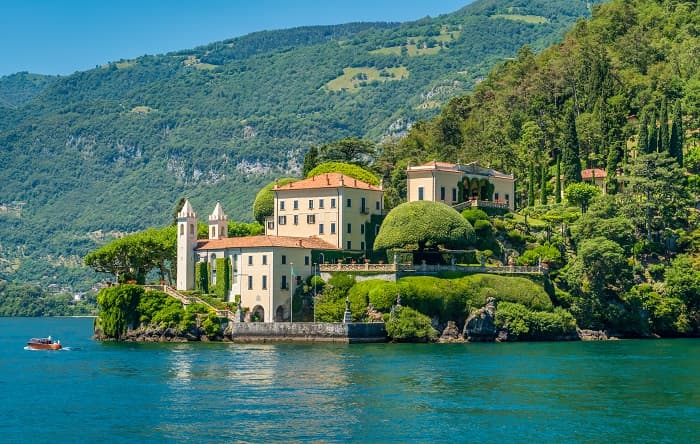 A short water taxi hop from the quaint town of Lenno (look out for Richard Branson's Villa La Cassinella on the way) you'll come to Villa Balbianello. This spectacular 18th-century villa and extensive garden is so beautiful, it has featured in numerous Hollywood films – most recently the James Bond movie, Casino Royale.
Whilst in the area, pick up a bottle of high-quality olive oil from the centuries-old mill and sample some of the best gelato in town at La Fabbrica del Gelato.
---
The Best Experiences in Lake Como
1. Take a boat ride around the lake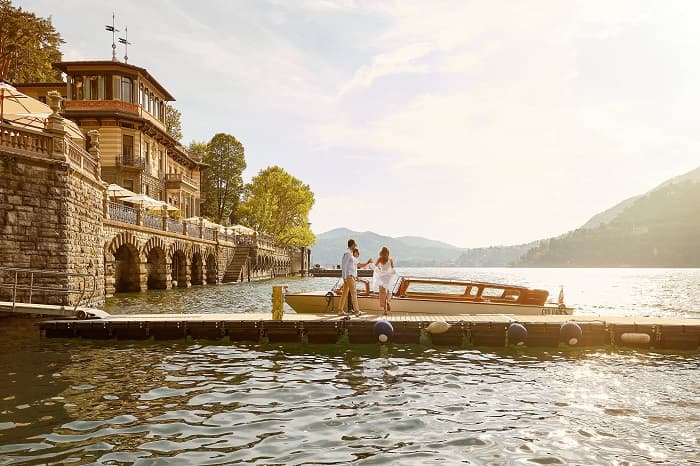 Touring Lake Como in northern Italy by boat is one of the best ways to explore.
Hire a private motor with a driver to stop where you want, embark on a group tour or rent a classic mahogany speedboat and stand at the helm yourself. The views from the water are just stunning: feel the lake breeze on your face and slice through the emerald waters while admiring extravagant former palaces and residences with balconies hanging right out over the lake.
Lago di Como also offers an abundance of watersports. From wakeboarding and water-skiing, to gentle kayaking and stand up paddle boarding, the lake's the limit. The Aeroclub of Como boasts the distinction of being the oldest seaplane flight organisation and the oldest flying school in the world. If you're looking for an adrenaline-pumping experience, fly from blue water to blue sky and see the lake from above.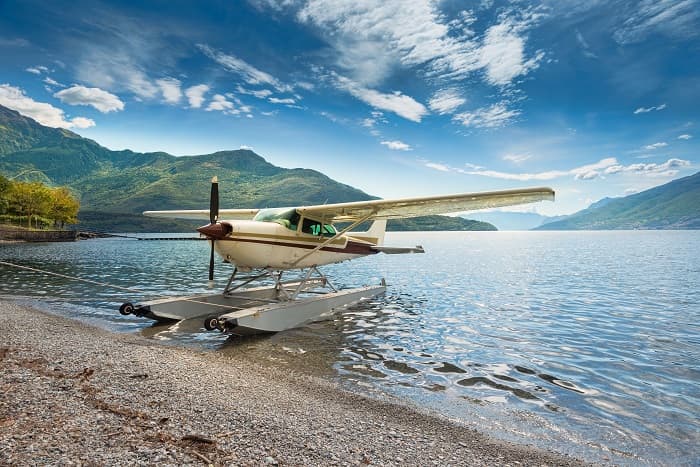 2. Spend a day at the beach
A veritable water wonderland, it's not hard to find places to take a dip into Como. With real soft sand underfoot, you may be tricked into thinking you're at the seaside at Grand Hotel Tremezzo.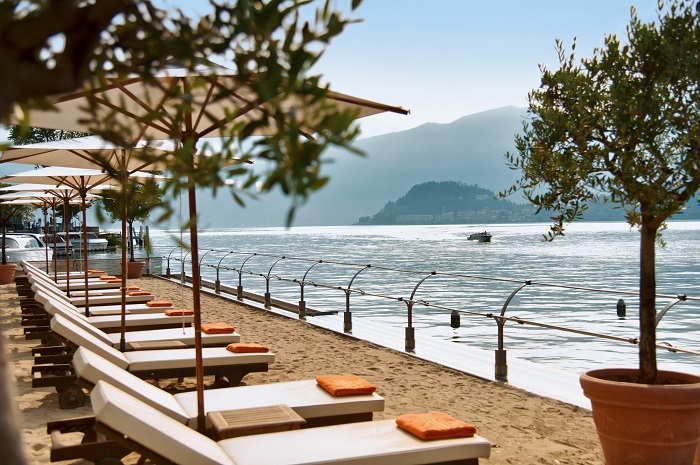 For a local beach, Lido di Moltrasio is renowned for its sandy beach and excellent restaurant serving pizzas and Lombard delicacies. There's also Lido di Bellagio with golden sand and the secluded beach club Lido de Lenno, where a smart restaurant transforms into an alfresco bar as the evening sets in.
3. Dine like a local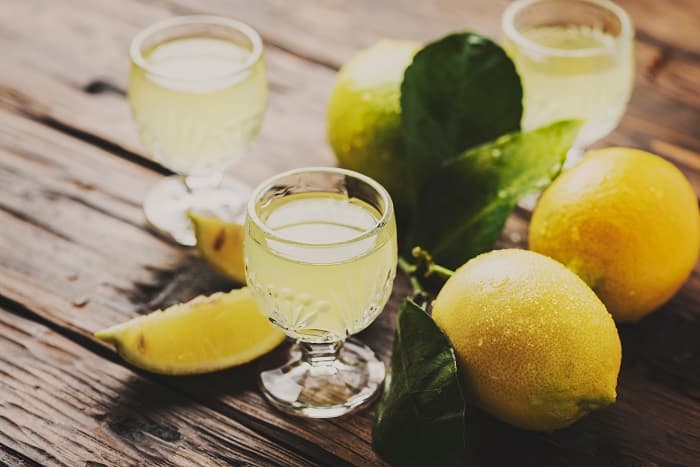 Lenno has a fantastic food scene, with Michelin-star restaurants and traditional haunts. If you're wondering what to eat and drink in Lake Como, try the local delicacy dried shad (a local fish similar to a sardine often called misultin or missoltino).
Once precious food for inhabitants of Lake Como, the fish is dried in salt and can be preserved for over a year. Visit one of the Italian restaurants to sample it, best served with polenta and a chilled limoncello.
4. Visit Lake Como's only island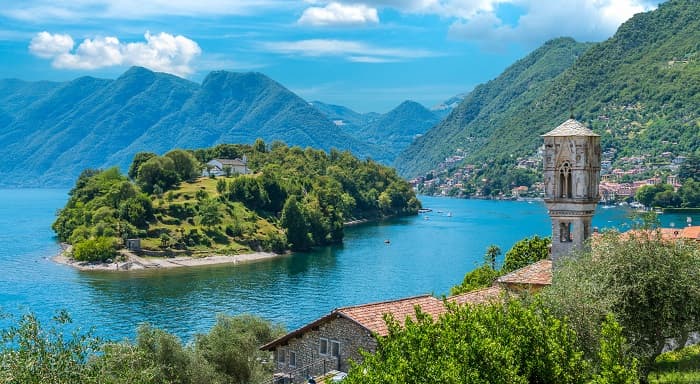 A day trip to tiny Isola Comacina, a small green dot in the deep blue of the Lake, will leave you smitten. Wander around the Church of San Giovanni, artists' houses and Roman ruins, then savour delicate lake trout on the sun terrace of its only restaurant, Locanda dell'Isola Comacina.
---
Still searching for the perfect holiday in Northern Italy?
Our Travel Specialists are here to curate your perfect luxury holiday. Whether you're after a family friendly break or romantic sojourn, they create a bespoke travel experience that's totally tailored to you.
Contact us for more travel inspiration, travel tips or to start planning today.