There's always sunshine in the Caribbean, but with so many islands making up this wonderful destination, you might be wondering exactly where to go with your family.
So, we've put together a list of some of the best luxury family resorts in the Caribbean that will keep all ages happy, from dawn to dusk. Whether you prefer to spend lazy days on the beach or you're in the mood to get up and go, you'll find something to suit your group here.
Take a look at our list of brilliant luxury resorts for families in the Caribbean and see which tropical paradise you could find yourselves in soon…
1. Sugar Beach – A Viceroy Resort, St. Lucia
Flight time: Nine hours
Best for: An elegant beach adventure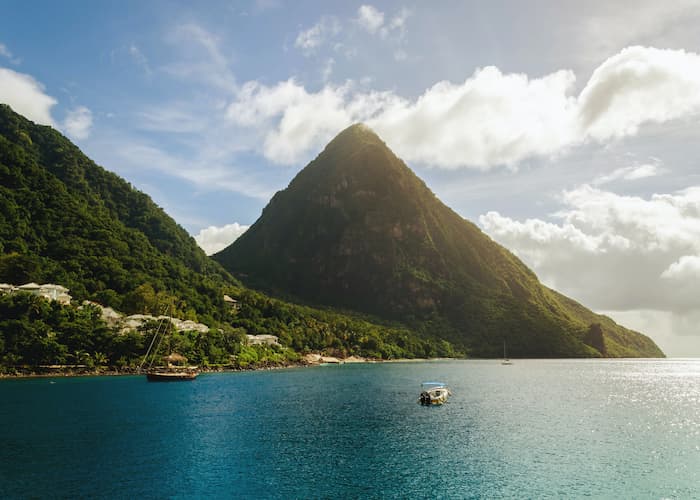 What could be better for your next family holiday than a luxury beach experience surrounded by a lush rainforest setting? The answer is surely, nothing.
Sugar Beach, A Viceroy Resort, has all of that and more – the emerald pitons of St. Lucia are stunning in pictures, but even more amazing in person. These iconic peaks are UNESCO World Heritage listed – as is the land that the hotel sits within.
At Sugar Beach, you can spend time in the hotel's private beach cabanas, drinking ice-cold beverages and snacking on ice cream sandwiches that the whole family will surely delight in!
Speaking of the whole family, this is truly a family-friendly resort where kids will feel like VIP guests throughout their stay. They'll be able to take part in exciting watersports activities including windsurfing and kayaking as well as visiting the Sugar Club (from 4-12 years) and Spice Club (tweens and teens), enjoying fun-filled programmes with their new found friends.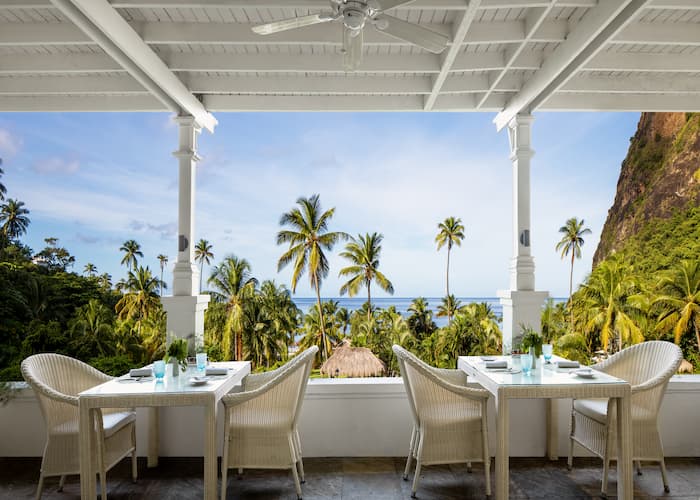 Your time at Sugar Beach is an opportune moment to shut off from your normal routine, turn off your phone and enjoy the tranquil and elegant atmosphere – just jump into your private villa or Residence pool to cool off and marvel at the spectacular view that lies before you. You'll never want to leave!
If you're travelling as part of a larger family unit, you might want to opt for Sugar Beach's stunning multi-bedroomed Residences. Packed with modern fixtures and fittings, gorgeous outside spaces with iconic Piton views and larger private infinity pools, this is a real real home-away-from-home luxury experience.
Sugar Beach's largest accommodation comes in the form of their spectacular Beachfront Collection; three four-bedroomed beachfront houses with incredible interiors and a simply unbeatable setting.
"Nestled between the Pitons, Sugar Beach is a truly special place. The service and staff are incredible, plus you'll love having you own personal butler on-hand to ensure your your stay goes exactly how you like it." – Moreno, Relationship Manager
---
Must-do for families in St. Lucia
The whole family should experience St. Lucia's outstanding rainforests and their natural beauty in the Caribbean. You can keep your feet solidly on the ground on a guided trail hike, or zipline across the canopy for some thrills. For younger kids, you can also take the aerial tram for less of a heart racing experience.
---
2. Carlisle Bay, Antigua
Flight time: Nine hours
Best For: Excellent kids' club activities – with children under 12 years staying for free year-round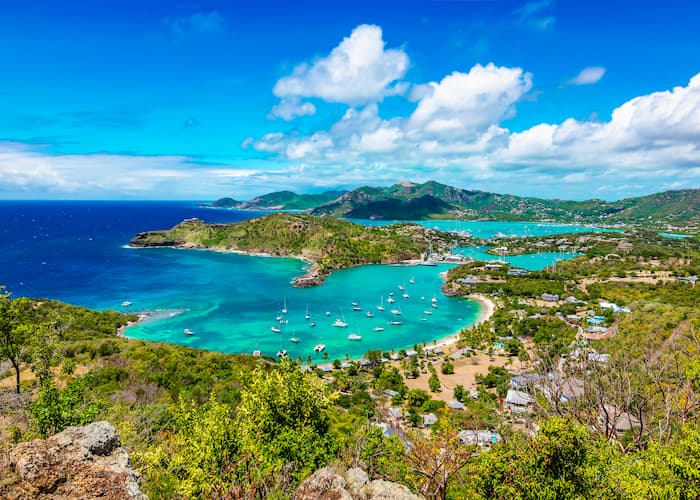 Great green rolling hillsides are the backdrop to this amazing resort for families on the island of Antigua.
Imagine reclining on your sun lounger, soaking up the sun on the white sandy beach as you enjoy the tropical shoreline. Perhaps you're catching up on your reading list, or simply just listening to the beach ambience while your kids are enjoying zipping in and out of the gentle lapping waves, searching for the brightly coloured inhabitants of the bay's waters. Sounds like a slice of heaven, right?
Families can have a huge amount of fun at Carlisle Bay. Whilst children enjoy the excitement at the kids' club, the adults in your group can enjoy some peace and quiet at the beach.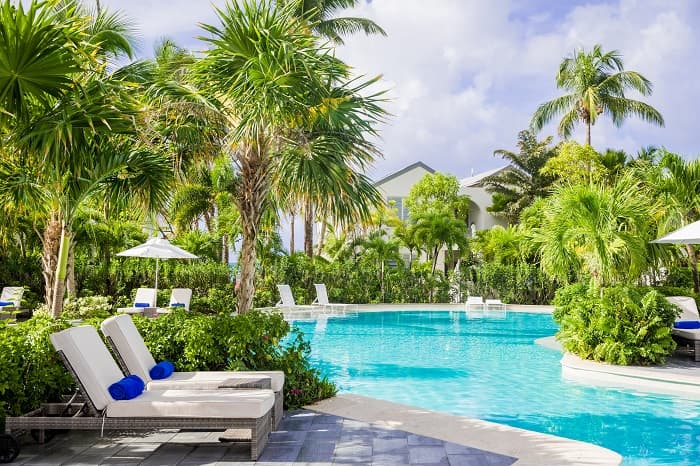 The kids' clubs are fabulous at Carlise Bay, and your little adventurers will have a brilliant time taking part in watersports, movie sessions and a myriad of daily activities. You'll find a weekly guide of fun things to do for the whole family to take part in, such as 'Fire Pit Fridays', sunset cruises and tours of the surrounding area.
Having some of your comforting favourites to eat on your holiday is normally a priority for most families, so you'll be happy to hear that Carlisle Bay offers a wide range of hearty meals in their four restaurants. Enjoy a pizza night at Ottimo, or sample some pan-Asian delights at East.
"As a real foodie, my highlight of Carlisle Bay was the variety of restaurants, especially the pan-Asian dishes at East. Don't forget to pack a snorkel for everyone in the family – thanks to there being no motorised watersports in the bay, turtles and tropical fish are a frequent sighting!" – Sophie Cahill, Marketing Communications Manager
---
Must-do for families in Antigua
Sailing is a huge pastime in Antigua. One of the best ways for your family to explore the islands of the Caribbean is by yacht, so hop on board and sail the cerulean Caribbean Sea! You'll be able to anchor at some awe-inspiring bays and reefs, where big kids can swim in the blue waters and snorkel to your heart's content.
---
3. Sandy Lane, Barbados
Flight time: Nine hours
Best for: Classic Caribbean luxury
Sandy Lane is another brilliant luxury family holiday resort with something for the whole family. Adults can unwind and relax in the incredible spa for some much-needed rejuvenation, while golf lovers will absolutely adore playing on the three golf courses.
Kids can make new friends at The Treehouse Club, with an array of activities, including swimming, movie nights outdoors, themed dinner parties and sports. Teens can embark on tours of the island, sports clinics and try out watersports with experienced and qualified guides.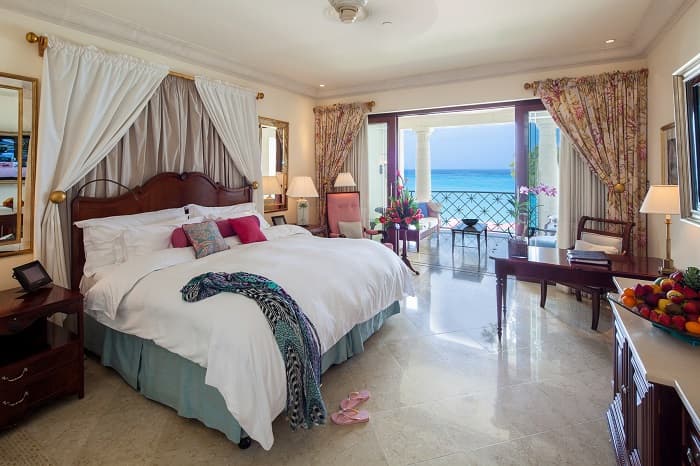 This is truly one of the best hotels on our list for a spot of pampering. Sandy Lane of Barbados exudes timeless elegance; spend your morning lounging on the white-sand beach or snorkelling with the kids in the sea. Then, take an afternoon tea on the terrace with petit pastries and Champagne before heading to the spa. What could be better?
If you're feeling a little adventurous, you could explore the beauty of the island. See our top things to do in Barbados for some more ideas.
"Sandy Lane is one of the most iconic hotels in the Caribbean – and it certainly lives up to its name! It features one of the best kids' clubs on the island, with the fabulous Tree House Club offering an array activities for toddlers through to teens." – Natalie, Travel Speacialist
---
Must-do for families in Barbados
The West Coast of Barbados is perfect for families, with gentle, shallow waters for paddling in. For confident swimmers, snorkelling with turtles will be a delight, while smaller tots might prefer a glass-bottom boat ride to see the underwater world below.
---
4. Rosewood Little Dix Bay, British Virgin Islands
Flight time: The simplest way to get to the British Virgin Islands is a plane to Antigua (9 hours) and then a local flight to Tortola (1 hour). From here, it's just a 20-minute transfer on the resort's private water transfer.
Best for: Lessons on the environment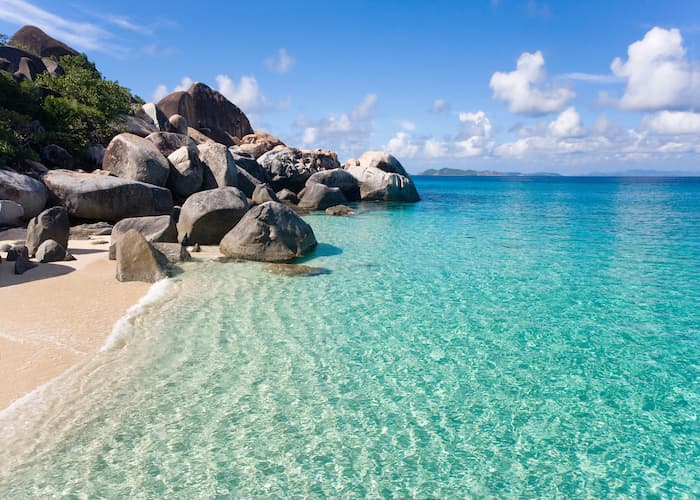 Rosewood Little Dix Bay is one of the most amazing hotels for families in the Caribbean for refined elegance, with an eco-conscious mindset right at it's core.
Located on a crescent-shaped bay, the idea behind the hotel is that it's unobtrusive to its natural surroundings and, as such, it blends delicately into the tropical forest of the British Virgin Islands. Relax on the soft sand beach and watch your kids play in the surf as the clouds pass over the bay.
The resort's Rosewood Explorers kids' club is the perfect place for young guests to learn all about Caribbean culture. They'll be able to build on their natural curiosity, giving them insight into the surrounding environment through nature walks, gardening and farm visits.
Of course, there's a huge variety of fun activities that you can take part in as a group, including sailing lessons and sea drops, which take you by water taxi to one of seven secluded Virgin Islands – why not have a picnic on a totally secluded beach?
Read our in-depth review here: What's it Like to Stay at Rosewood Little Dix Bay?
---
Must-do for families in the British Virgin Islands
Take the kids to visit The Baths National Park. This area of the island is filled with clear water coves and grottos, and is surrounded by the iconic volcanic boulders which look like piles of rocks placed by giants.
---
5. Half Moon, Jamaica
Flight time: Ten hours
Best for: Getting active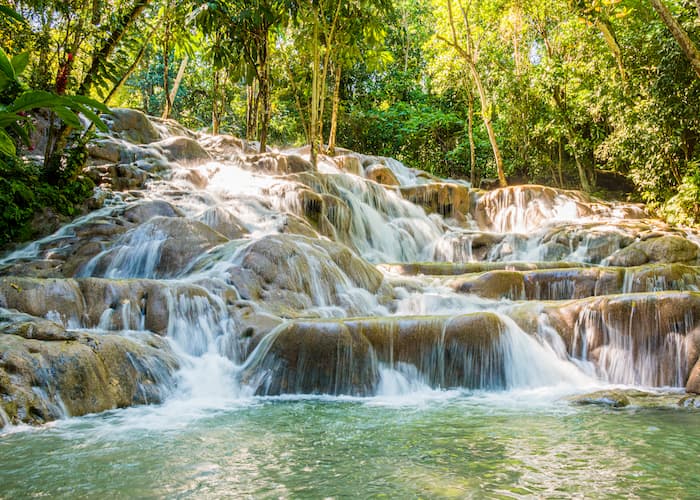 For a welcoming atmosphere, Half Moon is a fabulous hotel in the Caribbean for your family holiday. This luxury resort is spread over 400 acres, close to Montego Bay in Jamaica with exquisitely manicured, lush gardens and two miles of pristine beachfront to explore.
One of the amazing benefits of a stay at Half Moon is the range of activities that you can take part in. Animal lovers will have a fabulous time visiting the hotel's own Equestrian Centre, where younger children can take a ride on the ponies, while older or more experienced riders go horseback riding on the beach.
Half Moon also offers a range of itinerary experiences, including a journey into the Blue Mountain Range. If you want a little dedicated time as a couple, take a trip to the spa or get out on the water for some sailing whilst the kids are treated like VIPs at the Children's Village.
---
Must-do for families in Jamaica
If you haven't had the chance, we'd definitely recommend heading to Dunn's River Falls. You can spend the day splashing around with the kids in the waterfalls and climbing up to the top with a guide.
---
6. Amanyara, Turks & Caicos
Flight time: Fifteen hours
Best for: Wondeful snorkelling opportunities
Are you looking for a holiday where you and the family can get away from it all and enjoy a private escape? Amanyara in Turks & Caicos has exactly what you need. This peaceful spot offers you 18,000 acres of nature reserve, beautiful white, sandy beaches and crystal-clear waves that gently lap the shore.
Due to the fragile ecosystem of the coral reef and landscapes of the Caribbean, Amanyara takes sustainability seriously, so you'll find there are many exciting activities to take part in to educate the entire family whilst you enjoy your break. Take a tour of the hotspots on the island with the Amanyara Signature Island Tour or visit the house reef for some snorkelling.
There's a range of family-friendly activities to take part in, including sailing, underwater photography and mangrove safaris. Science lovers in the younger cohort of your group will have the opportunity to join in with SEEK camps, where they can learn about the unique ecosystem of Turks & Caicos.
Kids will also be able to join their friends for movie sessions, sailing lessons and mindfulness activities including beach fitness and Pilates.
---
Must-do for families in Turks & Caicos
A trip to Turks & Caicos isn't complete without visiting Chalk Sound, a large lagoon dotted with natural rock formations. The area is home to an abundance of wildlife for you to spot, including iguanas, barracuda and stingrays.
---
7. The Ritz-Carlton, Grand Cayman
Flight time: Around 12 hours
Best for: A renowned beach location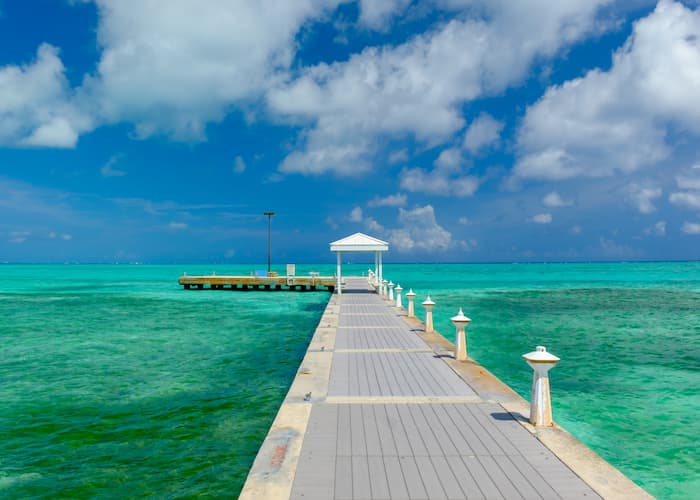 The recent refurbishment of The Ritz-Carlton, Grand Cayman has left the hotel as a luxury haven for families. Nestled on the extraordinary Seven-Mile Beach, the brilliant white sand seems to go on forever. The beachside personal service is second to none, meaning you don't even need to move from your private cabana or sun lounger to grab a cool drink or a snack.
At this family-friendly Caribbean resort in the Cayman Islands, kids will adore whiling away a few hours at Starfish Cay, a waterpark and aqua adventure with water slide attractions that'll delight the younger members of your group.
For the eco-conscious, your whole family can become ambassadors of the environment when you take part in the hotel's activities, including a glass bottom boat expedition, snorkelling with the fish and kayaking. There are also wholesome activities just for the little ones, such as becoming stingray detectives, water works and even discovering dinosaurs!
If you're a family of food lovers, this is an exceptional hotel, with Italian and Caribbean influenced restaurants providing comfort foods like pizza and gelato. There's also a gourmet sushi lounge for something a little more adventurous. Whatever you're in the mood for, Ritz-Carlton Grand Cayman has it covered.
---
Must-do for families in Grand Cayman
Take the kids out to the Cayman Crystal Coves, enter the cool dark caves and see the stalactite and stalagmite structures that have formed in this underground wonderland.
For more exciting activities, check out our blog post on the Top 9 Experiences In The Cayman Islands.
---
8. Eden Roc Cap Cana Boutique Suites & Beach Club, Dominican Republic
Flight time: Thirteen hours
Best for: One of the best resorts for families in the Dominican Republic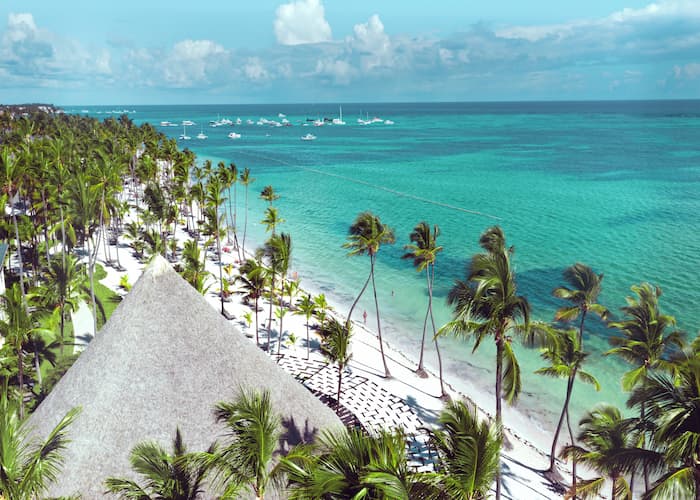 The exclusive and gated Eden Roc at Cap Cana Boutique Suites & Beach Club resort has everything you could want from a Caribbean beach destination for families – white sand beaches, crystal clear waters, lush vegetation, and a warm welcome from the staff.
This boutique resort sits close to Punta Cana, Dominican Republic – an area known for its array of luxury hotels and array of activities.
The Koko Kids' Club offers kids ages 4 to 12 years a chance to experience life at the top of the world. They take part in lots of activities like kayaking in their own little lagoon, snorkelling, video games, scavenger hunt and arts and crafts.
There are also plenty of restaurants and bars where parents can relax with a cocktail after a day out with the kids. If you decide to stay at one of the larger private villas in the hotel, you'll have access to a private chef that can take a lot of the stress out of holidaying with a family.
If you want to experience something really special on your holiday, why not take a helicopter fly-over of the island? There are some truly unforgettable tours and excursions your family can take, including encounters with humpback whales or a horseback rainforest trek.
---
Must-do for families in Dominican Republic
For families with adventure loving children, head to Scape Park. With zip lines, a water park, animals to meet and caves to swim, it's packed with fun activities for all ages.
---
If you'd like more advice on finding the best luxury family holiday in the Caribbean, contact our Travel Specialists for expert guidance. Your booking will be protected by our Book with Confidence travel guarantee.
If you're looking for other ideas for your next family holiday, check out our blog post on the Best Family Holiday Destinations worldwide as recommended by our fantastic Travel Specialists.
Otherwise, take a look at our full Luxury Family Holidays Collection on our website.