Greece is always an ideal destination for a family summer holiday and for a good reason. This beautiful country has everything from bustling and vibrant cities to some of the most stunning beaches in the world.
So, if you're planning on travelling to the beauty of Greece this year, here's your rundown of the best Greek islands for families.
1. Crete
Visit the largest island in Greece, with plenty of attractions that'll keep the whole family happy. Spend time on the beautiful beaches and kick-back in the tavernas.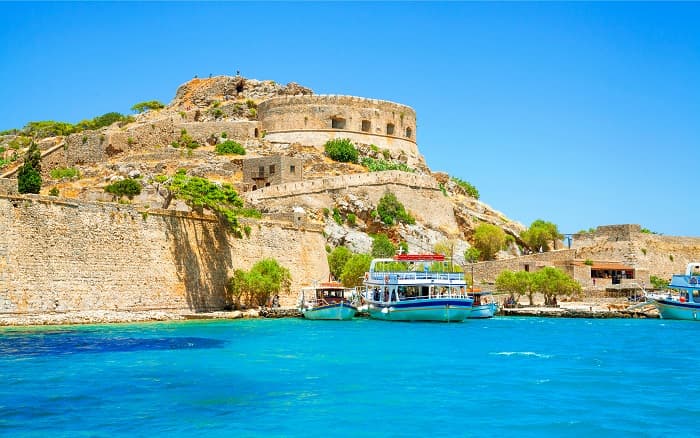 Crete is the biggest island in Greece, and it's an absolutely perfect island for families. It only takes around four hours to arrive by plane, which is a reasonably good time for families with younger children who get a little bored in the air.
Once you land, you'll want to breathe in the fresh air and head to the beautiful east coast of the island. Here, you'll find blue skies and pristine sands ready for unwinding on. You'll also be close to the charming towns of Agios Nikolaos and Elounda.
Elounda is a popular destination for families looking for a little luxury on their holidays. It's also easy to get there, with the drive to this end of the island from Heraklion airport taking around an hour. If you plan on seeing more of the island, then hiring a car at the airport is a fantastic option; you'll see so much of the beautiful contrasting Cretan landscapes as you drive, transfer or otherwise!
There are plenty of beaches in eastern Crete to visit, including Kolokithia Beach, which is relatively sheltered, sandy and great for the younger members of your family. During your stay, why not head to one of the tavernas in town for a traditional Greek meal including locally produced olive oil and feta cheese – you could even add some raki (Tsipouro) to your order for the adults in your group!
Stay at Domes of Elounda
Domes of Elounda is a spectacular hotel with a family-friendly atmosphere; it's a beachside resort that overlooks the sparkling Aegean Sea and the uninhabited island of Spinalonga.
Stay in this beautiful hotel in the early summer months, when the heat is tolerable for the kids, or towards the autumn in September. It's about an hour's drive from Heraklion Airport to the hotel, and is surrounded by beautiful rolling hillsides, beaches and the warm, calm waters of the Aegean.
Activities at Elounda include cooking lessons, stargazing, trekking excursions and searching for elusive treasure. Domes also teaches kids about sustainability and healthy living, part and parcel of life in the luxury hotel and the Mediterranean.
---
2. Corfu
A little history, a dash of waterpark excitement and a whole lot of open blue sea. Corfu is a brilliant choice for families of all ages.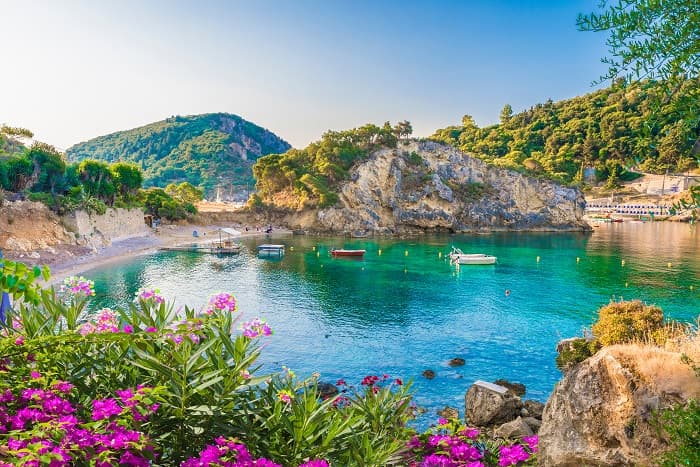 Corfu is another popular Greek island families. Due to its size, Corfu has plenty of amenities and pretty spots to take family day trips to, if you're in the mood. As the island is quite large, it's worth picking up a rental car to visit attractions that your family will love, including Corfu Town and its historical sites, such as the Venetian castle.
Perhaps your little ones would rather splash about all day? In that case, Aqualand is where you want to be; a thrilling water park, it's one of the largest in the world! If neither of those options suits, why not take a yacht out to island-hop, or simply stay on the shore to paddle in the crystal-clear shallows?
This beautiful Ionian island has all the sun, sea and soft sand that you'd expect from a Greek Island. It's around three hours flight time in the UK and has plenty to see and do for the whole family. Top beaches for families include the long golden sand Glyfada on the west coast, or Messonghi Beach towards the south. This family-friendly beach has gentle lapping waves, perfect for playing in the surf with younger family members.
Stay at Domes of Corfu
The Domes of Corfu is an idyllic luxury hotel, ideal for an escape to serenity for the whole family. The Domes resorts care about putting all family members right at the centre of the holiday, including the children. Based on the beautiful sandy Glyfada beach, it's the perfect spot for an early morning walk, a little family football, or watching the sunset over the sea.
Kids can participate in KiEpos Kids Club, where they'll learn about growing their own plants, sustainability and the world around them, all whilst having a whale of a time. Cooking workshops and culinary sessions also take place, plus tastings of self-decorated ice creams!
---
3. Halkidiki
Not a true Greek Island, but a perfect family summer holiday destination on the coastal mainland. It's got gorgeous beaches, fun activities and rich history.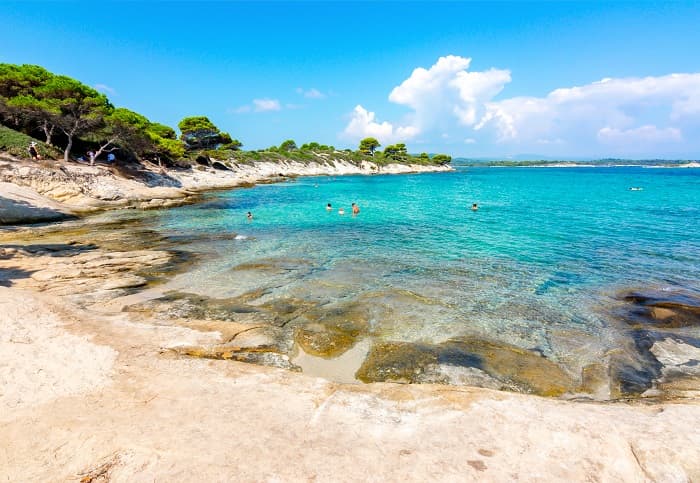 We wanted to give a cheeky mention to Halkidiki; though it's not exactly an island, this peninsula is surrounded by water and has some fantastic hotels for families. You can even take yacht trips for some island-hopping if you wish.
Halkidiki is well worth a visit for families, with its stunning with picture-perfect landscapes, blooming bougainvillaea and pristine beaches. Visit during the summertime to get the most of the sun and avoid the rainiest days.
It takes about 3 hours 15 mins to fly from the UK to Thessaloniki Airport, which is closest to Halkidiki. When you've touched down, it's around an hour's drive to Halkidiki along the Sithonia peninsula. Spending time on the peninsula means fantastic beaches surround you, so get the floppy hats at the ready for the kids who'll enjoy plodding in and out of the surf and playing with the fine sand.
For older kids, you might enjoy heading out and taking a trip to the Kassandra peninsula for some time at the thermal baths or the ancient ruins that sprinkle the area, including Zeus temple in Kallithea or Poseidon temple in Possidi.
Stay at Danai Beach Resort & Villas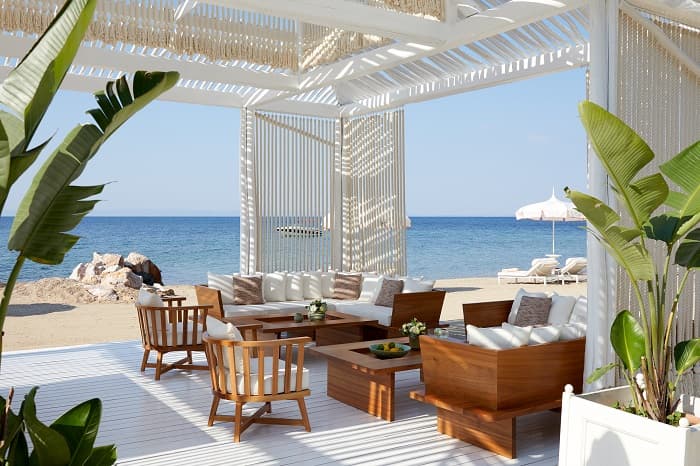 This elegant resort is nestled on the corner of the Sithonia peninsula and is sure to leave you feeling relaxed and refreshed. Take day trips out on the resort's private yacht to the gorgeous nearby islands of Skiathos, Skopelos and Mount Athos – you might recognise these from the film, Mamma Mia! Big kids and teens will equally enjoy the watersports facilities on board or jumping into the blue water from the yacht.
For youngsters who love to adventure on the beach, head over to Kavourotrypes to visit the crabs and search for the best seashells.
At the hotel, your little ones can also participate in the Danai Beach Resort & Villas kids' club, which keeps them active with swimming and painting lessons, along with unique educational programs to keep them busy whilst you relax in the sun or take an afternoon nap.
---
4. Zakynthos
A truly magical island for a luxury getaway with the whole family. Beaches, food and beautiful surroundings – who could ask for more?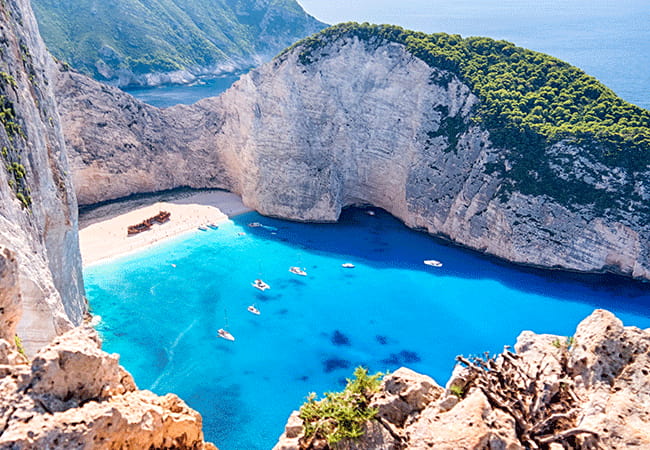 Zakynthos is one of the livelier islands, but it still deserves its place on this list as one of the most family-friendly destinations in Greece. It's a breathtaking island with a rugged rocky landscape situated halfway between Crete and Corfu.
Whilst holidaying in Zakynthos, you'll love visiting the old town and trying some Greek delicacies with your family. Or, perhaps you'd like to venture out on some cave exploration at the Keri or Blue Caves, reachable by boat.
The eastern coast of Zakynthos is a great location for a beach day out, with golden sands and crystal clear seas, which are relatively calm. Don't miss the gorgeous Gerakas Beach, which is totally unspoilt and picture perfect. The flight time into Zakynthos is just over three hours, and though it is smaller than Crete and Corfu, there's still plenty to explore.
Stay at Porto Zante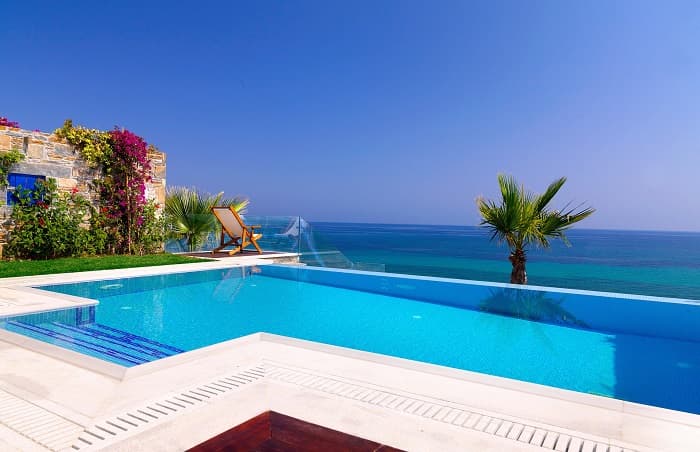 Porto Zante is an impressive hotel set in a beautiful bay if Zakynthos. Here, you and your family can enjoy gorgeous views of the sea from your private villa with your own pool. The hotel has many activities to keep the younger ones in your party happy, including an award-winning kids' club.
Children will enjoy making new friends in the kid's corner playground, and those that are old enough can take advantage of the non-motorised watersports equipment, or even try some horse riding! There's also the chance to head out on an excursion with your guide to Turtle Island, where you might spot some friendly critters in the water!
Once you arrive at the hotel, you must try the Maya restaurant, which creates delicious Asian cuisine including signature sushi and sashimi. Or, pop to the Club House for a laid-back taste of Greek and Mediterranean dishes along the beach.
Should you wish for some downtime, the hotel also offers babysitting services.
---
5. Mykonos
Our vote for the most picturesque on the list and a perfect pick for families travelling with teenagers.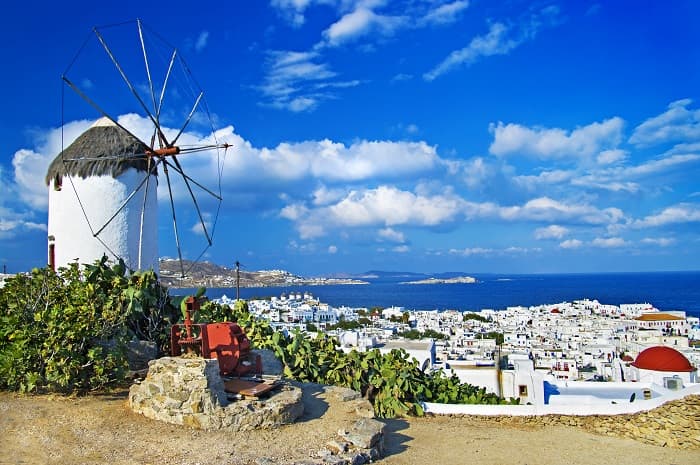 The whitewashed buildings of Mykonos jut out into the turquoise waters of the sea, where tavernas and restaurants dot the waterside with the enticing smells of Greek foods. Further inland, the winding side streets are covered in beautiful pink flowers contrasted with the starkness of the white and blue buildings.
While it's known as a party island, there's also plenty on offer for older families. Visit outside of the height of summer to avoid the peak of the clubbing scene, when you can make the most of the beaches and array of activities. If you're travelling with teenagers, they'll appreciate the trendy vibe and livlier atmosphere, while a flight time of under four hours makes is easy for a quick getaway.
The best time to visit Mykonos and avoid the large crowds would be in the Spring or early summer months, from mid-May to June, or in September. The island is heavily dependent on tourism, and as such, many restaurants, shops and transport close during the low months. If you arrive in May, you'll be visiting at the start of the high season.
Mykonos has stunning beaches and a number of them are safe, protected and have shallow water, such as Cavo Psarou on the south coast. It's also popular with yachting and boat trip visitors.
Stay at Santa Marina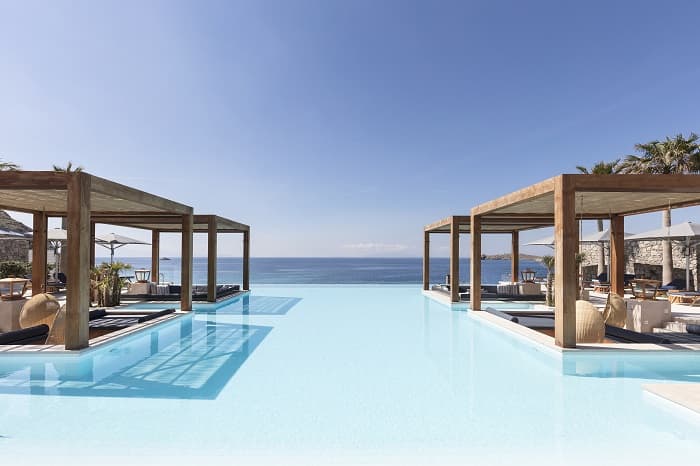 Santa Marina is a luxury 5-star hotel on Mykonos; it's set in a chic and exclusive location with a stunning private beach. This is a perfect place to stay for an older family group. Sunbeds are laid out on the beachfront in touching distance of the warm sea, and the jetty that leads out into the protected bay makes for a splendid jump off point into the beautiful water.
You'll have wonderful opportunities to dine overlooking the water at the Oasis Pool & Lounge and spend time with older kids at the Ginko Spa and Hammam. For younger children, there's a playground overlooking the sea to enjoy. Spend a relaxing summer break in Mykonos, dipping into your private pool or braving the sea!
---
More expert tips for your Greek family holiday…
What's the best time to visit the Greek Islands for a family holiday?
The islands of Greece are perfect for families to visit during the warm months of the summer holidays. You can make the most of the sandy beaches and visit picturesque villages, with plenty of family fun to be had. They're also great for families looking to enjoy a holiday during Easter or May half term.
Should I book hotels in advance when visiting the Greek Islands with my family?
Greece is one of the most popular summer holiday destinations in Europe, so as you can imagine, booking ahead is vital to be sure you secure your preferred resort and flights for your family. Our Travel Specialists can advise you on the best hotels for your family and make sure you've booked in and are ready to go for the summer.
Which is the best Greek island for teenagers?
Overall, Greece is a pretty superb location for teenagers. Mykonos is one of the best islands for teens who like to participate in a little bit of everything. There are plenty of activities to try, especially watersports, while history lovers and literature enthusiasts will enjoy trips to the archaeological sites. Shoppers, meanwhile, are sure to find something that catches their eye in Mykonos Town!
Which is the better Greek Island for families, Santorini or Mykonos?
Mykonos is commonly considered an island for vibrant nightlife. Santorini is well known as a couples paradise, with some of the most stunning sunsets globally; however, both are lovely destinations to take your family. For families looking for long white sand beaches, Mykonos is the better choice. Santorini's beaches are covered in black volcanic sand, which, while are mesmerising in their own way, aren't ideal for young children during the heat of summer.
---
We hope this post has left you some new ideas for your next family holiday to the Greek islands. If you'd like more expert advice, simply contact our Travel Specialists – they've personally visited all of our resorts, and can help find the best option for your family.

For more travel guides and to hear about our latest luxury travel offers, sign up to our newsletter below.